Cabbage Salad with Honey Lime Dressing
This cabbage salad is crisp and delicious with a blend of red and green cabbage, sweet snap peas, juicy mandarin oranges, and a tangy honey lime dressing.
Recipe Overview
Why you'll love it: You can easily make this salad into a main dish recipe by adding chicken, shrimp, or tofu.
How long it takes: 20 minutes
Equipment you'll need: large bowl, zester, sharp knife
Servings: 8 side servings, or 4 main dish servings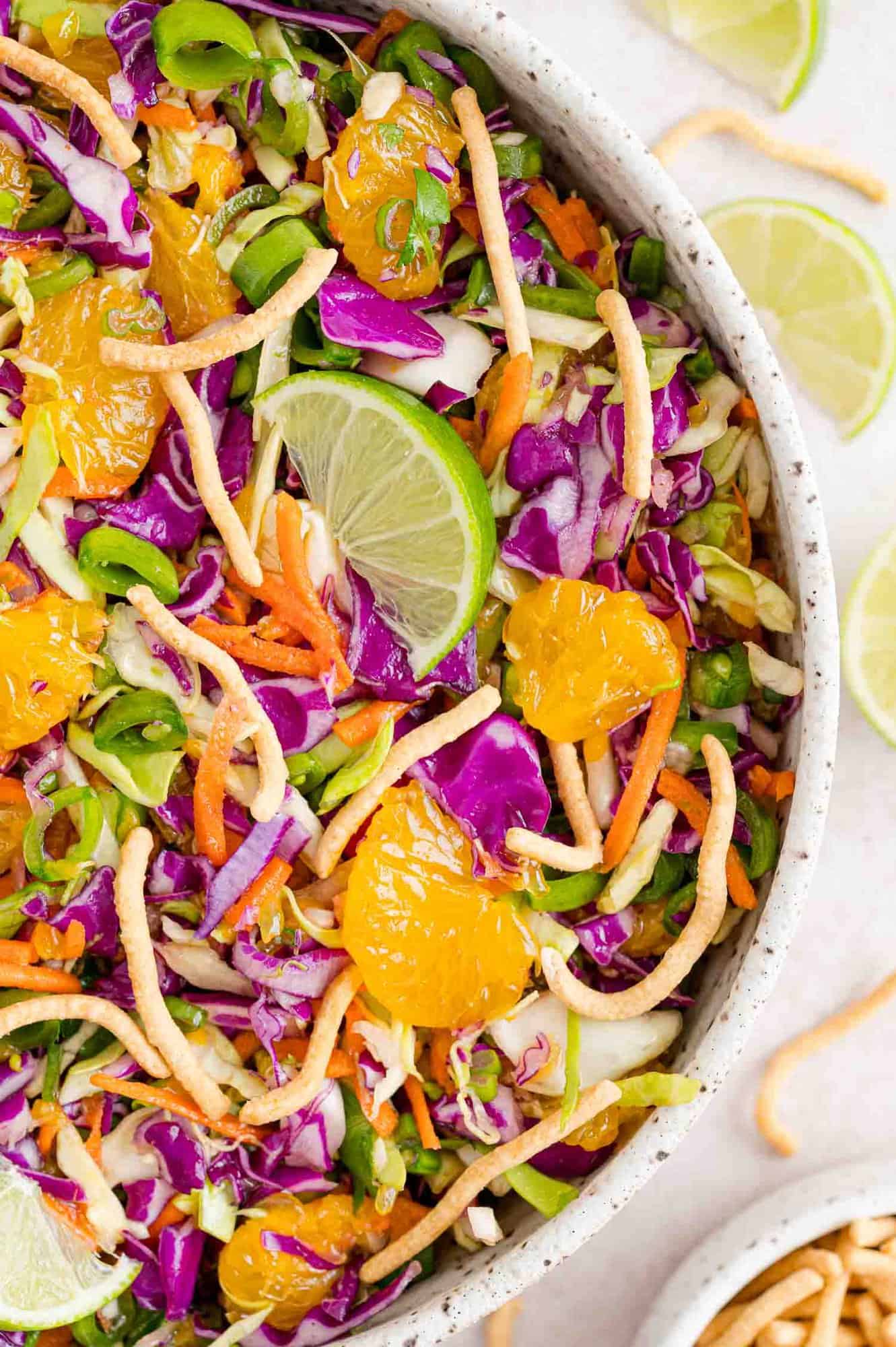 Isn't this a pretty salad? I love all the colors and the great texture. It's a power hitter when it comes to nutrition, too, making it a winner all around. Oh! I almost neglected to say how delicious it is, too. Good grief! That's definitely the best part of the salad.
We really love cabbage salads, aka coleslaw. In our neck of the woods, during the winter, fresh greens are shipped in from who knows where. However, in contrast, cabbage is a winter vegetable. It's called a winter vegetable because cabbage stores well, unlike tender greens, and is available pretty much year round.
Cabbage is fresh-tasting and crisp. It holds up well whether you mix it with a creamy dressing or a vinaigrette. A cabbage salad goes well with pretty much any type of meal, from roasts to sandwiches.
My infatuation with cabbage is demonstrated by the number of recipes I have on my site that include cabbage. Just recently I posted recipes for sweet and sour German red cabbage and sautéed green cabbage. A couple of my most popular recipes are healthy coleslaw (the dressing is made with yogurt!) and vinegar coleslaw (a no mayonnaise slaw), and the list goes on.
Today's salad may remind you a bit of my Asian salad. There are some similarities but the two salads really are quite different. I urge you to give that recipe a try soon, too; it's a crowd-pleaser.
We really love this salad and I think you will too! The honey lime dressing is tangy with a hint of sweetness and those juicy mandarin oranges are so good! The crunchy chow mein noodles really take it up a notch.
Reasons Why You'll Love This Salad
It can be made ahead. You can make the salad an hour or two in advance. It holds up well, unlike many lettuce salads. In fact, most of the ingredients can be prepped a day or two ahead: cabbage, carrots, peas, green onions and cilantro. Put them all together in a big bowl, cover it tightly and refrigerate it. Make the dressing and refrigerate that. When you're ready to go, simply mix the salad with the dressing, garnish with the chow mein noodles, and serve. So easy!
Turn it into a main dish. You can easily turn this cabbage salad into a main dish by adding chicken, shrimp, or tofu which is another reason to love this recipe. Buy a rotisserie chicken, whip up this salad and Bingo! you have a great dinner.
It's easy to make it your own. There are many ways you can customize this salad; I'll give you lots of ideas in the next section.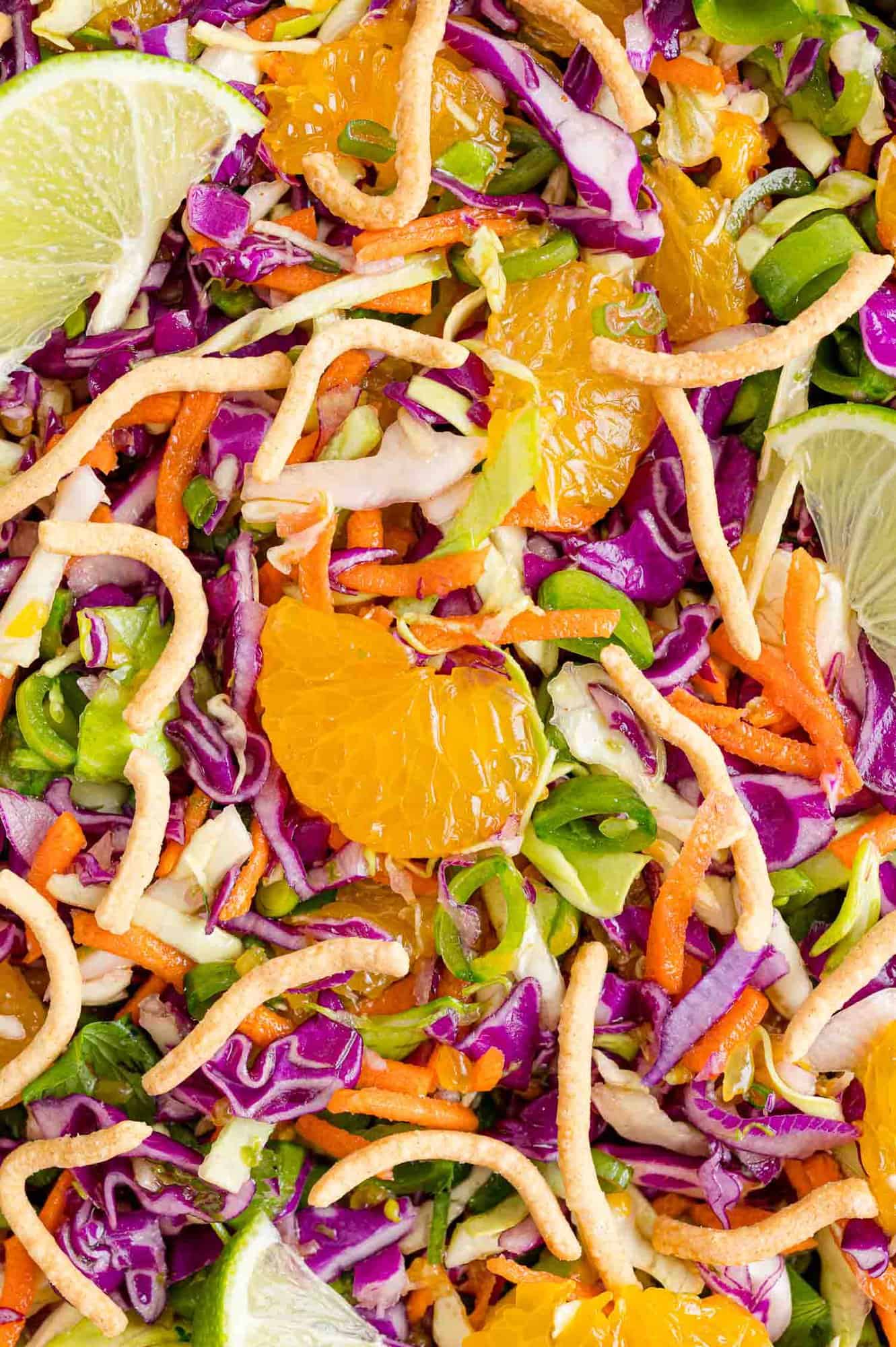 I'll get you started on the recipe here. Look for the recipe card below for measurements, instructions, and nutrition information.
What You'll Need
Shredded Cabbage: A mixture of red and green cabbage is nice visually (and nutritionally) but feel free to use all green cabbage or all red cabbage. An 8 oz. bag of coleslaw mix is an easy substitute.
Fresh Sugar Snap Peas: Also known as snap peas, sugar snap peas have an edible pod which is super sweet and crisp. They are similar in appearance to snow peas but the pods are more rounded and not as flat. Snow peas can be substituted if you like.
Green Onions (Scallions): Green onions have a milder flavor than regular onions and they add nice color to the salad. If you prefer, substitute thinly sliced red onion or a sweet onion.
Carrots: You'll need one large carrot to shred. Carrots are naturally sweet and very nutritious.
Canned Mandarin Oranges: Look for mandarin oranges in light syrup, not heavy syrup. A couple tablespoons of the juice is added to the dressing so be sure to save the juice when you drain the oranges!
Fresh Cilantro: If you're not a fan of cilantro, fresh parsley is a good alternative.
Chow Mein Noodles or Crispy Rice Noodles: These crispy fried noodles come in a can. A popular brand is La Choy. The noodles are an optional garnish for the salad.
Lime: You'll need one lime. Be sure to zest the lime before you juice it. Both the juice and the zest go into the dressing.
Olive Oil: Extra virgin olive oil has great flavor and nutritional benefits. If you prefer, other types of oil can be substituted such as avocado, grapeseed, or canola oil.
Honey: For just a touch of sweetness, a teaspoon of honey is added. If you want to to make the salad vegan, the honey can be omitted. The mandarin oranges add sweetness, too.
Sriracha Hot Chili Sauce: For just a little tingle on your tastebuds, a bit of hot chili sauce is added. Please feel free to amp up the heat, or leave it out entirely. A pinch of red pepper flakes can be substituted.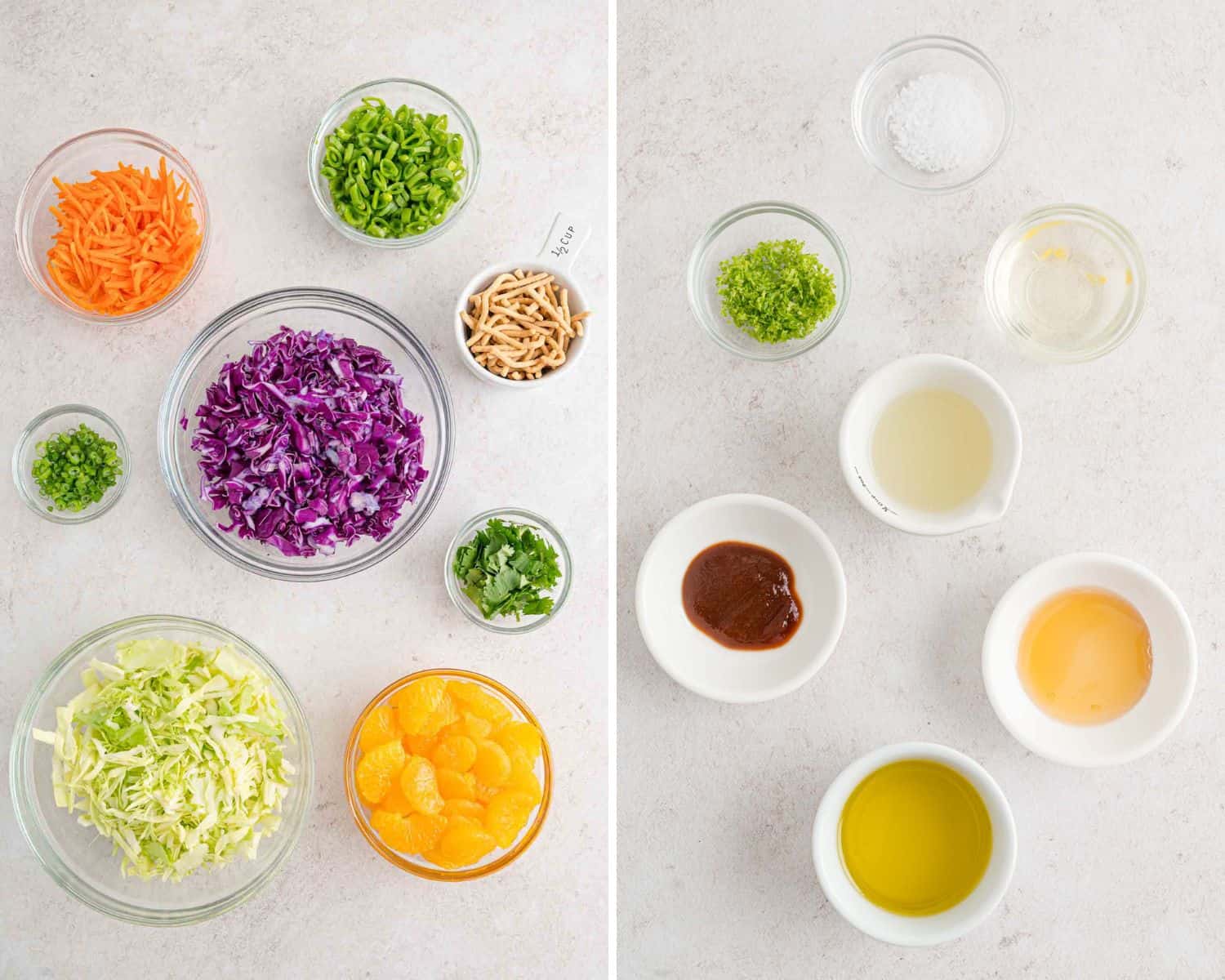 How To Make It
Begin by prepping the cabbage. Remove the soft outer leaves, rinse the head of cabbage well, and cut it in half through the stem. Make a V-shaped cut to remove the tough core. Place a half, cut side down, on the cutting board, and thinly slice the cabbage vertically. The process is the same for both the green and the red cabbage.
If you have a food processor, you can use that to slice the cabbage instead. The food processor works great to shred the carrot, too. If you're short on time, buy a bag of coleslaw mix.
Wash and prep the snap peas. They usually have a stringy fiber along the sides which has to be removed. As you snap off the ends, simply pull the string down the sides. I've heard that some varieties are stringless but I haven't seen those yet.
Prep the carrot, wash the cilantro, and the green onions. Chop and slice them as needed. Drain the can of mandarin oranges but be sure to reserve a couple tablespoons of juice. Zest the lime and juice it.
All of that prepping is the lion's share of the work. From here, it's easy street.
Mix the dressing ingredients together in a small bowl, large measuring cup, or the bottom of the salad bowl.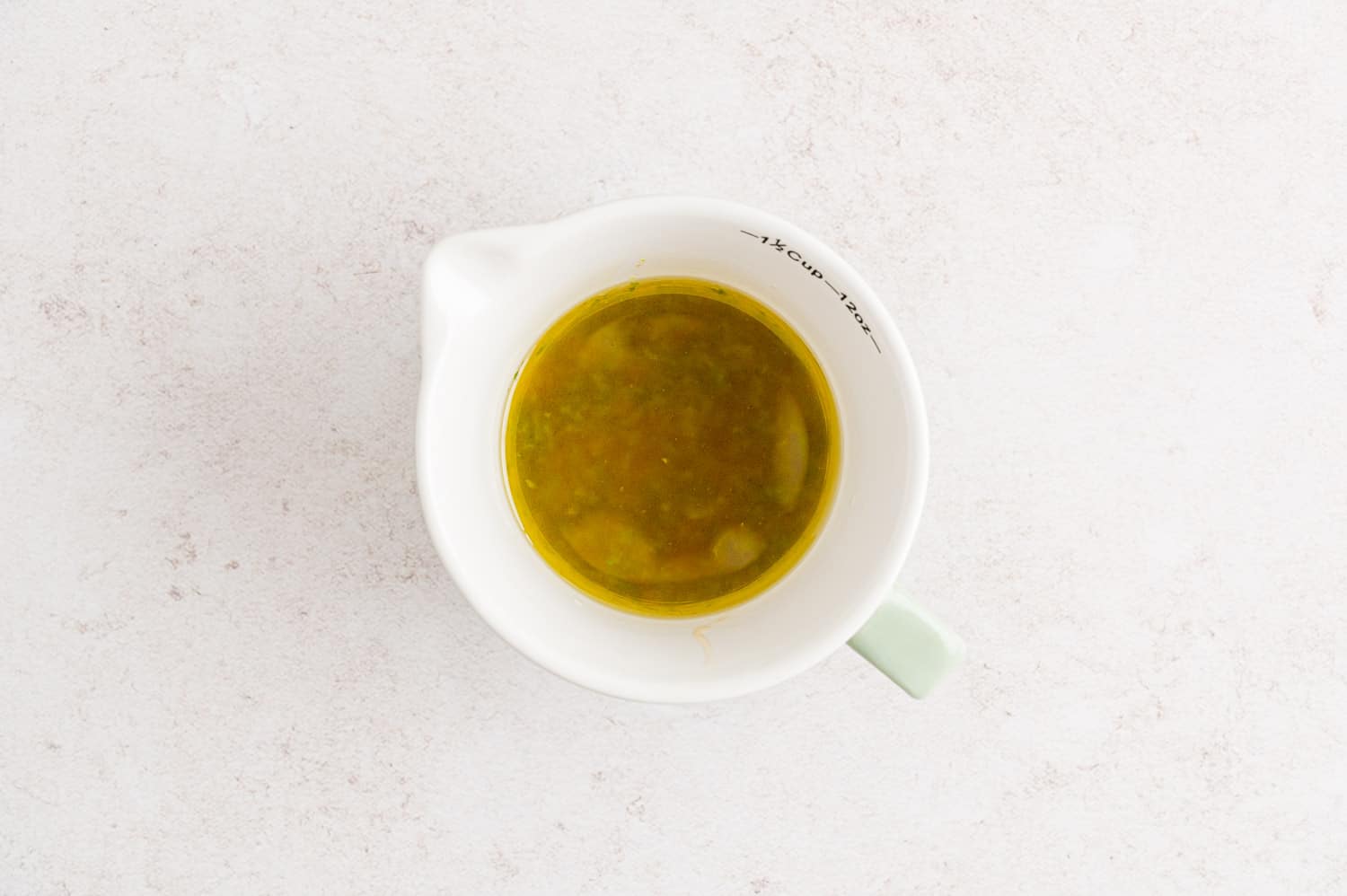 Combine the salad ingredients in a large bowl.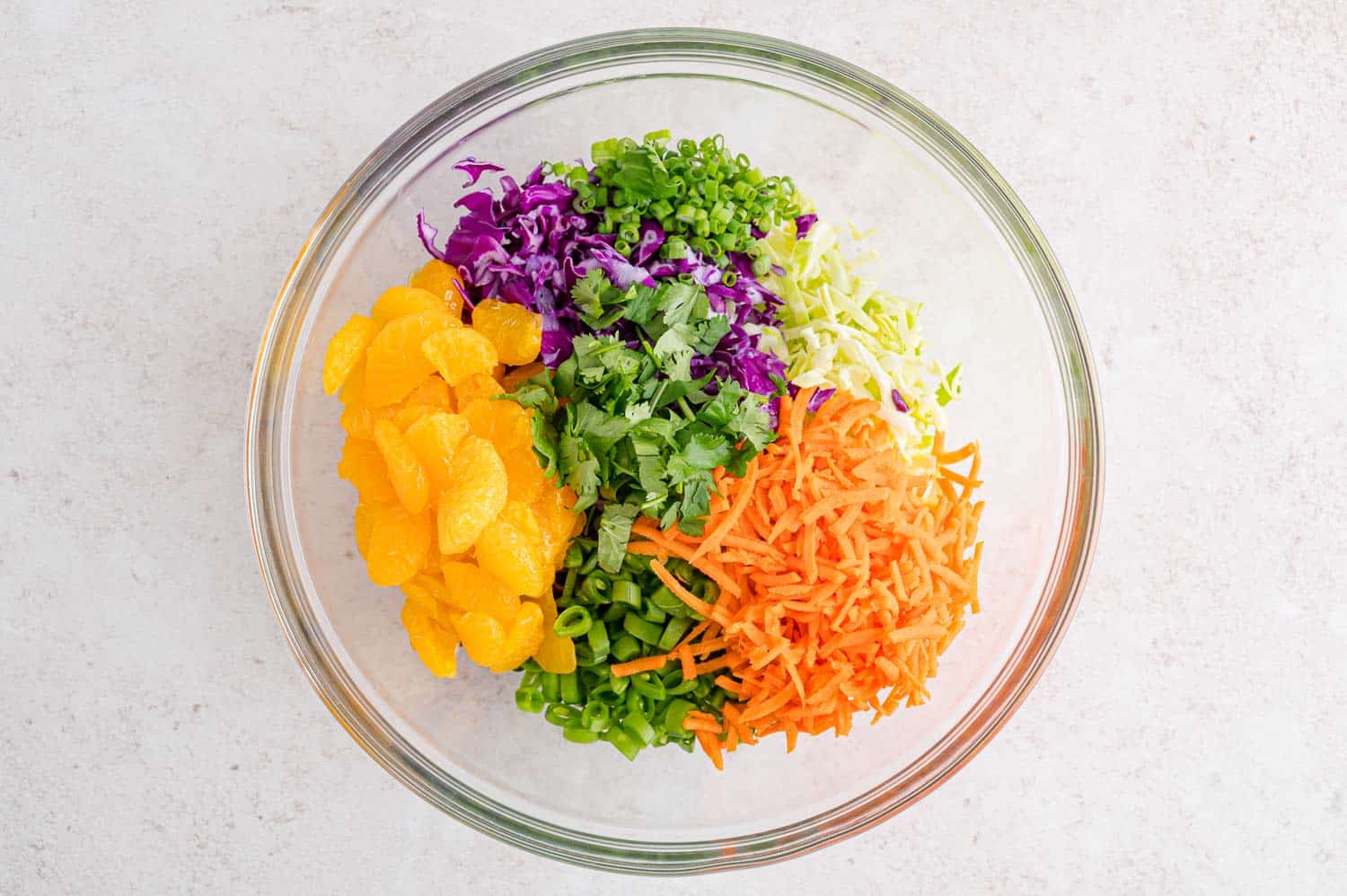 If it's not already in the bottom of the bowl, add the dressing.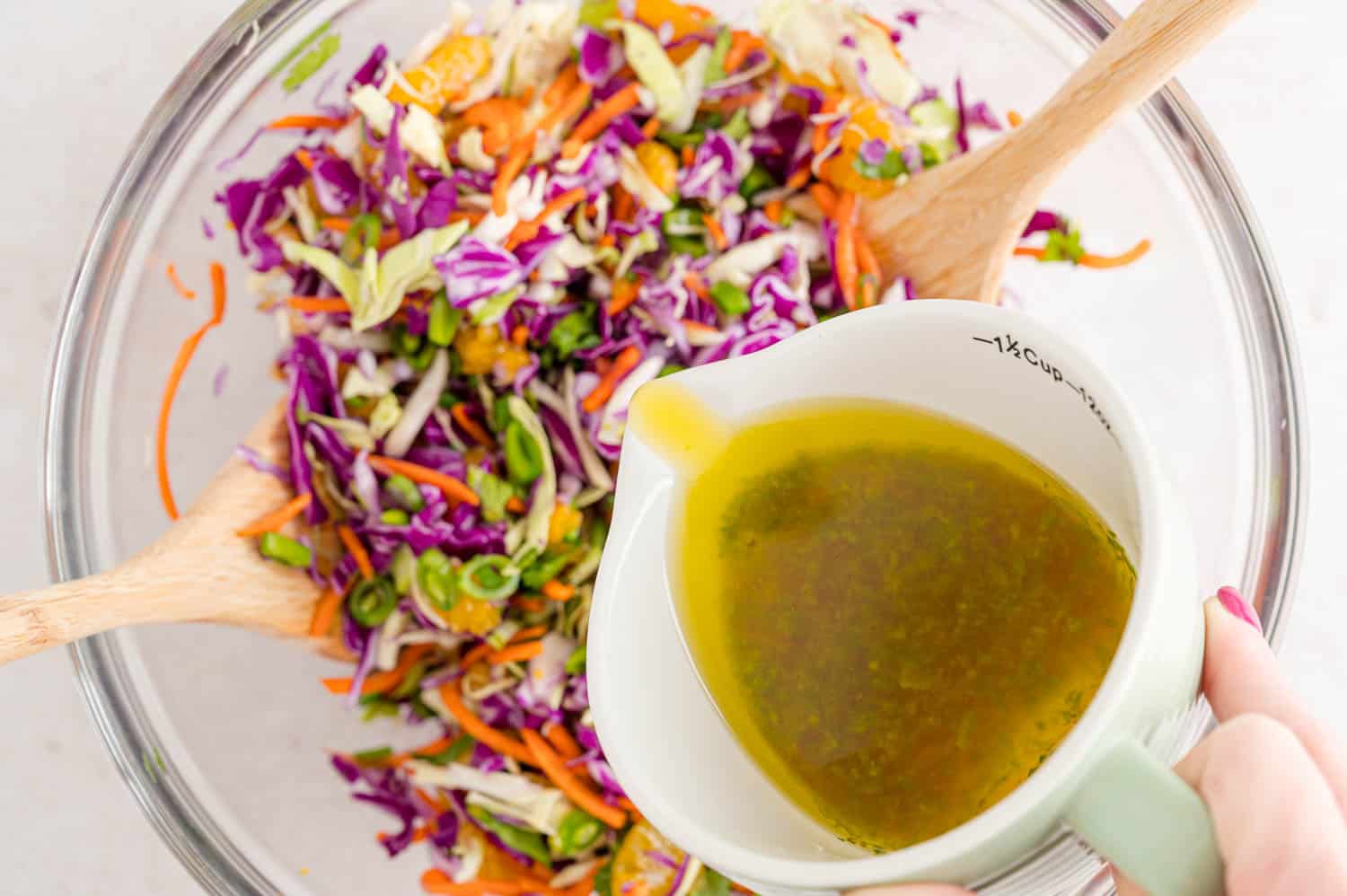 Stir to combine, until everything is well-coated with dressing.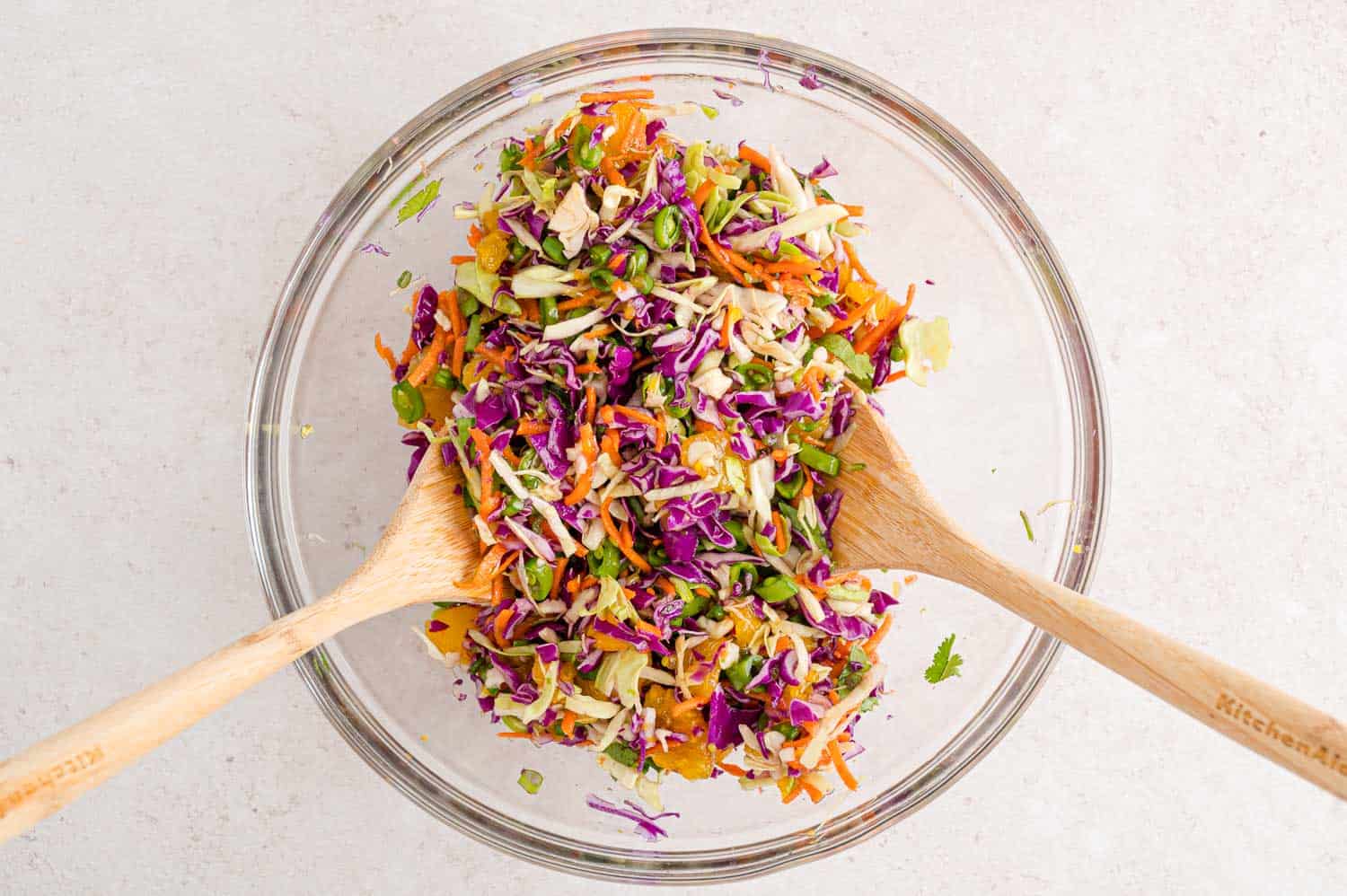 When you're ready to serve the salad, garnish it with the chow mein noodles, if desired.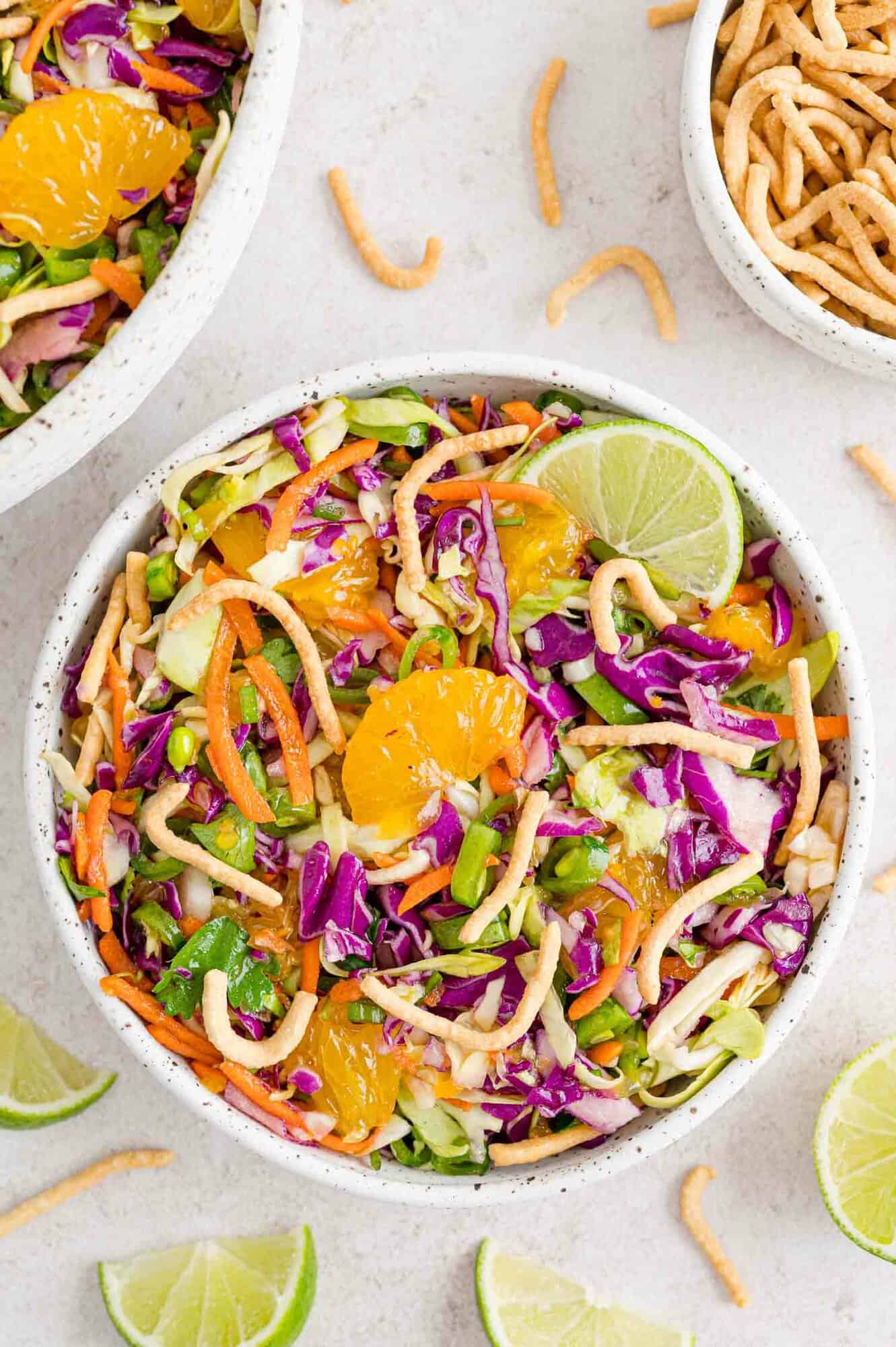 This cabbage salad goes well with almost any main dish. Try it with soy glazed salmon or orange glazed salmon. Make this salad to go along with marinated grilled salmon. We like it with crockpot teriyaki chicken or orange chicken. It's perfect with grilled meats, especially chicken made with soy-based Asian chicken marinade or grilled shrimp kabobs with pineapple.
FAQs
Can you eat cabbage raw?
Cabbage can be eaten raw or cooked. It can be steamed, boiled, roasted, fried, or braised. It is super nutritious and has many health benefits (Healthline).
If you suffer from digestive problems, raw cabbage may be hard to digest. Like other cruciferous vegetables, cabbage has a lot of fiber which may make you gassy (Web MD).
Why is cabbage salad called coleslaw?
The word coleslaw comes from the Dutch word koosla, a salad of shredded cabbage that originated in the Netherlands a couple of centuries back.
There are many variations of coleslaw but the primary ingredient is always shredded cabbage.
Make It Your Own
Like most salads, there are so many ways to make it your own. Take a look at the ingredient list (What You'll Need section) for substitution ideas.
If you'd like to make this a main dish salad, add cooked chicken (rotisserie chicken, Instant Pot shredded chicken, poached chicken, chicken bites, or oven roasted chicken breast). Sautéed shrimp, crispy air fryer tofu, or baked sesame tofu are great in this salad, too.
Another way to change up this salad is to replace the chow mein noodles with chopped peanuts, cashews, or toasted sliced or slivered almonds.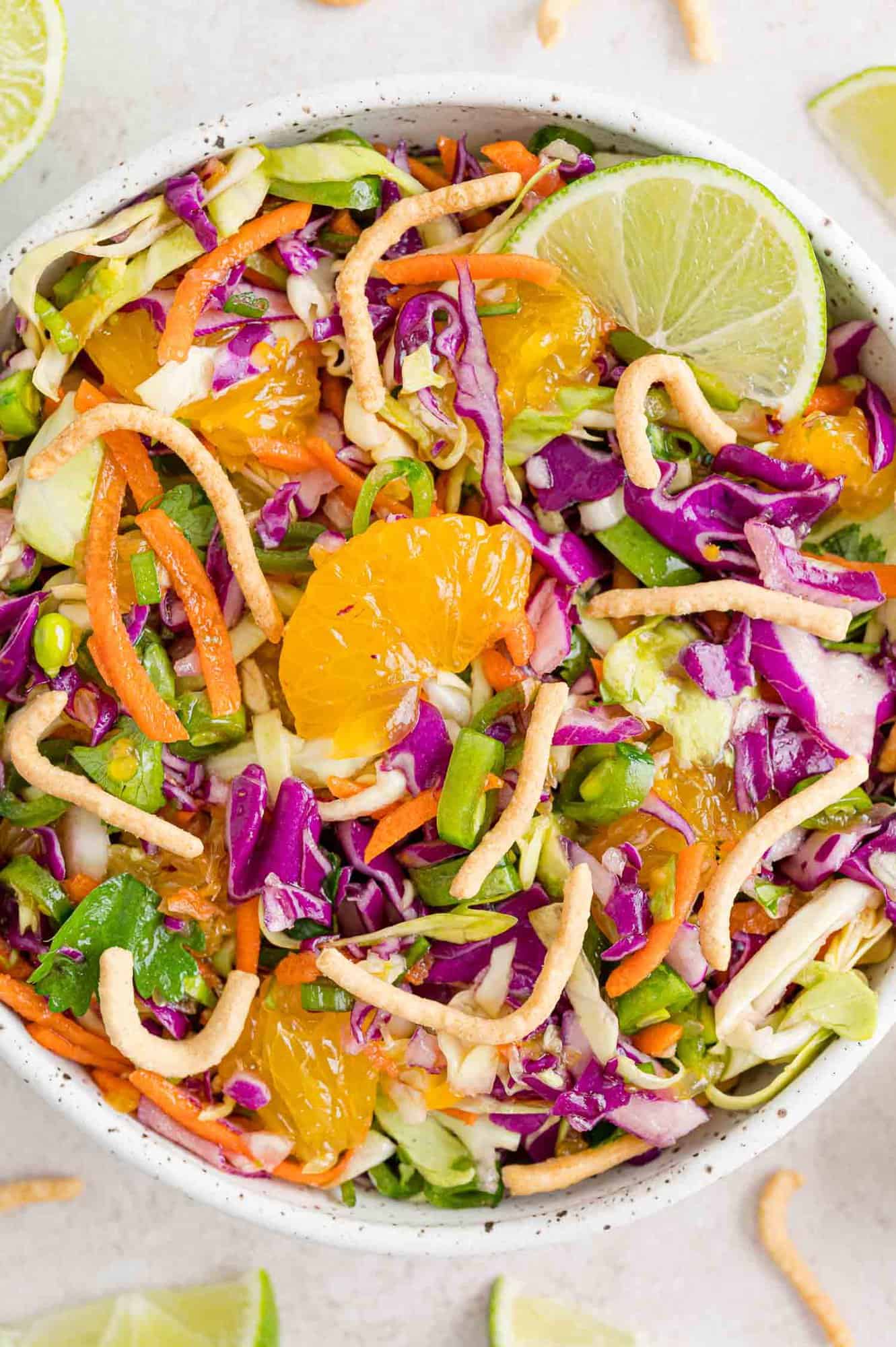 Make-Ahead Ideas
The salad can be made up to 2 hours in advance and refrigerated until you're ready to serve it. Add the garnish right before serving.
You can also prep all the vegetables and the dressing up to a day in advance. Store them separately in the refrigerator and toss the salad right before serving.
Storage Tips
The salad will keep for up to a week in the refrigerator in a tightly covered container although it's best if you eat it within a couple of days. The cabbage tends to lose some crispness as times goes by. In addition, the red cabbage will bleed color into the salad and make it a bit pink. If you want to avoid this, omit the red cabbage and use all green cabbage.
Did you make this? Be sure to leave a review below and tag me @rachelcooksblog on Facebook, Instagram, or Pinterest!
This cabbage salad with honey lime dressing is crisp and delicious. Add rotisserie chicken, shrimp, or crispy tofu to make it a main dish.
Ingredients
2

cups

shredded green cabbage

2

cups

shredded red cabbage

1

cup

sugar snap peas, thinly sliced horizontally

(snow peas can be substituted)

2

green onions, thinly sliced

1

can

(15 oz.) mandarin oranges in light syrup

(reserve

2

tablespoons juice for dressing, then drain)

1

cup

shredded carrot

(about

1

large carrot)

¼

cup

loosely packed fresh cilantro (leaves and thin stems), roughly chopped

½

cup

chow mein noodles for topping, optional
FOR THE DRESSING
3

tablespoons

olive oil

2

tablespoons

reserved mandarin orange juice

2

tablespoons

fresh lime juice

(zest the lime first!)

1

teaspoon

lime zest

1

teaspoon

honey

1

teaspoon

Sriracha hot chili sauce, more or less to taste

½

teaspoon

kosher salt, more if needed
Instructions
In a large bowl, mix together green and red cabbage, snap peas, green onions, mandarin oranges, shredded carrot, and cilantro.

In a small bowl or measuring cup, combine olive oil, mandarin orange juice, lime juice, lime zest, honey, sriracha and salt. Whisk until combined and pour over salad. Toss until well-combined.

Serve immediately, garnished with chow mein noodles. Salad can be refrigerated 1 to 2 hours, garnish right before serving.
Notes
Optional garnishes: chopped cashews, peanuts, sliced or slivered almonds.
Main Dish Salad: Add up to 4 cups shredded chicken or rotisserie chicken, sautéed shrimp, air fryer tofu or baked tofu. Add more dressing if necessary.
Recipe revised 10/13/2022.
Nutrition Information
Serving:
1
cup
,
Calories:
98
kcal
,
Carbohydrates:
11
g
,
Protein:
2
g
,
Fat:
6
g
,
Saturated Fat:
1
g
,
Polyunsaturated Fat:
1
g
,
Monounsaturated Fat:
4
g
,
Sodium:
205
mg
,
Potassium:
218
mg
,
Fiber:
2
g
,
Sugar:
6
g
,
Vitamin A:
3531
IU
,
Vitamin C:
40
mg
,
Calcium:
34
mg
,
Iron:
1
mg
This website provides approximate nutrition information for convenience and as a courtesy only. Nutrition data is gathered primarily from the USDA Food Composition Database, whenever available, or otherwise other online calculators.