Add flavorful and crispy baked sesame tofu to stir fries, salads, or bowls. It makes a dandy little snack, too, healthy and satisfying.
Recipe Overview
Why you'll love it: This tofu has plenty of flavor and is great on its own or added to your favorite dish.
How long it takes: 40 minutes, plus time to press the tofu
Equipment you'll need: mixing bowl, sauce pan, baking pan, stove/oven
Servings: 4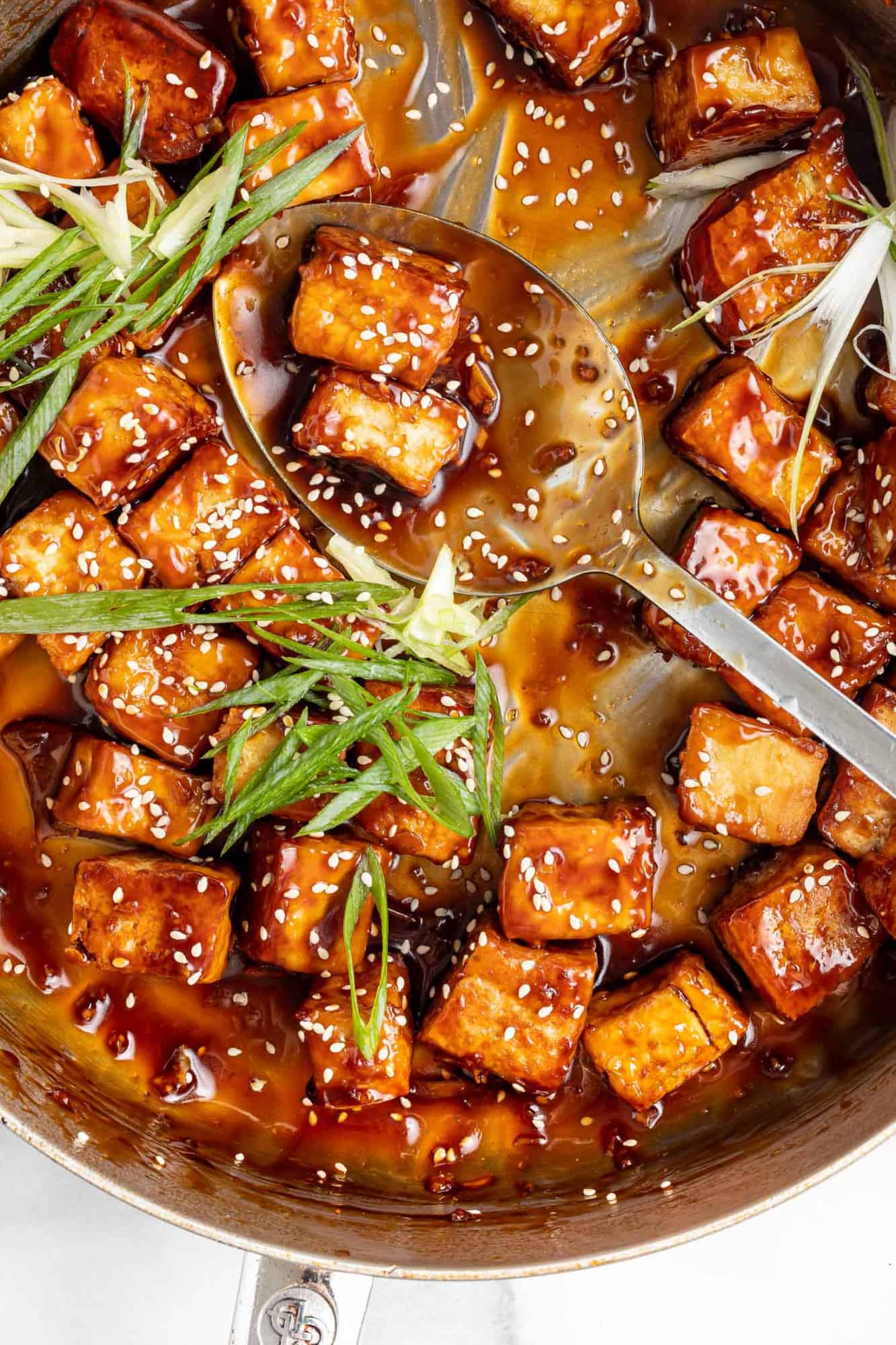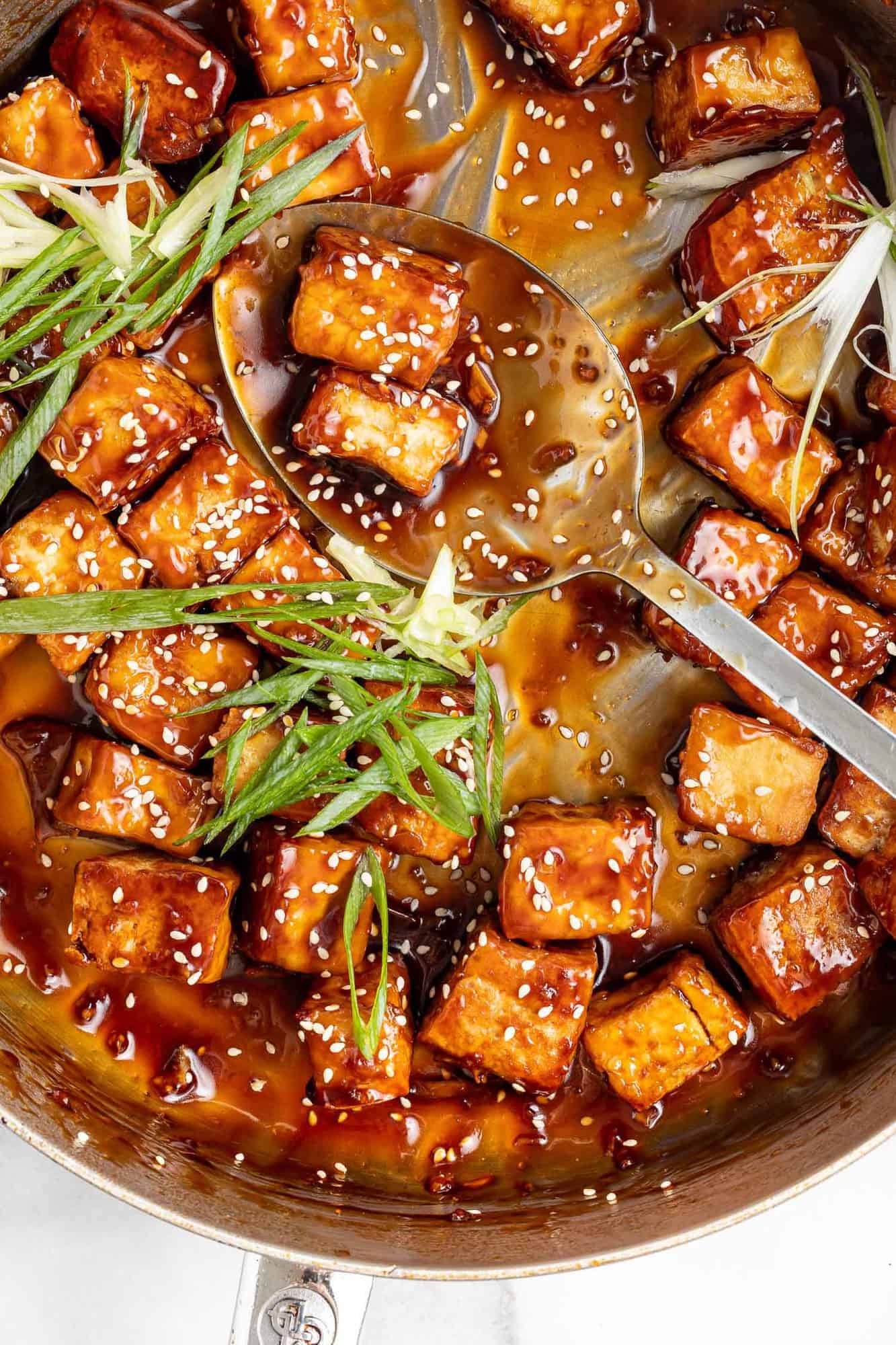 Crispy toasted cubes of tofu, coated in a sticky sweet and tangy sauce, will add flavor and protein to your favorite stir fries, salads, bowls, or whatever you like.
Some folks may turn up their nose at tofu, thinking it's bland and mushy. Well, it sort of is if you're eating it right out of the container. But because of its neutral flavor, tofu can be transformed into a variety of flavorful dishes. It's like a chameleon, taking on the characteristics of whatever you add to it.
You'll love the sweet and salty flavor of this baked tofu. It comes from a flavorful combination of tamari (soy sauce), rice vinegar, and powdered sugar, amped up with garlic, ginger, and toasted sesame oil. There's nothing bland or boring about this tofu!
The tofu is coated with cornstarch which makes it extra crispy. If you haven't tried the cornstarch trick yet, you're in for an enlightening experience. There's a mysterious connection between cornstarch and crispiness and it's not limited to tofu. Try it when you stir fry chicken or shrimp, too! It makes homemade orange chicken so crispy I always eat leftovers cold out of the fridge!
About this Recipe
My plain baked tofu and air fryer tofu are basic go-to recipes, a great way to add protein to lots of different kinds of meals, from bowls to stir fries, but I find that sometimes I'm looking for a little more flavor. Often there's plenty of sauce in the recipe so you don't really need a tofu that's saucy, but then there are the times when you're serving simple steamed jasmine rice and broccoli. Then you need a little extra pizzazz.
Enter this sesame tofu. Crispy cubes of tofu, creamy on the inside, and a zesty sweet and sour sauce that is super flavorful. Don't worry, it's not drowning in sauce. There's just enough to coat the tofu and give it gobs of flavor, enhancing whatever you add it to.
Oh, and maybe you won't add it to anything. We love to just snack on this sesame tofu, too, and it makes a great appetizer.
Let's take a look at the recipe.
I'll run through the recipe here and give you lots of extra tips. If you'd rather, skip right on down to the printable recipe card where you'll find complete directions and nutrition information.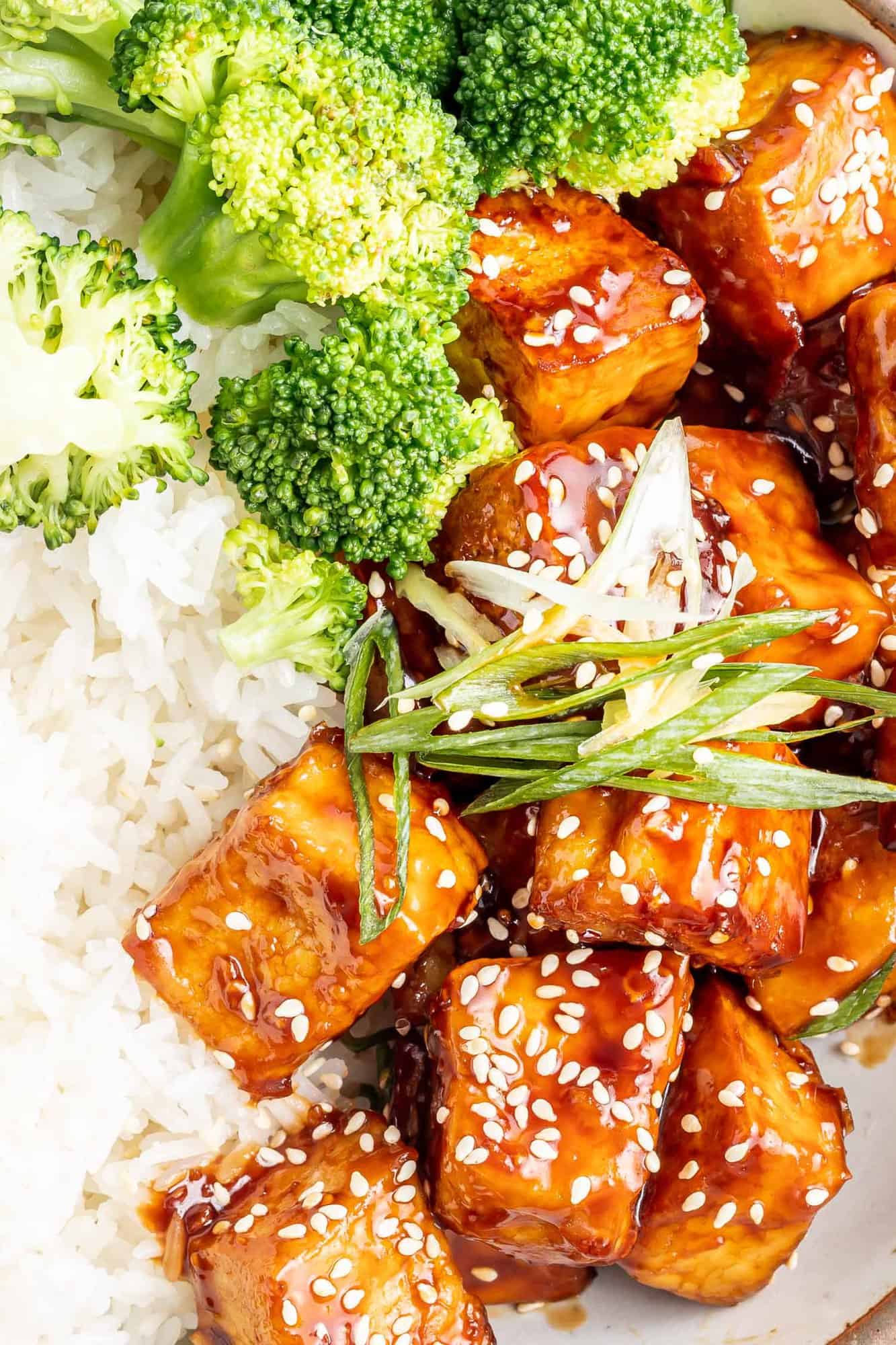 What you'll need
For the crispy tofu
Extra Firm Tofu: Press the tofu to remove excess water. The FAQ section will tell you how to press tofu if you're unsure.
Soy Sauce or Tamari Soy Sauce: Regular soy sauce, low sodium soy sauce, or tamari soy sauce can be used. Tamari is a Japanese soy sauce that is less salty, darker in color, and more flavorful than regular soy sauce. Coconut aminos will also work in this recipe.
Avocado Oil: Just one tablespoon of oil is needed. Substitute olive oil, grapeseed oil or another other mild-flavored oil, if desired.
Ground Black Pepper: For a little zingy flavor. Red pepper flakes could be substituted.
Cornstarch: Cornstarch plays two roles in this recipe. It's used to coat the tofu before baking to make it crispier and it's used to thicken the sauce. Arrowroot powder can be substituted.
Cooking Spray: Just a light misting helps add crispness.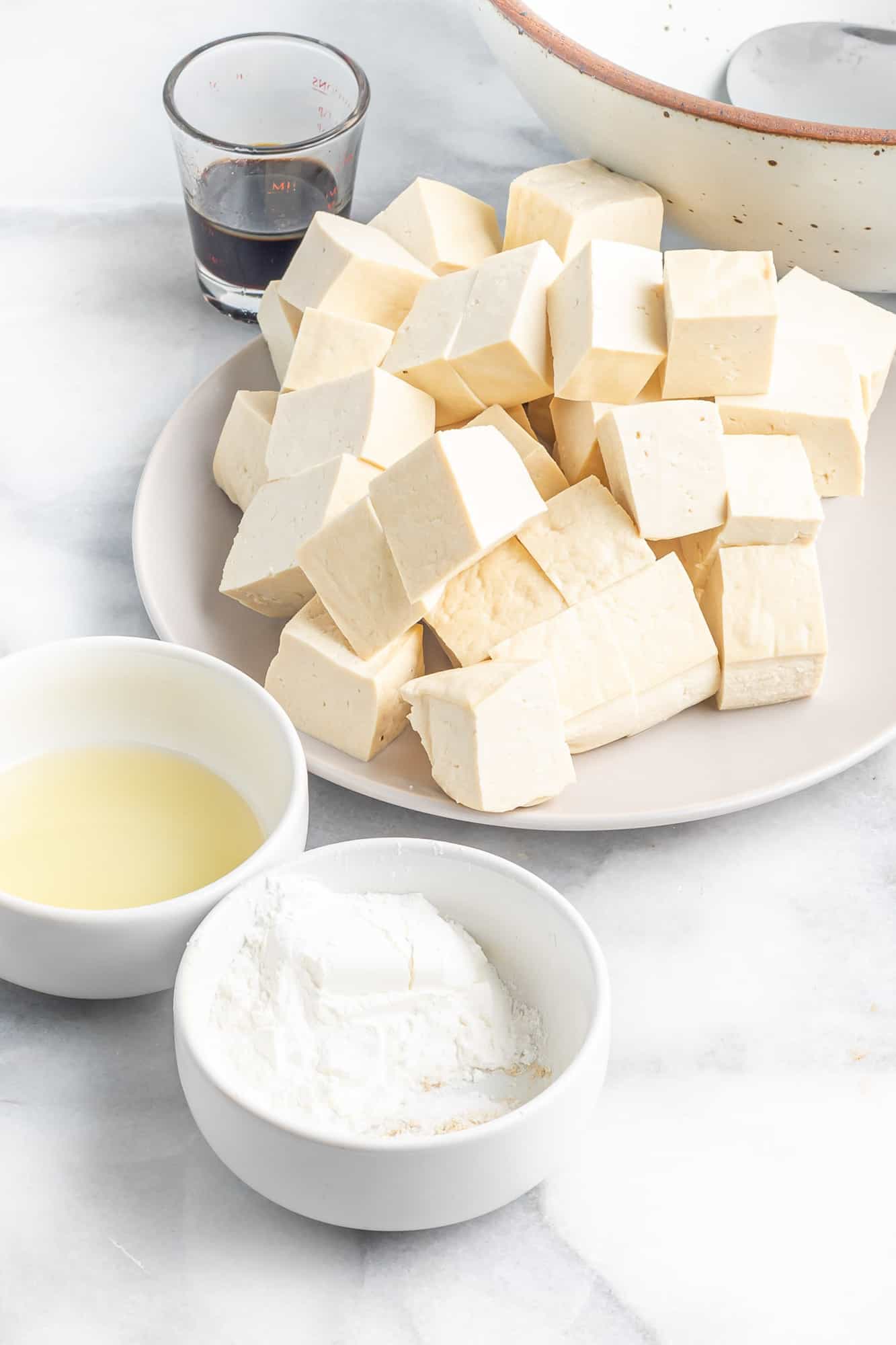 For the sauce
Powdered Sugar: Adds sweetness to the sauce and easily blends in. If you prefer, substitute honey or agave, or a sugar substitute.
Rice Vinegar (or Rice Wine Vinegar): These are the same thing but don't use rice wine or seasoned rice vinegar. A good substitute is white wine vinegar.
Garlic and Ginger Root: Mince it finely or grate it so the flavor really permeates the sauce.
Toasted Sesame Oil: You'll love the nutty roasted flavor of dark brown toasted sesame oil. If your sesame oil isn't dark brown, chances are you picked up regular (untoasted) sesame oil which is rather flavorless and is not a good substitute.
Cornstarch: Cornstarch will make the sauce super thick and luxurious!
Sesame Seeds and Green Onions, for serving: Optional, but highly recommended.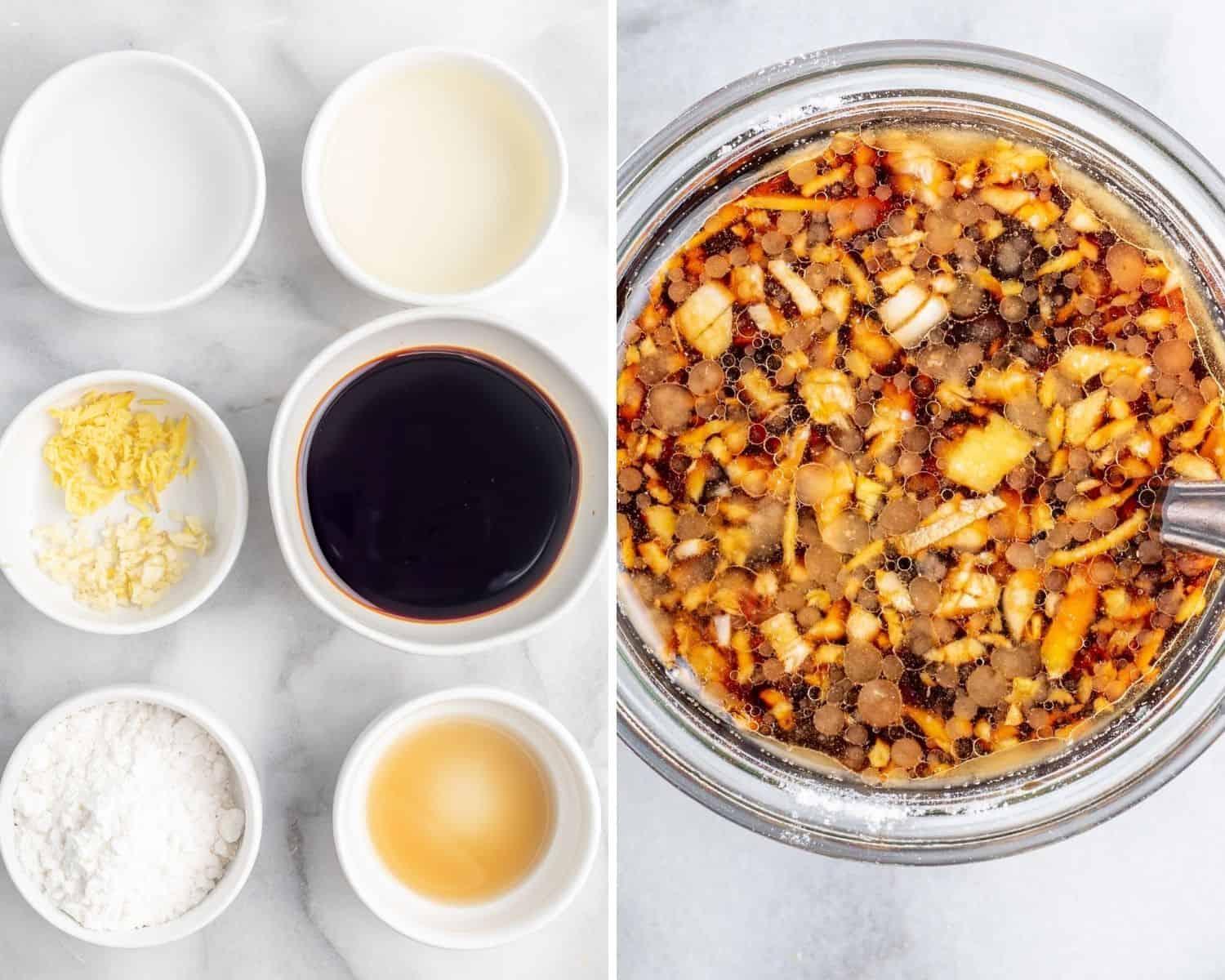 Marinating Tofu
Because tofu is rather bland, you would think that a marinade would improve its flavor. However, extra firm tofu is dense and non-porous so it really doesn't absorb any of the marinade. Simply coating the tofu with a sauce or seasoning has the same desired effect.
How to make it
Once your tofu has been pressed and cut into cubes, you're ready to get started. By the way, don't you love cutting those nice squares of tofu, or is it just me? For some reason, I get a charge out of that and I'm probably just being weird. Okay….
Mix together the oil, soy sauce, and black pepper in a medium sized bowl. Add those nice little cubes to the bowl and gently stir, making sure the tofu is well-coated.
Next add the cornstarch and again, stir gently. The mixture will look pretty sticky. Remember to have a gentle hand. The tofu is a little fragile and you don't want to break it up but if you do get some smaller pieces, don't worry, they get extra crispy and are yummy.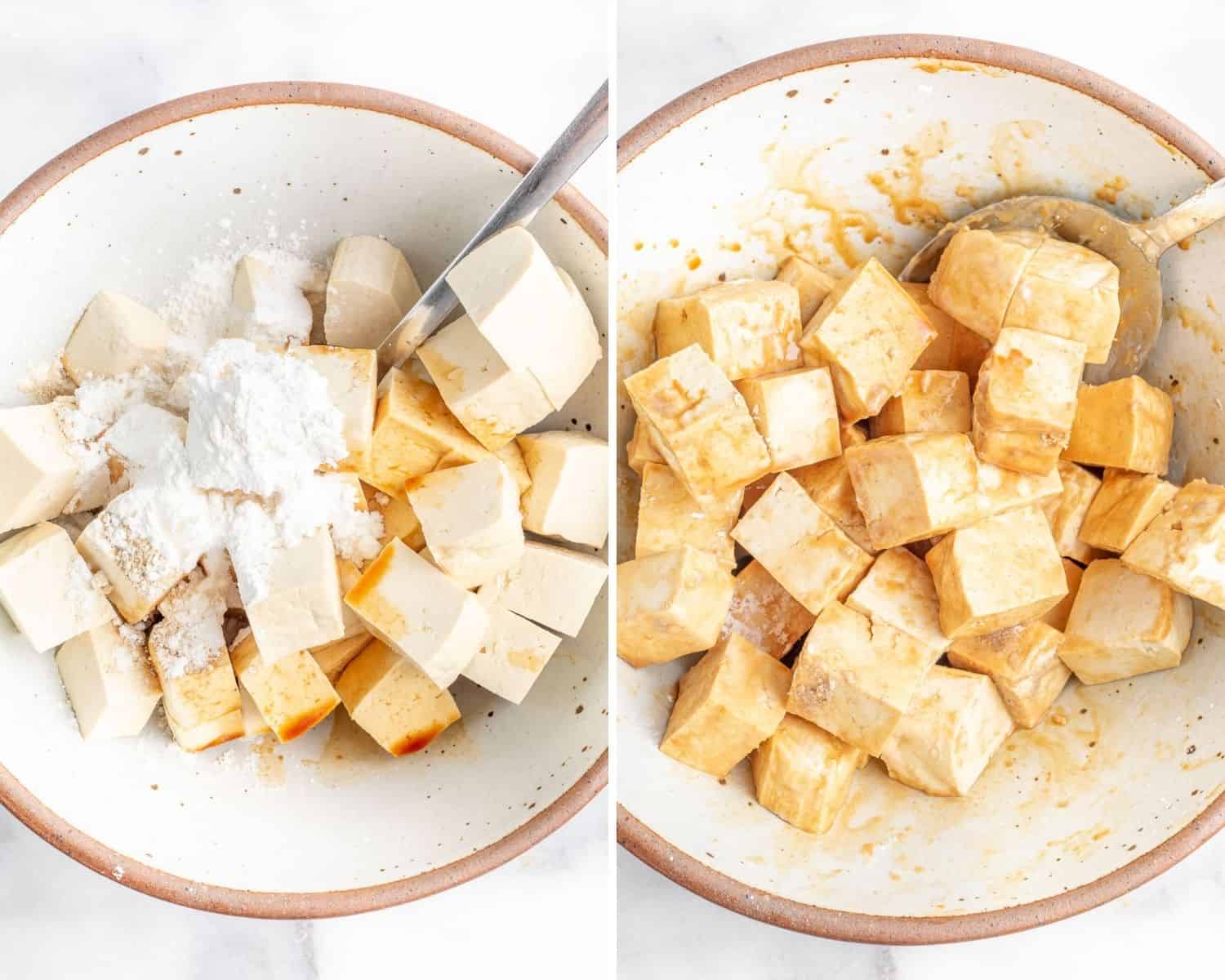 Spread the tofu onto a rimmed baking sheet that's been sprayed with cooking spray or lined with parchment paper. I think that the tofu gets a little more crispy without the parchment but if you'd rather not get a pan dirty, I totally understand.
Bake the tofu for about a half hour, or until it's brown and crispy.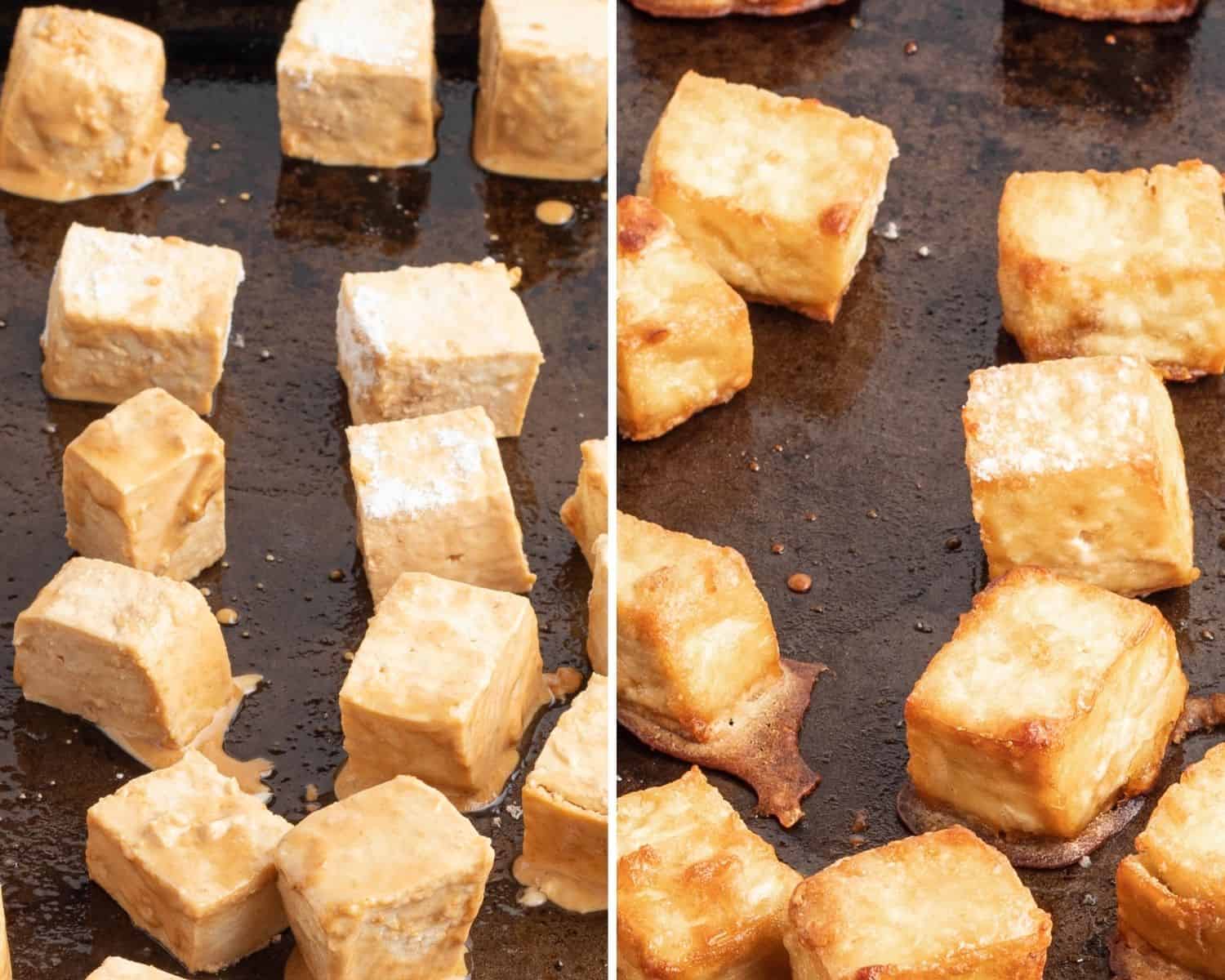 Meanwhile…
You can make the sticky sesame sauce. Measure all the sauce ingredients into a small saucepan and bring it to a boil. Cook it for a few minutes or until it starts to thicken a bit. Take the pan off the heat and set it aside.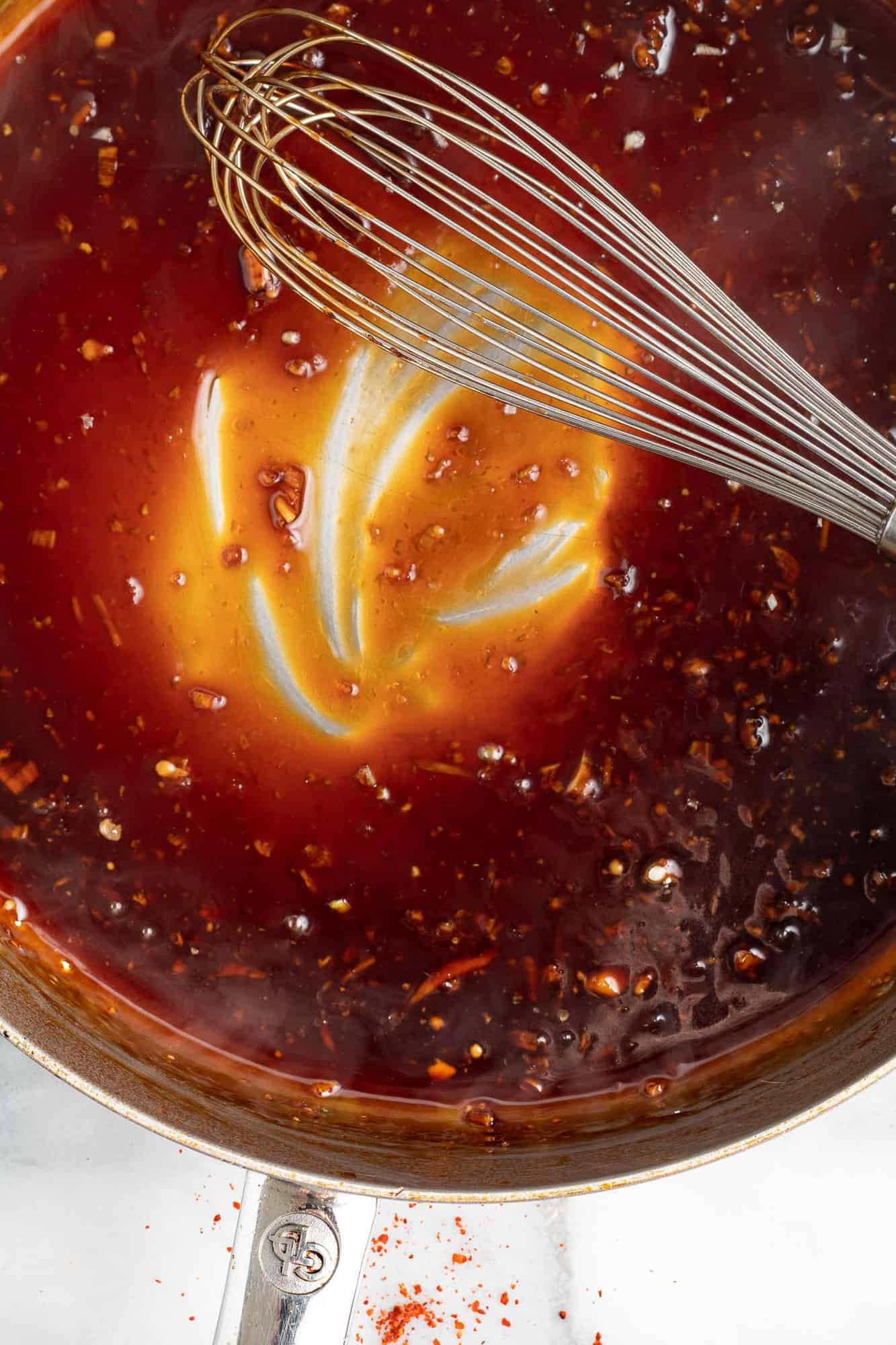 Okay, your tofu is baked and the sauce is ready. Go ahead and stir the tofu into the sauce, making sure every little cube gets coated. So yummy! Your sticky sweet and salty tofu is ready to eat!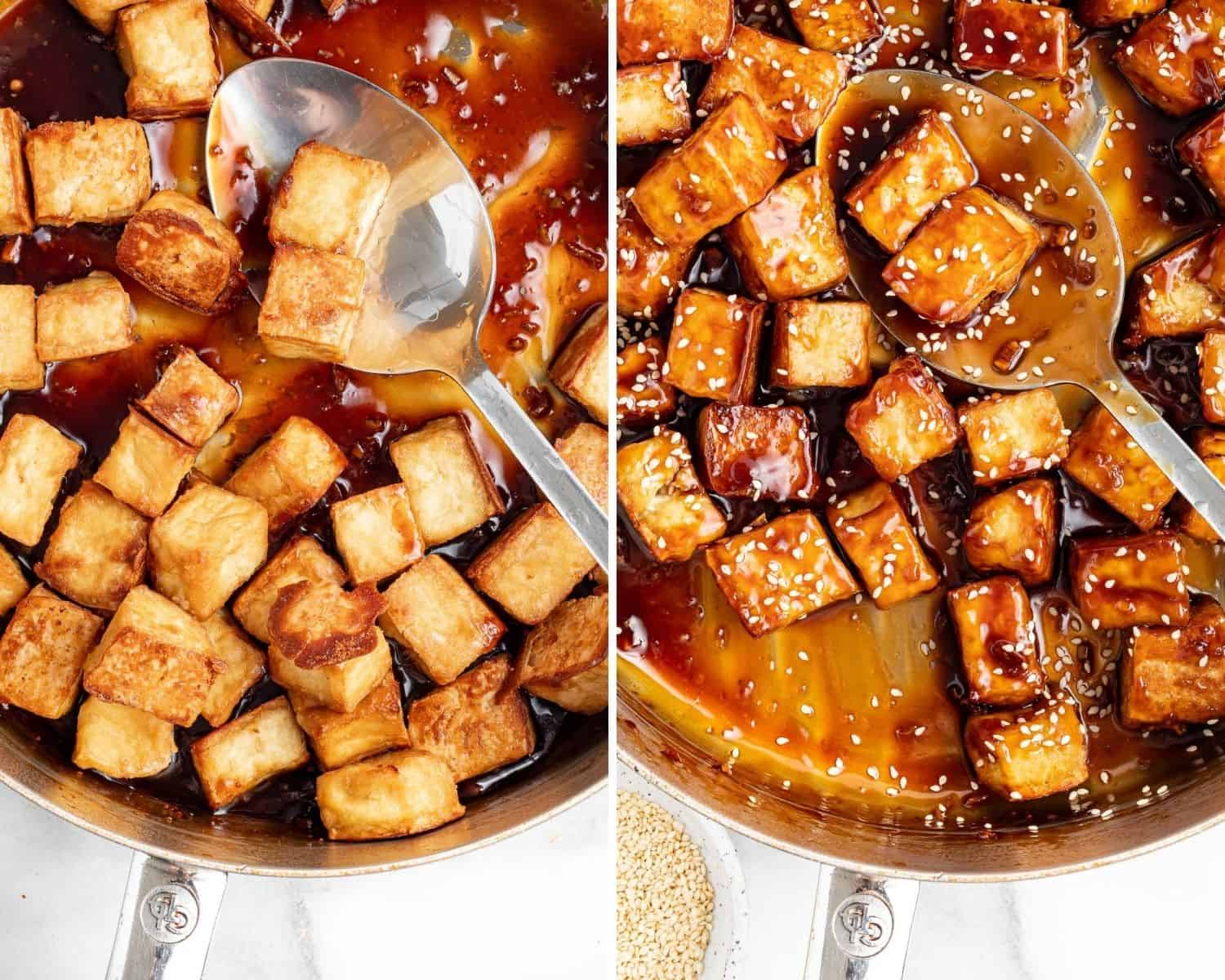 If you like, sprinkle a few sesame seeds and sliced green onions on it. These garnishes aren't merely decorative, they also add flavor and texture. Enjoy!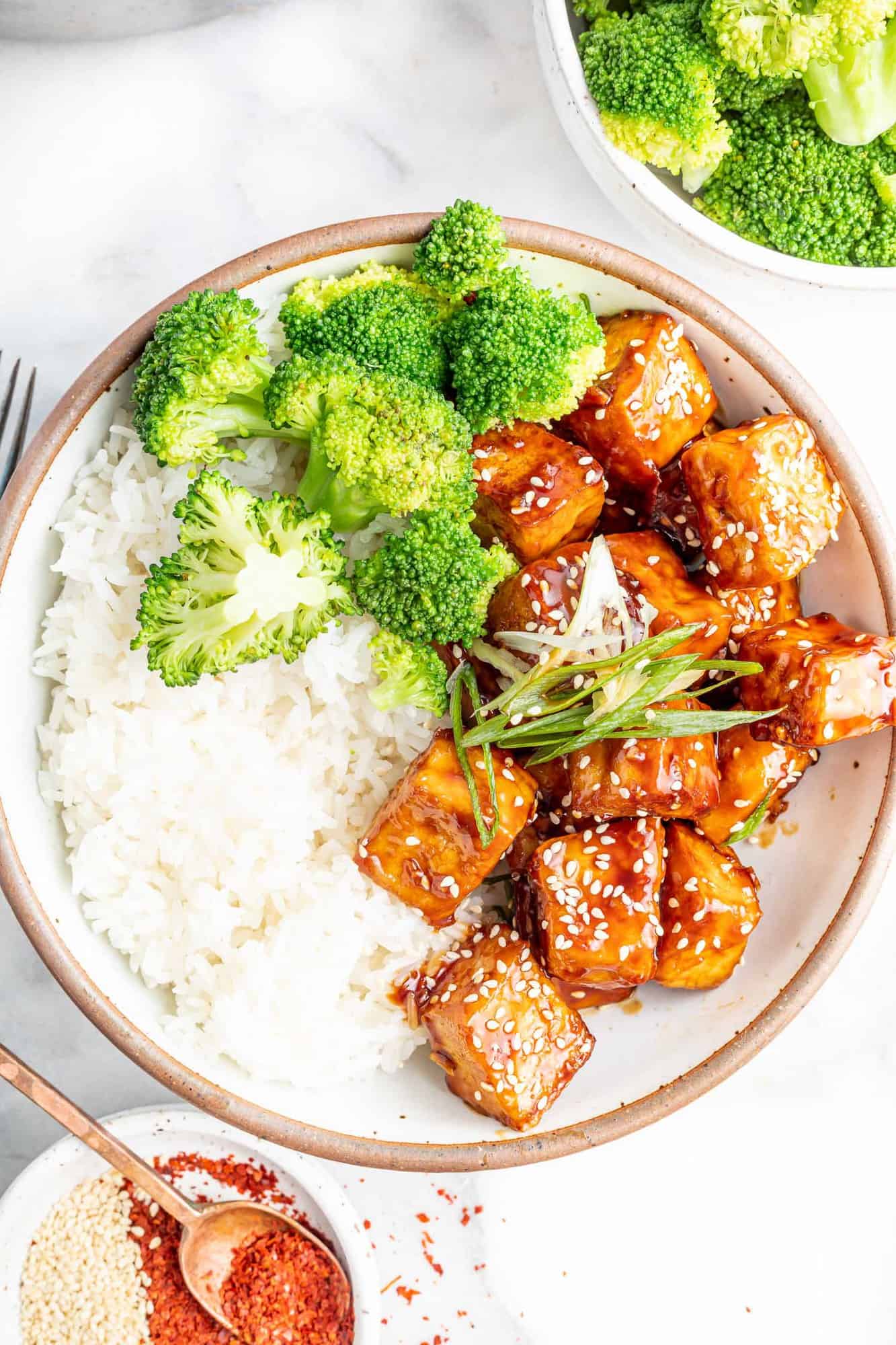 FAQs
What kind of tofu is the best for crispy tofu?
Use extra firm tofu which has less water in it. Less water means that it will get crispier since moisture is the enemy of crispness. That's why you press it, too, to remove even more water.
In addition, extra firm tofu holds its shape better so you end up with nice cubes.
How do you make tofu crispy?
In addition to using extra firm tofu, you can make tofu crispy by coating it with cornstarch before frying it or baking it. Arrowroot powder is a good corn-free alternative.
How do you press tofu without a tofu press?
While tofu presses are pretty nifty, you don't really have to use one. Simply place the tofu on a plate lined with a few layers of paper towels. Put more paper towels on top of the tofu, place a cutting board or tray on it, and set a weight on top of that. For weight, you can use a cast iron pan, canned goods, or a heavy book. Let it drain for 30-60 minutes.
Make It Your Own
Leave out the sesame if you're allergic or just don't care for it. My son is extremely allergic to sesame so yes, we make this tofu without. We don't have any sesame products in our house because it's just too risky. If you're omitting the sesame, you may want to call this recipe simply "baked tofu" or "sticky tofu" or "that really good tofu with the sauce."
The sauce is a bit on the tangy side because of the rice vinegar, sort of a sweet and sour effect. If you find it a bit too tangy, add more sugar or another sweetener.
Interested in a sheet pan dinner with tofu? Try my tofu sheet pan dinner with loads of roasted veggies and a fabulous creamy peanut sauce.
Not a fan of tofu? Try the same process with bite-sized boneless skinless chicken or shrimp, adjusting the cooking time as necessary. The sauce goes great with meat, too.
Make Ahead Ideas
Since pressing the tofu is the most time-consuming part of this recipe, go ahead and press it ahead of time. It can press in the refrigerator overnight or you can press it and refrigerate it for up to two days, wrapped well.
Another way to save time is to make the sauce ahead of time, uncooked or cooked. Store it in the fridge up to a day ahead.
If you want to make everything ahead, that works fine too. Store the baked tofu separate from the sauce.
Storage & Reheating Tips
Leftover tofu can be stored in the refrigerator, wrapped tightly, for up to five days. Once it's in the sauce, it will lose its crispiness but still tastes great.
To reheat, if the tofu is already in the sauce, heat in a saucepan or skillet on the stove over medium-low heat, or in the microwave.
If the baked tofu and sauce has been stored separately, heat and crisp up the tofu in a skillet with a bit of oil, then add the sauce to reheat.
How To Use This Tofu
Add the flavorful tofu to any dish you'd like to add protein and flavor to.
Stir fry some veggies, add the tofu with the sauce, and serve over rice or noodles.
Make a wrap with sesame tofu and fresh veggies, like shredded cucumber, carrots, spinach, and avocado.
Add the tofu to a grain bowl or salad with your favorite ingredients. Add it to this Asian Salad to make it a main course salad.
Serve the tofu as an appetizer with toothpicks to spear the cubes.
Did you make this? Be sure to leave a review below and tag me @rachelcooksblog on Facebook, Instagram, or Pinterest!
Add flavorful and crispy baked sesame tofu to stir fries, salads, or bowls. It makes a dandy little snack, too, healthy and satisfying.
Ingredients
1

package

(14-16 oz.) extra firm tofu, pressed and cut into ½ -inch cubes

1

tablespoon

avocado oil

1

tablespoon

tamari or soy sauce

(low-sodium, if preferred)

½

teaspoon

ground black pepper

¼

cup

cornstarch

cooking spray
Sauce:
⅓

cup

tamari or soy sauce

(low-sodium if preferred)

¼

cup

powdered sugar

(see note)

¼

cup

rice vinegar

(see note)

1

clove

garlic, minced

1

teaspoon

minced fresh ginger

1

teaspoon

toasted sesame oil

¼

cup

water

2

teaspoons

cornstarch
Toppings (optional)
1

tablespoon

sesame seeds

2

green onions, chopped
Instructions
After your tofu has been pressed, preheat oven to 400°F; spray a baking sheet with cooking spray or line with parchment.

In a large bowl, whisk together avocado oil, tamari, and pepper. Add tofu cubes and stir lightly until coated. Sprinkle on cornstarch and stir lightly until tofu is coated and sticky.

Arrange the tofu in a single layer on the prepared baking sheet. Spray lightly with cooking spray and transfer to the oven.

Bake for 30 minutes or until the tofu is golden brown and crispy. Remove from oven and set aside.

While the tofu is baking, stir together the sauce ingredients in a medium saucepan and bring to boil for 2-3 minutes while whisking occasionally. Once the sauce is thickened, add the tofu to the pan and toss gently to coat.

Top with sesame seeds and green onions and serve immediately.
Notes
You can also use a sugar substitute or even agave or honey if not vegan.
Sometimes rice vinegar is called rice wine vinegar. Don't use seasoned rice vinegar which contains added sugar and salt.
Sauce is quite tangy. Taste and adjust for sweetness by adding more powdered sugar or other sweetener.
Nutrition Information
Calories:
136
kcal
,
Carbohydrates:
18
g
,
Protein:
3
g
,
Fat:
6
g
,
Saturated Fat:
1
g
,
Polyunsaturated Fat:
1
g
,
Monounsaturated Fat:
3
g
,
Sodium:
1335
mg
,
Potassium:
86
mg
,
Fiber:
1
g
,
Sugar:
8
g
,
Vitamin A:
61
IU
,
Vitamin C:
1
mg
,
Calcium:
33
mg
,
Iron:
1
mg
This website provides approximate nutrition information for convenience and as a courtesy only. Nutrition data is gathered primarily from the USDA Food Composition Database, whenever available, or otherwise other online calculators.