Tofu Sheet Pan Dinner with Peanut Sauce
A flavorful medley of roasted broccoli, carrots, bell peppers and onions is combined with crispy tofu in this outstanding tofu sheet pan dinner. The peanut sauce is amazing!
Recipe Overview
Why you'll love it: This easy sheet pan dinner (one pan!) is a meatless main dish that is super flavorful and exciting.
How long it takes: 45 minutes, plus 30 minutes to press tofu
Equipment you'll need: large sheet pan
Servings: 4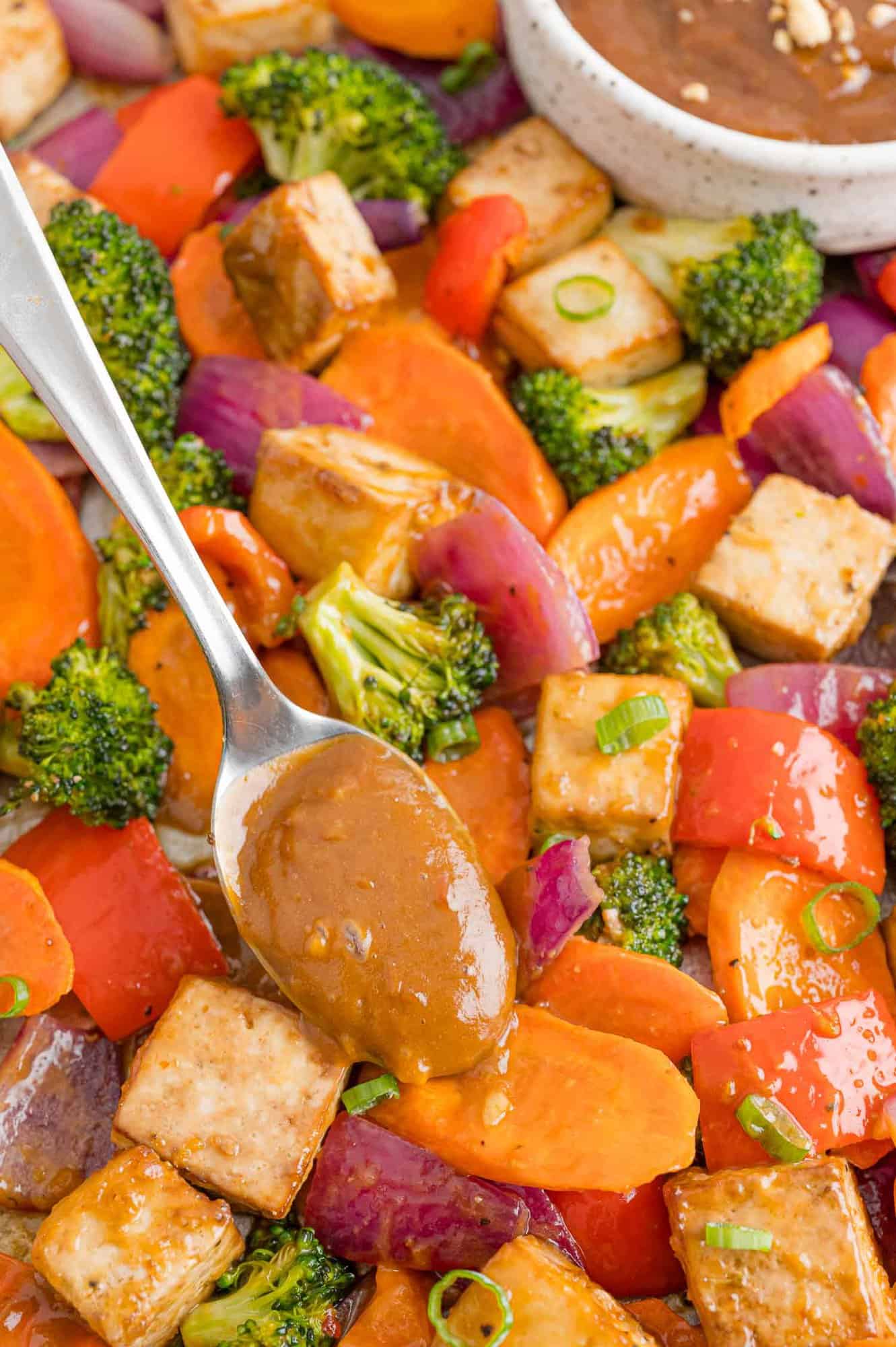 You'll find plenty of sheet pan dinners on my site with chicken, steak, sausage, salmon, and even turkey. I love sheet pan dinners for so many reasons:
Easy to make: Cut up a bunch of veggies, throw them on a sheet pan with a protein of your choice, and bake. So easy!
Easy clean up: There's only one pan to wash.
Lots of veggies: Sheet pan dinners always include lots of healthy vegetables, which brings me to the next point…
Roasted vegetables: I'm a huge fan of how vegetables turn out when they are roasted.
One course dinners: Sheet pan dinners are a well-rounded meal with protein and veggies. You really don't need anything else to go with them.
However, I noticed that I didn't have any meatless/vegetarian sheet pan dinners. Since many of us are trying to reduce our intake of meat for various reasons, I thought a tofu sheet pan recipe was well overdue.
Extra firm tofu adapts perfectly to a sheet pan dinner. Accompanied by colorful veggies, and served with a truly amazing peanut sauce, this tofu sheet pan dinner is exciting, delicious, and healthy, too. It's a stir fry on a sheet pan!
(This recipe may even convert those of you who are on the fence when it comes to tofu.)
About This One Pan Tofu Dinner
This recipe has two main components: the roasted tofu/vegetable blend and an easy peanut sauce. The sauce can be mixed into the stir fry or served separately. It can even be omitted. The sheet pan dinner can be served with steamed rice or it can easily stand alone.
The recipe is very easy to adapt to your preferences. Use different vegetables, if you like. Look in your fridge and use what you have. Substitute the vegetables you like best. I use a classic blend of broccoli, carrots, bell peppers, and onion but almost any other vegetable will work.
Although the list of ingredients may appear rather long, this recipe really does come together pretty quickly.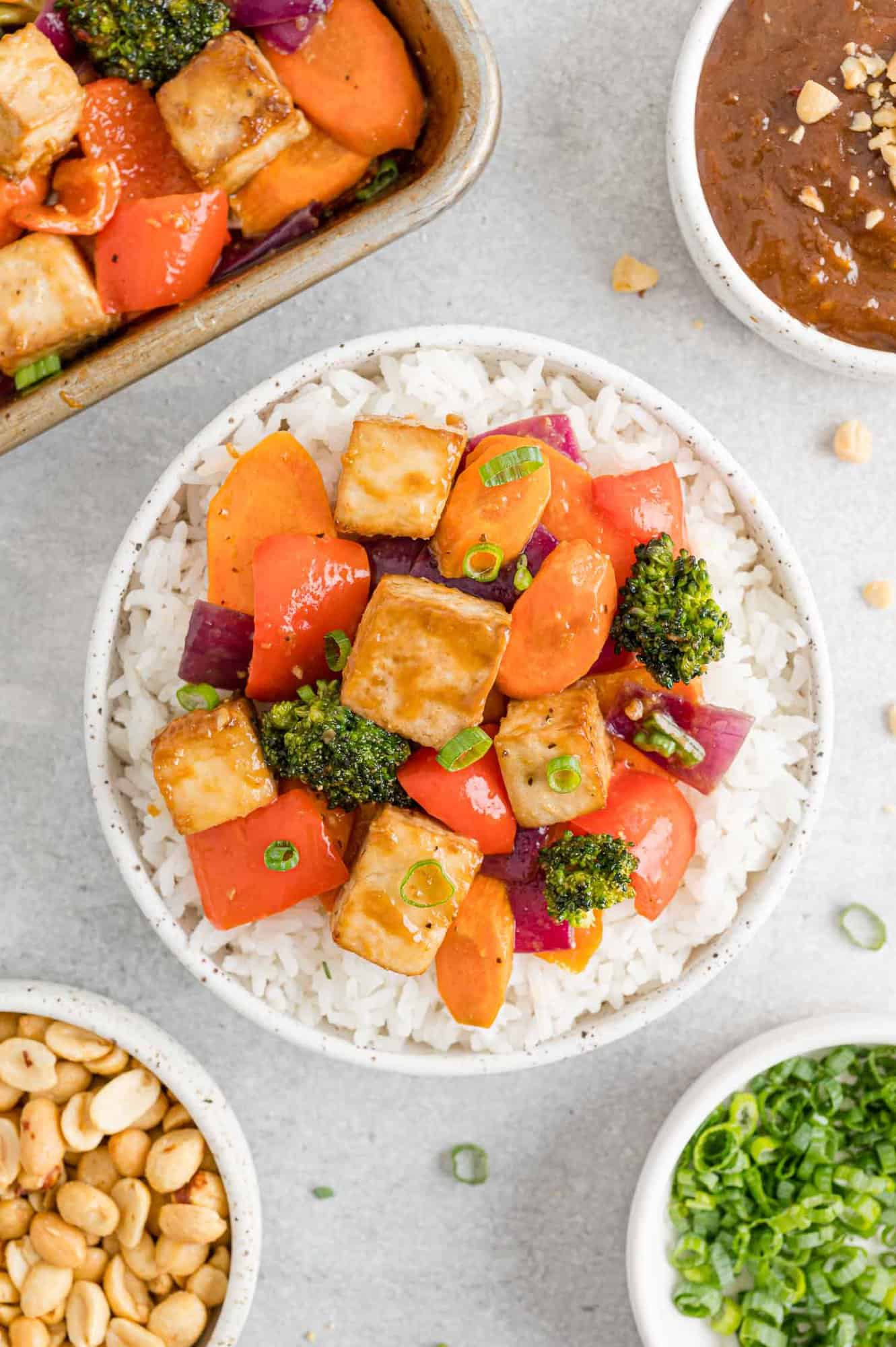 Have Peanut Allergies?
Don't worry, you can still enjoy this recipe. Since my children have severe nut allergies, I substitute sunflower seed butter (sun butter) for the peanut butter. It's pretty difficult to tell the difference in this flavorful sauce and it's delicious with either.
Similarly, the sesame oil can be omitted, if necessary.
I'll get you started on the recipe here and answer some common questions. Look for the recipe on the recipe card below for measurements, instructions, and nutrition information.
Ingredients You'll Need
Tofu: Choose extra-firm tofu. Softer varieties won't work well with this recipe. For more information about tofu, check out the FAQ section below.
Carrots, Onion, Broccoli, Red Bell Pepper: You'll love this colorful and healthy assortment of vegetables. They are all relatively firm vegetables which need about the same amount of time to cook.
Olive Oil: Like any sheet pan dinner, a few tablespoons of oil are essential to prevent sticking and to promote browning. If you prefer, another type of oil can be substituted; avocado, grapeseed, or coconut oil are good choices.
Salt, Pepper, Garlic Powder: The vegetables are lightly seasoned before roasting. You won't need much salt because the soy sauce adds saltiness.
Soy Sauce: The cubed tofu is tossed in soy sauce for flavoring before it is tossed with cornstarch. You'll be adding it to the peanut sauce, too.
Cornstarch: Cornstarch is a fine white powder usually found in the baking aisle. It may be called cornflour in different locations. Cornstarch is not the same as cornmeal. Cornstarch is used for for a variety of purposes; in this recipe, a light coating of cornstarch helps the tofu crisp up.
Peanut Butter (or sunflower seed butter or almond butter): Nut butter is the base of the sauce. It is nutritious, a little creamy, and so, so good. Creamy peanut butter is preferable, as opposed to crunchy.
Sweet Chili Sauce: This condiment is bright red in color and is made with red chili peppers, rice vinegar, and sweeteners. It's both spicy and sweet. Sweet chili sauce can be used as a dipping sauce for egg rolls or crab rangoon (crab cheese wontons), among other things.
Rice Vinegar: Sometimes called rice wine vinegar, rice vinegar is often used in Asian-style recipes. Avoid seasoned rice vinegar which contains added salt and sugar.
Toasted Sesame Oil: Not to be confused with plain sesame oil which is often used for frying, toasted sesame oil is dark brown and strongly flavored.
Ginger Root: There's no substitute for fresh ginger in my mind. Buy a section of ginger root in the produce section of the grocery store. It's light brown in color and looks like a thick gnarled root. Peel it using a vegetable peeler or the edge of a spoon.
Garlic: A clove of fresh garlic is also included in the sauce. You may use more or less, according to your taste.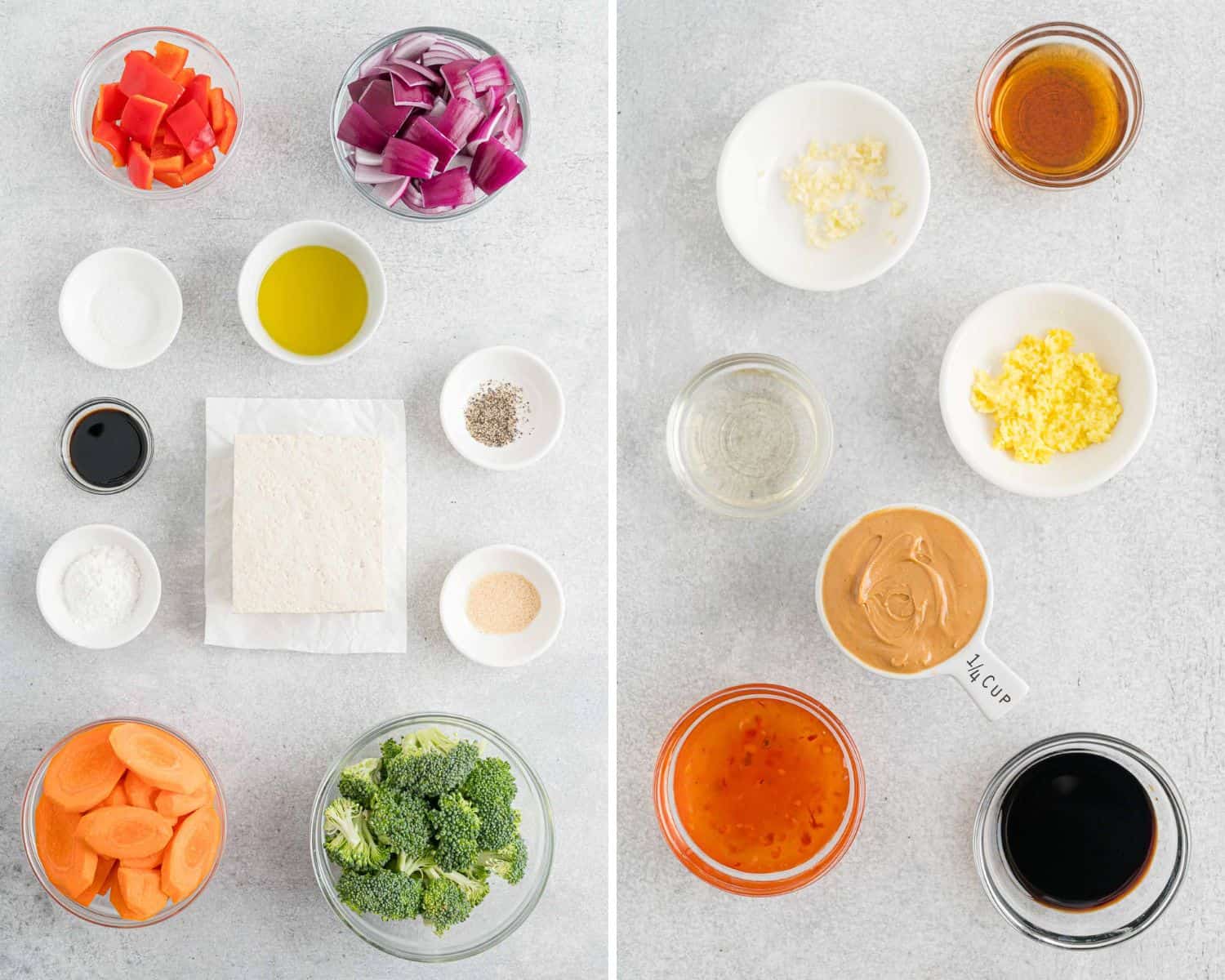 How To Make This Tofu Sheet Pan Dinner
The very first step of this recipe is pressing the tofu. Extra firm tofu has already been pressed before you bought it. Compare it to silken tofu which has more liquid; it's much softer and more delicate. However, for the best results, you're going to press that tofu even more!
So here's how to squeeze the moisture out: Standing the block of tofu on end, slice the cube evenly into 3 large slices. Keeping the stack intact, cut the 3 slices into evenly sized cubes, about a half-inch square.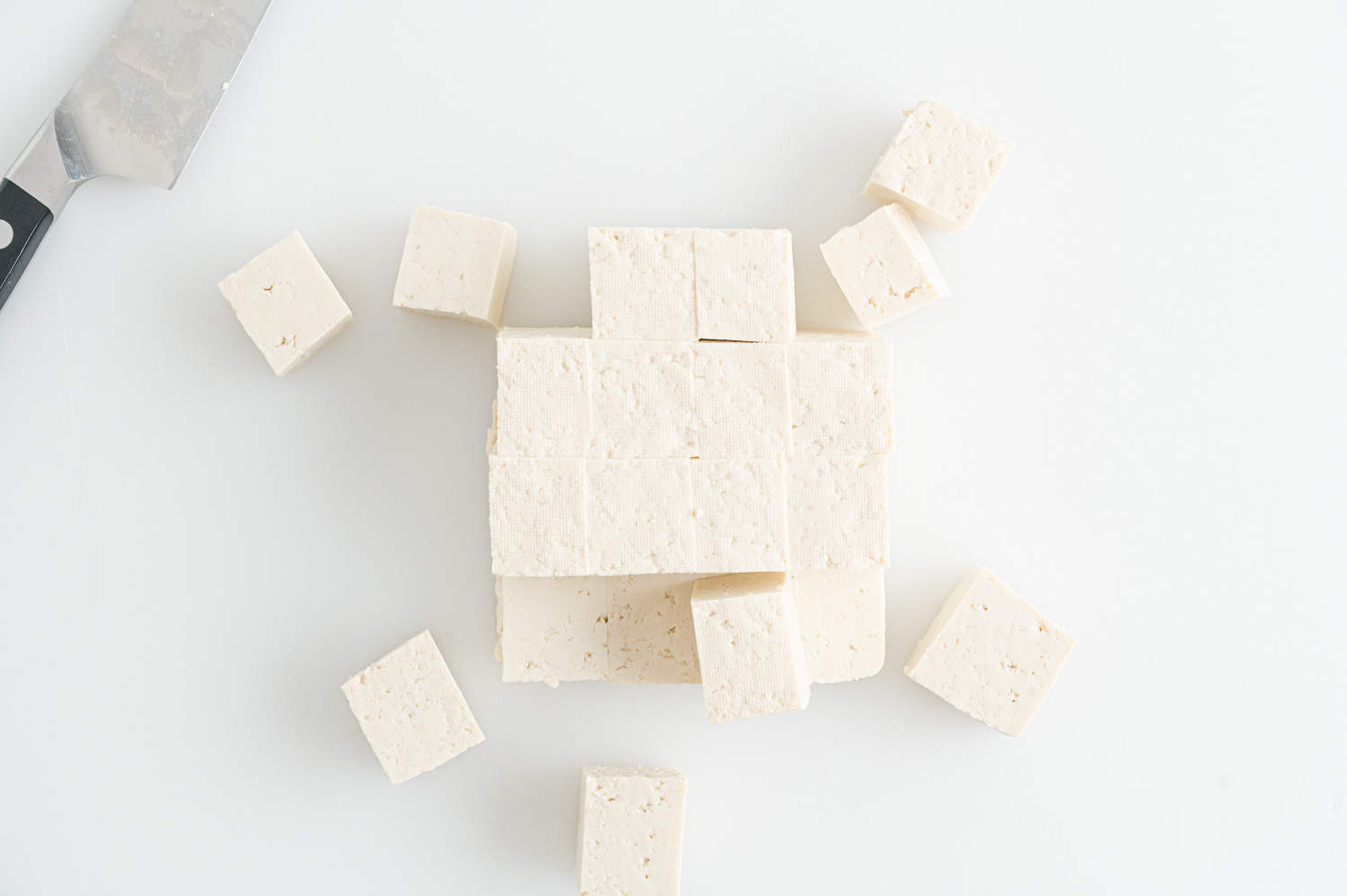 Spread the cubes on a paper towel-lined sheet pan. If you prefer, use a lint-free dish towel. Spread more toweling on top, then another sheet pan or cutting board (something large and flat).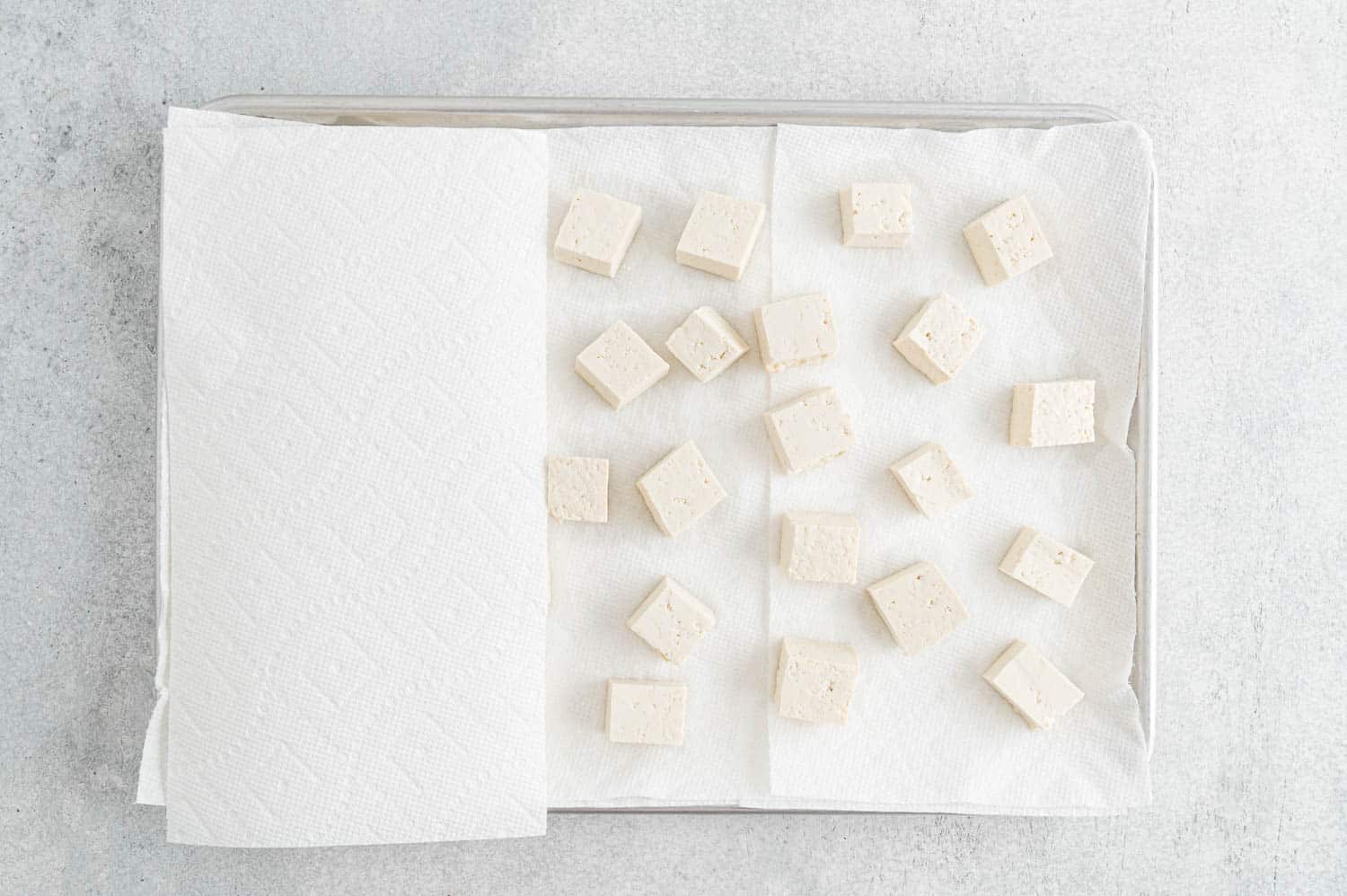 Place a heavy can or cast iron frying pan on top of that. You've created your own tofu press. Allow the tofu to drain for a half hour or so.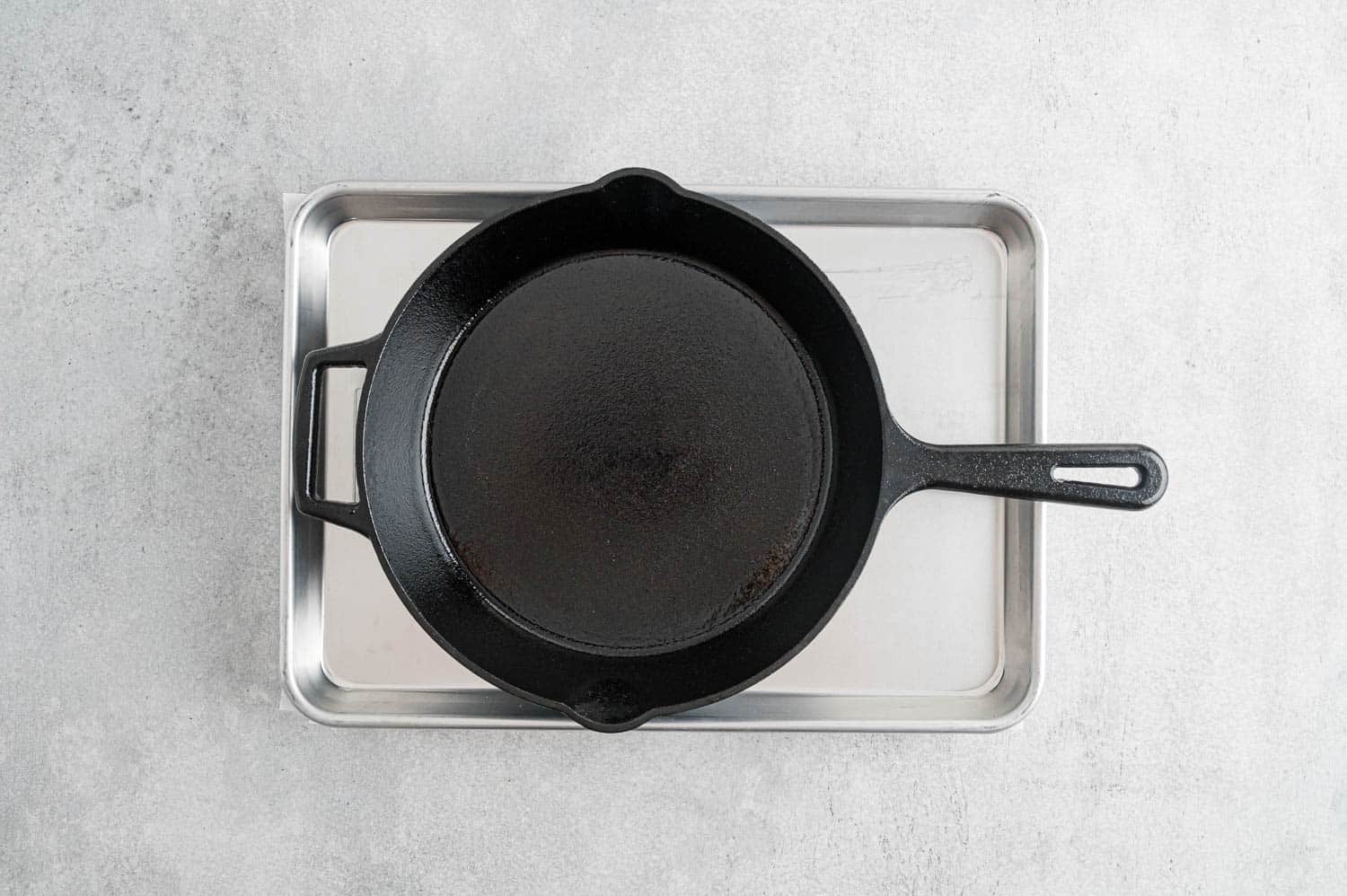 While the tofu is draining, prep the vegetables. Peel the carrots and slice them evenly. Cut the onion and bell pepper into approximately one inch chunks. Separate the broccoli into evenly sized florets and rinse it well.
Roasting Tip #1: When roasting vegetables for any recipe, it's best if they are quite dry. Excess moisture produces steam in a hot oven and instead of roasting, the vegetables will steam. They'll still taste good but won't have the great texture you're looking for.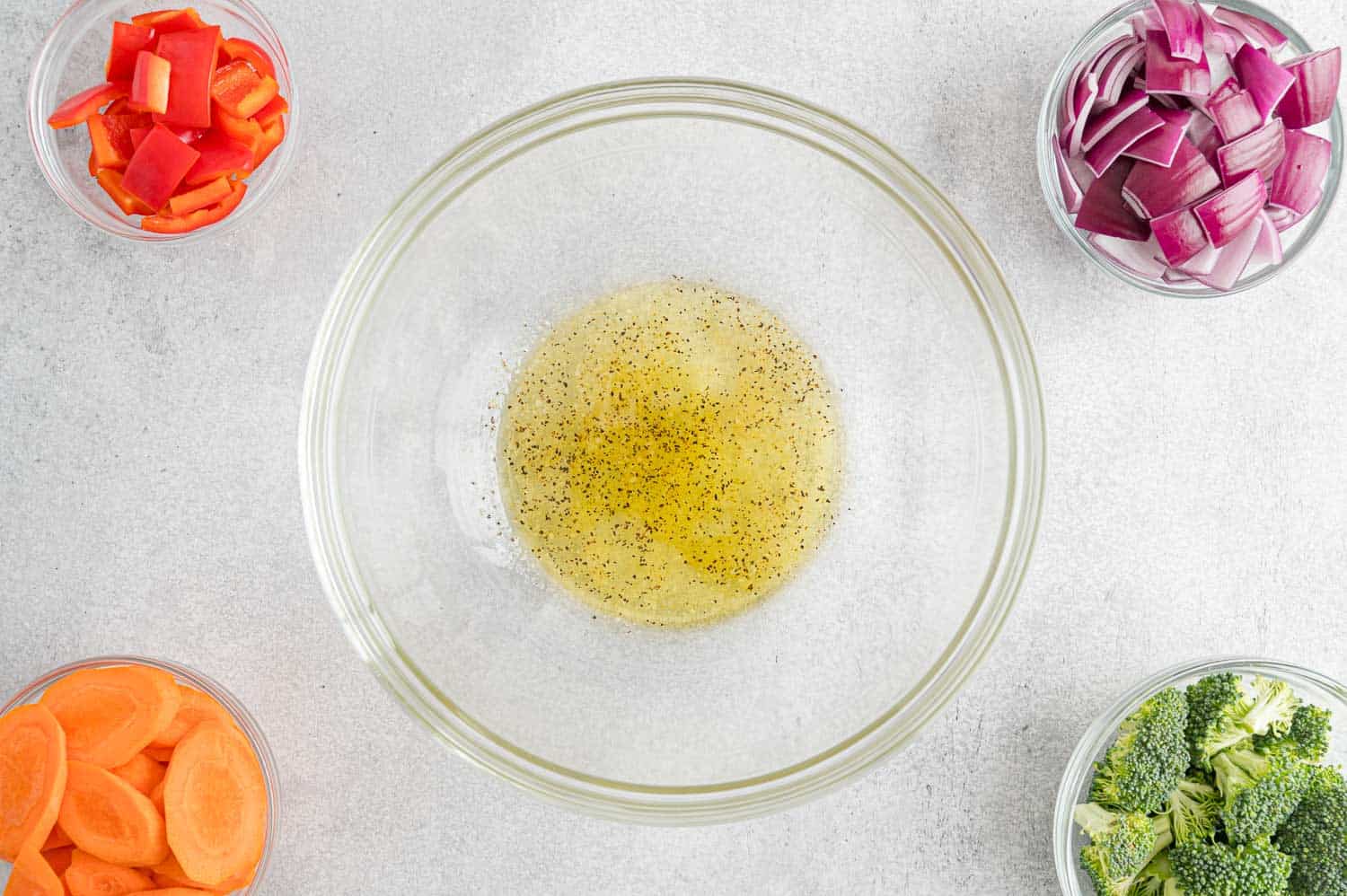 Place the vegetables in a large bowl and add the oil and seasonings. Toss them around until they are coated with the oil; arrange them on the sheet pan.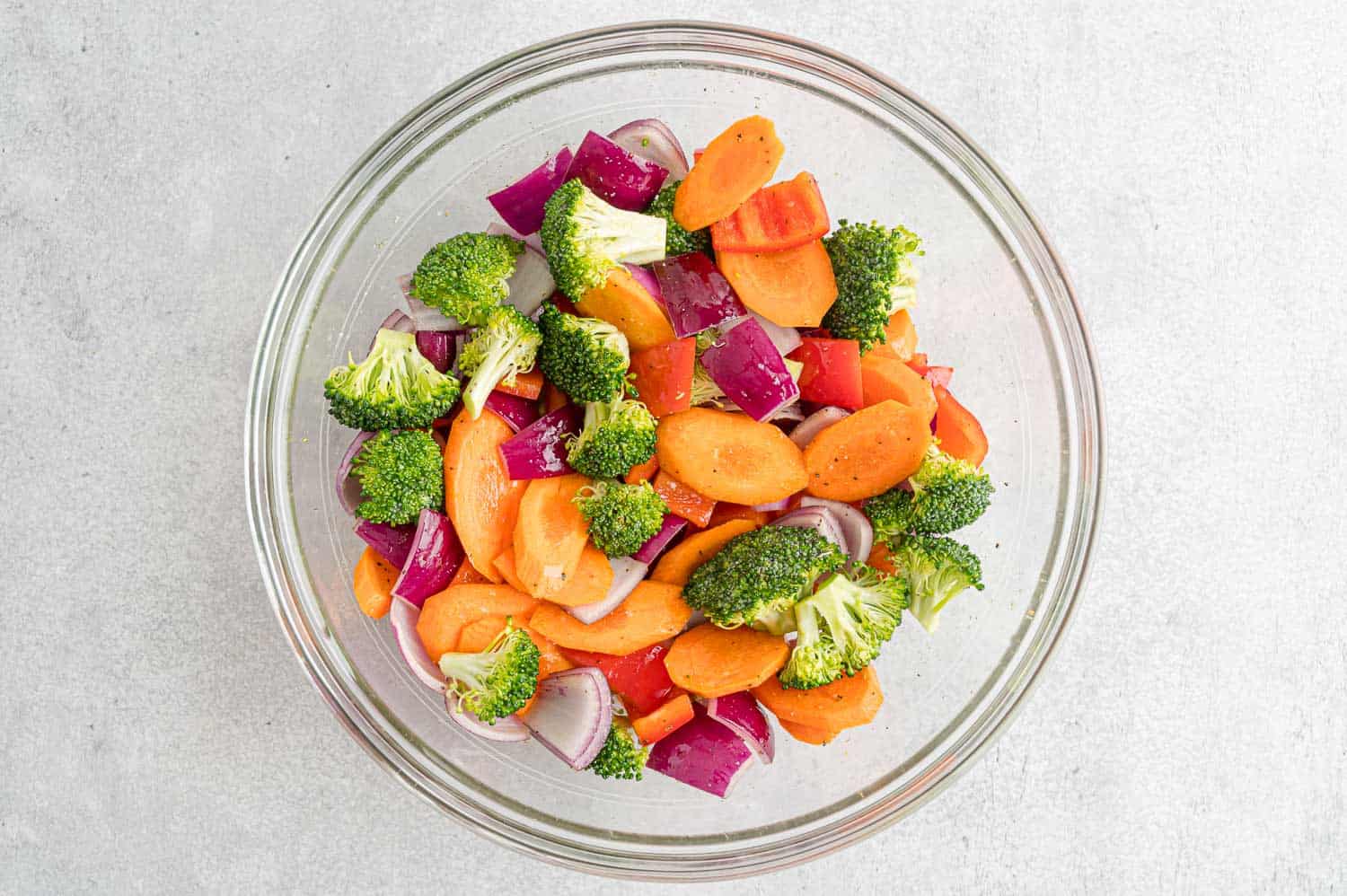 When the tofu is ready, put it into the empty bowl you used for the vegetables. Add the soy sauce and another tablespoon of oil, and stir. Sprinkle the cornstarch over the tofu and toss lightly.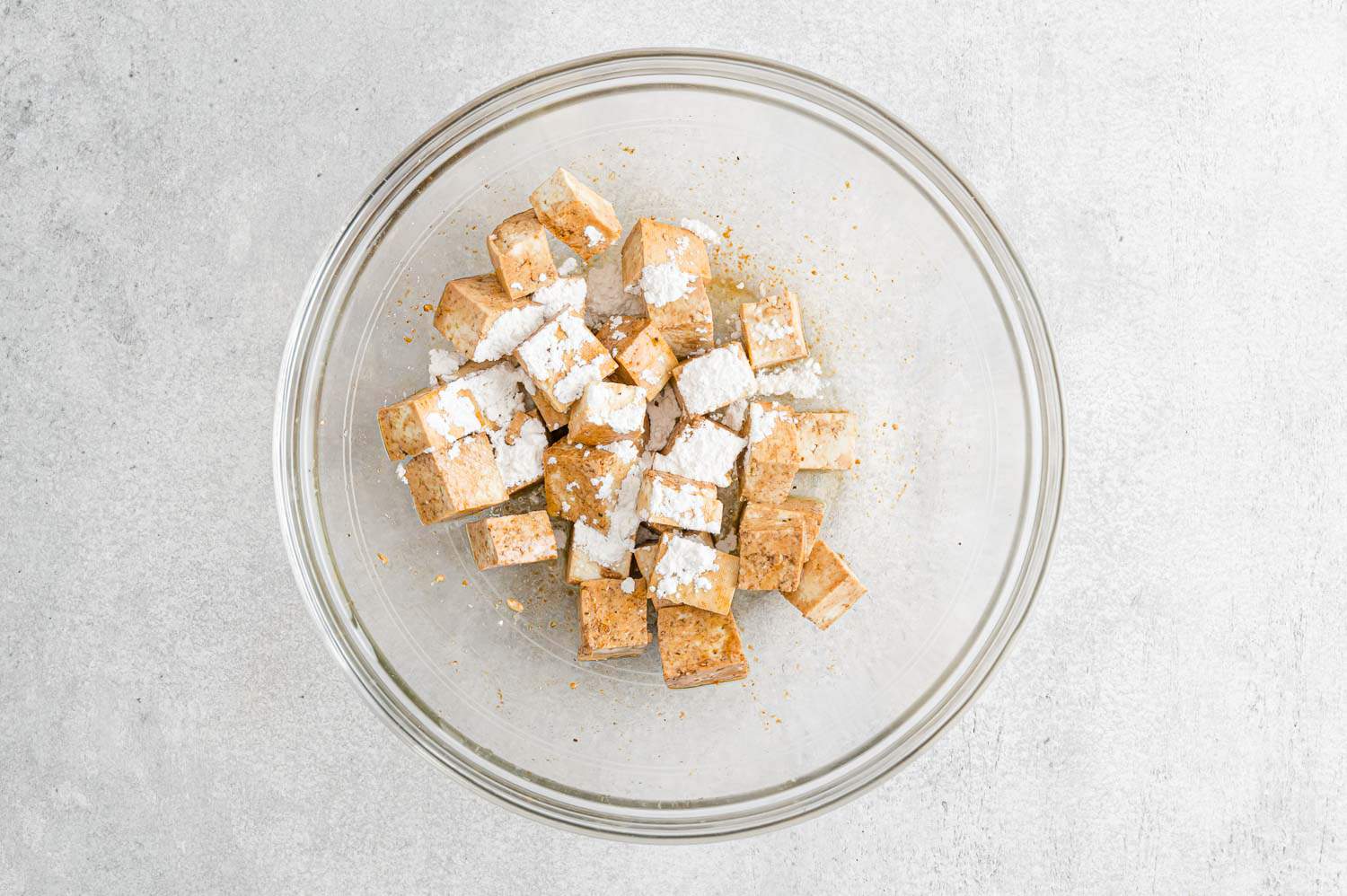 Add the tofu to the pan with the vegetables.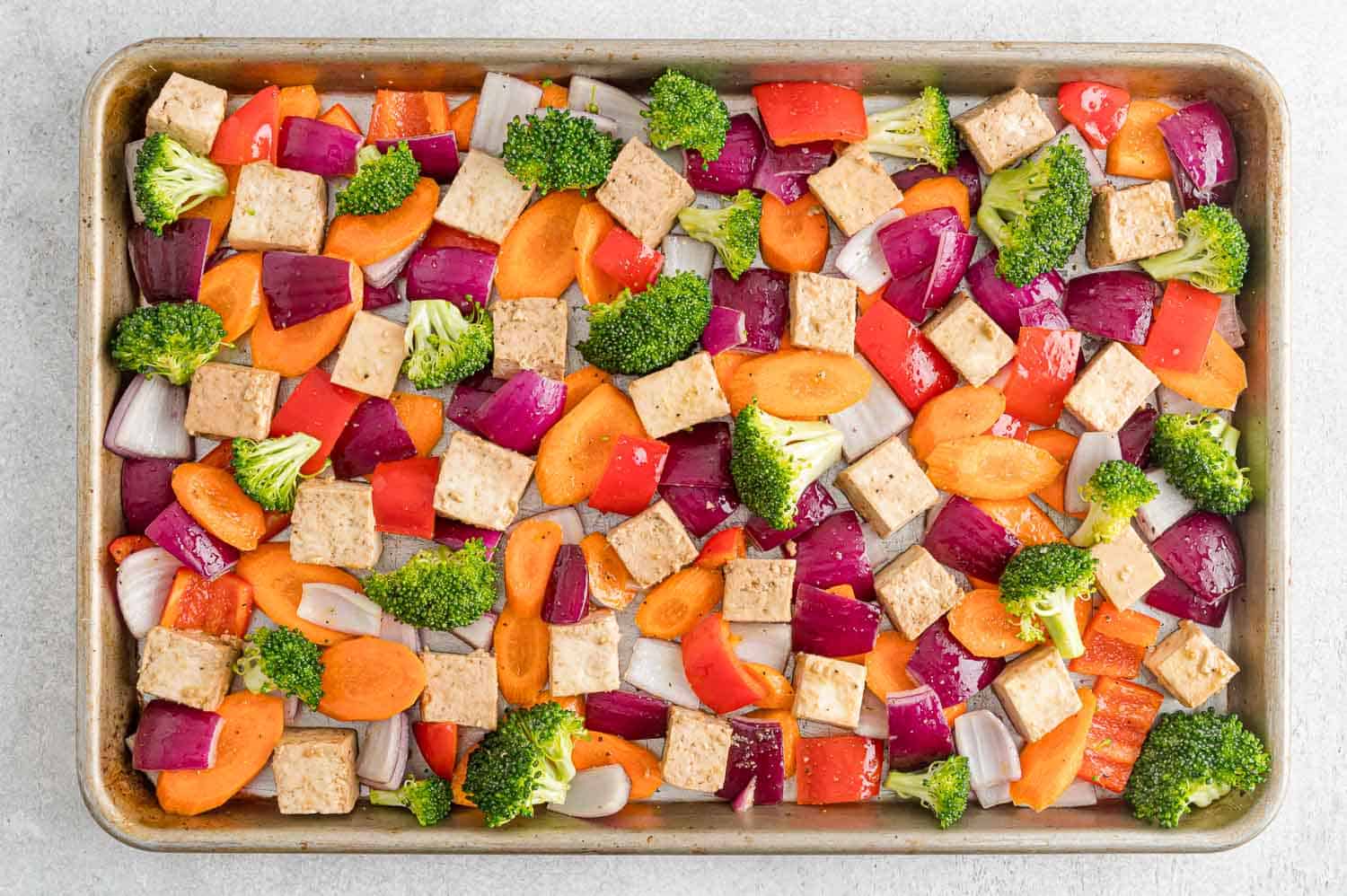 If you plan on serving this meal with steamed rice, you'll want to get that started about now. Did you know you can use your Instant Pot to make rice? It's easy and turns out great every time. Try Instant Pot jasmine rice, Instant Pot white rice, or Instant Pot brown rice.
Roasting Tip #2: Always preheat your oven and position the rack in the center. A good hot oven produces the best results. If the oven is still preheating when you put the pan in, the contents may brown too quickly on the bottom.
Pop the sheet pan into the oven. Roast for about thirty minutes, or until everything is lightly browned and crisp.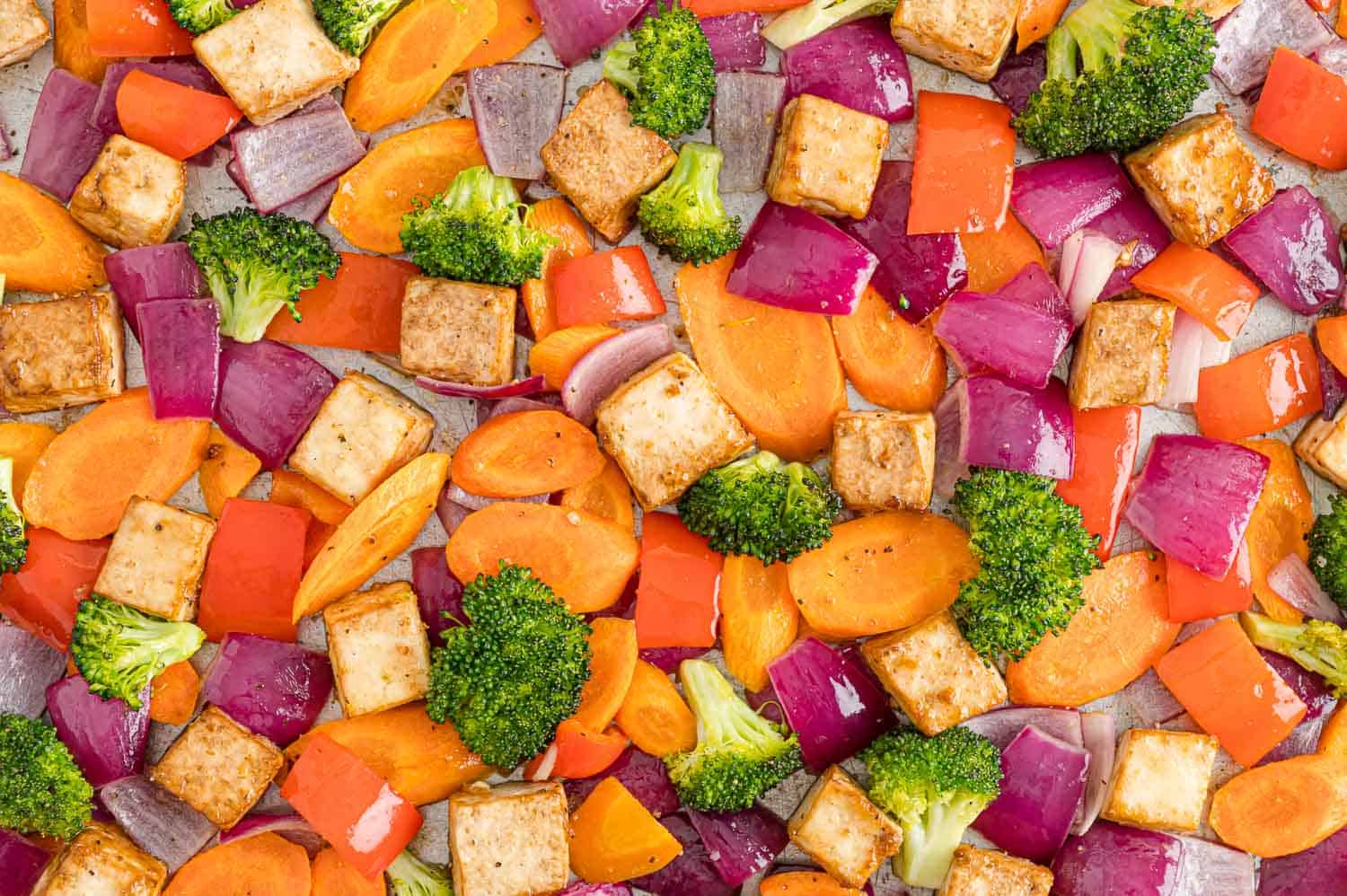 Meanwhile, stir up the sauce ingredients. A small whisk is the best tool to produce a nice smooth sauce, but if you don't have one, use a fork. Taste the sauce to check the seasoning; adjust, if necessary.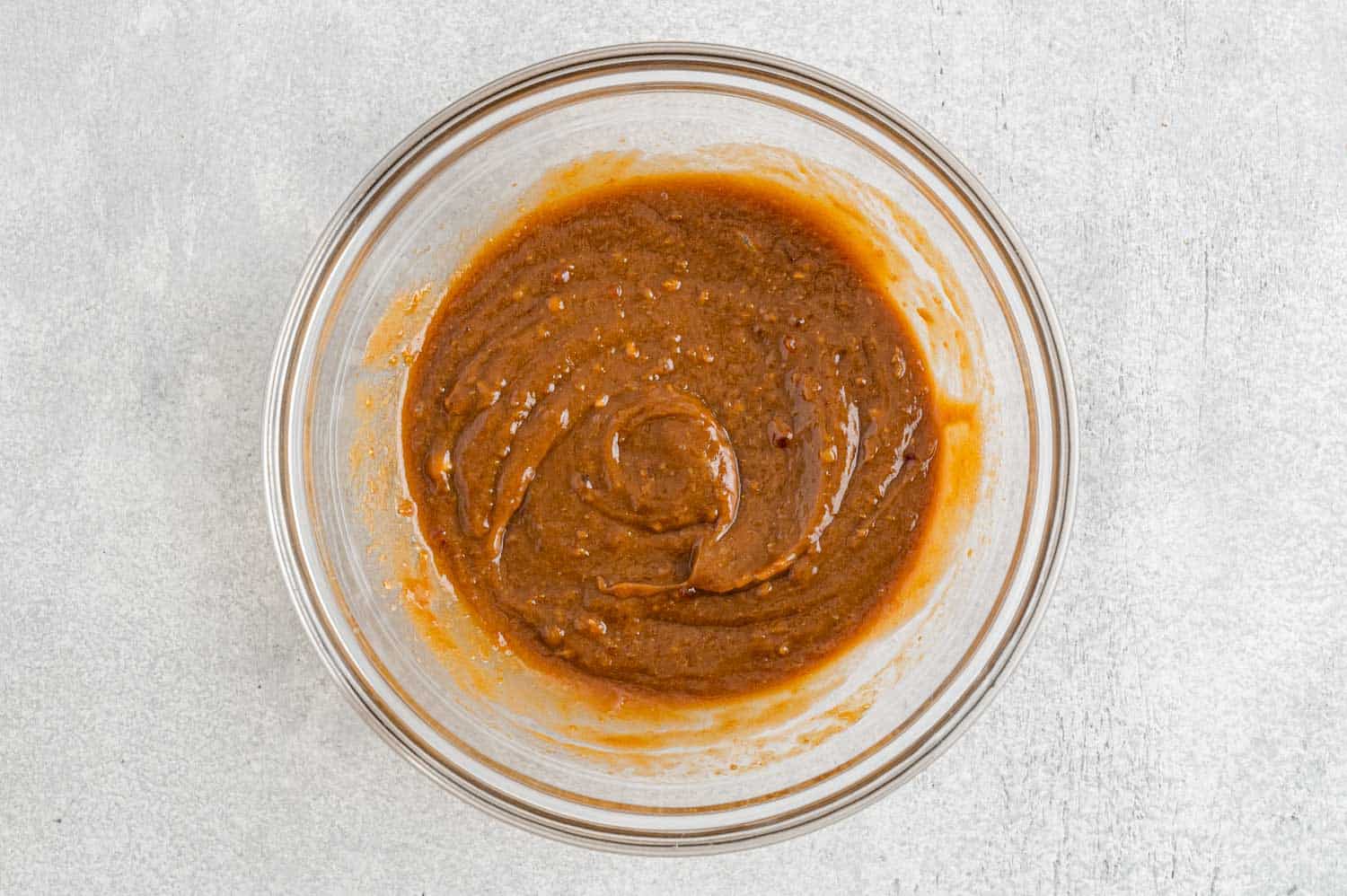 Drizzle the peanut sauce over the contents of the sheet pan or serve the sauce separately. It's up to you.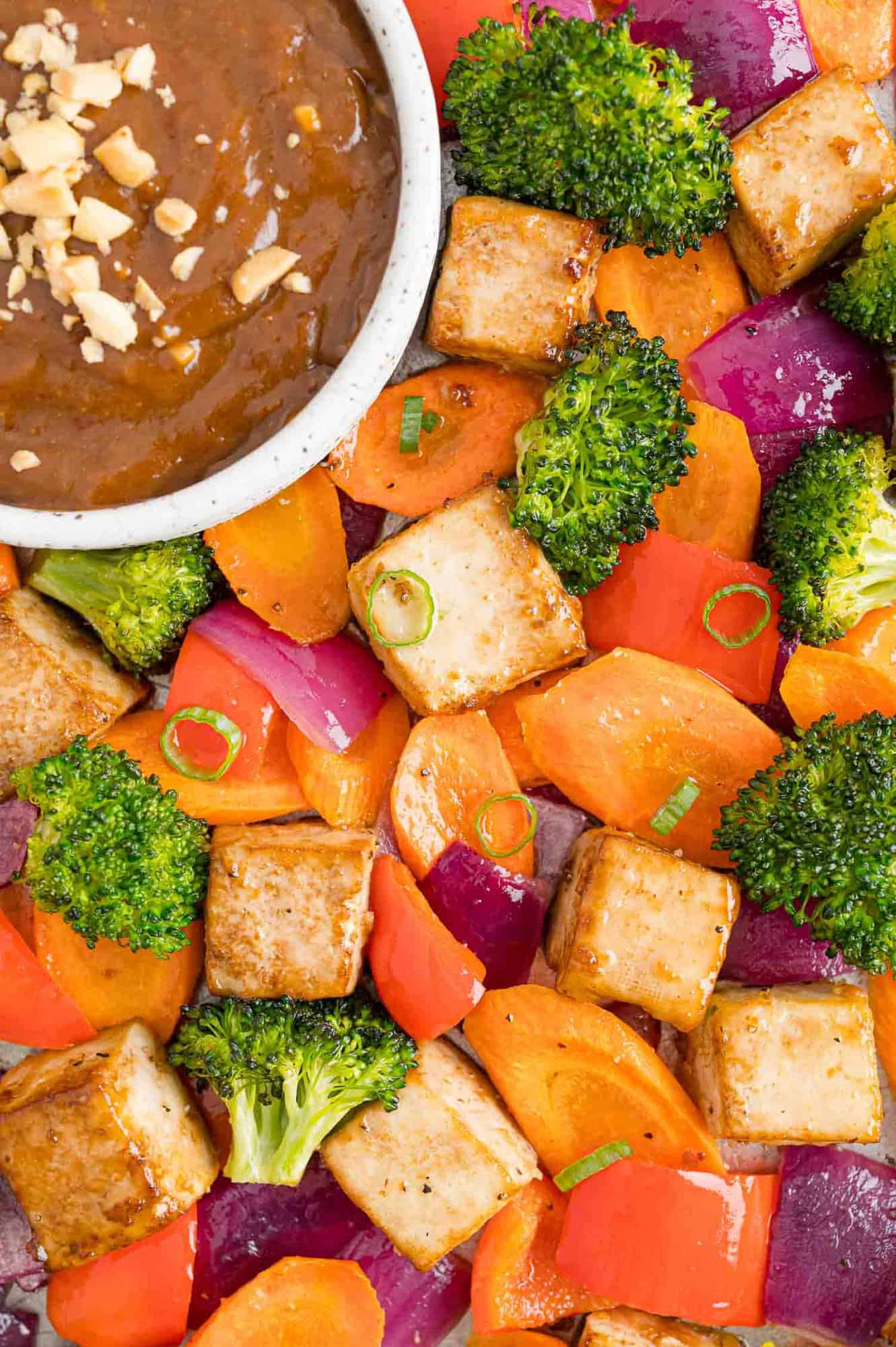 Serve the tofu and vegetables over steamed rice (or not, if you prefer), garnished with sliced green onions and chopped peanuts.
Enjoy!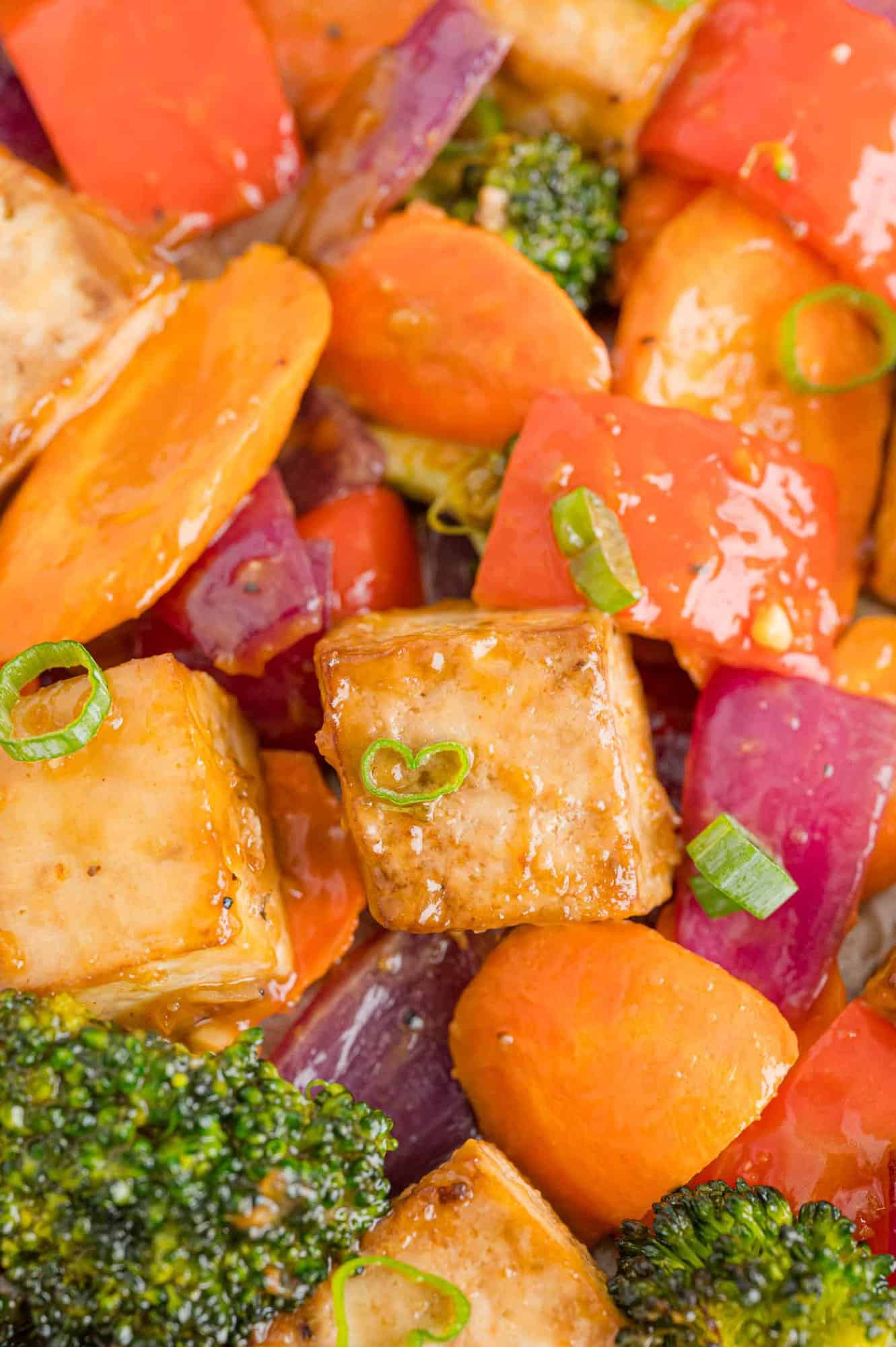 FAQs
What is tofu made of?
Tofu is made of curdled (coagulated) soy milk that is pressed into a block. Soy milk is made from soybeans, and is a nondairy alternative to milk. You can make your own tofu with soy milk and a coagulant, such as nigari.
If you'd like to learn how, The Spruce Eats has good step-by-step instructions which include making your own soy milk first, then using your soy milk to make tofu.
What does tofu taste like?
Tofu actually has very little flavor. Its bland quality makes it ideal for adding it to recipes because it absorbs the flavors and seasonings so well.

Is tofu healthy?
According to Healthline, plant-based tofu has many nutrients and health benefits. It is high in protein, containing all the essential amino acids. Tofu is low in calories and contains important vitamins and minerals.
Make It Your Own
Switch up the veggies. Choose vegetables that are firm and crisp so they cook in the same amount of time. Try cauliflower, Brussels sprouts, cubed sweet potato, celery, green beans, parsnips, or turnips.
Don't care for tofu? Substitute cubed boneless skinless chicken for the tofu.
Not a fan of peanut sauce? Drizzle the vegetables and tofu with hot honey instead.
Looking for more ways to make crispy baked tofu? Try crispy air fryer tofu, baked sesame tofu, or all purpose baked tofu.
Make-Ahead Ideas
Get a head start on this recipe. Press the tofu overnight in the refrigerator. Prep the veggies and refrigerate them in an airtight container. Make the sauce and refrigerate it. You can do all of this prep work at least a day in advance. Dinner will come together in a snap when you're ready to cook.
Storage & Reheating Tips
Refrigerate: Store any leftovers in a covered container. They'll keep for up to 3 days in the refrigerator.
Reheat: Individual portions can be reheated in the microwave in one minute intervals. Larger amounts can be reheated gently in a skillet.
Interested in a weekly meal plan (it's free!) that includes this sheet pan dinner recipe? Take a look at my Meal Plan #32. You'll find a wholesome recipe for each weekday plus a categorized grocery list. Let me do the planning for you this week!
We'll be adding a new meal plan weekly. If you're interested, browse all of our meal plans.
Did you make this? Be sure to leave a review below and tag me @rachelcooksblog on Facebook, Instagram, or Pinterest!
A flavorful medley of roasted broccoli, carrots, bell peppers and onions is combined with crispy tofu in this outstanding tofu sheet pan dinner. The peanut sauce is amazing!
Ingredients
2

medium carrots, peeled and cut into ¼ -inch slices

1

small red onion, cut into chunks

1

red bell pepper, cut into chunks

2

cups

fresh broccoli florets

1

pkg.

(14 ounce) extra-firm tofu

3

tablespoons

olive oil, divided

¼

teaspoon

kosher salt

¼

teaspoon

coarse ground black pepper

¼

teaspoon

garlic powder

1

tablespoon

reduced-sodium soy sauce

1

tablespoon

cornstarch
For the sauce:
¼

cup

creamy peanut butter, sunflower seed butter, or almond butter

2

tablespoons

reduced-sodium soy sauce

2

tablespoons

sweet chili sauce

1

tablespoon

rice vinegar

1

teaspoon

toasted sesame oil

1

tablespoon

grated ginger root

1

clove

garlic, minced

Steamed rice, for serving

Green onions and/or chopped salted peanuts, for garnishing
Instructions
Remove the tofu from the package, discarding the water. Pat the block of tofu dry with paper towels. Cut the tofu into squares about ½ -inch large (this doesn't have to be perfect, but make sure they're somewhat similar in size so they cook evenly).

Line a rimmed baking sheet with paper towel or lint-free towel, and place tofu in an even layer on top of towel. Place another towel layer on top, and then place something flat on top (like a cutting board or another baking sheet, with a cast iron pan or cans). Let tofu drain for 30 minutes.

Preheat oven to 400ºF.

In a large bowl, mix together 2 tablespoons olive oil, salt, pepper, and garlic powder. Add carrots, onion, bell pepper, and broccoli. Mix well to coat. Arrange in a single layer on sheet pan.

To same bowl, add the drained tofu, 1 tablespoon olive oil, and soy sauce; toss to combine. Sprinkle with cornstarch, gently stirring to coat all of the pieces of tofu with cornstarch.

Add tofu to sheet pan with vegetables, arranging into a single layer. Bake for 25 minutes or until tofu is golden brown and crispy, stirring once after 15 minutes.

Meanwhile, make the sauce. Combine all sauce ingredients in a small bowl or measuring cup with a whisk or fork.

When the tofu and vegetables are done cooking, drizzle with sauce, stirring to combine if desired. Alternatively, sauce can be served on the side.

Serve with steamed rice, if desired, and garnish with sliced green onions and chopped salted peanuts.
Notes
Nutrition information does not include rice or garnishes.
Roasted vegetables and tofu can be served without sauce or with another sauce of your choice.
Try Instant Pot jasmine rice. It turns out perfectly every time.
Nutrition Information
Calories:
335
kcal
,
Carbohydrates:
23
g
,
Protein:
14
g
,
Fat:
22
g
,
Saturated Fat:
4
g
,
Polyunsaturated Fat:
5
g
,
Monounsaturated Fat:
13
g
,
Sodium:
833
mg
,
Potassium:
645
mg
,
Fiber:
4
g
,
Sugar:
11
g
,
Vitamin A:
6312
IU
,
Vitamin C:
83
mg
,
Calcium:
85
mg
,
Iron:
2
mg
This website provides approximate nutrition information for convenience and as a courtesy only. Nutrition data is gathered primarily from the USDA Food Composition Database, whenever available, or otherwise other online calculators.