Toasting almonds is a great way to bring out their crunch and flavor. I'm sharing how to toast almonds three ways: in the oven, microwave, and on the stovetop!
Recipe Overview
Why you'll love it: Toasted nuts are wonderful to add to oatmeal, muesli, salads, and desserts. Or, enjoy them by the handful as a healthy snack.
How long it takes: mere minutes on the stovetop or in the oven
Equipment you'll need: Depending on the method, you'll need a skillet or a pan for toasting.
Servings: Toast as many as you need.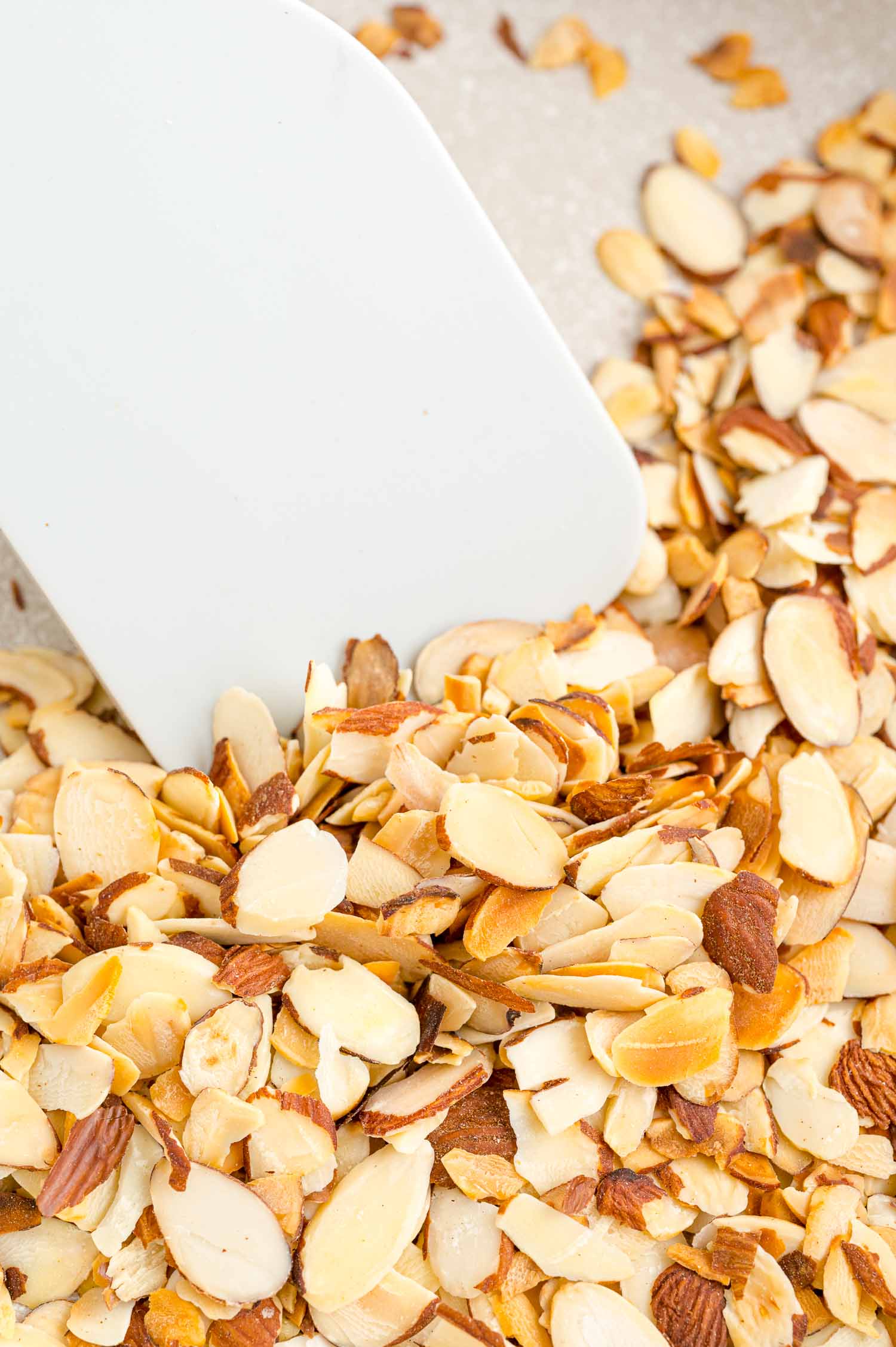 How to Toast Almonds at Home
Whether I'm devouring these toasted almonds hand over fist or tossing them over my favorite soups and salads, I'll never run out of ways to enjoy them. Almonds are healthy, flavorful, and satisfying. And toasting almonds makes them even tastier.
Toasting nuts is such an easy way to enhance the flavor and texture of one of my favorite ingredients and garnishes. It's one of those underappreciated kitchen skills that I always fall back on! And after today, you will too. Below, we're going over how to toast almonds on the stove, in the microwave, and in the oven.
Why Toast Almonds?
You might be wondering, is toasting almonds worth the extra effort? The answer is, yes! Here's why you'll love it.
Toasting makes almonds crunchier. Toasting draws out the almonds' natural oils, giving them a crispier texture.
It enhances the flavor. Toasting almonds deepens the nutty flavors. If a recipe calls for toasted almonds, you mustn't skip it! And after you've tasted toasted nuts, you'll never want to eat them any other way.
Toasted almonds are versatile. Once you toast almonds, they make a healthy snack or delicious addition to tons of dishes. They're also easy to customize with seasonings, for endless flavor variations. Keep reading for ideas and ways to use them!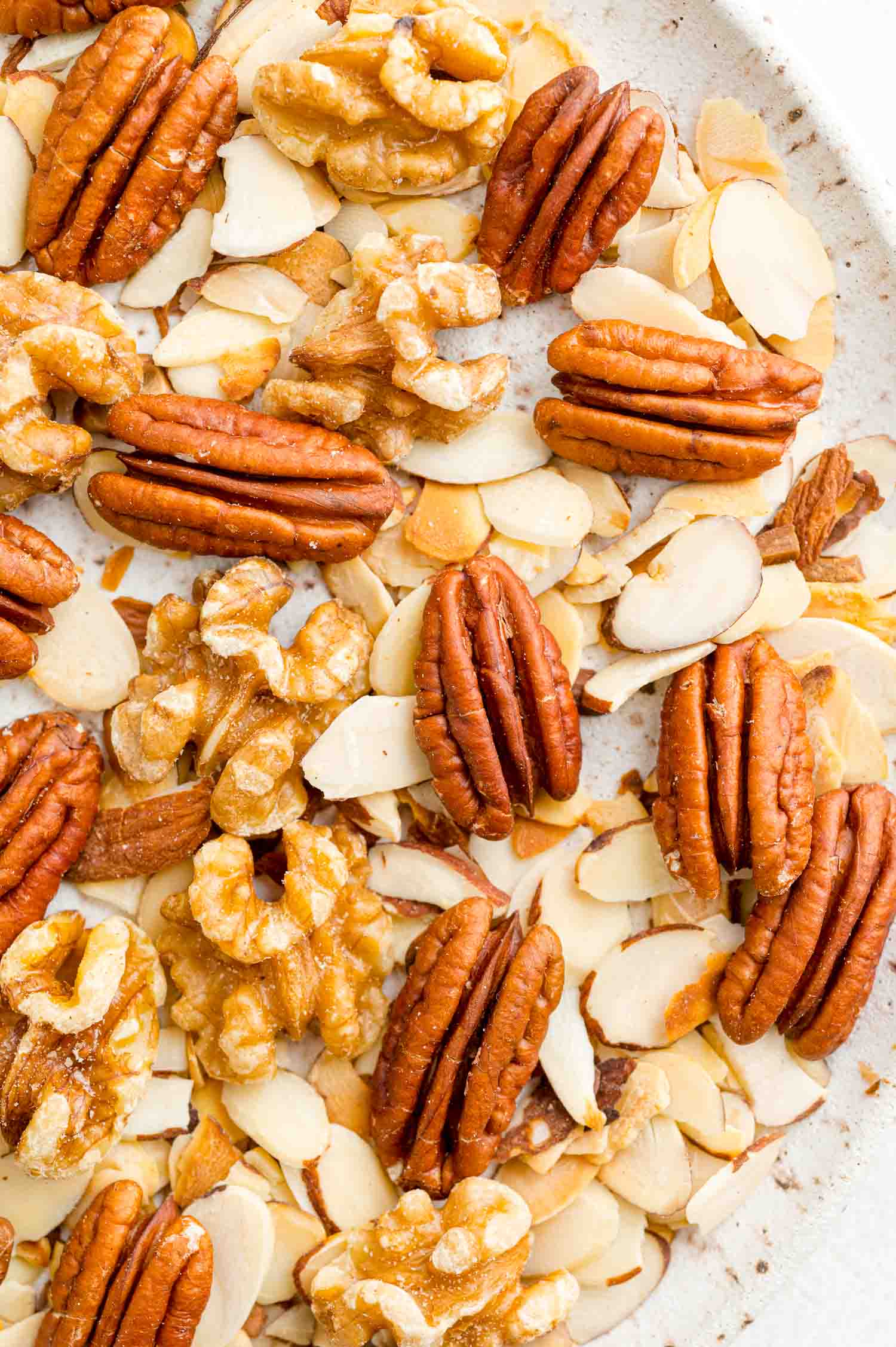 Toasting Other Nuts
All three of the methods that I cover here will work whether you're toasting almonds, pecans, walnuts, pine nuts, and most other nuts and seeds, like pepitas or sunflower seeds. Note that exact toasting times will vary depending on the size of the nuts or seeds.
For more detailed instructions, check out how to toast pine nuts, how to toast walnuts, and how to toast pecans. Keep an eye on future posts for more how-to's!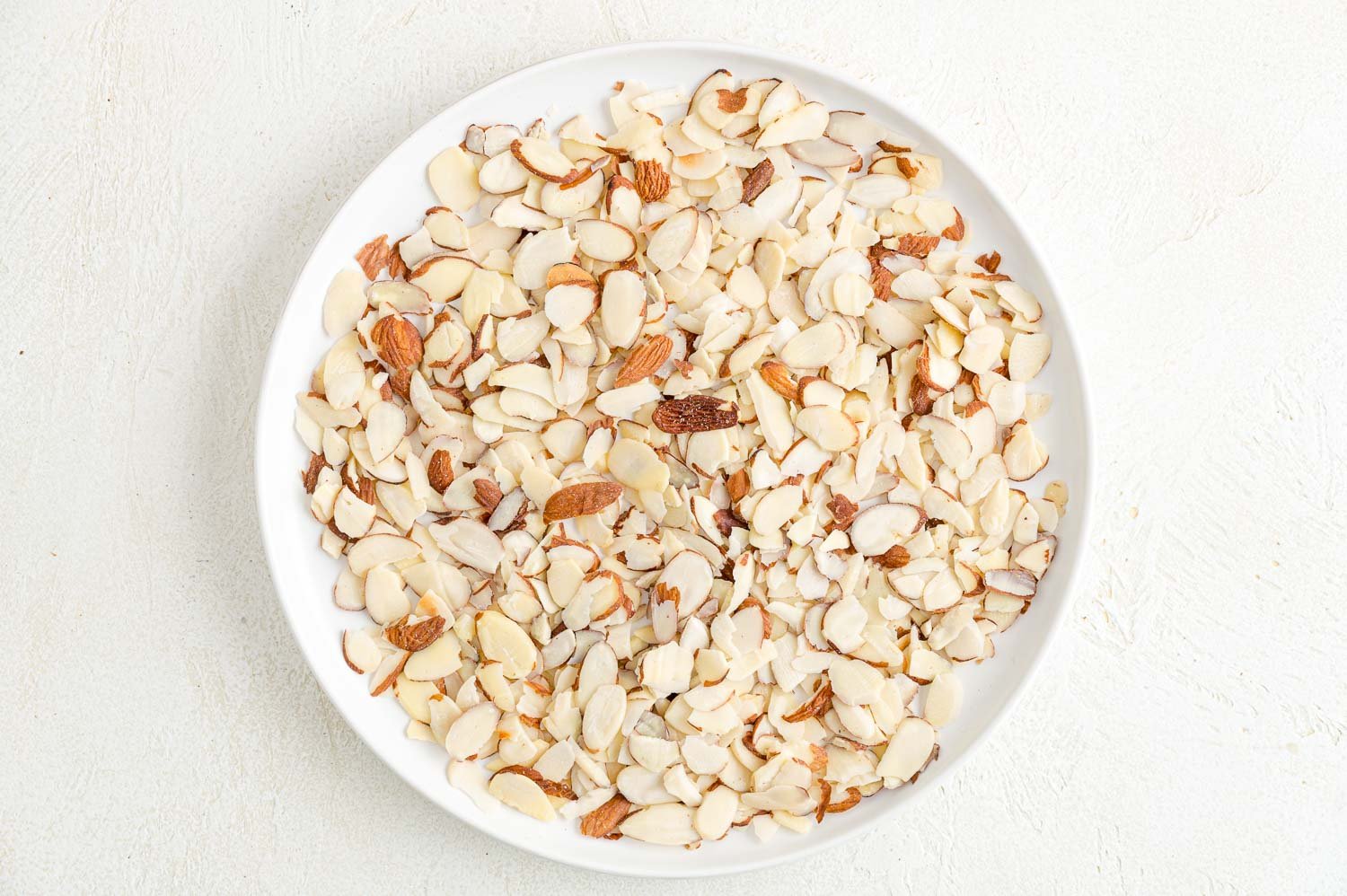 Are Almonds Good For You?
There are so many benefits to eating almonds! Almonds are rich in healthy fats and nutrients, including protein, fiber, vitamin E, and antioxidants. All this, while being low in carbs, too (Healthline). Their high levels of plant-based protein make almonds a great option for plant-based or vegan diets.
How to Toast Almonds (3 Ways)
You'll need about 1 cup of raw almonds, either whole, slivered, or sliced. Feel free to toast more batches as needed! I'll walk you through how to toast almonds in a skillet, in the microwave, and in the oven. Be sure to scroll to the recipe card for complete instructions.
On the Stove Top
The stovetop method works best for slivered or sliced almonds, as they tend to brown more evenly. For this method, you'll need a large skillet. Here's how to toast almonds on the stove: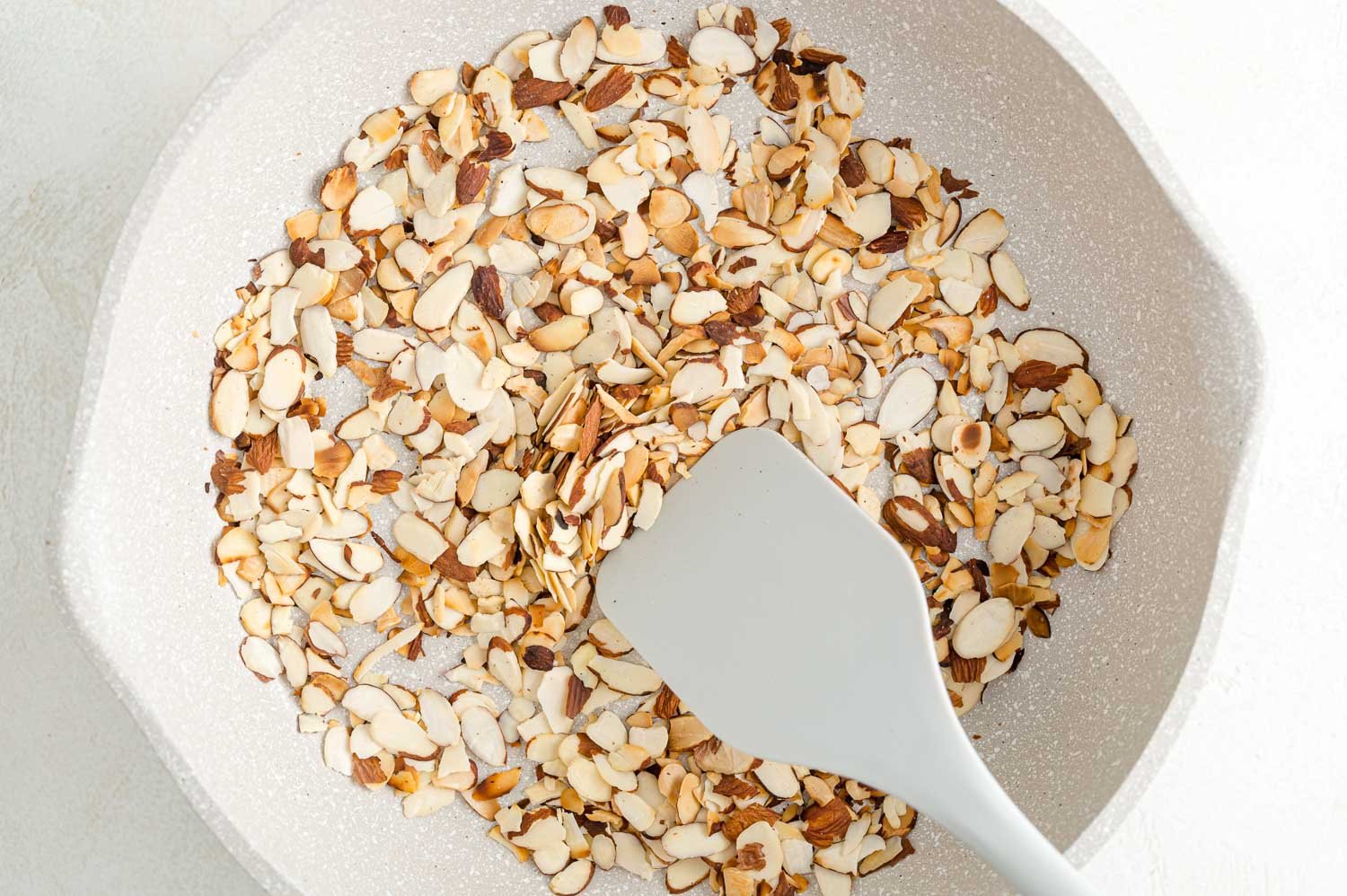 Add your almonds to the skillet, making sure they're spread into an even, single layer.
Heat the almonds over medium-low heat. Keep stirring while the almonds toast in the pan and become fragrant. Don't leave the almonds unattended, as they burn easily.
Once the almonds are lightly golden, transfer the almonds to a plate and spread them out to let them cool.
In the Microwave
Yes, you can toast nuts in your microwave! Since microwaves tend to heat unevenly, remember to frequently stir the almonds as they're toasting so that they don't scorch.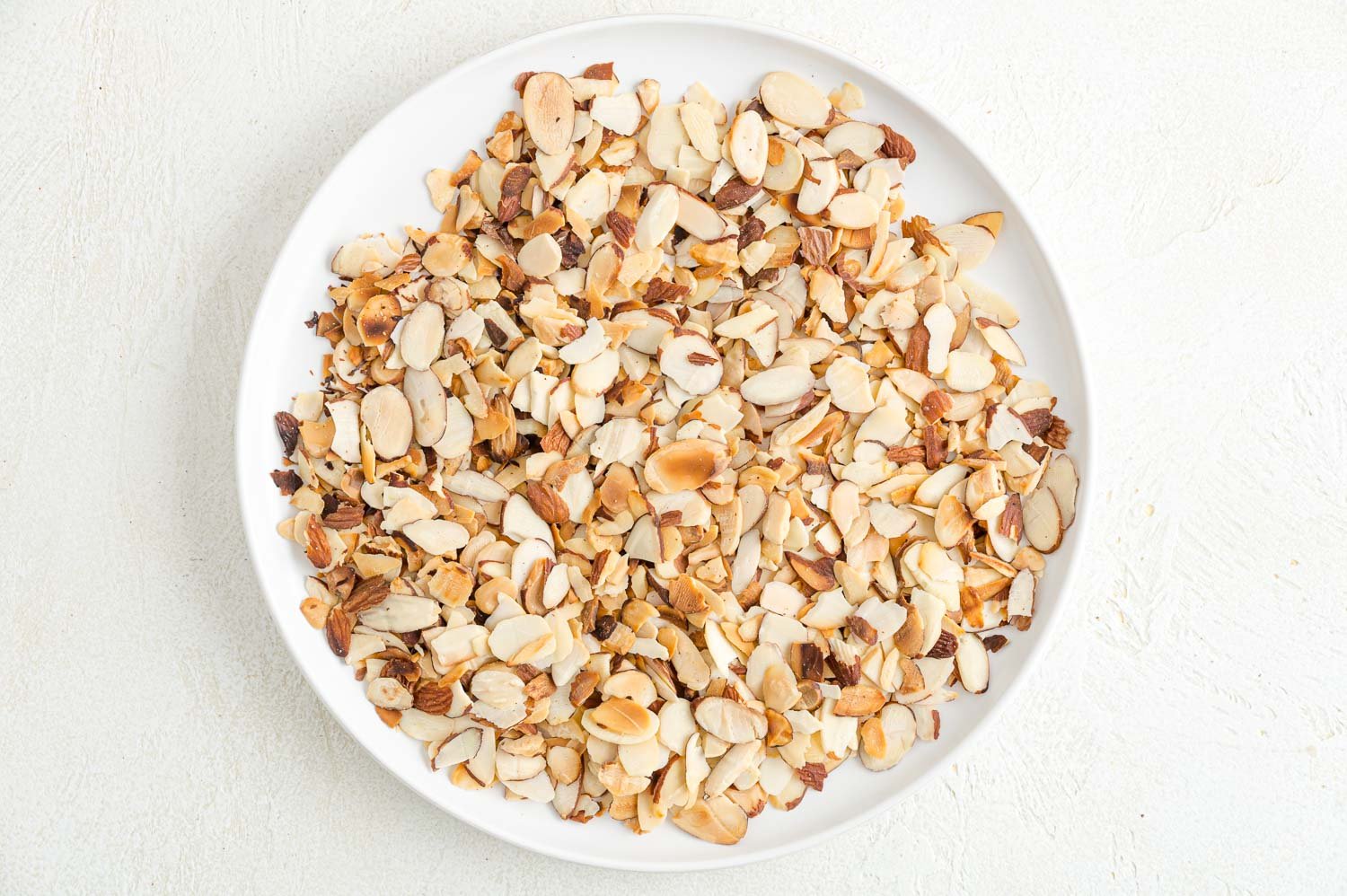 Spread the almonds out on a plate. Make sure it's microwave-safe.
Microwave the almonds for 1 minute, then stir. Continue to cook in intervals, stirring in between, until the nuts are golden in color.
Transfer the toasted almonds to a new plate. Spread them out in a single layer to cool.
In the Oven
The oven method works with all three types of almonds, and it's the preferred method for whole almonds. It's also the best way to toast more than one cup of nuts at a time. You can use a conventional oven or toaster oven.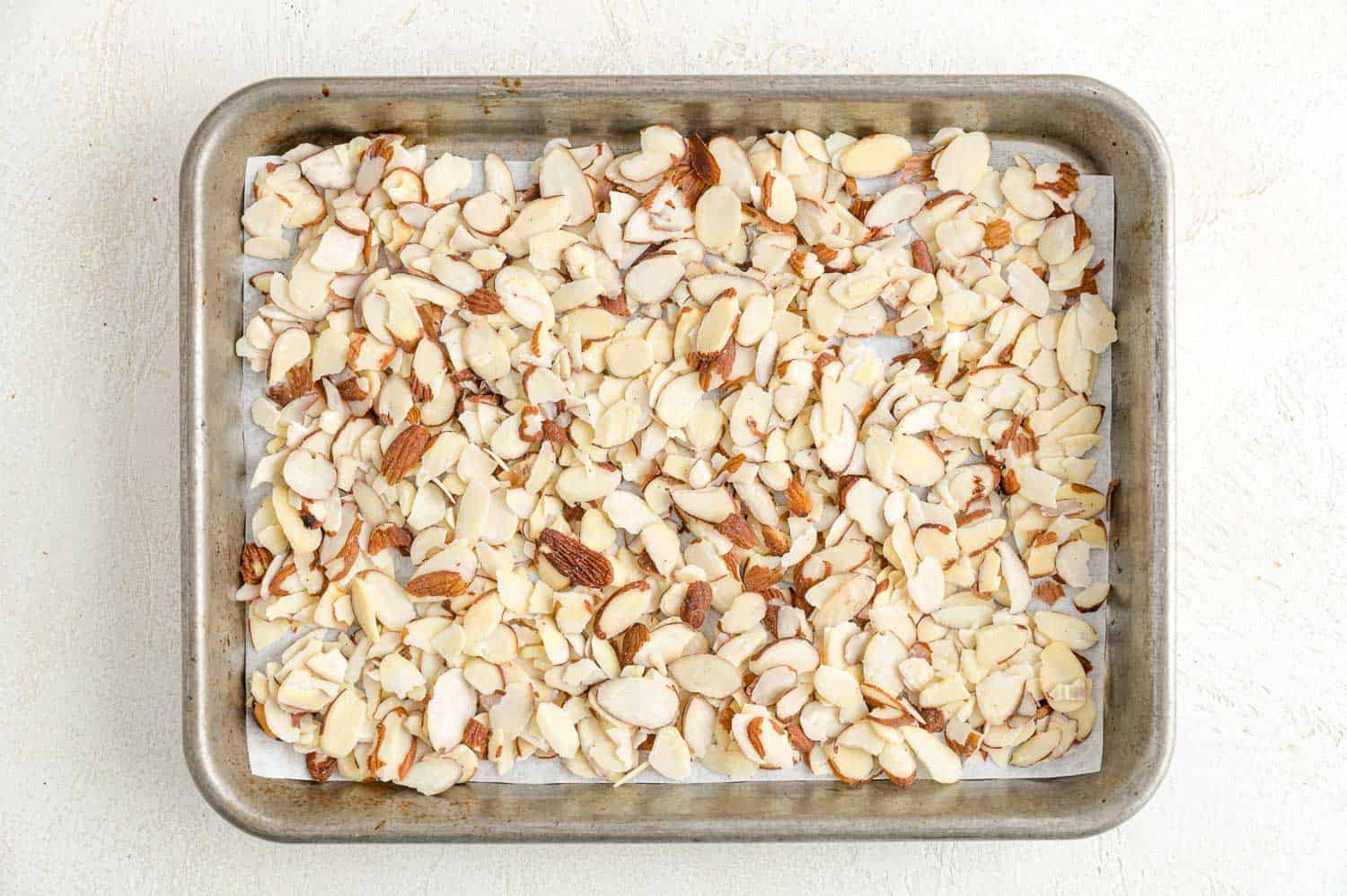 Preheat the oven to 350ºF, and line a baking pan with parchment paper. Add the almonds to the pan and spread them into a single layer.
For slivered or sliced almonds, bake for 7 to 8 minutes.
For whole almonds, bake for 15 minutes.
Once they're golden brown, transfer the toasted almonds to a plate to cool.
Toasting Tip
Remember to stir the almonds every few minutes throughout the baking time, and keep a close eye on them so that they don't burn.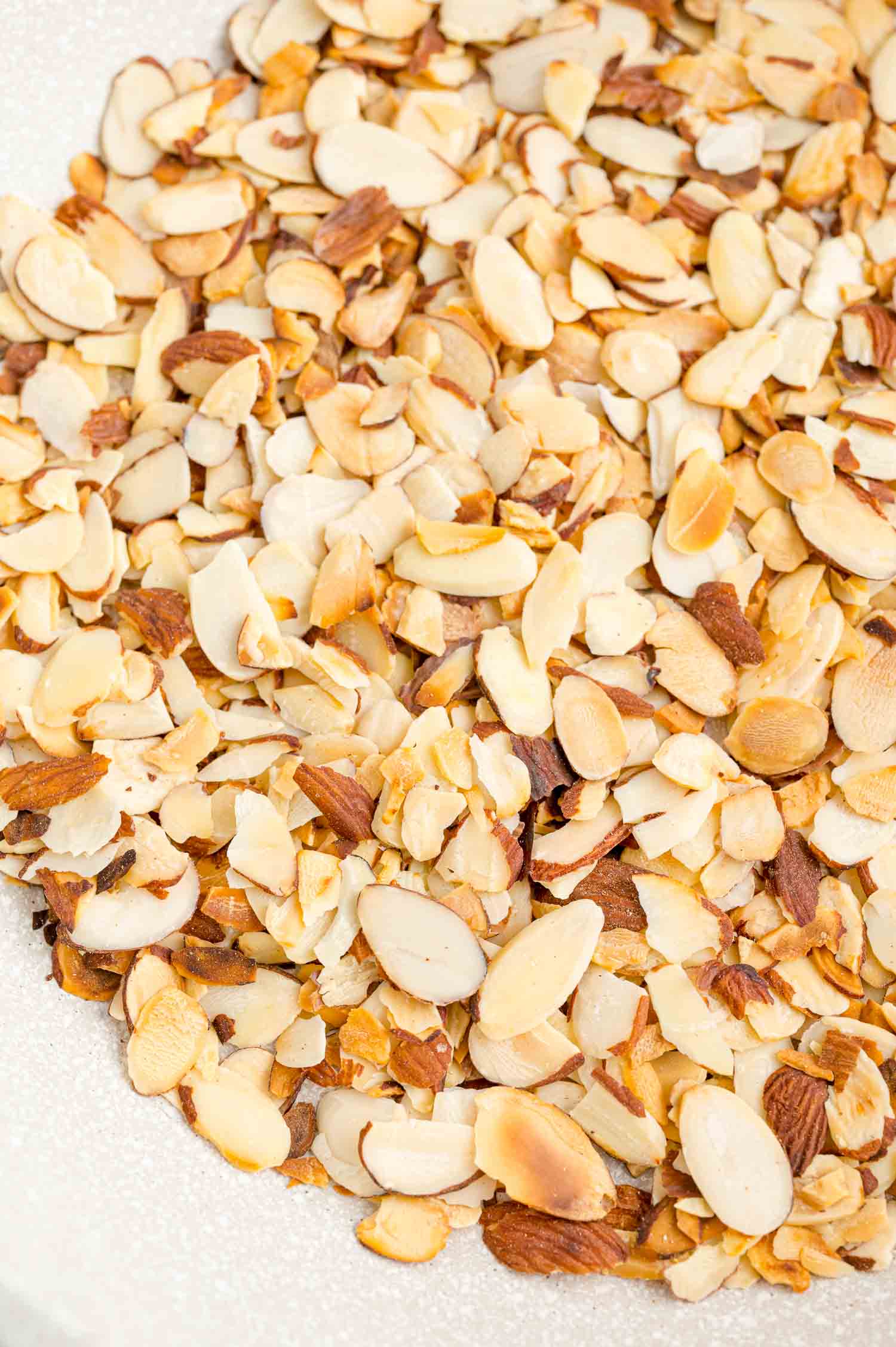 Tips for Success
Toasting almonds does take some attention, as it doesn't take long for almonds to go from toasty to burnt. Here are some tips to keep in mind:
The oven works best for larger quantities of almonds and also for toasting whole almonds. It's possible to toast whole almonds on the stove, too, however, the nuts tend to darken in places where they come in contact with the skillet while remaining lighter in other spots.
Check the almonds often. Whichever method you use, make sure to pay close attention and stir your almonds often, as they can burn easily. Moving the almonds around is key to even toasting.
If a recipe calls for chopped nuts, chop the almonds after they're toasted. They'll be easier to chop and less easy to burn.
Transfer almonds to a new plate to cool. Leaving them to cool down on the skillet or baking pan can result in a scorched flavor because of the residual heat left in the hot pan. Dump them onto a flat surface and spread them into a single layer.
Toasting with oil: Toasting almonds with almond or olive oil is a great way to add flavor along with extra crispiness (also see my recipe for olive oil roasted almonds). It's fine to do when adding toasted nuts to a salad or using them as a garnish, however, I don't recommend it if you'll be using them in baking. The excess oiliness can throw off a recipe.
Check for Freshness
Before your almonds even hit the oven, microwave, or skillet, it's a good idea to taste them for freshness. If the almonds are bitter or rancid, they should be discarded.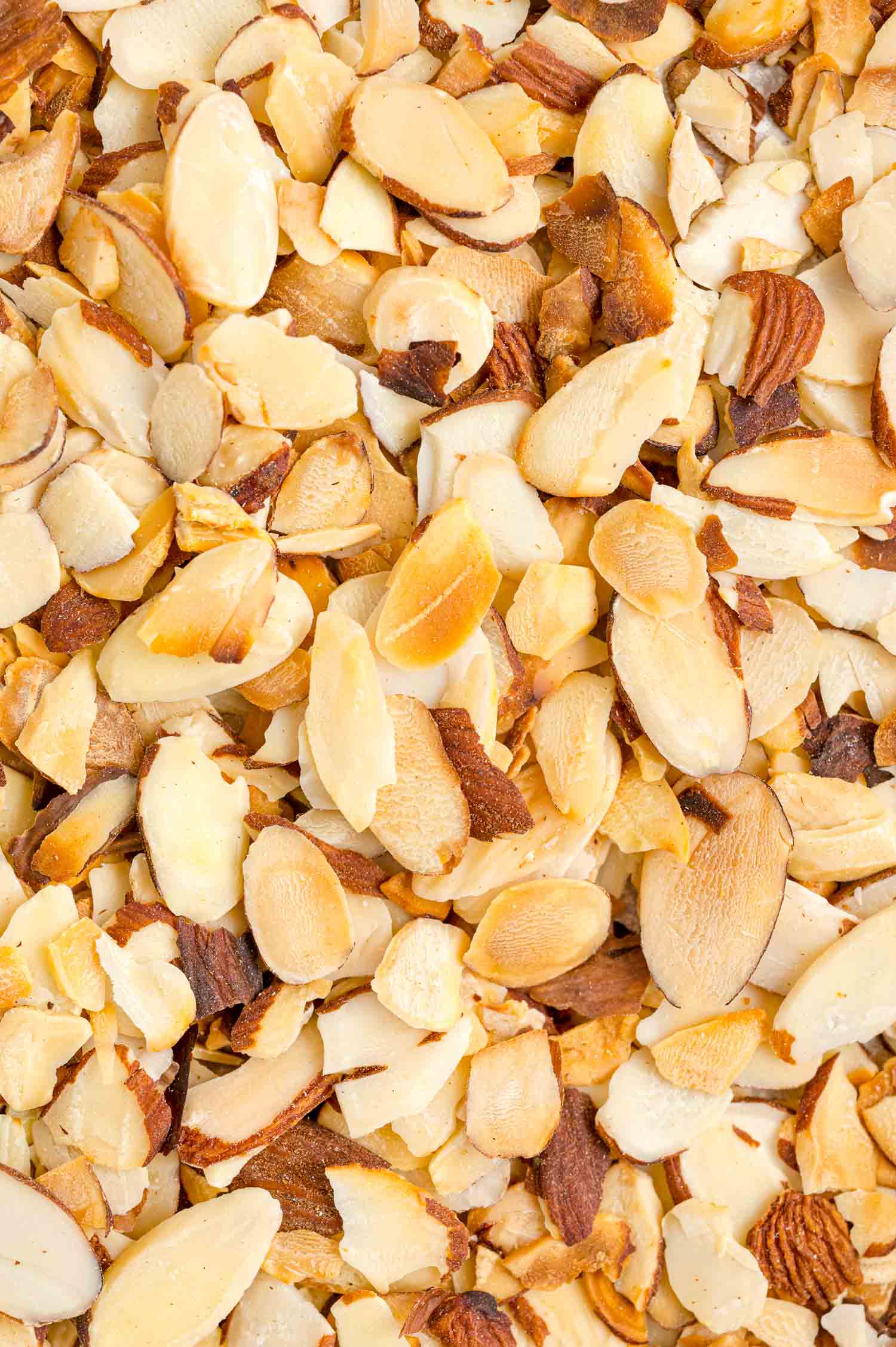 FAQs
How do you know when nuts are toasted?
The easiest way to tell if your almonds are toasted is to use your nose! Properly toasted almonds will be fragrant, and won't smell burnt or acrid. They should also be lightly browned, and never dark.
How long do toasted almonds last?
Toasted almonds will be at their freshest for about two months in the fridge. To extend their shelf life even further, you can freeze them. See below for helpful storage instructions.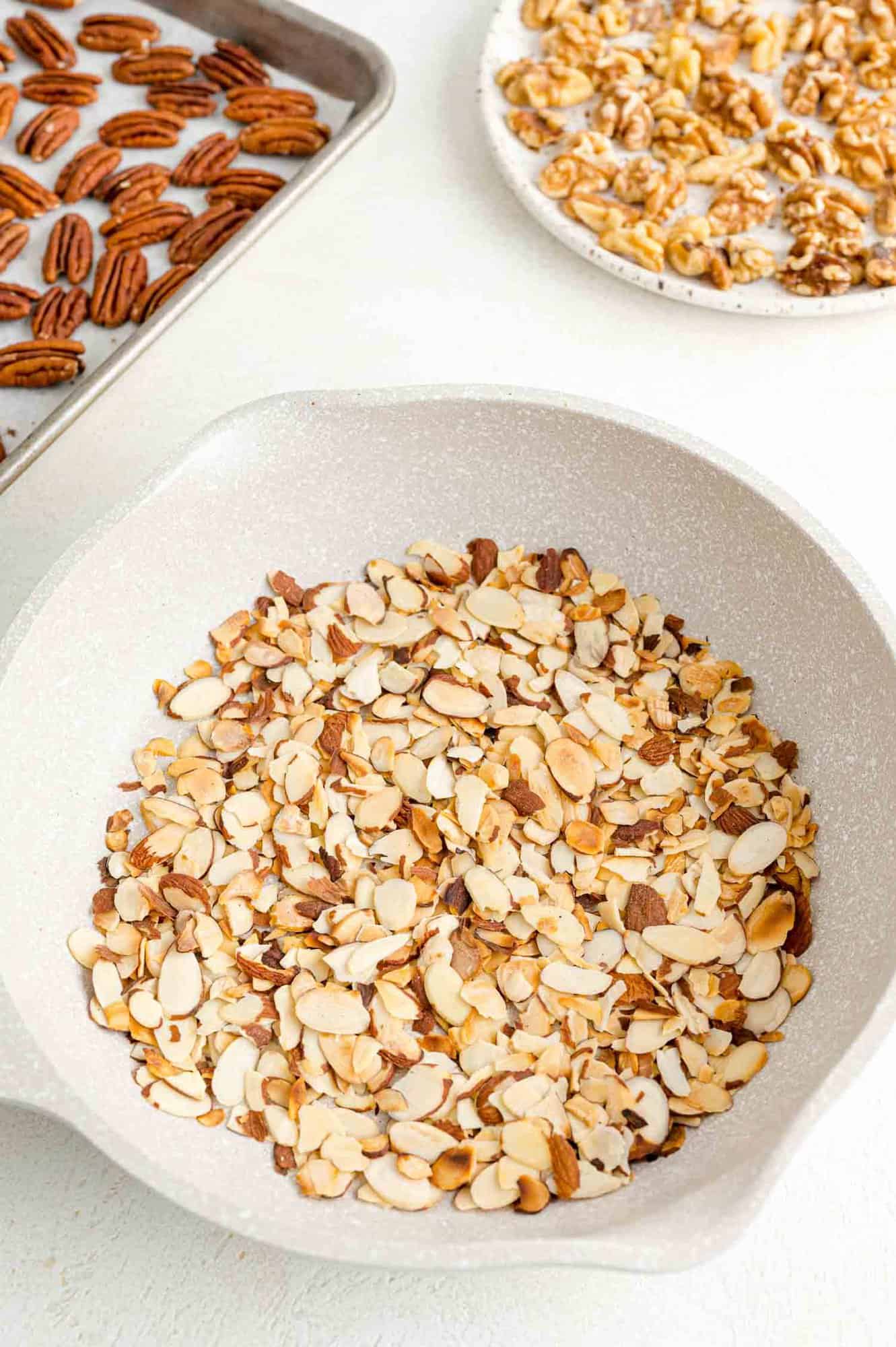 Variation Ideas
Toasted almonds have lots of flavor on their own, but add a few spices or seasonings, and you'll have something truly special. Here are some easy ways to spice up your toasted almonds:
Rosemary Roasted Almonds: Combine almonds with a tablespoon of olive oil and a sprinkle of dried rosemary (or Italian seasoning). Toast the almonds as directed.
BBQ: Toss with olive oil and a half teaspoon of BBQ seasoning for smoky barbecue almonds.
Spiced: Borrow the spice blend from my spiced pecans and make deliciously spiced almonds instead. The ultimate party snack! For a fall twist, try pumpkin spice or cinnamon-roasted almonds.
Lemon: Toast your almonds along with a bit of olive oil and lemon zest. Add minced garlic for even more flavor.
Cajun: For spicy Cajun almonds, toast them with a sprinkle of Cajun seasoning.
Looking for more tasty ways to flavor toasted almonds? I have plenty of other seasoning mixes that you can try. Have a look and find your favorite!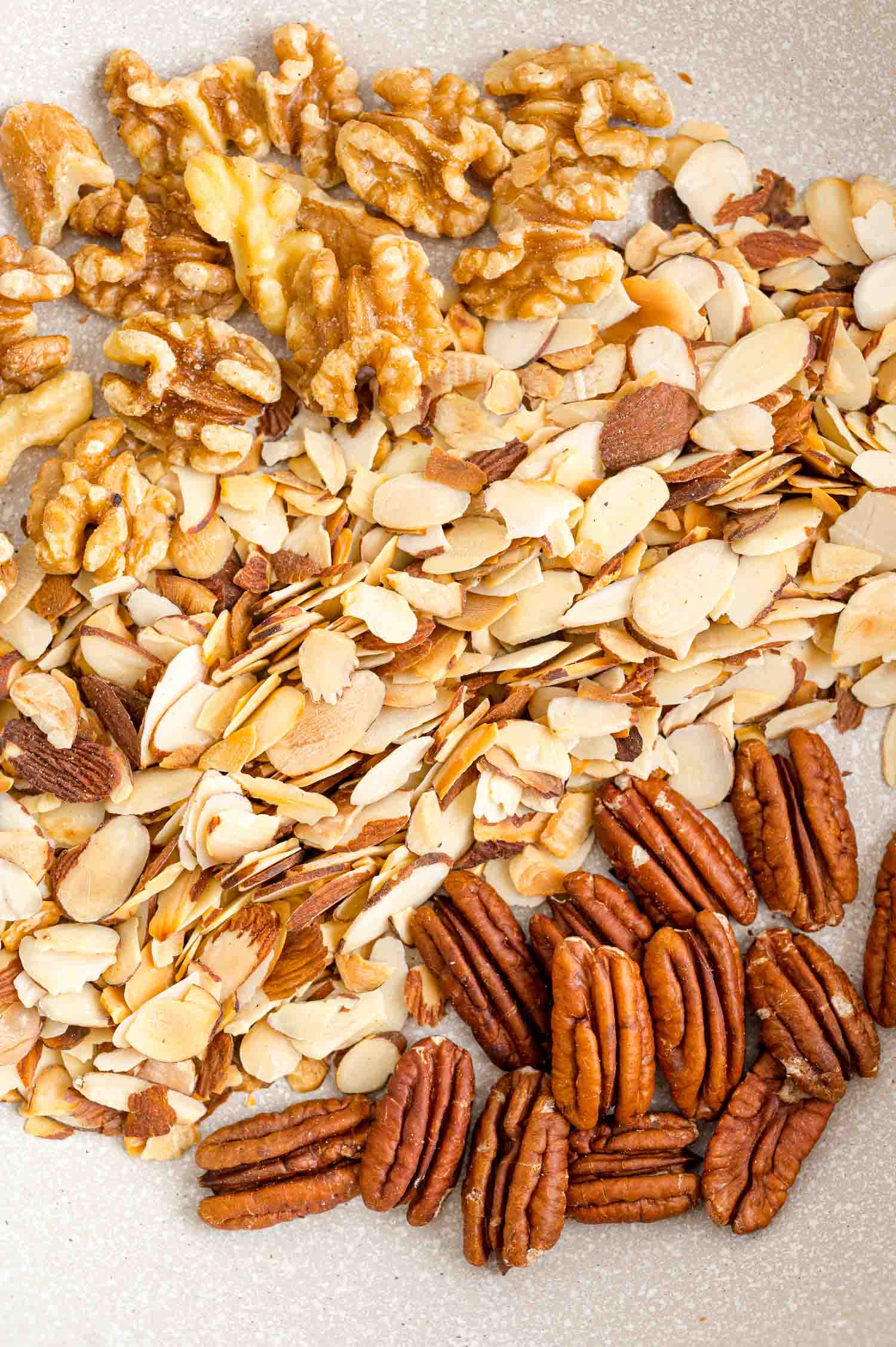 Ways to Use Toasted Almonds
Now that your almonds are toasted, there are oodles of ways to use them. Toasted almonds make a wonderful addition to sweet and savory recipes! Below are some of my favorite ideas.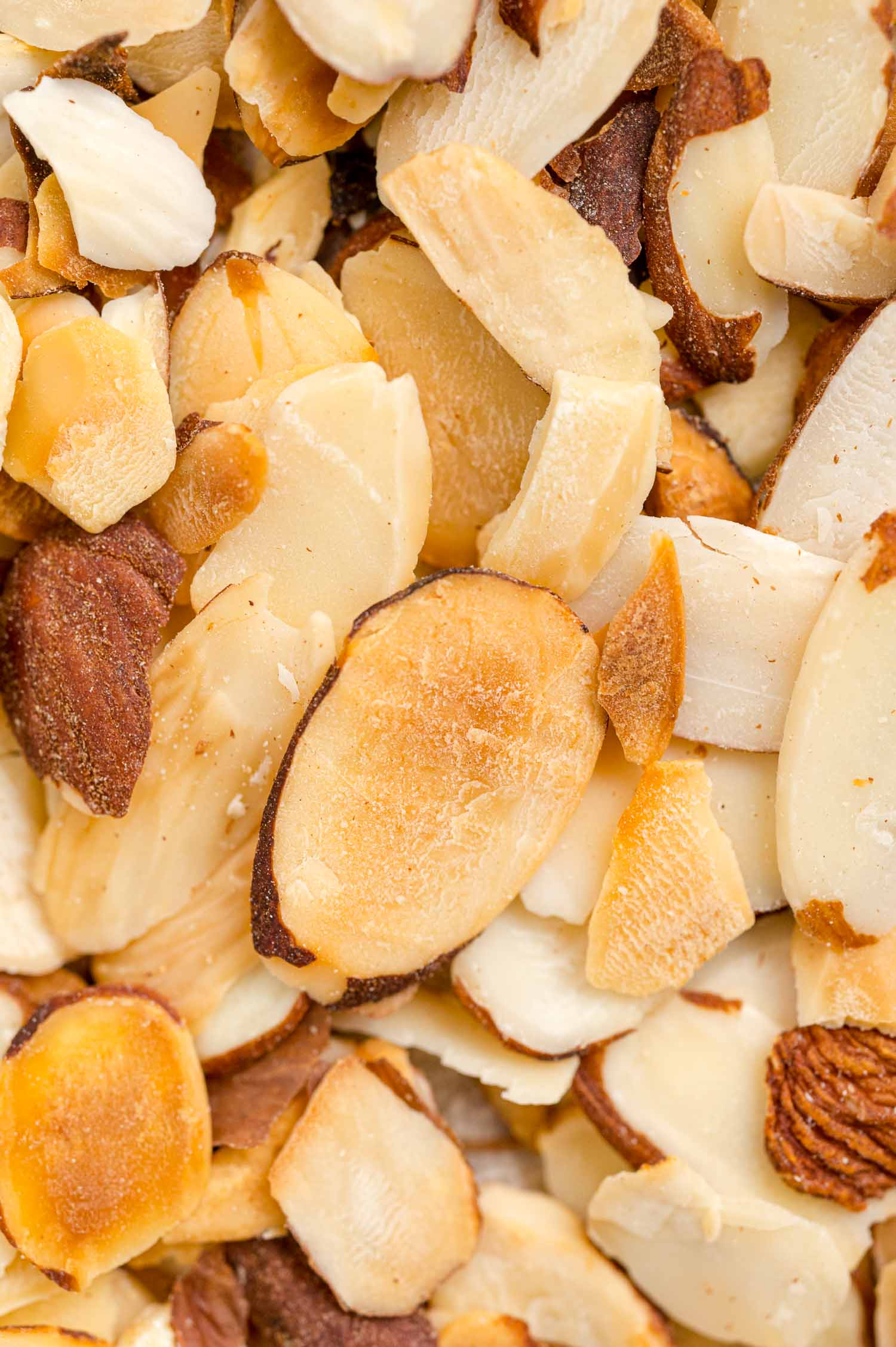 How to Store
The natural oils in almonds and other nuts can become rancid over time. The best way to prolong the shelf life of any leftover toasted almonds (and raw almonds, too) is to refrigerate or freeze them.
Fridge: Once they've cooled completely, store the almonds in an airtight container or glass jar. They'll keep in the fridge for up to 2 months.
Freezer: Store the almonds in a freezer-safe, airtight container. Almonds can be kept frozen for 6 months or longer.
Did you make this? Be sure to leave a review below and tag me @rachelcooksblog on Facebook, Instagram, or Pinterest!
Learn how to toast almonds in the oven, microwave, and on the stovetop to bring out their crunch and flavor. Enjoy crispy toasted almonds as a healthy snack or use them in tons of sweet and savory recipes!
Ingredients
1

cup

raw almonds

whole, slivered, or sliced (see note)
Instructions
Stove Top Method:
Place the almonds in a large skillet. They should be more or less in a single layer.

Turn the heat to medium-low. Toast the almonds, stirring frequently, until fragrant and lightly golden brown, about 5 minutes. Stir more frequently as they begin to brown because they burn easily.

When they're done, immediately transfer the almonds to a plate, spreading them in a single layer, to stop the cooking process and prevent the almonds from becoming scorched.
Microwave Method:
Spread sliced or slivered almonds in a single layer on a microwave-safe plate. Microwave on full power (100%) for 1 minute and stir. Continue to microwave in 30 second intervals, stirring each time, until almonds are desired color. Microwave ovens tend to heat unevenly. It's essential to stir the almonds frequently so they brown evenly and don't scorch.

Transfer to another plate to cool, arranged in a single layer.
Oven Method (or toaster oven):
Preheat oven to 350ºF. Line a rimmed baking pan with parchment paper or foil, if desired.

Spread almonds in a single layer on the prepared pan.

Bake slivered or sliced almonds for 7 to 8 minutes, stirring every few minutes, or until golden brown. Whole almonds will take longer, about 15 minutes total. Stir once at 10 minutes; then stir again after 5 more minutes. Bake a few more minutes if necessary but watch them closely.

Immediately transfer almonds to a plate to cool, in a single layer. Don't leave them in the hot pan because they will continue to brown.
Notes
You can easily toast more than 1 cup of almonds. If you toast more than 1 cup at a time, the oven method works best.
Store both raw and toasted almonds in either the refrigerator or freezer to keep them from becoming rancid.
Nutrition Information
Serving:
0.33
cup
,
Calories:
276
kcal
,
Carbohydrates:
10
g
,
Protein:
10
g
,
Fat:
24
g
,
Saturated Fat:
2
g
,
Polyunsaturated Fat:
6
g
,
Monounsaturated Fat:
15
g
,
Trans Fat:
0.01
g
,
Sodium:
0.5
mg
,
Potassium:
349
mg
,
Fiber:
6
g
,
Sugar:
2
g
,
Vitamin A:
0.5
IU
,
Calcium:
128
mg
,
Iron:
2
mg
This website provides approximate nutrition information for convenience and as a courtesy only. Nutrition data is gathered primarily from the USDA Food Composition Database, whenever available, or otherwise other online calculators.