Warm Kale Salad with Roasted Root Vegetables
A medley of perfectly caramelized roasted root vegetables take this warm kale salad to new heights. You'll love the honey mustard vinaigrette and candied sunflower seeds!
Recipe Overview
Why you'll love it: This salad is a perfect remedy for the winter blahs.
How long it takes: 50 minutes
Equipment you'll need: sheet pan, small skillet, sharp knife
Servings: 4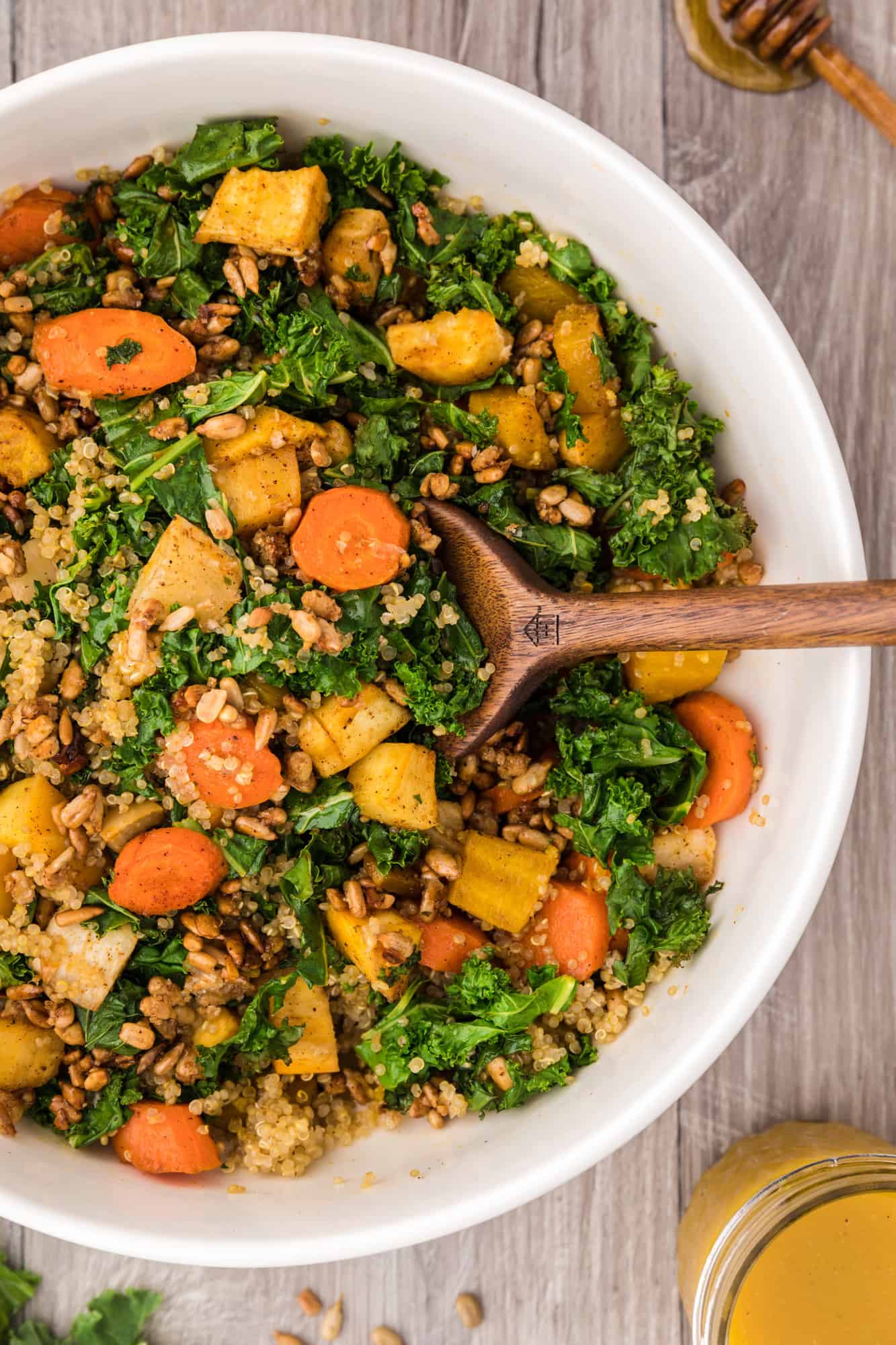 Awhile back, I posted a list of 20+ Amazing Kale Recipes. I love 'em all but this recipe? It's going to the head of the class!
I first tried a salad similar to this one at a neighborhood restaurant I visited with my mom and sister. It's a place we love to hang out at especially when it's just the three of us. The restaurant has a great vibe and fantastic food. It's always super hard to decide what to order because I literally want to try everything on the menu. Needless to say, we share what we order so we can sample more than one dish.
I hate to say that I didn't do much sharing of the salad. One forkful and I was in love! The warm root vegetables were perfectly caramelized, the dressing was amazing, and the smoked cheese was just the right touch. So, so good!
Of course, it didn't take me long to get busy recreating this amazing salad at home and I have to say, I did a pretty good job of it. My salad isn't exactly the same but it's every bit as amazing.
The first time I made the salad, I served it to my mom. After a few moments of silent awe as we appreciated all the nuances of flavor in the first few bites, we began comparing every facet of the salad to the restaurant version and concluded that it was a winner.
Make a warm kale salad a priority this week. You really do need to try this recipe!
About This Recipe
This is a hearty salad made with roasted vegetables, kale, sunflower seeds, and quinoa which can easily be a main course salad. It's highly nutritious and so satisfying.
The salad isn't difficult to make but there are a lot of moving parts, including a homemade honey mustard vinaigrette and candied sunflower seeds. Keep reading for a few time-saving tips. I assure you, this salad is WORTH every moment you spend preparing it.
Three Types of Kale
There are many different varieties of kale but you can boil it down to three basic types.
Curly kale has large dark green leaves that are very curly, and a prominent fibrous stem. It's usually sold in a bunch with the stems attached at the bottom.
Lacinato kale (often known as elephant kale, dinosaur kale, or Tuscan kale) is also sold in a bunch. The dark bluish green leaves are narrower and bumpy, rather than curly. It is more tender than curly kale.
Baby kale is immature kale leaves. The tiny leaves are often sold in containers and are more appropriate for salads.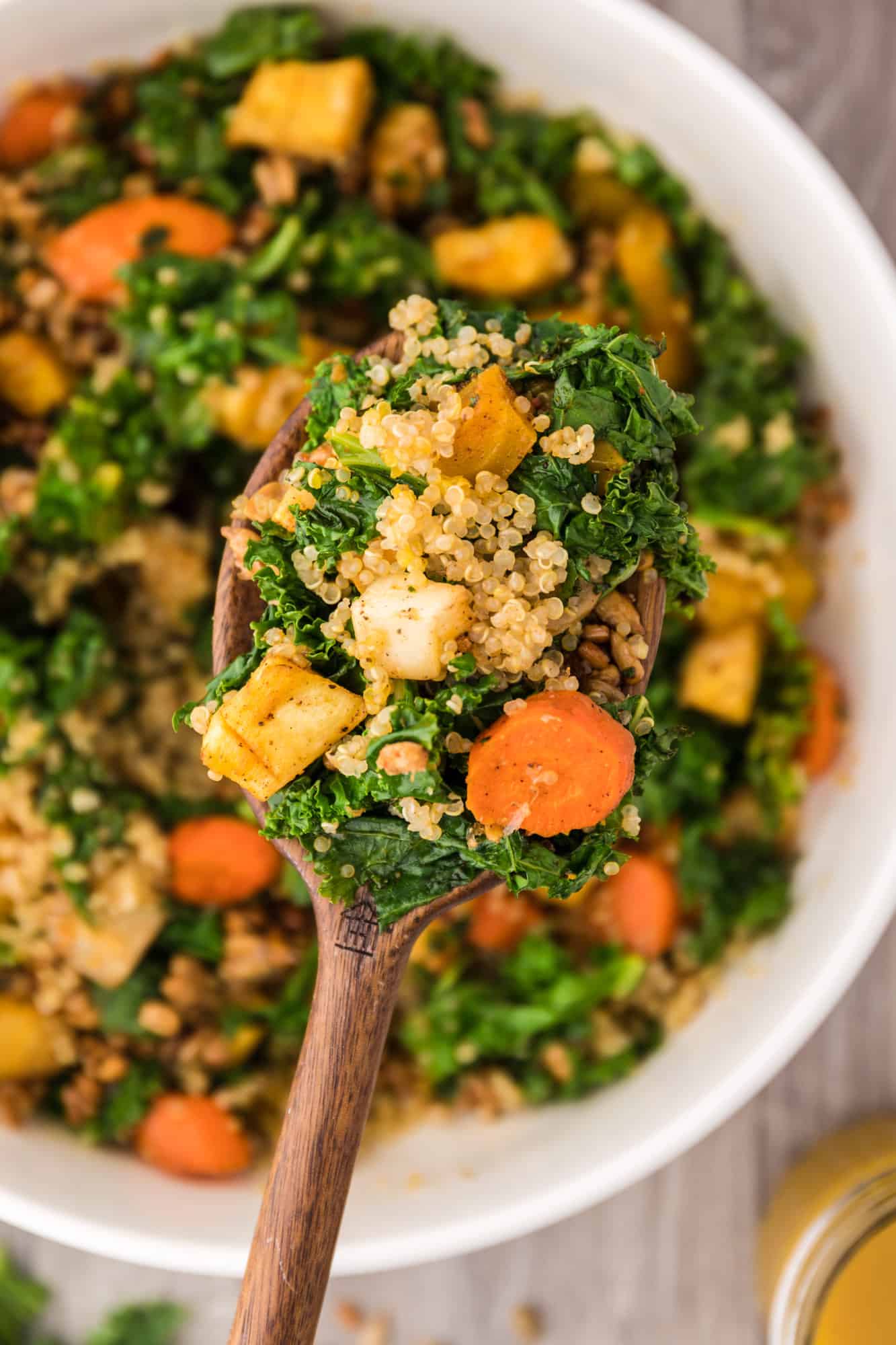 I'll get you started on making your salad and give you extra tips. As always, the printable recipe card can be found near the end of the post with measurements, instructions, and nutrition information.
What You'll Need
Turnip, Carrot, Golden Beet, Parsnip: This quartet of root vegetables is pretty amazing. They each bring a unique flavor to the table and I think you're really going to enjoy the combination. Yellow beets are preferable to red beets because they won't turn your salad pink. If one of these vegetables isn't available or you don't care for one, feel free to make substitutions using other root vegetables.
Olive Oil, Smoked Paprika, Garlic Powder, Salt & Pepper: The diced vegetables are tossed with this savory mixture of olive oil and seasonings before they go into the oven to roast.
Kale: I've tried both curly kale and lacinato kale for the salad. Both are fine but I think I prefer the lacinato kale because it's a bit more tender. The kale is lightly roasted with the root vegetables just until it's wilted.
Quinoa: This seed/grain is so nutritious and it gives the salad a little extra substance. I like to buy a bag of quinoa and cook up the whole bag at once. It freezes well and can be used in so many ways. For more information, check out this post: How to Freeze Quinoa. You can also purchase prepared quinoa, either frozen or in shelf-stable packets which are super easy and convenient.
Smoked Gruyère Cheese: The original salad was topped with smoked feta cheese which I had a difficult time finding so I substituted smoked Gruyère. If you're not a fan, any hard aged cheese would be at home in this salad, or it can be omitted for a vegan, non-dairy salad.
Raw Sunflower Seeds: The seeds are toasted with a mixture of sugar, cayenne pepper, and salt. The sugar melts as it heats up and candy coats the seeds. So delicious! Since we are a nut-free family, sunflower seeds are a good stand-in for walnuts, pecans, almonds, etc. If you prefer, sliced almonds can be substituted for the sunflower seeds.
Honey Mustard Vinaigrette: This easy vinaigrette consists of just four ingredients, plus salt and pepper. You'll need olive oil, honey, mustard, and white balsamic vinegar. There is usually a jar of homemade honey mustard vinaigrette in my fridge. It's easy to make and goes well on many different salads.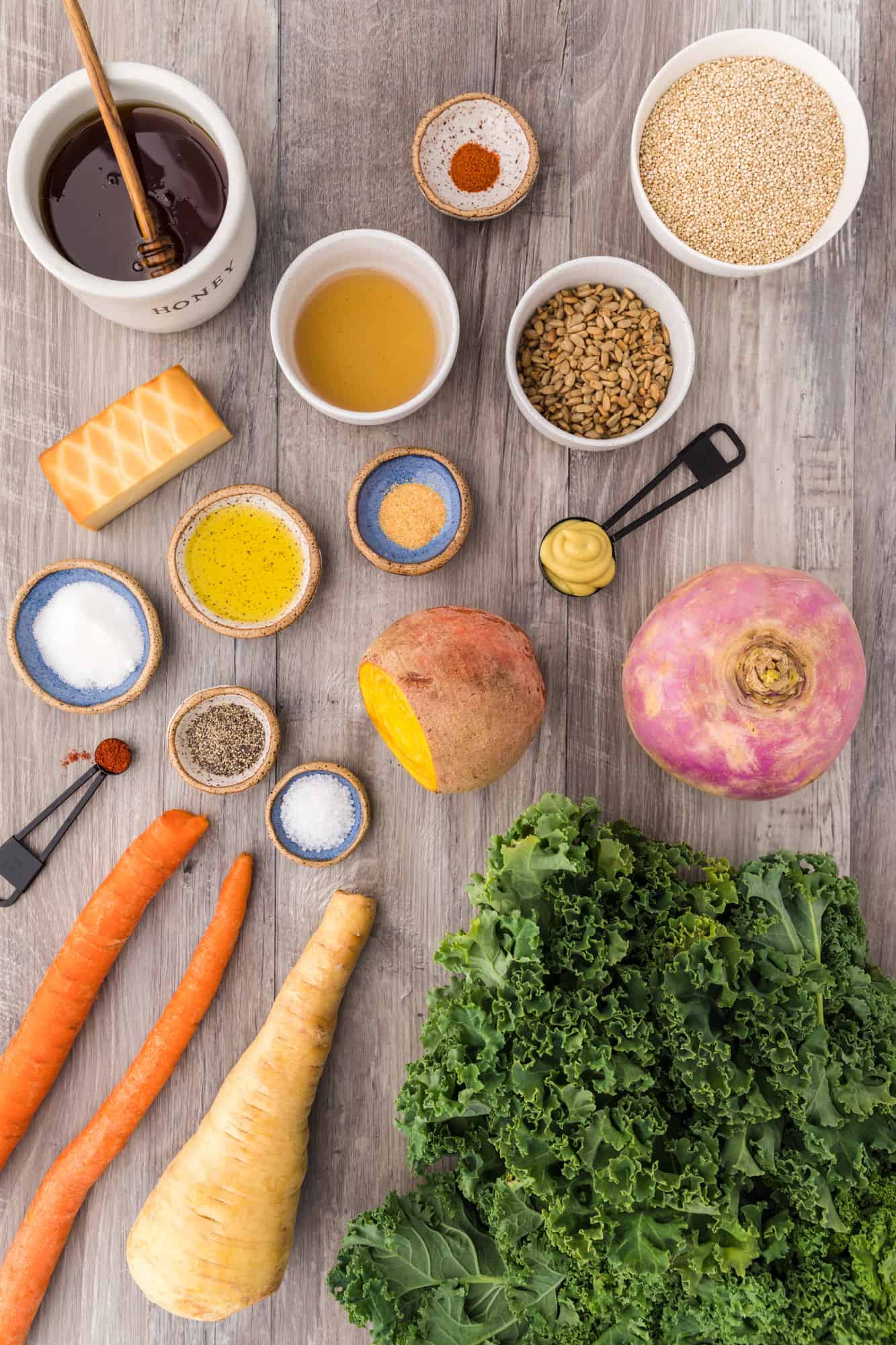 How To Make It
Turn the oven on to preheat, with the oven rack in the bottom third of the oven. You'll need a large sheet pan, 13 x 18 inches.
The vegetables need to be peeled or scrubbed very thoroughly. Cut them into a small dice, about a half inch, as evenly as possible. Smaller pieces roast more quickly and are easier to eat in a salad.
Toss the diced root vegetables with the oil and seasonings; spread them out on the sheet pan. Roast for 20 minutes.
Remove the pan from the oven and stir the vegetables. Sprinkle the shredded kale evenly over the vegetables and put the pan back into the oven for 5 minutes.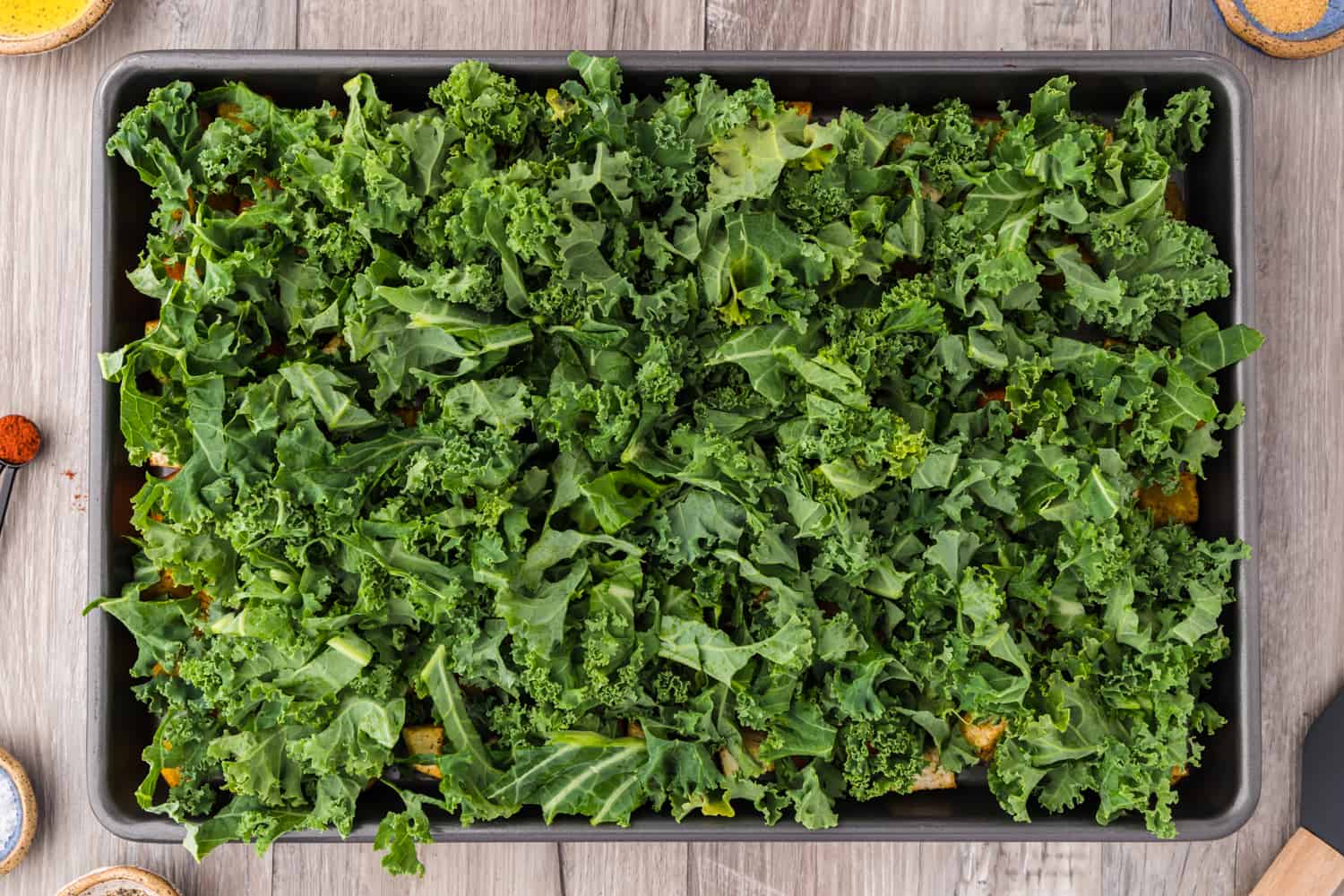 Take the pan out of the oven and stir the kale into the roasted vegetables.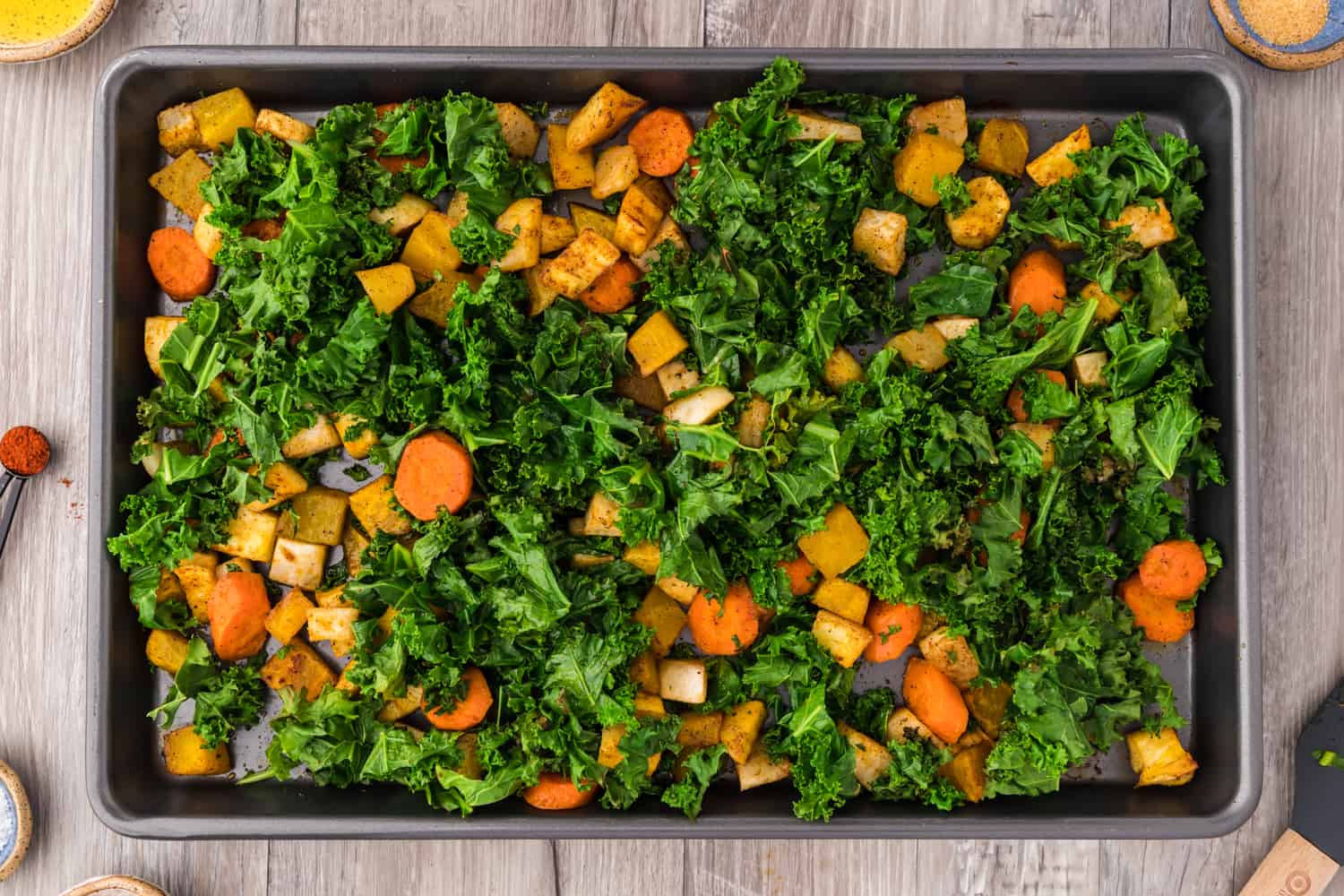 Set the pan aside to cool slightly while you assemble the rest of the salad ingredients.
While the vegetables are roasting, toast the sunflower seeds. Put them into a small skillet along with the sugar, salt, and cayenne pepper.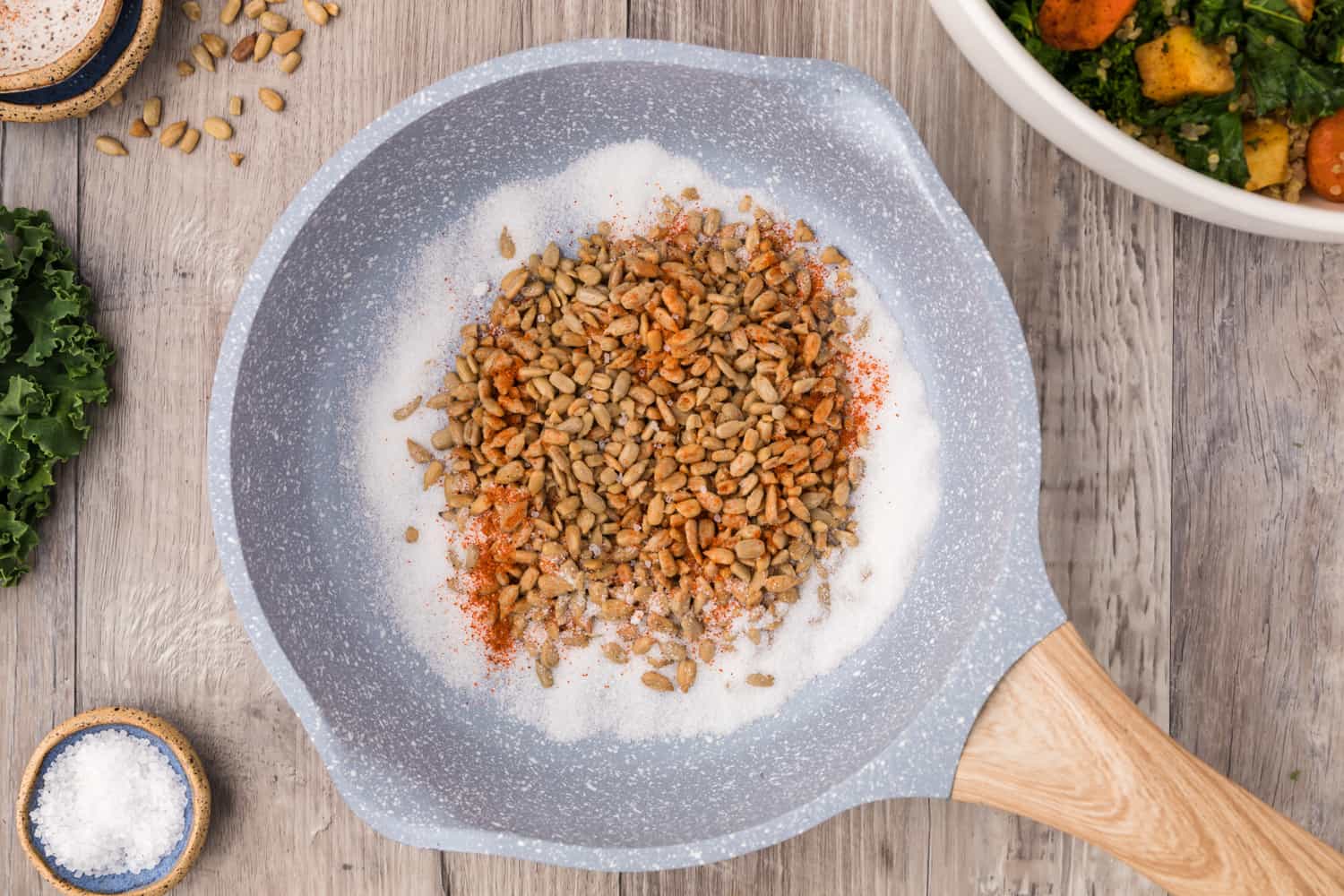 Toast them over medium heat, stirring pretty constantly, until the sugar melts and the seeds turn golden brown.
Immediately remove them from the pan and spread them on a plate to cool. Don't leave them in the pan because the residual heat will scorch the seeds.
In a small bowl, whisk together the olive oil, honey, mustard, vinegar, salt and pepper until it's smooth and combined (emulsified).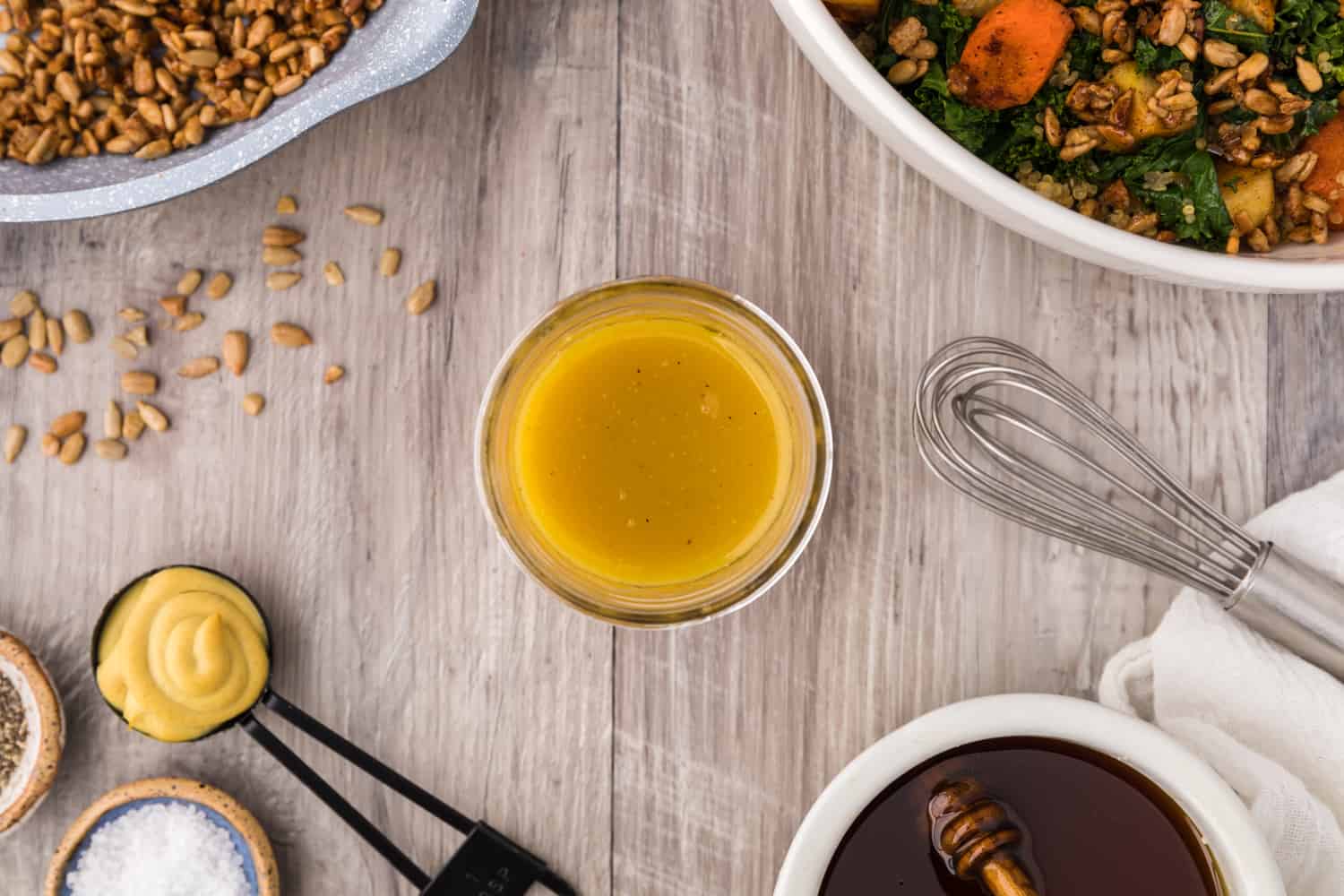 Cut the cheese into small cubes.
Are you ready to put everything together? Transfer the roasted root vegetables and kale into a large bowl. Add the cooked quinoa and cubed cheese. Top with the vinaigrette, stirring to combine it with the salad. You may not need all of the vinaigrette, depending on how much dressing you like.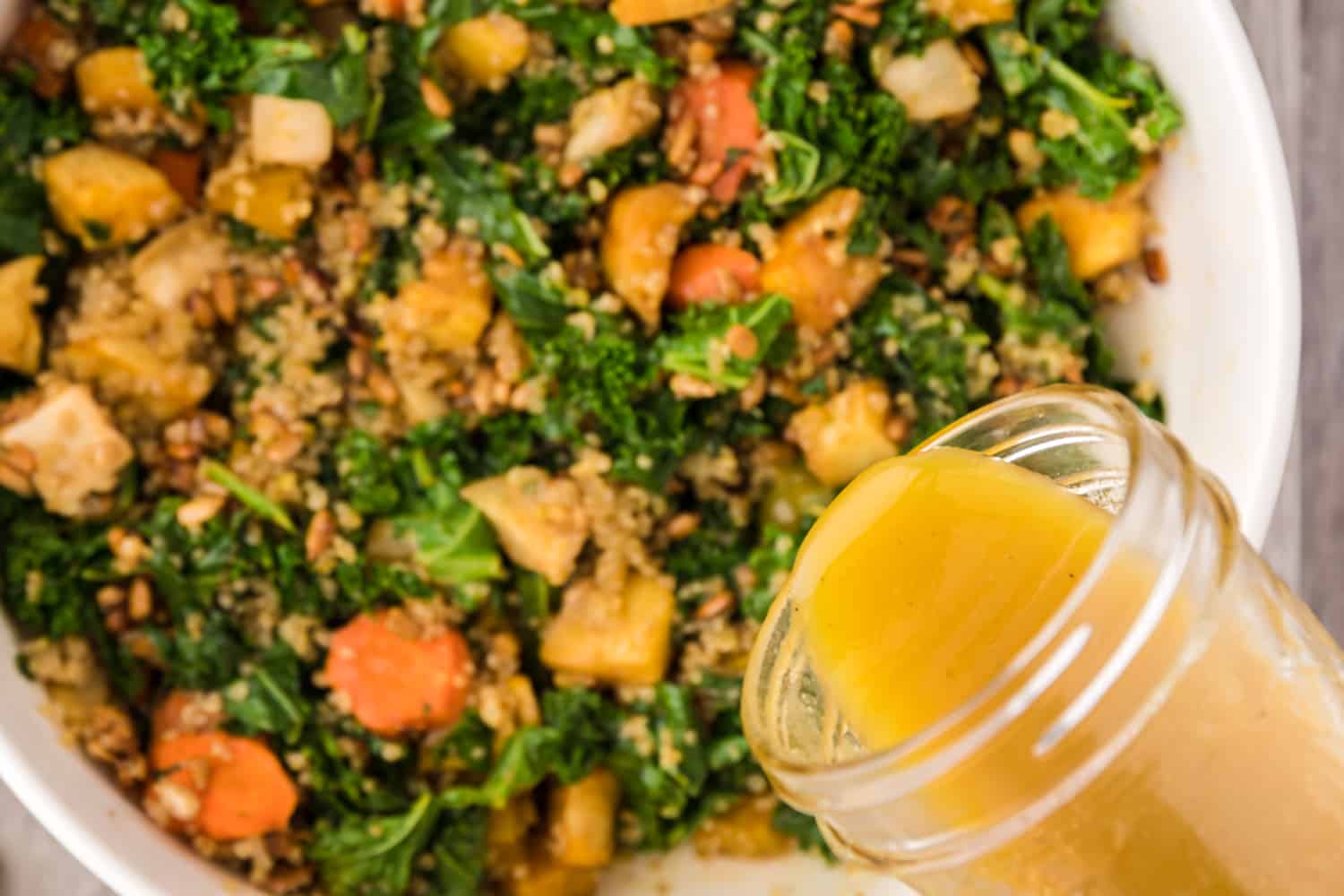 Spoon the salad into shallow bowls or plates. Garnish with the toasted sunflower seeds and serve immediately. Ahhh! Enjoy!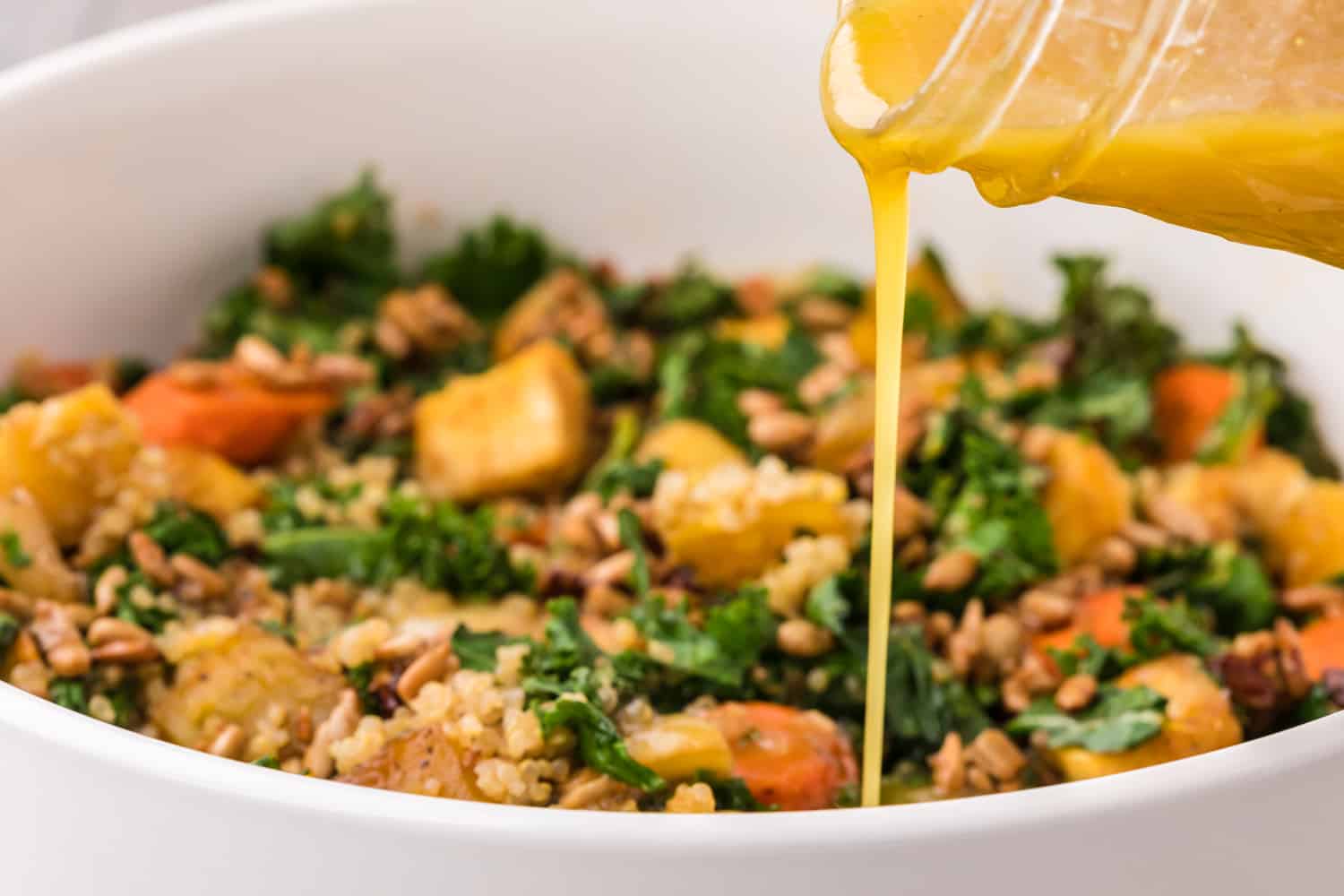 Looking for something to serve with the salad? Try artisan style Dutch oven bread or homemade no knead whole wheat bread. A simple homemade muffin like these apple cinnamon muffins or pumpkin bran muffins go great, too.
FAQs
Is kale healthier than spinach?
According to Healthline, both kale and spinach are very nutritious, as are all leafy greens. Kale contains more vitamin C than spinach. Spinach offers more vitamins A and K. Both are very beneficial to your health and you really can't go wrong with either one.
Make It Your Own
Choose your own lineup of vegetables to roast. As long as you end up with roughly four cups of diced root vegetables, pretty much anything goes.
Take the salad up another notch! Top it with cranberries, raisins, or dried cherries.
Add more protein with chickpeas. Rinse and drain a can of chickpeas, and rub them dry, removing the skins as much as possible. Toss the chickpeas with the root vegetables, with an additional tablespoon of oil. Roast as directed. For more information, check out this post, Roasted Chickpeas.
Instead of smoked cheese, make the salad with cooked and crumbled bacon. You'll still get the smoky flavor but without the cheese.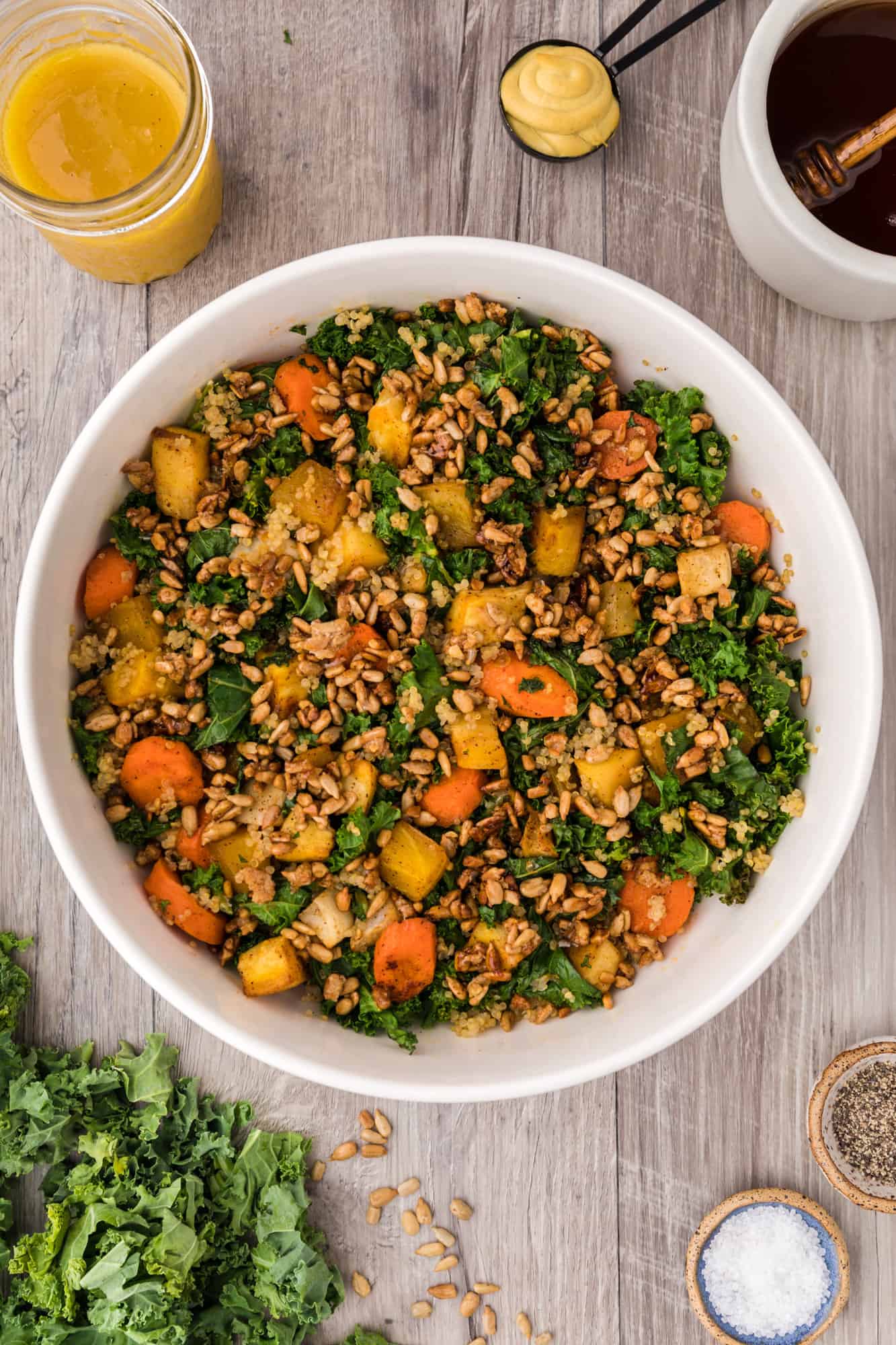 Make-Ahead Ideas
To get a head start on the recipe, prep the quinoa, dice the root vegetables, shred the kale, and make the dressing a day or two ahead of time; store separately in the refrigerator. The sunflower seeds can be toasted up to a week ahead of time. Once they have completely cooled, store them at room temperature in an airtight container.
When you're ready to serve the salad, take everything out of the fridge, roast the vegetables and kale as directed, and assemble the salad. Easy peasy!
Storage & Reheating Tips
This salad is best eaten immediately but it keeps surprisingly well too. It will keep in the refrigerator for a few days and makes an awesome lunch.
Did you make this? Be sure to leave a review below and tag me @rachelcooksblog on Facebook, Instagram, or Pinterest!
A medley of perfectly caramelized roasted root vegetables take this warm kale salad to new heights. You'll love the honey mustard vinaigrette and candied sunflower seeds!
Ingredients
1

cup

diced peeled turnip, ½ inch dice

(

1

medium turnip)

1

cup

diced carrot, ½ inch dice

(

2

medium carrots)

1

cup

diced peeled golden beets, ½ inch dice

(

1

large beet)

1

cup

diced peeled parsnip, ½ inch dice

(

1

large parsnip)

2

tablespoons

olive oil

¼

teaspoon

smoked paprika

¼

teaspoon

garlic powder

¼

teaspoon

kosher salt

¼

teaspoon

coarsely ground black pepper

6

cups

firmly packed finely shredded kale

(about

1

bunch)

1

cup

cooked quinoa

(

⅓

cup dry quinoa, prepared as directed on package)

3

oz.

smoked Gruyère cheese, cut into ¼ inch cubes

(heaping

½

cup)

⅓

cup

raw sunflower seeds

1

tablespoon

sugar

⅛

teaspoon

cayenne pepper

⅛

teaspoon

salt
Honey mustard vinaigrette (makes about

½

cup)
¼

cup

olive oil

2

tablespoons

white balsamic vinegar

2

tablespoons

honey

1

tablespoon

Dijon mustard

Pinch

salt and pepper, to taste
Instructions
Preheat oven to 400°F. Toss turnips, carrots, and beets with

2

tablespoons olive oil, smoked paprika, garlic powder,

¼

teaspoon salt and pepper. Arrange in a single layer on large rimmed baking pan.

Place on lower rack in oven, and bake for 20 minutes. Remove from oven. Stir vegetables; add kale in a single layer on top. Bake for 5 minutes. Remove pan from oven and toss kale with the root vegetables.

While vegetables are roasting, make candied sunflower seeds. In a small skillet, combine sunflower seeds, sugar, cayenne, and

⅛

teaspoon salt. Cook over medium-low heat, stirring constantly, about 5 minutes, until sugar melts and coats the seeds, and seeds are toasted and golden brown. Remove seeds from pan immediately to a plate lined with parchment paper to cool.

Make vinaigrette: combine olive oil, white balsamic vinegar, honey, mustard, salt and pepper to taste. Whisk until smooth.

In a large bowl, combine roasted vegetables with kale, quinoa, cheese, and vinaigrette, to taste. You may not need all of the vinaigrette. Serve immediately, topped with sunflower seeds.
Notes
Either curly kale or lacinato kale (Tuscan, dinosaur, elephant) can be used. Lacinato kale is a bit more tender.
If you don't care for all 4 root vegetables, feel free to substitute as you wish, as long as you end up with roughly 4 cups of diced root vegetables.
Sliced almonds can be substituted for the sunflower seeds. Toast as directed.
To prepare quinoa, try Instant Pot quinoa. It freezes well, too, so make a big batch. You can also buy pre-made quinoa.
Nutrition Information
Calories:
541
kcal
,
Carbohydrates:
45
g
,
Protein:
15
g
,
Fat:
36
g
,
Saturated Fat:
8
g
,
Polyunsaturated Fat:
6
g
,
Monounsaturated Fat:
20
g
,
Cholesterol:
23
mg
,
Sodium:
545
mg
,
Potassium:
947
mg
,
Fiber:
11
g
,
Sugar:
21
g
,
Vitamin A:
15697
IU
,
Vitamin C:
110
mg
,
Calcium:
531
mg
,
Iron:
4
mg
This website provides approximate nutrition information for convenience and as a courtesy only. Nutrition data is gathered primarily from the USDA Food Composition Database, whenever available, or otherwise other online calculators.