Lemon Roasted Broccoli with Parmesan
Tired of plain ol' broccoli? Try this amped up lemon roasted broccoli with Parmesan cheese. It's easy and so delicious!
Recipe Overview
Why you'll love it: A whole new way to eat broccoli!
How long it takes: 23 minutes
Equipment you'll need: large bowl, sheet pan, oven
Servings: 4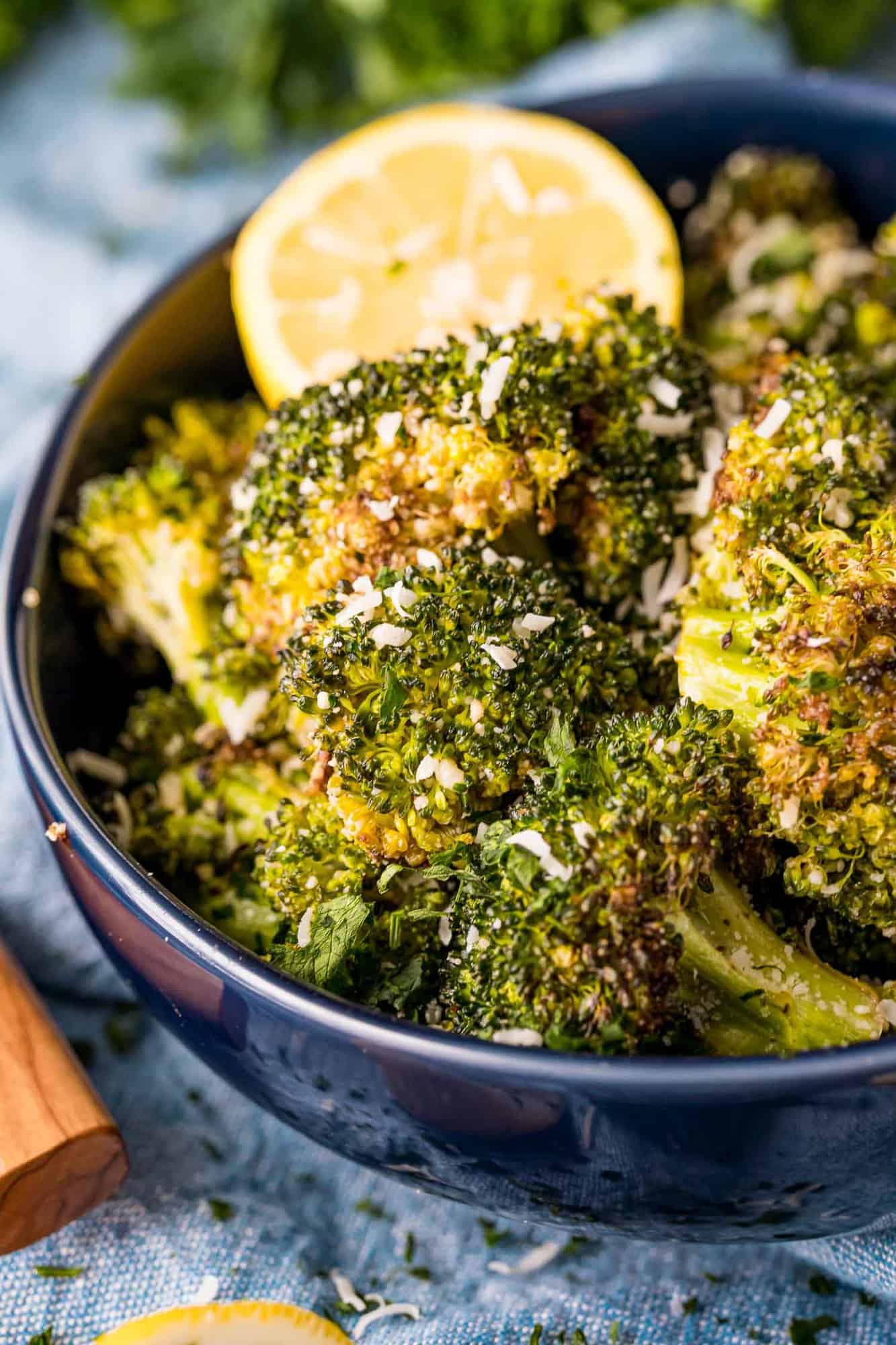 You'll love this lemon roasted broccoli! Olive oil and spices are rubbed into the florets before roasting, then the broccoli is tossed with Parmesan and lemon juice for a quick and easy side dish that's bursting with flavor!
I've been roasting broccoli for ages and it never gets old with me. Roasting just adds a whole new dimension to most veggies. With high heat, the crisping and caramelization that occurs intensifies the taste and texture of broccoli and cauliflower, squash, sweet potatoes …, pretty much every vegetable you can think of. Fruit, too, for that matter.
When I make this lemon roasted broccoli with Parmesan, I call it "loaded broccoli" because there's so much good stuff added to it: Olive oil, garlic, lemon juice, and cheese. You know, kind of like loaded potato skins. I find myself snitching a floret or two before the broccoli even makes it to the table. It's hard to resist.
Serve lemon roasted broccoli with baked salmon or breaded pork chops. You have the oven on, so you may as well cook the meat, too!
About this Lemon Parmesan Broccoli
We tested this recipe several times and garlic was kind of a troublemaker. We tried minced garlic paste from a tube (it burnt), minced fresh garlic (same problem), whole garlic cloves (didn't get done). We found that garlic powder mixed in the oil imparted a mild garlic flavor and didn't cause any other problems.
Once you master this recipe, you'll be able to use the same technique with other vegetables. Adjust the roasting time if necessary.
As always, you'll find the measurements and directions on the recipe card below.
What you need
Broccoli Crowns: Choose nice fresh broccoli with tight green florets. If the florets are starting to yellow or feel soft, the broccoli is past its prime. You'll need about 3 crowns. Crowns are the top part of broccoli with about an inch or two of stem. If you happen to like the thick stems (my mom thinks the stems are the best part!), peel them and slice into coins.
Olive Oil: A roasting necessity! If you prefer, grapeseed or avocado oil can be substituted.
Seasoning: The broccoli is seasoned pretty simply with Garlic Powder, Salt, Pepper, and Paprika. Note: Image below shows garlic paste. After multiple rounds of testing, we decided to omit this ingredient and use garlic powder instead.
Lemon Juice: Tangy fresh squeezed lemon juice adds such a fresh note to the roasted broccoli. Please use fresh lemon, not reconstituted lemon juice. It will make a big difference!
Parmesan Cheese: Grated Parmesan is best because it sticks to the warm broccoli and fills in the crevices in a very tasty manner.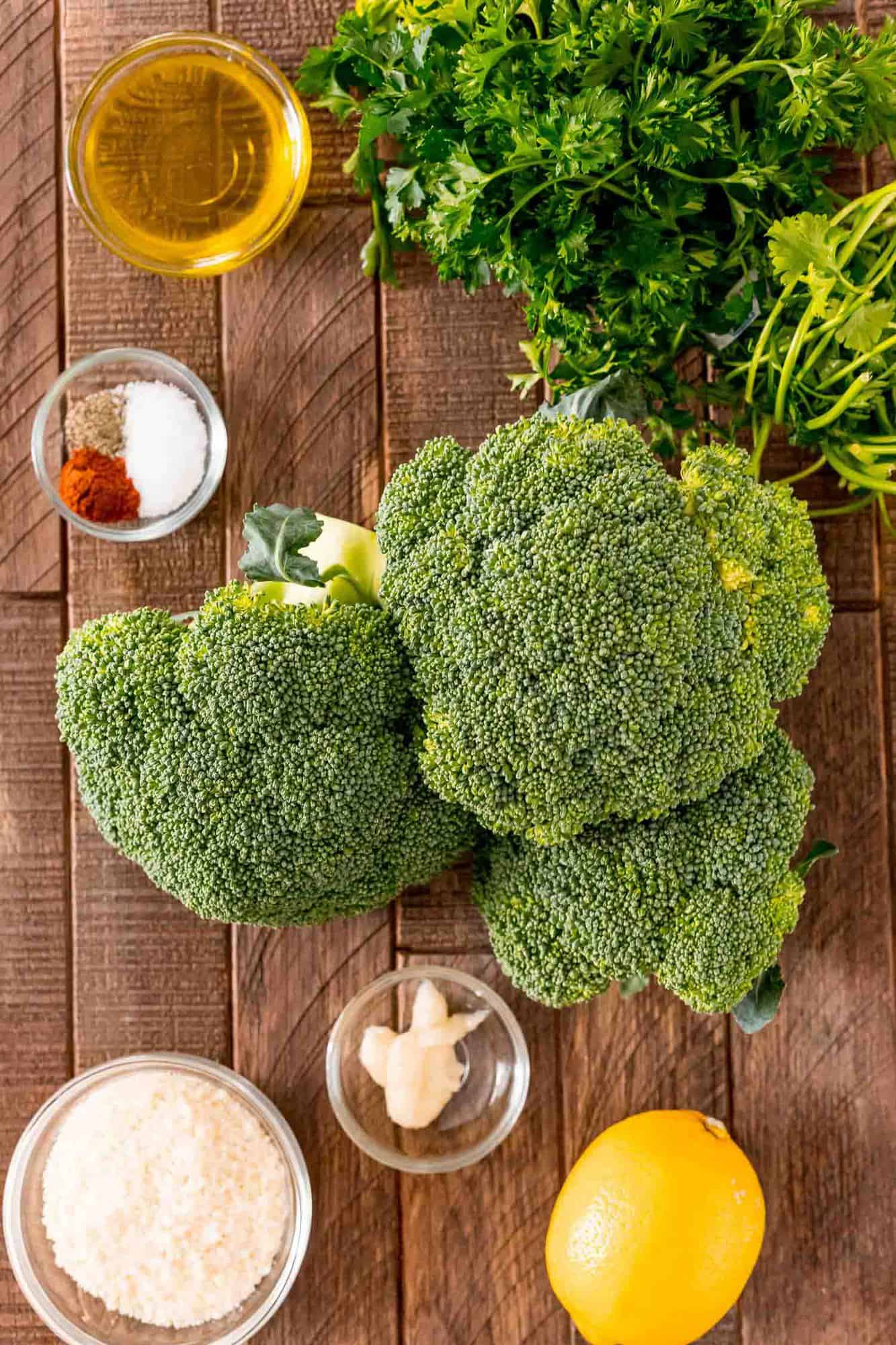 How to make it
Get your oven preheating. A nice hot oven is essential. If you think of it, put a sheet pan in the oven while it's preheating. A hot sheet pan steps up the roasting process.
Cut broccoli into evenly sized florets. Wash and dry it as much as possible. Leftover water in the broccoli will cause it to steam in the oven and you don't really want that. Sometimes I even spin mine in a salad spinner to get it extra dry.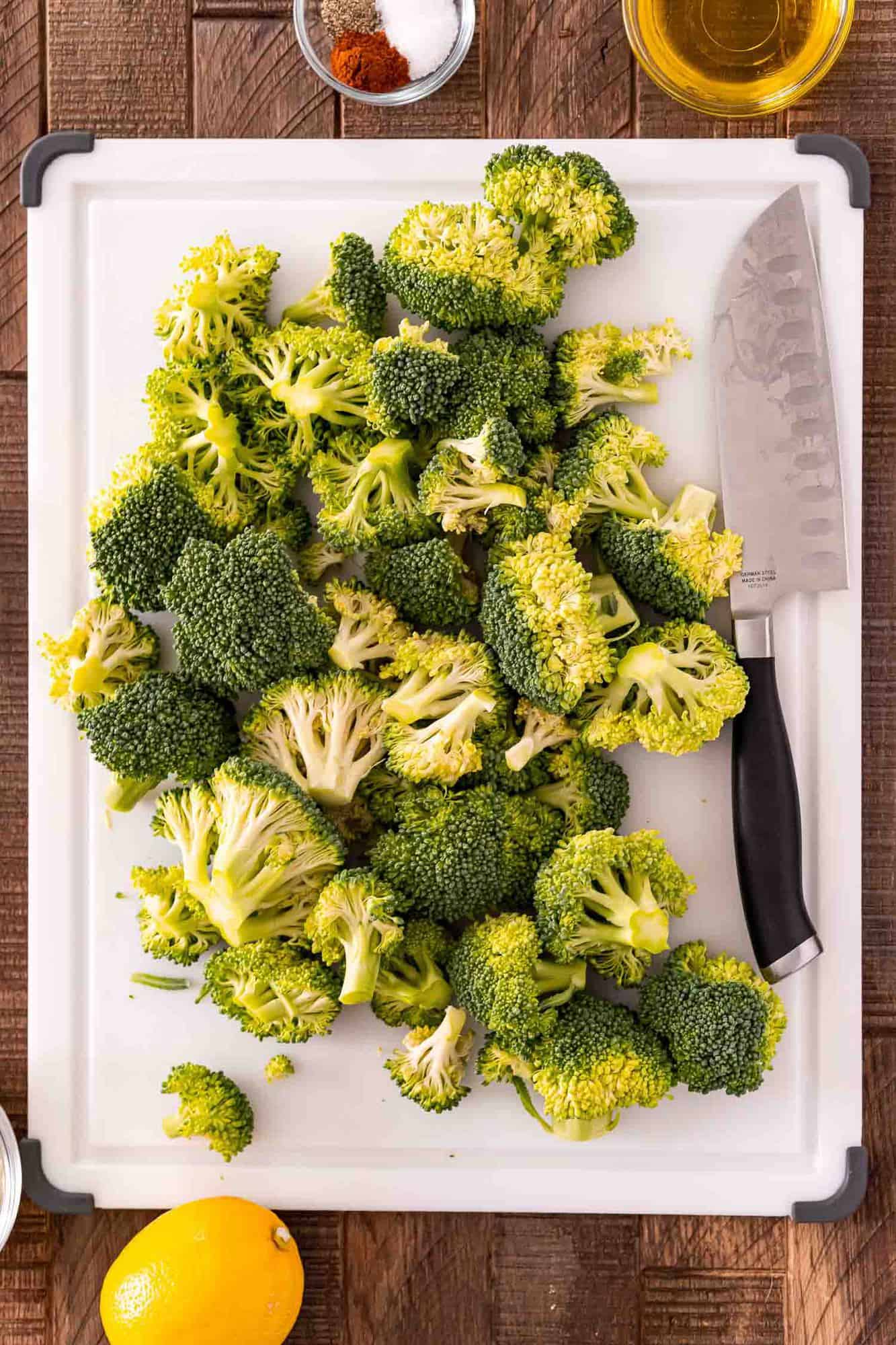 In a large bowl, mix the olive oil and seasonings together. Add the broccoli florets to the bowl. Stir the broccoli with the oil until it looks pretty evenly coated. You shouldn't have a puddle of oil left in the bowl. If you do, keep tossing the broccoli around, maybe even get your hands in there and massage the oil in.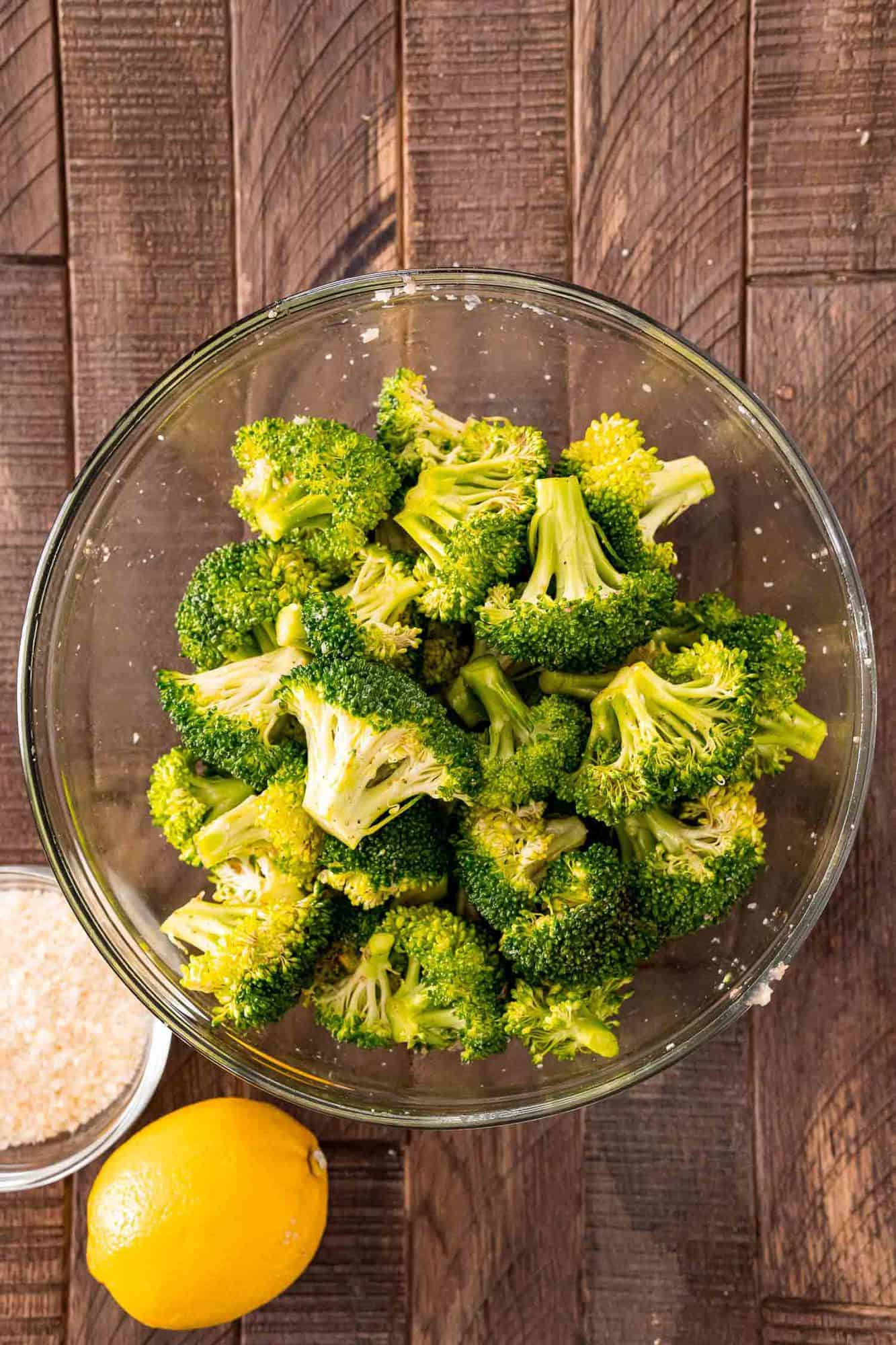 Pour the broccoli out onto the sheet pan, arranging it in a single layer.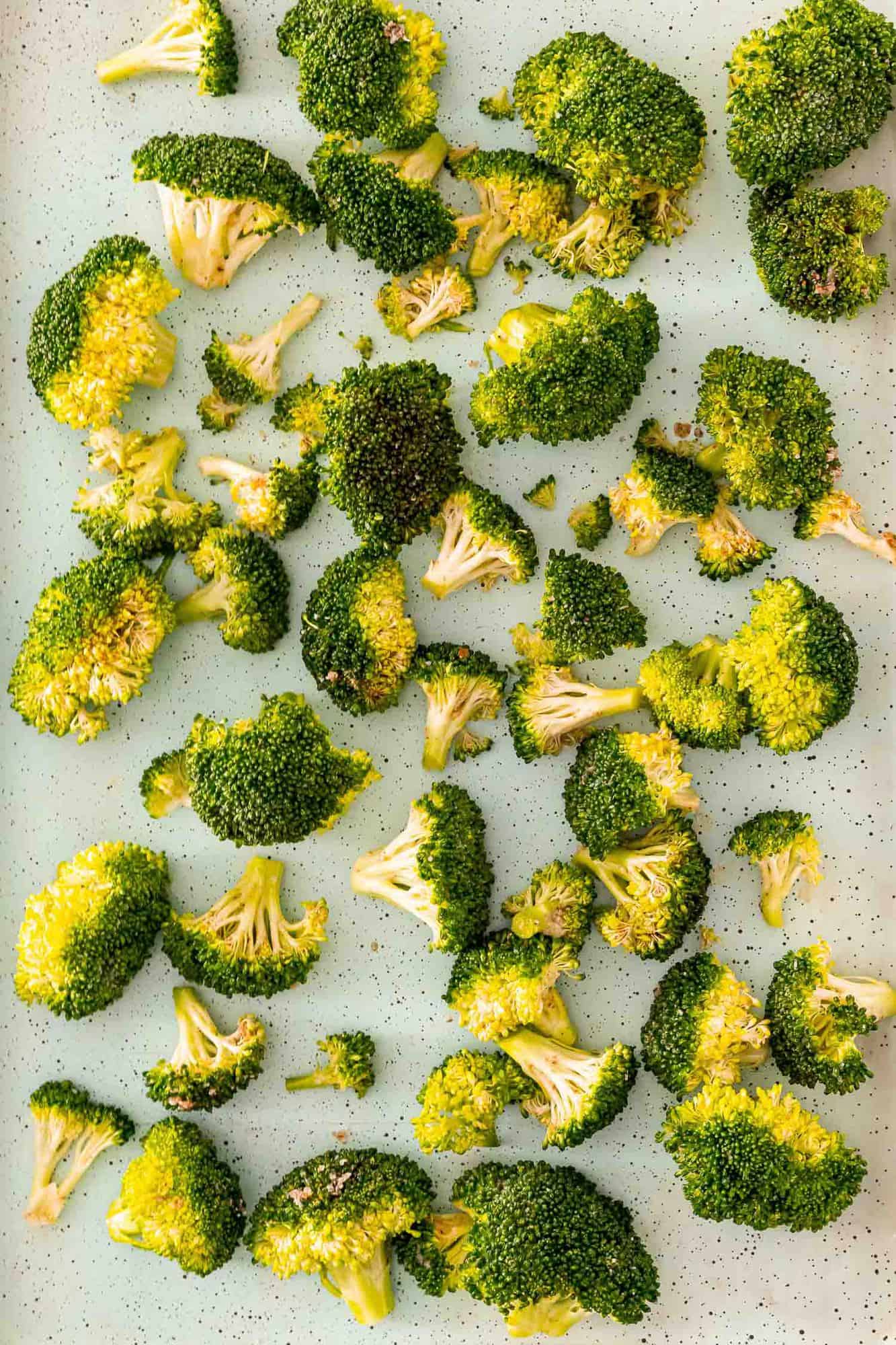 Roast for ten minutes, stir, and bake for another three minutes or so, until the broccoli is tender and browned.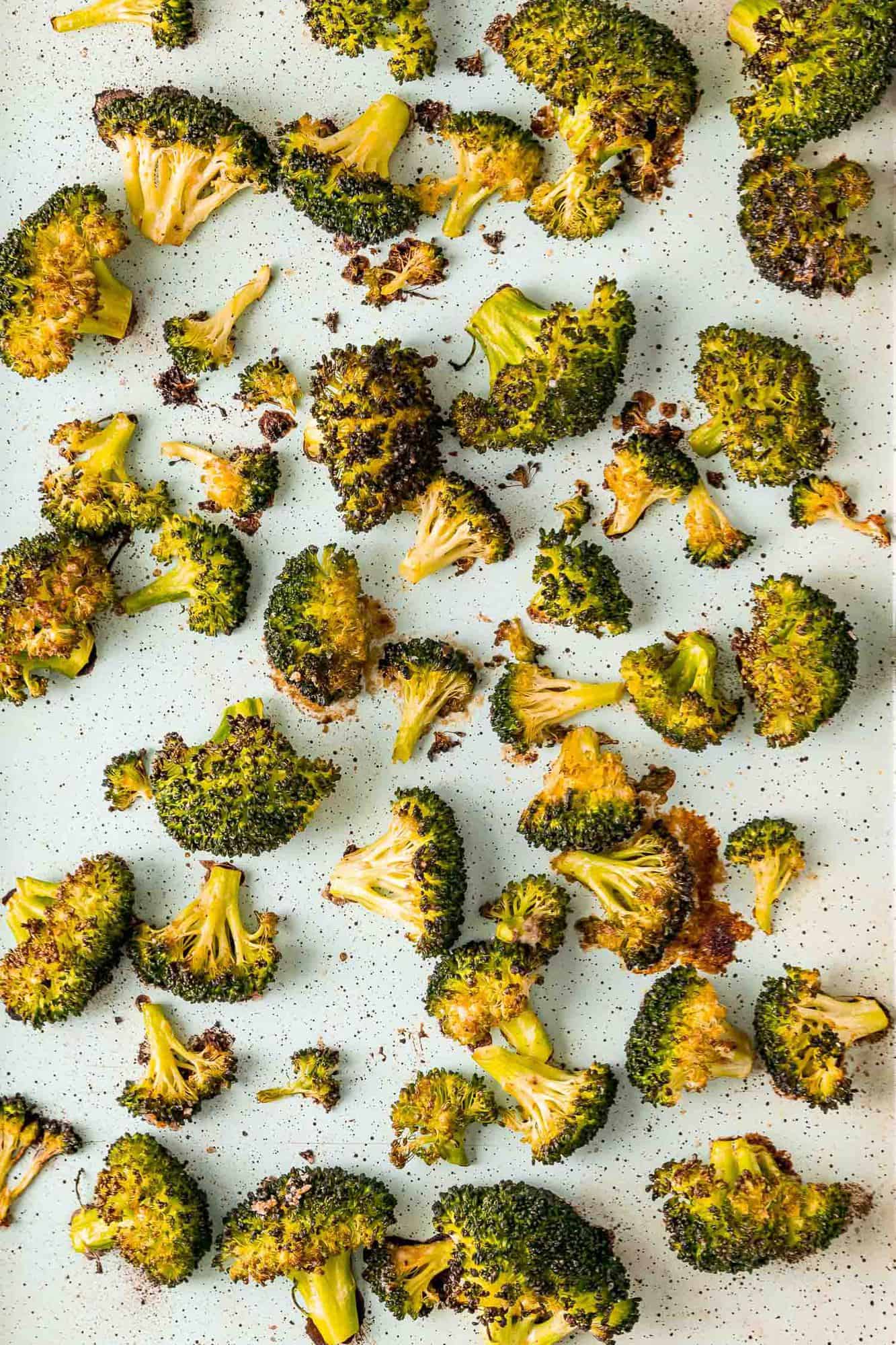 Remove the roasted broccoli from the oven and add the finishing touches. In same bowl that you used previously, mix the roasted broccoli with lemon juice and grated Parmesan cheese.
Serve immediately or just start eating it right out of the bowl. It's so good!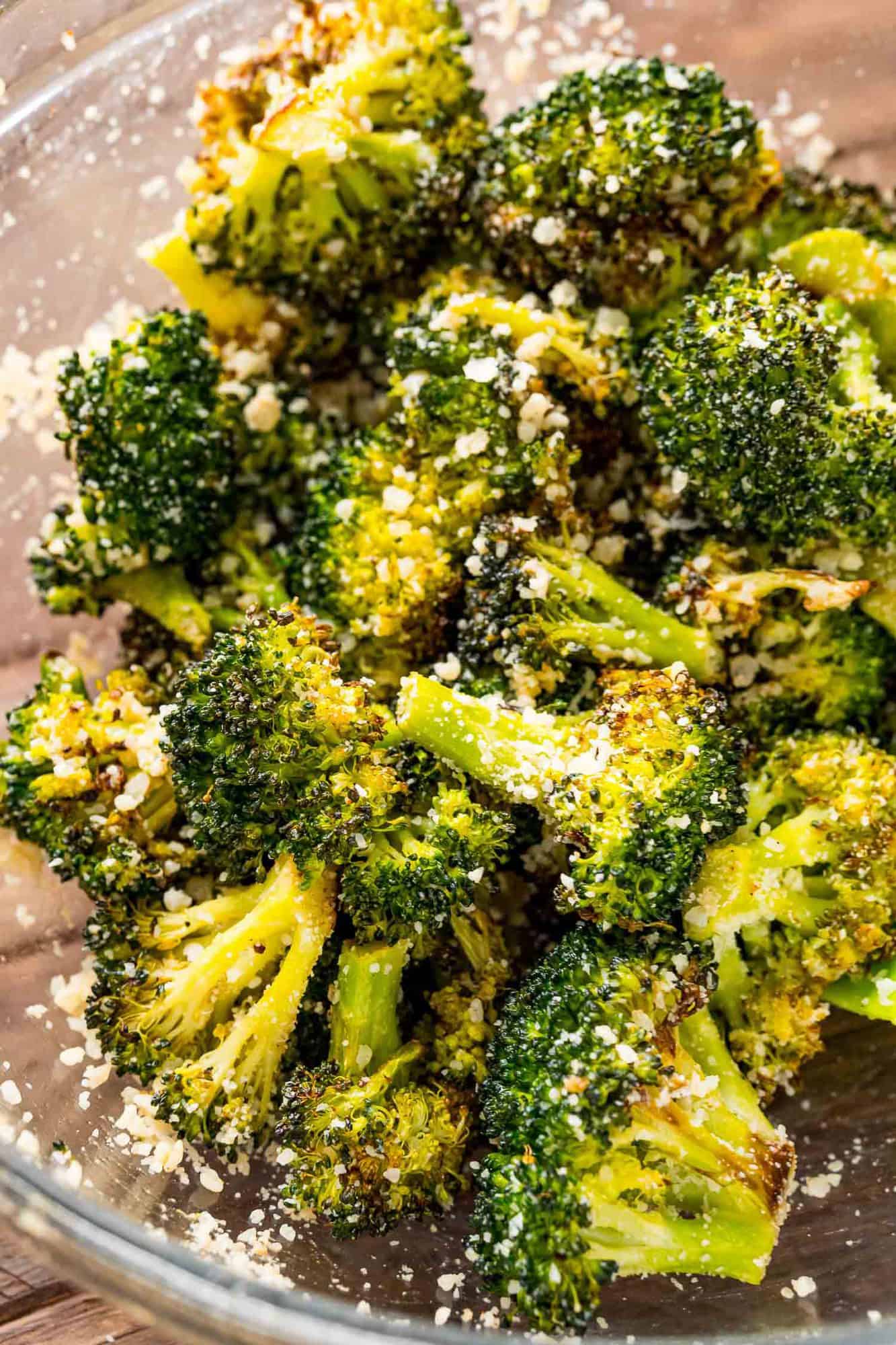 FAQs
Is roasted broccoli healthy?
There are so many nutritional benefits to eating broccoli that I could write a whole article just about that. Check out what Healthline has to say about broccoli's healthy attributes.
Whether roasted, steamed, boiled, or raw, any time you add vegetables to your plate, it's a good thing. Add color to your plate with a rainbow of veggies. Your body will thank you!
Should I steam broccoli before roasting?
There's no need to steam broccoli before roasting. The broccoli will become tender in less than fifteen minutes, perfectly done and ready to eat.
What can you put on broccoli to make it taste good?
Whoa, baby, that's a loaded question. Broccoli tastes so good without adding a thing to it! Roasting brings out even more great flavor. Broccoli is very adaptable to almost any seasoning or sauce. I love broccoli in stir fries and curries because it soaks up all that great sauce. Keep reading for more good tasting broccoli recipes!
What can I use instead of oil to roast vegetables?
Roasted vegetables require very little oil, just enough to crisp them up a bit. Usually a light spritz of healthy olive oil is all you need. Don't care for olive oil? Substitute coconut oil, avocado oil, or grapeseed oil. Or try bacon fat instead of oil to add smoky flavor to the roasted vegetables.
Make It Your Own
As I mentioned above, you can roast other vegetables using this same method. Broccolini, cauliflower, Brussels sprouts, and baby bok choy are good choices.
If you're feeling inspired to add more ingredients, add a teaspoon of Italian seasoning to the oil mixture. Add lemon zest along with the juice for lots of lemony flavor. Breadcrumbs that have been lightly toasted make a wonderful topping.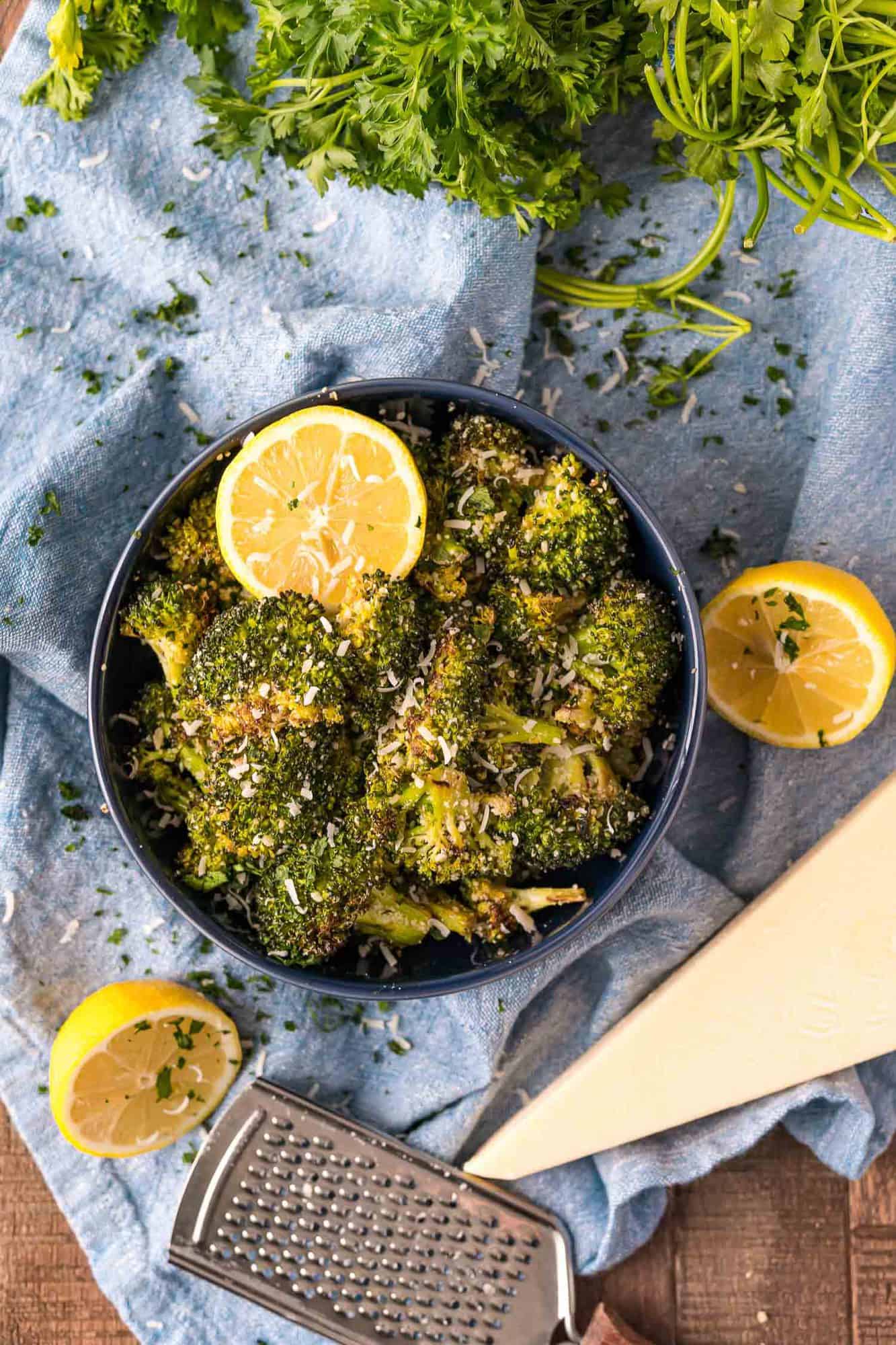 Make-Ahead Ideas
If you'd like to get a head start, prep the broccoli a day or two in advance and store it in a tightly covered container in the fridge. Buy grated Parmesan so you don't have to do it yourself, or you can also do that a day or two ahead.
Storage & Reheating Suggestions
This roasted broccoli is best eaten right away but if you have some left over, store it in the fridge for up to three days. Reheat it in the microwave in 15 second increments or until warm. You can also pop it back in the oven or in an air fryer for a few minutes to get it crispy again.
Leftover Love
Roasted broccoli is a great addition to a grain bowl. Choose your favorite cooked grain such as quinoa, farro, or brown rice, warm or room temperature. Add leftover broccoli, chickpeas, chopped greens, and thinly sliced red onion (pickled red onions are super good), or really whatever you like best. Top with lemon basil vinaigrette or another dressing of your choice. If you like nuts, add a sprinkle of toasted pine nuts, sliced almonds, or pistachios.
More yummy broccoli recipes
I have lots more recipes where this healthy vegetable plays a starring role. Try:
Did you make this? Be sure to leave a review below and tag me @rachelcooksblog on Facebook, Instagram, or Pinterest!
Tired of plain ol' broccoli? Try this amped up lemon roasted broccoli with Parmesan cheese. It's easy and so delicious!
Instructions
Preheat oven to 425°F.

In a large bowl, mix together olive oil, salt, pepper, garlic powder, and paprika. Add broccoli florets and stir well, until broccoli is coated and all of the oil is absorbed.

Spread the broccoli in a single layer on large rimmed baking pan (sheet pan). Bake for 10 minutes, stir, and bake an additional 3 minutes or until broccoli is tender.

Remove from the oven and transfer to the same large bowl. Toss with lemon juice and Parmesan cheese; serve immediately.
Notes
If you prefer, use a whole head of broccoli cut into bite-sized pieces, including the stem. Peel the stem and slice into coins.
Optional Toppings: Lemon zest, toasted breadcrumbs, toasted pine nuts, toasted slivered almonds, or an extra squeeze of lemon juice.
Alternatives to broccoli: broccolini, cauliflower, Brussels sprouts, baby bok choy.
Nutrition Information
Calories:
149
kcal
,
Carbohydrates:
9
g
,
Protein:
6
g
,
Fat:
11
g
,
Saturated Fat:
2
g
,
Polyunsaturated Fat:
9
g
,
Cholesterol:
2
mg
,
Sodium:
360
mg
,
Fiber:
4
g
,
Sugar:
2
g
This website provides approximate nutrition information for convenience and as a courtesy only. Nutrition data is gathered primarily from the USDA Food Composition Database, whenever available, or otherwise other online calculators.