Rosemary Roasted Potatoes – Crispy and Delicious!
Fragrant, flavorful rosemary roasted potatoes are the perfect side dish for nearly any meal. They're great at breakfast too!
Recipe Overview
Why you'll love it: Roasted potatoes are easy to make and the results are amazing.
How long it takes: 50 minutes, mostly hands off
Equipment you'll need: large roasting pan (sheet pan)
Servings: 6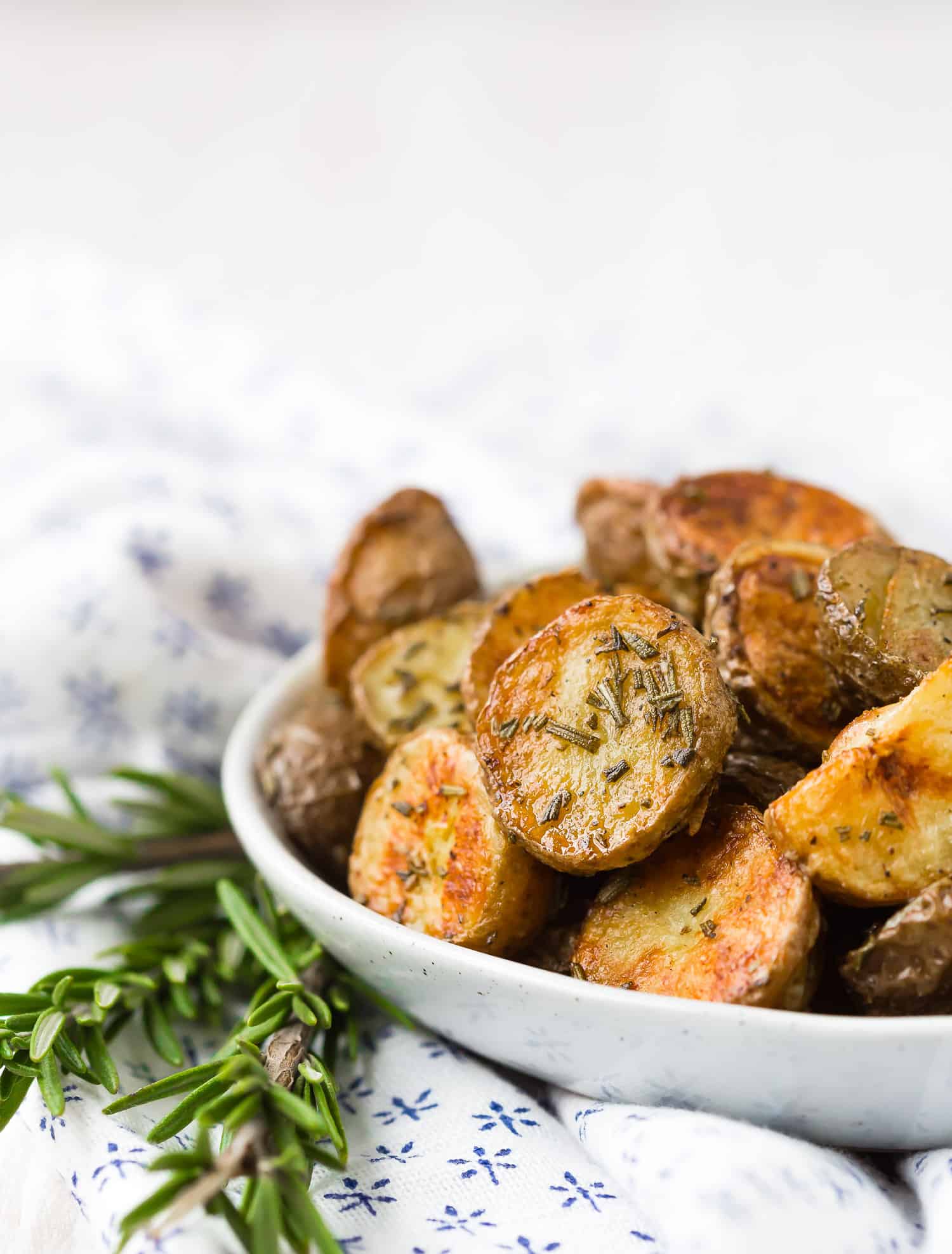 Golden brown and deliciously crispy, fragrant rosemary roasted potatoes are pretty irresistible. These succulent spuds are sweet and buttery-tasting and they pretty much melt in your mouth. They look fancy enough to serve to guests but are easy enough to make every day.
Last week, I retested the recipe for my candy cane kiss cookies because I had some comments that the dough didn't come together well or that they spread too much in the oven.
I'm happy to say that the cookie recipe works out great the way it is written! I'm always so bummed when you guys comment and say that my recipes don't work for some reason or another. Thankfully it doesn't happen often. While most recipes can be tweaked to your heart's content, baking is a little different. If you stray too much from the recipe, results could be less than stellar.
But here's the thing. I snitched some of dough while I was re-testing the cookies and then, of course, I couldn't stop eating the finished product. I had this genius idea to stick them all in the freezer so I could pull them back out for Christmas parties.
Well, I'll just say this, they taste good frozen, too.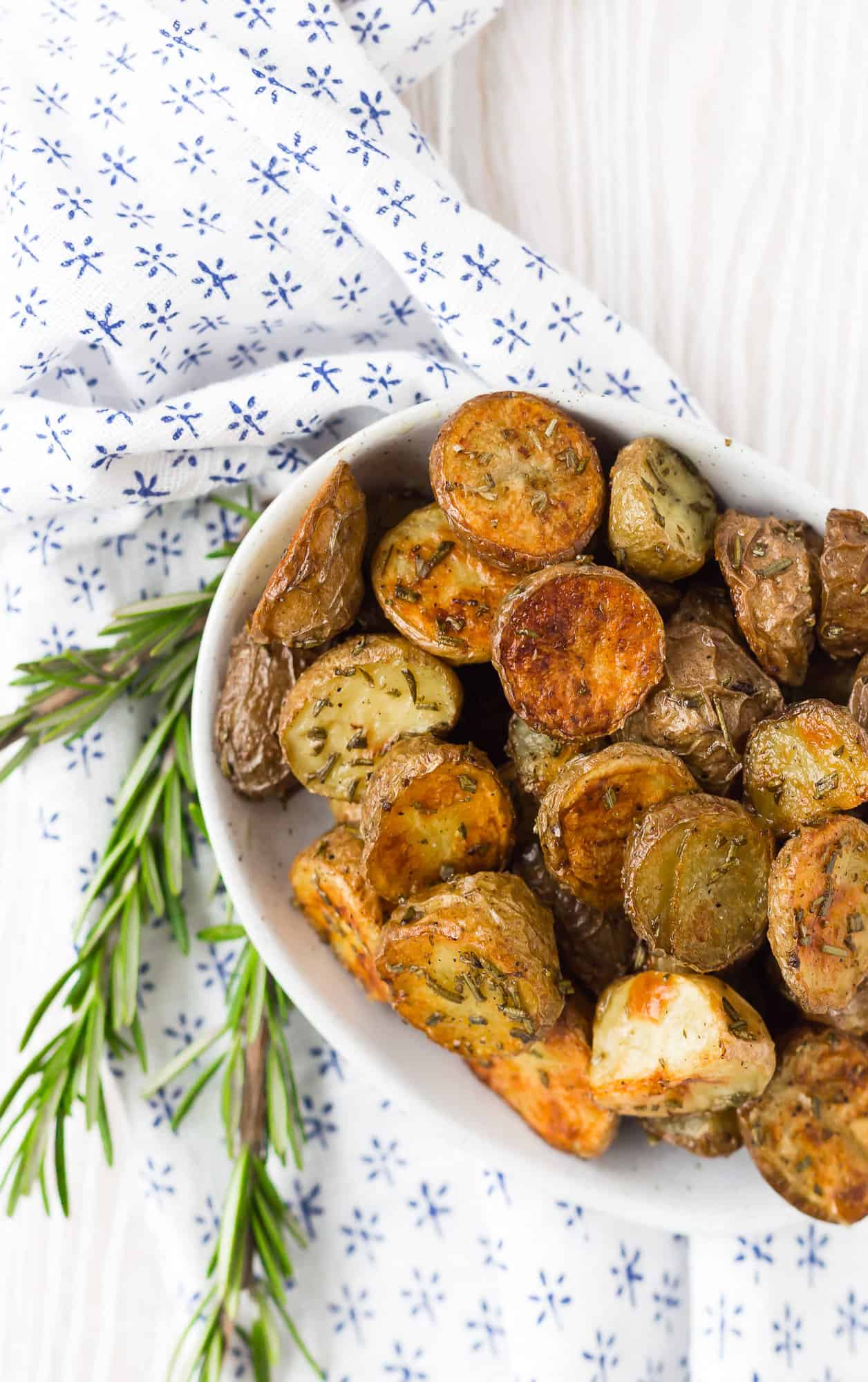 Obviously, I need to have healthy food in my fridge and freezer and not cookies. Stuff like these delish potatoes!
About these Roasted Potatoes
I make roasted potatoes nearly once a week and these rosemary ones might just be my new favorites. There's something about rosemary and potatoes that is just so perfect.
If you haven't tried roasting vegetables, you really need to get rolling on it. Roasting elevates ordinary potatoes, carrots, broccoli, cauliflower (or anything) into a special treat. Even veggie haters may change their minds once they try roasted carrots with nutmeg or lemon roasted broccoli with Parmesan.
Once you learn how, it's easy to do. You probably won't even need to refer to a recipe once you've done it a few times.
I'll run you through the how-tos here and give you a few extra tips.
As always, look for the printable recipe card near the end of post with complete instructions and nutrition information.
What You'll Need
Potatoes: You'll need about a pound and a half although more or less is fine as long as there's room on the pan. Choose tender-skinned varieties or baby potatoes. I just love those tiny ones.
Olive Oil: Oil is a roasting essential. You don't need a lot but choose an oil that is flavorful and good for you such as olive oil, avocado oil, or grapeseed oil.
Fresh Rosemary: While fresh herbs are the most fragrant, dried herbs are perfectly acceptable. Use less, about 1 teaspoon instead of a tablespoon.
Garlic Powder: This adds a very subtle garlic flavor to the potatoes. If you enjoy garlic, feel free to increase it or even add whole cloves to roast alongside the potatoes.
Kosher Salt and Coarse Ground Black Pepper: The larger crystals and coarse bits of pepper add nice little bursts of flavor.
How To Make This Recipe
Begin by preheating your oven to 400°F . It's important to start the potatoes in a nice hot oven.
Speaking of pans, you'll need a sturdy large rimmed baking pan, i.e. sheet pan. If you don't own a sheet pan, 18×13 inches, think about investing in one. I use my sheet pans nearly every day. We love sheet pan meals and of course, roasted vegetables.
Okay, let's move on to the potatoes. Cut them as large or as small as you'd like but keep in mind that the smaller the pieces, the more potential there is for crispness. Larger pieces will take a bit longer to roast than small chunks.
Make sure your potatoes are dry. I like to fold them up into a clean lint-free dish towel to remove any extra moisture. Water is the enemy of crispiness because it produces steam in the oven.
Add the potatoes to your sheet pan along with the rest of the ingredients. Toss them around until they are coated with oil.
Cooking Tip
Start all the potatoes cut-side down for that beautiful, crispy, golden brown edge. It will take you an extra minute to place them all on the pan that way but the payoff is huge. That is, if you like crispy potatoes, and if you ask me, the crispier, the better.
Pop them into the oven and bake for 25 minutes. Take them out, give them a stir, and bake them for 20 minutes more, or until they are brown and crispy. Serve them with chicken, beef, pork, or salmon, or whatever you like. So versatile, and so yummy! Try them for breakfast too!
FAQs
Can I cut the potatoes in advance?
Yes! You can cut the potatoes a day or two in advance, and store covered in water in the fridge. In fact, soaking them will even help the potatoes get extra crispy; just make sure to rinse and dry them really well before roasting. I wrote a post about how to make crispy roasted potatoes if you'd like even more tips!
What goes well with rosemary roasted potatoes?
I mentioned this earlier, but really almost anything! They're great with beef (roast or steak!), pork, chicken, or fish. Try them for breakfast instead of American fries or hash browns.
Can I roast these at 325°F? 425°F? 350°F?
For best results, I recommend following my recipe but these are pretty forgiving. Sometimes you have more than one thing in the oven and you have to be flexible. Any oven temperature between 325°F all the way up to 450°F will work for this recipe but keep in mind cooking times will vary. Keep a close eye on them at the higher temperatures and make sure you don't cut them too large. Large chunks might not cook all the way through before the outside gets brown.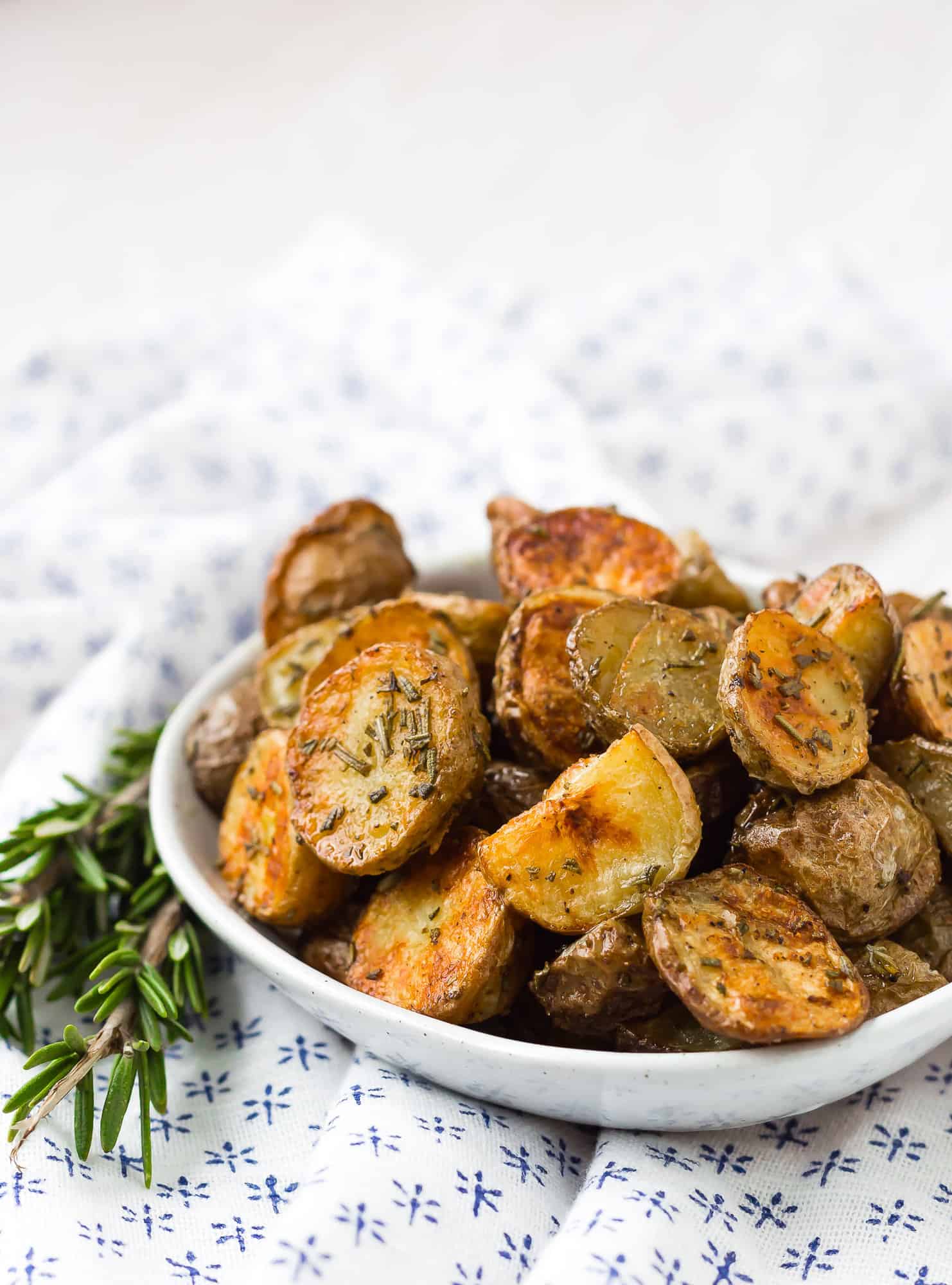 Make It Your Own
Use whatever type of potato you like. Sweet potatoes are great, too.
Try other woody herbs such as thyme or oregano to switch it up. Dried herbs such as basil or Italian seasoning work well.
Season the potatoes with chili powder, paprika, or smoked paprika.
Keep reading for lots more potato ideas!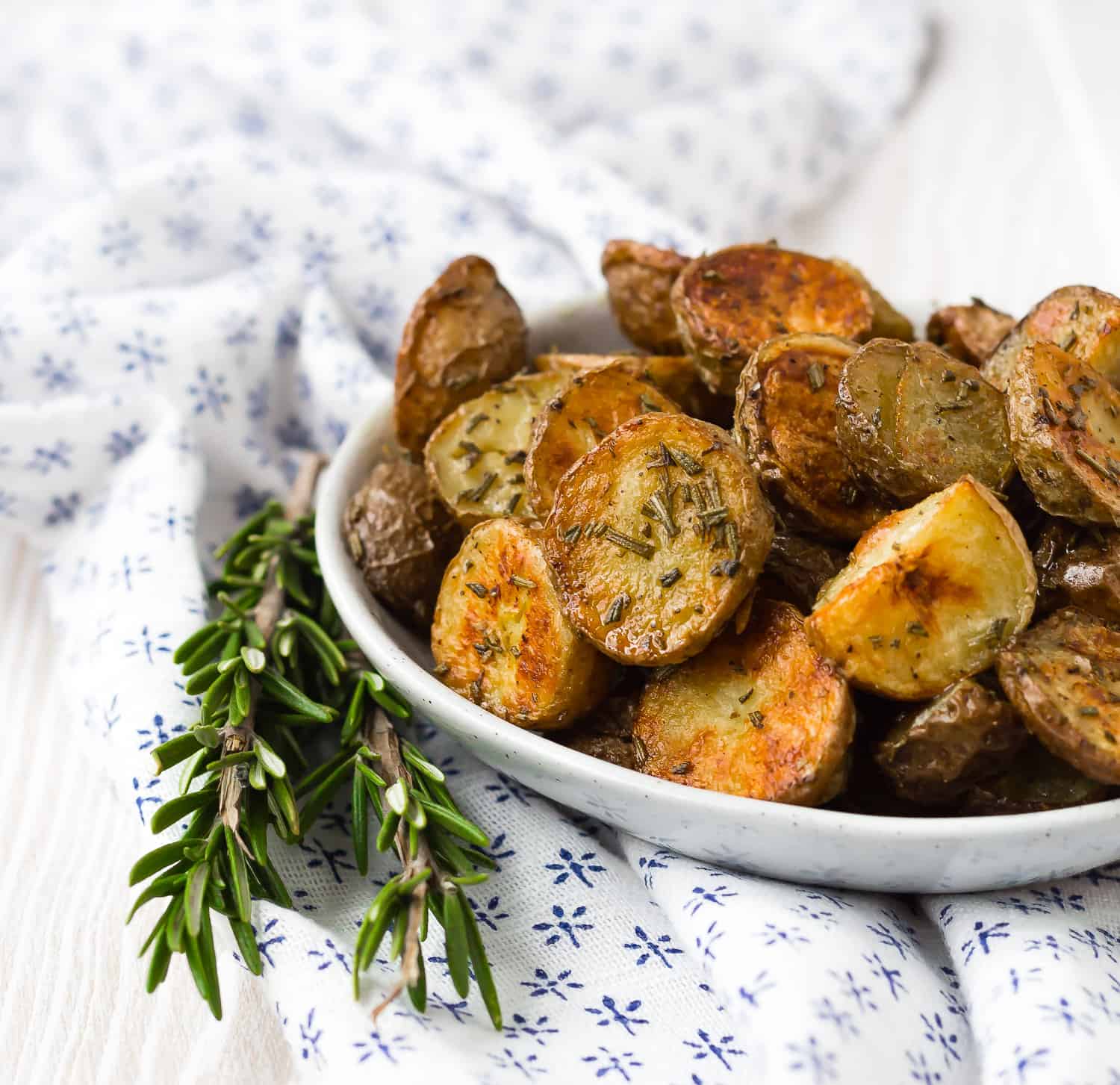 Storage & Reheating Tips
Roasted potatoes will keep in the refrigerator for up to 4 days. They can be frozen for up to four months.
To reheat, pop them into the oven, toaster oven, or air fryer for 5-10 minutes or until they are heated through. The length of time will depend on how large the potato pieces are and if they are frozen or refrigerated.
More Potatoes
If you love roasted potatoes, you'll love these garlic roasted potatoes with paprika. I make them a couple times a month! We also love these dill roasted potatoes with lemon and oven roasted smashed potatoes with garlic and butter are really fantastic!
If you're a baked potato guy/gal, try no-fail oven baked potatoes, or if you're short on time, Instant Pot baked potatoes. And yes, you have to try baked potatoes in your air fryer, too. They turn out really great!
Like them mashed? Try brown butter mashed potatoes or Instant Pot mashed potatoes.
Have the grill on? Make easy grilled rosemary potatoes in a foil packet or seasoned grilled potatoes.
Love your air fryer? Try air fryer crispy potatoes, or air fryer French fries.
Did you make this? Be sure to leave a review below and tag me @rachelcooksblog on Facebook, Instagram, or Pinterest!
Fragrant, flavorful rosemary roasted potatoes are the perfect side dish for nearly any meal. They're great at breakfast too!
Ingredients
1 ½

pounds

potatoes, scrubbed and cut in bite-sized pieces

(be sure to dry the potatoes as much as possible)

2

tablespoons

olive oil

1

tablespoon

minced fresh rosemary

(or

1

teaspoon dried rosemary leaves)

½

teaspoon

coarse kosher salt

(more to taste)

¼

teaspoon

coarse ground black pepper

(more to taste)

¼

teaspoon

garlic powder

(more to taste)
Instructions
Preheat oven to 400°F. On a large rimmed baking sheet, toss potatoes with olive oil, rosemary, salt, pepper, and garlic powder (see note).

Roast for 25 minutes, stir, and continue to cook for 20 more minutes or until potatoes are crispy on the outside and tender on the inside.

Serve immediately.
Notes
For extra-crispy potatoes, read my post on how to make crispy roasted potatoes.
For even more crispiness, start all the potatoes cut-side down. It's a couple extra minutes of effort, but it pays off!
Potatoes can be roasted anywhere from 35

0°F to 450°F but adjust baking time accordingly. Roasting them at 400°F will yield the best results.
Nutrition Information
Calories:
122
kcal
,
Carbohydrates:
18
g
,
Protein:
2
g
,
Fat:
5
g
,
Saturated Fat:
1
g
,
Polyunsaturated Fat:
1
g
,
Monounsaturated Fat:
3
g
,
Sodium:
214
mg
,
Potassium:
521
mg
,
Fiber:
2
g
,
Sugar:
1
g
,
Vitamin A:
18
IU
,
Vitamin C:
10
mg
,
Calcium:
13
mg
,
Iron:
1
mg
This website provides approximate nutrition information for convenience and as a courtesy only. Nutrition data is gathered primarily from the USDA Food Composition Database, whenever available, or otherwise other online calculators.