Try fajita stuffed chicken, with peppers, onions, and cheese stuffed inside tender chicken breasts, breaded with a crispy coating of crushed tortilla chips.
Recipe Overview
Why you'll love it: All the flavors of fajitas in an easy baked dish!
How long it takes: 45 minutes
Equipment you'll need: 9×13 pan, large skillet, sharp knife
Servings: 4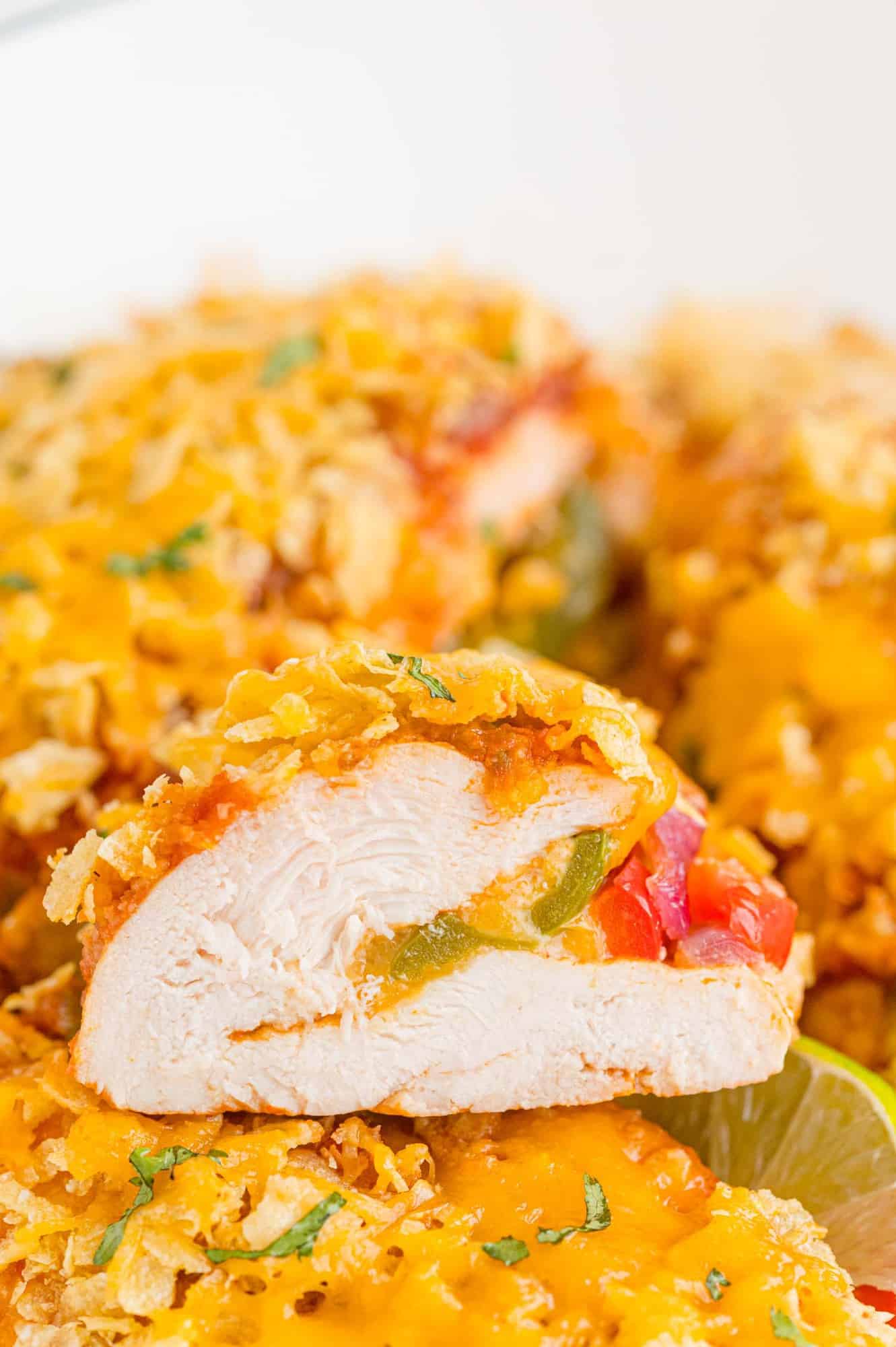 These tender chicken breasts are stuffed with all the fixings of fajitas, coated with salsa and crushed tortilla chips, and baked until golden and crispy. Fajita stuffed chicken is a great way to enjoy fajitas all in one dish.
Fajitas are one of my husband's favorite things to eat, in fact, probably in his top three. He loves these sheet pan fajitas (shrimp sheet pan fajitas, too!), and so do I, because they are a one pan meal. I also really like that you can make them with chicken, steak, or shrimp, whatever you're in the mood for. And for a somewhat different fajita dinner, we love chicken fajita stuffed spaghetti squash.
This fajita stuffed chicken is a little fancier, perfect for serving to guests. Anytime you have something "stuffed", it just seems a little more special, don't you think? One of my favorite recipes for dinner parties is feta stuffed chicken breasts with sun-dried tomato and kale. It always turns out so well and guests really love it.
And fajitas? They are always a hit! Even though my husband is a traditionalist and doesn't always like it when I mess around with his favorites, he's a fan of fajita stuffed chicken and I think you will be, too!
About fajita stuffed chicken
When you think of traditional fajitas, you probably think of soft flour tortillas stuffed with loads of sizzling hot meat and veggies. So yummy, but there's lots of last minute preparation with a dish like that.
In this recipe, the tortillas take the form of crushed tortilla chips, providing a crispy coating for the chicken. The fajita fixings are stuffed inside the chicken. While it bakes, you'll have the opportunity to mingle with guests, make guacamole, or do other dinner prep.
It makes a nice presentation, too. Keep reading for what to serve with fajita stuffed chicken.
There are two steps to this recipe: preparing the fajita stuffing and baking the stuffed chicken. Don't be misled by the word "stuffing". This isn't a traditional bread stuffing. The stuffing is merely peppers, onions, and cheese. It's super easy!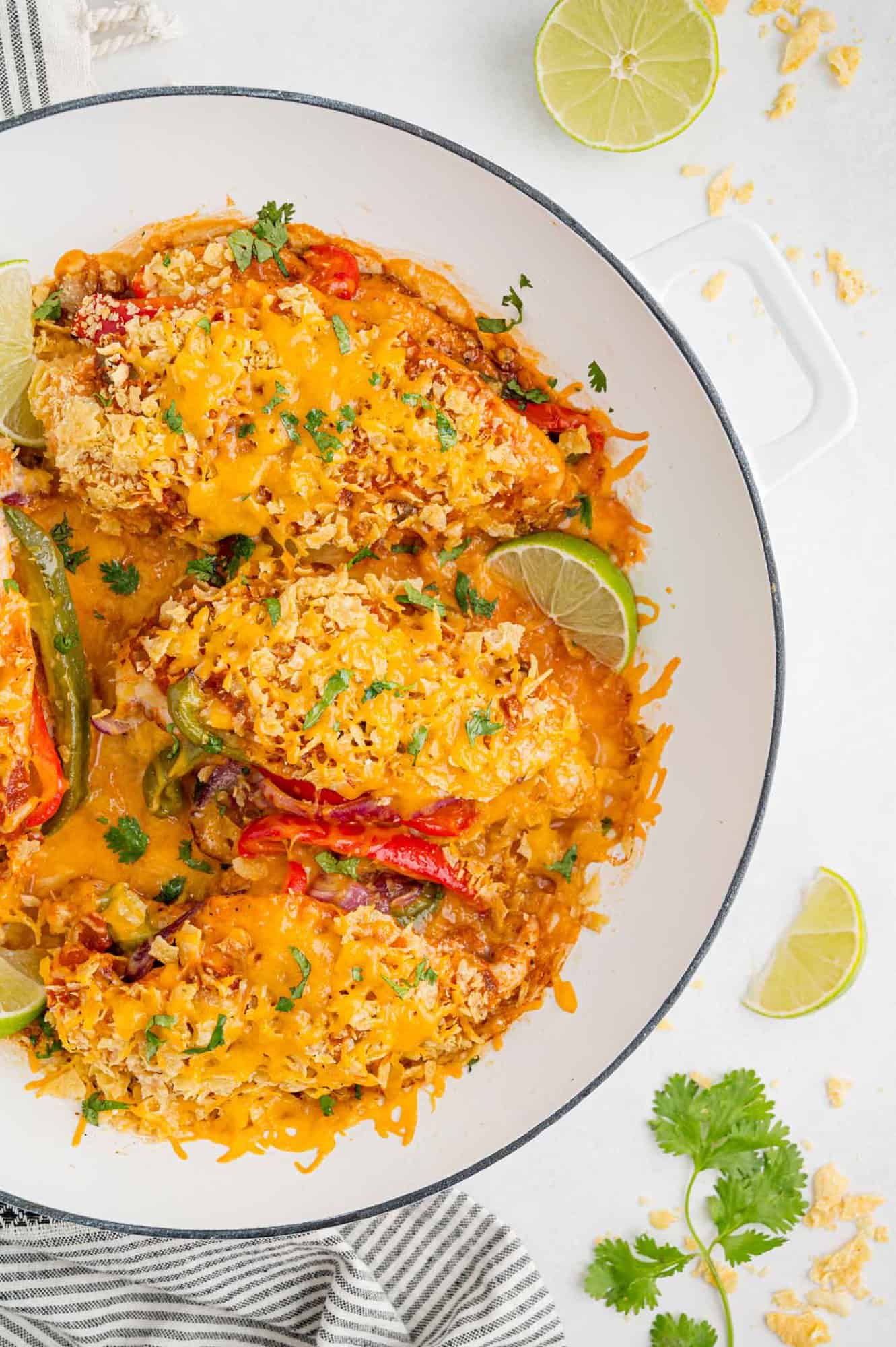 I'll run you through the recipe here and give you lots of extra tips and information. If you would rather just get started, feel free to scroll to the recipe card at the bottom of the post.
You'll find the printable recipe card at the end of this post. It has complete directions and measurements, along with nutrition information.
What You'll Need
Boneless Skinless Chicken Breasts: Pretty much the only type of chicken that works for this recipe. It's difficult to stuff anything else.
Bell Peppers: Any color will do. Mix and match for a more colorful presentation.
Red Onion: If you prefer a sweet onion like Vidalia, that's fine, too.
Taco Seasoning or Fajita Seasoning: Make your own blend or buy a commercial blend.
Cheddar Cheese: If you prefer, choose a Mexican blend, pepper jack, or any kind of cheese you like.
Salsa: Mild or spicy, choose whatever type you like best. Shelf stable salsa from a jar works better than the refrigerated fresh salsa for this recipe because it's thicker and not as watery.
Tortilla Chips: Crushed chips make up the crispy breading on the chicken.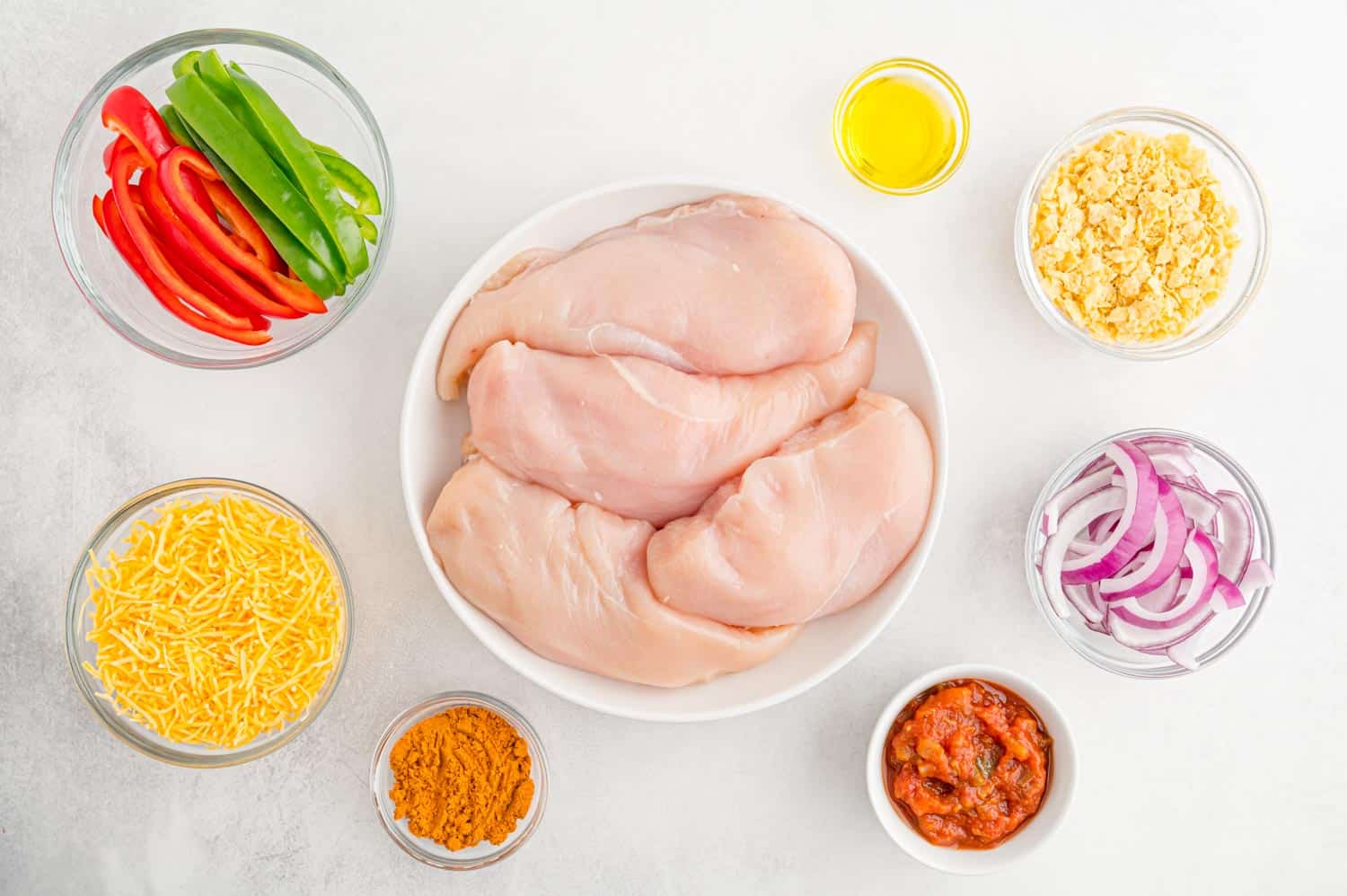 How To Make This Recipe
Turn the oven on and let's get started!
Begin by sautéing the peppers and onions in a skillet. Onions and bell peppers are traditional fajita fixings and they constitute the stuffing of this recipe.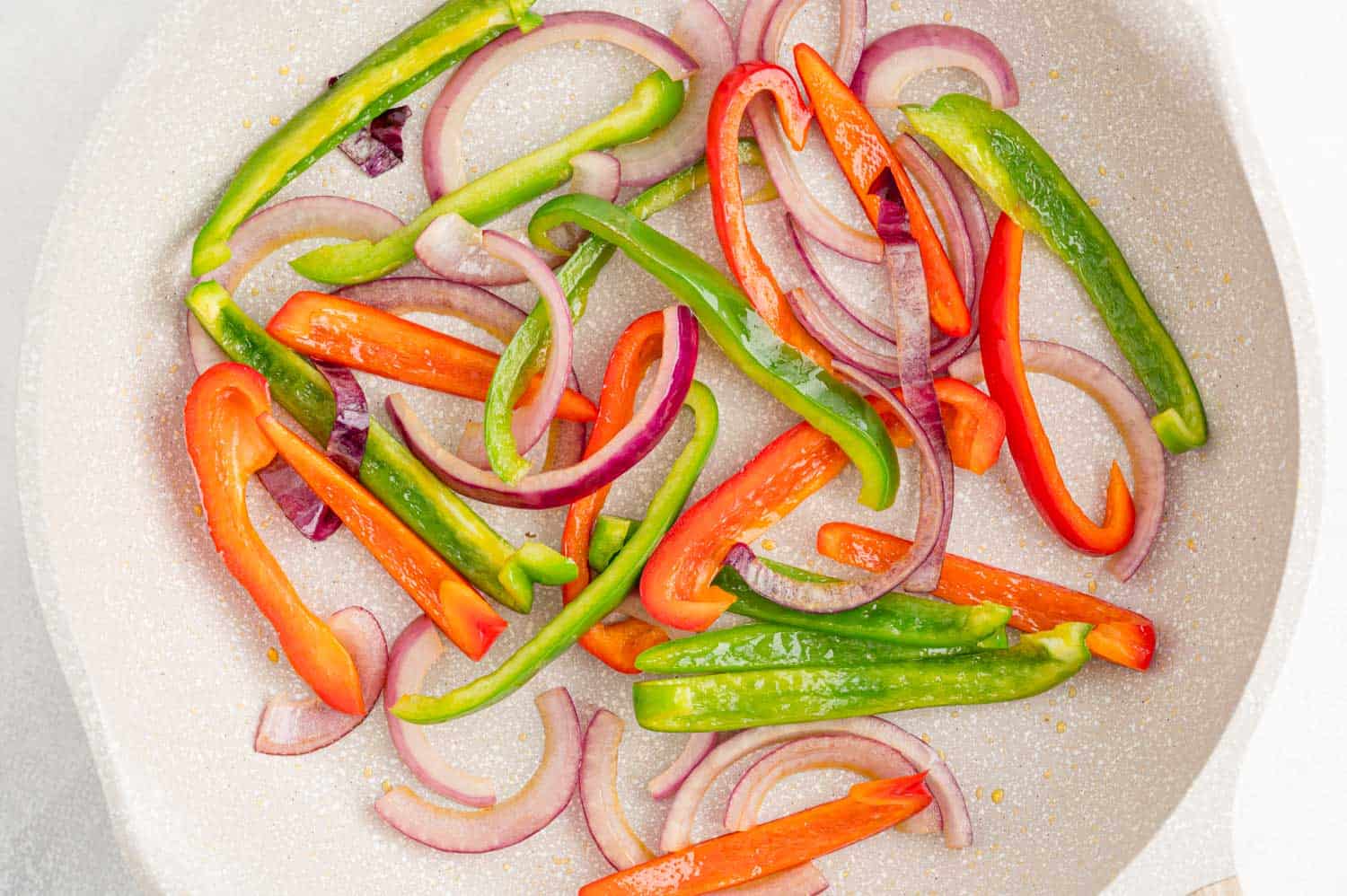 Now comes what you may think is a tricky part. You need to create a pocket or a place in the chicken breasts to put the stuffing. Find a very sharp knife for this job because a dull knife makes it much more difficult. Carefully slice into the side of each chicken breast, making sure of two things: one, that you don't cut all the way through and slice it in half; and two, that you don't cut yourself!
If you've cut your chicken correctly, you should be able to open it like a book connected in the middle. Picture a butterfly. Did you cut it all the way through? Don't worry, it will still work.
Sprinkle both sides of each piece of chicken with taco or fajita seasoning, inside and out. The more you use, the spicier it will be.
By now, the peppers and onions should be ready. Arrange them on one half of each chicken piece; sprinkle with cheese and fold the top half over (close the book). If all of the peppers and onions don't fit into the chicken, no problem, they make a great side dish. In fact, you may want to make extra just for that purpose. (But make sure you're not touching them with hands that you're touching the raw chicken with! Set aside a few in a bowl or leave them in the pan if you think you'll have extras.)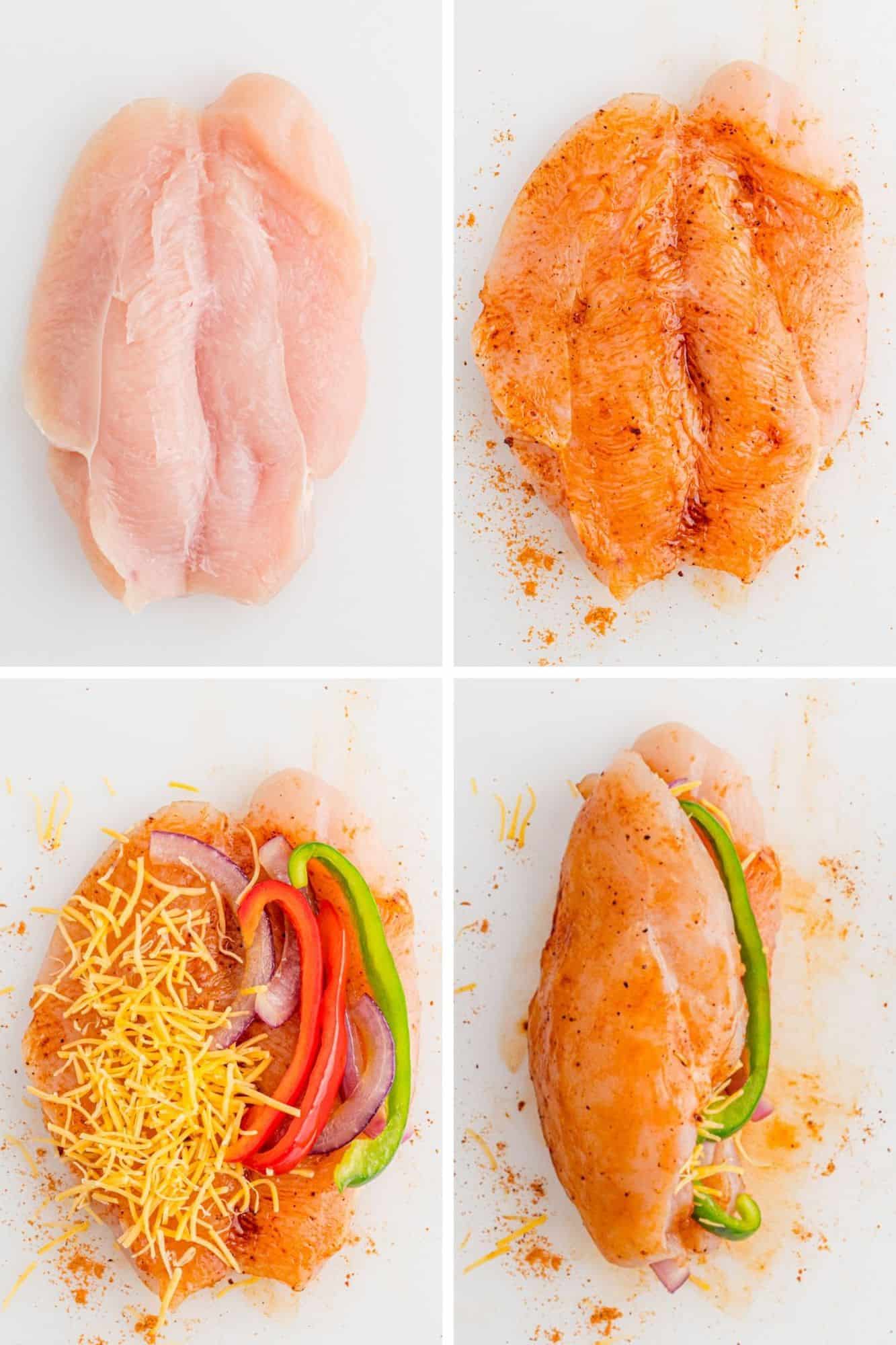 Place each stuffed chicken breast into a baking dish, slather on salsa, and sprinkle crushed tortilla chips over each one.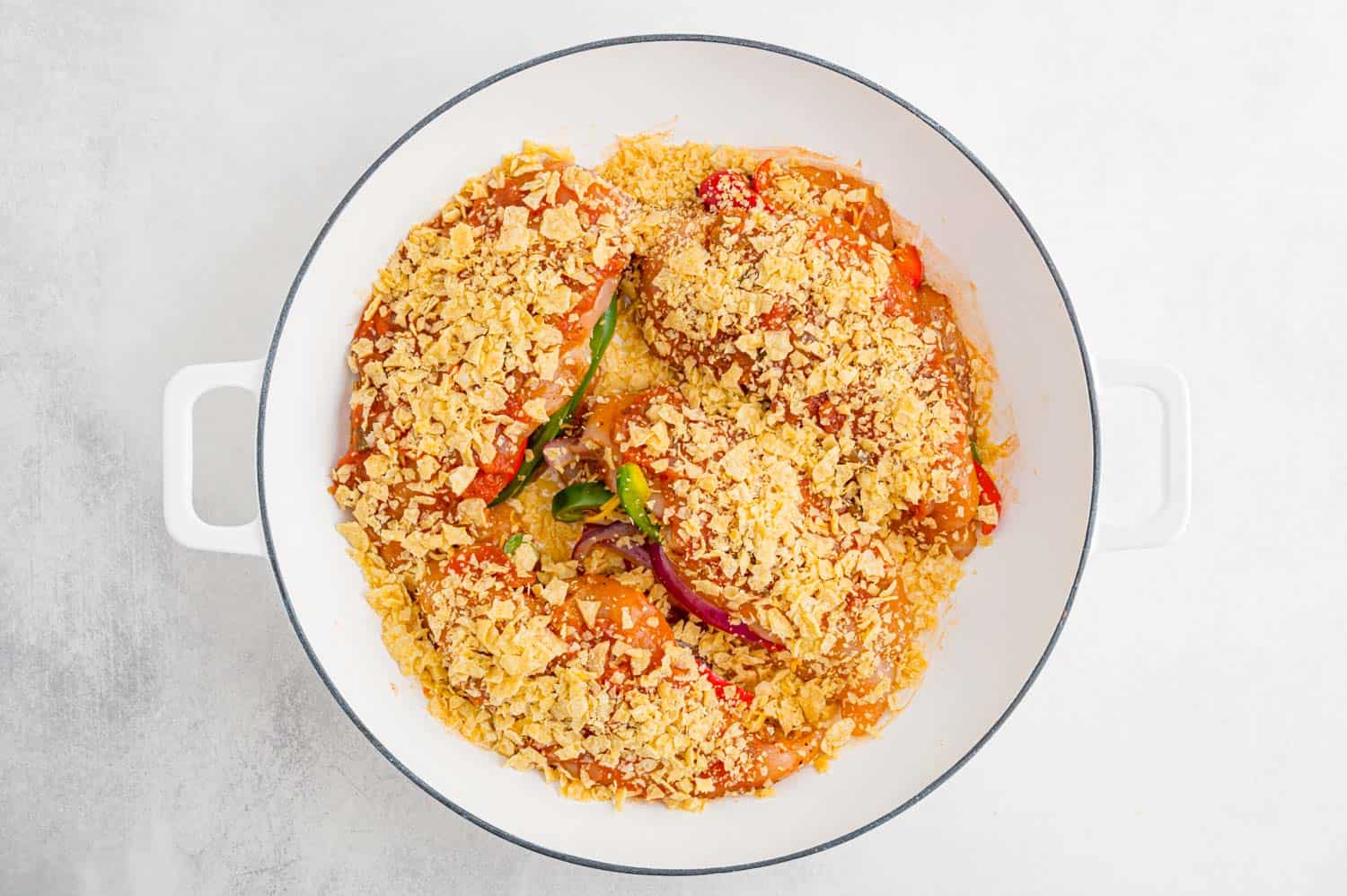 Pop the dish into the oven and bake until the chicken is cooked through, only pulling it out of the oven to sprinkle more cheese on it right before it finishes cooking. So yummy!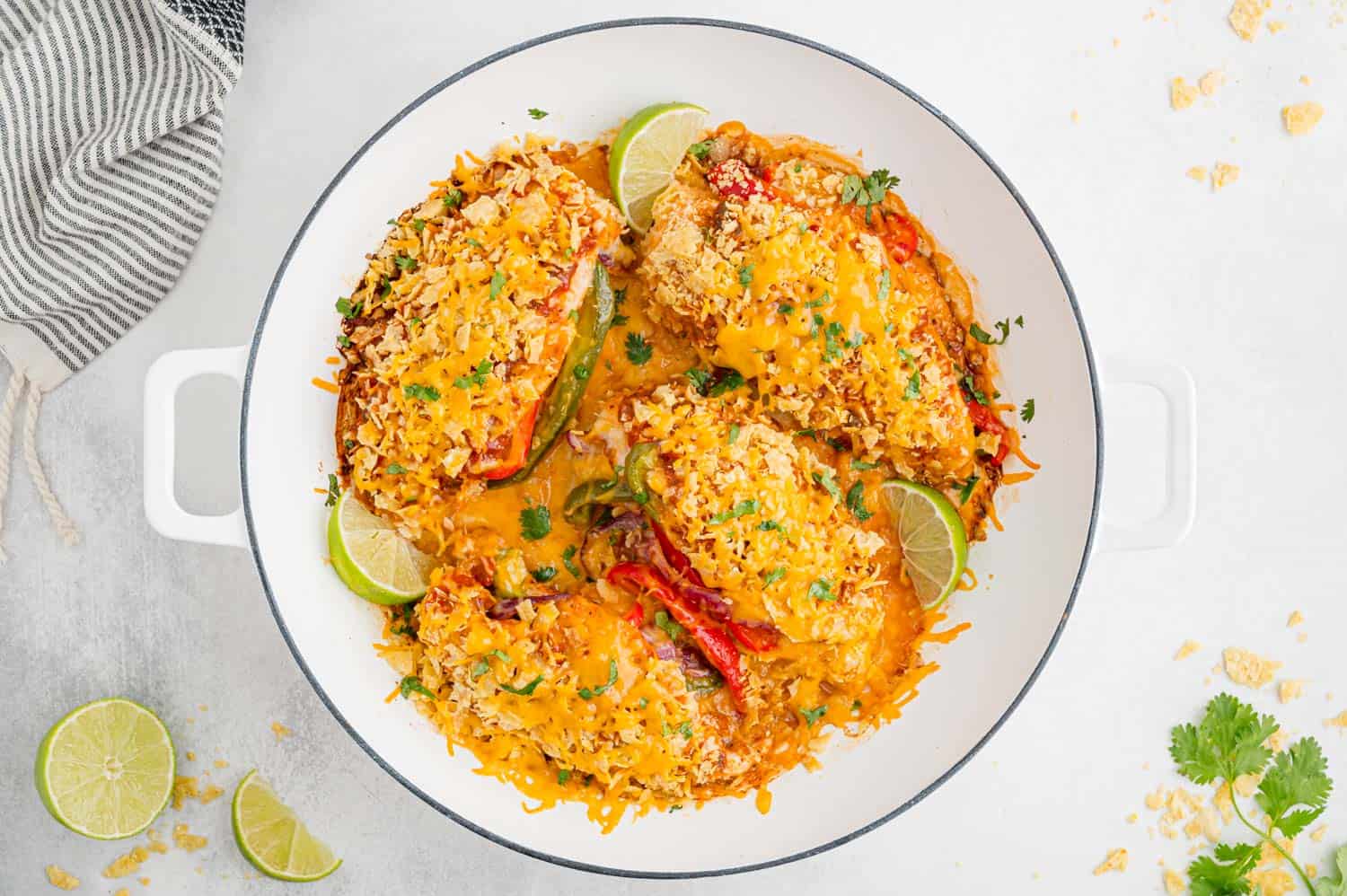 What to serve with this recipe
Serve fajita stuffed chicken with traditional fajita toppings in the form of a salad or toppings for the chicken: lettuce, avocado, and tomato. Sour cream, pico de gallo (or restaurant style salsa), homemade guacamole and cilantro add a nice touch. Mexican rice or slow cooker refried beans make great sides, too. Maybe you'll want to have a strawberry margarita or a spicy Paloma and have a little party!
FAQs
What is the difference between fajita seasoning and taco seasoning?
Often fajita seasoning is milder than taco seasoning. I add a bit of brown sugar to my fajita seasoning. You'll find that every cook has their own ideas of how to make both seasonings. It's totally a matter of personal preference.
Does stuffed chicken take longer to bake?
If you are baking a whole chicken that's stuffed, it generally does take a bit longer; however, these stuffed chicken breasts really don't take longer to bake. There simply isn't that much stuffing in them. The best way to check if they're done is with an instant read thermometer. The internal temperature should be at least 165°F.
Make It Your Own
Substitute a different type of cheese for the cheddar. A Mexican blend is great! Pepper jack, cotija cheese, or even cream cheese are all good choices.
If you would rather have a more traditional breading, instead of the salsa and tortilla chips, mix one cup panko with melted butter and fajita seasoning. After stuffing the chicken, place it in the pan, and cover each piece with the panko topping. Bake as directed. We also tested this without chips or breading, just with a sprinkle of cheese, and that was also delicious!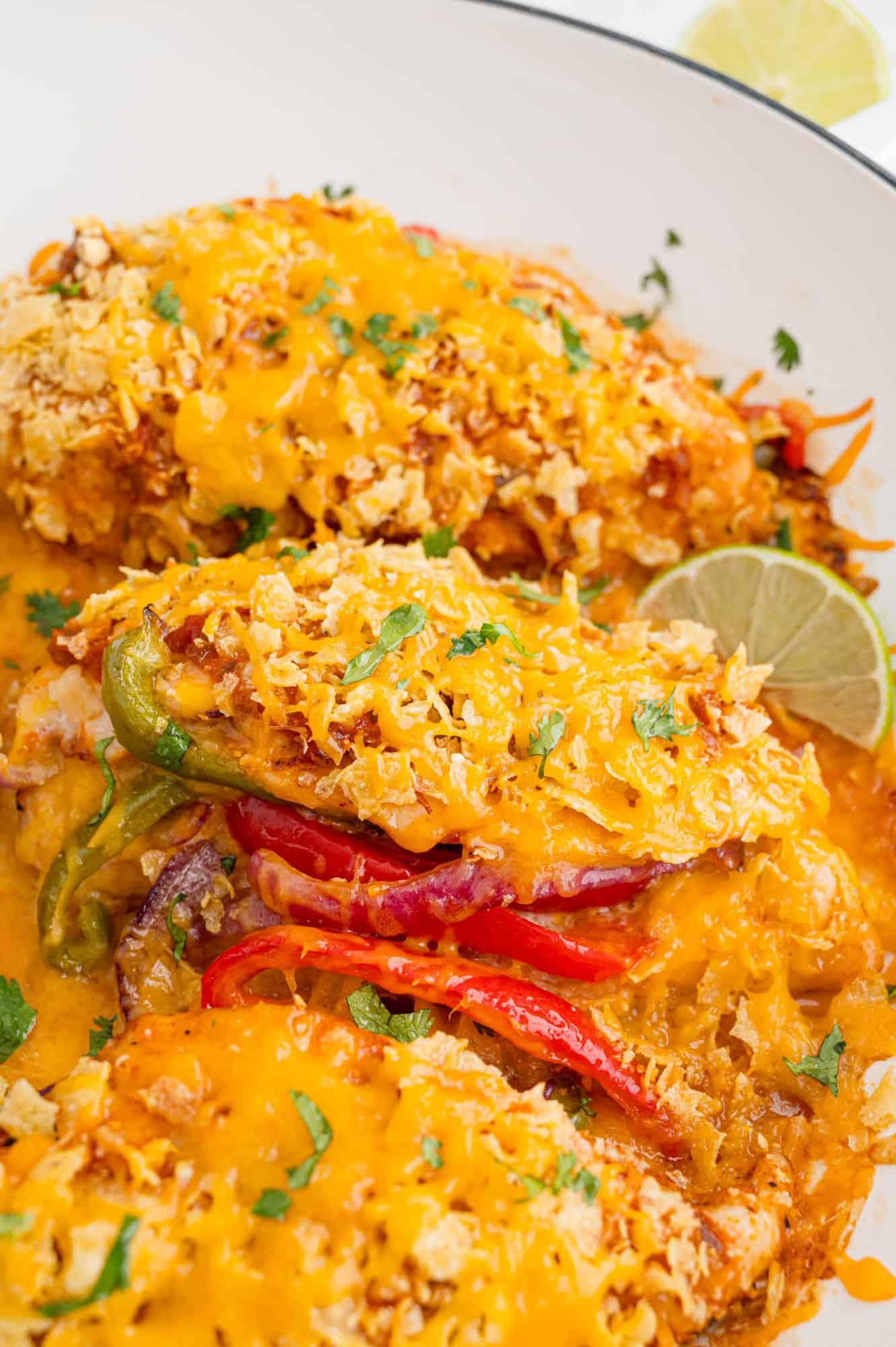 Make-Ahead Ideas
To get a head start on this recipe, you can easily prep a lot of it at least a day ahead. Wash and cut the peppers and onions into strips. Store them in the fridge in a resealable bag or covered bowl. Shred the cheese if you bought a block of it. If you want, make the "pockets" in the chicken breasts so they are ready, too. The tortilla chips can be crushed and set aside.
You'll be able to get this dinner into the oven in no time!
Storage and Reheating Tips
Have leftovers? They'll keep in the fridge for up to three days. I haven't tried freezing them but I think that should work just fine. Thaw overnight before reheating. The chips may not be as crunchy after reheating.
To reheat, the best way is to put them into the oven or a toaster oven for 10 minutes or so or until they are heated through. The coating tends to get soggy in the fridge so the oven will crisp it back up again. If you have leftover tortilla chips, sprinkle a fresh layer on top for the best results. Microwaving will heat up the chicken but you won't get the crispy coating. If you have an air fryer, that would also be a great method to reheat. Try 380°F for 5-10 minutes.
Leftover Love
If you have leftovers and you don't want a repeat of yesterday's meal, the stuffed chicken is really good wrapped in a warm flour tortilla with shredded cheese, lettuce and salsa. Chop it up into bite-sized pieces and reheat it before adding it to the tortilla.
Not into tortillas? Do the same thing but instead of wrapping the chicken in a tortilla, serve it on a healthy salad. Add chopped tomatoes, avocados, and a drizzle of this yummy sweet BBQ salad dressing with lime!
More Southwestern Style Recipes
From Mexican or Tex-Mex, you'll enjoy these healthy and delicious recipes! Try a few of my favorites:
Did you make this? Be sure to leave a review below and tag me @rachelcooksblog on Facebook, Instagram, or Pinterest!
Try fajita stuffed chicken, with peppers, onions, and cheese stuffed inside tender chicken breasts, breaded with a crispy coating of crushed tortilla chips.
Ingredients
1

tablespoon

olive oil

1/2

red bell pepper,

sliced into 1/2-inch strips

1/2

green bell pepper,

sliced into 1/2-inch strips

1/2

medium red onion,

sliced into 1/2-inch slices

4

boneless skinless chicken breasts

2

tablespoons

fajita or taco seasoning

1

cup

shredded sharp cheddar cheese, divided

1/2

cup

salsa

(shelf-stable salsas are better than fresh salsa for this recipe)

1

cup

crushed tortilla chips,
Instructions
Preheat oven to 400°F. Spray a 9×13 baking dish with nonstick cooking spray.

In large skillet over medium high heat, heat oil and saute onion and peppers until tender, 10-12 minutes.

Split each chicken breast across, but not through, and open like a book (be careful, you can easily cut yourself doing this!). Season both sides of the chicken with fajita or taco seasoning.

Arrange peppers and onions on one side of chicken, and sprinkle with half of cheese. Fold chicken breast over to cover fillings. Place in prepared baking dish.

Pour salsa over stuffed chicken breasts, and sprinkle with crushed chips.

Bake 30 minutes, remove from oven, and sprinkle with cheese. Return to oven and bake for another 5-8 minutes or until internal temperature of chicken reaches 165ºF when checked with an instant read thermometer. Let rest 5 minutes before serving.
Notes
Mexican blend cheese, pepper jack, or monterey jack cheese can be substituted for the cheddar cheese.
Nutrition Information
Calories:
439
kcal
,
Carbohydrates:
25
g
,
Protein:
34
g
,
Fat:
23
g
,
Saturated Fat:
8
g
,
Polyunsaturated Fat:
4
g
,
Monounsaturated Fat:
8
g
,
Trans Fat:
1
g
,
Cholesterol:
102
mg
,
Sodium:
759
mg
,
Potassium:
678
mg
,
Fiber:
3
g
,
Sugar:
4
g
,
Vitamin A:
1112
IU
,
Vitamin C:
35
mg
,
Calcium:
275
mg
,
Iron:
2
mg
This website provides approximate nutrition information for convenience and as a courtesy only. Nutrition data is gathered primarily from the USDA Food Composition Database, whenever available, or otherwise other online calculators.