Spinach and Feta Stuffed Chicken
Spinach and feta stuffed chicken is a great weeknight meal but fancy enough to impress guests as well. You'll love the flavors and the presentation.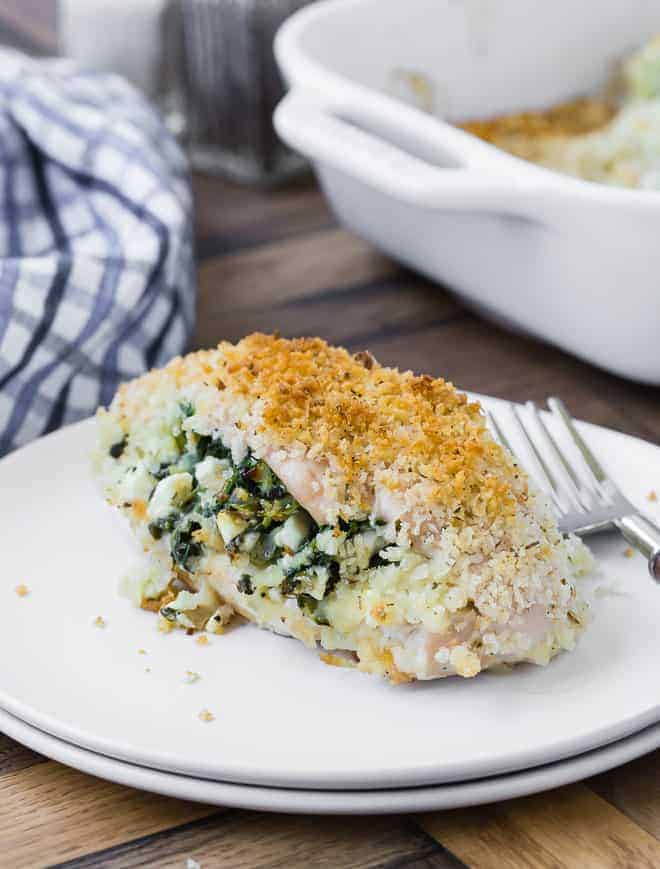 Don't you think anything that's stuffed looks kind of fancy? Stuffing just dresses things up a bit. Think stuffed turkey, stuffed peppers, or stuffed mushrooms.
Stuffing adds lots of flavor, too. Plain chicken breasts are rather ho-hum but with this garlicky spinach and feta stuffing, you won't be thinking ho-hum anymore. The Greek flavors of feta and spinach, along with the crispy panko coating make this chicken dish something really special.
Stuffed baked Greek chicken is fancy enough to serve to guests but it isn't fancy to make. It's actually pretty easy. I mean, it's a little more fussy than making shredded chicken in the Instant Pot. That's about as easy as you can get, with only two ingredients.
But this stuffed chicken isn't difficult. If I can do it, so can you! And you have an advantage because I'm going to tell you how.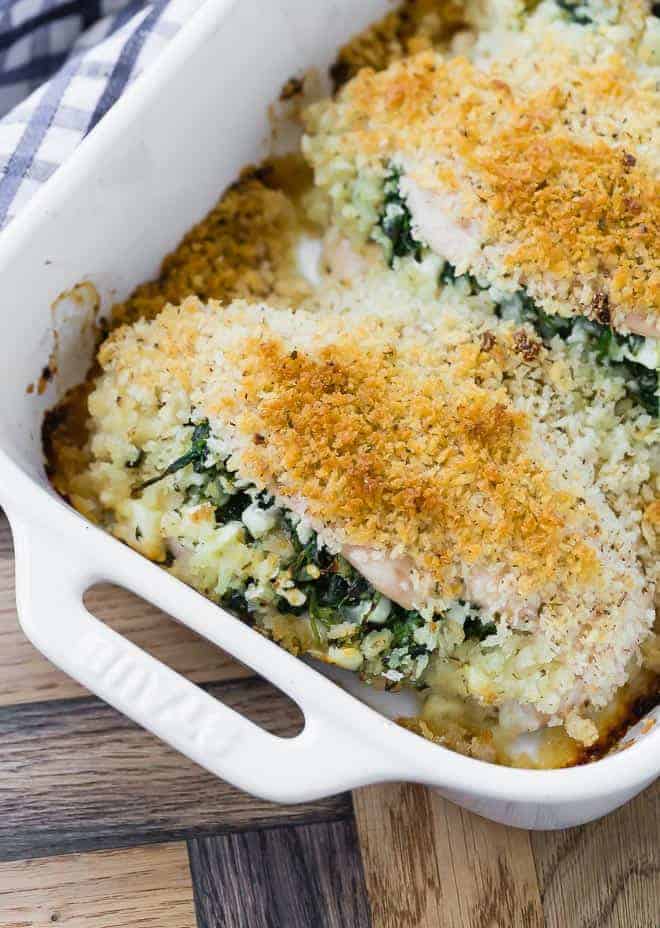 About this spinach and feta stuffed chicken
The trick to making these is all in the cut. You'll need a good sharp knife. And please be careful! I don't want any knife injuries.
Place boneless skinless chicken breasts flat on a cutting board. Make a slice through the middle, horizontally, from side to side, but not all the way through. Leave a "hinge" on one side. Open the sliced breast like a book. This is called butterflying the chicken breast because you end up with two wings connected in the middle.
There, that wasn't too difficult, right? The stuffing is easy. Sauté finely chopped onions and garlic in small skillet. Stir in a package of frozen spinach, thawed and squeezed as dry as you can. Add a sprinkle of nutmeg, and season with salt and pepper. Stir in feta cheese.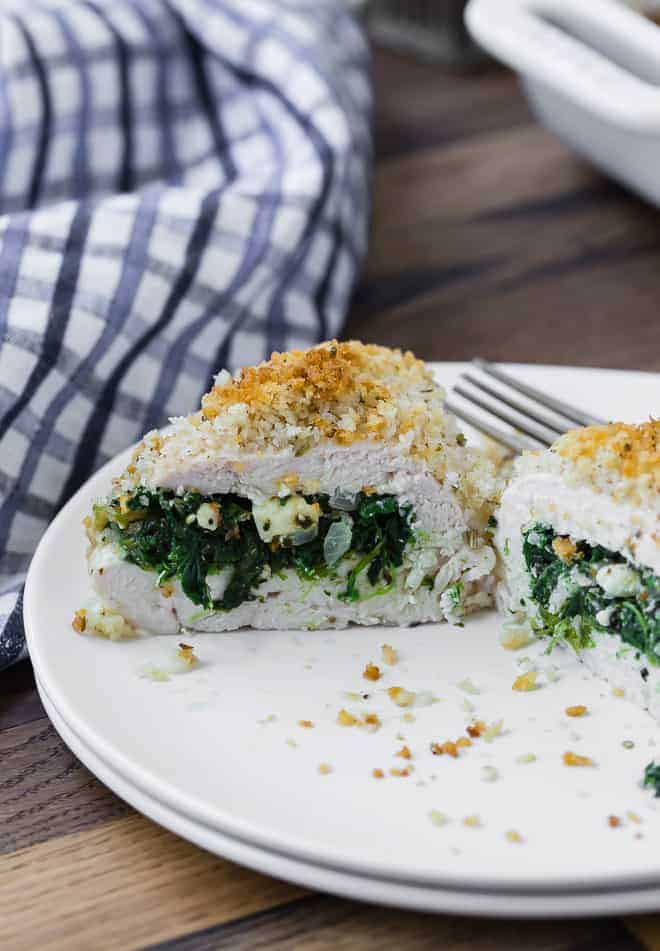 Divide the stuffing between the butterflied breasts. Put the stuffing on one side, and fold the other side of the chicken over the stuffing. Some will spill out the sides but that's okay.
I love the panko topping on this chicken. It's flavored with butter and dried oregano. Just sprinkle it on the folded chicken breasts and kind of pat it on. Again, some will spill off but don't worry.
Pop the baking dish into the oven and bake for 40-50 minutes or until the chicken is done!
Serve with a nice green salad and you're golden! Speaking of golden, these easy garlic roasted potatoes would go great with this chicken.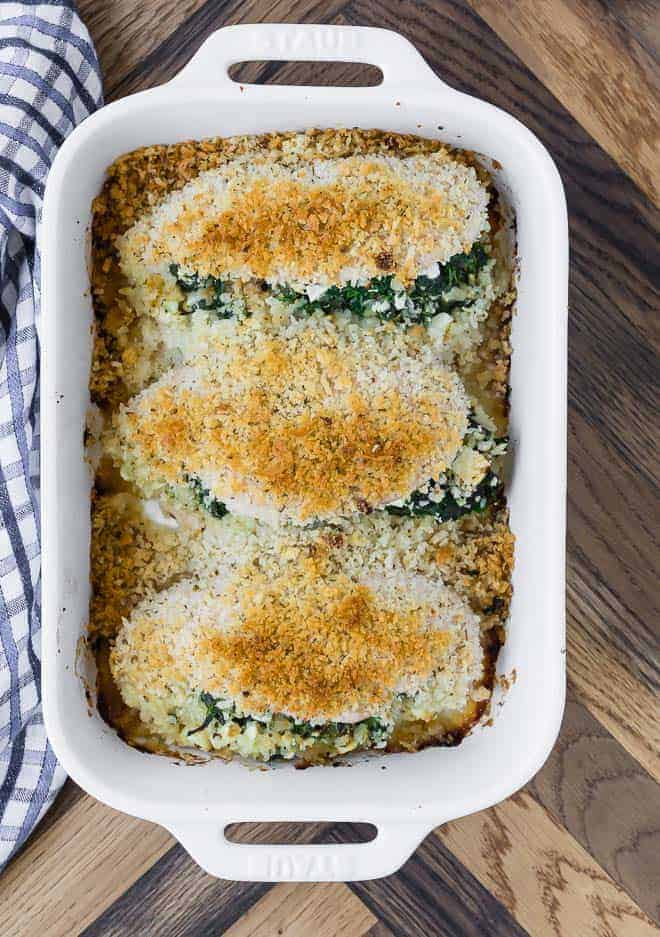 More "fancy" chicken

Now that you have stuffed chicken mastered, you're going to want to try these recipes: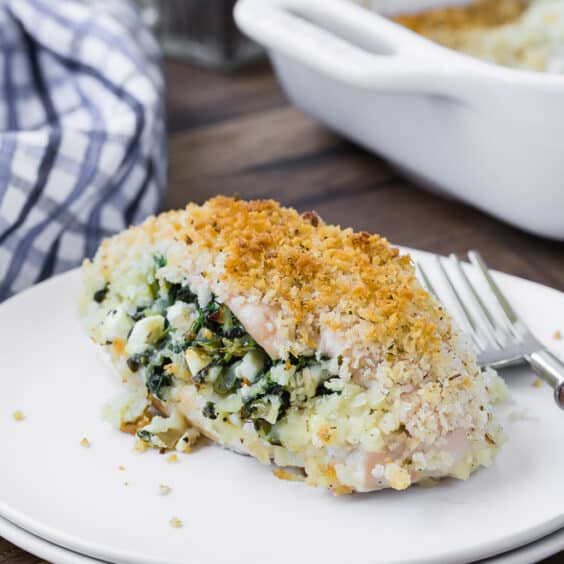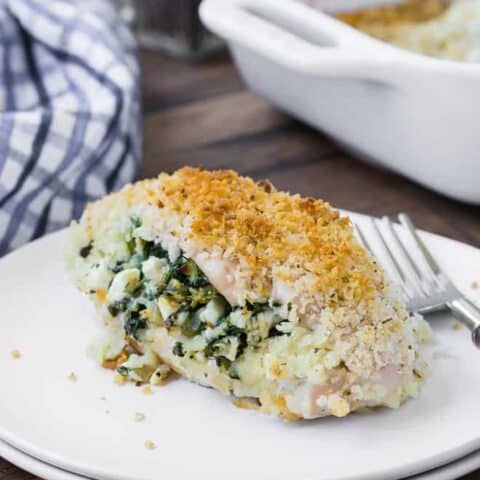 Spinach and Feta Stuffed Chicken
Yield: 4 servings
Prep Time: 15 minutes
Cook Time: 45 minutes
Total Time: 1 hour
Spinach and feta stuffed chicken is a great weeknight meal but fancy enough to impress guests as well. You'll love the flavors and the presentation.
Ingredients
1 tablespoon extra virgin olive oil
1/2 medium onion, finely chopped (about ⅓ cup)
2 large cloves garlic, finely chopped, divided
One 10-ounce box frozen chopped spinach, thawed, excess liquid pressed out
1/2 cup crumbled feta cheese
¼ teaspoon ground pepper
1/8 teaspoon freshly grated nutmeg
2 tablespoons unsalted butter
1 cup panko breadcrumbs
1 teaspoon dried oregano
¼ teaspoon salt
3-4 skinless boneless chicken breasts (about 2 lbs.)
Instructions
Preheat the oven to 425ºF. Prepare a baking dish or pan by spraying lightly with cooking spray.
Heat olive oil in a small skillet over medium heat. Add onion and two-thirds of the garlic and cook until softened, 3 to 4 minutes. Transfer to a bowl to cool slightly, then add the spinach and feta; season with pepper and nutmeg.
Add butter to skillet, heat until melted. Turn off the heat and add panko, remaining garlic, oregano, and salt; toss to combine.
Split each chicken breast across, but not through, and open like a book (be careful, you can easily cut yourself doing this!). Stuff with the spinach and feta mixture, dividing the stuffing evenly, and letting the stuffing overflow at the edges. Fold the top half of the chicken back over the stuffing. Place each chicken breast in the baking dish, sides not touching, and top evenly with the breadcrumbs.
Bake until the juices run clear, or until internal temperature measures 165°F with an instant read thermometer, about 45-50 minutes.
Notes
Adapted from Rachael Ray Magazine.
Nutrition Information:
Yield: 4
Serving Size: 1 stuffed
Amount Per Serving:
Calories: 460
Total Fat: 19g
Saturated Fat: 8g
Trans Fat: 0g
Unsaturated Fat: 9g
Cholesterol: 134mg
Sodium: 642mg
Carbohydrates: 25g
Fiber: 3g
Sugar: 3g
Protein: 46g
RachelCooks.com sometimes provides nutritional information, but these figures should be considered estimates, as they are not calculated by a registered dietitian. Please consult a medical professional for any specific nutrition, diet, or allergy advice.
Verdict:
SO good! I love this chicken. The crust is so crispy, delicious, and flavorful.
Husband's take:
Ben loves this recipe!
Changes I would make:
None at all are necessary, but you could try this with different types of cheese.
Difficulty:
Easy! It looks more intimidating than it actually is.