Spinach and Feta Stuffed Chicken
Spinach and feta stuffed chicken is a great weeknight meal but fancy enough to impress guests as well. You'll love the flavors and the presentation.
Recipe Overview
Why you'll love it: This recipe is not difficult and it really is great tasting.
How long it takes: 1 hour (just 15 minutes prep time)
Equipment you'll need: sharp knife, skillet, baking dish, oven
Servings: 4 (it's really easy to double this recipe)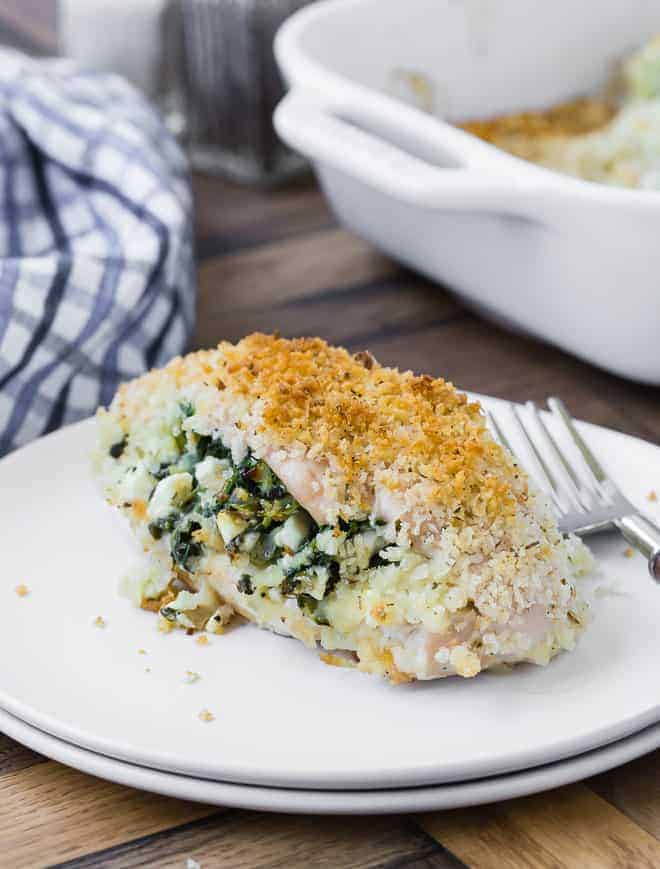 Don't you think anything that's stuffed looks kind of fancy? Stuffing just dresses things up a bit. Think stuffed turkey, stuffed peppers, or stuffed mushrooms.
Stuffing adds lots of flavor, too. Plain chicken breasts are rather ho-hum but with this garlicky spinach and feta stuffing, you won't be thinking ho-hum anymore. The Greek flavors of feta and spinach, along with the crispy panko coating make this chicken dish something really special.
Stuffed baked Greek chicken is fancy enough to serve to guests but it isn't fancy to make. It's actually pretty easy. I mean, it's a little more fussy than making shredded chicken in the Instant Pot. That's about as easy as you can get, with only two ingredients.
But this stuffed chicken isn't difficult. If I can do it, so can you! And you have an advantage because I'm going to tell you how.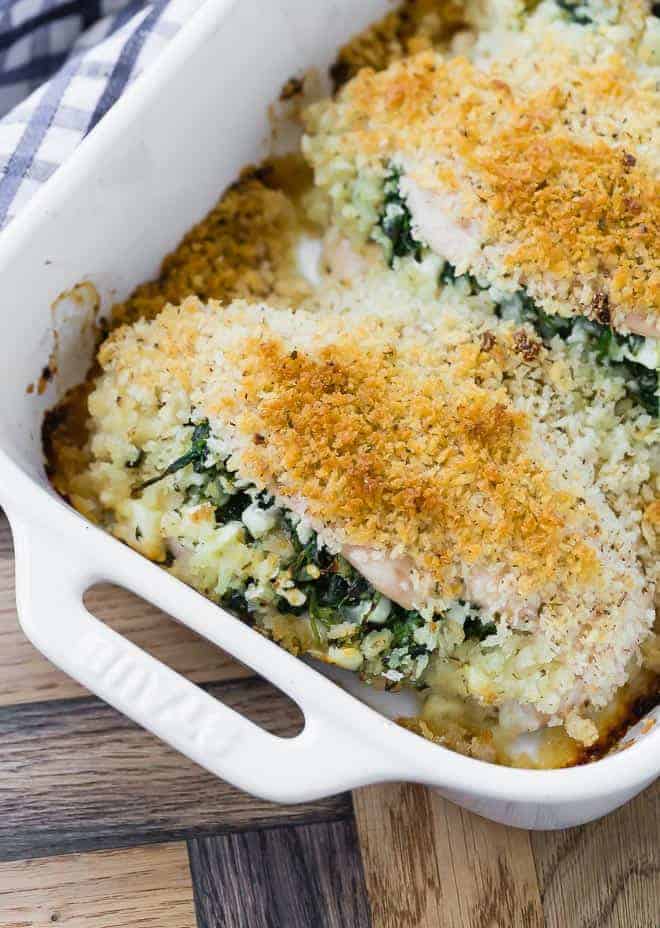 About this stuffed chicken
The trick to making these is all in the cut. You'll need a good sharp knife. And please be careful! We don't want any knife injuries.
Once you've mastered the cut, there's lots more stuffed chicken recipes for you to try. Check out the list below in the section More "Fancy" Chicken Recipes. There's even a recipe for portobello mushrooms stuffed with chicken. Instead of stuffing the chicken, you'll stuff the mushrooms!
I'll run through the recipe here and get you started. If you prefer, skip right on down to the recipe card.
As always, you'll find the printable recipe card near the bottom of the post with full instructions and nutrition information.
What You'll Need
Boneless Skinless Chicken Breasts: This cut of meat is the easiest to stuff. You don't have to maneuver around bones or skin. Look for a package with 4 smaller sized pieces. Larger ones will work too but will have to be cut into halves before serving.
Spinach: To keep things really easy, I like to use a package of frozen chopped spinach. If you prefer, fresh spinach works fine too.
Onion and Garlic: Chopped finely, onion and garlic give the stuffing good flavor. More garlic is added to the breading.
Feta Cheese: A container of crumbled feta is perfect. A block of feta is good too; you'll just have to crumble it yourself, no biggie. Don't buy fat-free feta for this dish because it has a lot of additives and doesn't taste as good.
Ground Black Pepper and Freshly Grated Nutmeg: You'll love the subtle flavor nutmeg adds to the stuffing.
Panko Breadcrumbs: Because panko has coarser airier crumbs than regular breadcrumbs, it gives the breading a crispier texture. It's mixed with Melted Butter, Dried Oregano Leaves, and a Pinch of Salt.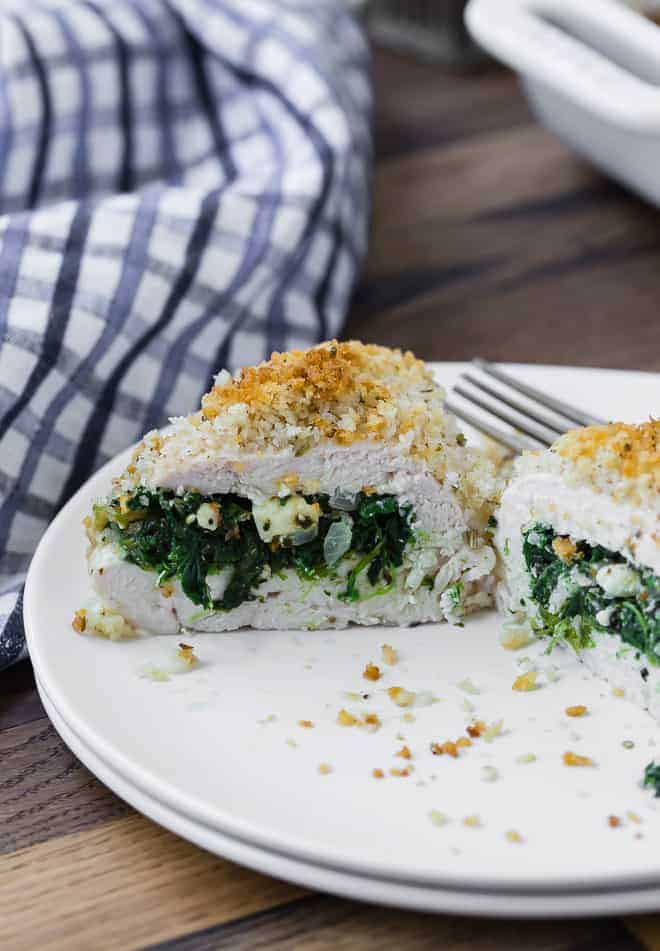 How To Make This Recipe
Let's dive right in and learn how to make a pocket in the chicken breasts for the stuffing.
Place a boneless skinless chicken breast flat on a cutting board. Make a slice through the middle, horizontally, from side to side, but not all the way through. Leave a "hinge" on one side.
Open the sliced breast like a book. This is called butterflying the chicken breast because you end up with two wings connected in the middle. Don't worry if you accidentally cut all the way through and end up with two pieces. It will still work just fine.
There, that wasn't too difficult, right? Let's move on to the stuffing. It's not a traditional bread stuffing. It's much tastier than that!
Sauté the chopped onions and garlic in a small skillet until they soften. Stir in a package of frozen spinach, thawed and squeezed as dry as you can. Add a sprinkle of nutmeg, and season with salt and pepper. Stir in feta cheese.
That's all there is to it. Doesn't it look good? I always taste just a bit before I stuff the chicken, to test it of course!
Next, divide the stuffing between the butterflied breasts. Put the stuffing on one side, and fold the other side of the chicken over the stuffing. Some will spill out the sides but that's okay.
I love the crisp panko topping on this chicken. It's flavored with butter, garlic, and dried oregano. Just sprinkle it on the folded chicken breasts and kind of pat it on. Again, some will spill off but don't worry.
Arrange the stuffed breasts in a greased baking dish as you go. Pop the baking dish into the oven and bake for 40-50 minutes or until the chicken is done!
Serve with a nice green arugula salad and you're golden! Speaking of golden, these easy garlic roasted potatoes go great with this chicken. Mediterranean green bean salad complements it perfectly too.
FAQs
What can I stuff chicken breast with?
Chicken breasts are so mild in flavor that you can pretty much stuff them with anything from cheese to grilled peppers to apples to avocados. Sometimes we think "stuffing" has to be made with bread but that's not the case with stuffed chicken breasts. Be adventuresome and try different seasonings too.
How do you flatten chicken breast for stuffing?
Unless you're making a rolled stuffed breast, like a pinwheel, chicken breast really doesn't need to be flattened. Butterflying the breasts does the trick.
How do you seal stuffed chicken?
Again, it isn't necessary to seal the stuffing in. It's okay if some of it is spilling out the sides. Think of it as a sneak preview! If you like, place a toothpick or two at the edges to keep the chicken together. Just remember to remove the toothpicks before serving.
A tastier way to seal the chicken is to wrap bacon around it before baking. Check out the recipe below with bacon wrapped chicken stuffed with avocado and cheese.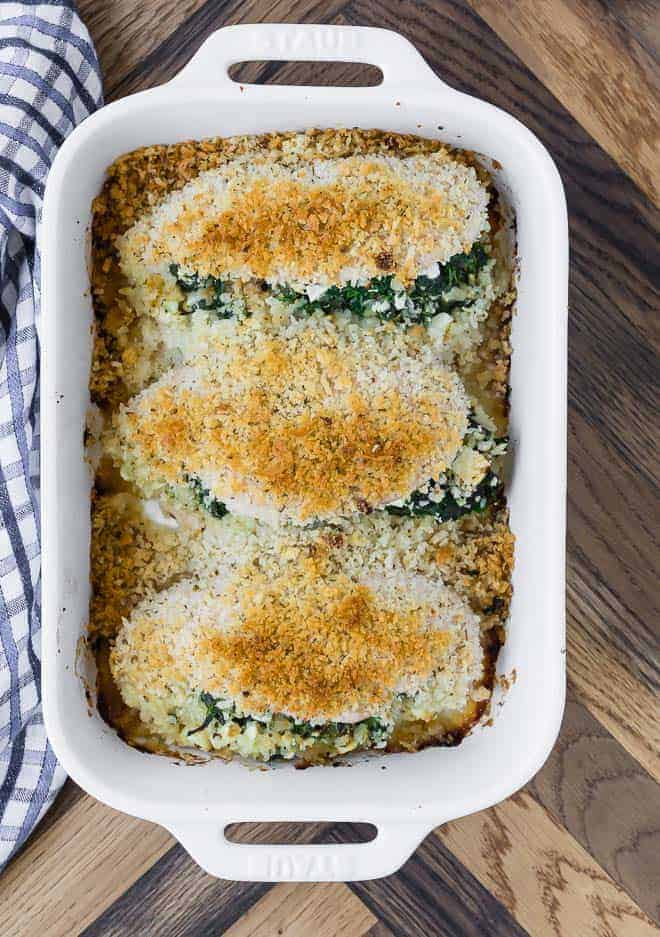 Make It Your Own
Don't have any spinach? Baby kale, Swiss chard, arugula, or any other tender green can be substituted.
If you want to jazz up the filling a little more, add finely chopped sun-dried tomatoes or kalamata olives. Increase the garlic if you like.
Make this dish gluten-free and keto-friendly by omitting the breading. Simply season the chicken breasts with salt, pepper, and a little sprinkle of oregano and spray lightly with olive oil spray before baking.
Make-Ahead Ideas
If you're thinking this is a great recipe for a dinner party, you're right! It has a really nice presentation and you can make it ahead so it's all ready to pop into the oven at dinner time.
Simply prepare the chicken breasts, making sure the stuffing is cool before stuffing the breasts. Arrange them in a baking dish, top with the panko breading, and cover the dish tightly. Refrigerate up to 24 hours in advance.
Take the dish out of the fridge about 15 minutes before baking to warm up a bit. Bake as directed in a preheated oven.
Storage & Reheating Tips
If you have leftover chicken, cover and refrigerate it for up to 3 days. It can be frozen for up to a month. Thaw overnight in the fridge before heating for best results.
To reheat, bake in the oven or toaster oven for 10 minutes at 350ºF or until heated through. It can also be reheated in the microwave but the panko will not be crispy. If you have an air fryer, they work well for reheating too.
More "Fancy" Chicken Recipes
Now that you have stuffed chicken mastered, you're going to want to try these recipes:
Did you make this? Be sure to leave a review below and tag me @rachelcooksblog on Facebook, Instagram, or Pinterest!
Spinach and feta stuffed chicken is a great weeknight meal but fancy enough to impress guests as well. You'll love the flavors and the presentation.
Ingredients
1

tablespoon

extra virgin olive oil

1/2

medium onion, finely chopped

(about ⅓ cup)

2

large cloves garlic, finely chopped, divided

1

box

(10 oz.) frozen chopped spinach,

thawed, excess liquid pressed out

1/2

cup

crumbled feta cheese

¼

teaspoon

ground pepper

1/8

teaspoon

freshly grated nutmeg

2

tablespoons

unsalted butter

1

cup

panko breadcrumbs

1

teaspoon

dried oregano

¼

teaspoon

salt

2

lbs.

skinless boneless chicken breasts (3 to 4)
Instructions
Preheat the oven to 425ºF. Prepare a baking dish or pan by spraying lightly with cooking spray.

Heat olive oil in a small skillet over medium heat. Add onion and two-thirds of the garlic and cook until softened, 3 to 4 minutes. Transfer to a bowl to cool slightly, then add the spinach and feta; season with pepper and nutmeg.

Add butter to skillet, heat until melted. Turn off the heat and add panko, remaining garlic, oregano, and salt; toss to combine.

Split each chicken breast across, but not through, and open like a book (be careful, you can easily cut yourself doing this!). Stuff with the spinach and feta mixture, dividing the stuffing evenly, and letting the stuffing overflow at the edges. Fold the top half of the chicken back over the stuffing. Place each chicken breast in the baking dish, sides not touching, and top evenly with the breadcrumbs.

Bake until the juices run clear, or until internal temperature measures 165°F with an instant read thermometer, about 45-50 minutes.
Notes
Adapted from Rachael Ray Magazine.
Add Ins: Add extra garlic, chopped sun-dried tomatoes, or kalamata olives to the stuffing.
To make keto or gluten-free, omit the breading. Season chicken breasts with salt, pepper, and dried oregano. Spray lightly with olive oil spray before baking.
Make Ahead Tip: Prepare the chicken breasts, making sure the stuffing is cool before stuffing the breasts. Arrange them in a baking dish, top with the panko breading, and cover the dish tightly. Refrigerate up to 24 hours in advance. Remove from refrigerator 15 minutes in advance. Bake as directed in a preheated oven.
Nutrition Information
Serving:
1
g
,
Calories:
479
kcal
,
Carbohydrates:
17
g
,
Protein:
56
g
,
Fat:
20
g
,
Saturated Fat:
8
g
,
Polyunsaturated Fat:
2
g
,
Monounsaturated Fat:
7
g
,
Trans Fat:
1
g
,
Cholesterol:
177
mg
,
Sodium:
782
mg
,
Potassium:
1162
mg
,
Fiber:
3
g
,
Sugar:
3
g
,
Vitamin A:
8657
IU
,
Vitamin C:
8
mg
,
Calcium:
239
mg
,
Iron:
3
mg
This website provides approximate nutrition information for convenience and as a courtesy only. Nutrition data is gathered primarily from the USDA Food Composition Database, whenever available, or otherwise other online calculators.