An Italian favorite, pasta e fagioli soup is brimming with creamy cannellini beans, leafy greens, tomatoes, and pasta. Every spoonful is delicious!
Recipe Overview
Why you'll love it: This soup is quite easy to make with mostly pantry items. It's a lifesaver on busy nights.
How long it takes: 35 minutes
Equipment you'll need: large saucepan or Dutch oven
Servings: 4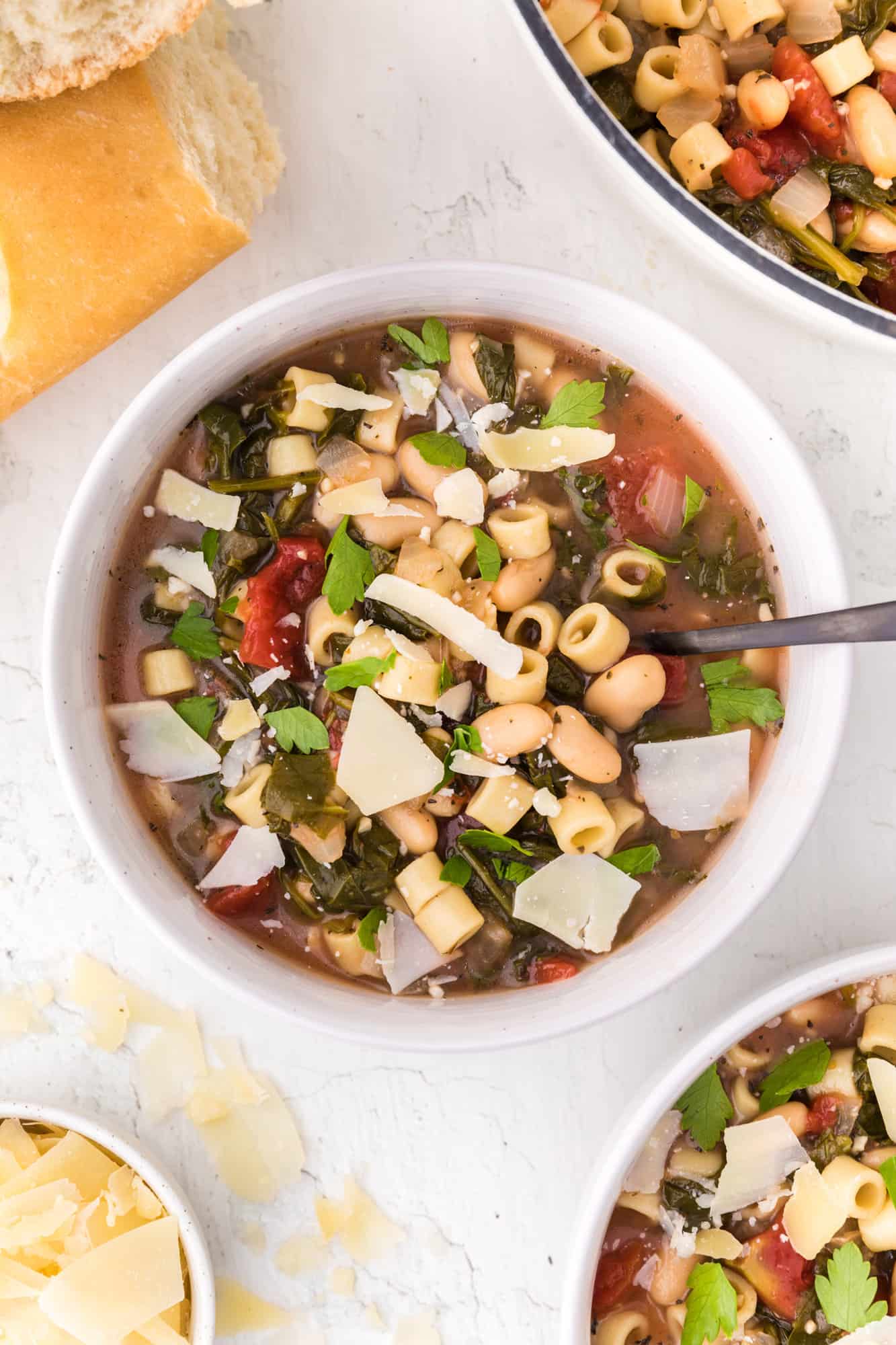 The cold winter winds are still blowing here in Michigan and soup is definitely on the menu. Pasta e fagioli soup is one of our favorite soups. This vegetable soup is an Olive Garden favorite, along with zuppa toscana and minestrone. We also love chicken tortellini soup with kale & pesto, another easy Italian-style soup.
Make it with pantry items. I can usually pull the soup together using a few cans from my pantry and a couple of items from the fridge. It's pretty forgiving, too, and if I don't happen to have a particular ingredient, that's okay. I just substitute what I do have and the soup always turns out great. That's why I like to keep this recipe in my back pocket to pull out whenever I need a quick, hearty meal.
Pasta e fagioli is a healthy choice because it's chockfull of vegetables. Soup is a great way to get a good serving of leafy greens into your diet and pasta e fagioli is vegetarian, too, making it a perfect choice for meatless Monday (or any day of the week).
It's ready in just a half hour. If you think making soup has to be an all day project, think again. Pasta e fagioli soup can be on the table in just over a half hour. That's no time at all.
What to serve with the soup: I like to serve the soup with air fryer grilled cheese sandwiches or homemade muffins, like blueberry bran muffins or carrot raisin muffins with a generous schmear of whipped cream cheese.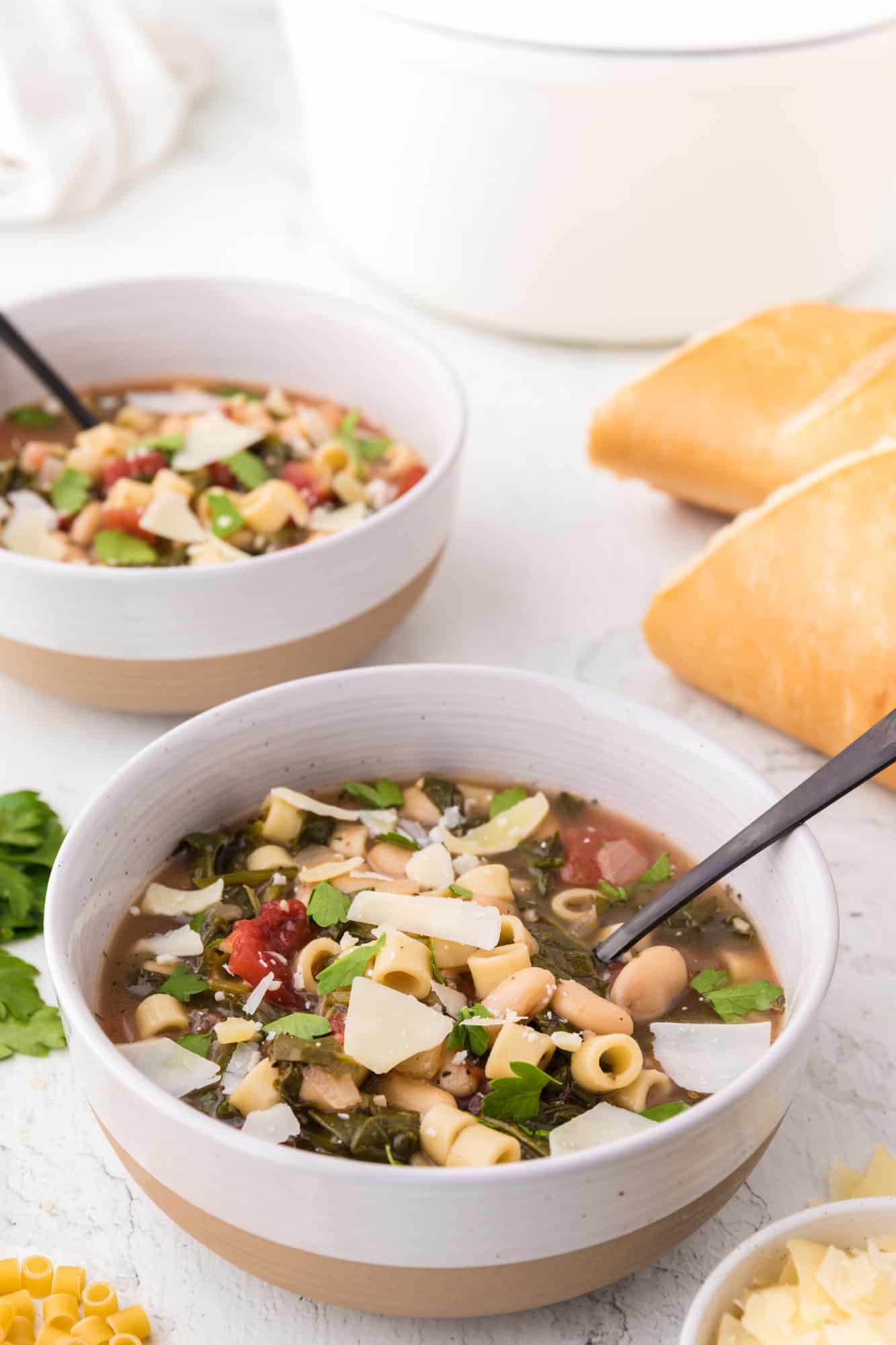 I'll get you started on the recipe here with lots of extra tips. Look for the printable recipe card near the end of the post for specifics and nutrition information.
Know Your Greens
The array of greens at the grocery store or farm market may be a bit overwhelming. Which greens are tender and which ones take a bit longer to cook? This is a non-comprehensive list of the most common greens:
Tender Greens (short cooking time): spinach, baby spinach, baby kale, arugula, Swiss chard, mache, and watercress.
Hearty Greens (longer cooking time): Tuscan kale, curly kale, collard, mustard, turnip greens, beet greens.
Ingredients You'll Need
Like its cousin, minestrone soup, there are many recipes for pasta e fagioli. It's the kind of soup that you can just throw in whatever vegetables you happen to have. Many pasta e fagioli soup recipes include carrots and celery. My goal was to keep this recipe simple so I condensed the ingredient list as much as I could.
However, if you want to expand the ingredient list, feel free to add or substitute whatever you enjoy. I'll give you suggestions in the Make It Your Own section below.
Cannellini Beans: A can of beans adds protein and substance to the soup. Cannellini beans are white, soft, and fairly large. They are actually white kidney beans. If you can't find them, substitute great Northern beans or navy beans.
Ditalini: Any small pasta will do. Lately, it seems like ditalini is hard to find. Other choices are macaroni, mini penne, or orecchiette. Whole wheat is fine, too.
Canned Diced Tomatoes: Look for low sodium tomatoes.
Tender Leafy Greens: This could be baby spinach leaves, baby kale, or Swiss chard. Look for the freshest greens you can find.
Fresh Parsley: The greens are supplemented by a good handful of chopped parsley. Flat leaf (Italian) parsley has the most flavor and is used more often in cooking. Small stems can be chopped up and used in the soup, too.
Onion and Garlic: These two aromatics are both in the allium family. They add lots of flavor to the soup. This soup depends on a good amount of garlic: four cloves.
Vegetable Broth: Look for low sodium broth. Chicken broth is fine, too.
Dried Basil and Oregano: Of course, fresh herbs are fine, too, but not always available. I love that you can grab dried herbs from your pantry to make this soup. Nice and easy!
Parmesan Cheese: Although you could use grated or shredded Parmesan, the large curls of cheese really add dramatic appeal to the soup. Use a vegetable peeler to shave curls off a block of cheese.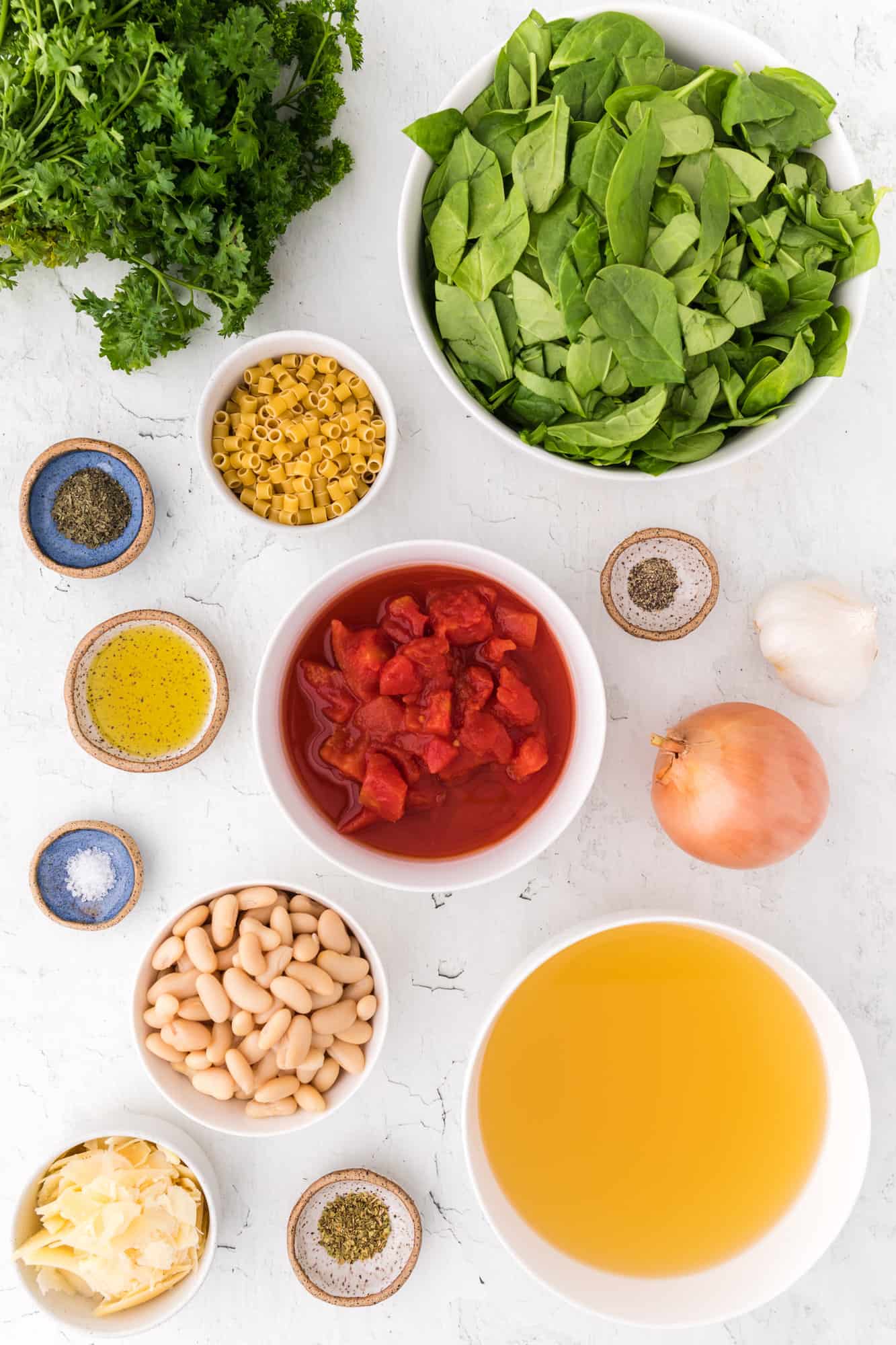 How To Make Pasta e Fagioli
Prep work: You'll need a good sized saucepan or Dutch oven. Gather everything you'll need for the soup. Prep the onion and garlic; wash the greens and the fresh parsley if they aren't pre-washed. Shake off the excess water. Put the beans in a small colander; rinse and drain them.
Sauté the onion and garlic. Over medium heat, add a splash of oil to the pan and the chopped onion; season with salt and pepper.
Cook the onion until it's fairly soft, then add the garlic and cook that for one minute.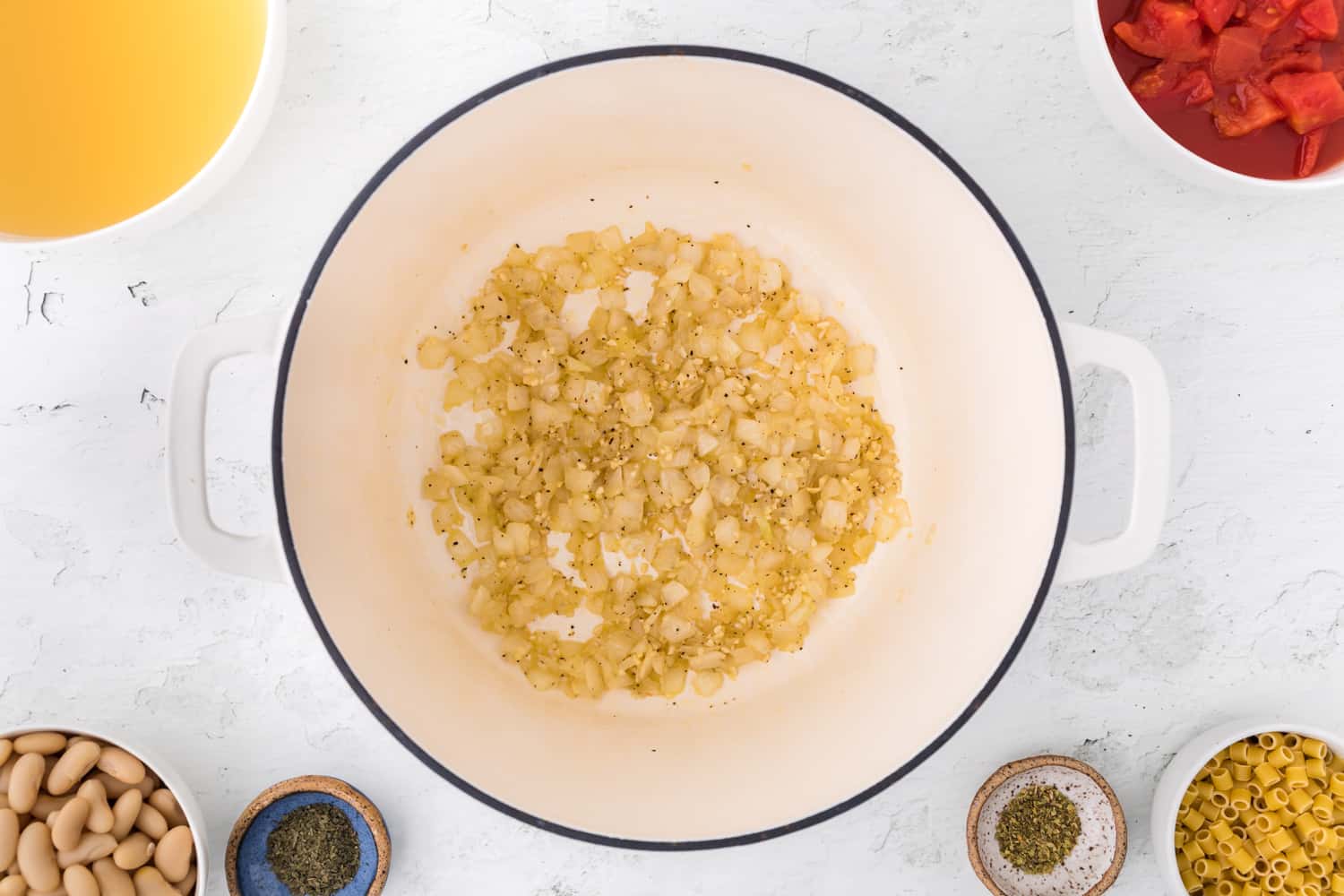 Add remaining ingredients (except the spinach). Add the broth and tomatoes, then the beans, pasta, and dried herbs. Stir well, turn the heat up a bit, and bring the soup to a simmer. Super easy so far, right?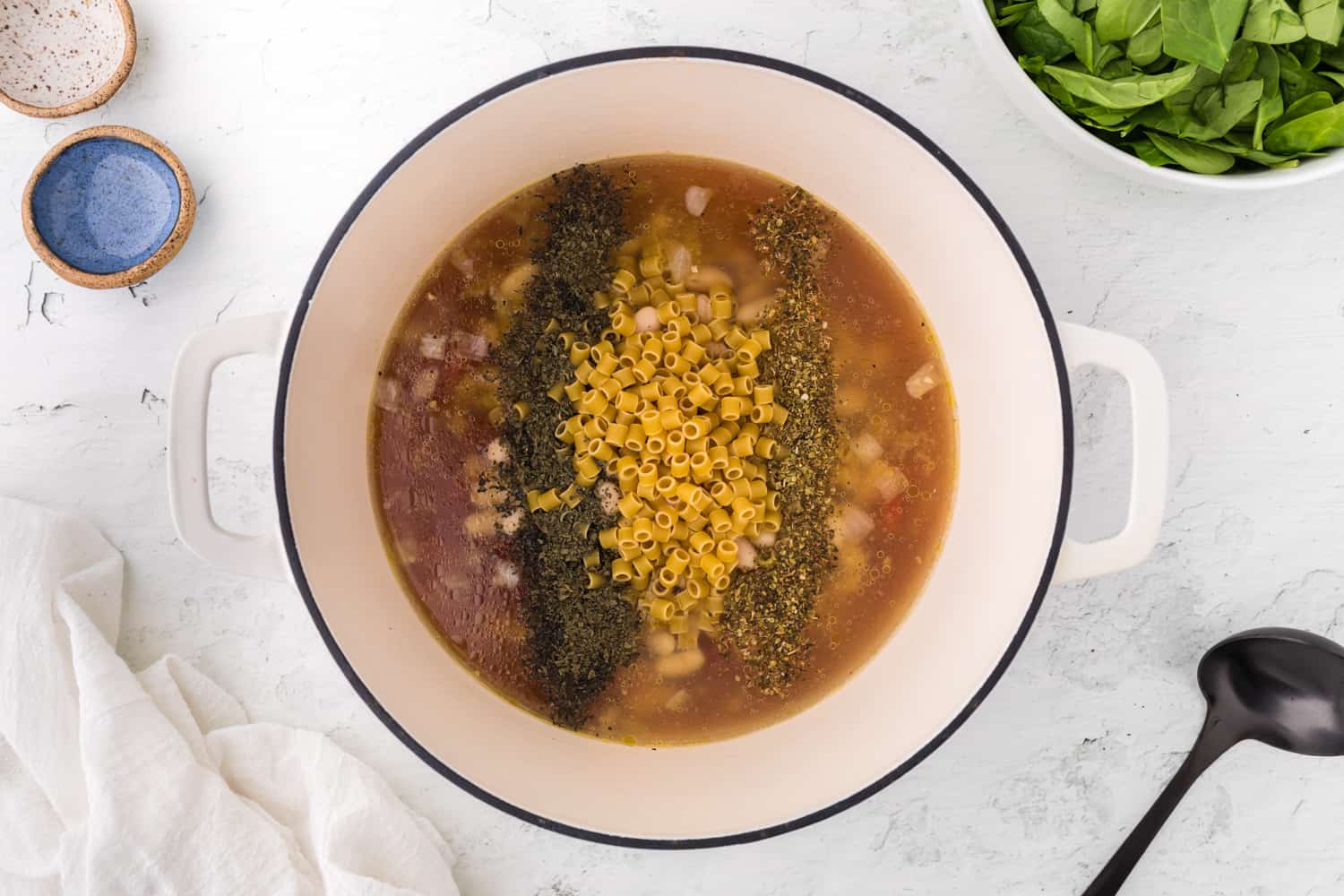 Simmer the soup until the pasta is tender, about 15 minutes.
Stir in the greens. It will look like a lot at first but the tender greens wilt very quickly, just a minute or two, and will be just the right amount. The longer you cook the greens, the more drab the color will be, more olive-toned than dark green.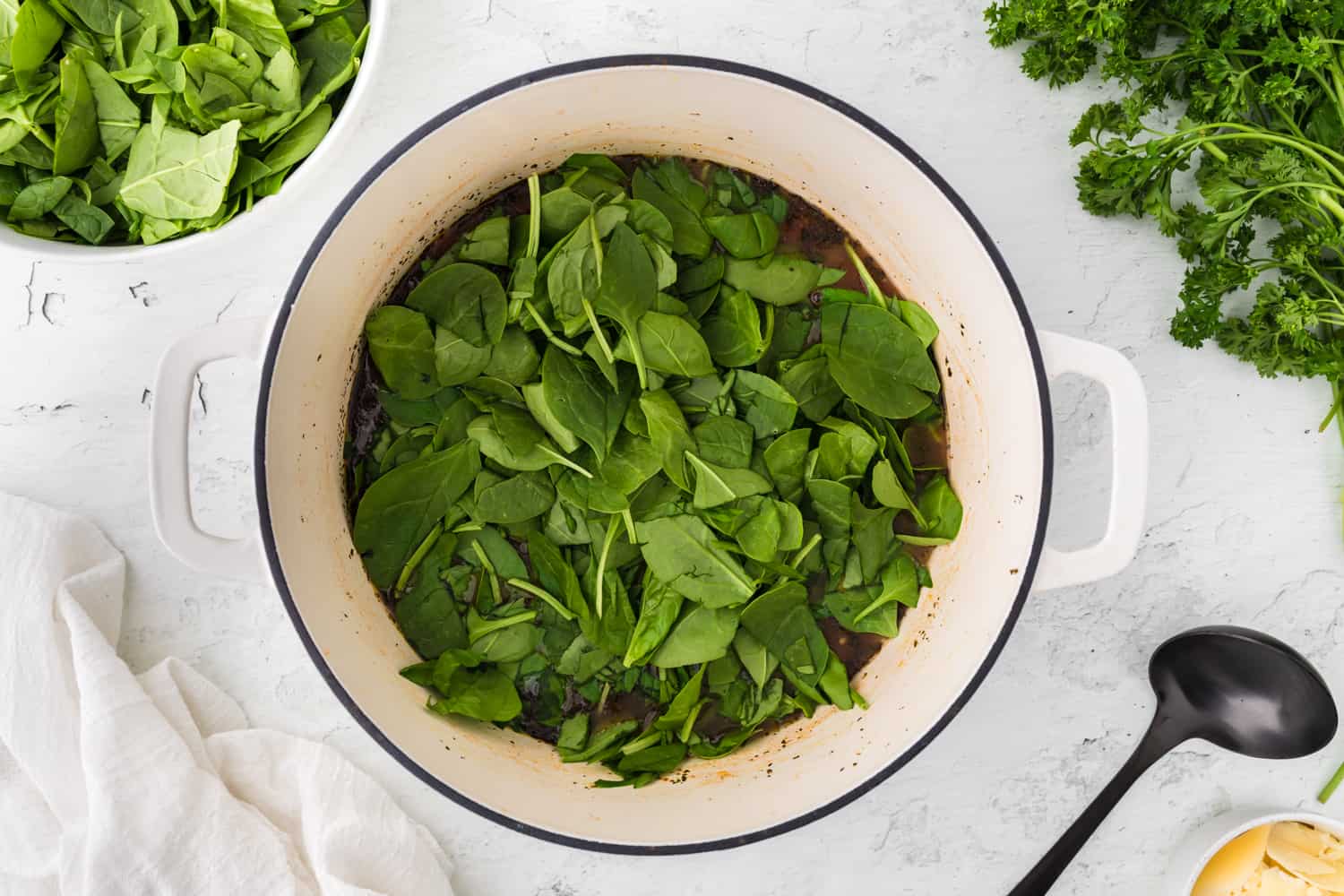 Stir in the fresh parsley and turn off the heat. The soup is ready to eat. Wasn't that fast?
Serve pasta e fagioli soup in shallow bowls, garnished with large curls of Parmesan cheese. Buon appetito!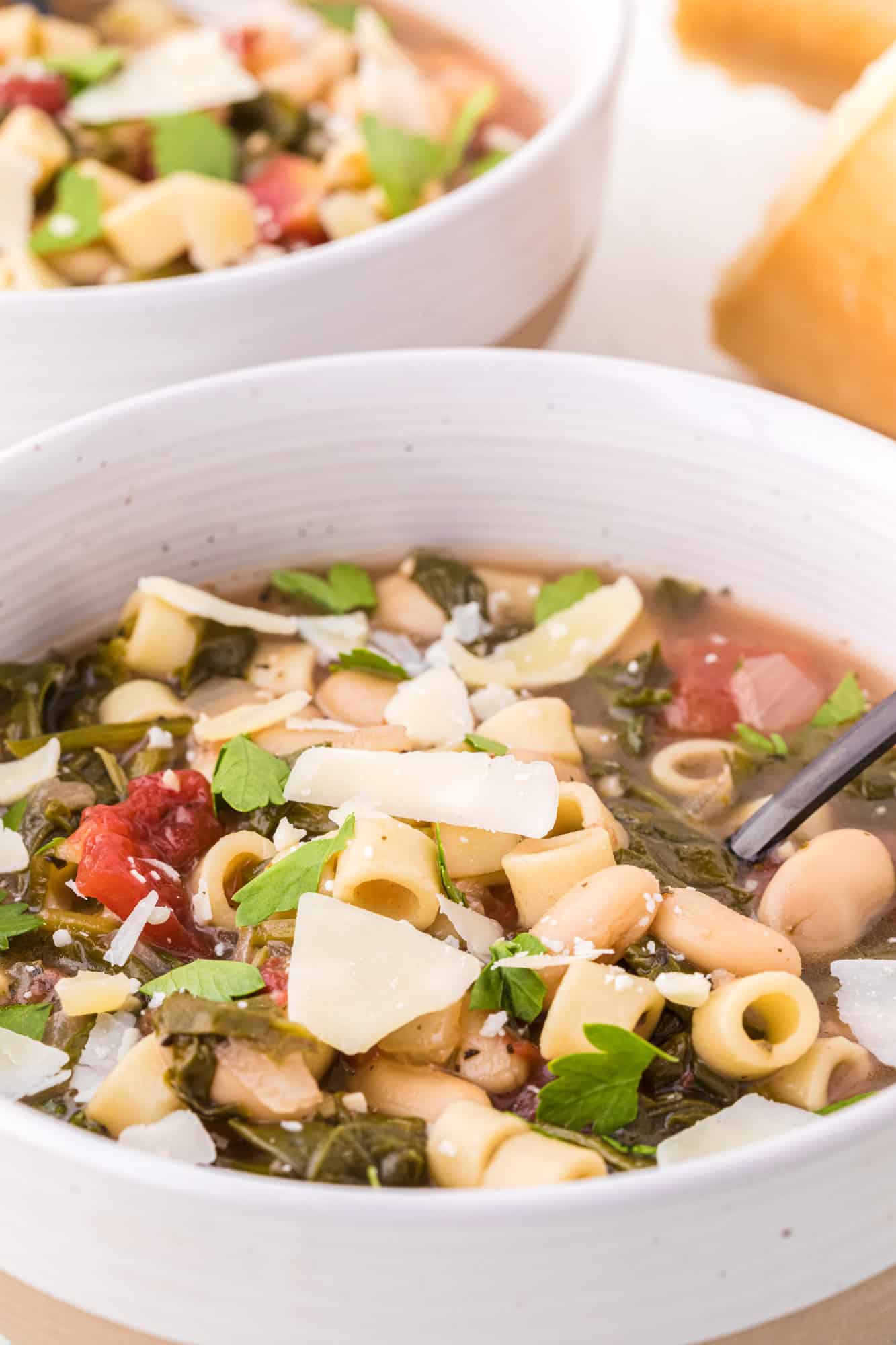 FAQs
What is the difference between minestrone and pasta e fagioli?
Minestrone and pasta e fagioli are both popular vegetable-based soups from Italian cuisine. Pasta e fagioli is usually made with soft white beans, such as cannellini, which are sometimes mashed into the soup, creating a creamier texture. Minestrone has more broth, and is often made with kidney beans.
What is the meaning of pasta e fagioli?
Pasta e fagioli simply means "pasta and beans."
How do you say pasta e fagioli in Italian?
Pasta e fagioli is pronounced paa·stuh ee faa·jow·lee.
Make It Your Own
Any type of small pasta works well in this soup: ditalini, macaroni, mini penne, orecchiette, orzo, you name it. Whole wheat pasta is fine, too.
Don't have cannellini beans? Substitute navy beans or great Northern beans. Don't have those either? Try kidney beans, pinto beans, or lima beans.
Add a bit of spice to the soup. A pinch of red pepper flakes can be added with garlic.
Amp up the veggies. Add diced carrots, celery, cabbage, green beans, bell peppers, mushroom, whatever you like.
If you enjoy this soup, you may also want to try my lasagna soup with Italian sausage, creamy vegetarian lasagna soup, or chicken tortellini soup with kale and pesto.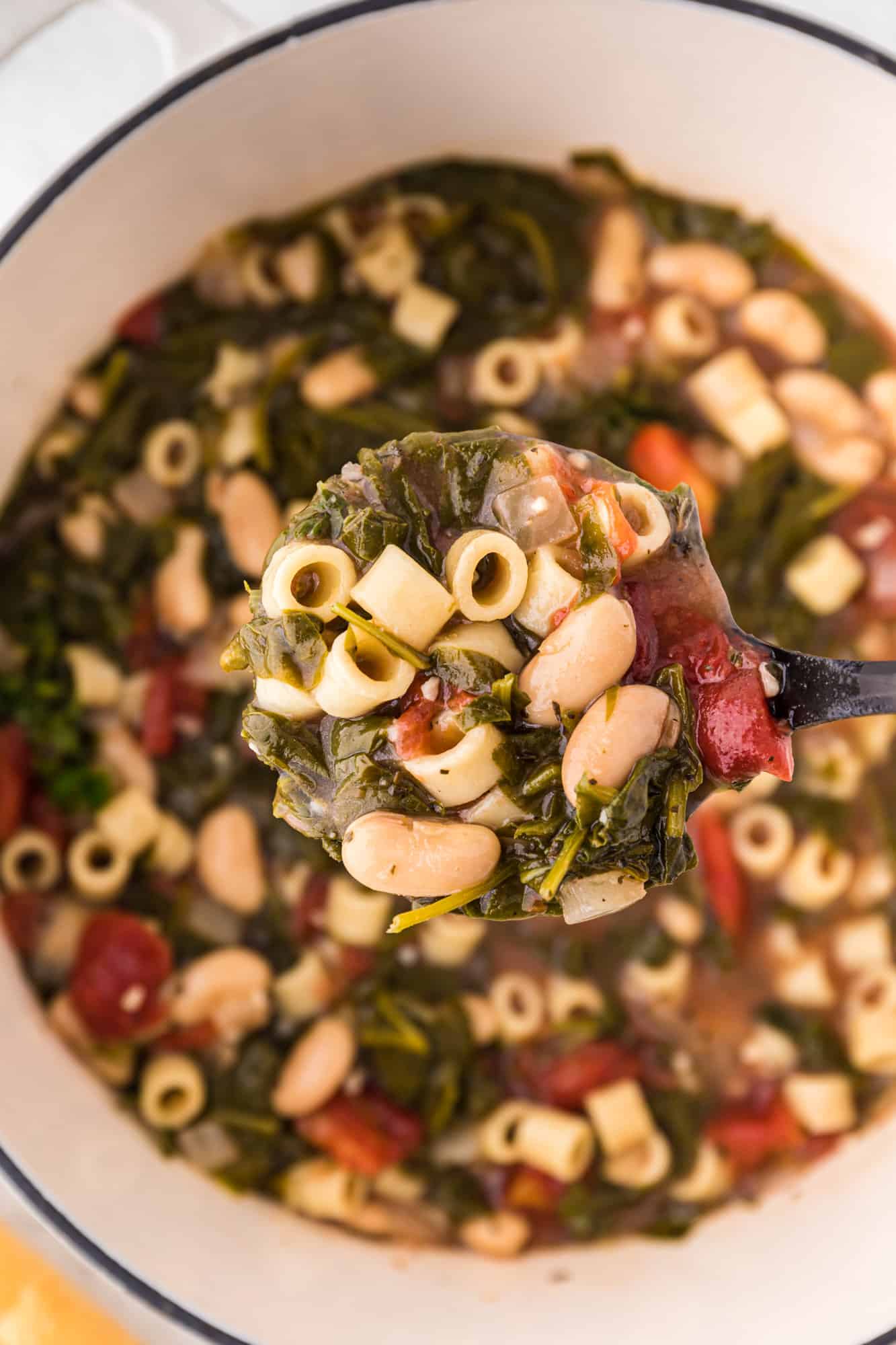 Make-Ahead Ideas
This soup reheats well and can be frozen, too. Make a double batch so you can enjoy it for later meals.
Storage & Reheating Tips
Refrigerate/Freeze: Refrigerate leftover soup promptly in a covered container. It will keep for up to four days or in the freezer for up to four months. Thaw overnight in the refrigerator before reheating.
Reheat: Warm soup in a saucepan until it's hot. Individual portions can be reheated in the microwave at high power in one minute increments, stirring each time, until heated.
Did you make this? Be sure to leave a review below and tag me @rachelcooksblog on Facebook, Instagram, or Pinterest!
An Italian favorite, pasta e fagioli soup is brimming with creamy cannellini beans, leafy greens, tomatoes, and pasta. Every spoonful is delicious!
Ingredients
1

tablespoon

olive oil

1

medium onion, diced

(about

1 cup

)

¼

teaspoon

kosher salt

¼

teaspoon

coarse black pepper

4

cloves

garlic, minced

4

cups

vegetable or chicken broth, low sodium preferred

1

can

(14.5 oz.) diced tomatoes, undrained

1

can

(15.5 oz.) cannellini beans, rinsed and drained

½

cup

small pasta, such as ditalini, macaroni, mini penne, orecchiette

1

teaspoon

dried basil

½

teaspoon

dried oregano

8

oz.

baby kale, baby spinach, or Swiss chard, chopped

(about

7 cups

)

¼

cup

chopped fresh parsley, more to garnish if desired

¼

cup

shaved Parmesan cheese, for garnish
Instructions
In large saucepan or Dutch oven, heat oil over medium heat. Add onion, season with salt and pepper, and sauté until softened, 4 to 5 minutes. Add garlic, cook and stir until fragrant, about 1 minute.

Add broth, tomatoes, beans, pasta, basil, and oregano. Bring to a simmer; cook for 15 minutes.

Add greens, cover and cook until wilted. Stir in fresh parsley.

Serve immediately, topped with shaved Parmesan cheese and additional parsley if desired.
Notes
This soup is fairly thick. If you prefer, add more broth or water.
Add a bit of spice, if you like. Stir in a pinch of red pepper flakes with the garlic.
Soup will keep up to 4 days in the refrigerator or up to 4 months in the freezer.
Nutrition Information
Serving:
2
cups
,
Calories:
307
kcal
,
Carbohydrates:
49
g
,
Protein:
16
g
,
Fat:
6
g
,
Saturated Fat:
2
g
,
Polyunsaturated Fat:
1
g
,
Monounsaturated Fat:
3
g
,
Cholesterol:
5
mg
,
Sodium:
311
mg
,
Potassium:
958
mg
,
Fiber:
9
g
,
Sugar:
3
g
,
Vitamin A:
5695
IU
,
Vitamin C:
24
mg
,
Calcium:
223
mg
,
Iron:
6
mg
This website provides approximate nutrition information for convenience and as a courtesy only. Nutrition data is gathered primarily from the USDA Food Composition Database, whenever available, or otherwise other online calculators.