In this classic French onion soup recipe, sweet caramelized onions and rich beef broth are topped with a crusty slice of bread smothered in melty Gruyère cheese.
Recipe Overview
Why you'll love it: The flavor is incredible! There's nothing quite like homemade French onion soup.
How long it takes: about 90 minutes to caramelize the onions and an additional 20 minutes to make the soup
Equipment you'll need: large heavy covered pan (Dutch oven)
Servings: 8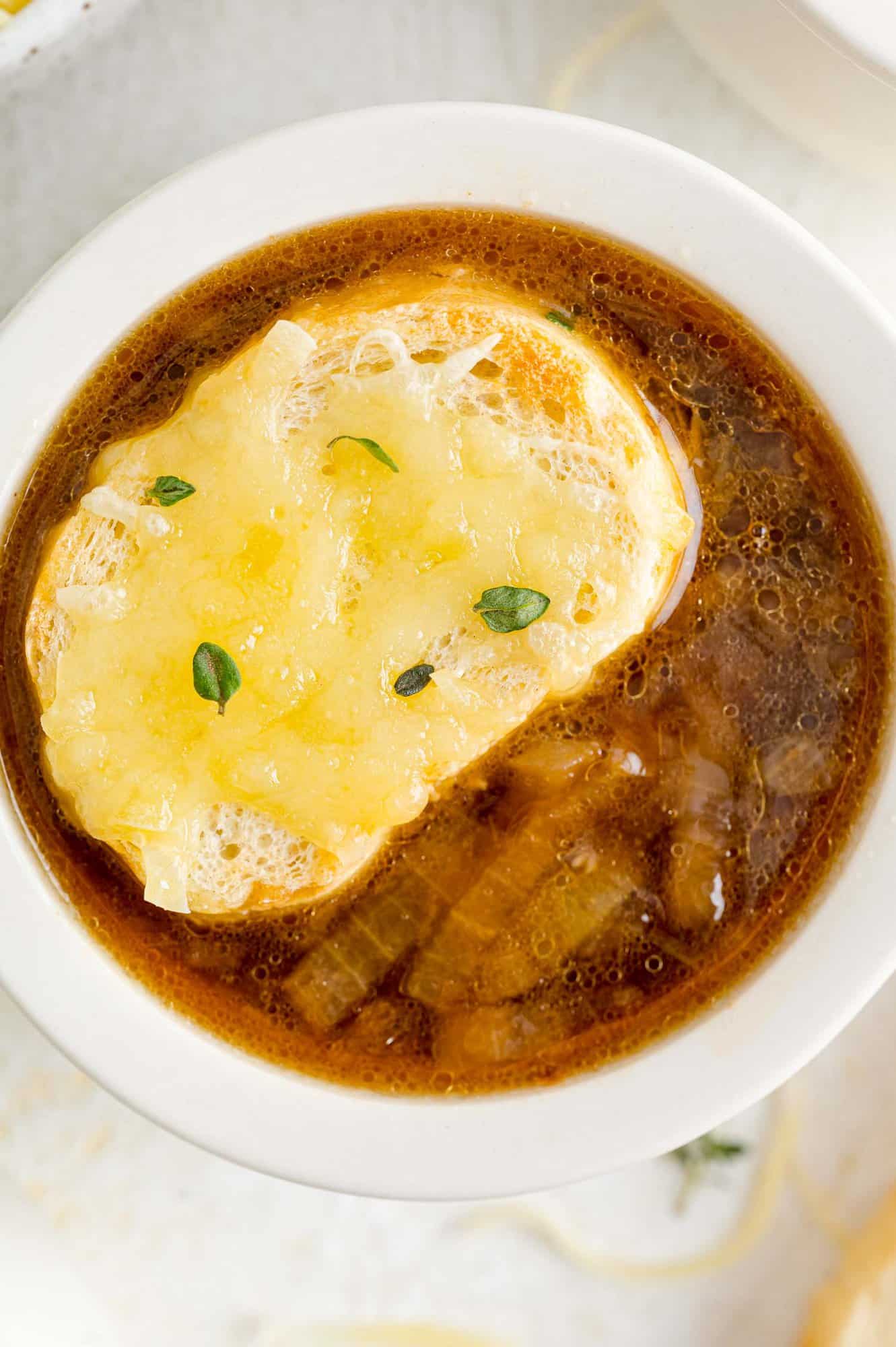 Last week, I caramelized a big pan of onions and shared how to make caramelized onions with you. From there, my mind naturally turned toward French onion soup, one of my absolute favorites.
The soup looks and tastes so impressive but the ingredients are pretty basic: onions, beef broth, cheese, bread.
In fact, onion soups have been around since Roman times although the French popularized the soup in the 18th century which may account for the name "French" onion soup, hah! If you like history, check out this article by Vice, "The Curious History of French Onion Soup."
I really encourage you to to try this recipe. The caramelized onions seem like a luxury but really they aren't. They are easy to make and the flavor of homemade French onion soup can't be beat. Then there's that cheesy bread floating on top… Total bliss!
Just a note: If you love everything French onion, try my homemade French onion dip. It goes great with potato chips! Instead of using a purchased packet of dry onion soup, try my all-natural, preservative-free onion soup mix. Add it to meatloaf, dips, burgers, soups, and more.
About this Recipe
French onion soup is all about the onions. Once you master the technique of caramelizing onions, prepping the soup is really a snap.
While caramelized onions are simple, just sweet yellow onions, butter and olive oil, they do take some time. You'll need a large heavy pan with a lid, and about an hour and a half. The onions have to cook at a low heat for a long time for caramelization to occur. It's a chemical process that really can't be hurried along.
The good thing is that the onions don't really need a lot of attention as they cook. Give them a stir once in awhile to see how they're doing (hello, onions, how're you doing in there?). That's pretty much it.
Let's get started on this iconic soup. I'll walk you through the recipe and give you lots of helpful tips.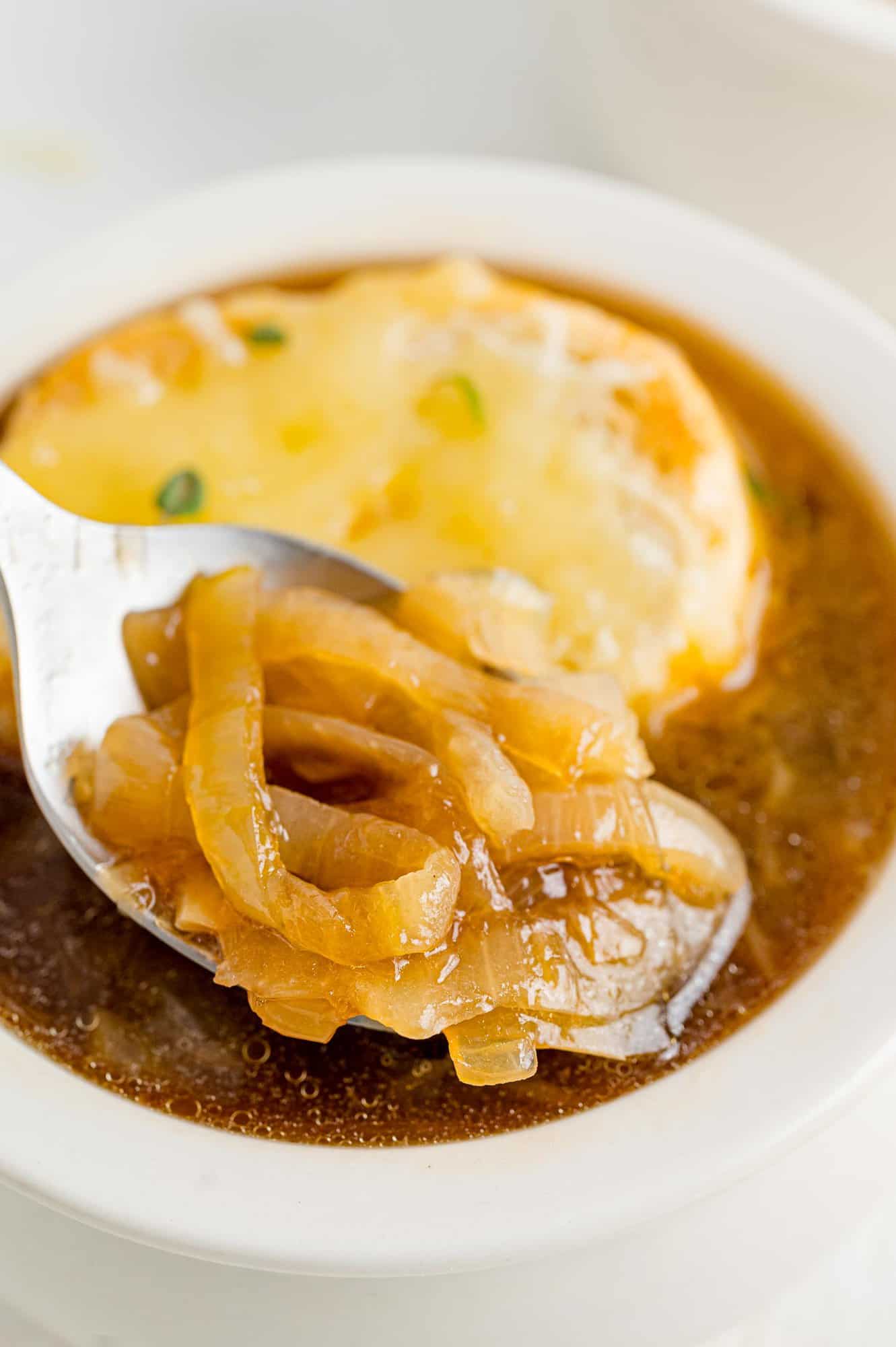 Look for the printable recipe card near the end of the post. It has complete instructions, specific measurements, and nutrition information.
What you'll need
Onions: Look for large sweet or yellow onions, about 12 to 14 oz. each. You'll need six of them. If the onions are smaller or larger, the total weight should be between 4½ and 5¼ pounds. It sounds like a LOT of onions but they really cook down.
Olive Oil/Butter: A blend of these two oils has a higher smoke point and will give the onions a lot of rich flavor.
Garlic: A couple cloves of fresh garlic adds just a hint of garlic flavor.
All Purpose Flour: You'll need a tablespoon of flour to help thicken the broth.
Dry White Wine: Choose a dry wine that you would drink but not the most expensive wine on the shelf. I prefer chardonnay aged in oak because it really enhances the flavor of the caramelized onions.
Dry Sherry or Brandy: Used to deglaze the pan, dry sherry or brandy enriches the flavor of the soup, along with the white wine. It's the secret ingredient that really makes this soup shine.
More About Dry Sherry
There are several types of sherry. Dry sherry has very little residual sugar and a fairly high alcohol content (15% to 22%) and is the best choice for this recipe. A sweet sherry such as Harvey's Bristol Cream would add too much sweetness to the soup. Avoid cooking sherry because it has added salt and preservatives.
Much of the alcohol cooks off but not all of it. If that's a concern, substitute sherry vinegar or white wine vinegar.
Beef Stock: Look for the best beef stock you can find. Ideally, we'd make our own beef stock but that's time-consuming and would deter most cooks from trying this soup. I usually look for a lower sodium broth so the soup isn't too salty.
Nutmeg: Freshly grated nutmeg has the best flavor. Once you try it, you'll never go back to ground nutmeg.
Fresh Thyme: This woody herb complements the onions and beef perfectly. You'll need three sprigs. What's a sprig? I'll admit, it's a really subjective measurement. Look for a small branch about 4 to 5 inches long. It may have a few smaller branches attached to it. If you removed all the leaves, it would measure about one teaspoon. It's better to err on the side of caution if you're not familiar with thyme so you don't accidentally add too much.
Bay Leaves: Choose a couple of medium sized dry bay leaves.
Crusty Bread: French bread works well. Keep in mind that a whole slice should be able to float inside the bowls you plan on using.
Gruyère Cheese: This Swiss cheese has a mild nutty flavor and is the traditional cheese chosen to top French onion soup. It melts especially well if you shred your own cheese from a block.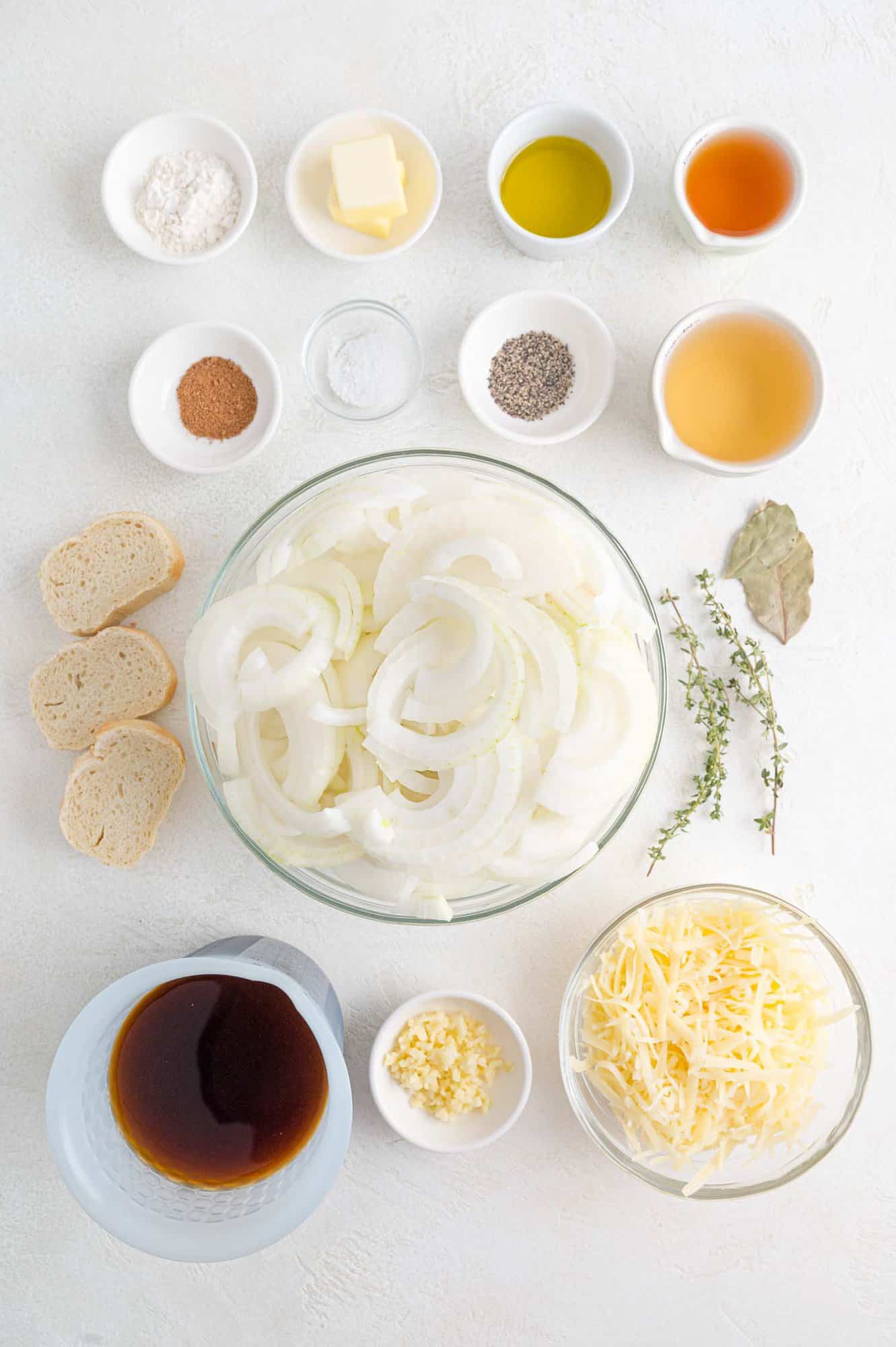 How to make This Recipe
Okay, the first step is to prep all those onions. Get ready to shed a few tears (just kidding). Peel and rinse the onions, cut them in half, and slice each half into quarter inch slices, i.e. half moons.
I try to wear my contacts when I slice onions. It does seem to help with stinging and tears. If you're not a contact wearer, a fan blowing directly across your work area will blow the fumes away. A very sharp knife is essential because the onion is cut more cleanly and not crushed. Some people find that soaking the peeled halved onions in ice water for 30 minutes reduces the tears.
It looks like a huge pile of onions and it is! You'll be amazed at how much they cook down as they caramelize but you will need a large pan to hold them all. A heavy pan works best. The onions will burn more easily in a light weight pan and you'll have to watch them much more closely.
Over medium heat, melt the butter and olive together in the pan. Once the butter has melted, add the onions, season with salt, and stir well.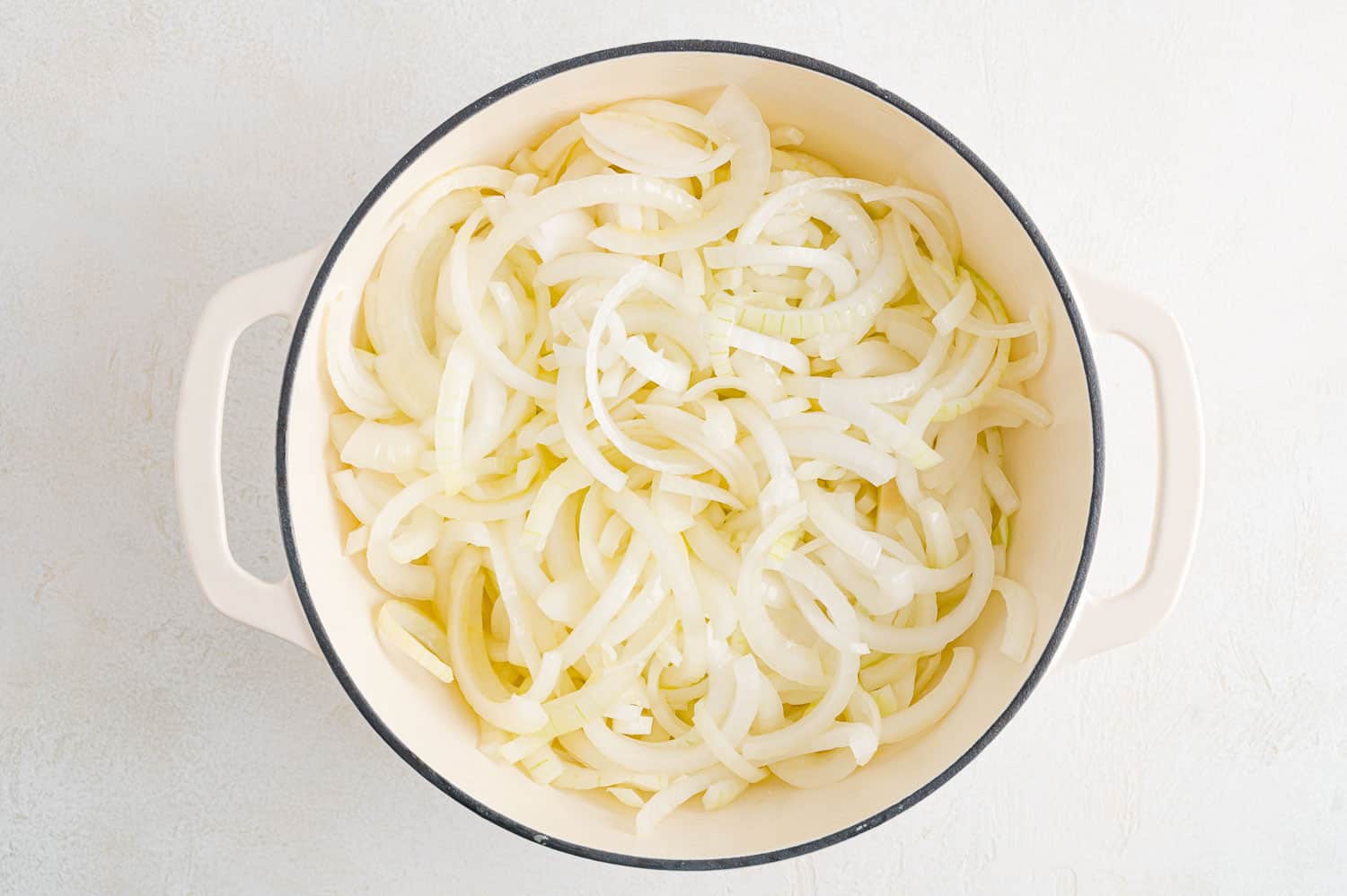 Cover the pan and cook the onions for 10 minutes. The moisture in the onions will create steam and get them softening.
Uncover the pan, stir the onions, and turn the heat down.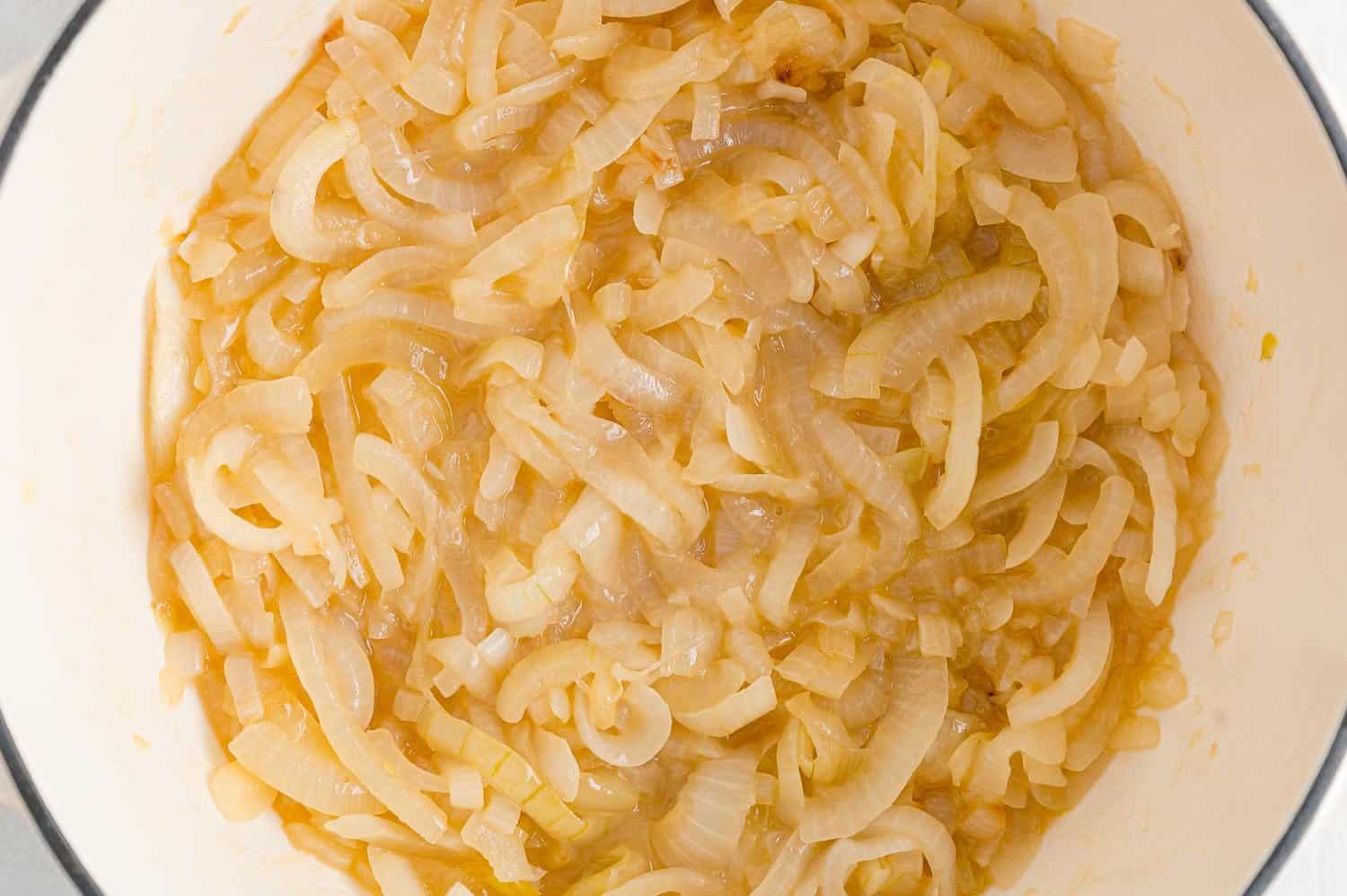 Let the onions cook slowly over low heat, uncovered, for sixty to ninety minutes. I know, that's a long time, but good things take a while, right? Give the onions a stir once in awhile to make sure they aren't sticking. If they seem to be browning too quickly or sticking, turn the heat down.
As you get closer to the end of the cooking time, you'll have to stir the onions more often. They should be deep golden brown and be very soft, almost jammy but still retaining their shape.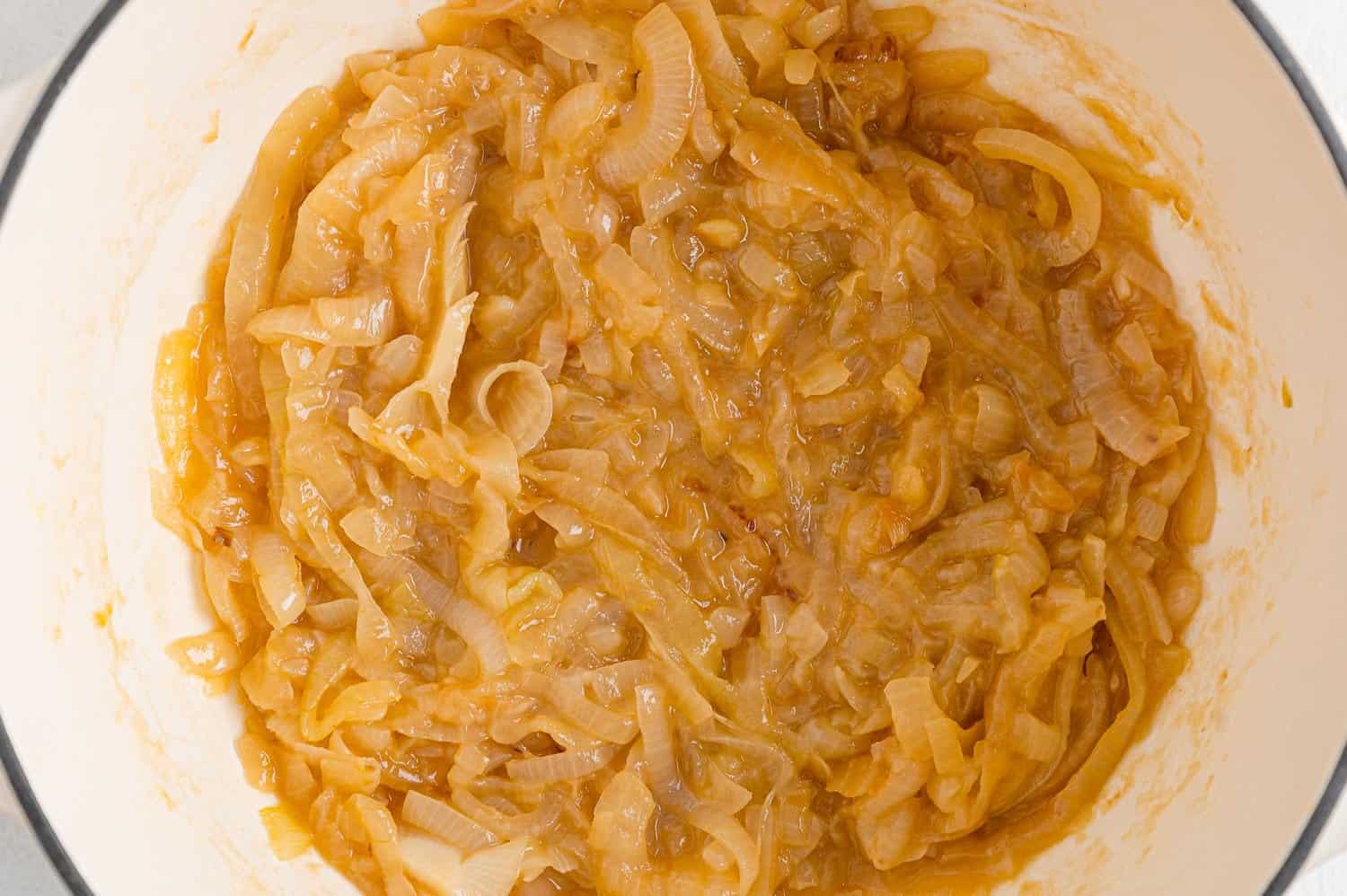 When the onions are caramelized, add the garlic and flour, and cook for one minute, stirring constantly. The garlic should smell fragrant and the flour will coat the onions. Increase the heat to medium and add the wine and sherry.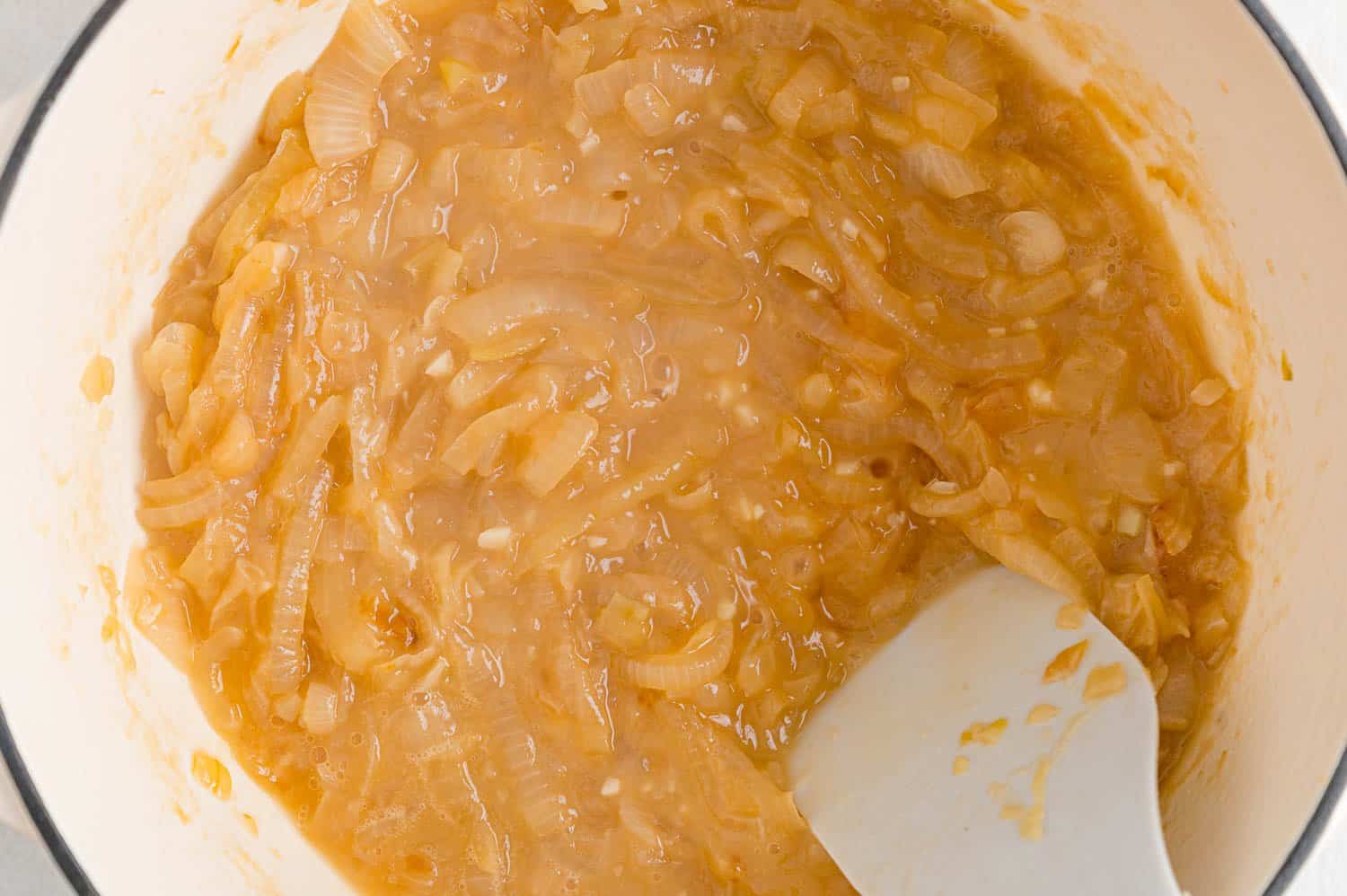 Cook for a few minutes, stirring constantly and scraping the bottom of the pan to remove any browned bits. This is called "deglazing". The liquid will reduce in volume and a good share of the alcohol will be burned off (but not all of it).
Add the broth to the pan, along with the nutmeg, thyme, bay leaves, and black pepper.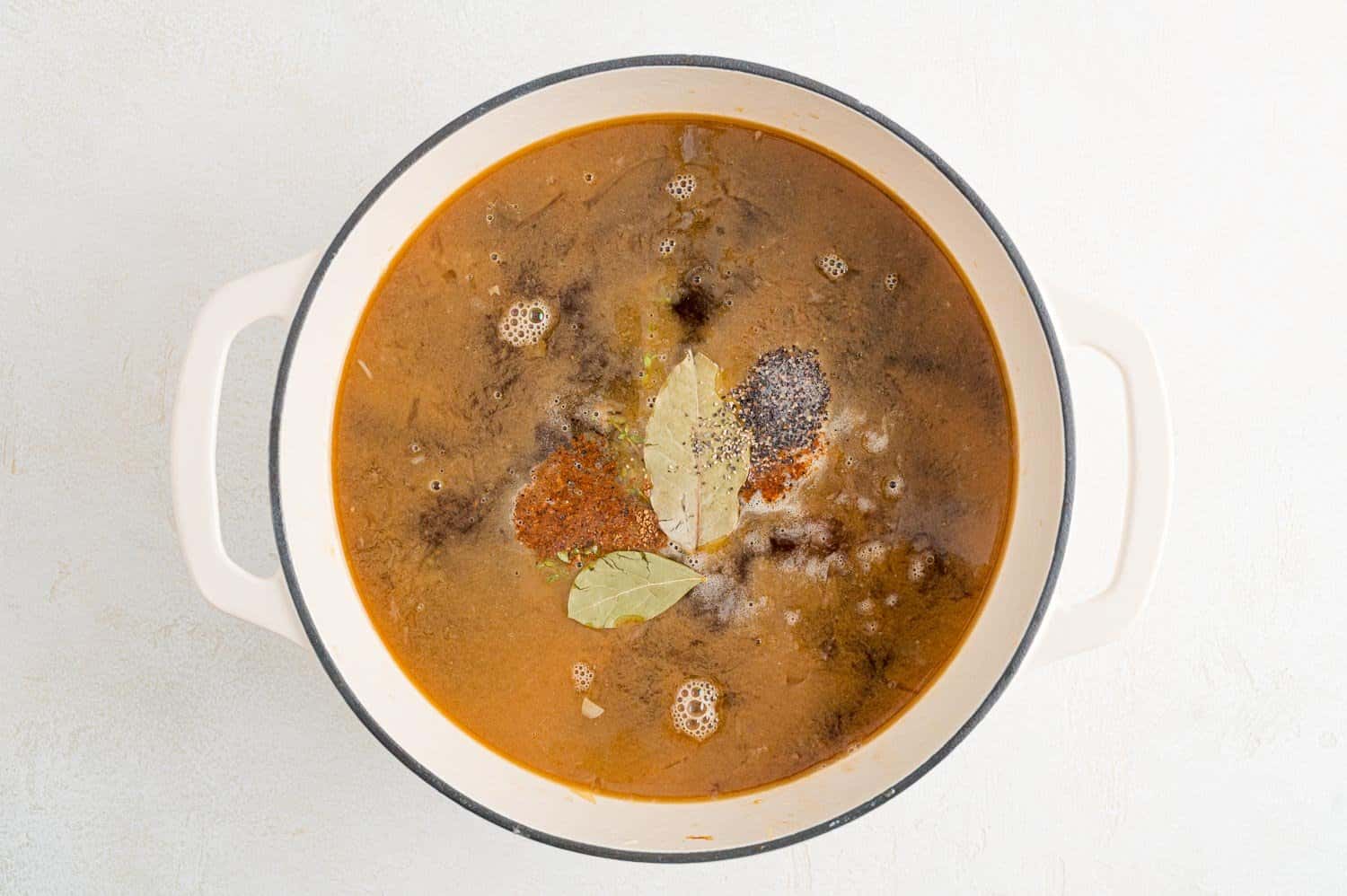 Simmer for ten to fifteen minutes. The soup should be steaming hot. If you want to hold off on serving the soup for awhile, turn the heat to low and keep the soup hot but not boiling.
If your soup seems too thick, add a cup or two of extra broth.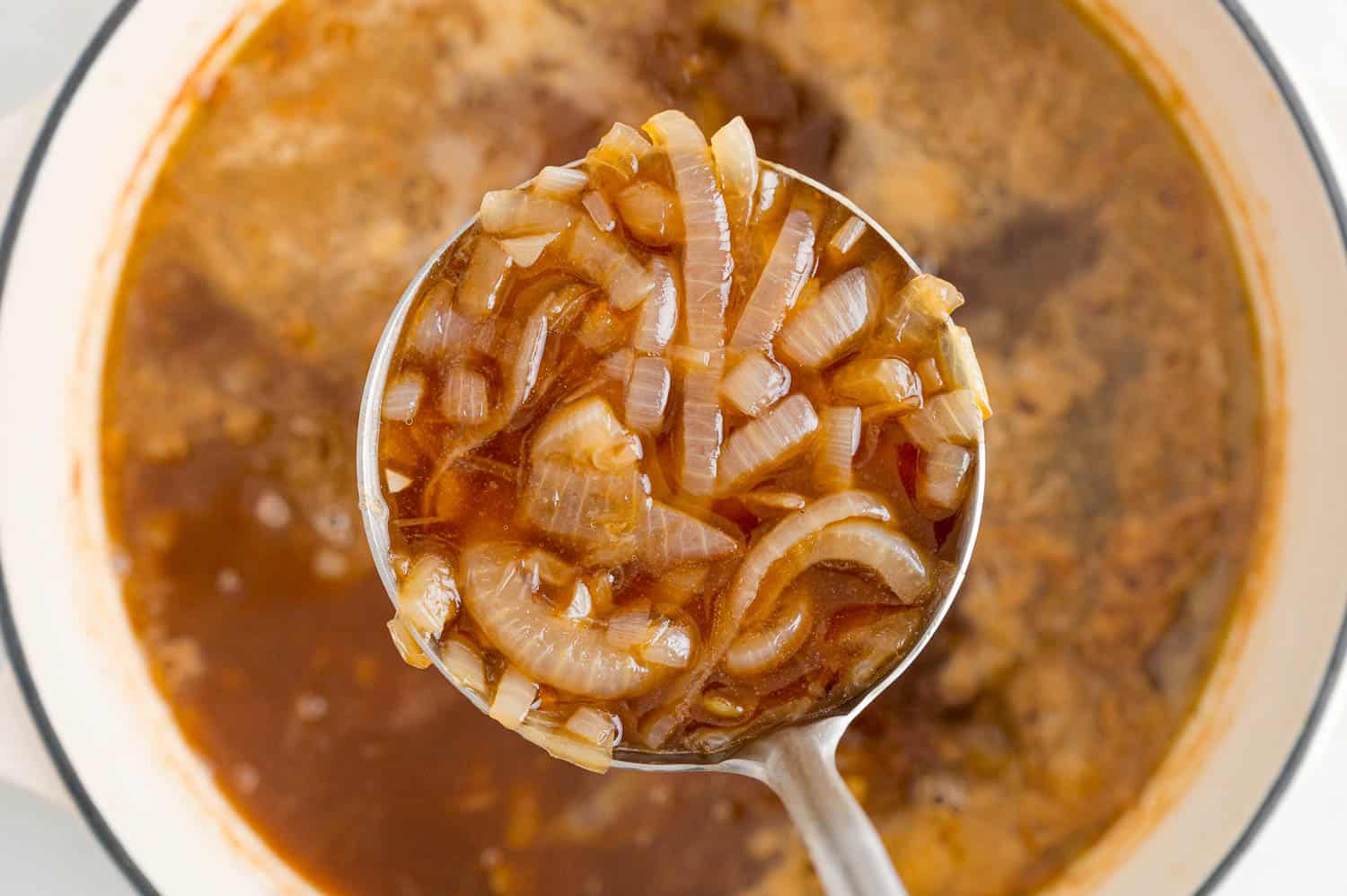 Are you ready to serve your lovely French onion soup? Turn the broiler on and remember to remove the bay leaves and thyme sprigs!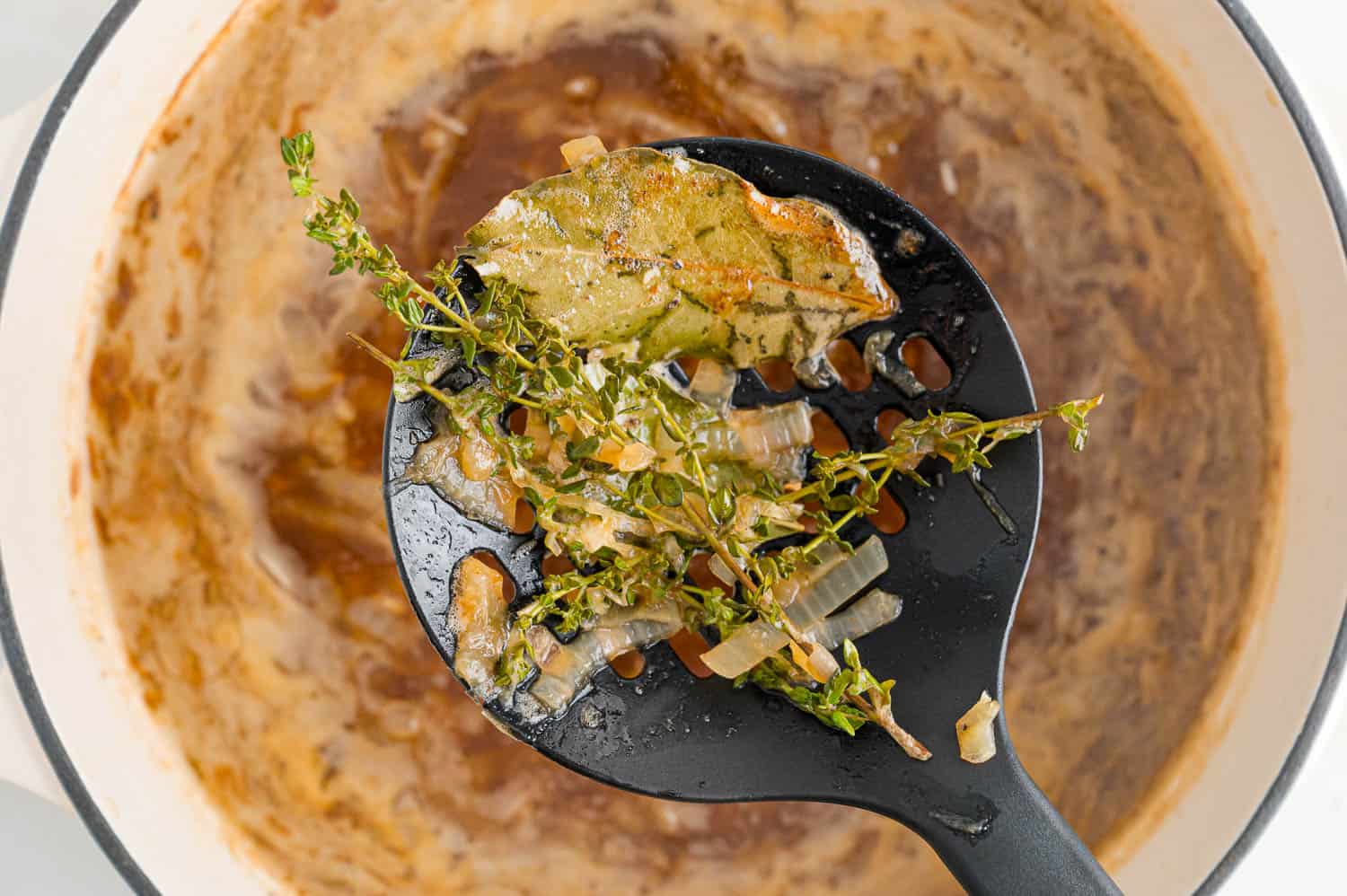 Presentation is a big part of the allure of this classic soup. Put a ladleful of soup in each bowl (about 1 cup), add a slice of crusty French bread and a handful of grated cheese. Broil briefly until the cheese has melted. Watch it closely! You don't want it to burn.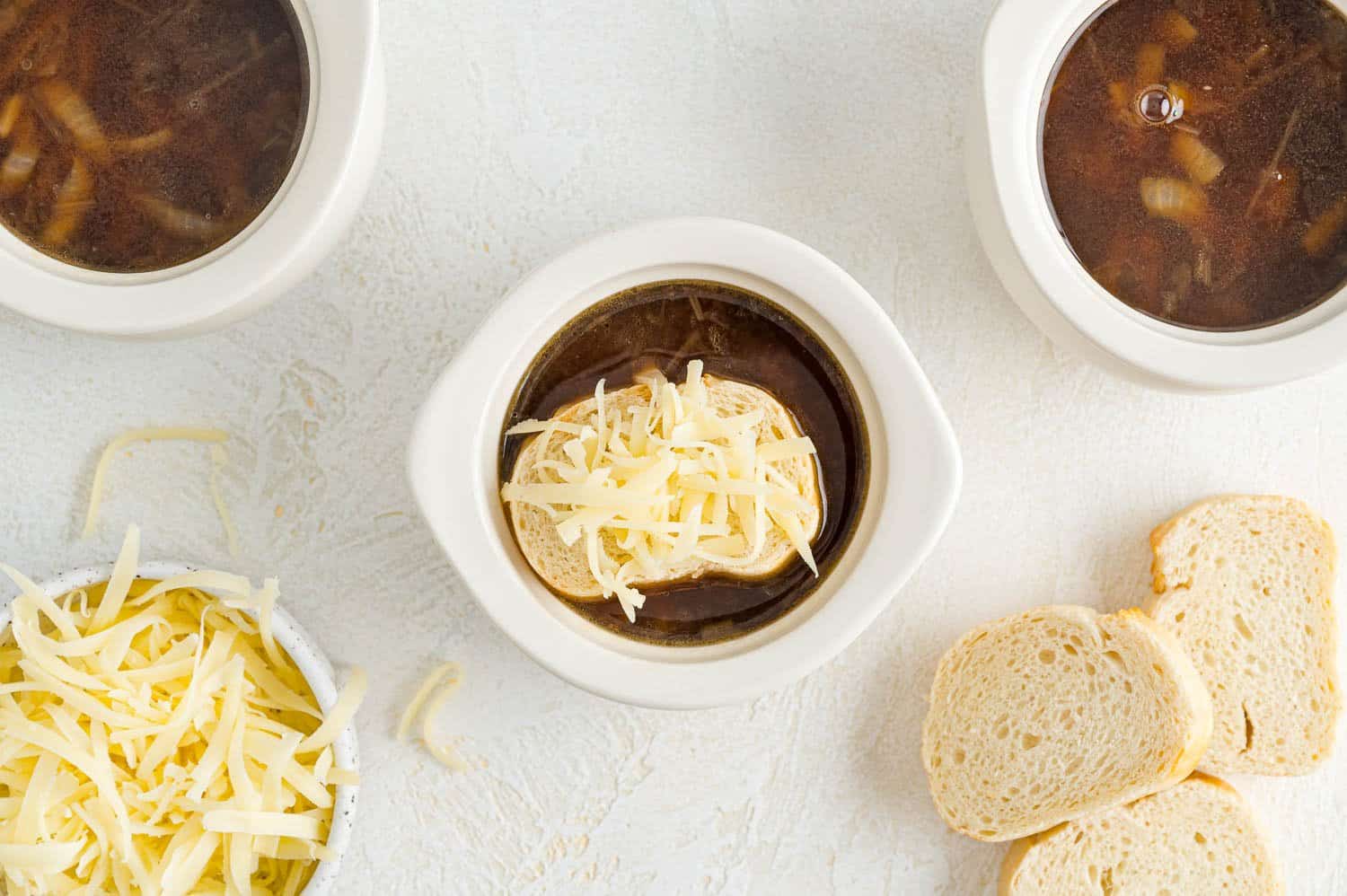 Serve immediately. Warn everyone that their soup bowls are HOT! A crisp green arugula salad with lemon vinaigrette rounds out this meal perfectly, along with a glass of the Chardonnay you opened for the soup.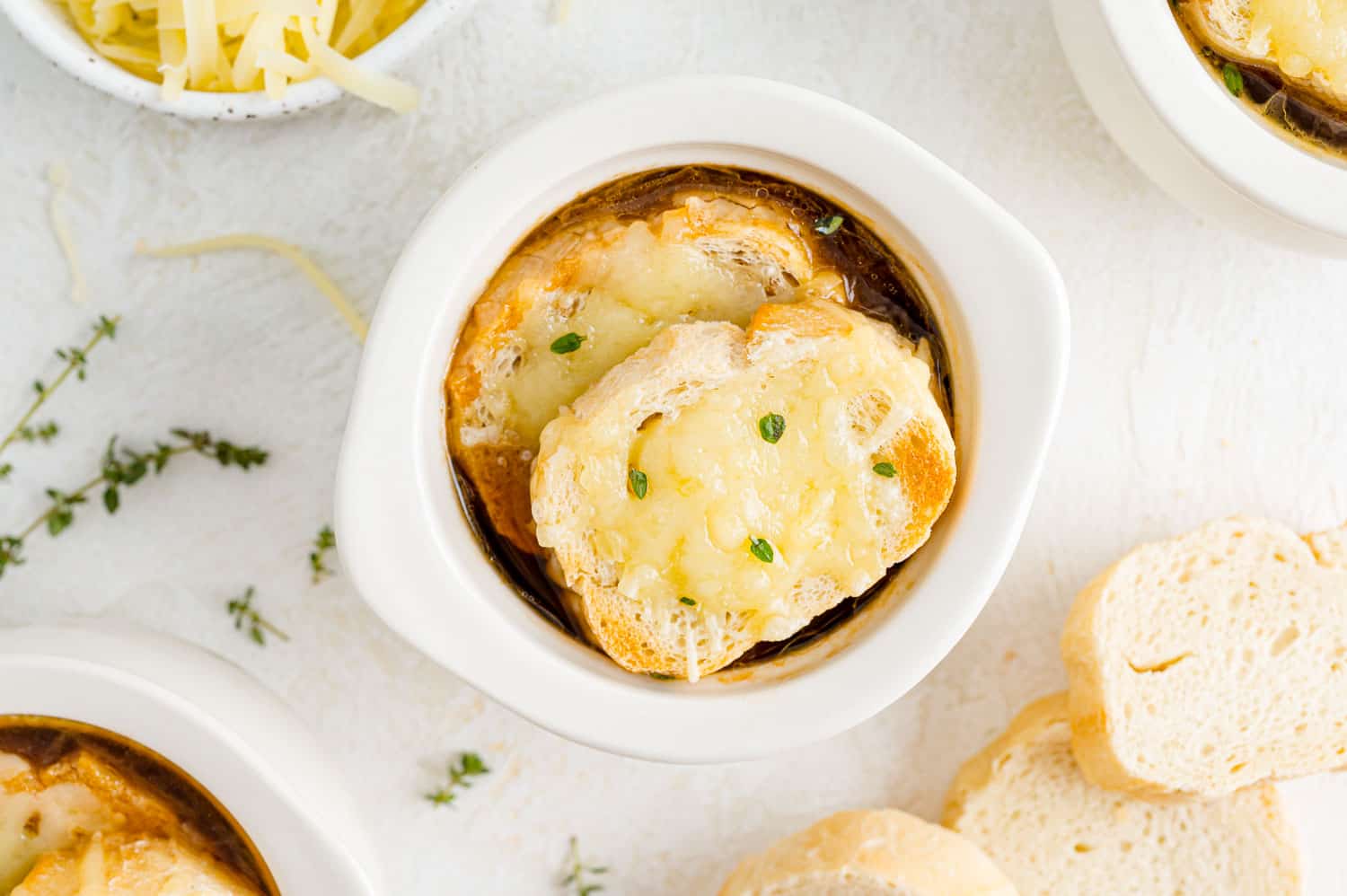 FAQs
What onions are best for French onion soup?
Sweet yellow onions are the best choice for French onion soup. They have the right balance of pungency and sweetness. Regular yellow cooking onions have a stronger flavor; green onions don't caramelize well. Red onions will work but will affect the color of the soup.
What is the difference between onion and French onion soup?
French onion soup is always made with beef broth and sweet yellow onions, topped with a slice of French bread, melted Gruyère cheese, and broiled.
Onion soup is a more general category. It can be made with a variety of broths (chicken, vegetable, beef, lamb, etc) and may include multiple types of onions and additional vegetables. It may or may not have a bread and cheese topping.
Make It Your Own
Don't have heat proof ramekins? Sprinkle the shredded cheese on a slice of bread and broil the bread and cheese. Add the toasted cheese to the top of the soup.
French onion soup can be a little tricky to eat neatly. If you prefer, substitute cubed bread or croutons for the slice of bread. Homemade croutons are best and they are easy to make. Add a handful to the top of the soup, sprinkle on cheese, and broil.
Other types of cheese can be substituted. Try sharp cheddar or provolone.
Vegetarian: Substitute vegetable broth or mushroom broth for the beef broth.
Alcohol Free: If you prefer to make your soup without wine or spirits, deglaze the pan with a mixture of beef broth and white wine vinegar or sherry vinegar (which doesn't contain alcohol). Put three tablespoons of vinegar in a measuring cup and fill the cup to ¾ cup with broth.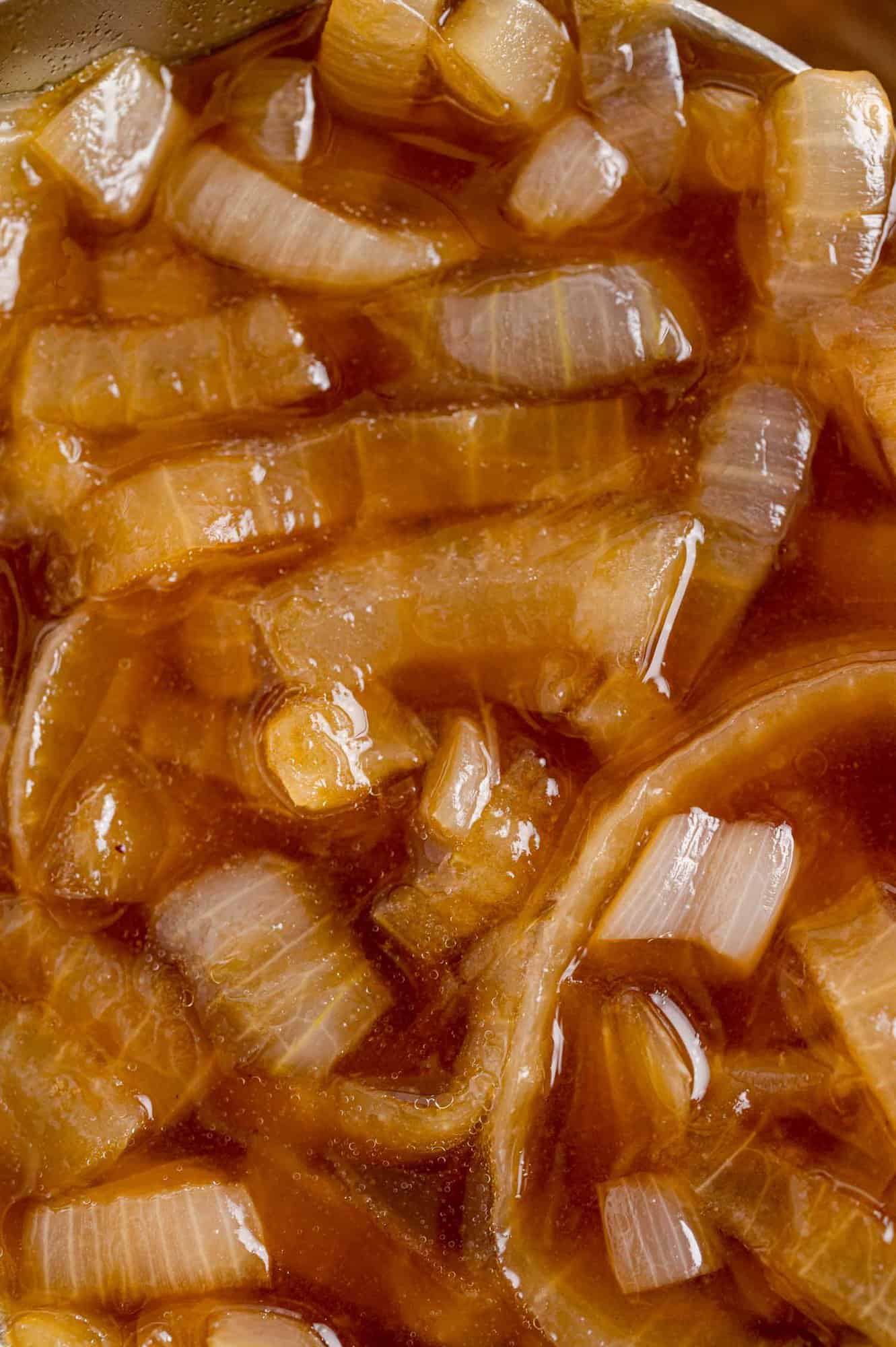 Make Ahead Ideas
Make the caramelized onions up to 4 days in advance and refrigerate. To start the soup, warm the onions in the soup pan, then continue with the recipe as directed.
The soup can also be made ahead and either refrigerated or frozen. To serve, heat the soup on the stove, ladle into the ramekins and proceed with the recipe.
Storage & Reheating Tips
French onion soup will keep three to four days in the refrigerator. It also freezes well, for up to three months. Store the bread and cheese separately.
Did you make this? Be sure to leave a review below and tag me @rachelcooksblog on Facebook, Instagram, or Pinterest!
In this classic French onion soup recipe, sweet caramelized onions and rich beef broth are topped with a crusty slice of bread smothered in melty Gruyère cheese.
Ingredients
2

tablespoons

olive oil

2

tablespoons

butter

6

large yellow or sweet onions (12-14 oz. each), sliced into ¼-inch thick half moons

½

teaspoon

kosher salt

2

cloves

garlic, minced

1

tablespoon

all-purpose flour

½

cup

dry white wine

¼

cup

dry sherry or brandy

6

cups

beef stock, up to

8

cups if desired

(to reduce sodium, use low sodium or no salt added broth)

¼

teaspoon

nutmeg

(freshly grated preferred)

3

sprigs fresh thyme

2

bay leaves

½

teaspoon

coarse ground black pepper

8

thick slices

crusty bread, ½ -inch to ¾ -inch thick

(French bread works well- see note)

1 ½

cups

grated Gruyère cheese
Instructions
In a very large covered pan (a Dutch oven works well), heat oil and butter over medium heat. Add onions and salt and toss to coat with oil.

Cover and cook for 10 minutes.

Uncover, reduce heat to medium-low, and continue to cook, stirring occasionally (you'll need to stir more often towards the end), until onions are cooked down and a deep golden brown, about 60 to 90 minutes. If needed, adjust heat to low. You want the onions to cook slowly without drying out. If absolutely necessary, add a splash of water to the pan.

When the onions have caramelized, add garlic and flour and cook, stirring, for one minute or until fragrant.

Increase heat to medium and add wine and sherry and cook until slightly reduced, scraping any brown bits off the bottom of the pan, 2 to 3 minutes.

Add

6 cups

beef stock, nutmeg, thyme, bay leaves, and black pepper, and bring to a simmer. Simmer for 10 to 15 minutes or until heated through. If desired, add more stock for a more brothy soup (will affect yield and nutrition). Carefully remove bay leaves and thyme stems.

Spoon soup into oven-safe ramekins or mini casserole dishes (see note). Top with bread and grated cheese and broil on high until cheese is melted (watch closely!). Serve immediately.
Notes
If you don't have oven-safe ramekins or mini casserole dishes, you can place bread slices on a sheet pan, sprinkle with cheese, and broil them. When ready to serve, add soup to bowls and top with cheesy bread slices.
For a non-traditional but easier to eat version of French onion soup, cut the bread into bite-sized cubes instead of slices. Homemade croutons are a good alternative, too.
Nutrition information is calculated for one cup soup, topped with one slice bread and shredded cheese.
Nutrition Information
Serving:
1
cup
,
Calories:
265
kcal
,
Carbohydrates:
23
g
,
Protein:
13
g
,
Fat:
12
g
,
Saturated Fat:
5
g
,
Polyunsaturated Fat:
1
g
,
Monounsaturated Fat:
5
g
,
Cholesterol:
28
mg
,
Sodium:
710
mg
,
Potassium:
679
mg
,
Fiber:
2
g
,
Sugar:
14
g
,
Vitamin A:
263
IU
,
Vitamin C:
13
mg
,
Calcium:
325
mg
,
Iron:
1
mg
This website provides approximate nutrition information for convenience and as a courtesy only. Nutrition data is gathered primarily from the USDA Food Composition Database, whenever available, or otherwise other online calculators.