Pesto Salmon in Parchment Paper (full meal)
This all-in-one pesto salmon dinner is delicious, healthy, and you'll love the easy clean-up. It's all nicely tucked into a parchment paper packet.
Recipe Overview
Why you'll love it: The salmon turns out tender and moist, and so flavorful because it's cooked with pesto and vegetables.
How long it takes: about 15 minutes to prep, and 25 minutes in the oven
Equipment you'll need: parchment paper, rimmed baking sheet, oven
Servings: 2 (but it's easy to increase)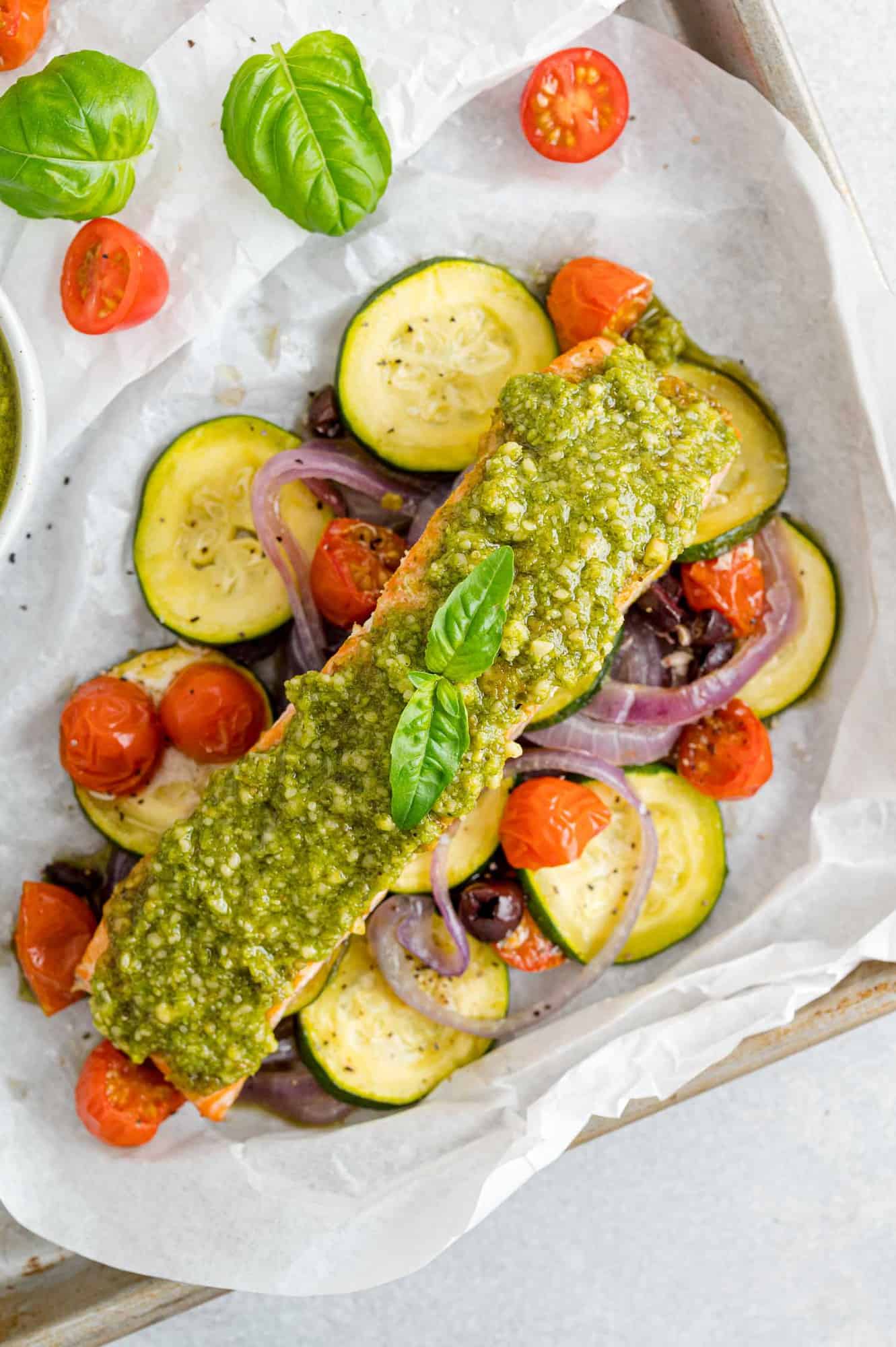 Imagine carefully unwrapping your dinner and revealing perfectly cooked salmon, nestled into a bed of sliced zucchini, tender red onions, bright tomatoes, kalamata olives, and brightly seasoned with basil pesto.
This is a far cry from frozen dinners, folks. Even though this dinner is "packaged", each fresh component is perfectly cooked, steamed in individual packets made with parchment paper.
With fifteen minutes of prep time, you can have these packets of delightful dining in the oven, and in 25 minutes, dinner is ready. It's almost like opening a present for dinner and who doesn't like presents? I know I do.
And maybe the best present of all? Super easy clean up! No pans to wash, just throw the paper away. No muss, no fuss! You have to love that.
About This Recipe
Baking salmon in parchment paper is not a new idea. The French call it "salmon en papillote." It's a rather dramatic way to serve salmon because everyone gets their own packet and they unveil a steaming portion of fish and vegetables. Voila!
The salmon is always tender and moist, without the need for lots of added oils or fats. Nutrients and flavor stay right inside the tightly wrapped package. It's healthy eating, low carb, and less than 500 calories per serving.
Another advantage to cooking "en papillote" is that you can make each package to order. Hubby isn't crazy about onions? Leave the onions out of his packet. No problem!
I think you'll love this way of cooking salmon. It's pretty fool-proof and you can even make the packets the night before, refrigerate them, and just pop them into the oven for dinner.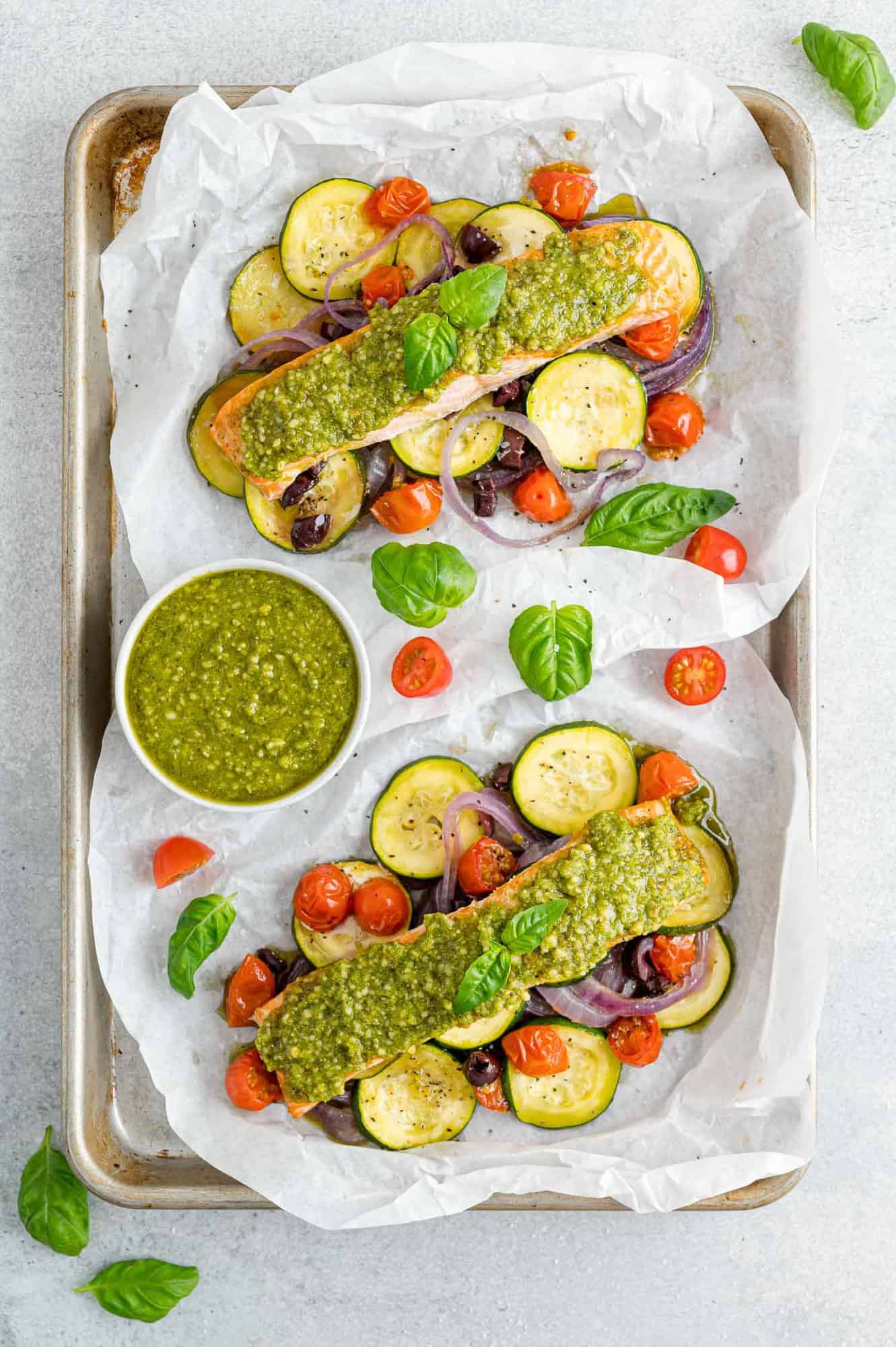 I'll get you started here and give you lots of helpful tips. Look for the printable recipe card near the end of the post with complete instructions, measurements, and nutrition information.
What You'll Need
Salmon Fillets: Because pesto salmon is cooked right on top of the vegetables, I prefer skin-off fillets. However, don't worry if you have skin-on fillets. The salmon will separate from the skin easily once it's cooked. If the salmon is frozen, be sure to thaw it according to package directions or overnight in the fridge.
Zucchini or Summer Squash: Your choice. Look for a smaller sized squash so it will be nice and tender.
Cherry or Grape Tomatoes: The tomatoes get good and squishy and add a nice pop of color and acidity.
Red Onion or Shallots: Really, any type of onion will work here. Choose your favorite.
Kalamata Olives: These dark reddish brown olives add color and so much flavor. If you prefer a different type of olive, go for it. I leave the olives out of my packet because I'm not a fan.
Basil Pesto: Wow, talk about flavor! It doesn't get much better than pesto. You can use your own homemade pesto or buy prepared pesto at the store.
Olive Oil, Salt, and Pepper: Just a bit of oil, and salt and pepper to taste.
Parchment Paper: Easy to use paper takes the place of pots and pans in this recipe.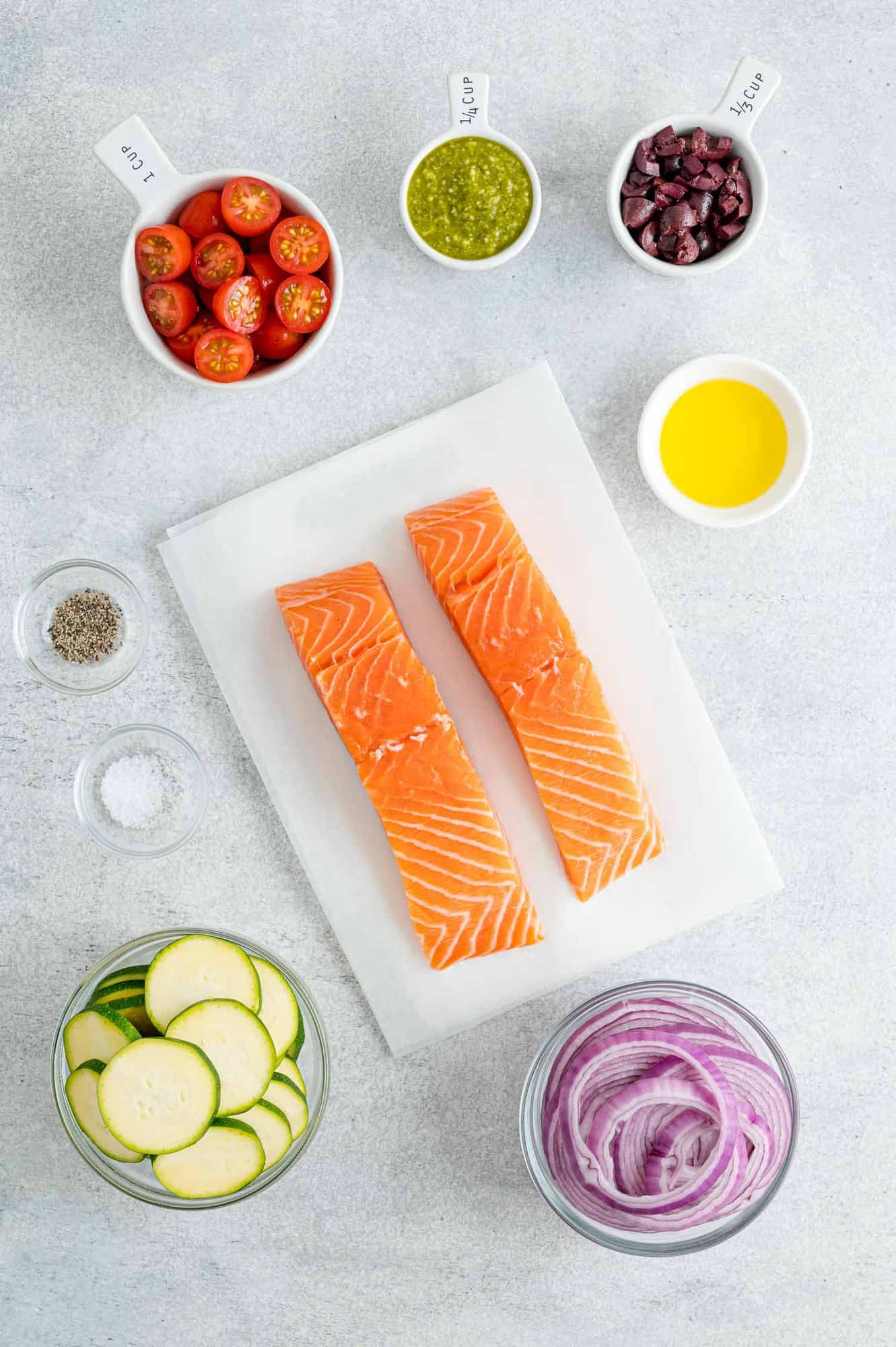 What Is Parchment Paper?
So handy for baking and roasting, parchment paper has a nonstick surface due to a silicone coating that is also heat resistant. Bleached and non-bleached parchment paper are available and both are considered safe for food preparation. It comes in rolls or pre-cut sheets and is usually found by the foil, waxed paper, and plastic wrap in grocery stores. You can also buy parchment paper online.
How To Make Parchment Paper Salmon
Prep: Get the oven preheating. It will take you about fifteen minutes to pull this dinner together. The recipe is written for two servings but it's easy to double or triple.
You'll need a rimmed baking sheet to set the packets on so you can easily transfer them into the oven.
Cut the parchment paper. Start with two sheets of parchment paper, about 12 by 16 inches. Fold each one in half and cut them into large oval shapes. Open them up.
Arrange the veggies on the paper. Slice the zucchini (or summer squash) and onions quite thinly so they get tender. Cut the tomatoes in half. Arrange them on one half of each paper. Chop the olives and sprinkle those on the veggies. Drizzle on a little olive oil and season with salt and pepper.
Add the salmon and pesto. Place a salmon fillet on the vegetables (skin side down if it has skin). Slather on the pesto. It will give such great flavor to the salmon!
Fold into packets. Fold the parchment paper over the salmon and vegetables. Fold the edges closed, pleating as you go. Take a look at the FAQs if you'd like to see more detailed instructions.
Bake. Place each packet on the baking sheet and put it into the oven. Bake salmon for 25 minutes. Take care when you open the packets because they are full of hot steam!
Serve. While this recipe can be a light dinner on its own, if you're wondering what to serve with pesto salmon, try it with a creamy pasta, like this fresh tomato cream sauce with angel hair pasta (pink pasta) or baked feta pasta.
For a simpler option, just add a dollop of pesto and chopped tomatoes, along with grated Parmesan cheese, to cooked pasta. A slice of rustic bread with olive oil dipping sauce is always a good choice.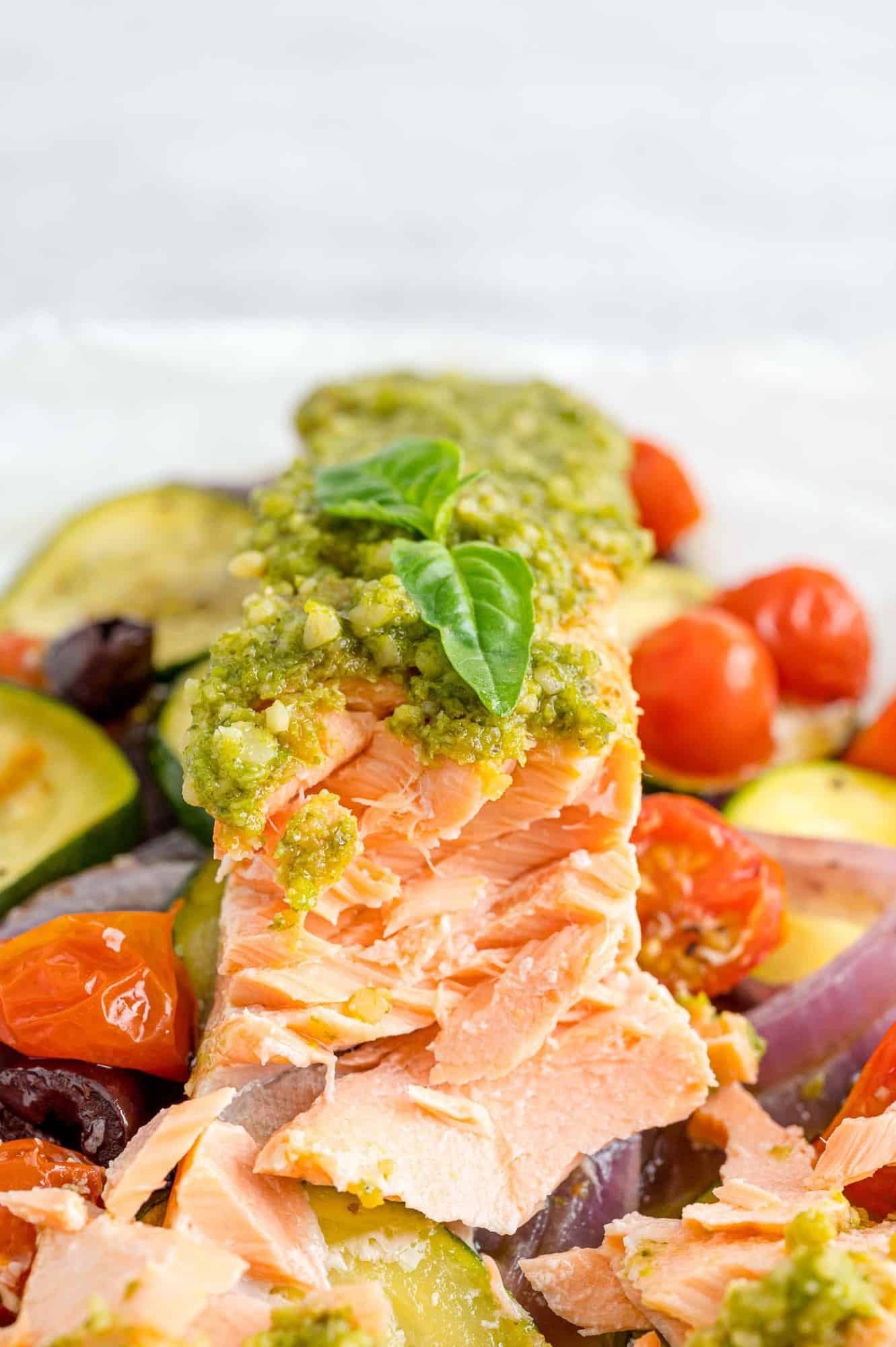 FAQs
Is parchment paper the same as wax paper?
Never substitute waxed paper (wax paper or paraffin paper) for parchment paper; they are not the same thing. Waxed paper is coated with paraffin, not silicone like parchment paper, and is not heat-resistant. It may actually melt or even catch fire in the oven. However, it's okay to use waxed paper in the microwave to contain splatters.

How do you know when salmon is finished cooking?
Because parchment paper salmon is completely wrapped up, it can be a little tricky to determine when it's finished cooking. Use an instant read thermometer and insert it into the salmon fillet. It should be 145°F for well-done. You'll have to unwrap the packet a bit to measure the temperature. If you don't have a thermometer, check to see that the salmon flakes easily with a fork.
If the salmon is a bit overdone, don't panic. Because the packet retains all the moisture, the salmon doesn't dry out as quickly.
Make It your Own
Use foil instead of parchment paper. The salmon and vegetables can be baked in foil. Use a double or triple layer of foil, depending on how heavy duty your foil is.
Grill it. This recipe can be grilled instead of baked but be sure to use foil instead of parchment paper. Or try this recipe for grilled salmon in foil with garlic, butter and chives.
Use different vegetables. Not a fan of zucchini? Substitute different vegetables such as broccoli, asparagus, thinly sliced red potatoes, corn, radishes, etc.
Pesto substitutes: Try chimichurri or top the salmon simply with lemon slices and dill or fresh basil leaves.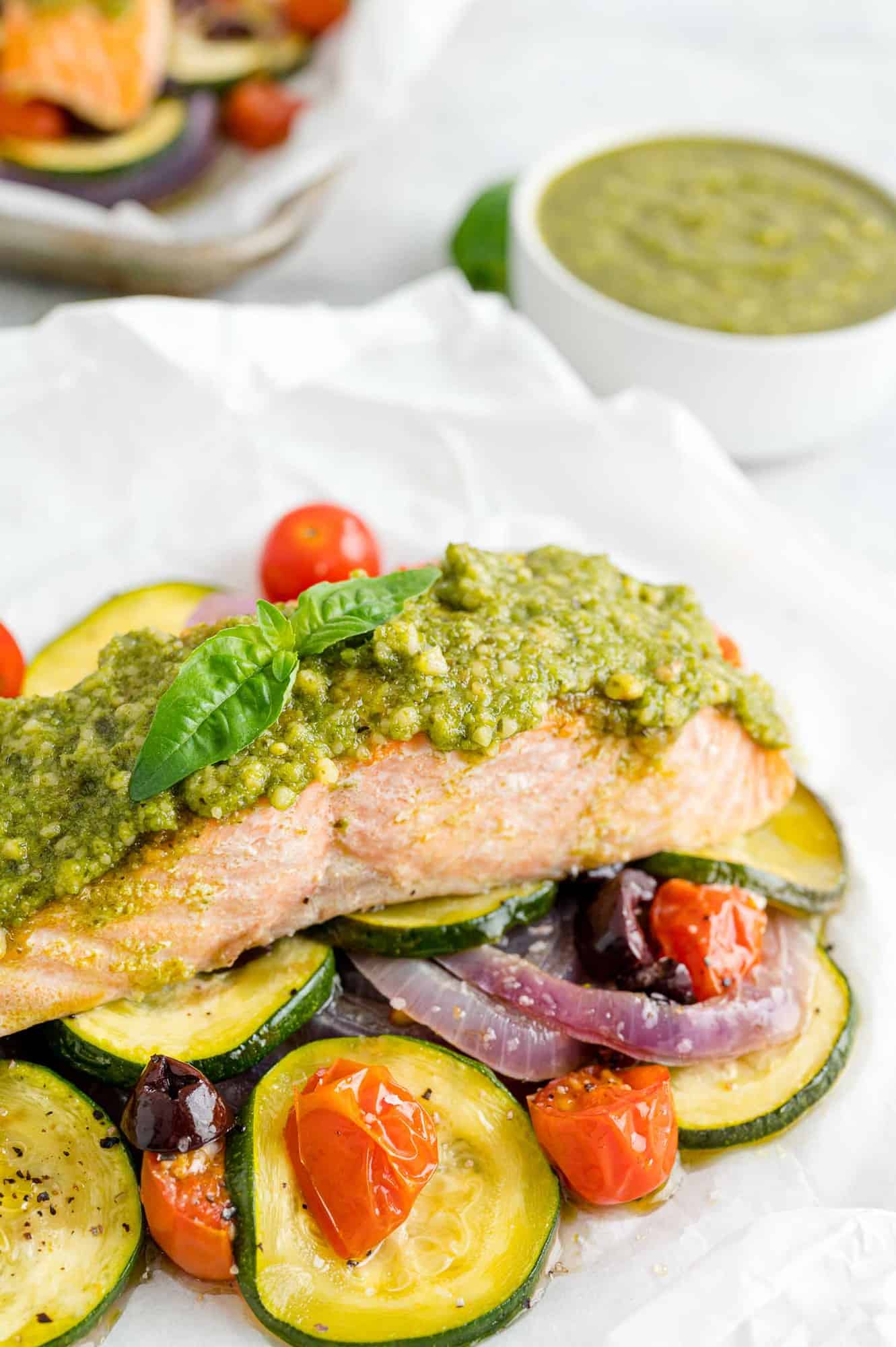 Make-Ahead Ideas
The zucchini, onions, olives, and tomatoes can be prepped a day in advance and refrigerated.
If you prefer, make up each packet and refrigerate overnight.
Storage & Reheating Tips
You probably won't have any leftovers because each packet is made as an individual portion. If you do happen to have some leftover, refrigerate promptly. It will keep for a couple of days. Reheat in the microwave or in the oven.
Interested in a weekly meal plan (it's free!) that includes this salmon recipe? Take a look at my Meal Plan #25. You'll find a wholesome recipe for each weekday plus a categorized grocery list. Let me do the planning for you this week!
We'll be adding a new meal plan weekly. If you're interested, browse all of our meal plans.
Did you make this? Be sure to leave a review below and tag me @rachelcooksblog on Facebook, Instagram, or Pinterest!
This all-in-one pesto salmon dinner is delicious, healthy, and you'll love the easy clean-up. It's all nicely tucked into a parchment paper packet.
Ingredients
1

medium zucchini or summer squash, thinly sliced

(⅛ – ¼ inch thick)

1

cup

halved cherry or grape tomatoes

1

cup

thinly sliced red onion or shallots

⅓

cup

coarsely chopped kalamata olives

2

teaspoons

olive oil

¼

teaspoon

kosher salt

¼

teaspoon

coarsely ground black pepper

2

(6 oz. each) salmon fillets

(skin on or off)

¼

cup

basil pesto

(either homemade or store bought)
Instructions
Preheat oven to 375°F. Fold 2 sheets (12 x 16 inches) of parchment paper in half vertically and cut into large ovals. Open up.

Arrange zucchini, tomatoes, and onion on one side of the fold in each oval. Sprinkle with chopped olives. Drizzle each packet with 1 teaspoon olive oil and season with salt and pepper.

Set a salmon fillet on the vegetables. Spread pesto, divided evenly, on both fillets.

Fold parchment paper over the salmon and fold edges closed, pleating as you go.

Place each packet on rimmed baking sheet and bake 25 minutes. Carefully open packets (watch for hot steam!) and check internal temperature of salmon (145°F). Serve immediately.
Notes
Nutrition information is for the contents of one packet containing a salmon fillet and vegetables.
Chimichurri is a good substitute for pesto. If you prefer, just top the salmon with a few lemon slices and fresh dill or basil.
For more servings, simply double or triple the ingredients and make more packets.
This recipe has been completely updated 4/2022.
Nutrition Information
Calories:
492
kcal
,
Carbohydrates:
17
g
,
Protein:
38
g
,
Fat:
30
g
,
Saturated Fat:
5
g
,
Polyunsaturated Fat:
5
g
,
Monounsaturated Fat:
9
g
,
Cholesterol:
96
mg
,
Sodium:
1020
mg
,
Potassium:
1395
mg
,
Fiber:
5
g
,
Sugar:
9
g
,
Vitamin A:
1601
IU
,
Vitamin C:
34
mg
,
Calcium:
125
mg
,
Iron:
2
mg
This website provides approximate nutrition information for convenience and as a courtesy only. Nutrition data is gathered primarily from the USDA Food Composition Database, whenever available, or otherwise other online calculators.