Salmon is a versatile, healthy, and delicious source of protein. Let's dig into everything you need to know about this fatty fish, including salmon's health benefits, ways to cook it, plus 15 easy salmon recipes to inspire your next dinner.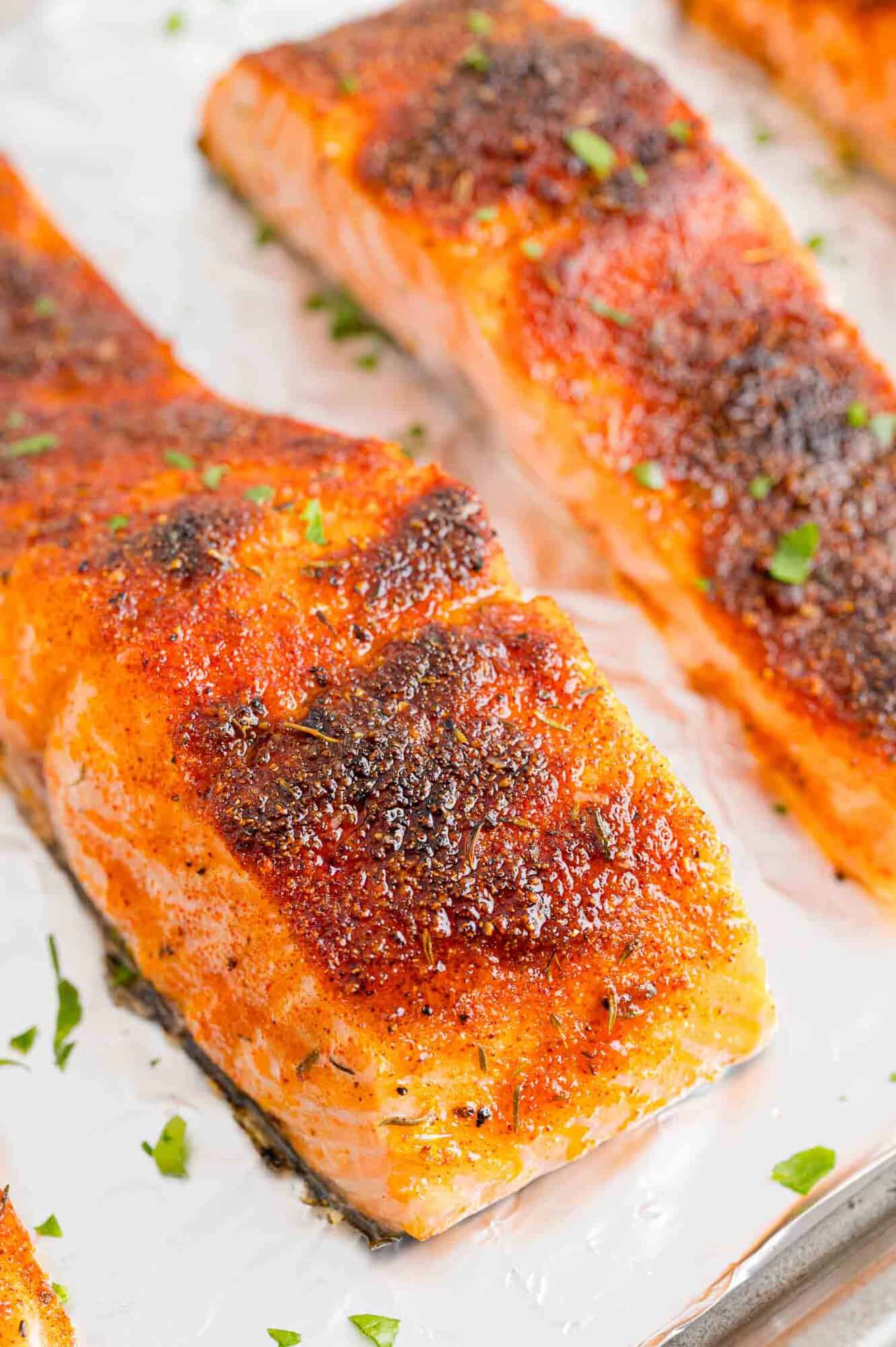 With its buttery flavor and loads of healthy fats, salmon is one of our favorite weeknight proteins! There are so many delicious ways to prepare salmon, and if you're looking to include more seafood in your weekly menu, this easy-to-find fish is a great place to start.
Below, we'll cover everything you want to know about salmon, including health benefits, ways to prepare it, and the different types of salmon you'll find at the fish counter! Don't forget to scroll to the bottom of the post for 15 easy salmon recipes, plus more helpful FAQs.
Is Salmon Good For You?
Yes! Salmon's health benefits are plentiful. It's loaded with nutrients including selenium and phosphorus, along with vitamin B12 and omega-3 fatty acids, which are good for the heart and nervous system. Salmon is also rich in protein, with a whopping 22 to 25 grams of protein per 100 gram serving (Healthline).
Different Kinds of Salmon
Yes, there's more than one kind of salmon! Below is a quick overview of the types you'll come across when buying salmon from the store.
Farmed vs. Wild-Caught Salmon
When buying salmon, you'll find two options for how the fish is raised. Wild-caught salmon is salmon that's caught in natural environments (think: oceans, lakes, rivers). Wild salmon generally has a more delicate texture than farmed salmon and as a result, it takes a bit more care to not overcook it.
Meanwhile, a lot of the commercially available salmon you find in supermarkets isn't caught in the wild, but raised in fish farms. While there isn't anything inherently bad about farmed salmon, it does have a history of not-so-environmentally-friendly practices. Doing your research can reveal whether the salmon you're buying is sourced from sustainable farming. The Marine Stewardship Council is a good source for more information.
Pacific vs. Atlantic Salmon
There are two main types of salmon that hail from two major oceans: the Pacific and the Atlantic. Pacific salmon has several species, including King, Sockeye, Coho, and Pink salmon. If you're looking for wild-caught salmon, these are the names to look for in supermarkets.
Meanwhile, Atlantic salmon is only one species, Salmo salar. All Atlantic salmon found in stores is farmed-raised, and it's pretty much available year-round. Because it's farmed on a high-protein diet, Atlantic salmon is generally fattier than Pacific salmon. Its fattiness lends itself well to grilling, and its lower price point makes it a good option for everyday cooking.
How to Choose Salmon at the Store
Whether you're buying farmed or wild, Pacific or Atlantic, there are a few things to look for to help you choose the best salmon filets:
Color – Look for salmon that's bright orange-red in color, with a decent amount of marbling.
Texture – The flesh of the filet should be plump and spring back when you press it gently with your finger.
Smell – A light fishy smell is fine, but if the salmon smells especially strong or "off", give it a pass.
Ways to Cook Salmon
Salmon is super versatile, which is probably what makes it such a popular protein choice. Below are some of the most common ways to cook salmon. Don't forget to check out the round-up further in the post for links to delicious recipes!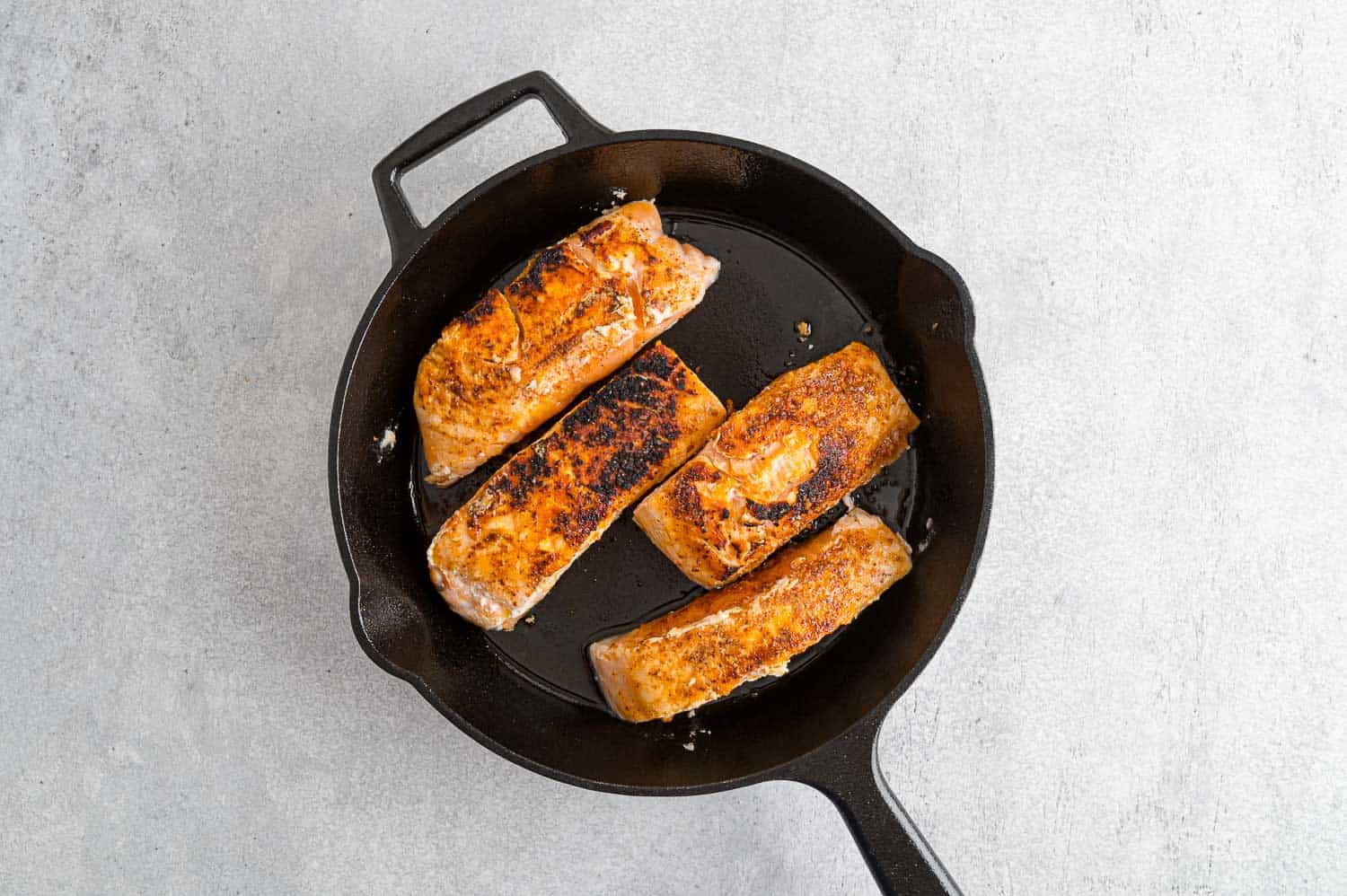 Pan-Fried
Pan frying, or pan searing, is an easy method for cooking salmon filets on the stovetop. The skin gets all sorts of crispy and the salmon sears up golden, plus, it's quick! Simply season the filets with salt and pepper and place them skin-side-down in a hot skillet, flipping halfway through.
Air Fryer
If you have an air fryer, it's an easy and healthy way to cook salmon quickly (usually in 15 minutes or less!). Air frying doesn't require a lot of oil, and the salmon cooks up deliciously flaky on the inside and crispy on the outside. Most salmon recipes can easily be translated to the air fryer.
Oven
Baking and roasting are classic, no-fuss methods for cooking salmon. The oven is a great option if you're making salmon for a crowd, too, since you can bake multiple filets at once. It's also great for sheet pan dinners! Most salmon cooks to perfection at 425 to 450ºF in about 12 to 15 minutes, with no flipping necessary.
Broiling
One more method for cooking salmon in the oven is broiling. This involves cooking the salmon at a high temperature in the top half of the oven. It produces deliciously caramelized salmon, but it does call for some close attention as the salmon can burn quickly under the broiler.
Grilling
If firing up the grill is one of your favorite ways to cook in the summer, grilled salmon is right up your alley. Open flames give salmon filets mouthwatering char, while the inside grills up smoky and juicy. Plus, there are no pans to clean after!
How to Store Salmon
Wondering how long salmon lasts in the fridge? While salmon is best when it's cooked fresh, you can keep it refrigerated for 1 to 2 days, with no problem. Make sure that you wrap it tightly or store it in an airtight container, and keep it in the back of the fridge where it's coldest.
Alternatively, you can freeze salmon for up to 6 months. You'll want to defrost it overnight in the fridge before you cook it. Never thaw salmon at room temperature as this can breed bacteria. Whenever we see salmon filets on sale, we always stock up and freeze them for future dinners!
15 Easy Salmon Recipes to Try
Below is a collection of salmon dinner ideas and easy recipes that you can make tonight. Whether you're baking, grilling, searing, or broiling, I'd love to hear your favorites!
Salmon FAQs
More Healthy Seafood Recipes
Looking for more easy fish dinner inspiration? Check out the recipe index for dozens of delicious recipes featuring your favorite seafood, from shrimp to cod.