Creamy coconut shrimp is a shrimp lover's dream. The coconut sauce, delicately flavored with ginger, garlic, and peppers, perfectly complements the briny shrimp.
Recipe Overview
Why you'll love it: A favorite on Chinese buffets, creamy coconut shrimp is easy to prepare at home and so much better.
How long it takes: 40 minutes
Equipment you'll need: large skillet
Servings: 6 (generous)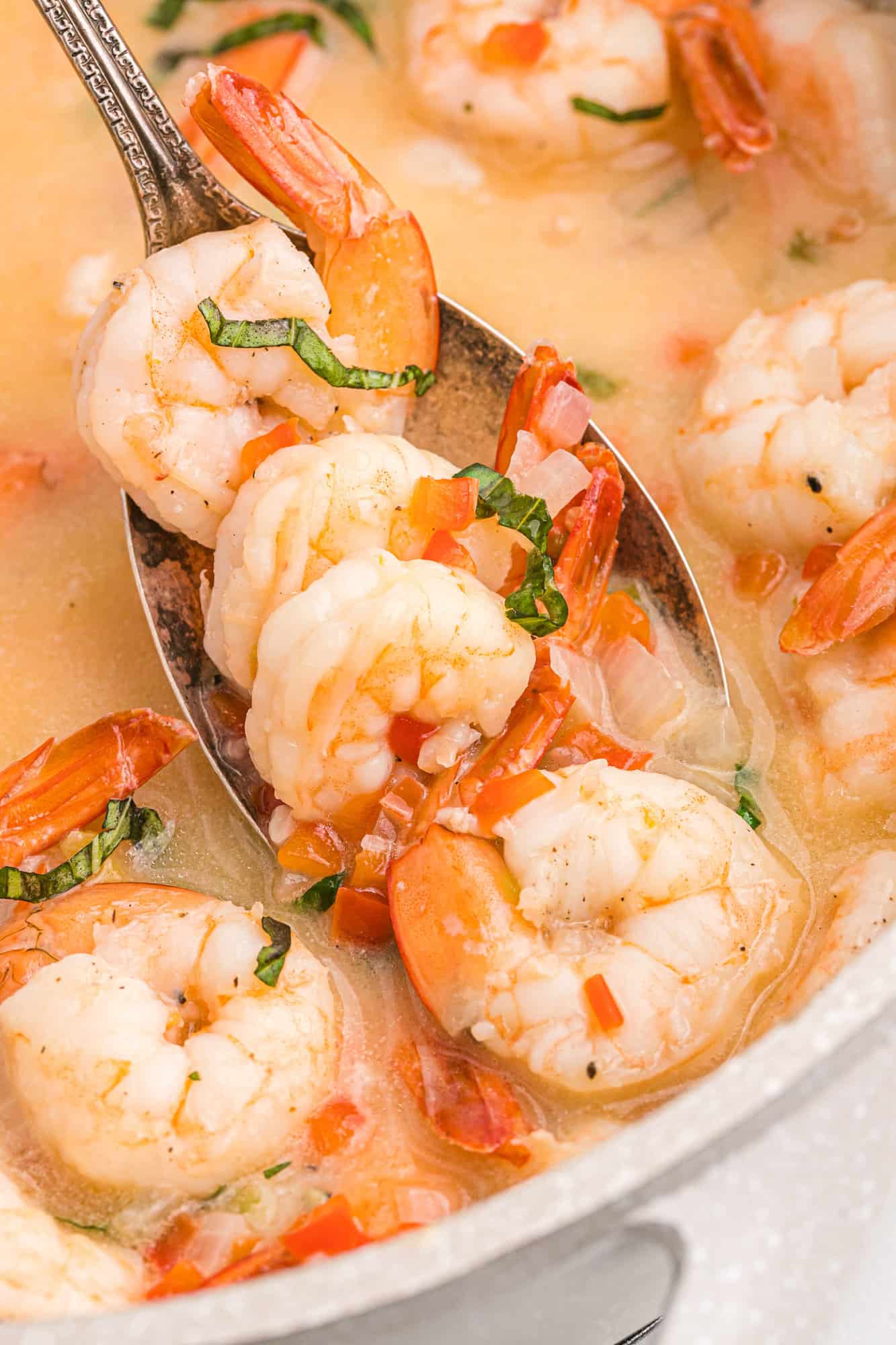 Although creamy coconut shrimp is often found on Chinese-style buffets, it's not really traditional Chinese cuisine but more of a fusion dish. It reminds me of Thai recipes that have creamy curry sauces made with coconut milk.
There are significant differences though. This recipe is not a curry although you could easily add curry powder or curry paste to it. In addition, in contrast to the bite-sized vegetables you'd find in a Thai curry, in this dish, diced vegetables are incorporated right into the sauce. They have a very unobtrusive presence.
I don't know why I'm going on about Thai food. I'm really excited about this recipe because creamy coconut shrimp is super good! Wouldn't you agree that coconut and shrimp go really well together? For certain, everyone loves these crispy air fryer coconut shrimp.
All that shrimp and creaminess may sound rather decadent but actually one generous serving is only 277 calories. The shrimp is lightly sautéed (not breaded and deep fried!) in your choice of coconut oil or olive oil. The sauce derives its creaminess from flavorful coconut milk rather than butter and cream.
About This Recipe
Creamy coconut shrimp is surprisingly easy to make even though it sounds kinda fancy. A little bit of chopping, a little bit of sautéing, and a little bit of stirring, and you're pretty much there. No fancy techniques to learn or exotic ingredients to buy, it's just plain cooking.
You'll need a large skillet to cook in, a sharp knife and a cutting board, and a colander to rinse the shrimp in if it's frozen. That's pretty much it. Sounds easy, right?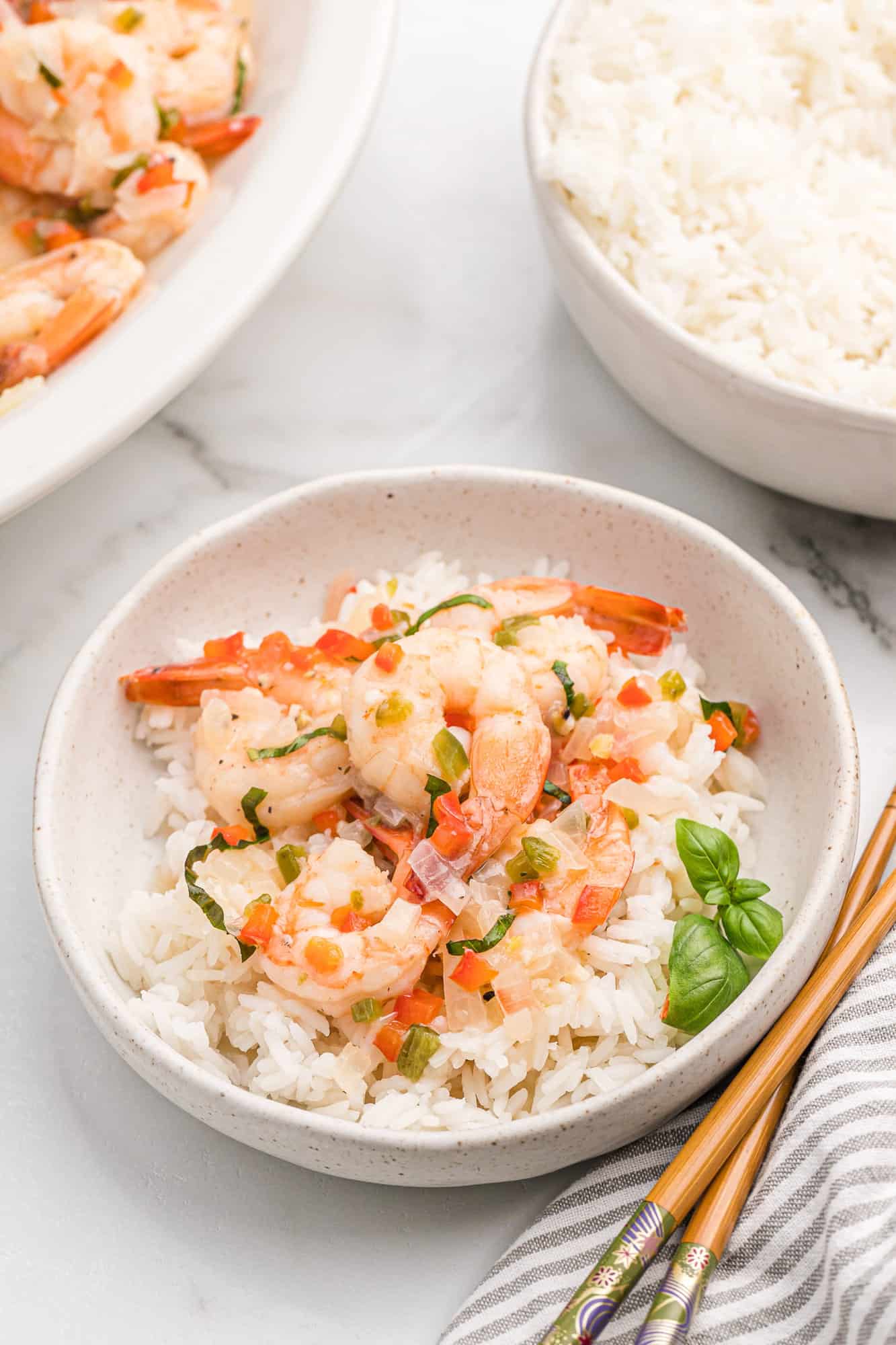 Let's run through the recipe here to get you started and answer some common questions. Look for the recipe card near the end of the post for measurements, instructions, and nutrition information.
What You'll Need
Shrimp: Either fresh or frozen shrimp is fine. Look for large shrimp, 20/30 count per pound. You'll need 2 pounds. The shrimp should be peeled, deveined, with the tails off (we left the tails on for photos, though).
Coconut Milk: Buy canned coconut milk, not the refrigerated type that you drink.
Onion: Choose a sweet white onion or a red onion for best flavor.
Red Bell Pepper: A red bell pepper adds visual appeal as well as flavor and nutrition. If red bell peppers are unavailable, orange or yellow can be substituted.
Jalapeño Pepper: These small green peppers are mildly spicy and add just a little heat to the dish.
Ginger Root: Fresh ginger root is mildly spicy as well. Peel it with a vegetable peeler, sharp paring knife, or the edge of a spoon before mincing or grating it.
Garlic: You'll need three cloves of fresh garlic. Increase or decrease the amount to suit your taste.
Brown Sugar: Just a teaspoon of sugar balances out the flavors. If you prefer, use coconut sugar instead.
Fresh Lime Juice: A touch of acidity and fresh citrus balances the rich coconut milk.
Cornstarch: Used to thicken the sauce, cornstarch is a white flavorless powder usually found in the baking aisle.
Steamed Rice: Serve your coconut shrimp with steamed rice. Try using your pressure cooker to make rice. Instant Pot white rice turns out well every time.
Basil, For Garnish: If you want, garnish the shrimp with strips of fresh basil or Thai basil.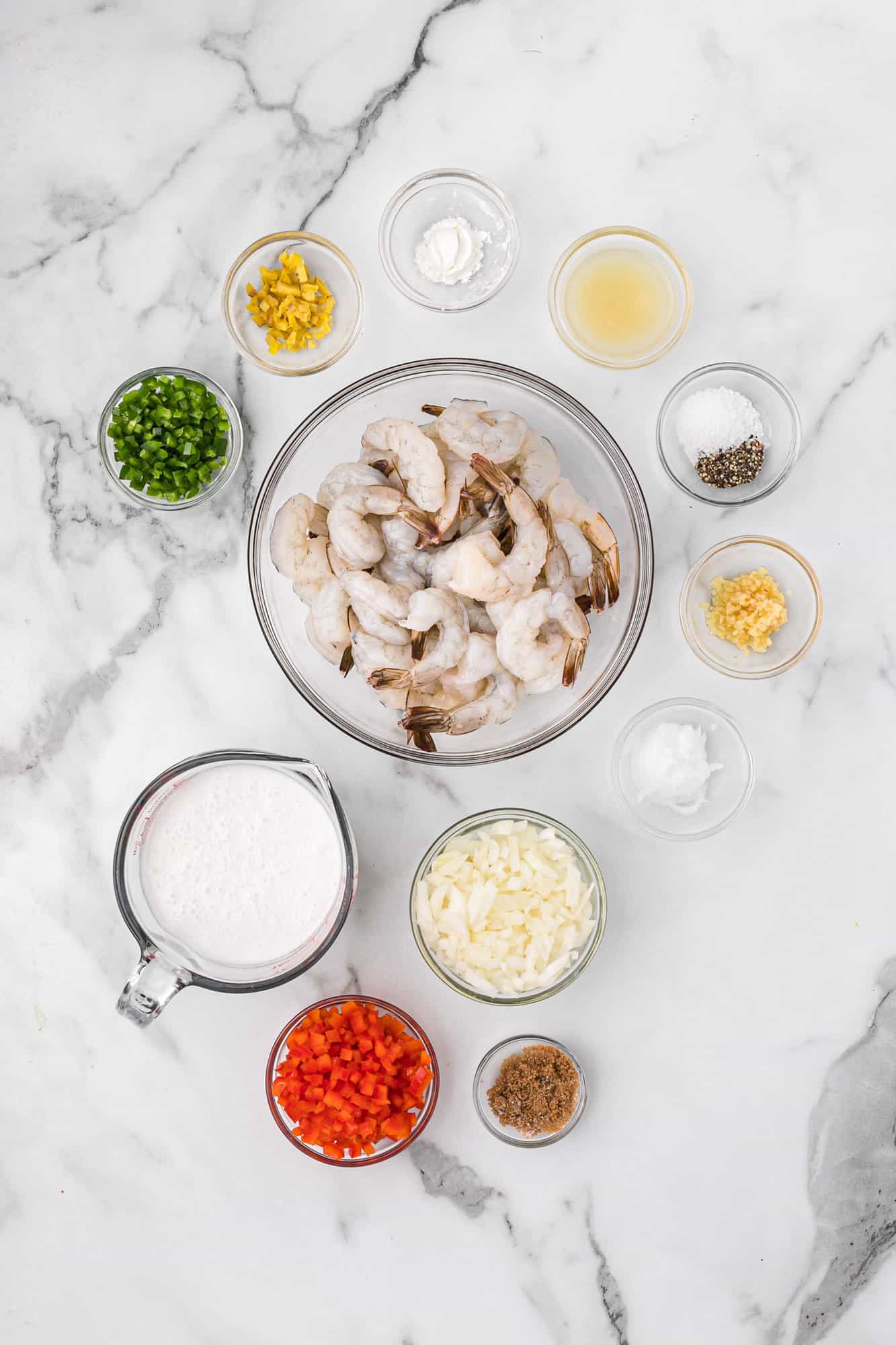 How To Make It
If you're going to serve the shrimp with rice, get that started right away. It takes about twenty-five minutes to cook rice. It's okay if the rice happens to get done first; it can just steam until you're ready to serve it.
Okay, let's get going on our creamy coconut shrimp. If your shrimp is frozen, thaw that first. Put the shrimp into a large colander and run cold water over it until it's thawed. It will take five minutes or so.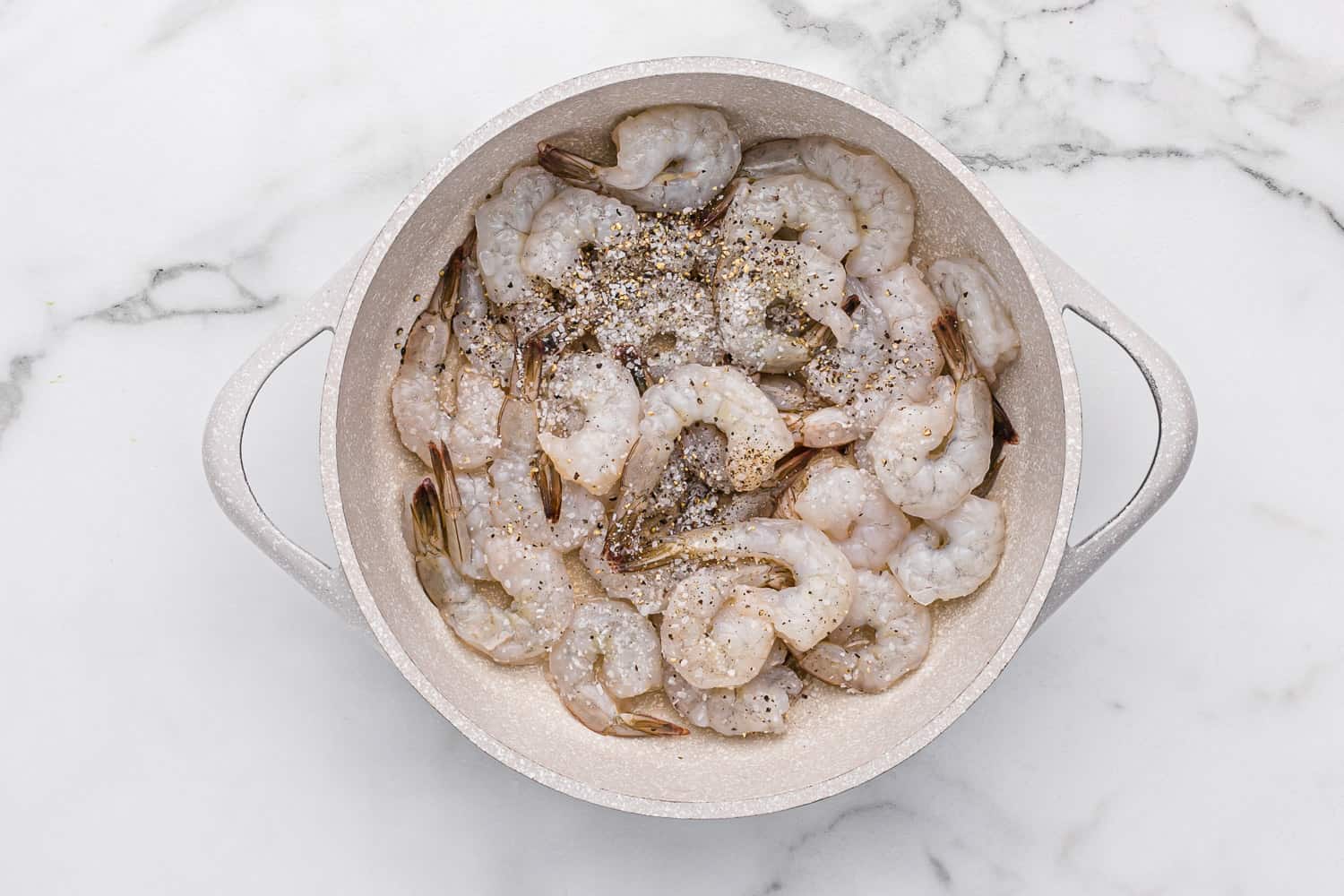 Tip: If you plan ahead, take the shrimp out of the freezer the night before and refrigerate it. It will probably still be lightly frozen by dinner time but will thaw much more quickly.
While the shrimp is thawing, prep the vegetables. Peel and chop the onion; chop the red bell pepper. Remove the seeds and ribs from the jalapeño pepper; that's where most of the spicy heat resides. Chop it finely. Do be careful not to get any of the juice in your eyes. It can burn like crazy.
Peel and mince the garlic cloves; same for the ginger root. Shake the can of coconut milk vigorously before you open it. Cut the lime in half so it's ready to juice. Get the brown sugar and cornstarch out of the pantry.
Okay, now that you have everything prepped, you're ready to start cooking! Once we get going, things will move fast.
Put a small amount of oil in a large skillet. When it's hot, add the shrimp to the pan. Season it with a bit of salt and pepper. Cook the shrimp, stirring frequently, until it's pink, opaque, and curled up. Don't overcook the shrimp because it tends to get chewy. Transfer the cooked shrimp to a plate or bowl; cover to keep warm.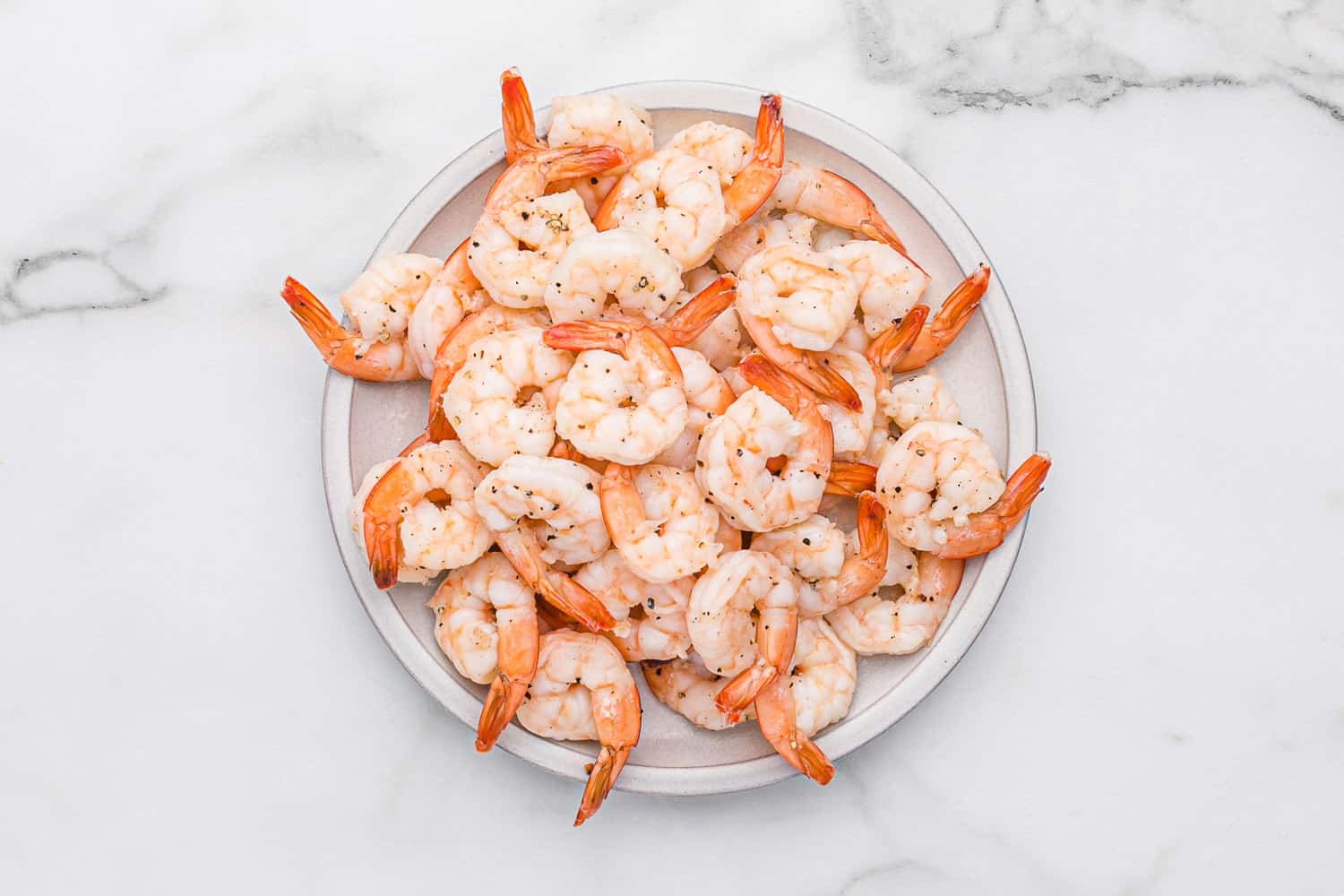 If you want, add another splash of oil to the pan. Throw in the peppers and onions and sauté them a few minutes. Since they are diced small, they cook pretty quickly. Add the garlic and ginger to the pan. Cook and stir for one minute.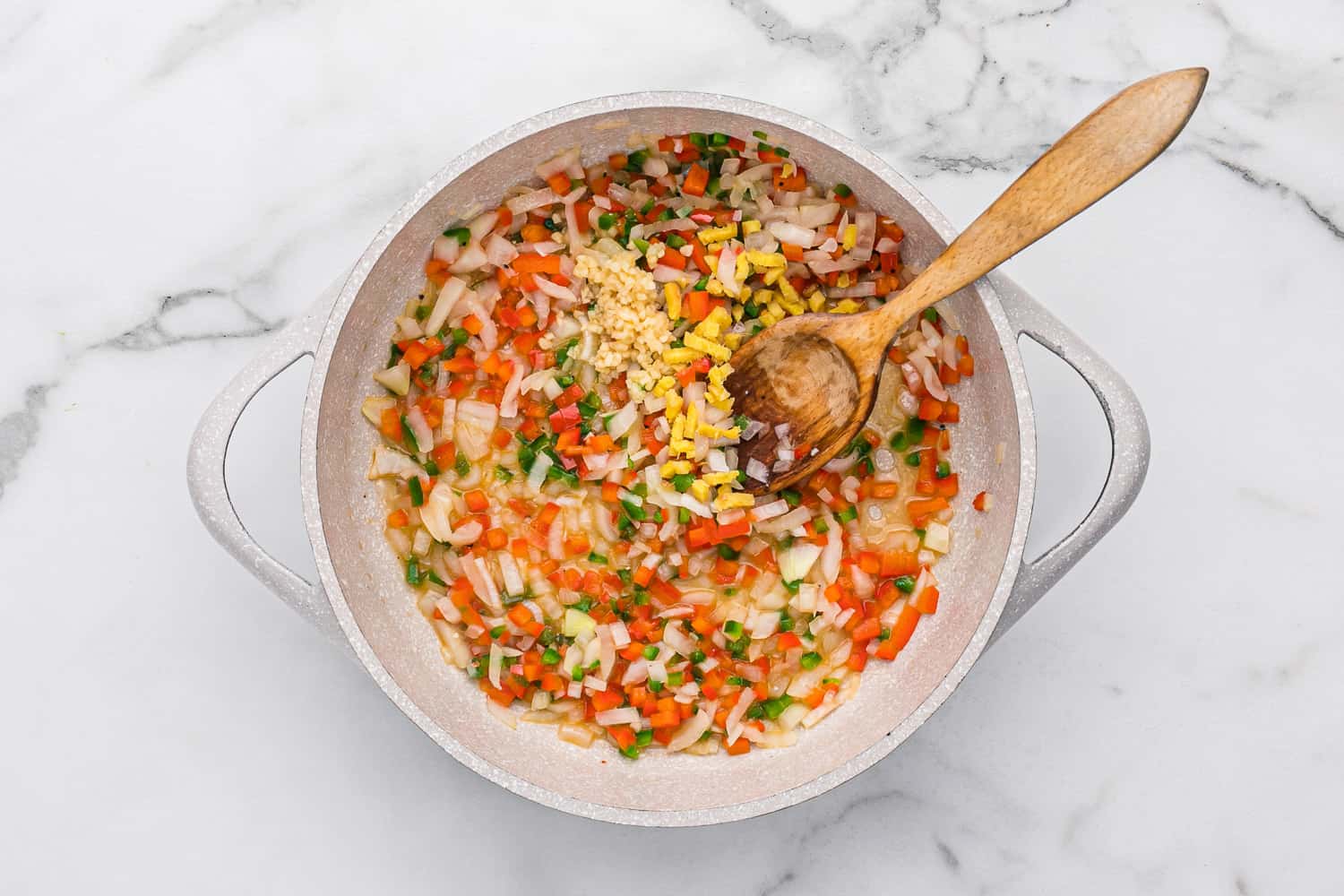 Pour in the coconut milk and add the sugar. Stir well and bring the sauce to a simmer. While that's happening, squeeze a couple tablespoons of lime juice from the lime halves into a small bowl. Stir the cornstarch into the lime juice until it's smooth.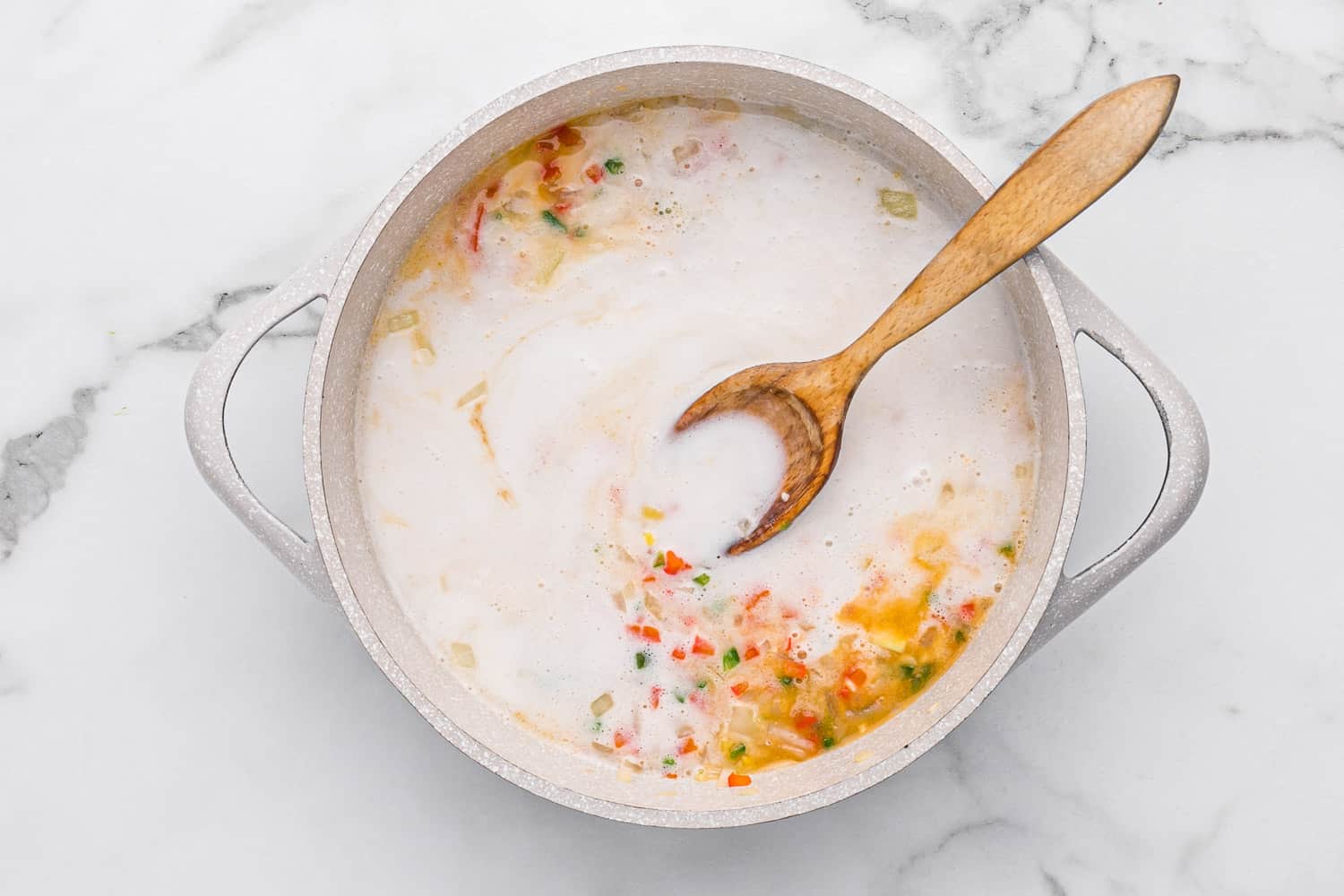 Stir the lime juice/cornstarch mixture into the sauce. It will help thicken the sauce slightly.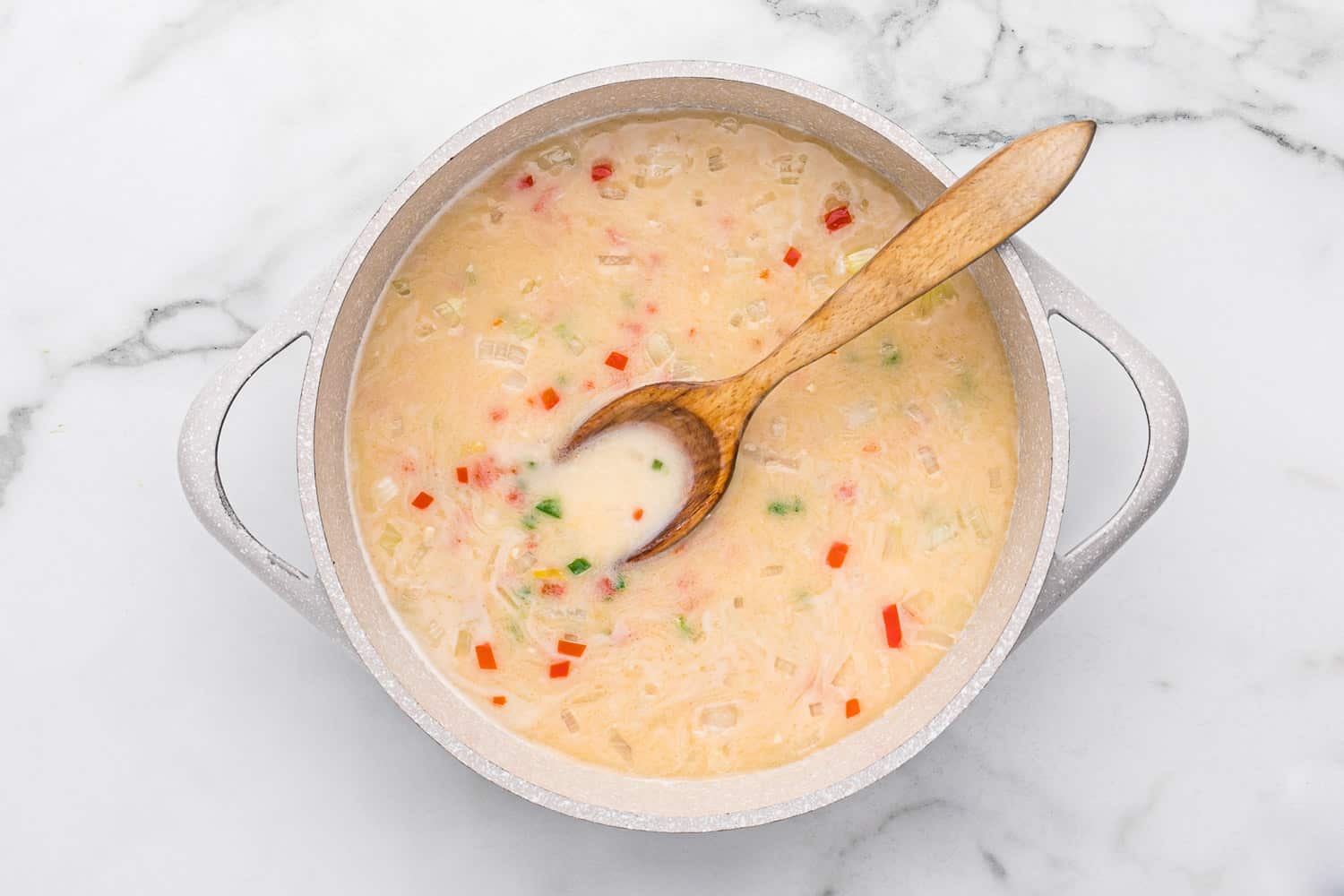 Simmer for a couple of minutes, then put the shrimp back into the pan. Briefly warm up the shrimp (it will still be pretty hot). Turn off the heat; your creamy shrimp is ready to serve.
Serve the creamy shrimp with fluffy steamed rice. Oh, it's so good! I can't wait for you to try it.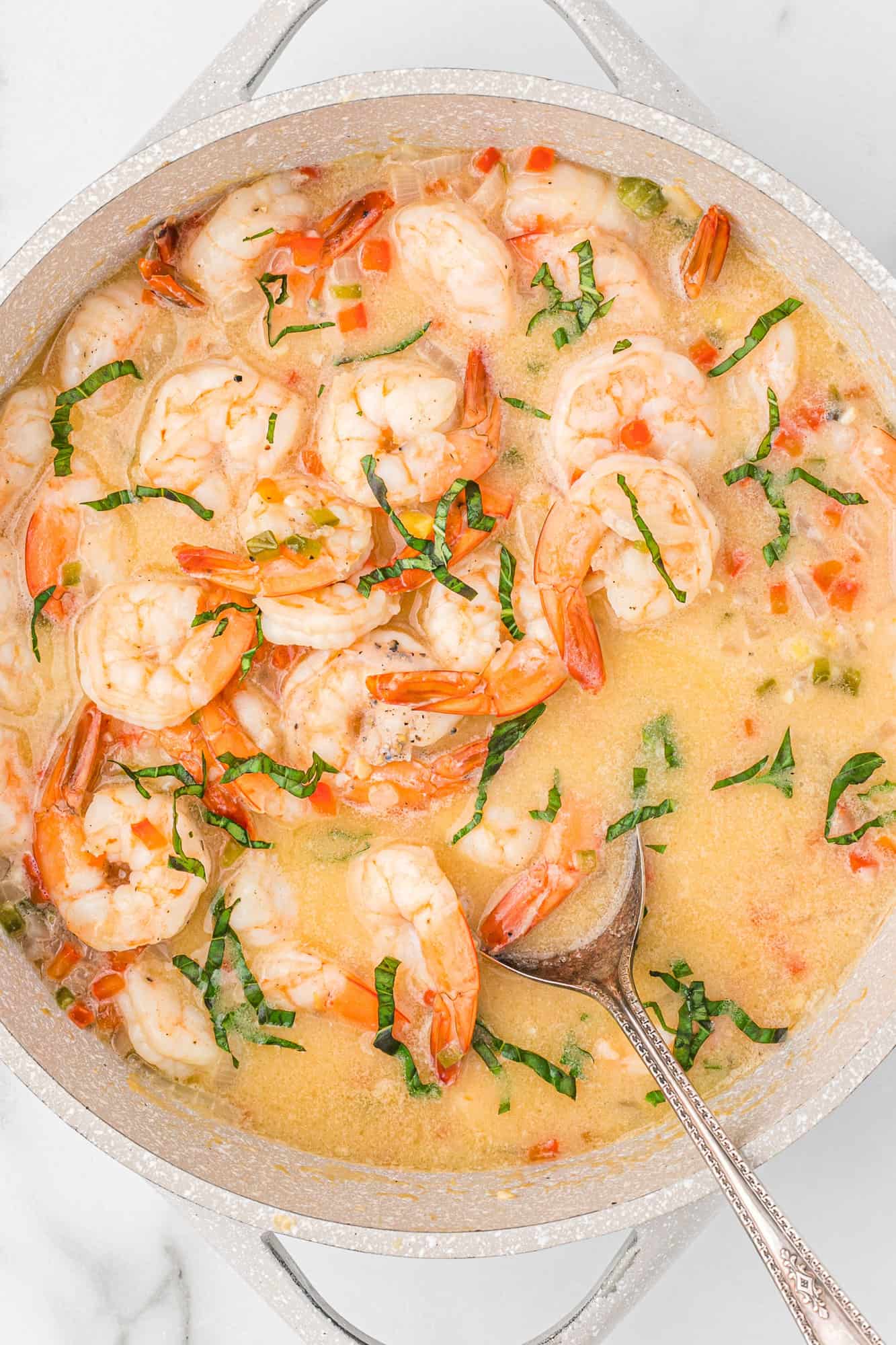 FAQs
Make It Your Own
Make this recipe keto by omitting the brown sugar and cornstarch.
Instead of dicing the vegetables, cut them into one inch chunks. This will make more of a stir fry dish with a creamy sauce. You can add more vegetables if you like.
If you're a fan of curry, change things up by adding curry powder or curry paste to the sauce, to taste.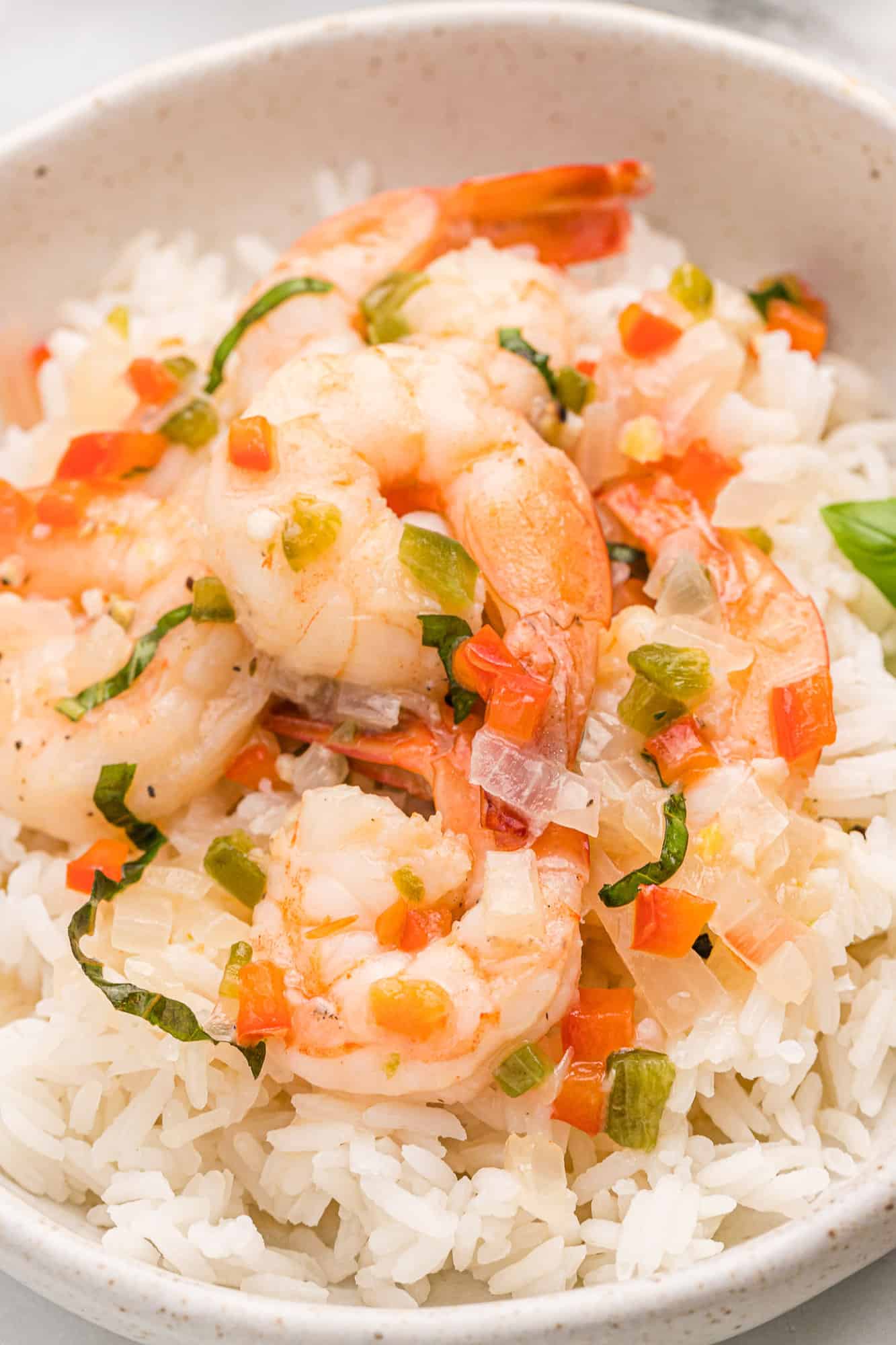 Make-Ahead Ideas
If you're thinking ahead, thaw the shrimp in the refrigerator overnight. You can also cut the onions and peppers a day head and refrigerate them.
Storage & Reheating Tips
If you have leftovers, refrigerate them promptly in a covered container for up to three days.
Reheat individual portions in the microwave in thirty-second increments, stirring each time, until warmed through. Don't overheat it. Larger portions can be warmed up in a skillet.
Leftover Love
Make shrimp tostadas. Lightly fry or bake corn tortillas. Warm up the creamy coconut shrimp and put a dollop on the crisp tortilla. Add toppings: finely chopped red bell pepper, chopped peanuts, cilantro or basil, a drizzle of sweet chili sauce, shredded lettuce, avocado, whatever sounds good. If you prefer, wrap it all up in a warm flour tortilla to make a burrito instead.
Interested in a weekly meal plan (it's free!) that includes this shrimp recipe? Take a look at my Meal Plan #26. You'll find a wholesome recipe for each weekday plus a categorized grocery list. Let me do the planning for you this week!
We'll be adding a new meal plan weekly. If you're interested, browse all of our meal plans.
Did you make this? Be sure to leave a review below and tag me @rachelcooksblog on Facebook, Instagram, or Pinterest!
Creamy coconut shrimp is a shrimp lover's dream. The coconut sauce, delicately flavored with ginger, garlic, and peppers, perfectly complements the briny shrimp.
Ingredients
1

tablespoon

coconut oil, more if needed

(or olive oil)

2

pounds

medium or large shrimp (20/30 count), peeled and deveined

½

teaspoon

kosher salt

¼

teaspoon

coarse ground black pepper

½

cup

diced onion

(about

1

small onion)

1

red bell pepper, diced

(

1

cup)

1

jalapeño pepper, finely diced, more for garnish if desired

1

tablespoon

minced fresh ginger root

3

cloves

garlic, minced

1

can

(14 oz.) coconut milk

(shake well before opening)

1

teaspoon

brown sugar or coconut sugar

2

tablespoons

fresh lime juice

1

teaspoon

cornstarch

Cooked rice and fresh basil for serving
Instructions
If shrimp is frozen, thaw under cold running water and pat dry with paper towels.

Heat oil in a large skillet over medium high heat. Add shrimp, season with salt and pepper, and cook until opaque and curled up, about 4 minutes, stirring or flipping shrimp occasionally. Remove shrimp from pan and place on a plate.

Return pan to medium heat and add more oil if desired/necessary. Add onion, bell pepper, and jalapeño and cook until onions are softened, about 4 to 5 minutes. Add ginger and garlic and cook until fragrant, about 1 minute.

Add coconut milk and brown sugar and bring to a simmer.

Meanwhile, combine lime juice and cornstarch in a small bowl. When coconut milk is simmering, add lime juice and cornstarch, stirring. Cook for 2 minutes or until thickened.

Return shrimp and any accumulated juices to pan to warm through, and turn off heat.

Serve immediately with rice and garnish with fresh basil and jalapeños, if desired.
Notes
Nutrition information does not include rice.
For a stir fry style dish: Instead of dicing vegetables, cut them into 1 inch chunks. If desired, additional veggies can be added.
Variations: Add a tablespoon of red or green curry paste with the ginger and garlic. Thai basil can be substituted for basil.
Farm-raised shrimp can be rather high in sodium. Wild-caught shrimp contain about half as much sodium. If you are watching your sodium intake, omit the salt in this recipe and use wild-caught shrimp.
Nutrition Information
Calories:
277
kcal
,
Carbohydrates:
8
g
,
Protein:
22
g
,
Fat:
18
g
,
Saturated Fat:
15
g
,
Polyunsaturated Fat:
0.4
g
,
Monounsaturated Fat:
1
g
,
Trans Fat:
0.01
g
,
Cholesterol:
191
mg
,
Sodium:
1060
mg
,
Potassium:
402
mg
,
Fiber:
1
g
,
Sugar:
2
g
,
Vitamin A:
922
IU
,
Vitamin C:
32
mg
,
Calcium:
103
mg
,
Iron:
3
mg
This website provides approximate nutrition information for convenience and as a courtesy only. Nutrition data is gathered primarily from the USDA Food Composition Database, whenever available, or otherwise other online calculators.