Sweet and chewy coconut macaroons are easy to make and such a treat! Dress them up with a coating of rich semi-sweet chocolate.
Recipe Overview
Why you'll love it: This is a very simple cookie with a short ingredient list. If you love Mounds candy bars, you'll love macaroons.
How long it takes: 45 minutes
Equipment you'll need: mixing bowl, baking pans, parchment paper
Servings: makes 2 dozen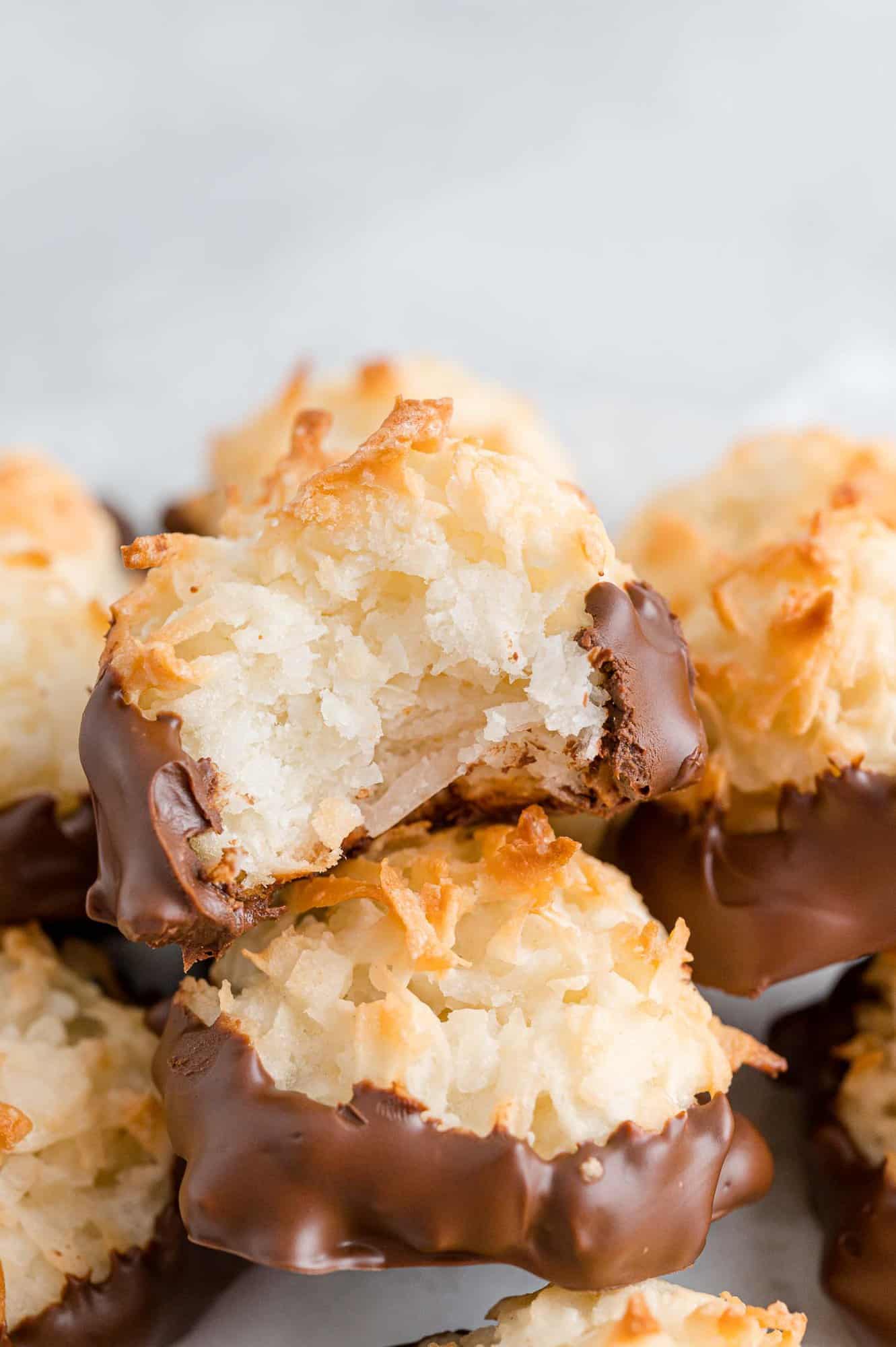 Attention, coconut lovers! These cookies are for you: dainty mounds of sweet coconut, lightly toasted on the edges, with a decadent chocolate coating. Classic macaroons are unique, easy to prepare, and universally popular.
Coconut macaroons are a fairly healthy choice when it comes to cookies. Each good-sized macaroon, with a chocolate coating, is only 139 calories.
In addition to being delicious, macaroons are somewhat substantial and satisfying. Unlike many cookies, you can actually stop at one. Take that, Oreo cookies! (Is it even possible to eat just one Oreo? I don't think so! Not for me, anyways.)
Is Coconut Good For You?
According to Healthline, both coconut meat and coconut oil have many health benefits. Coconuts grow on coconut palms and are actually a fruit. They are high in saturated fat but it's the type of fat that your body can process more effectively. Coconuts contain powerful antioxidants, minerals, and fiber. Eaten in moderation, both coconut meat and oil can be a healthy part of your diet.
If you're a fan of coconut, be sure to try coconut rice. It's addictively delicious. My crispy coconut oatmeal cookies are pretty amazing, too. And air fryer coconut shrimp is always a favorite!
About This Recipe
We tested this recipe a few times to make sure it turns out perfectly for you. Our first attempts were less than spectacular so we tweaked the recipe until it was just right. Sometimes baking can be a challenge and my goal is to remove as many obstacles for you as possible.
Several macaroon recipes call for a can of sweetened condensed milk, which is condensed (evaporated) milk mixed with a lot of sugar, 185 grams of sugar per 12 ounce can. Since the coconut is sweetened already, all that sugar seems like an overkill, so our recipe substitutes just ⅓ cup of granulated sugar, which is 67 grams.
This recipe is also dairy-free as long as you use dairy-free chocolate chips (there are many brands available).
The macaroons turn out perfectly. The ingredients are simple: coconut, flour, sugar, vanilla, egg. Coconut macaroons are sturdy and freeze well. Everyone seems to love them (except for that person who is an adamant coconut hater, in which case, a chocolate chip cookie may be a better choice).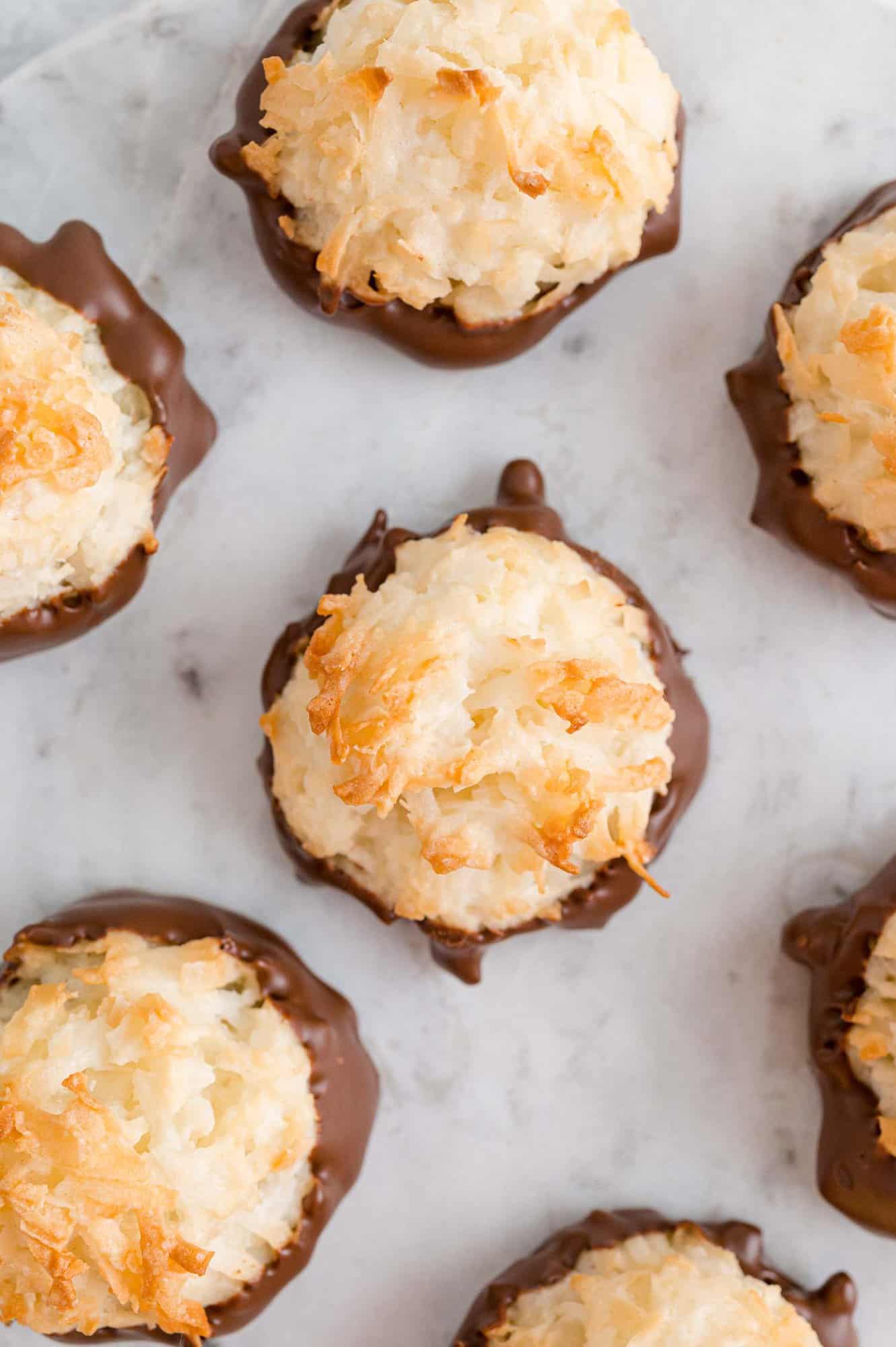 I'll run through the recipe here and give you a few helpful tips. Look for the recipe card near the end of the post. Be sure to leave a comment if you make these macaroons. I'd love to hear back from you!
What You'll Need
Sweetened Flaked Coconut: Purchase a 14 ounce bag of coconut. Coconut is the main ingredient of these cookies so be sure the coconut is fresh and soft.
Egg Whites: Eggs serve as the glue that sticks the coconut together. Using only the egg whites ensures that the cookies will have a nice white color. The eggs should be at room temperature.
Flour: You'll only need one-third cup of all-purpose flour. If you are sensitive to gluten but can handle a little bit, these cookies are a good choice.
Sugar: There's not a lot of added sugar, just one-third cup, because the coconut is sweetened already.
Pure Vanilla Extract: Vanilla bean paste can be substituted 1:1 if you like the tiny brown flecks of vanilla beans. Normally we recommend avoiding imitation vanilla. It's less expensive but doesn't have the same flavor as pure vanilla. However, for this recipe, if you want a super white appearance, you might opt for clear vanilla extract which is an imitation vanilla. If you want to see the difference, our process shots show pure vanilla extract and the final, baked shots show the recipe made with clear vanilla extract.
Salt: Just a pinch of salt keeps the cookies from tasting bland.
Semi-Sweet Chocolate Chips: The chocolate dip is optional but it really looks and tastes great. The chocolate/coconut combo is irresistible. Try drizzling the chocolate decoratively on the tops of the macaroons as an alternative to dipping them.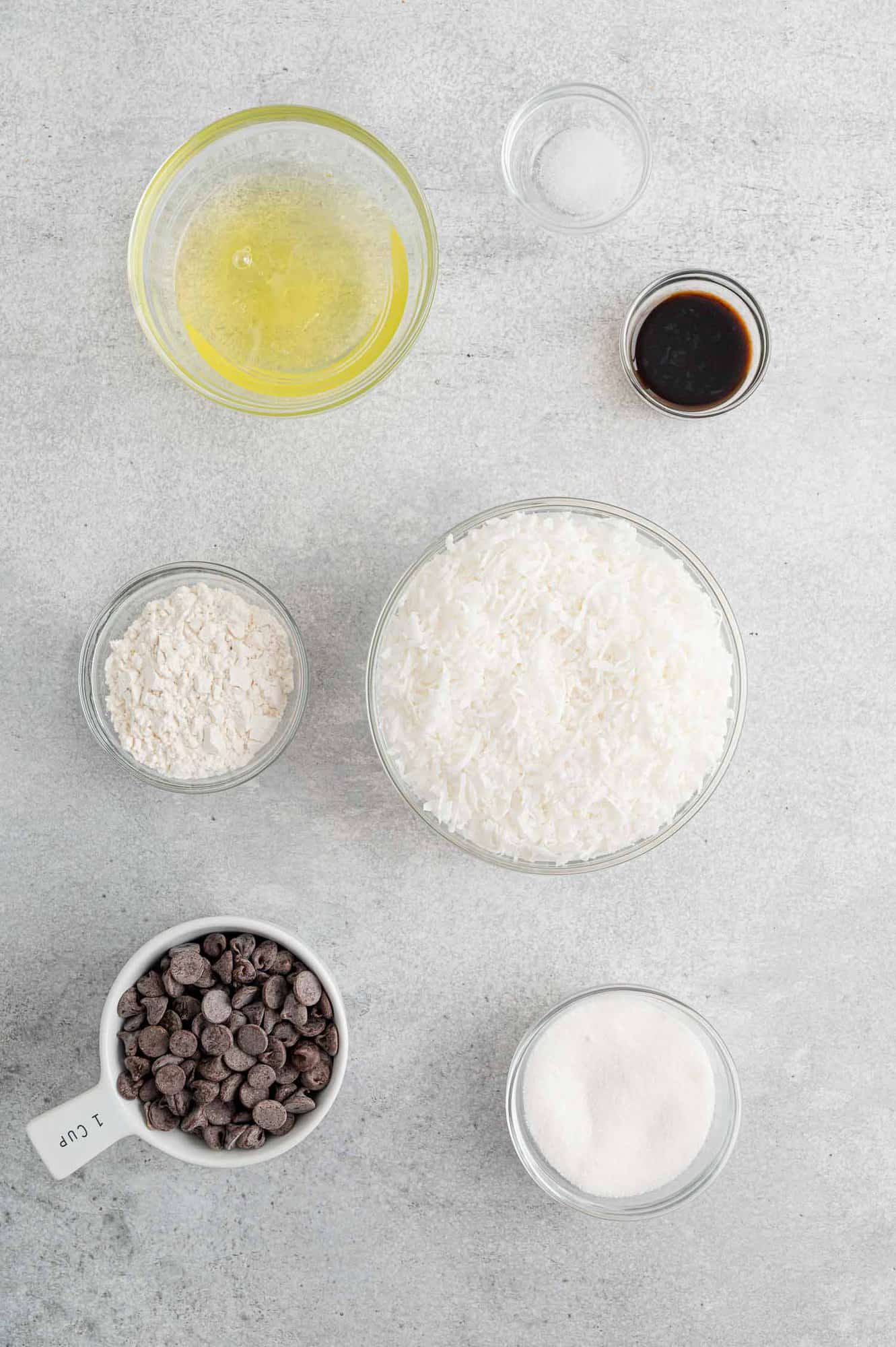 Is parchment paper the same as waxed paper?
This is a common question and the answer is no. Waxed paper is coated with paraffin and is not heat-safe. The wax will melt and it may catch on fire in your oven or microwave.
How to make Macaroons
Are you ready to macaroon? Let's do the macaroon macarena dance! Have I gone over the edge? Probably! And I haven't even had any sugar yet. But why not do a little dancing while we bake?
Turn the oven on to preheat and line a couple of baking sheets with parchment paper. Easy cleanup is our goal.
In a large mixing bowl, toss together the dry ingredients. That means the coconut, flour, sugar, and salt.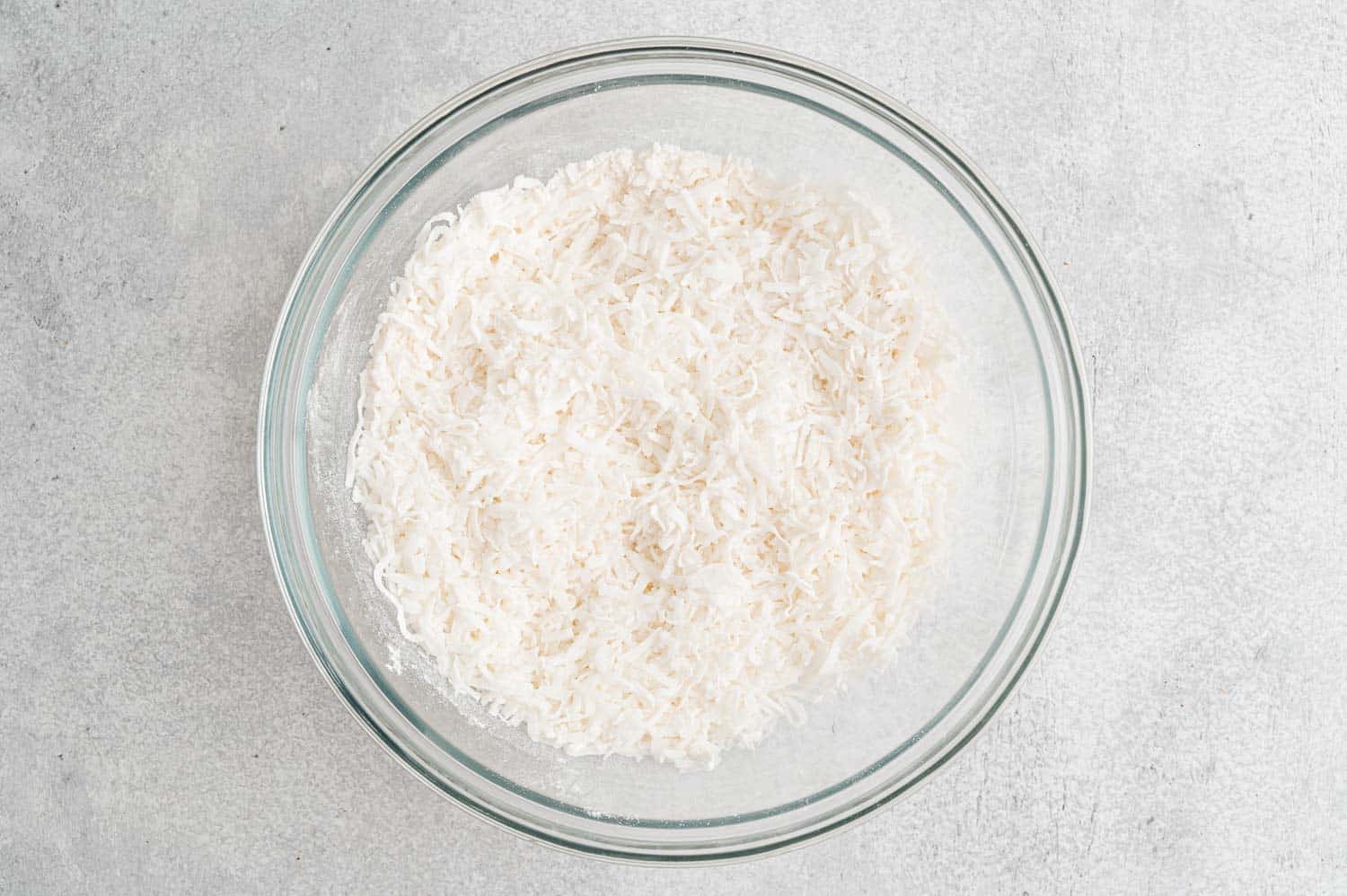 Add the egg whites and vanilla to the bowl and mix everything together. The mixture won't look like conventional cookie dough. You may need to use your hands to really work it all together. The egg whites should coat the coconut mixture and it will be quite sticky.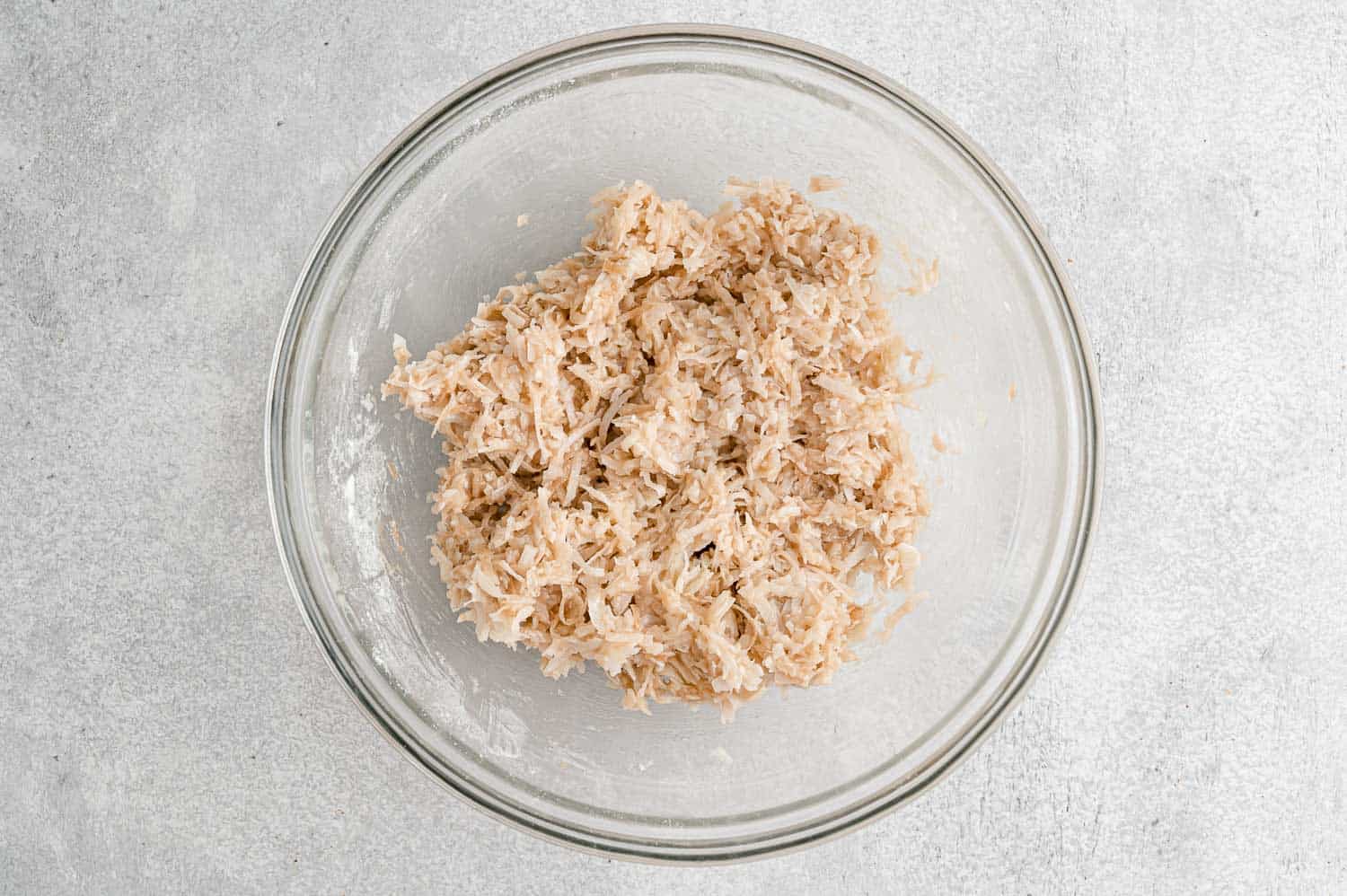 Form the coconut mixture into uniformly sized balls. I use a cookie dough scoop which holds about 2 tablespoons. Press the dough firmly together to get a nice round shape.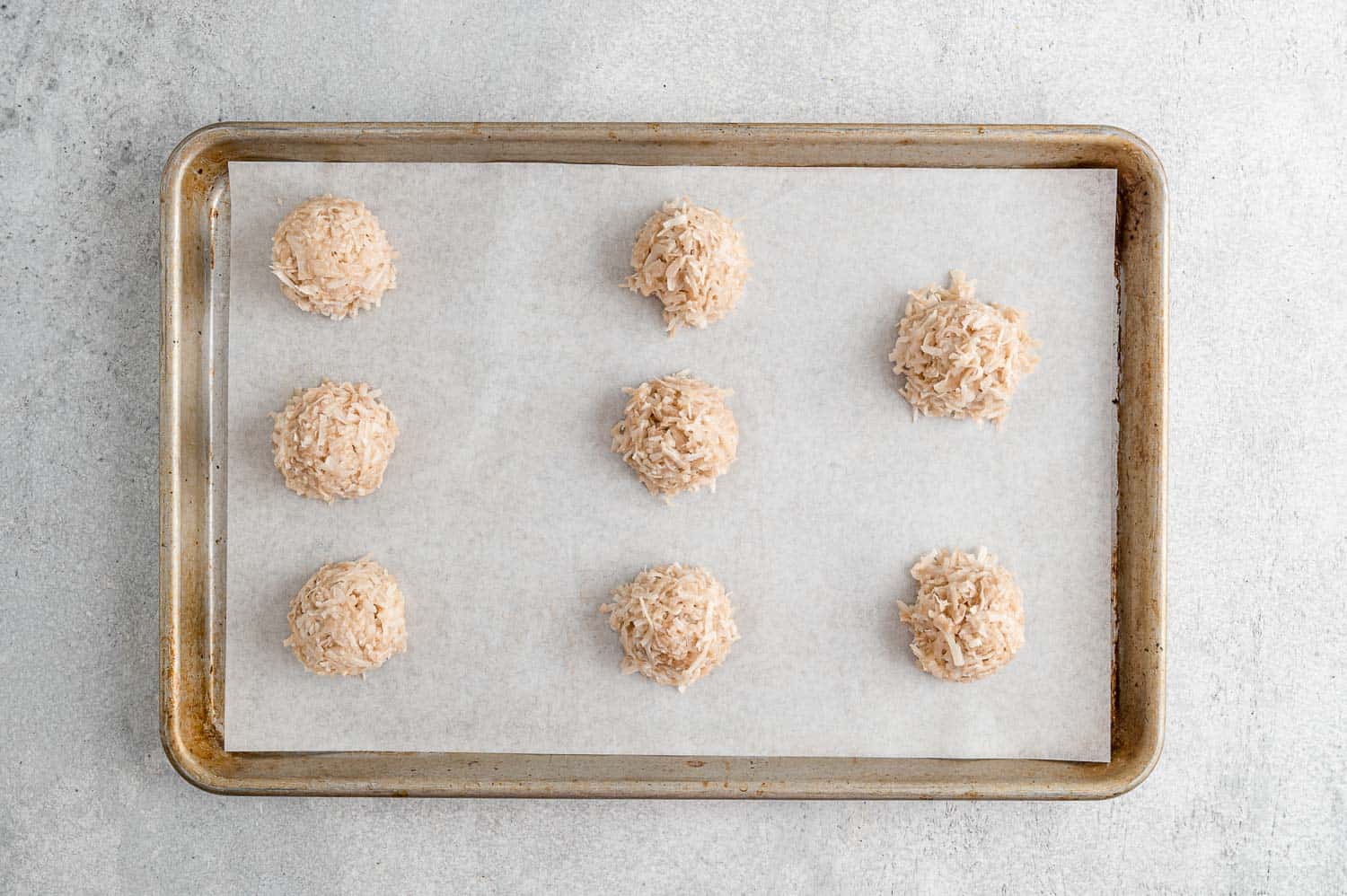 Note about vanilla: The photo above depicts pure vanilla extract. Again for a more white appearance, use imitation clear vanilla extract. See below photo for what those will look like. All photos following this show macaroons made with clear vanilla extract.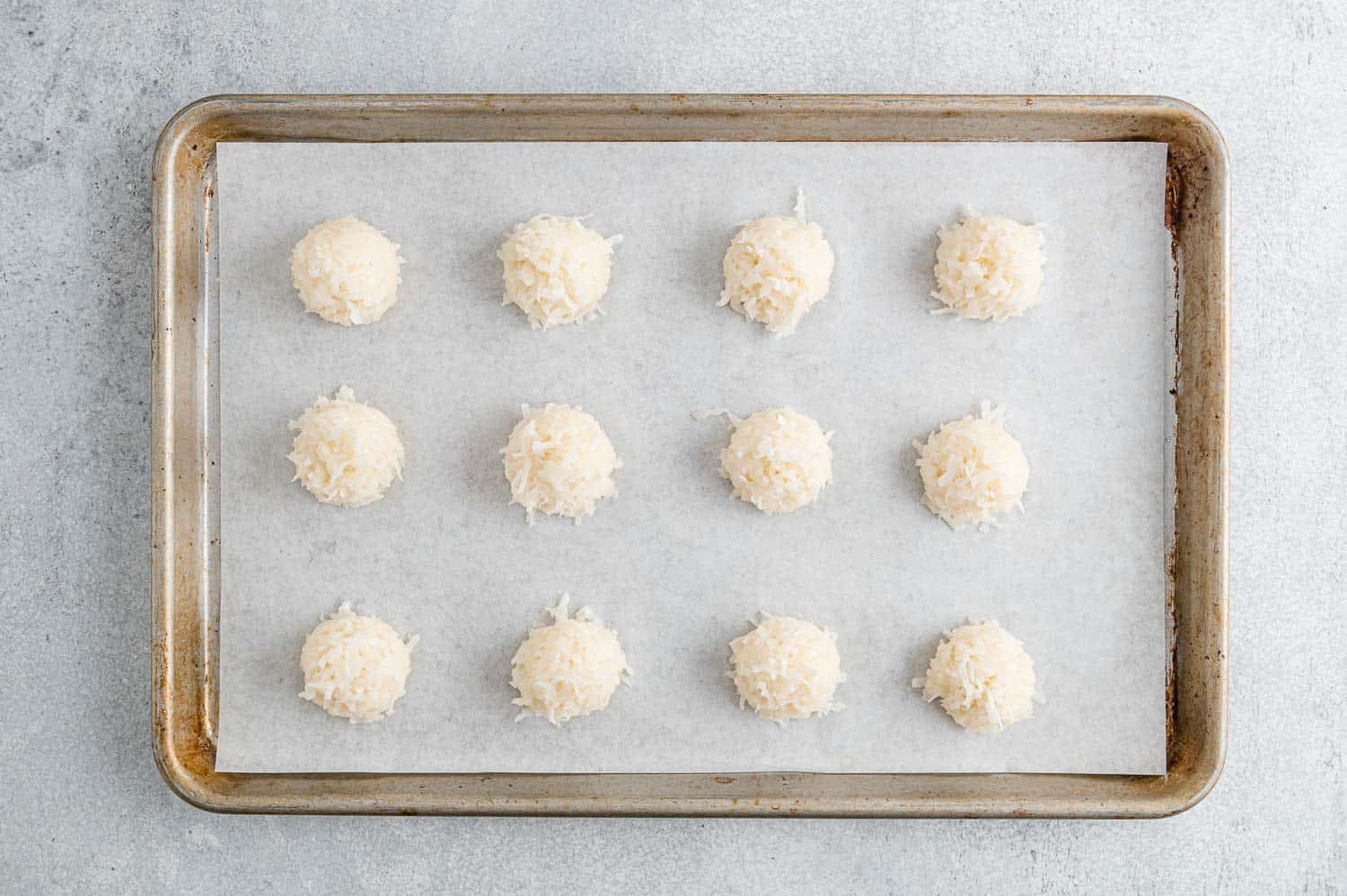 Place the coconut balls on the baking sheets. They don't really spread so you can arrange them pretty close together.
Pop the cookies into the oven and set the timer for fifteen minutes. When the timer goes off, rotate the sheets. That means turn them front to back and switch places in the oven, from bottom to top. Bake the macaroons for an additional 10 minutes, or until they are lightly golden brown.
Let the macaroons cool on the baking sheets until they are completely cool.
When they are cool, melt the chocolate and carefully dip the bottom of each coconut macaroon into melted chocolate. Let the excess chocolate drip off and place the cookie back on the baking sheet.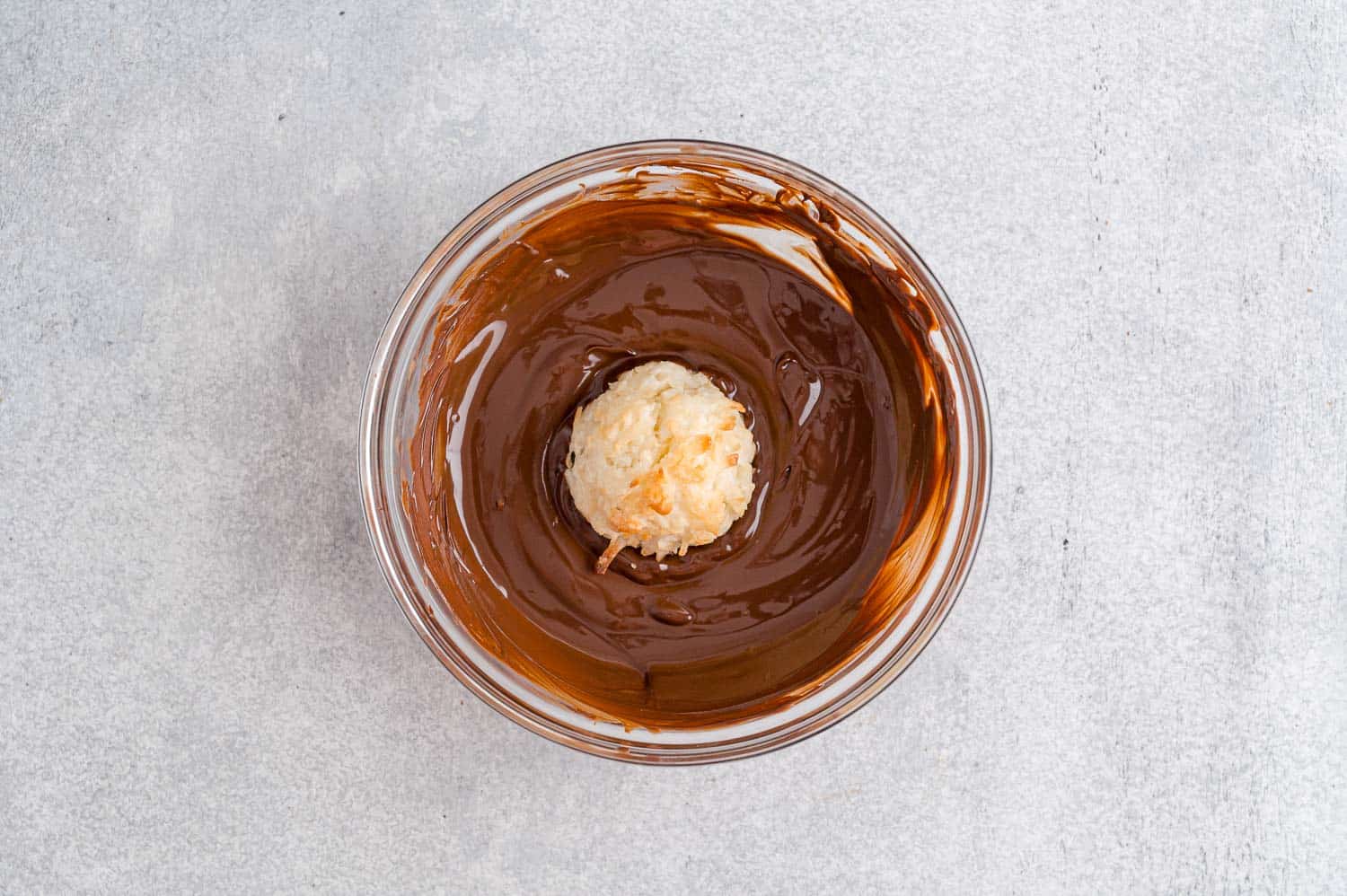 It will take a little time for the chocolate to harden. If you're in a bit of a hurry, you can refrigerate the macaroons. When the chocolate is firm to the touch, transfer the cookies to an airtight container. Or eat them right away. Whichever you choose.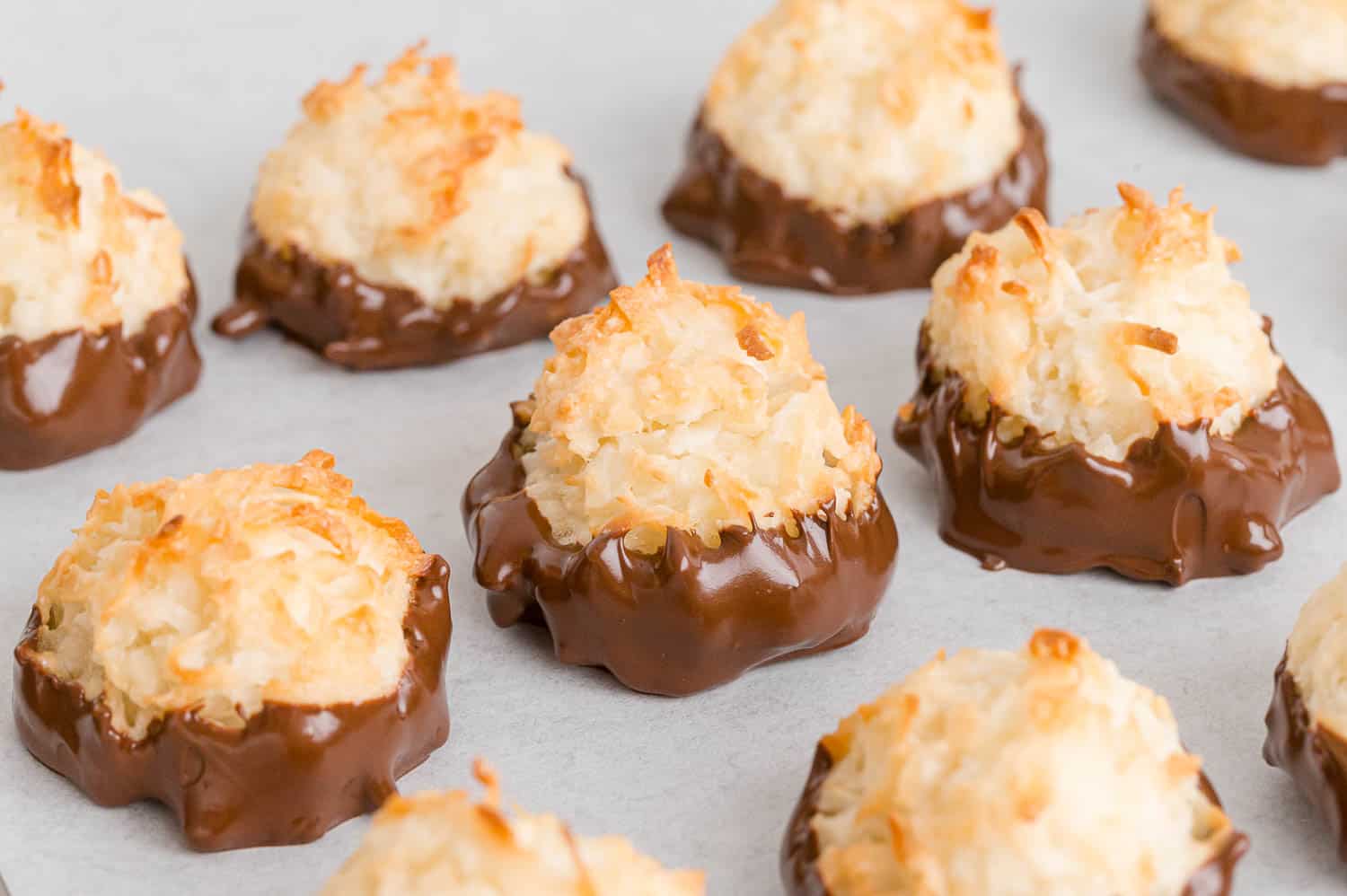 FAQs
What is the difference between a macaroon and a macaron?
Although the names are very similar, these pastries are quite different.
A macaroon (pronunciation: mack a ROON) is a mounded cookie made primarily with shredded coconut, and sometimes dipped in chocolate.
A macaron (pronunciation: mack a ROHN) is a sandwich cookie made with almond flour and egg whites, filled with various types of frostings or ganache. You'll find macarons in many shades of pastel colors and flavors.
What is the difference between flaked coconut and shredded coconut?
Both flaked and shredded coconut are processed coconut meat but their appearance is quite different due to the way they are cut.
Flaked coconut is shaved into larger flat pieces that look similar to corn flakes. Shredded coconut looks more like shredded cheese; the pieces are thin and more stringy.
Both types are dried before packaging and will keep for four to six months at room temperature. Flaked coconut and shredded coconut usually are not interchangeable in recipes.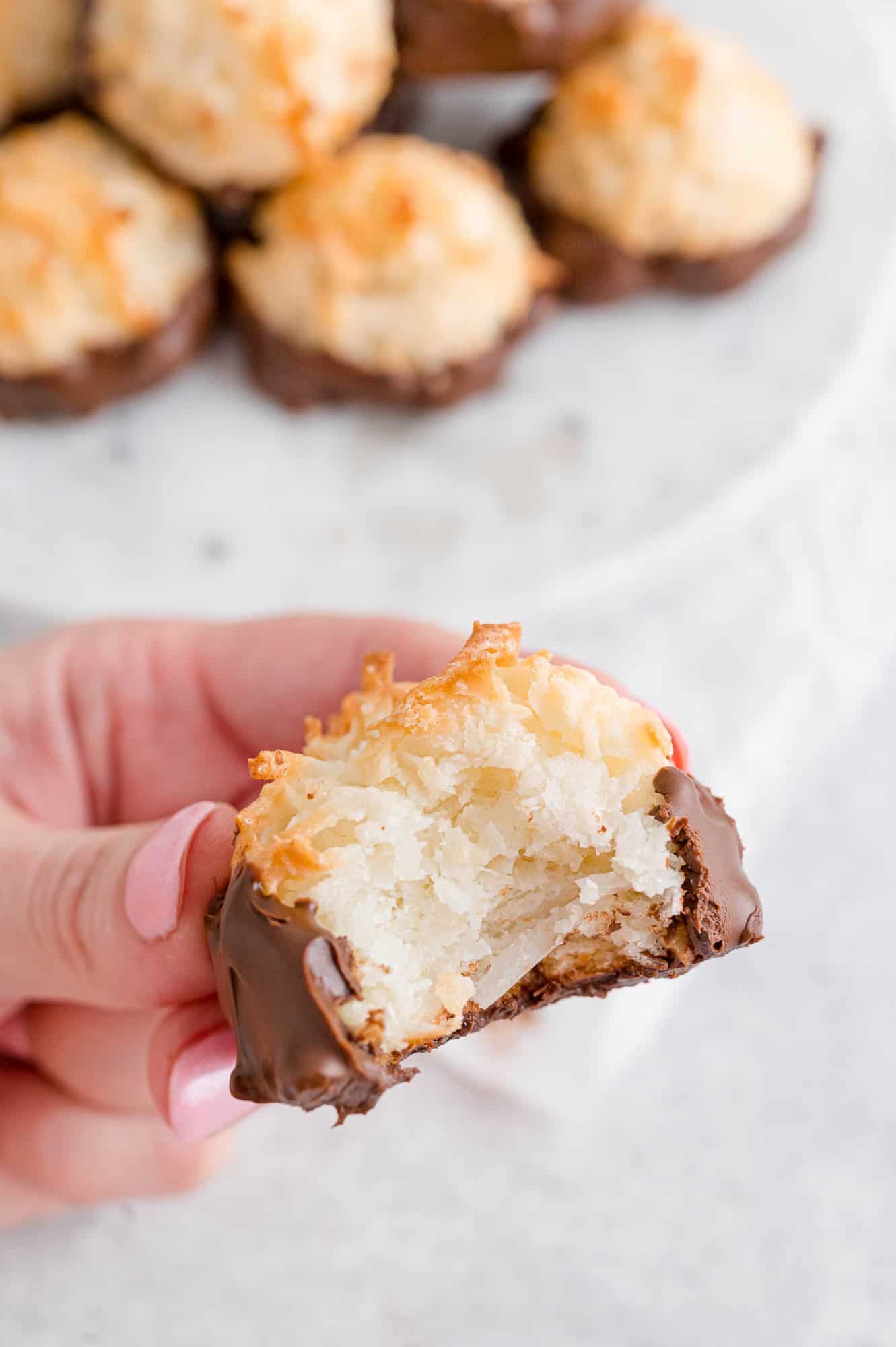 Storage Tips
Cool the cookies completely before storing them. Any residual heat will condense into moisture inside sealed containers and the cookies will spoil.
Coconut macaroons can be stored at room temperature in a tightly covered container for a few days. For longer storage, refrigerate them for up to a week.
Macaroons freeze well, too, for up to three months. Store them in a freezer-safe container with parchment or waxed paper between layers.
Did you make this? Be sure to leave a review below and tag me @rachelcooksblog on Facebook, Instagram, or Pinterest!
Sweet and chewy coconut macaroons are easy to make and such a treat! Dress them up with a coating of rich semi-sweet chocolate.
Ingredients
1

bag

(14 oz.) sweetened flaked coconut

⅓

cup

granulated sugar

⅓

cup

all-purpose flour

¼

teaspoon

salt

3

large egg whites, at room temperature

2

teaspoons

pure vanilla extract

1

cup

semi-sweet chocolate chips, optional
Instructions
Preheat oven to 325ºF. Line two baking sheets with parchment paper.

In a medium bowl, combine coconut, sugar, flour, and salt, breaking up any clumps of coconut.

Stir in egg whites and vanilla. Stir well to combine. If necessary, use your hands to really get it combined well.

Form 2 heaping teaspoons of batter into a ball shape. A cookie scoop works well for this. The macaroons should be about the size of a golf ball. Press the mixture lightly into the scoop to get a nice round shape. Place balls evenly spaced on prepared baking sheets.

Bake for 15 minutes, rotate baking sheets, and bake for another 10 minutes or until golden brown. Cool completely on baking sheets.

If desired, melt chocolate over a double boiler or in 30 second increments in the microwave, stirring well between each increment and being careful not to overheat.

If you want, dip the bottom of each macaroon in chocolate, let excess drip off, and return to parchment paper lined baking sheet to harden before storing. You can refrigerate them to speed up this process, if desired.
Notes
Instead of dipping the macaroons in chocolate, drizzle the chocolate on top of the macaroons. Another option is to dip a side of the macaroon in the chocolate instead of the bottom.
Nutrition Information
Serving:
1
cookie
,
Calories:
139
kcal
,
Carbohydrates:
17
g
,
Protein:
2
g
,
Fat:
8
g
,
Saturated Fat:
6
g
,
Polyunsaturated Fat:
0.1
g
,
Monounsaturated Fat:
1
g
,
Trans Fat:
0.01
g
,
Cholesterol:
0.5
mg
,
Sodium:
79
mg
,
Potassium:
111
mg
,
Fiber:
2
g
,
Sugar:
12
g
,
Vitamin A:
4
IU
,
Calcium:
7
mg
,
Iron:
1
mg
This website provides approximate nutrition information for convenience and as a courtesy only. Nutrition data is gathered primarily from the USDA Food Composition Database, whenever available, or otherwise other online calculators.