Lofthouse Cookies – flavor & frosting options!
These soft sugar cookies are like the Lofthouse cookies you find in your grocery store but better since they're homemade! They are easy to customize so make them just the way you like.
Recipe Overview
Why you'll love them: Copycat recipes like these are so much better than the store-bought versions and they aren't difficult to make.
How long it takes: 15 minutes to make the dough, an hour (or overnight) to chill it, and 14 minutes to bake each batch
Equipment you'll need: large mixing bowl, electric mixer, baking sheet, oven
Servings: 18 large cookies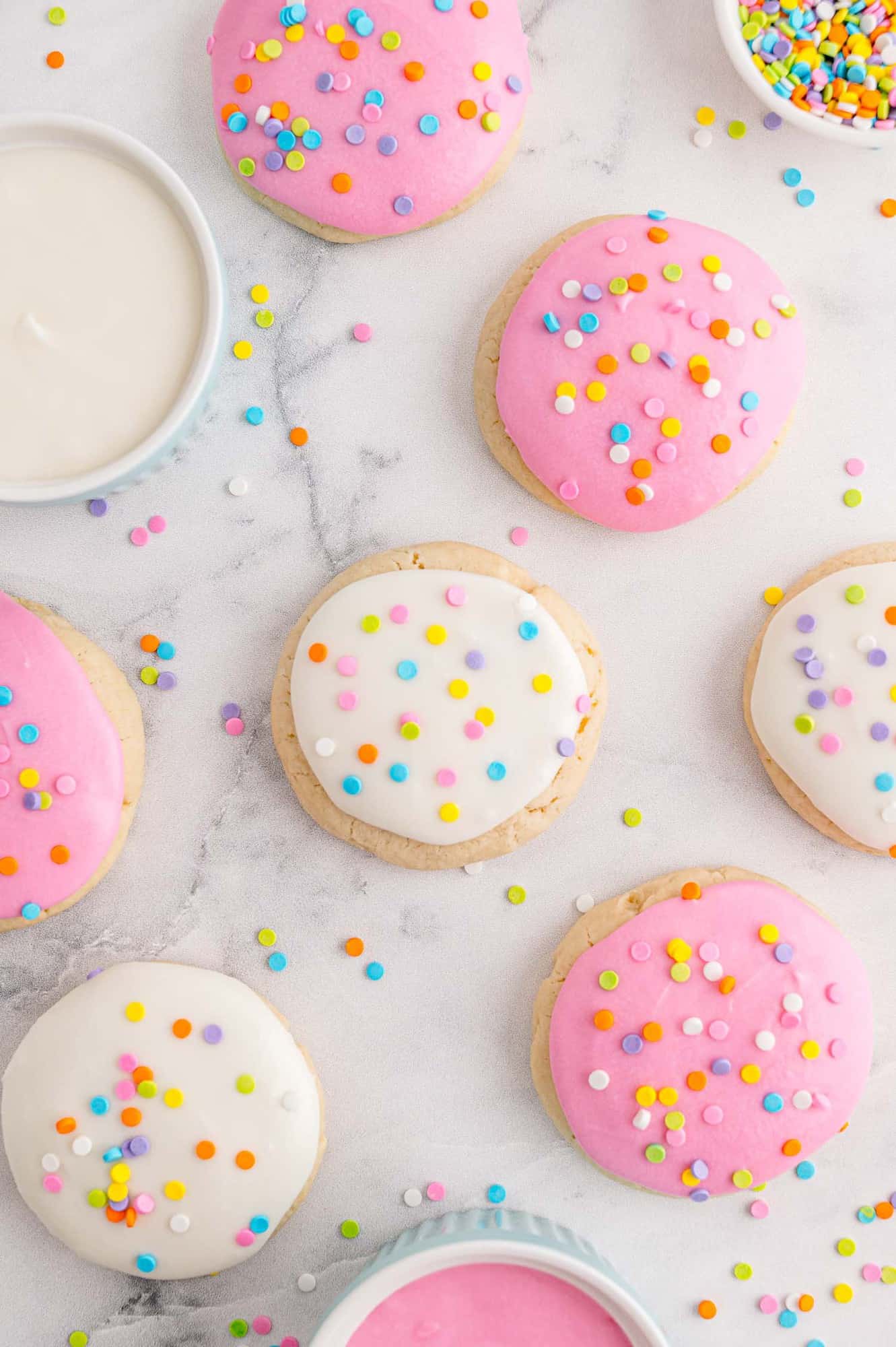 Lofthouse sugar cookies, the soft white cookies with colorful frosting and sprinkles, are a perennial favorite. They are usually found in the bakery department of most grocery stories. I'm always tempted to put a package of them into my shopping cart.
Then I think, I can make those same cookies at home. Bet you knew I was going to say that!
Homemade cookies are always fresher, cheaper, and tastier. They don't have preservatives, partially hydrogenated fats, or artificial ingredients, just wholesome ingredients right from your own kitchen. Compare store-bought cookies to iced oatmeal cookies, gingersnaps, or chewy chocolate chip cookies. No comparison!
This recipe is easy to make. These Lofthouse copycat cookies are really quite simple to make at home. And what can beat a soft, sugary cookie with creamy icing and fun sprinkles? They look beautiful on a cookie tray and they'll disappear quickly. Let's be real: cookies with frosting are always eaten before the other cookies. It's just a fact of life.
Decorate the cookies to fit the occasion. These soft frosted sugar cookies are really fun to customize too. They are a blank page. For Christmas, add a fun holiday twist by flavoring the cookies with peppermint extract and decorating them with Christmas colored sprinkles. Sprinkles come in every color of the rainbow so your cookies can match whatever occasion you want, green for St. Patrick's Day, red and pink for Valentine's Day, orange and black for Halloween, and I'm sure you're getting the idea here.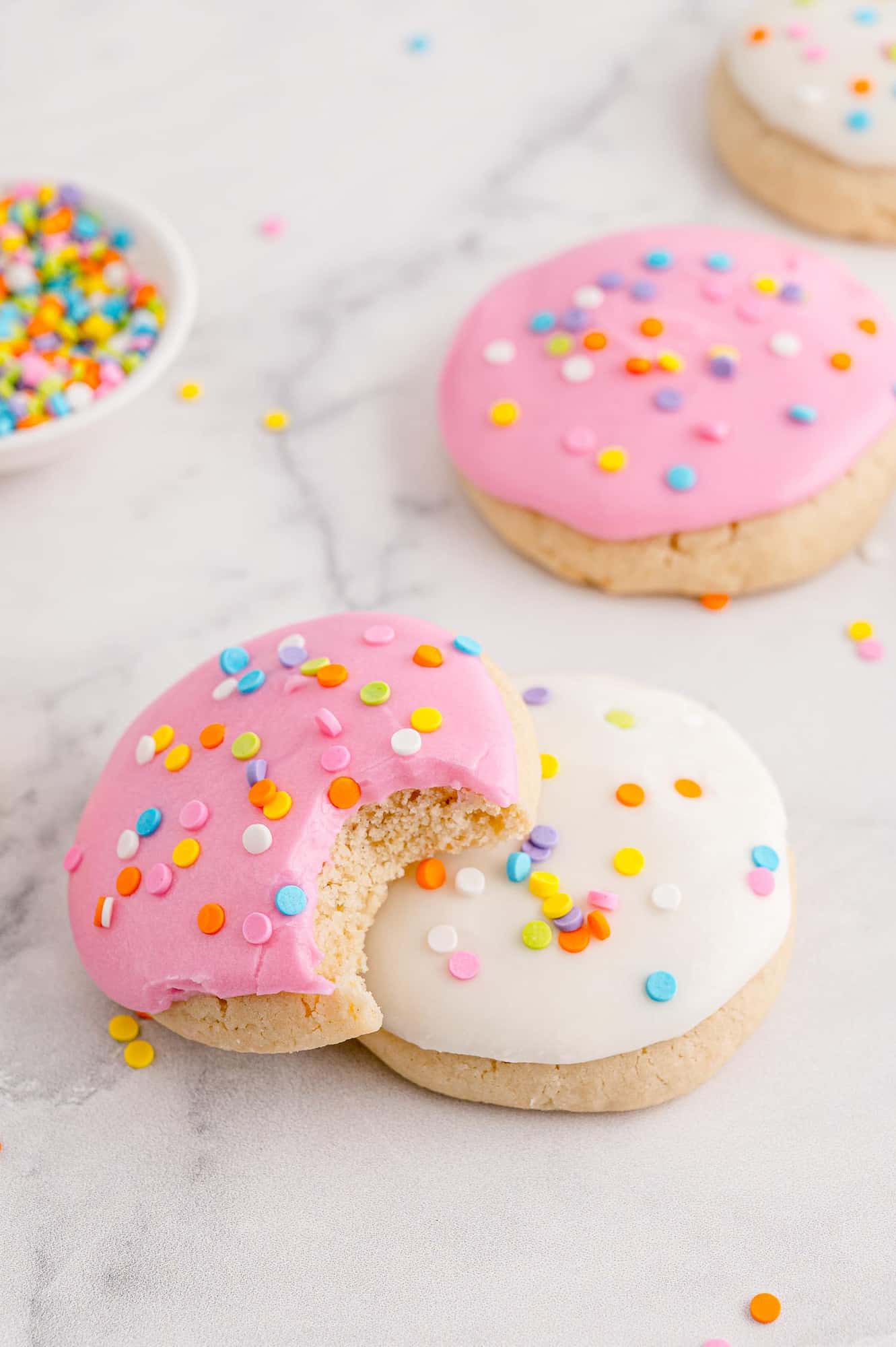 About Lofthouse Cookies
Lofthouse cookies have a softer texture than regular sugar cookies, not crisp, but rather cake-like. The cookies are usually large (although you may make them whatever size you like!) and are always frosted with either white or tinted powdered sugar frosting and decorated with colorful sprinkles.
Let's get started on making our own Lofthouse cookies! The dough needs to chill at least one hour or overnight so keep that in mind. I'll run through the basics here and give you lots of extra tips and encouragement.
As always, look for the printable recipe card near the end of the post. It has complete instructions and nutrition information, as well as variations.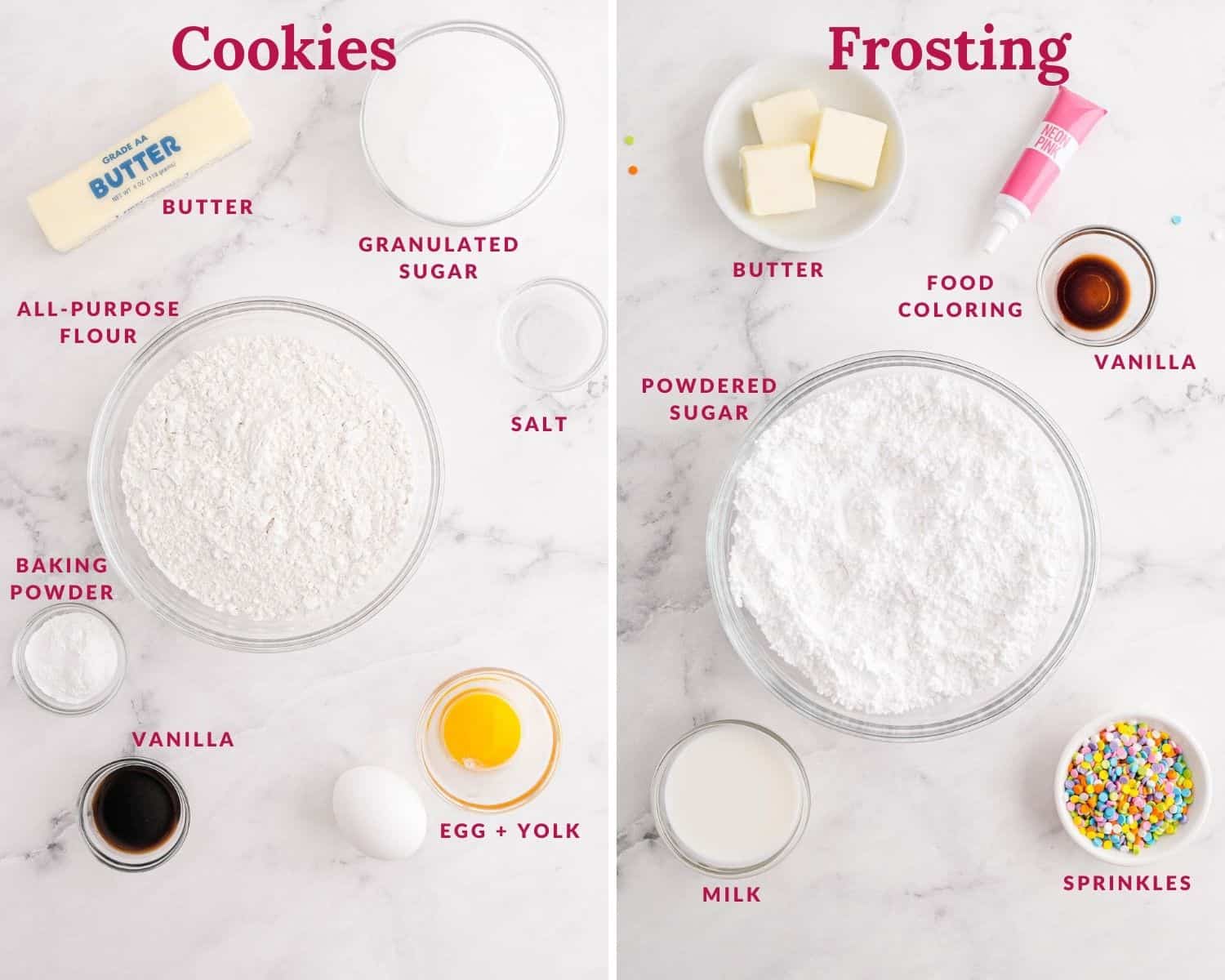 Ingredients You'll Need
Butter: Both the cookies and the frosting contain butter. Make sure it's softened to room temperature. Always use unsalted butter for baking unless stated otherwise.
Sugar: To make the cookies, use granulated white sugar. The frosting is made with confectioner's sugar (powdered sugar).
Eggs: You'll need one whole egg and one egg yolk.
Vanilla: Like most sugar cookies, Lofthouse cookies are flavored with pure vanilla extract. Keep reading for more flavor options.
Flour: While I often use whole wheat flour for cookies, these sugar cookies just wouldn't be the same with whole wheat. Make these treats with all-purpose flour.
Baking Tip!
To measure flour, always gently spoon it into a measuring cup before leveling it off. Scooping directly into the flour with the measuring cup isn't recommended, because the flour becomes compacted and your cookies will be dense and dry.
Baking Powder: Provides leavening.
Salt: Without salt, your cookies will taste flat. If you happen to use salted butter, you can omit the added salt.
Milk: You'll just need a few tablespoons to make the frosting. Any type of milk will work.
Food Coloring and Sprinkles: These are of course optional, but they really are what makes these cookies so fun and attractive.
How To Make These Cookies
Okay, now you know what you'll need, so let's get started! Make sure your butter is softened. If it isn't, warm it in the microwave on very low power (10-20%) in one-minute increments.
Combine the ingredients. You'll need a nice big mixing bowl. Combine the butter and sugar using an electric mixer or stand mixer.
The mixture should look light and fluffy. You can do it by hand but it takes a lot of arm power.
Add the egg, egg yolk, and vanilla and continue to mix until everything's creamy and smooth. Measure out the flour, baking powder, and salt and add to the bowl. Stir all the ingredients until just combined. Don't overmix the dough.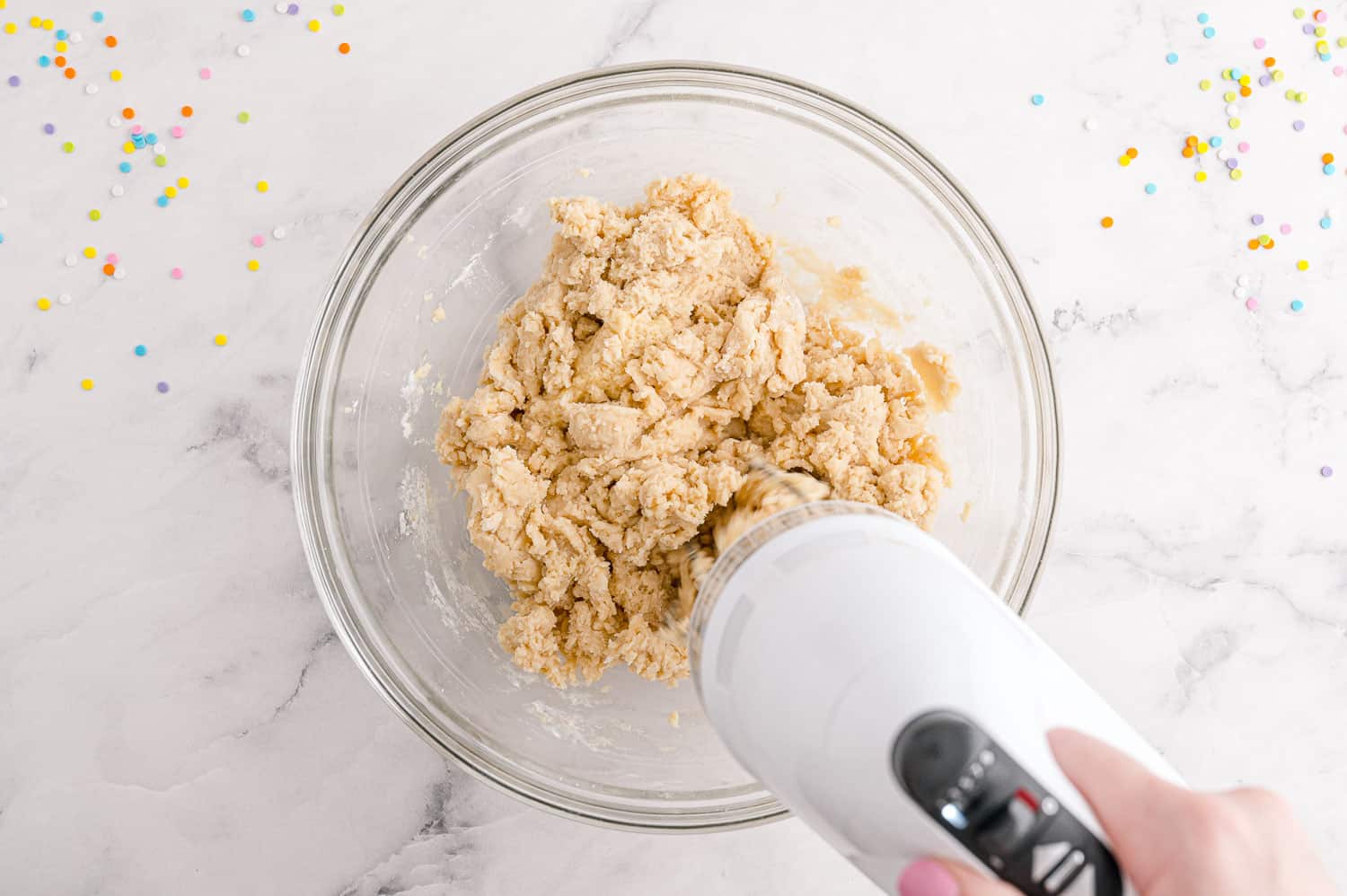 Chill the dough: Wrap or cover the cookie dough and put it into the fridge for at least an hour. Overnight is fine, too, whatever works for your schedule.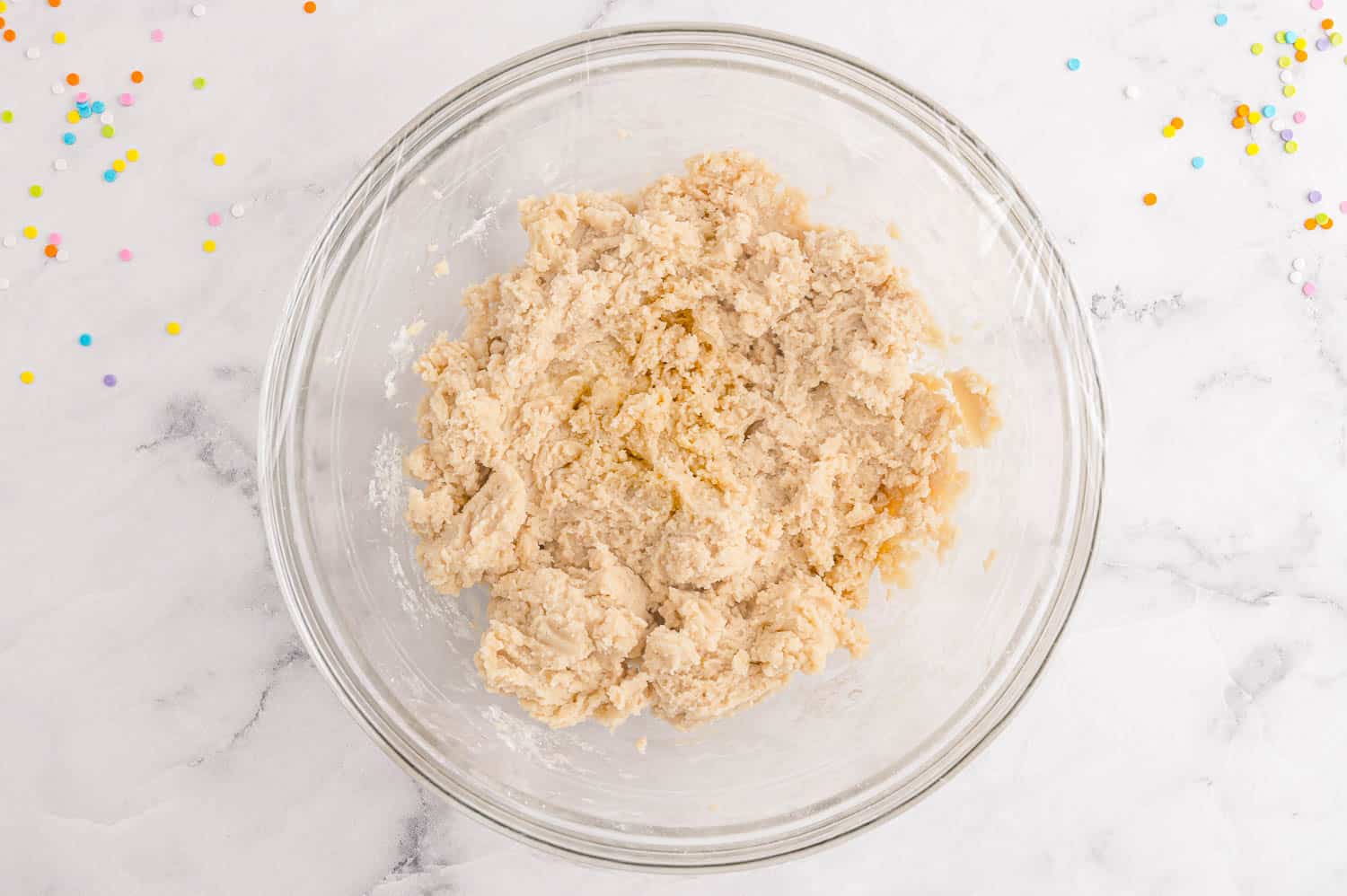 Roll dough into balls. Once the dough has been chilled, you're ready to form the cookies. Preheat the oven and get out a baking sheet. Scoop up a big spoonful of dough (about 2 tablespoons) and roll it into a ball.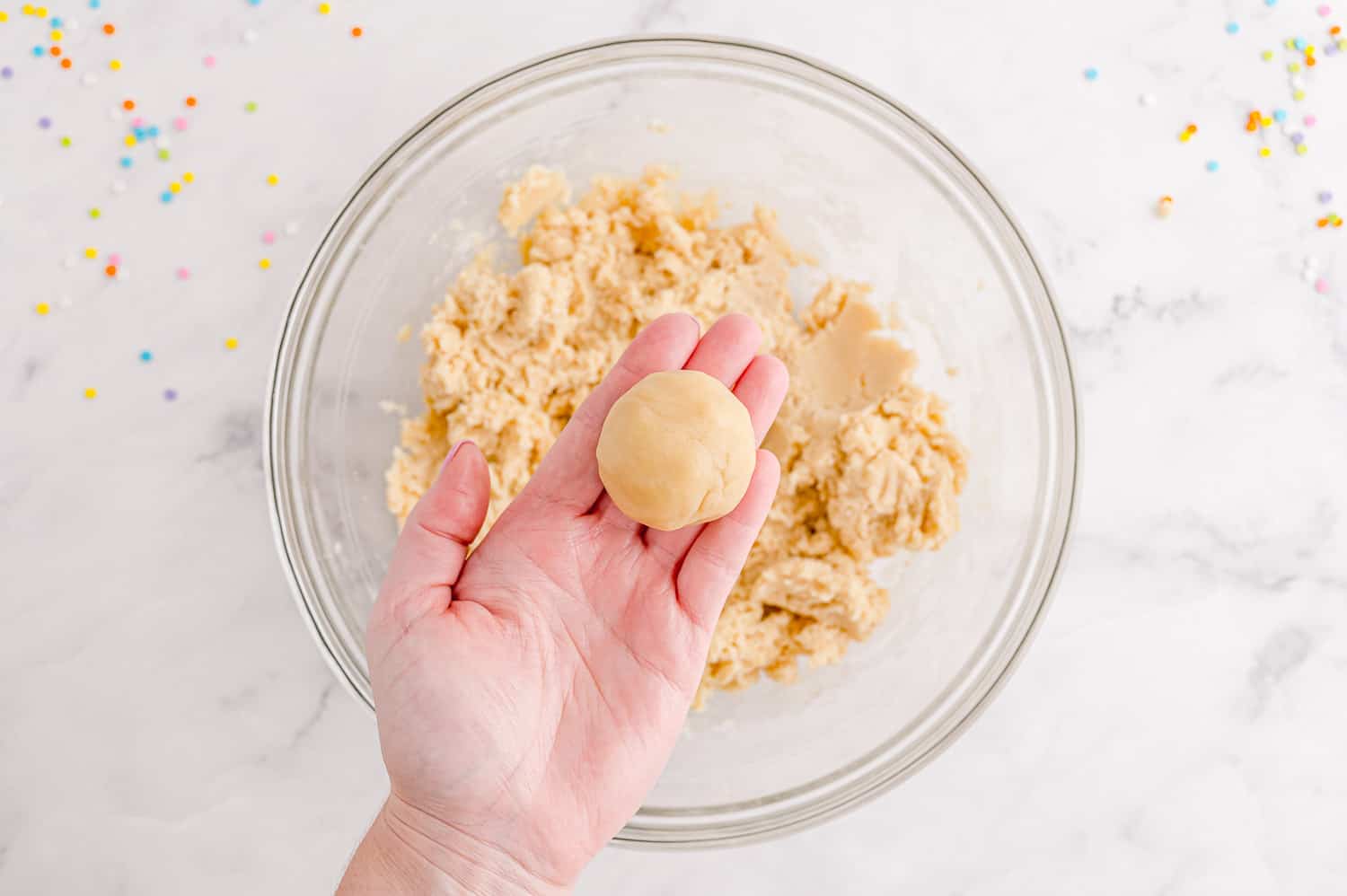 Place it on the cookie sheet, flatten it slightly, and repeat. You'll have about 18 big balls. Remember that the cookies will spread – these are pretty large cookies. I usually bake 9 at a time.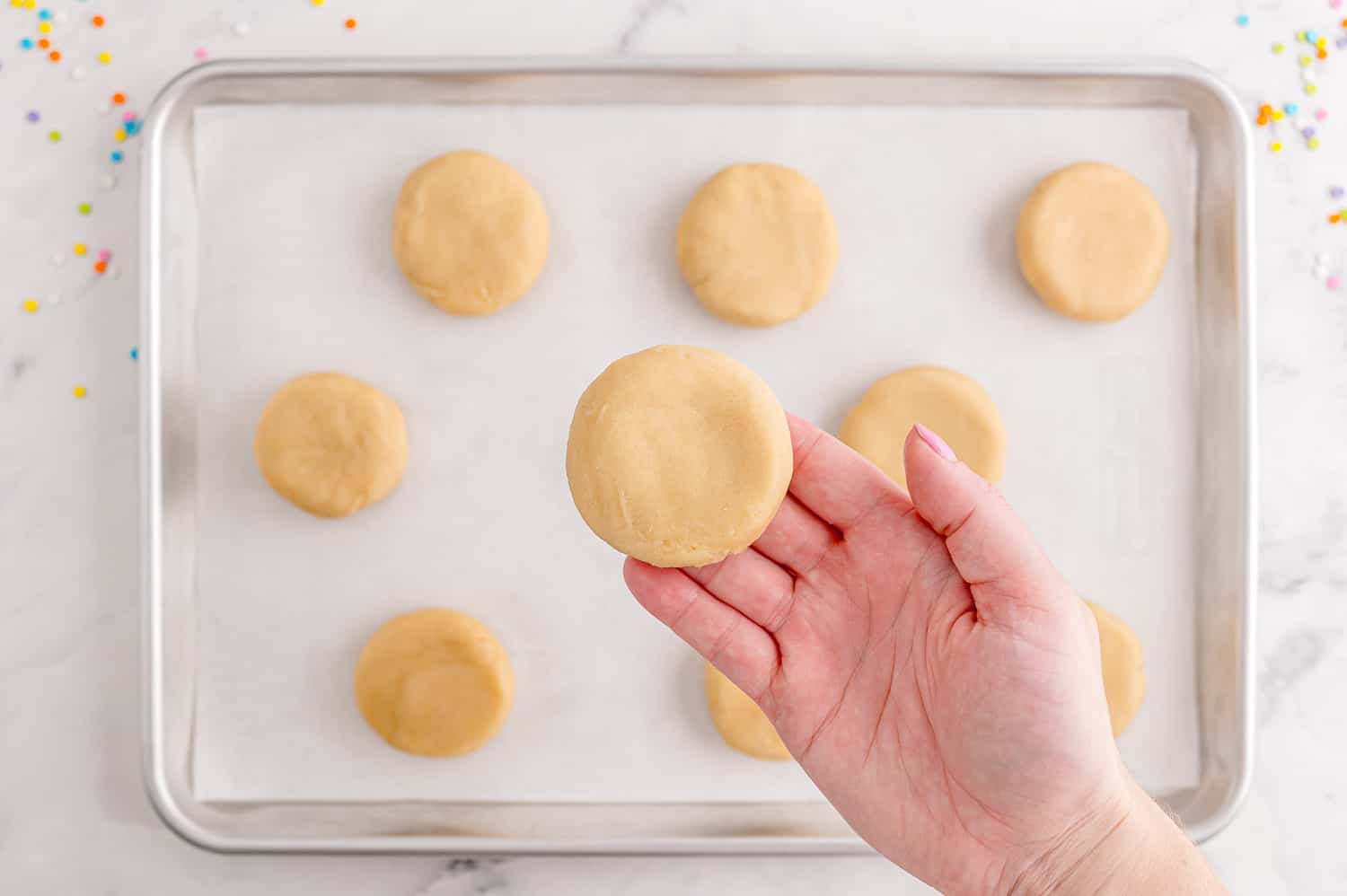 Bake: After the oven has been preheated, bake the cookies twelve to fourteen minutes. They should be firm and fairly white with just a teensy bit of golden brown around the edges. Remove them from the oven and let them cool a couple minutes on the cookie sheet before using a spatula to move them to a wire rack to cool completely.
Prepare the frosting. While the cookies are baking and cooling, you can whip up the frosting. Simply combine all the ingredients (butter, confectioner's sugar, vanilla, and milk) in a mixing bowl. Use your mixer to beat the frosting until it's light and fluffy. If it seems too thick and dry, add a bit more milk, and if it seems too thin, add a bit more sugar.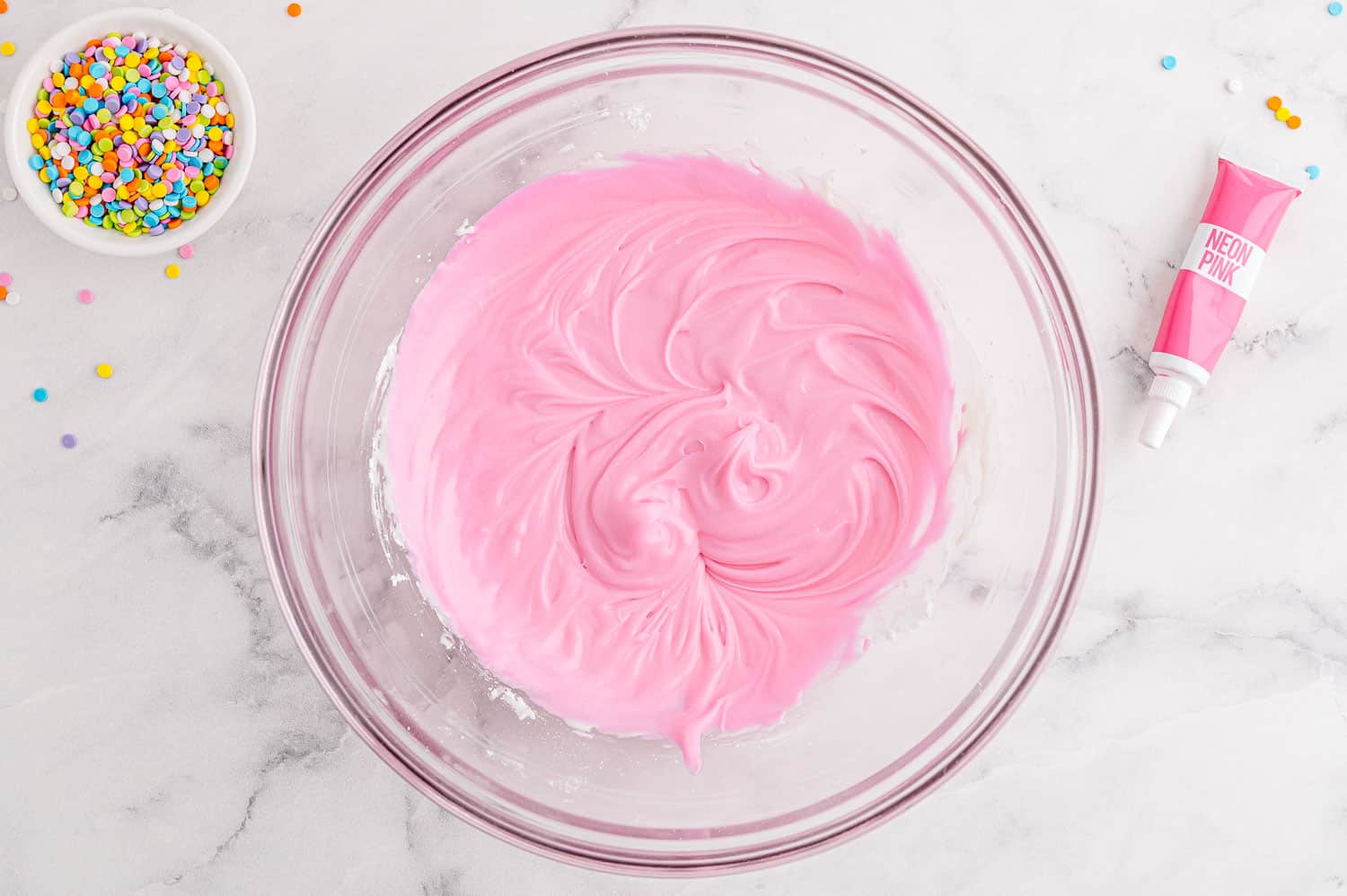 Frost the cookies. When the cookies are completely cool, frost them generously. There will be enough frosting to really pile it on. I tend to skimp a bit on the first ones I frost because I'm worried I'll run out. Don't worry — you'll have plenty!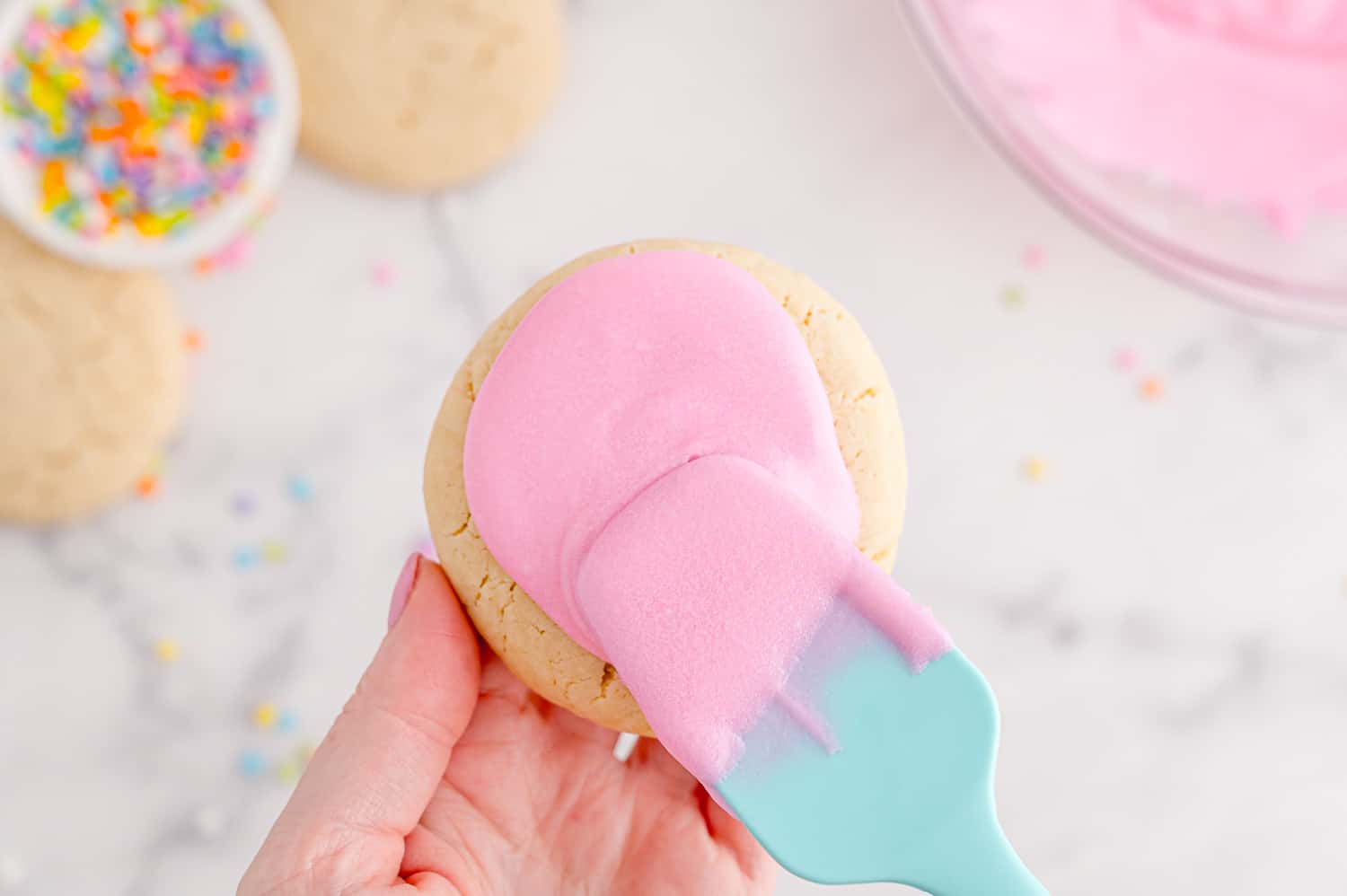 Add the sprinkles as you frost each cookie! The frosting hardens quite quickly and you'll find that the sprinkles roll right off if you wait until the end. That's a sad thing.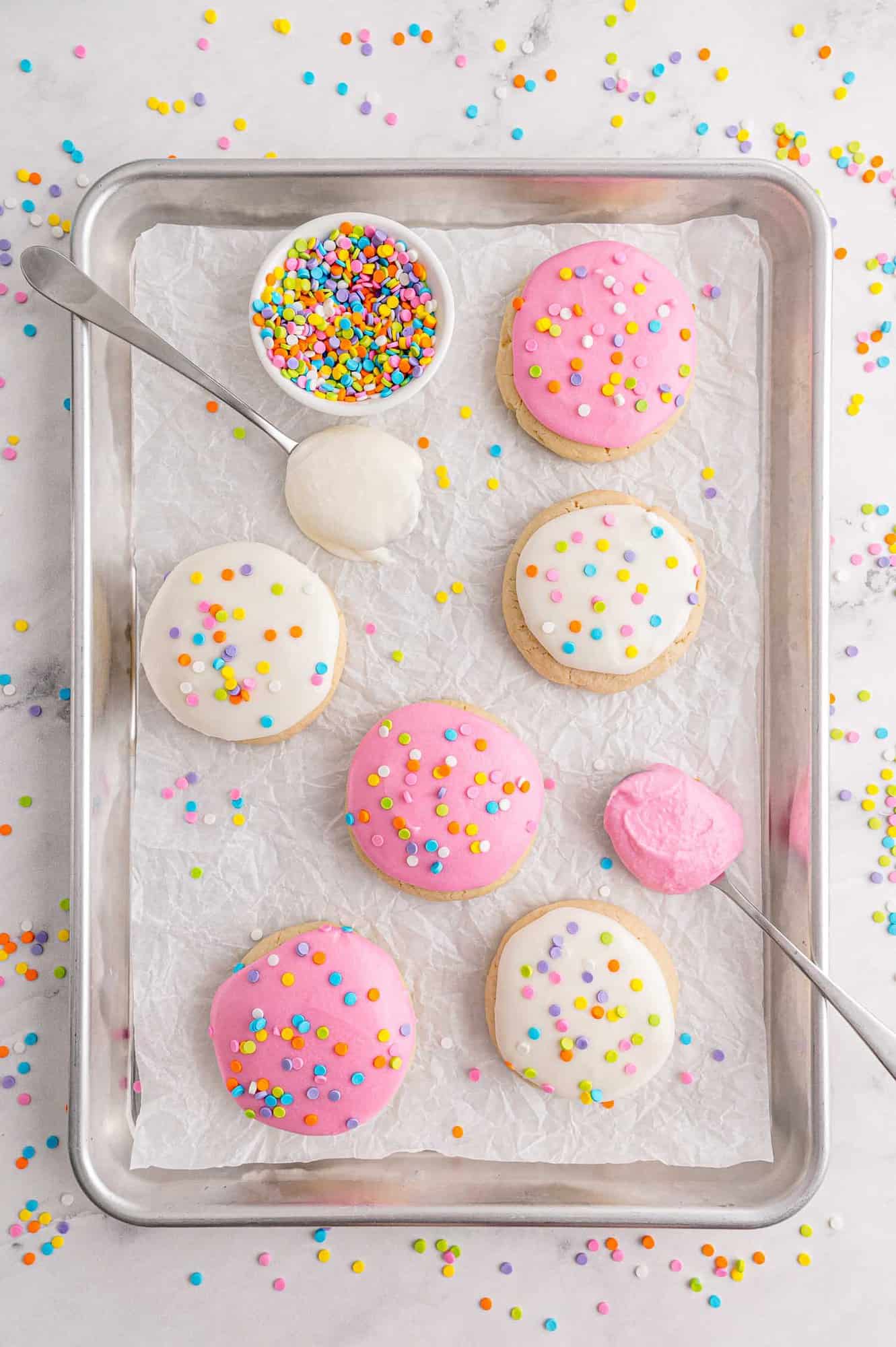 Enjoy these cookies with a glass of ice cold milk. That's the way Santa likes his treat and with good reason. Cookies and milk just go together!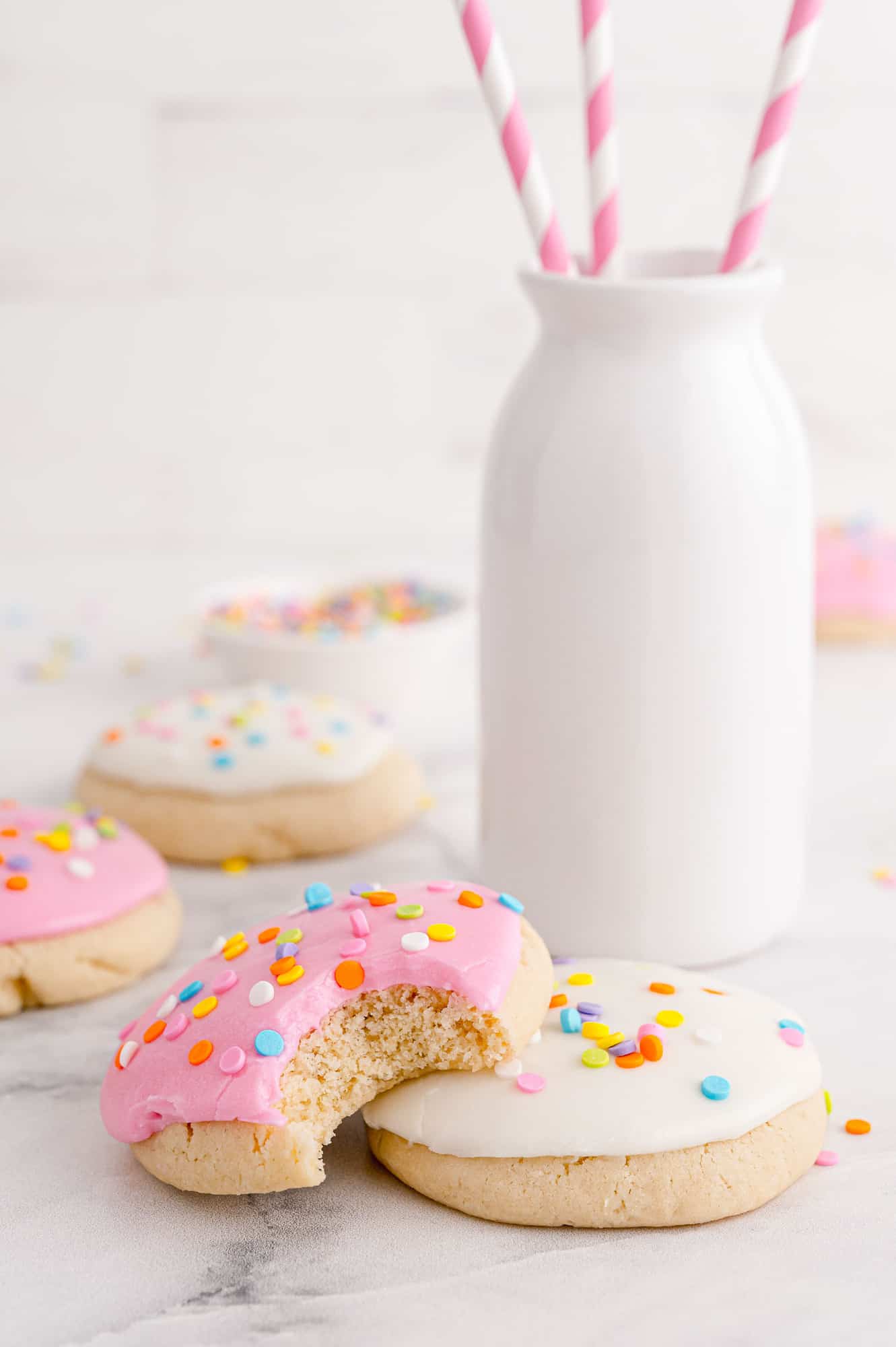 If you're not into milk, a cup of hot coffee or tea is great, too. Try ginger spiced hot chocolate, it's easy to make in the microwave. For adults, a White Russian or a Hot White Russian might be just the thing. Try homemade eggnog for a real treat!
FAQs
Why are they called Lofthouse cookies?
While I'm not sure about the origin of the name Lofthouse, I did find a bit about the history of this popular sugar cookie. According to an article in the Deseret News, a Utah family started baking these sugar cookies in a leased kitchen at night and selling them to convenience stores as a way to supplement their family income. Their business quickly grew and became Lofthouse Foods, Inc., making 2 million cookies a day. Quite a success story! It is now a brand owned by ConAgra Foods, Inc.
Do Lofthouse cookies have different flavors?
Yes, Lofthouse cookies come in a variety of different flavors and designs.
Are Lofthouse cookies nut-free?
While some varieties do have nuts, ConAgra has opened a nut-free facility in Ogden, Utah. You'll find the statement "Manufactured in a Nut Free Facility" on the cookie packaging.
Make It Your Own
Try different flavorings. Flavor the cookies and frosting with peppermint extract, almond extract, cinnamon, or any other flavoring you like.
Tint the frosting any hue of the rainbow and add sprinkles to match the occasion or your mood.
Chocolate Lofthouse cookies. Substitute ¼ cup unsweetened cocoa powder for ¼ cup of the al-purpose flour. Add cocoa powder to the frosting too. Decorate with chocolate jimmies if you like. Or try peppermint chocolate sugar cookies!
Make bars instead. If you're in a hurry, try making my sugar cookie bars with vanilla buttercream frosting. They have a similar flavor to Lofthouse cookies and the dough doesn't need to be chilled.
Storage & Make-Ahead Tips
Store: Once the cookies have cooled completely and the frosting has hardened, store them in an airtight container for up to a week. Put a sheet of wax paper or parchment paper between layers so the cookies don't stick together.
Freeze baked cookies: If you want to get a jump on cookie baking, these cookies can be made ahead and frozen for up to a month.
Freeze dough: Cookie dough will keep up to 2 months in the freezer. If you prefer freshly baked cookies, freeze the dough as is, or roll the cookie dough into balls and freeze individually on a tray. Once they're frozen, place in a freezer safe container or bag.
To bake: Unshaped frozen dough should be thawed overnight in the fridge. The shaped cookie dough can be baked immediately, adding a minute or two to the baking time.
Did you make this? Be sure to leave a review below and tag me @rachelcooksblog on Facebook, Instagram, or Pinterest!
These soft sugar cookies are like the Lofthouse cookies you find in your grocery store but better since they're homemade! They are easy to customize so make them just the way you like.
Ingredients
Frosting
2 ½

cups

powdered sugar

3

tablespoons

unsalted butter, softened

½

teaspoon

pure vanilla extract

3

tablespoons

milk

Food coloring, opt.

Sprinkles, optional
Instructions
With hand mixer or stand mixer, cream together butter and sugar until light in color and fluffy. Add egg, egg yolk and vanilla extract; mix until creamy and smooth. Add flour, baking powder, and salt; mix until just combined.

Wrap dough in plastic wrap or place in covered bowl. Chill for at least an hour in the fridge.

When ready to bake, preheat oven to 350°F. Prepare baking sheet by lining with parchment paper or Silpat.

Scoop out about two tablespoons of the dough and roll into a ball. Flatten ball slightly and place on prepared baking sheet, about 9 per sheet.

Bake for 12 to 14 minutes or until just starting to barely brown around the edges. Cool 2 to 3 minutes on baking sheet before moving to a wire rack to cool completely.

When ready to frost, using a hand mixer or stand mixer, in medium sized bowl, whip together butter, powdered sugar, vanilla extract and milk. If frosting seems too thick, add more milk, 1 teaspoon at a time. If frosting seems too thin, add powdered sugar.

Spread over cooled cookies and immediately add sprinkles. Let frosting harden before storing in an airtight container. Makes 18 to 20 large cookies, depending on size.
Notes
For peppermint cookies, add ½ teaspoon peppermint extract to dough. Substitute ½ teaspoon peppermint extract for vanilla extract in frosting.
For cinnamon cookies, add 1 teaspoon cinnamon to dry ingredients in batter and

¼

teaspoon cinnamon to frosting.
Make chocolate Lofthouse cookies. Substitute

¼

cup unsweetened cocoa powder for

¼

cup of the al-purpose flour. Add cocoa powder to the frosting too. Decorate with chocolate jimmies if you like.
Recipe makes a generous amount of frosting so feel free to pile it on.
Nutrition Information
Serving:
1
cookie
,
Calories:
248
kcal
,
Carbohydrates:
37
g
,
Protein:
2
g
,
Fat:
10
g
,
Saturated Fat:
6
g
,
Polyunsaturated Fat:
1
g
,
Monounsaturated Fat:
3
g
,
Trans Fat:
1
g
,
Cholesterol:
46
mg
,
Sodium:
125
mg
,
Potassium:
28
mg
,
Fiber:
1
g
,
Sugar:
25
g
,
Vitamin A:
326
IU
,
Calcium:
40
mg
,
Iron:
1
mg
This website provides approximate nutrition information for convenience and as a courtesy only. Nutrition data is gathered primarily from the USDA Food Composition Database, whenever available, or otherwise other online calculators.