You'll love these crisp sugar cookies, rolled out and cut with your favorite cookie cutters, and decorated to look fancy. They'll soon become a Christmas tradition in your family!
Recipe Overview
Why you'll love it: These cookies make a big batch and are sturdy enough for little fingers to decorate.
How long it takes: 15 minutes to make the dough, plus chilling time, and 7 minutes per batch to bake
Equipment you'll need: mixer, mixing bowl, cookie sheet, rolling pin, cookie cutters
Servings: makes 5 dozen, depending on the size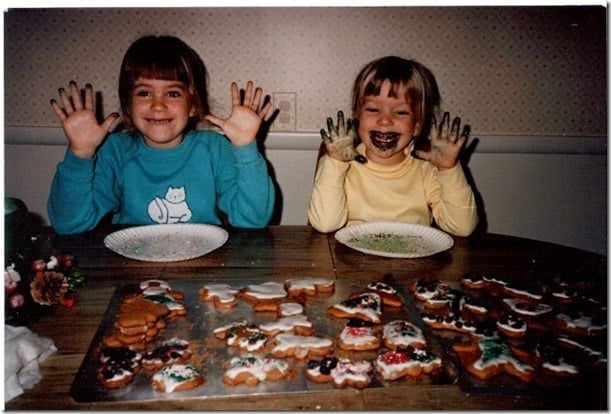 I make these sugar cookies every year. Pretty much since I was born.
Okay, so now that I look closer, maybe those are gingerbread cookies. What's going on here, mom? I guess I'll just have to say that I've made these every year for as long as I can remember. In the picture above, I've obviously consumed too much sugar to be thinking straight. (Can you guess which one I am?!)
I look forward every year to cookie decorating day. A few days before Christmas, my mom bakes up a batch of these cookies in all sorts of fun cutout shapes. I love that she uses the same cookie cutters that my sister and I grew up with: reindeer, snowmen, angels, stars, holly leaves, Santas, just to name a few. And of course, my favorite one to decorate: the Christmas tree!
Now it's my kids and their cousins who decorate the cookies. It's a decorating frenzy! Some of the cookies are a little (okay, a lot) over the top but that's all part of the fun. We use a lot of frosting in a rainbow of colors and a lot of sprinkles. The floor is almost as decorated as the cookies!
It's a trip down memory lane for my sister and me. There are always plenty of cookies to decorate so my sister, my mom, and I join the fun, vying for the most creative cookie. There's nothing too sophisticated about our cookie decorating, just lots of good fun and silliness.
We always enjoy the fruit of our labor immediately, along with homemade hot chocolate or a cup of coffee. There's always lots of extra cookies to share with neighbors and loved ones.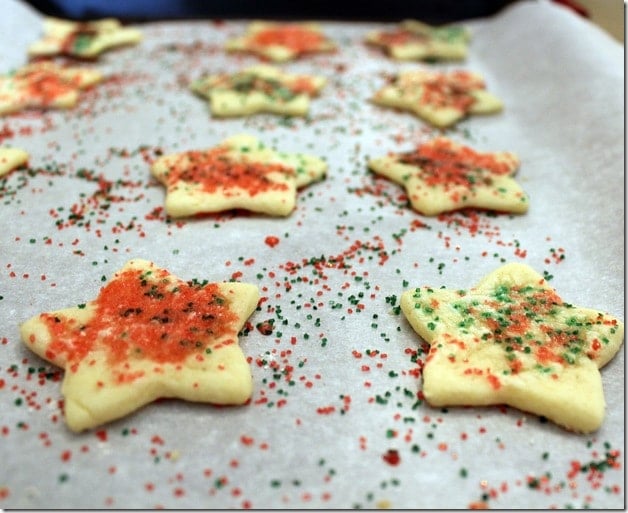 This sugar cookie recipe is somewhat uniquely flavored with two extracts, vanilla and lemon. The lemon extract adds a layer of flavor that's truly delicious, not overpowering at all, just a subtle hint of lemon that pairs well with the nutmeg. The combination of vanilla, lemon, and nutmeg is what will make your cookies stand apart from other less flavorful sugar cookies.
Allow extra time for the dough to chill. It's needs to be chilled at least 30 minutes before rolling it out and cutting it. I prefer chilling it overnight. When you're ready to roll, leave one half in the fridge so it stays nice and cold.
I'll get you started on cookie making here but as always, you'll find the printable recipe card near the end of the post with complete instructions and nutrition information.
What You'll Need
All-Purpose Flour: Just regular flour is all you need. I have not tested this recipe with whole wheat or white whole wheat flour. You'll need four cups of flour, plus more for rolling out the cookies.
Granulated Sugar: These are sugar cookies – you'll need 2 cups of the white stuff.
Butter: Butter gives the cookies a rich flavor. Use unsalted butter for baking and make sure it's softened (room temperature).
Eggs: A couple of eggs.
Milk: Just a bit of milk to help moisten the dough.
Pure Vanilla Extract and Lemon Extract: Like I mentioned, these two extracts provide a delicate and delicious flavor for your cookies.
Baking Powder, Baking Soda, Salt: Normal cookie ingredients for leavening and flavor.
Freshly Grated Nutmeg: If you don't have a whole nutmeg, ground nutmeg is okay, too.
Cookie Cutters: Have fun with various cookie cutters or make them all circles using a biscuit cutter.
Icing, Colored Sugar, and Sprinkles: The sky is the limit!
How to Make These Cookies
You'll need two mixing bowls: one really large one and one smaller one. Use the smaller bowl to whisk together the dry ingredients (flour, baking powder, baking soda, salt, nutmeg). Set that aside.
In the large bowl, combine the sugar and butter. Use a mixer to blend the two ingredients together until they are light and fluffy. Add the eggs and extracts, mixing well.
Measure out the milk and set it aside. Add the flour and milk alternately, mixing after each addition until combined. I usually add about a third of the flour at a time. It goes something like this: 1/3 of the flour, 1/2 of the milk, 1/3 of the flour, 1/2 of the milk, then the remaining 1/3 flour. It's not exact, just eyeball it and dump it in.
If your hand mixer is struggling, just stir the dough by hand when it gets too stiff for your mixer to handle.
Divide the dough in half, wrap it, and chill it in the fridge for at least a half hour. I prefer to chill it overnight or even a couple of days in advance.
When you're ready to roll, leave one half of the dough in the fridge so it stays nice and cold. Sprinkle your counter or cutting surface liberally with flour before rolling the dough with a rolling pin. Sprinkle the top of the dough with flour, too, or flip it over a few times as you roll.
The thinner you roll the dough, the crisper the cookie will be. Use cookie cutters of your choice, cutting as close to each other as you can. You can re-roll the scraps until all the dough is used up. Place the cookies on a cookie sheet with some room in between. They do spread a bit especially as the dough warms up.
Bake until the bottoms are lightly golden. For the prettiest cookies, don't let the tops get brown.
Cool completely on a wire rack before decorating the cookies with your favorite icing, sprinkles, etc.
Now I realize that not everyone has time to frost and decorate Christmas cookies but don't worry. These good-tasting sugar cookies are almost as amazing with just a sprinkling of colored sugar. This method was always mom's backup when my sister and I were "cookied" out.
If you prefer not to frost the cookies, you'll love this easy method of decorating the cookies. Simply brush the unbaked cookies lightly with milk, sprinkle with colored sugar, and bake as directed in the recipe. Easy, sparkly, and festive! This version is slightly less sweet than the frosted cookies and the unique flavors of the cookie really shine.
FAQs
Are sugar cookies hard or soft?
It's a matter of preference. Some folks prefer crisp cookies while others fall into the soft chewy camp. This sugar cookie recipe produces crisp cookies if you roll the dough out to 1/8 inch. If you like a softer cookie, roll the dough to 1/4 inch.
What causes sugar cookies to be too hard?
Usually the culprit is overmixing. Once you begin adding the flour, stir just until the flour is combined with the butter mixture.
Baking sugar cookies too long can make them become hard, as well. They should not be browned on the top, just lightly golden brown on the bottoms.
Why do my sugar cookies crack on top?
A perfectly baked sugar cookie should have very fine cracks on top, according to Mrs. Field's website. Check it out for a picture comparison of an under-baked, over-baked, and perfectly baked cookie.
Make it your own/Variations
Make-Ahead & Storage Tips
The cookie dough can be refrigerated up to one week, wrapped tightly in plastic wrap or in a plastic bag. It can also be frozen for up to one month. Thaw overnight in the fridge.
Baked cookies can be stored on the counter or in a cool spot for up to two weeks in a tightly sealed container. They freeze well and will keep for a month in the freezer.
Looking for more classic cookie recipes, like the kind you'd find in mom's recipe box? Try:
Did you make this? Be sure to leave a review below and tag me @rachelcooksblog on Facebook, Instagram, or Pinterest!
You'll love these crisp sugar cookies, rolled out and cut with your favorite cookie cutters, and decorated to look fancy. They'll soon become a Christmas tradition in your family!
Ingredients
4

cups

flour

2

teaspoons

baking powder

1/4

teaspoon

baking soda

1/2

teaspoon

salt

1/4

teaspoon

nutmeg

(I use freshly grated)

1

cup

(2 sticks) unsalted butter, softened

2

cups

sugar

2

large eggs

1/4

cup

milk

1

teaspoon

pure vanilla extract

1/2

teaspoon

lemon extract

Milk and colored sugar, if desired (see note)
Instructions
Combine flour, baking powder, baking soda, salt and nutmeg in a bowl.

In a separate bowl, combine butter and sugar until light and fluffy. Add eggs, vanilla extract and lemon extract, and beat until combined. Add milk and flour mixture alternately, mixing after each addition, until combined.

Divide dough into 2 disks, wrap in plastic wrap and chill at least 30 minutes, preferably overnight.

To bake, preheat oven to 350°F.

Roll one half of dough out on a well floured board or counter. For crisp cookies, roll to about ⅛ inch and for softer cookies, roll to about ¼ inch. Cut desired shapes with floured cookie cutter. Transfer to cookie sheet, leaving at least one inch between cookies.

Bake for 6-7 minutes, or until lightly browned on the bottom. Remove from cookie sheet and cool completely on wire rack.

Decorate as desired (see note).
Notes
If you prefer not to frost cookies, make them sparkle with sugar. Before baking, lightly brush the cookies with milk and sprinkle with your choice of colored sugar. White sugar is pretty, too.
The colder the dough, the easier it is to roll out. I usually divide the dough in half and leave half in the fridge while I cut out the other half.
Yield depends on the size of the cookie cutters you choose. Nutrition is calculated on a yield of 5 dozen, 2 cookies per serving.
Nutrition Information
Serving:
2
cookies
,
Calories:
1034
kcal
,
Carbohydrates:
158
g
,
Protein:
13
g
,
Fat:
40
g
,
Saturated Fat:
24
g
,
Polyunsaturated Fat:
2
g
,
Monounsaturated Fat:
10
g
,
Trans Fat:
2
g
,
Cholesterol:
164
mg
,
Sodium:
495
mg
,
Potassium:
162
mg
,
Fiber:
3
g
,
Sugar:
81
g
,
Vitamin A:
1242
IU
,
Vitamin C:
1
mg
,
Calcium:
145
mg
,
Iron:
5
mg
This website provides approximate nutrition information for convenience and as a courtesy only. Nutrition data is gathered primarily from the USDA Food Composition Database, whenever available, or otherwise other online calculators.
This post was updated slightly and edited 12/18/2020.