Peppermint Chocolate Sugar Cookies (no chill!)
Peppermint chocolate sugar cookies are a fun take on a traditional sugar cookie – perfect for the chocolate lover!
Why you'll love it: The cookies roll out so easily and you don't have to chill the dough first.
How long it takes: 15 minutes
Equipment you'll need: mixing bowl, mixer, rolling pin, cookie cutter, baking sheet, oven
Servings: makes 60 small star cookies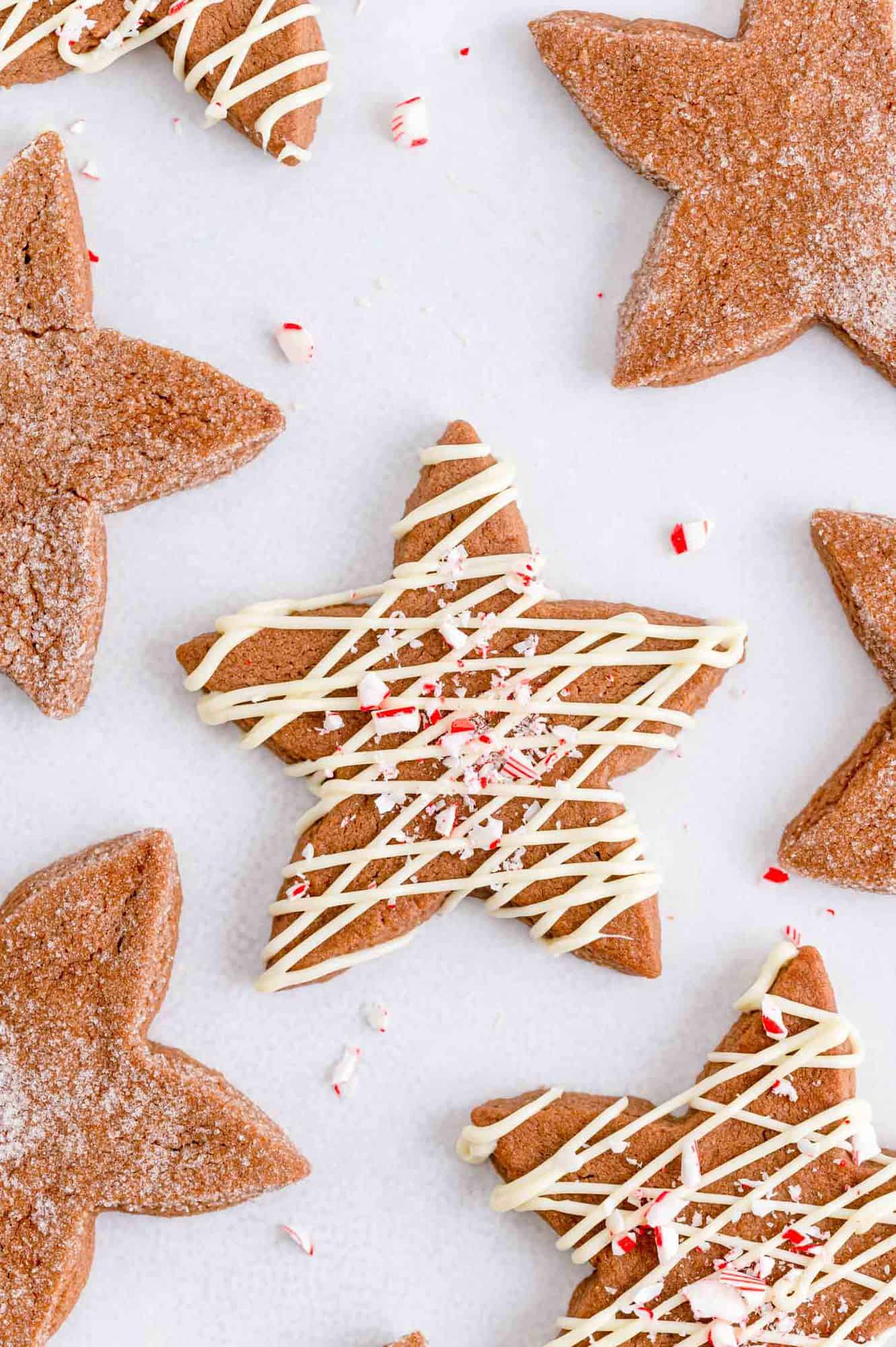 If you like the combination of mint and chocolate, these cookies are for you! Soft dark chocolate sugar cookies with just a hint of mint, are sparkling with flavor. They are SO easy to make (no chill!), and look pretty on a cookie platter. Oh, and of course, they taste great too!
I grew up making these cut-out sugar cookies, a recipe which came from my aunt. The cookies have nutmeg and lemon extract in them which sounds like a strange combo at first but it really makes a very flavorful sugar cookie. However, unless the dough is really well chilled, the cut-out shapes spread out a little when they bake.
Enter my fellow blogger, Katrina. Her recipe for what she dubs the best sugar cookie recipe is ridiculously easy to make, the dough doesn't require any chilling time (!!!) and the cookies hold their shape wonderfully (they don't spread in the oven). She really nails it with this best ever cookie recipe! Her cookies have a softer texture and are really good.
And they translate perfectly into peppermint chocolate flavored cookies. Take out the almond extract, add cocoa powder and peppermint extract and you have a unique sugar cookie with loads of chocolate and mint flavor.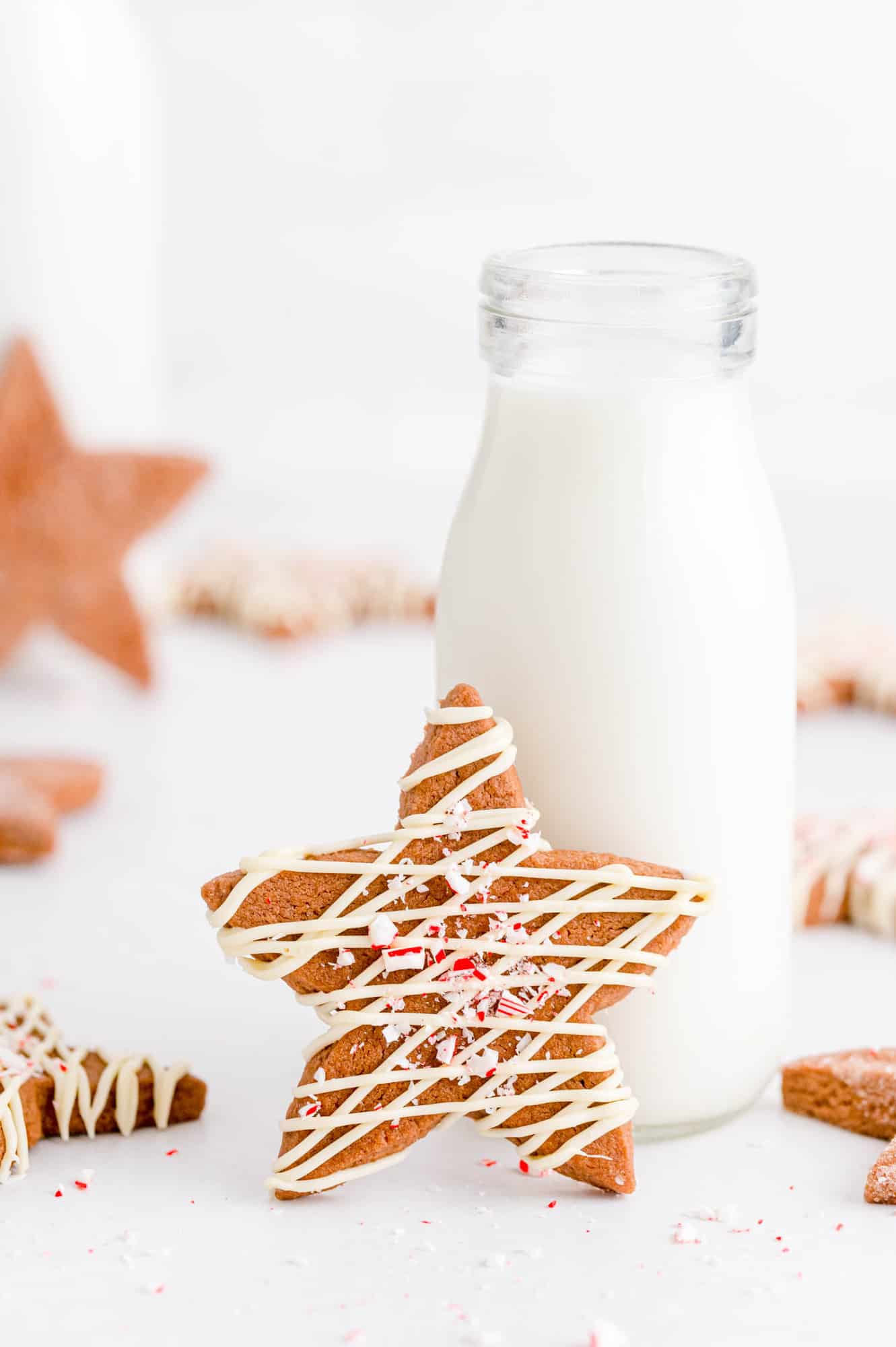 About This Recipe
The first time I tested these sugar cookies, I substituted white whole wheat flour for the all-purpose flour. To make things healthier, you would assume. Or maybe it's because I ran out of all-purpose flour…
What kind of food blogger runs out of all-purpose flour?!! The kind with two toddlers, that's who.
The white whole wheat flour really works great in these cookies so I decided to keep the recipe that way. Whole wheat makes them slightly more difficult to roll out but just keep the dough fairly thick ( 1/4-inch) and you will be fine. If you don't have white whole wheat flour, feel free to use all-purpose flour.
I'll run you through the recipe here and get you started. I like to throw in a few extra tips and baking instructions for you.
If you prefer, just jump down to the printable recipe card with full directions and nutrition information. You'll find it near the end of the post.
What You'll Need
Butter: I always use unsalted butter for baking, unless otherwise directed. Make sure the butter is softened (at room temperature) before you get started. If you forget to take it out ahead of time, soften the butter in the microwave at very low power (10%) for a minute or two, or until it's soft but not melted.
Sugar: Just regular white granulated sugar is all you need. You'll use it for the cookie dough and to coat the cookies before baking for a nice sparkling finish.
Pure Vanilla Extract: Provides a nice flavor.
Peppermint Extract: Don't be tempted to add a lot more. Peppermint extract is pretty potent and can be overpowering.
Egg: Just one large egg helps the dough bind together.
Baking Powder: provides leavening so the cookies aren't overly dense and hard.
White Whole Wheat Flour: If you prefer, all-purpose flour can be substituted or you can use a combination.
Cocoa Powder: Unsweetened cocoa powder can be found in the baking aisle of your market. You can also use it to make hot cocoa, chocolate cake, brownies, and chocolate cream cheese frosting. It's actually pretty high in antioxidants and doesn't have sugar. I often make these triple chocolate banana muffins and don't feel a bit guilty about giving them to my kids for a snack.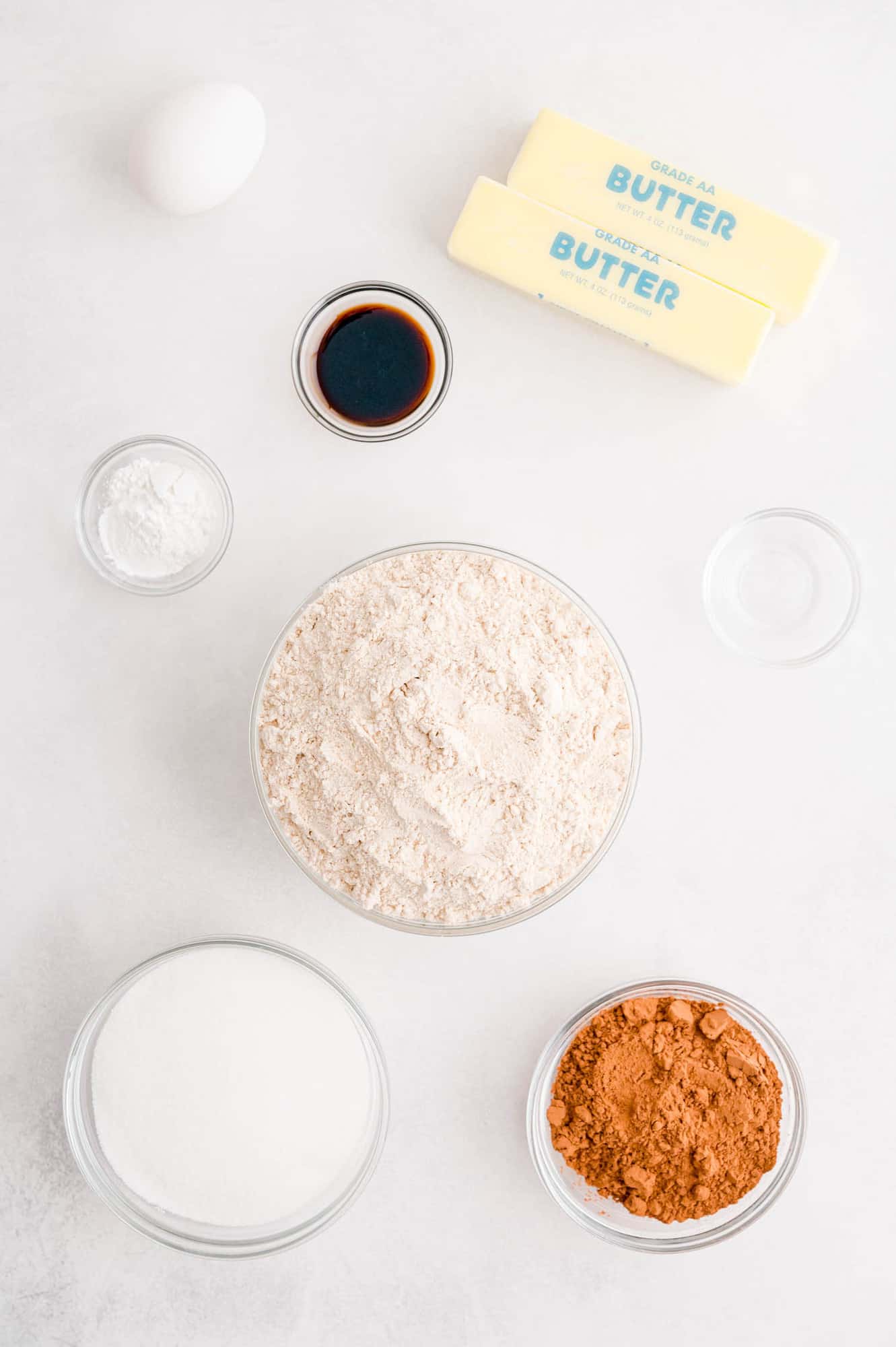 How To Make These Cookies
You can get your oven preheating because it won't be long before you'll have a batch of cookies ready to bake!
Begin by creaming together the butter and sugar until it's light and fluffy. You can do this with a stand mixer, with a good hand mixer, or by hand. I've done it all three ways and they all work fine. Add the egg and the extracts and beat well.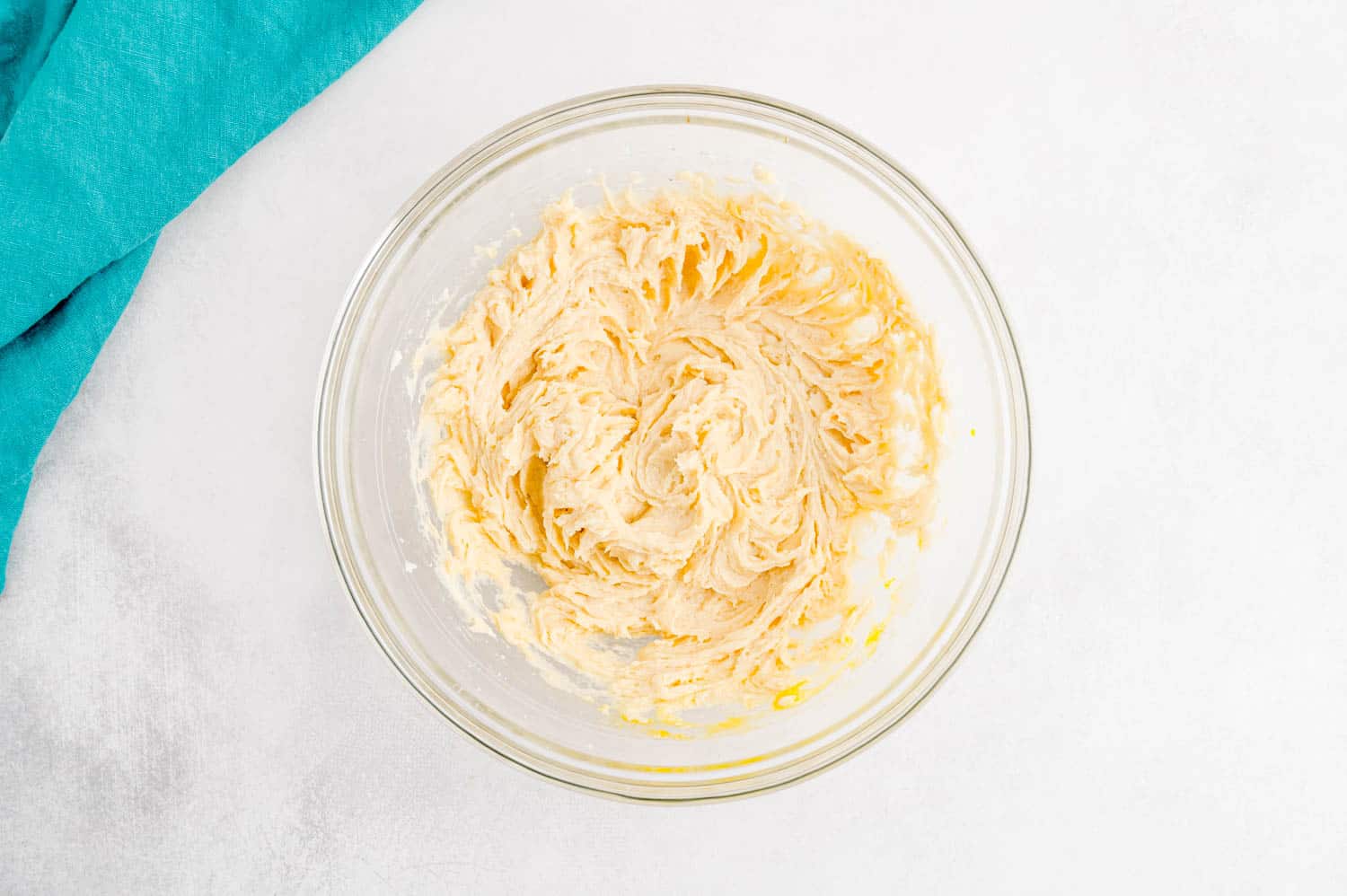 In another bowl, mix the dry ingredients: flour, cocoa powder, and baking powder. Whisk it well. If your cocoa powder has lots of dry hard lumps, you may have to sift it.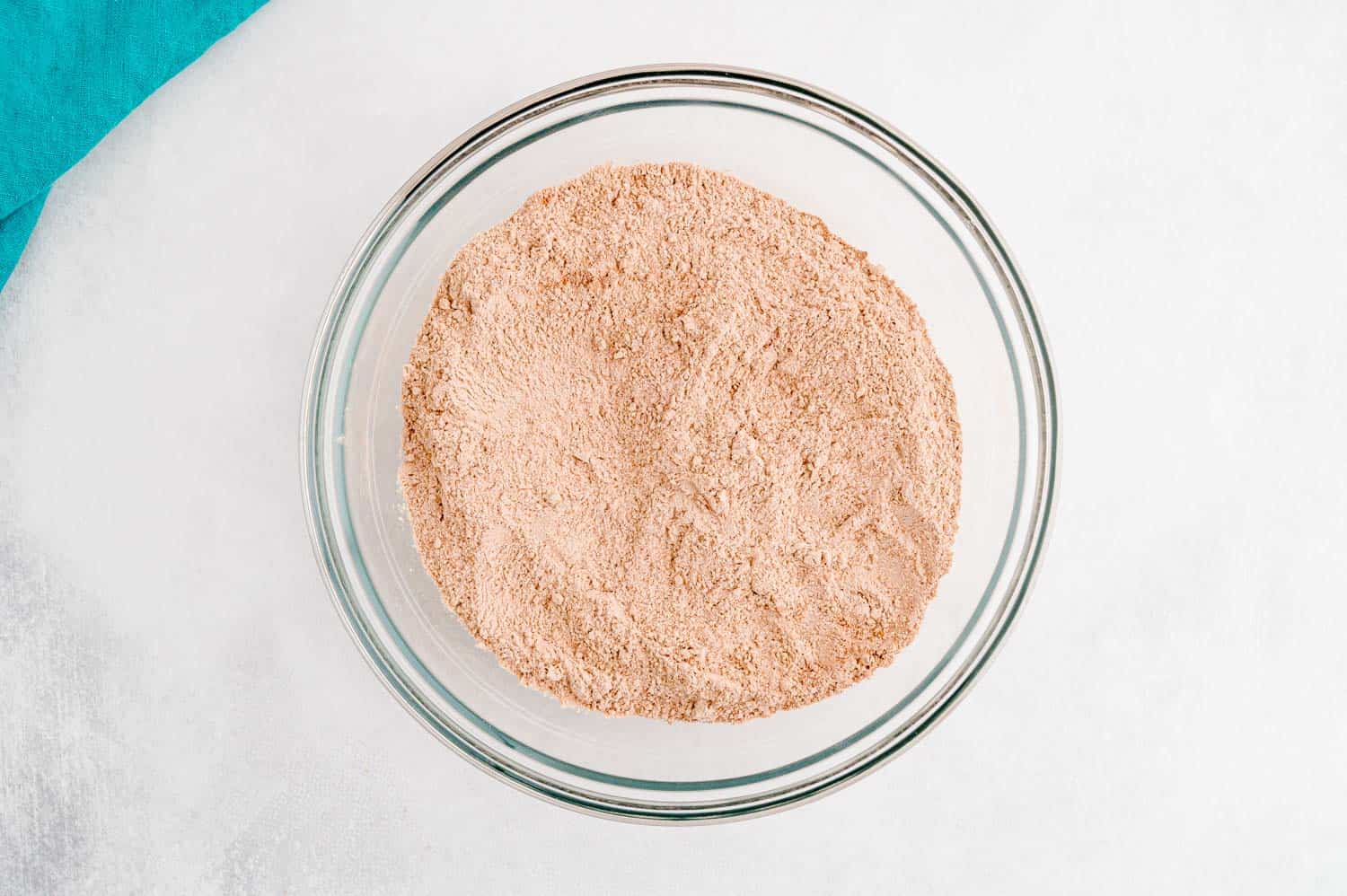 How To Measure Flour Accurately
Use a measuring cup that's meant for dry ingredients. It shouldn't have a pouring spout. Always spoon the flour into your measuring cup and level the cup with a knife. If you use the measuring cup to scoop the flour, it will be compacted and you'll end up with too much flour in your cookies.
Add the dry ingredients gradually to the creamed butter mixture. If it gets too stiff for your mixer, just mix the dough by hand. The dough will seem a little dry at first but persevere. Once you get the flour mixed in, the dough will have a perfect consistency, almost like Play-Doh.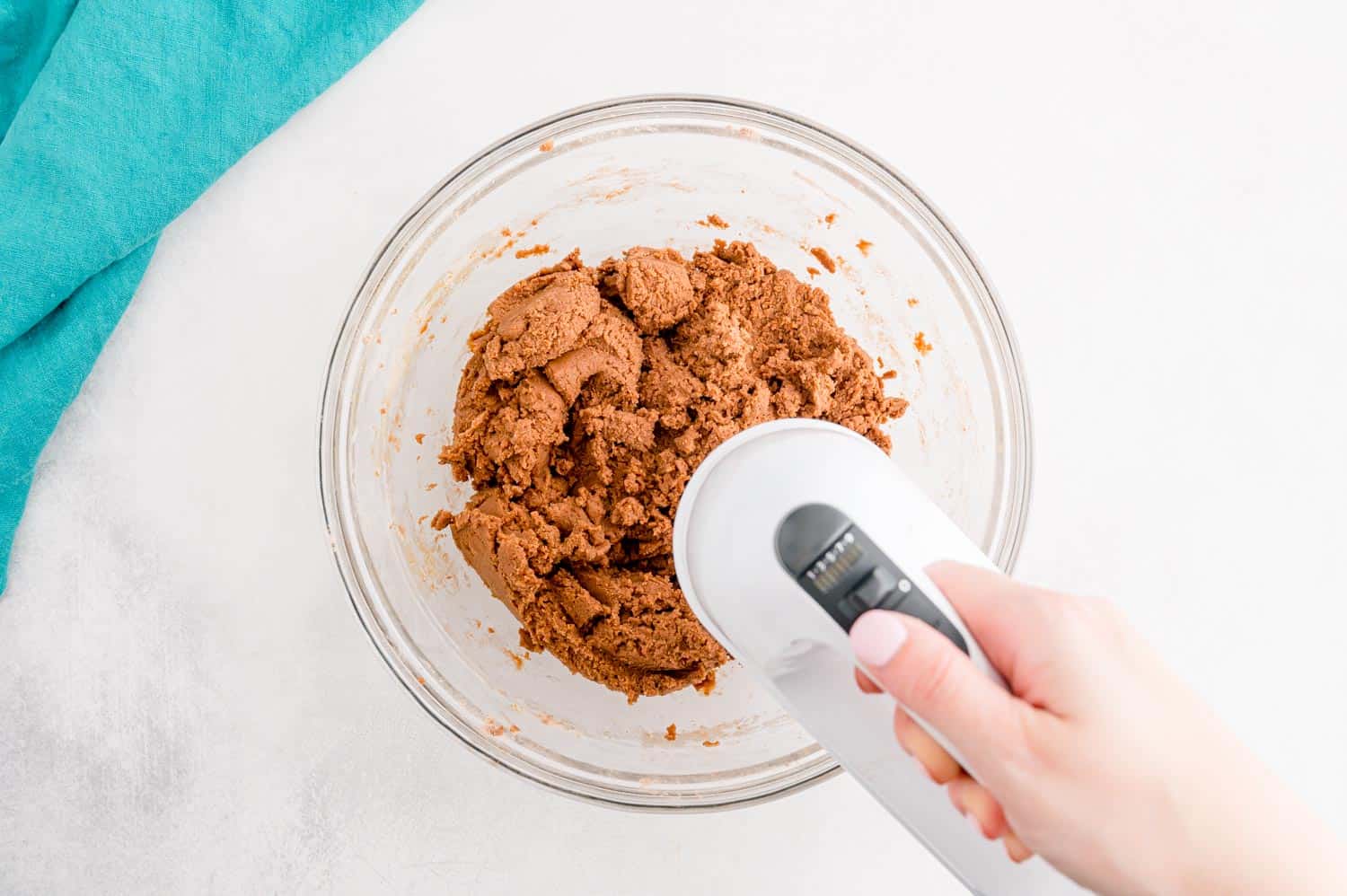 Scrape the dough into a ball. Dust your countertop and your rolling pin with cocoa powder. Usually we use flour to coat the rolling surfaces but the white flour doesn't look so great on the dark brown cookie dough. Your cookies will look sort of spotty. If you're worried about the cocoa staining your counter, put a sheet of parchment paper down first.
Roll the dough out fairly thick, about one quarter inch. If you like a crispier cookie, then roll the dough more thinly, about one eighth inch. If it's sticking a bit, dust the surface with more cocoa powder. Use a star cookie cutter to cut out as many stars you can.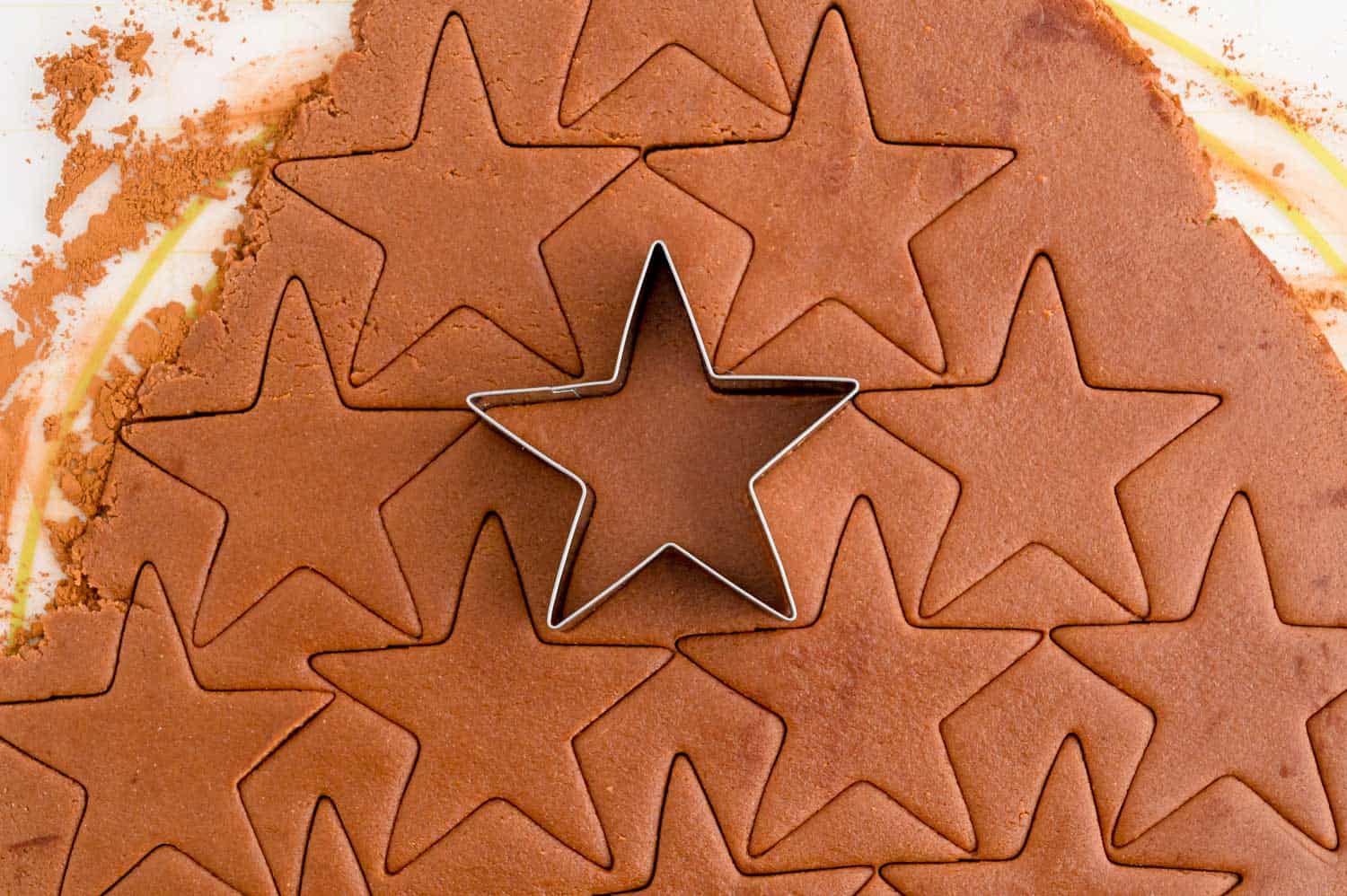 By the way, you may cut the cookies into any shape. Sometimes I use a biscuit cutter and make simple round cookies. Make some big stars and some little stars if you want. Reroll the scraps so you get as many cookies as possible.
Place the cookies on a baking sheet. You can put them quite close together because they shouldn't spread. Make sure the sides aren't touching each other though – that would be too close!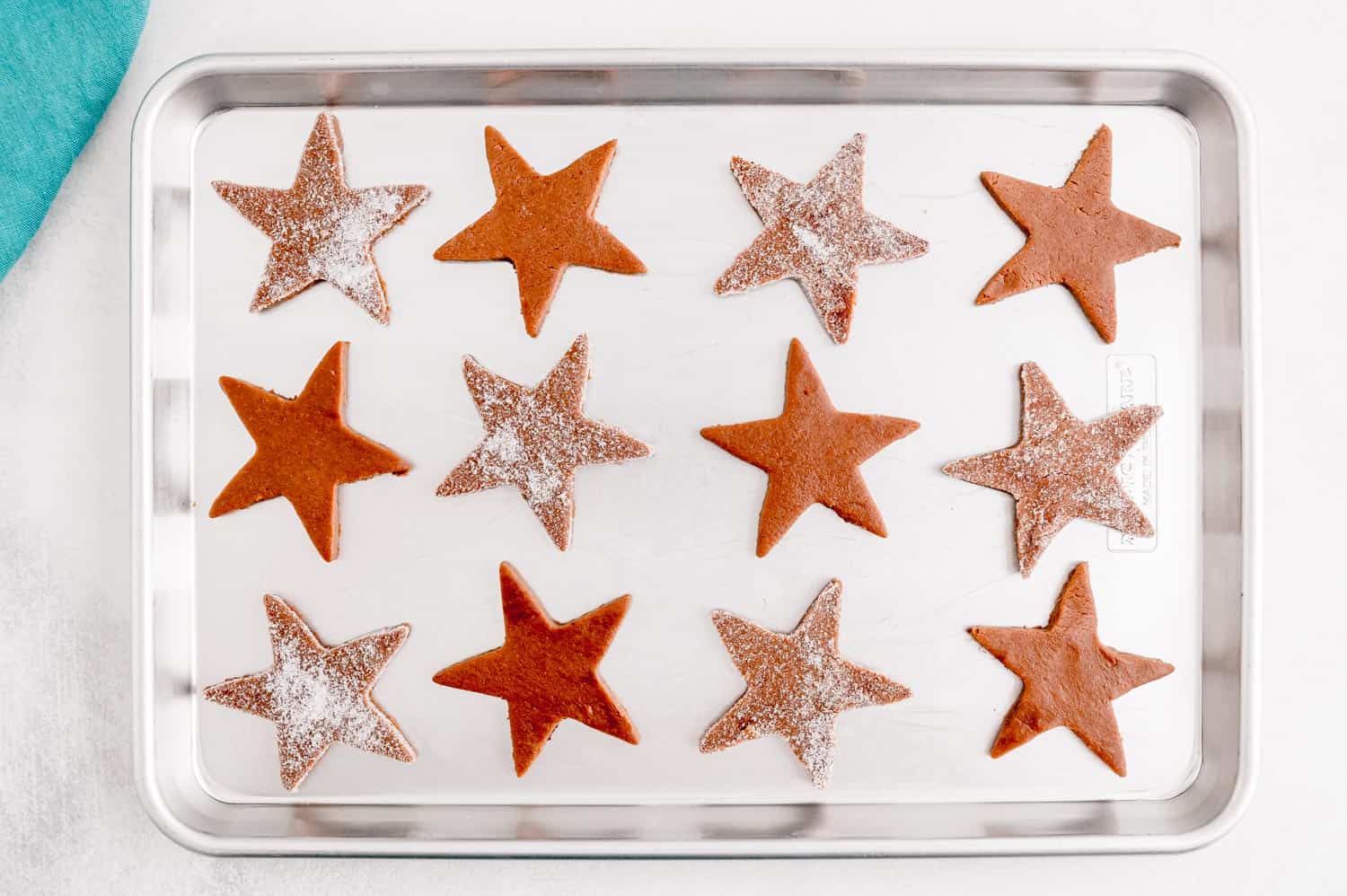 Bake them for seven to eight minutes, depending on how large your cookies are. It's a little harder to tell when these cookies are done because you won't see a golden brown color develop. They are already a nice dark brown! If the cookies feel set and fairly firm to the touch, they are probably done. If you're not sure, bake them an extra minute or two.
Cool them on the pan for a few minutes, then use a spatula to carefully move them to a wire cooling rack to finish cooling. They should be totally cool before you frost them.
These peppermint cutouts are beautiful with a drizzle of melted white chocolate or white icing and sprinkled with chopped peppermint candy or colored sugar.
If you're not feeling fancy, keep things super simple. Just dip the cookies in granulated sugar before baking for a sparkling look.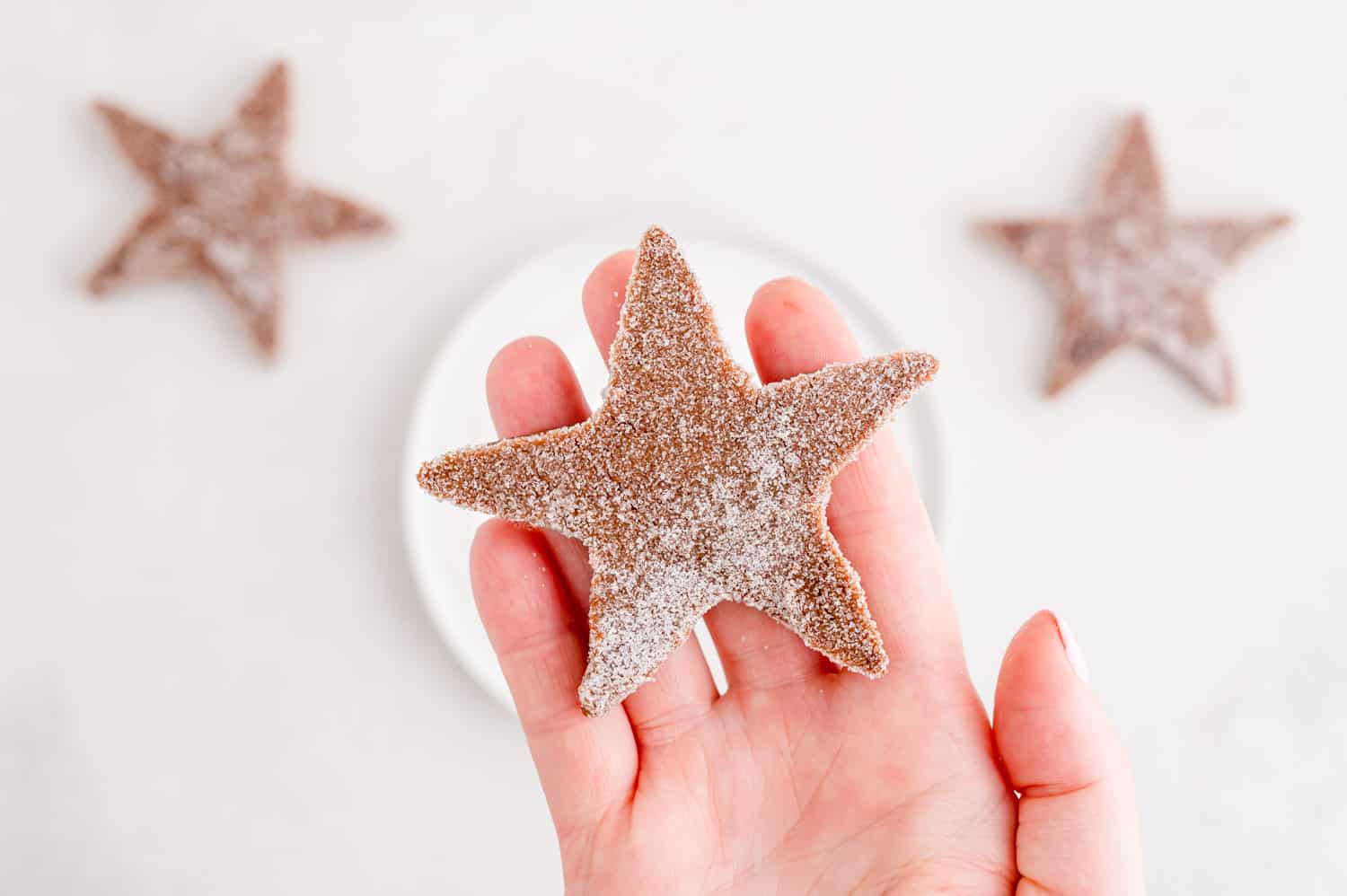 You may even want to leave some plain. They look like little star-shaped brownies and are wonderful with a bowl of ice cream.
So, wasn't that fun? I just love how easy these cut-out cookies roll out and how great they always turn out. I can't wait for you to try them!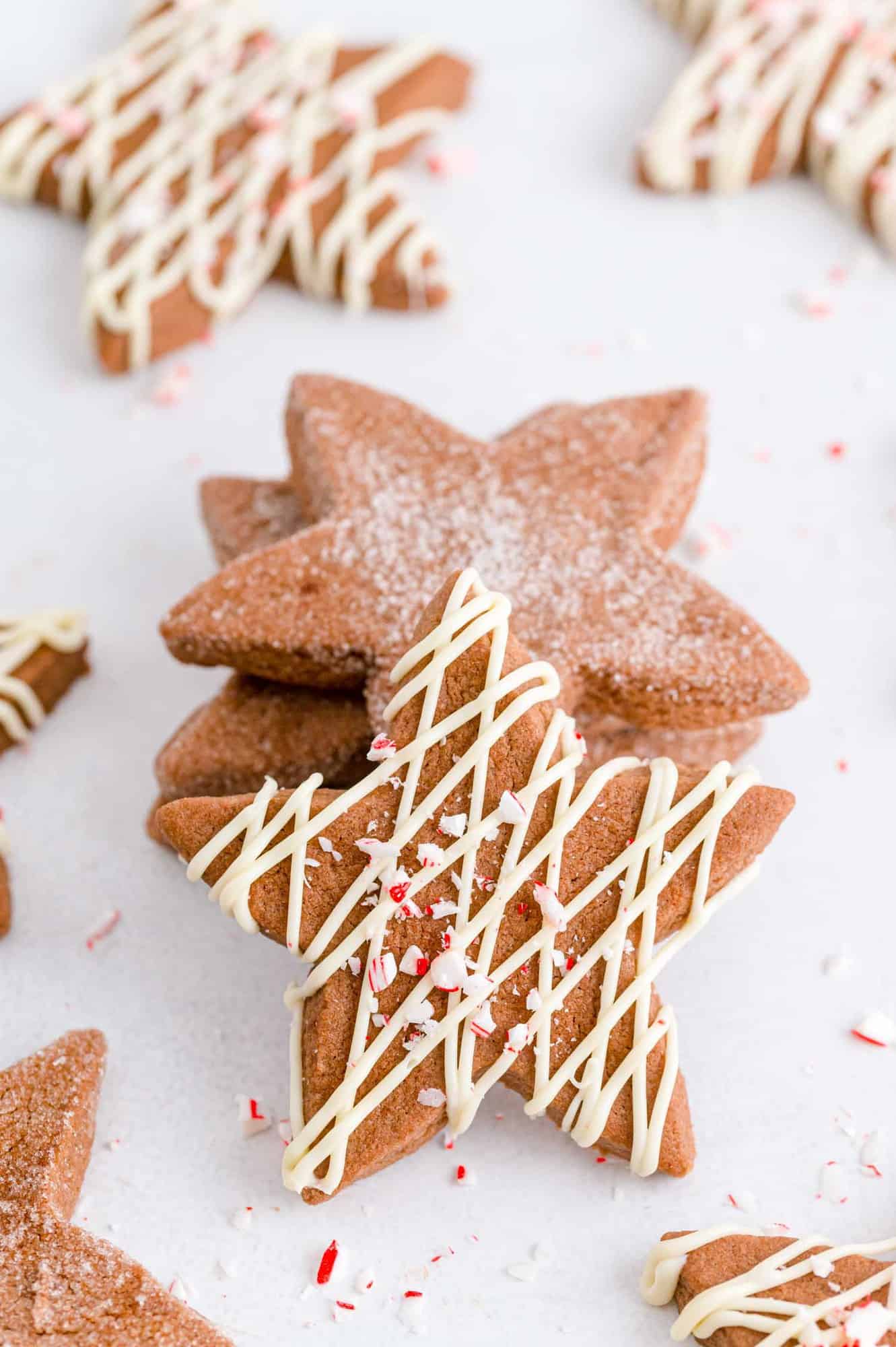 FAQs
Does cocoa powder dry out cookie dough?
Cocoa powder acts like flour. If you want to add cocoa powder to a recipe that doesn't call for it, use less flour on a 1:1 ratio. For example, if your recipe calls for 2 cups flour and you want to add 1/2 cup cocoa powder, only use 1 1/2 cups flour. Otherwise, the cocoa powder may cause your cookie dough to be dry.
Note: If your recipe already included cocoa powder, use the amount of flour and cocoa powder that is listed.
If you're worried about rolling out cookie dough using cocoa instead of flour, you'll find that it isn't a problem. The cocoa powder acts like flour (only it's a little messier!).
What is the difference between butter cookies and sugar cookies?
I think Taste of Home does the best job explaining the differences between shortbread, butter cookies, and sugar cookies. It's all in the ratio of flour to butter. Shortbread cookies have the most butter in comparison to flour and are the most delicate. Sugar cookies have the most flour in comparison to the butter and are the sturdiest. Butter cookies fall in between.
Make It Your Own
If you like a crispier cookie, roll the dough out thinner and bake the cookies an extra minute or too.
Instead of peppermint chocolate cookies, make Mexican hot chocolate cookies. Omit the peppermint extract, increase the vanilla to 1 1/2 teaspoons, and add 1 1/2 teaspoons cinnamon to the flour mixture. You'll love the flavor of these cookies!
Or, if you'd rather, make dark chocolate cookies by omitting the peppermint extract and increasing the vanilla to 1 1/2 teaspoons. Drizzle with melted chocolate chips and sprinkle on chocolate jimmies for the ultimate chocolate lover's cookie.
Don't have cookie cutters? Try Chocolate Peppermint Kiss Cookies or peppermint flavored Lofthouse Cookies.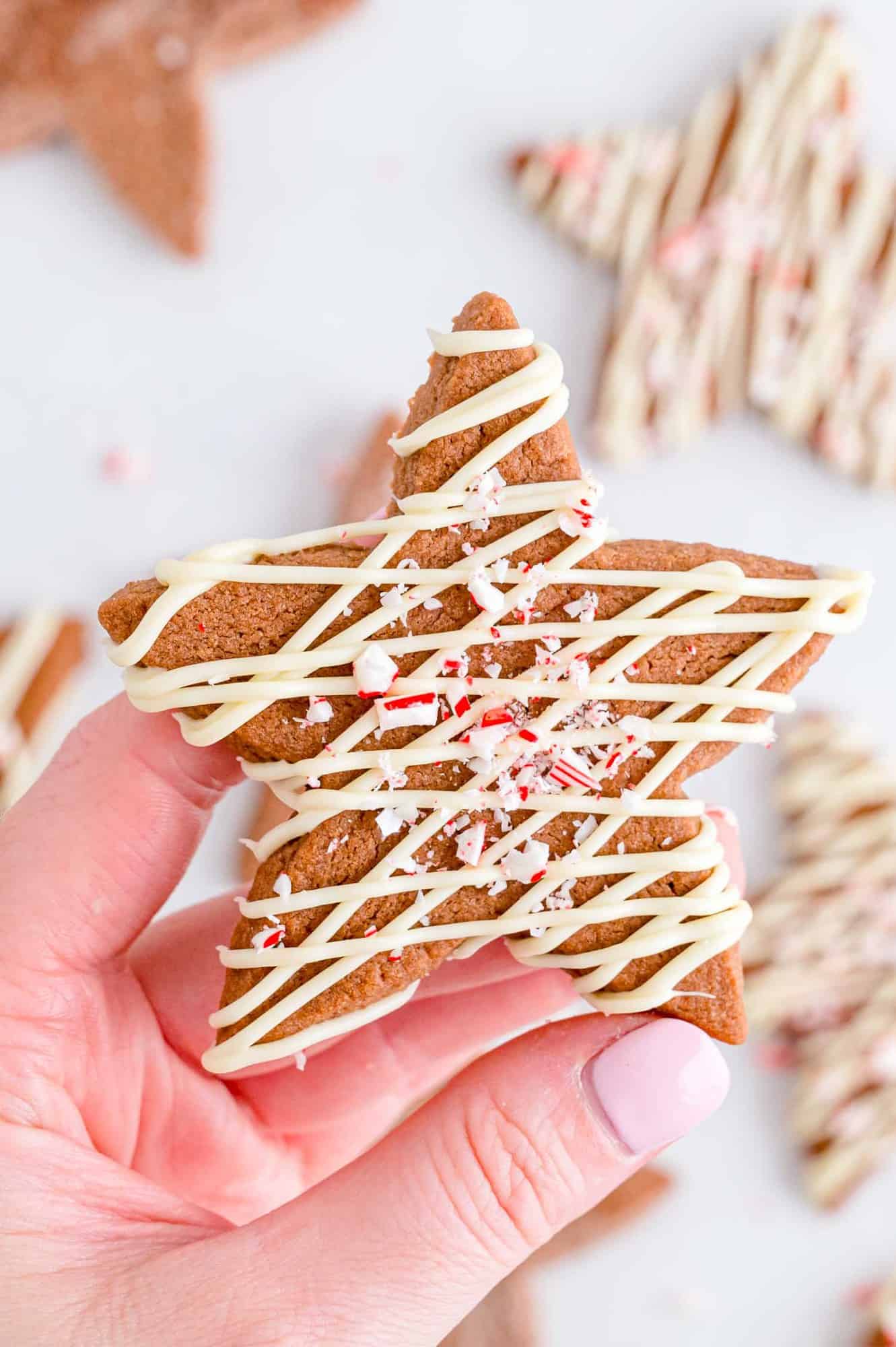 Make-Ahead Ideas
Although the dough doesn't HAVE to be chilled, it can be. Make the dough ahead and store it in an airtight container in the fridge for up to two days. Take it out of the refrigerator at least a half hour before rolling it so it has a chance to soften up.
The dough can be frozen for up to one month. Thaw overnight in the fridge, then take it out of the fridge at least a half hour before rolling it out and baking.
Storage Tips
Once the cookies have completely cooled and the icing has set, store in an airtight container with wax paper between layers, for up to a week. For longer storage, freeze for up to one month.
Leftover Love
While I'm not sure there is such a thing as "leftover" cookies, if you find you have too many cookies, share them! Spread a little cheer in your neighborhood or senior community center. Leave a plate for that overworked delivery man or postal worker with an appreciative note. Cookies are guaranteed to bring a smile!
Did you make this? Be sure to leave a review below and tag me @rachelcooksblog on Facebook, Instagram, or Pinterest!
Peppermint chocolate sugar cookies are a fun take on the traditional sugar cookie – perfect for the chocolate lover!
Ingredients
1

cup

unsalted butter, softened

(2 sticks)

1

cup

granulated white sugar

1

teaspoon

pure vanilla extract

1/2

teaspoon

peppermint extract

1

large egg

2

teaspoons

baking powder

1/2

teaspoon

salt

2 3/4

cups

white whole wheat flour

(see note)

1/2

cup

cocoa powder, plus extra for rolling out cookies
Instructions
Preheat oven to 350°F.

In the bowl of a stand mixer, cream together butter and sugar until well combined. Add vanilla extract, peppermint extract, and egg. Beat to combine.

In a separate bowl, combine baking powder, flour, and cocoa powder. With the mixer on low, add dry ingredients gradually until combined.

Coat countertop with cocoa powder and also rub some on rolling pin. Roll out cookies fairly thick (1/4-inch works well) and cut into desired shapes. If you don't plan to frost them, dip them in granulated sugar for some sparkle.

You can place these fairly close together on baking sheet – they won't spread.

Bake for 8-9 minutes and let cool for 2-3 minutes on baking sheet before removing and placing on a cooling rack to cool completely before storing, frosting, or eating. Cookies can be stored in an airtight container for up to a week or frozen for one month.
Notes
Yields 60

small

star cookies. Serving size: 2 cookies. Yield will depend on the size of the cookie cutter you use and how thick you roll the dough.

If preferred, substitute all-purpose flour for the white whole flour.
To decorate cookies: Drizzle the stars with white frosting or melted white chocolate and top immediately with crushed peppermint candies or colored sugar.
Cookies may be cut into whatever shape you desire. For crisper cookies, roll the dough thinner and bake an extra minute or two.
Instead of peppermint chocolate cookies, make Mexican hot chocolate cookies. Omit the peppermint extract, increase the vanilla to 1 1/2 teaspoons, and add 1 1/2 teaspoons cinnamon to the flour mixture.
Or, make dark chocolate cookies by omitting the peppermint extract and increasing the vanilla to 1 1/2 teaspoons. Drizzle with melted chocolate chips and sprinkle on chocolate jimmies for the ultimate chocolate lover's cookie.
Nutrition Information
Serving:
2
cookies
,
Calories:
123
kcal
,
Carbohydrates:
15
g
,
Protein:
2
g
,
Fat:
7
g
,
Saturated Fat:
4
g
,
Polyunsaturated Fat:
1
g
,
Monounsaturated Fat:
2
g
,
Trans Fat:
1
g
,
Cholesterol:
22
mg
,
Sodium:
70
mg
,
Potassium:
38
mg
,
Fiber:
2
g
,
Sugar:
7
g
,
Vitamin A:
197
IU
,
Calcium:
28
mg
,
Iron:
1
mg
This website provides approximate nutrition information for convenience and as a courtesy only. Nutrition data is gathered primarily from the USDA Food Composition Database, whenever available, or otherwise other online calculators.