Homemade Eggnog Recipe – with or without alcohol!
A festive holiday treat, silky sweet homemade eggnog is warmly flavored with cinnamon, nutmeg, cloves, and vanilla. It's delicious with or without alcohol.
Recipe Overview
Why you'll love it: Homemade eggnog is about a thousand times better than store-bought!
How long it takes: 25 minutes plus chilling time (overnight)
Equipment you'll need: blender, saucepan, fine-mesh strainer
Servings: 8 (1/2 cup servings)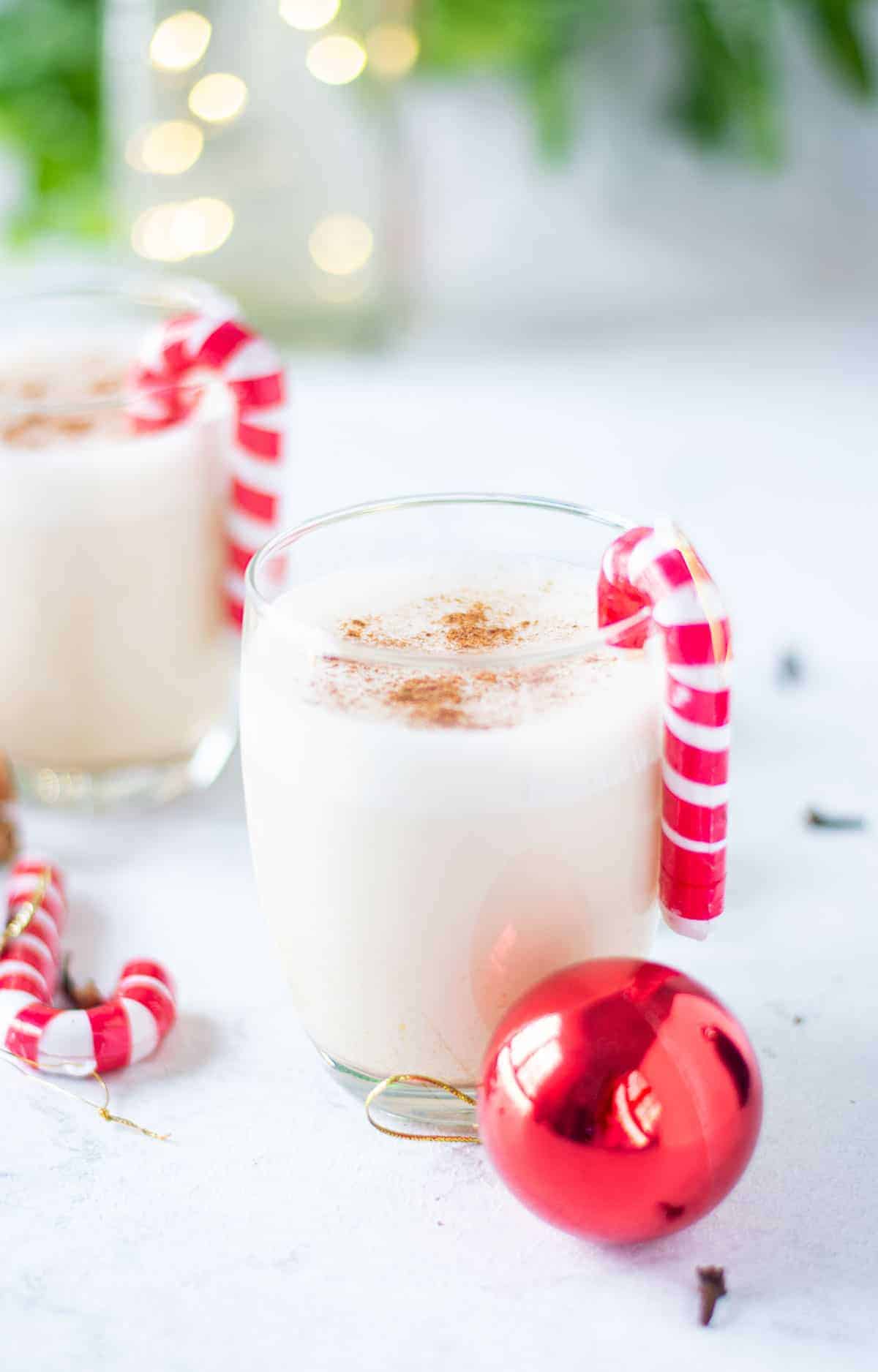 Deck the halls with this heavenly homemade eggnog! Yuletide celebrations aren't complete without a cup of traditional eggnog. Spiked or not, raise a cup of traditional eggnog to toast the season!
If you've never had homemade eggnog, you're missing a real treat. I usually avoid eggnog at holiday parties because the store bought stuff is pretty bad. Take a look at the ingredients on the carton and you'll see things like high fructose corn syrup, natural and artificial flavors, carrageenan, annatto, turmeric. While turmeric is great in curry, I'm not sure I want it in my eggnog, replacing the golden yellow of real egg yolks.
Quite frankly, there's really no comparison. Homemade and store bought don't even taste like the same product. I encourage you to give this homemade eggnog recipe a try.
My son, who's notoriously picky, took a very small sip, and said, "It tastes like pudding!" He proceeded to drink it all and ask for more. My mom, who's notoriously not picky at all, didn't even want to try it, being burned out on lousy eggnog. She braved a sip, and loved it! Wait 'til Christmas, mom, when the brandy comes out.
A (Brief) History of Eggnog
People have been drinking eggnog for a thousand years. It's thought that the drink originated in Britain, was served warm, without alcohol, and was called "posset." The colonists in America had plenty of milk and eggs, so they adopted the tradition, adding rum which was inexpensive and widely available.
George Washington even wrote a recipe for Christmas eggnog. His recipe included lots of alcohol: brandy, whisky, rum, and sherry, mixed with cream, milk, eggs, and sugar. At the end of the recipe, he advised, "Taste frequently!" "Tis the season!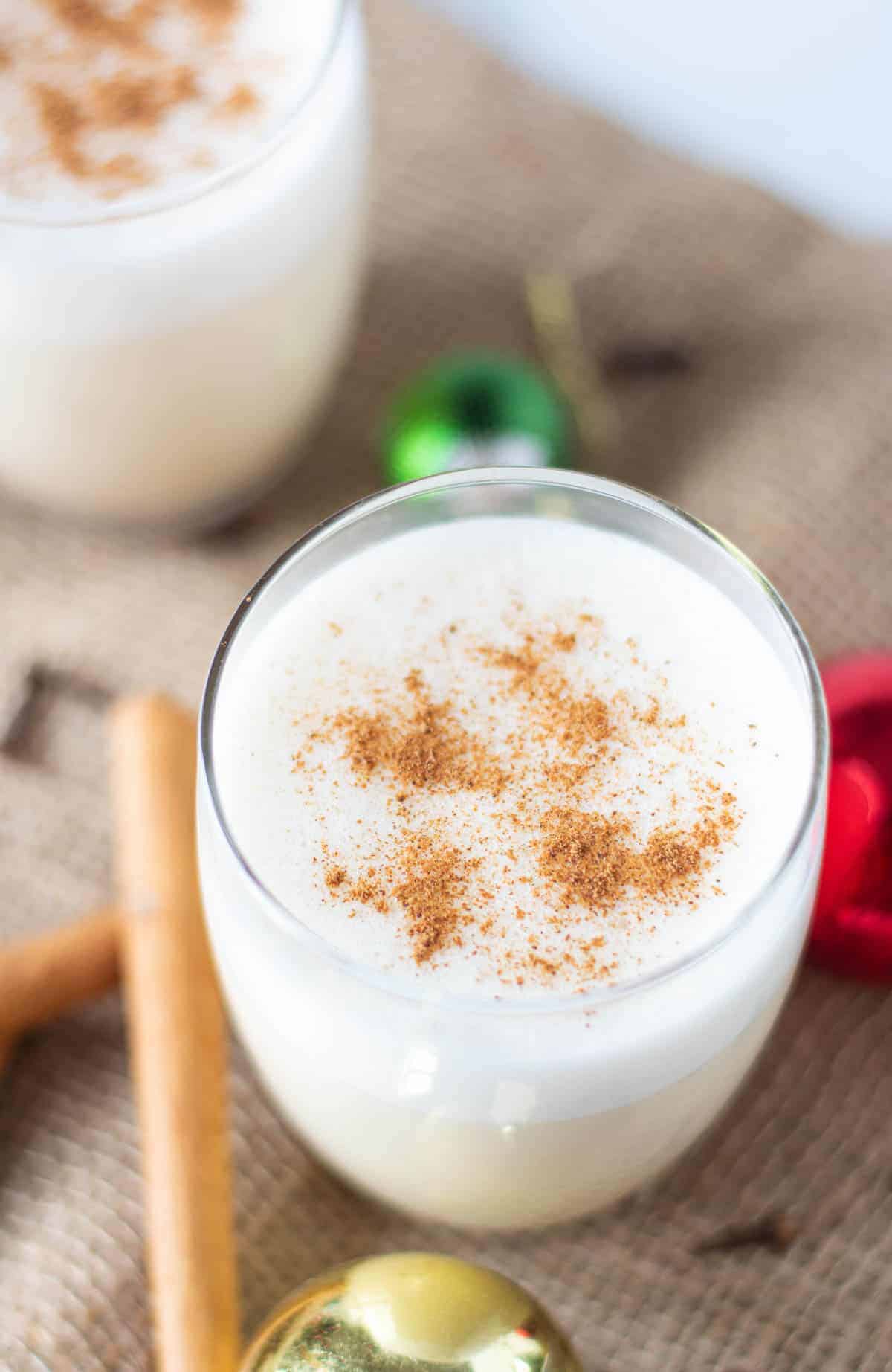 About this recipe
You may add as much or as little alcohol to your eggnog as you like but this luscious homemade eggnog easily stands alone as a delightful creamy beverage. It's not difficult to make but takes a little bit of time.
I'll get you started on the recipe here with lots of helpful tips. As always, look for the printable recipe card near the end of the post with complete instructions and nutrition information.
Equipment You'll Need
blender
saucepan
fine mesh strainer
Ingredients
You'll love the simplicity of the natural and wholesome ingredients in eggnog. Perhaps all of the ingredients are already in your pantry and fridge!
Milk: Use whole milk for this recipe. For a creamy beverage like eggnog, low fat or nonfat milks just don't yield the same result. Use unsweetened almond milk for non-dairy eggnog.
Eggs: Just the yolks! Save the whites to make meringue cookies.
Sugar: White granulated sugar, nothing fancy here.
Nutmeg, Cinnamon, Cloves: You'll be using both ground spices and whole spices.
Pure Vanilla Extract: For a smooth sweet flavor. Vanilla bean paste can be substituted if you prefer.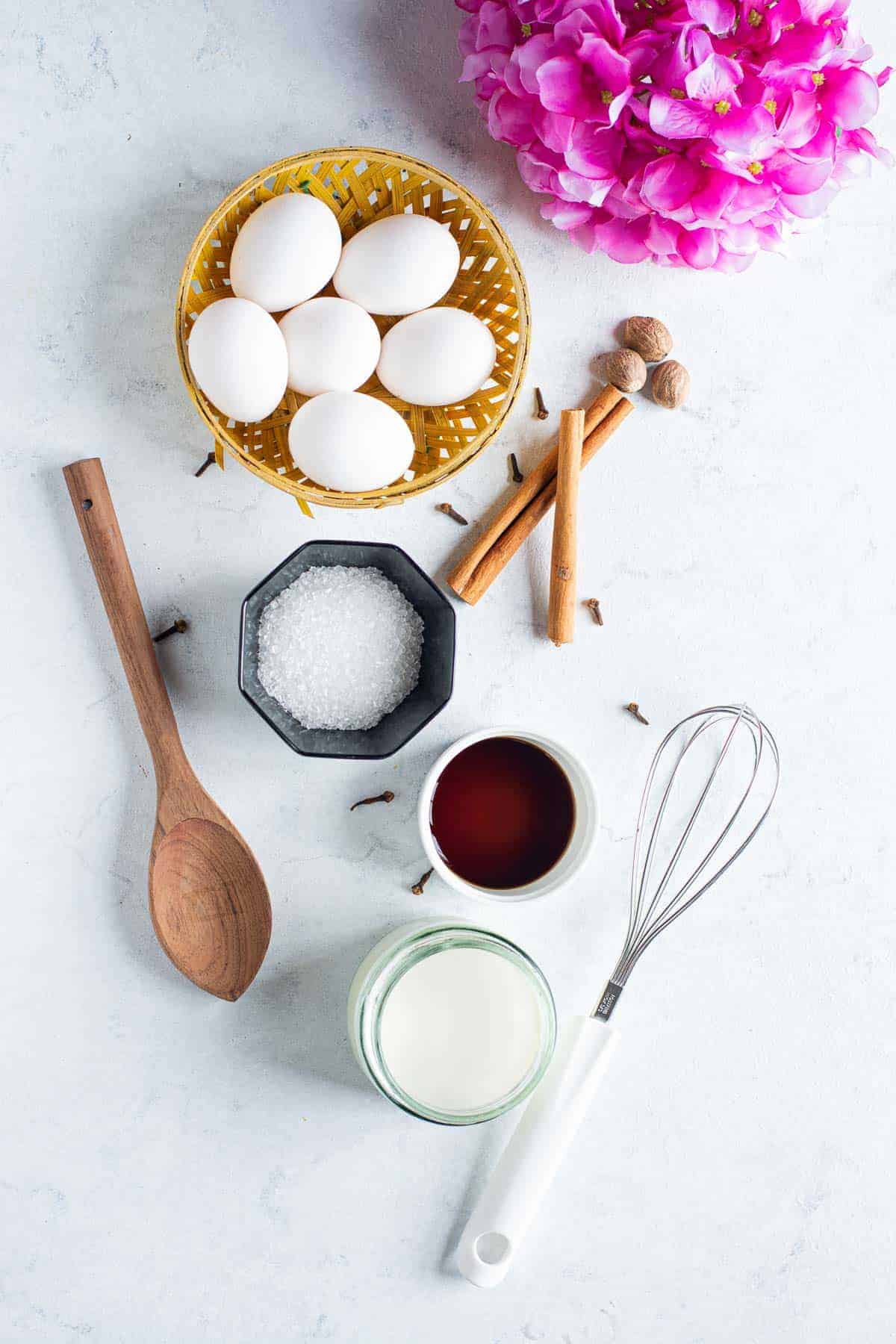 How To Make Eggnog
Making eggnog is pretty easy. Add the ingredients to a blender and blend until they're nice and creamy.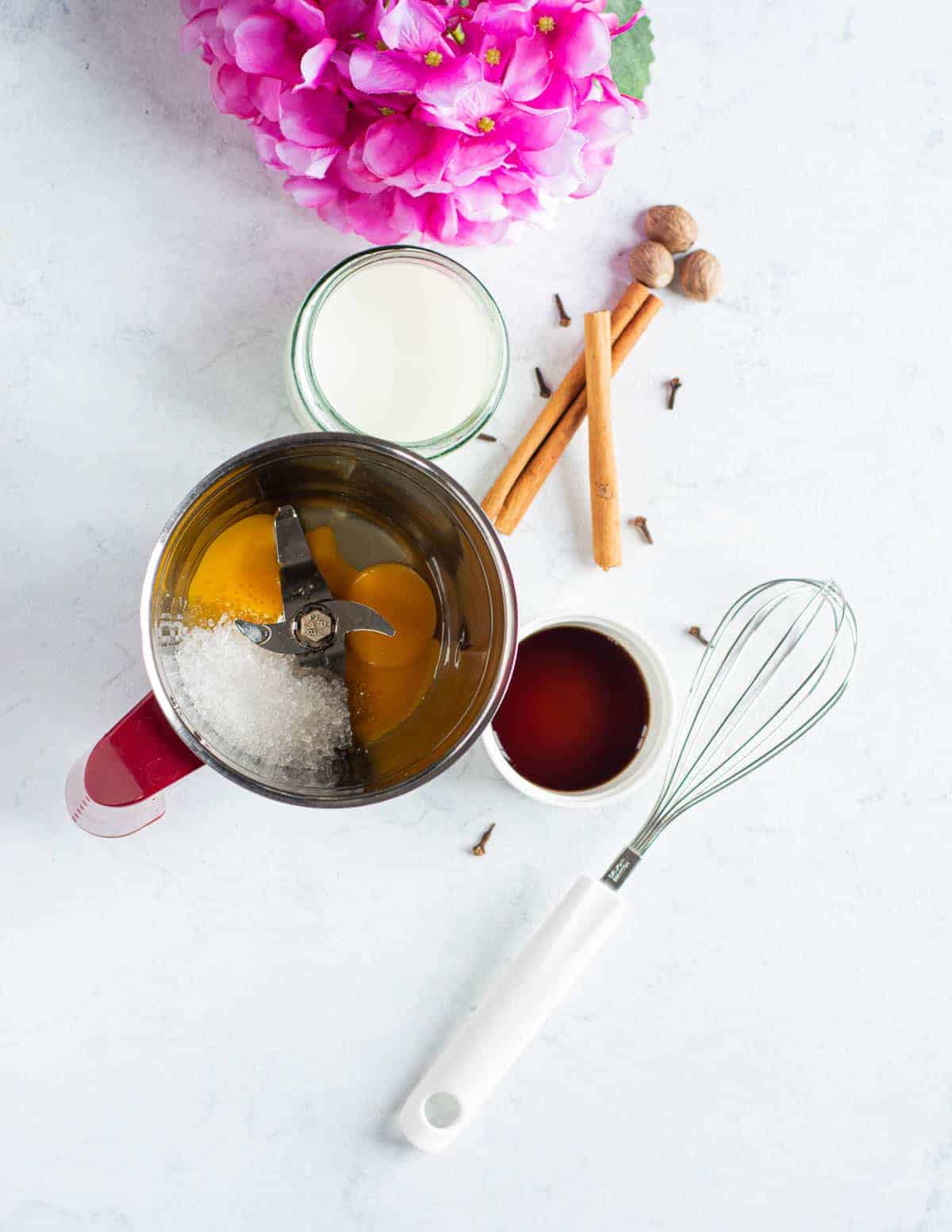 Pour the mixture into a saucepan, add the cinnamon stick and whole cloves, and slowly, slowly, slowly cook for about 10 minutes. Don't try to hurry it along over high heat. Low and slow is the key here. Why? If you boil the mixture, the eggs cook too quickly and you'll get curdled, lumpy eggnog. Not what we're looking for here!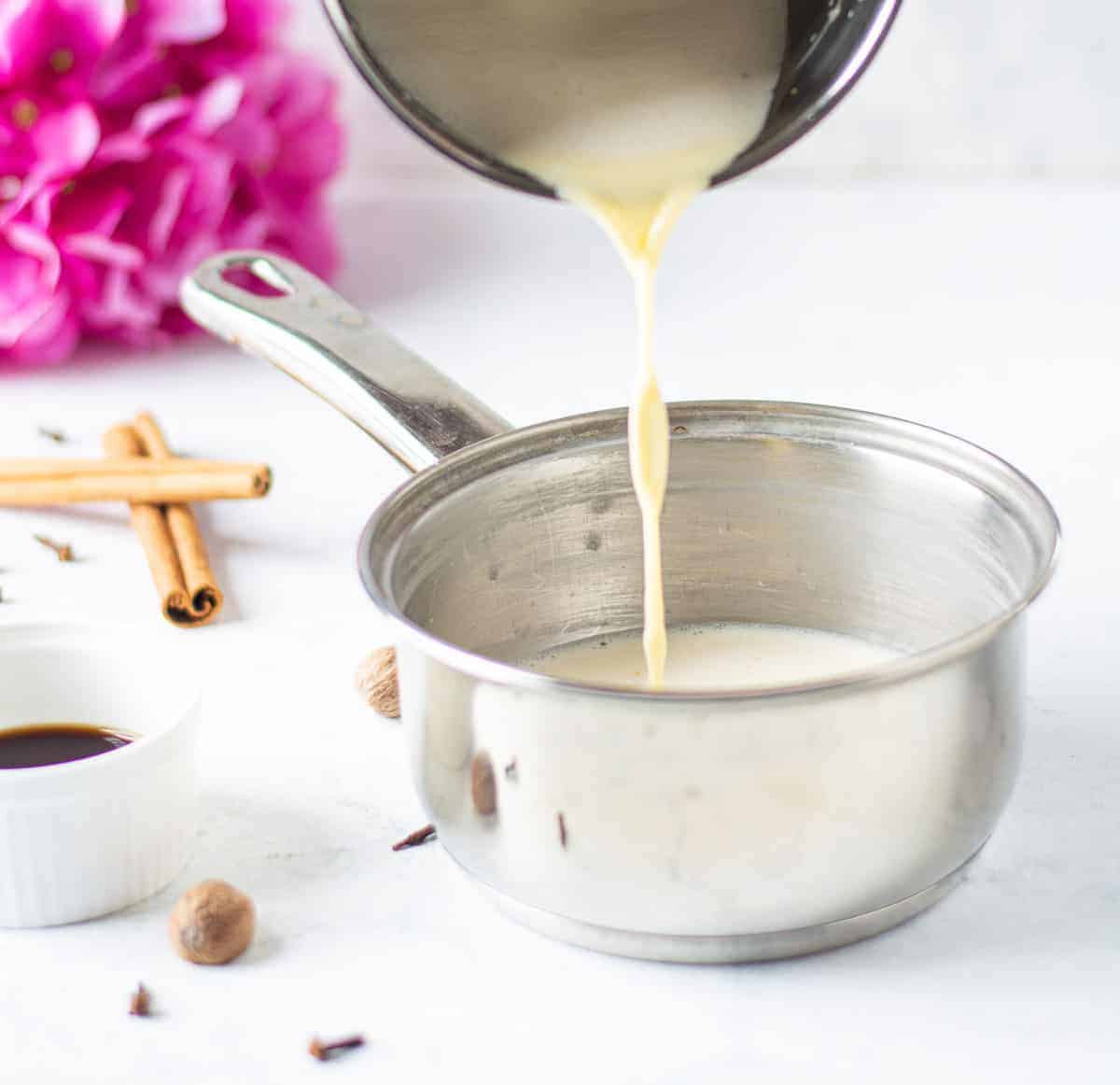 Once the mixture has thickened, remove it from the heat, and strain out the cinnamon stick, cloves, and any bits of cooked egg.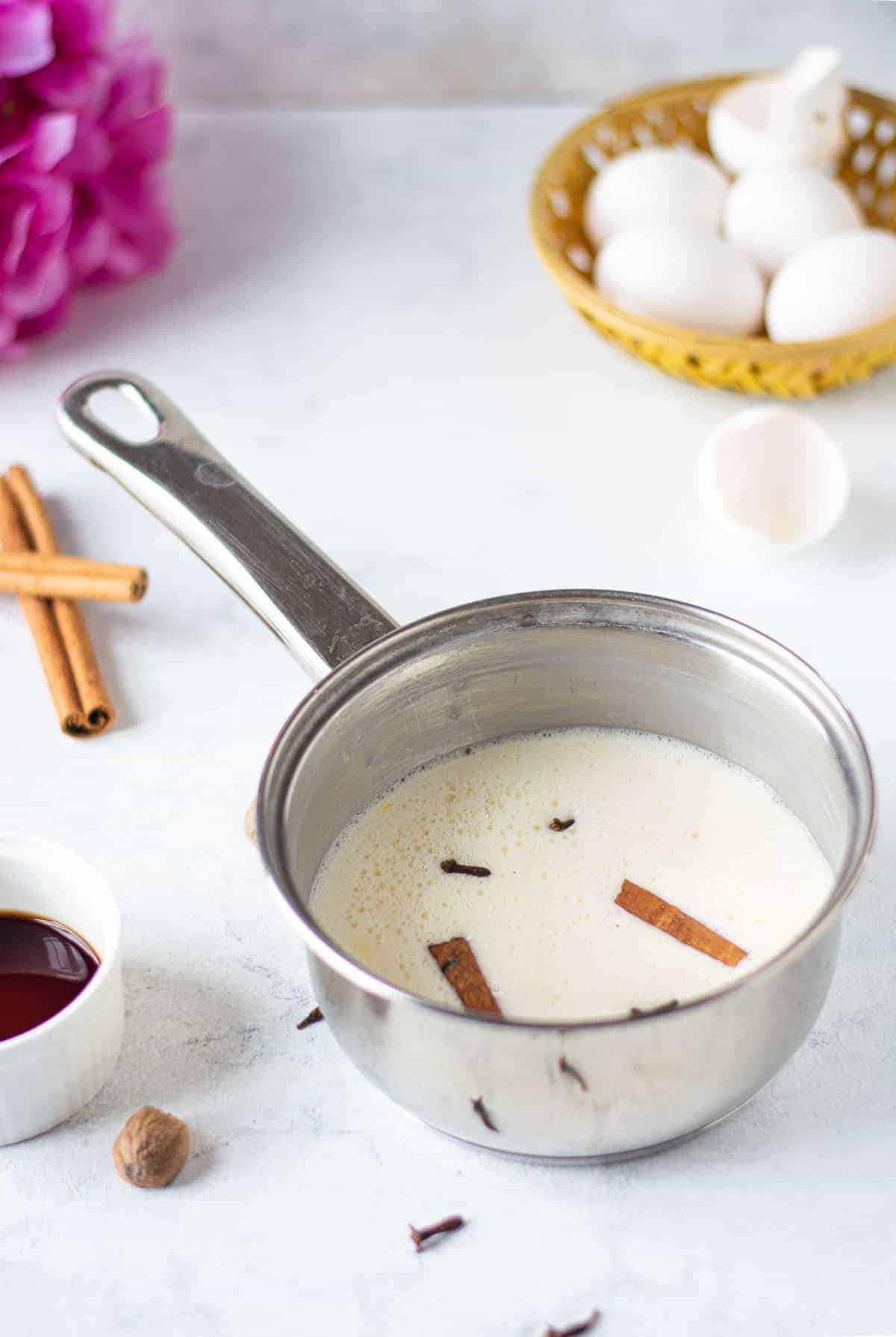 Chill overnight, if you can wait that long. We usually sample a bit (okay, maybe quite a bit) after an hour or two of chilling. Remember George's advice, "Taste frequently."
To serve, pour into small glasses or cups and garnish with a sprinkle of nutmeg or cinnamon. A bit of whipped cream on top (or stirred in) is wonderful, too.
Wondering what to serve with eggnog? For those with a sweet tooth, a plate of cookies like Snickerdoodles, Brigadeiros (fudge balls), ginger sparkles, homemade Lofthouse cookies, or double cinnamon crinkle cookies are perfect.
For more savory treats, try baked Brie with cranberries and bourbon pecans, sausage pinwheels with apple, sage, and Gruyère, or easy kale and spinach dip bites.
Adding Alcohol (Optional)
Brandy, rum, or whiskey (bourbon) are most commonly added to eggnog. Each has its own unique flavor so experiment to see which one you like the best. Begin by adding a small amount — you want the wonderful flavor of your homemade eggnog to shine.
For best results, stir in the alcohol of your choice with the vanilla, and chill.
FAQs
What is the best alcohol to put in eggnog?
If you'd like to add alcohol, try rum, brandy, or bourbon. They are the traditional choices. Choose what you like best.
Why is eggnog so bad for you?
Eggnog is a creamy rich beverage. Store-bought eggnog can have 350 calories per serving and 149 mg of cholesterol. According to Humana, that's a lot of cholesterol, as much as two double cheeseburgers and two orders of fries!
You'll find that homemade eggnog is somewhat better than that although it should still be a once-in-awhile treat.
Are the eggs cooked in eggnog?
In older recipes, the eggs may not have been cooked so there was a risk of getting salmonella. In this eggnog recipe, the egg yolks are thoroughly cooked so there are no worries about food poisoning.
Make It Your Own
Make it lactose free by replacing the milk with almond milk.
Substitute honey for the sugar, if desired. Use the same amount.
Storage Tips
Store eggnog in the fridge in an airtight container. It will keep three to four days.
More Holiday Beverage Recipes
Toast the season! Looking for more festive holiday beverages? Try:
Did you make this? Be sure to leave a review below and tag me @rachelcooksblog on Facebook, Instagram, or Pinterest!
A festive holiday treat, silky sweet homemade eggnog is warmly flavored with cinnamon, nutmeg, cloves, and vanilla. It's delicious with or without alcohol.
Ingredients
4

cups

whole milk

4

egg yolks

2/3

cup

granulated sugar, more to taste

1

teaspoon

ground nutmeg, plus additional for garnishing

2

teaspoons

ground cinnamon, plus additional for garnishing

2

teaspoons

whole cloves

about 1-inch cinnamon stick

1 1/2

teaspoons

pure vanilla extract
Instructions
Add milk, egg yolks, sugar, nutmeg and cinnamon to a blender. Blend for 1-2 minutes or until creamy.

Pour mixture into a saucepan over low heat; add cinnamon stick and cloves.

Cook the eggnog slowly for about 10-12 minutes after it starts to steam, stirring frequently until mixture starts to thicken. Slow is important! If you cook it too quickly, the mixture will curdle. Keep the heat low and do not simmer or boil. If you think the mixture is getting close to simmering or boiling, take it off the heat and stir vigorously to bring down the temperature.

Once the mixture has thickened, remove from heat and stir in vanilla extract. Strain the mixture using a fine-mesh strainer to remove the cloves and cinnamon stick.

Place the mixture in an airtight container and chill for 7-8 hours or overnight.

Pour into glasses and sprinkle a little nutmeg and cinnamon on top before serving.
Notes
Serving size: 1/2 cup. Nutrition information is calculated without the addition of alcohol.
If desired, stir in brandy, rum, or whiskey of your choice with the vanilla extract before chilling.
Make it lactose-free by substituting almond milk for the whole milk.
Eggnog will keep in the refrigerator for three to four days.
Nutrition Information
Calories:
173
kcal
,
Carbohydrates:
24
g
,
Protein:
5
g
,
Fat:
6
g
,
Saturated Fat:
3
g
,
Polyunsaturated Fat:
1
g
,
Monounsaturated Fat:
2
g
,
Trans Fat:
1
g
,
Cholesterol:
110
mg
,
Sodium:
58
mg
,
Potassium:
178
mg
,
Fiber:
1
g
,
Sugar:
23
g
,
Vitamin A:
330
IU
,
Vitamin C:
1
mg
,
Calcium:
157
mg
,
Iron:
1
mg
This website provides approximate nutrition information for convenience and as a courtesy only. Nutrition data is gathered primarily from the USDA Food Composition Database, whenever available, or otherwise other online calculators.