Apple Crisp Breakfast Cookies
These apple crisp breakfast cookies give you all the flavors of apple crisp in one tasty, portable, healthy little package. Eat one for breakfast and your day is already off to a great start.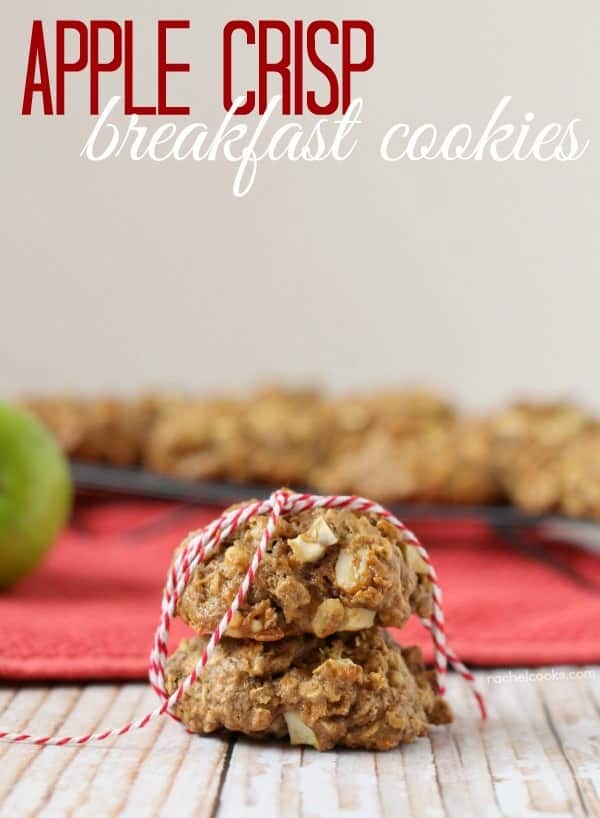 This is a sponsored post on behalf of United Dairy Industry of Michigan.
December. The time of year where I always have at least 5 pounds of butter in my fridge. You never know when you might need to bake up a batch of cookies.
Okay.
I'll be honest with you. Even when it isn't December, I still usually have at least 3 pounds of butter in my freezer. I go into panic mode if I have less than that. Not only because I need it for baking cookies, but umm…hello? POPCORN. I'm strictly a butter and salt girl for my popcorn. Yeah, I'll dabble in the different flavors and some fun combinations like peppermint crunch popcorn, peanut butter popcorn and cool ranch popcorn, but in my heart, I'll always be a butter girl. If I'm snacking on popcorn and it's not related to recipe development, you can bet your bottom dollar I'll be pouring on a good dose of butter.
REAL butter does no wrong. I'm getting sidetracked though. Popcorn and butter — I tell you, I start thinking about those two things and my mind travels to a different place. A place that involves a big metal bowl full of popcorn, salty and buttery and hot.
Ugh. There I go again!
For these breakfast cookies, butter plays an important role, but I still wanted to make these cookies something that you could feel good about starting your day with. A little indulgent but a whole lot of good healthy stuff. Whole wheat flour, oats, flax seed, yogurt, apples, cinnamon, walnuts.
My husband begs me to make more of these. I should probably get around to doing that soon…Actually making a double batch of breakfast cookies and freezing one batch is a great idea. Why not make a double batch when you already have everything out?
Apple crisp is one of my favorite desserts. I love that I can have the flavors of my favorite dessert as a delicious breakfast. Plus these breakfast cookies are portable for breakfast on the go. It's a win-win situation.
Enjoy the cookies! And go out and buy some butter, we have some holiday baking to do. Make sure to check out Go Bold with Butter, and United Dairy Industry of Michigan's (UDIM) website.
Love the flavors of apple crisp?

I sure do! The combination of apples and cinnamon can't be beat! Here's more luscious recipes, including some breakfast ideas:
Apple Crisp Breakfast Cookies
Yield: 18 cookies
Prep Time: 15 minutes
Cook Time: 17 minutes
Total Time: 32 minutes
These apple crisp breakfast cookies give you all the flavors of apple crisp in one tasty, portable, healthy little package. Eat one for breakfast and your day is already off to a great start.
Ingredients
3/4 cup whole wheat flour
1/2 cup all-purpose flour
1 1/2 cups rolled oats
1/4 cup ground flax seed
1/4 teaspoon salt
1 teaspoon baking powder
1 teaspoon baking soda
1 teaspoon ground cinnamon
3/4 teaspoon freshly grated nutmeg
1/4 cup unsalted REAL butter, softened
1/2 cup plain Greek yogurt
2/3 cup dark brown sugar
1 teaspoon pure vanilla extract
2 large eggs
1 cup chopped walnuts
1 cup chopped Granny Smith apple (about one small apple)
Instructions
Preheat oven to 350°F. Prepare baking sheet by lining with parchment paper or Silpat.
In a medium bowl, stir together both types of flour, oats, flax seed, salt, baking powder, baking soda, cinnamon, and nutmeg until combined. Set aside.
In the bowl of a stand mixer, cream together softened butter and yogurt. Add brown sugar and mix until combined. Add eggs and vanilla, mixing again until combined. With the mixer on low, gradually add in the dry ingredients until just combined.
By hand, fold in the walnuts and apples.
Scoop by 1/4 cup spoonfuls onto prepared baking sheet. Bake for 15-17 minutes or until firm to the touch.
Notes
Make a double batch and freeze one batch to use later.
If you don't have a stand mixer, a hand mixer will work. You may have to stir in the dry ingredients if your mixer doesn't have enough power.
Nutrition Information:
Yield: 18
Serving Size: 1 cookie
Amount Per Serving:
Calories: 172
Total Fat: 9g
Saturated Fat: 2g
Trans Fat: 0g
Unsaturated Fat: 6g
Cholesterol: 28mg
Sodium: 160mg
Carbohydrates: 20g
Fiber: 2g
Sugar: 8g
Protein: 5g
RachelCooks.com sometimes provides nutritional information, but these figures should be considered estimates, as they are not calculated by a registered dietitian. Please consult a medical professional for any specific nutrition, diet, or allergy advice.
Verdict:
These apple crisp breakfast cookies are in my regular rotation. Love them!
Husband's take:
He craves these, and loves to grab a couple on his way out the door to work.
Changes I would make:
None!
Difficulty:
Easy!
Disclosure: This post is a collaboration with United Dairy Industry of Michigan. I was paid to develop and photograph this recipe but my love for butter and breakfast cookies is 100% the real thing.