Roasted Cauliflower with Chili Powder Recipe
Roasted Cauliflower with Chili Powder is absolutely perfect on its own but it's also an ideal addition to salads and burrito bowls. You might even find yourself reaching for the chili powder every time you roast cauliflower!
Did I mention that our basement remodel finally started? In case you missed the beginning of the story, we moved into our house about a year and a half ago, and when we moved in, the basement was finished. However, without getting into too many details, it was unusable due to the improper care of their pets. We had to strip out the carpet, the carpet pad, and about 2 feet of the drywall. We then sealed it all to eradicate any unpleasant odors, if you catch my drift.
We let it be that way for about a year to make sure we had completely remedied the problem through all seasons and humidities. The good new is, we did! Yay! The bad news is now we're spending a ton of money to remodel it.
However, now we get to do it the way we want it (within budget, of course), which is great. It had a small galley kitchenette that we're opening up to be a bar. There are two bedrooms in the basement and one is going to be a gym (CANNOT WAIT) and the other will be a guest bedroom/library/playroom etc.
The main room is going to house built-ins for storage and lots of room to hang out. There's a bathroom, too, which we're sprucing up a little. Would you guys want to see photos when it's all said and done?
So that's pretty much what my life is revolving around lately – it's dust city over here. Now let's talk cauliflower!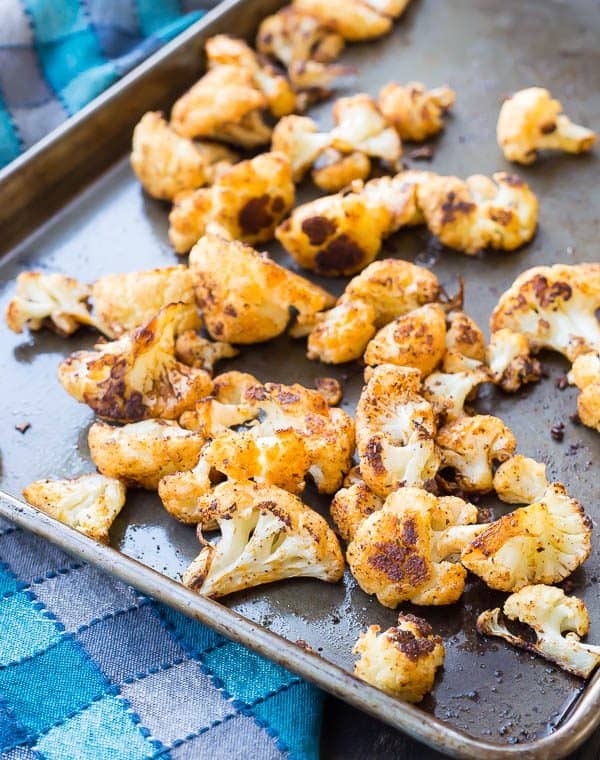 About this Cauliflower with Chili Powder
I created this combination when I did my first Whole30, but I haven't stopped. It's quickly become one of my favorite ways to eat cauliflower and I think it will be one of your favorites too. The chili powder isn't spicy (in my opinion), but it gives it a great southwestern flavor that will have you craving cauliflower….seriously! I know you guys have seen roasted cauliflower here before, I love creating new variations of it. It all started when I showed you how to roast cauliflower way back in the day. Now I've added Parmesan Roasted Cauliflower and Whole Roasted Cauliflower with Dijon Cream Sauce (my personal favorite!).
You can also use roasted cauliflower in other recipes like Roasted Cauliflower and Cheddar Dip or Roasted Cauliflower Soup. I also can't wait to try these Sriracha Lime Cauliflower Tacos from FoodieCrush and this Mediterranean Roasted Cauliflower Salad from Sugar-Free Mom.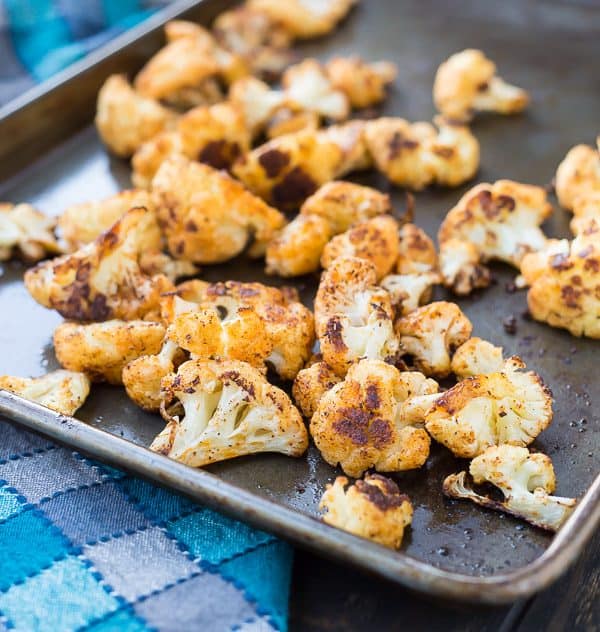 This roasted cauliflower with chili powder is just as simple to make as traditional roasted cauliflower. I wrote the recipe to use a teaspoon of chili powder, but truthfully, I've made it so many times now that I just sprinkle the chili powder on the cauliflower until it all has a nice coating. You can do it either way (measure or sprinkle) based on your confidence in the kitchen.
Let's talk about pepper for a minute. Black pepper, that is. I don't use it in this cauliflower recipe because I like the flavor of the chili powder to really shine through. If you're really into black pepper, sprinkle some on. If you like things with a little more heat, try it with a sprinkle of cayenne or red pepper flakes.
You will love this on salads (like this kale sweet potato salad), in burrito bowls (like this quinoa bowl!), or just plain! It also makes a great side dish to Southwestern Mini Meatloaves and Shrimp Tacos.
Enjoy!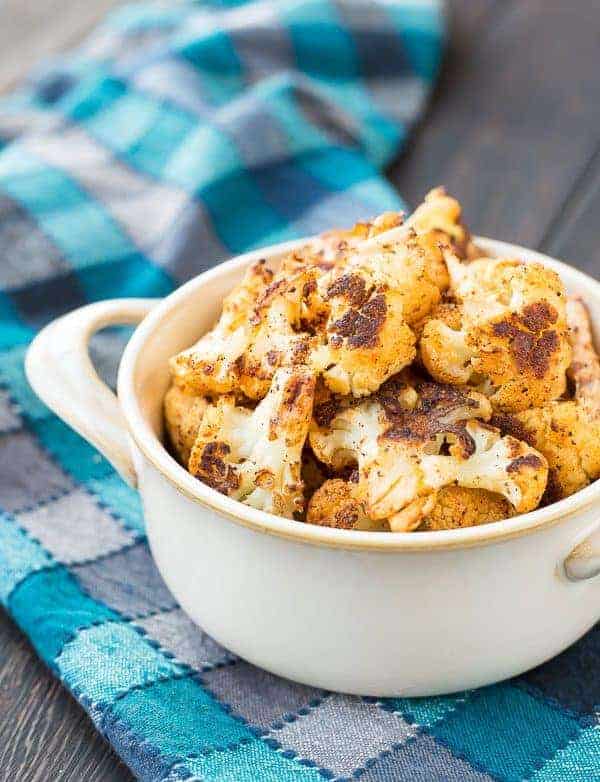 PS: I always use these parchment paper sheets when I roast veggies – it makes clean-up a breeze!
PPS: If you love roasted cauliflower, you'll also love roasted broccoli!
Did you make this? Be sure to leave a review below and tag me @rachelcooksblog on Facebook, Instagram, or Pinterest!
Roasted Cauliflower with Chili Powder is absolutely perfect on its own but it's also an ideal addition to salads and burrito bowls.
Ingredients
1

large bunch of cauliflower (about 4 cups chopped)

2

tablespoons

olive oil

1

teaspoon

chili powder (more to taste)

salt to taste (start with 1/4 teaspoon)
Instructions
Preheat oven to 425°F. Wash cauliflower and dry very thoroughly. (Don't skip drying — it's important. It will determine whether your end product is crisp or soggy. You can even use a salad spinner if you have one, or just shake, shake, shake all the water out and then pat dry with a towel.)

Cut into medium-sized spears and coat well with olive oil. Spread onto rimmed baking sheet and sprinkle with salt and chili powder. Toss to coat all cauliflower with olive oil, salt and chili powder.

Bake for 15 minutes, flip each piece over, and bake for 10 more minutes or until browned and crispy.

Serve immediately.
Notes
The more dry the cauliflower is, the better this recipe will turn out.
I like to reheat this in my toaster oven. I preheat it to 425°F or 450°F, put it on a foil-lined baking sheet and heat until hot and crispy, which only takes about 5 minutes. You can also reheat in the microwave but it won't get crispy. It's not bad cold on a salad, either, but again - not crispy if it's been refrigerated.
The smaller you cut your pieces of cauliflower, the faster it will cook and the crispier it will get.
If you like it spicier, try it with a sprinkle of cayenne - start with 1/4 teaspoon and increase depending on how spicy you like it. Red pepper flakes will also work.
If you love cheese (who doesn't!), sprinkle on 1/4-1/2 cup of grated sharp Cheddar or Monterey Jack when this comes out of the oven. The cheese tastes SO good with the chili powder!
Nutrition Information
Serving:
1
/4 of recipe
,
Calories:
90
kcal
,
Carbohydrates:
5
g
,
Protein:
2
g
,
Fat:
7
g
,
Saturated Fat:
1
g
,
Polyunsaturated Fat:
6
g
,
Sodium:
74
mg
,
Fiber:
3
g
,
Sugar:
3
g
This website provides approximate nutrition information for convenience and as a courtesy only. Nutrition data is gathered primarily from the USDA Food Composition Database, whenever available, or otherwise other online calculators.
Verdict:
I cannot get enough of this cauliflower with chili powder – I make it almost once a week!
Husband's take:
I think Ben prefers traditional cauliflower (always the traditionalist!) but he eats this every time I make it.
Changes I would make:
None at all are necessary! See recipe notes for ideas if you want to have a little fun with the recipe, though!
Difficulty:
So easy!