Slow Cooker Beef Marsala Stew
Slow cooker beef Marsala stew will fill your house with tantalizing aromas as it simmers. You'll look forward to dinner all day long!
Recipe Overview
Why you'll love it: This isn't your ordinary stew! The mushrooms and Marsala wine make it extra special.
How long it takes: about 30 minutes to prep, then 4 to 8 hours in the crockpot, depending on whether you cook it on High or Low
Equipment you'll need: slow cooker
Servings: 8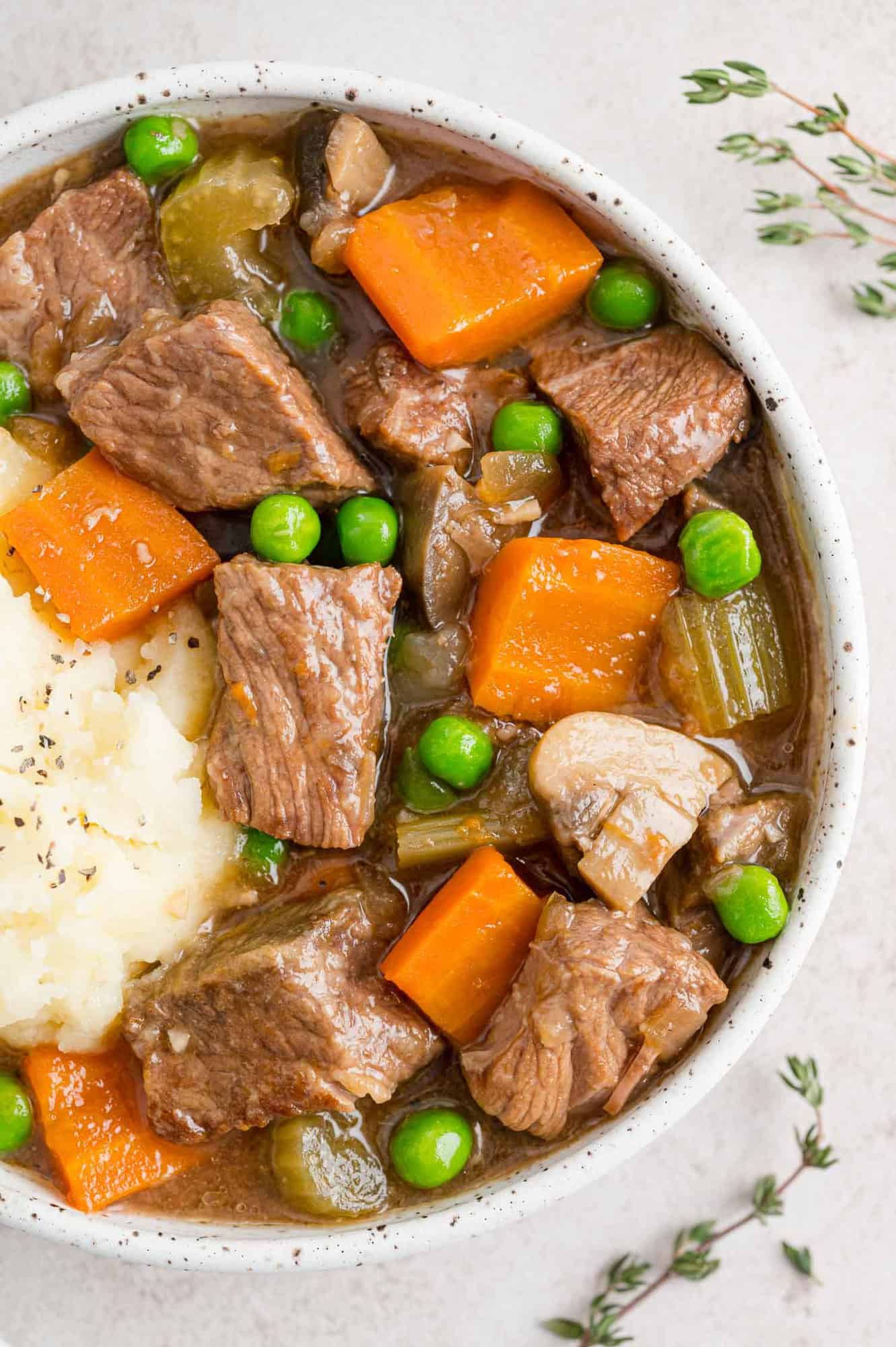 A hearty beef Marsala stew simmering all day in the slow cooker may do wonders for your frame of mind, knowing that a delightful dinner is waiting for you at the end of a busy day.
I just love the flavor of Marsala. One of my husband's favorite dishes is chicken Marsala, an classic recipe I make in my Instant Pot. Lately, we've been loving creamy chicken Marsala (the creamy sauce is amazing!). Another favorite is this one pan pasta recipe, chicken Marsala pasta (true confession: I love all my one pot pasta recipes!).
More About Marsala
Marsala is a fortified wine originally from the city of Marsala in Sicily, Italy. There are dry and sweet varieties; dry Marsala wine is usually the best choice for recipes.
Marsala is fortified with brandy and has an alcohol content between 15 to 20 percent. It will keep for at least 6 months in a cool dry place.
Look for Marsala wine in the alcoholic beverages section in your grocery store.
Marsala is often paired with mushrooms. Have you had a chance to try my Marsala roasted mushrooms? So good! So I thought, why not take my favorite beef stew recipe and jazz it up with Marsala wine and a package of mushrooms?
And yes, it turns out that combination is simply marvelous. Maybe I should rename it: Marvelous Mushroom Marsala Beef Stew. Lots of good alliteration, and lots of good flavor, too!
About This Recipe
This savory mixture of tender beef, Marsala wine, meaty mushrooms, fresh thyme, and a medley of healthy vegetables will warm your soul. Sounds cheesy but it's kinda true. And it's packed with loads of veggies so it does a body good, too.
When making this stew, I highly recommend taking the time to brown the meat first, to give it a deep brown color and sear in the flavor. However, if you're in a rush, just toss the beef cubes with flour, throw everything in the slow cooker and let the slow heat work its magic!
Although most stews include potatoes, I left the potatoes out of this recipe. We really love stew with mashed potatoes, rice, or noodles for a different spin on a traditional dish. Sometimes I just serve the stew with a crusty bread, like this easy homemade beer bread.
There is another advantage to leaving the potatoes out. Stews that include potatoes don't freeze well because the potatoes tend to get a mealy texture when they're frozen, thawed, and reheated. This beef marsala stew freezes really well with no worries about the potatoes getting yucky.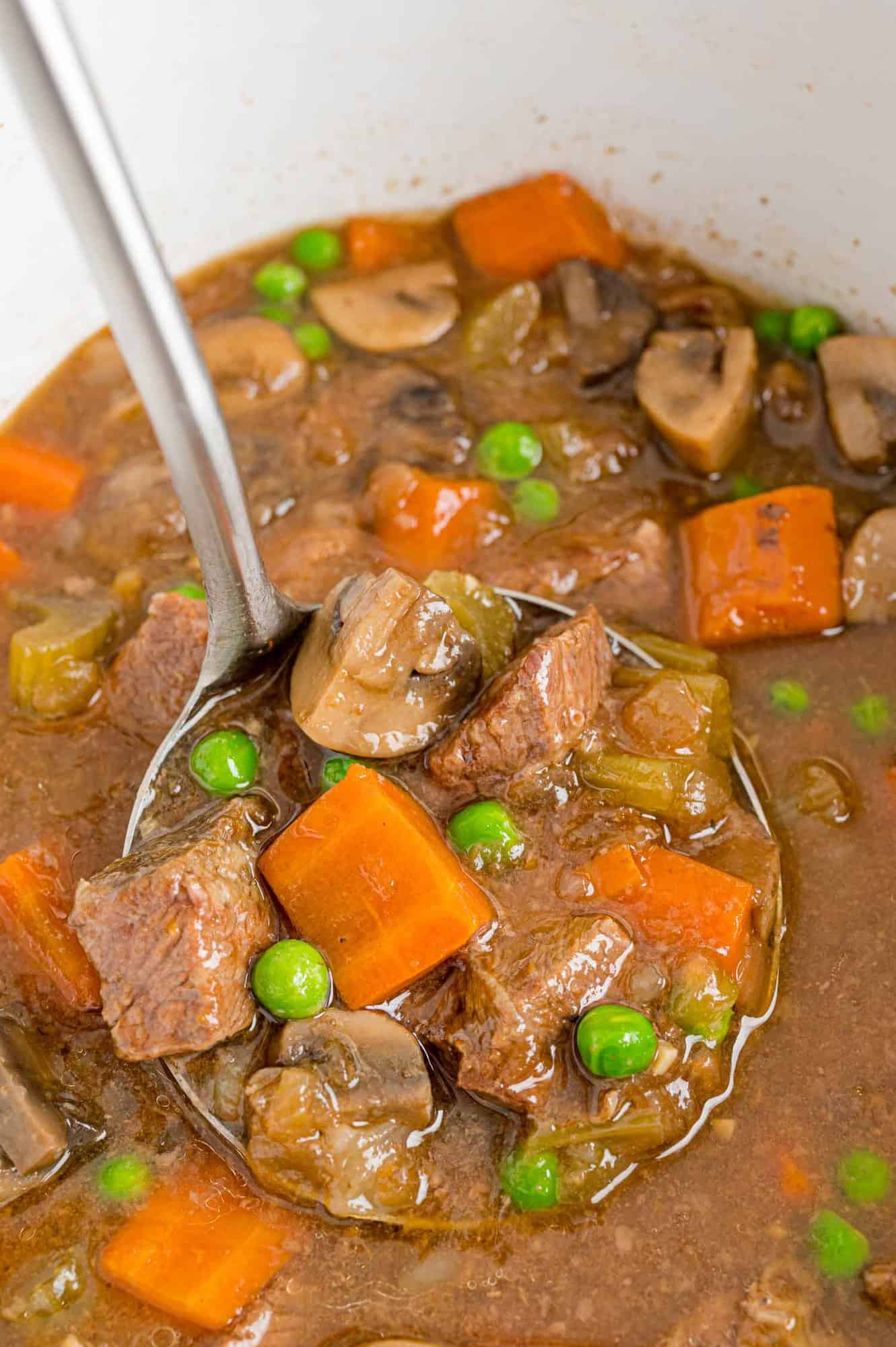 Just to get you started, I'll describe the ingredients you'll need and how to make the stew but be sure to refer to the recipe card below for measurements, instructions, and nutrition information.
What You'll Need
Boneless Beef Chuck Roast: Usually buying a roast and cutting it yourself is less expensive than buying a package of pre-cut stew meat. Chuck roast is a less expensive cut of meat which benefits from slow cooking, giving the tough connective fibers a chance to tenderize.
All-Purpose Flour, Kosher Salt, Black Pepper: The meat is tossed with this simple mixture. The seasoned flour helps give the beef a nice brown, caramelized surface.
Olive Oil: You'll need a bit of oil to sauté the meat and vegetables. If you don't have olive oil, another mild flavored oil will work fine.
Mushrooms: White button mushrooms are the least expensive and most commonly used mushroom. They have a mild flavor and meaty texture, and are very nutritious with lots of B vitamins and potassium.
Carrots: Bright orange carrots are added to the stew for their sweet flavor, brilliant color, and nutrition. Carrots have lots of vitamin A and fiber. They are inexpensive, always available, and keep well in your fridge.
Celery: Bright green and crispy, celery is another inexpensive vegetable that packs a lot of nutrition.
Frozen Pearl Onions: Of course, you can buy fresh pearl onions and peel them yourself but frozen pearl onions are an amazing time saver. If you prefer to camouflage the onions in your stew, chop up a regular onion and add that to your stew instead.
Garlic: The recipe calls for 2 cloves of garlic. Feel free to increase or decrease that amount, depending on how much you love garlic. Peel the cloves and finely mince the garlic.
Tomato Paste: You won't need a whole can of tomato paste, only 2 tablespoons. Freeze the rest in 2 tablespoon increments to use in other recipes. The tomato paste adds rich color and background flavor to the stew.
Marsala Wine: Look for Marsala wine that is dry, not sweet. Avoid Marsala cooking wine which has added salt and preservatives.
Beef Stock: Look for low sodium beef stock, or no salt added, so you can control the amount of sodium in your stew.
Thyme: If you use fresh thyme, you'll need about 3 sprigs. If you choose dry thyme, use about 1 to 1 ½ teaspoons.
Bay Leaf: A dry bay leaf adds subtle flavor. Be sure to remove it before you serve the stew.
Frozen Green Peas: The peas are added at the end of the cooking time so they retain their bright green color. There's no need to thaw them first.
Cornstarch: This flavorless white powder is often used for thickening soups and stews. Look for it in the baking supplies aisle.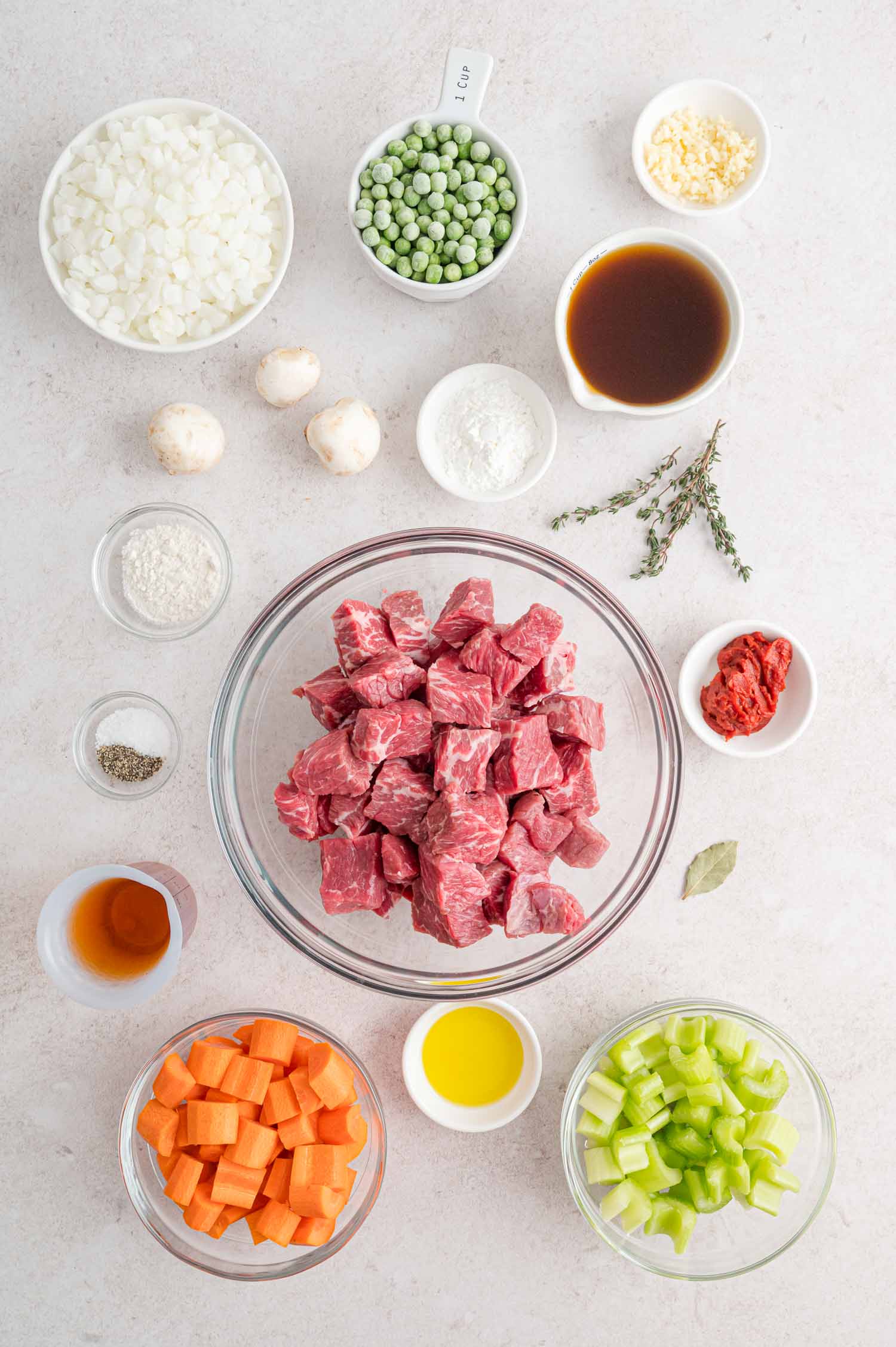 How To Make This Recipe
Begin by cutting the beef into bite-sized pieces. It's extra easy if the meat is very cold, even with a hint of frost in it. Use a large sharp knife and a cutting board.
Mix the flour, salt and pepper in a big bowl, add the meat, and toss the cubes of meat in the mixture until it's coated on all sides.
You'll be adding flavor to the beef by browning it. After you've browned the meat (it doesn't have to be cooked all the way through), transfer it from the pan to your slow cooker. You may have to brown it in batches. It's better to spread the meat out than to crowd it in the skillet.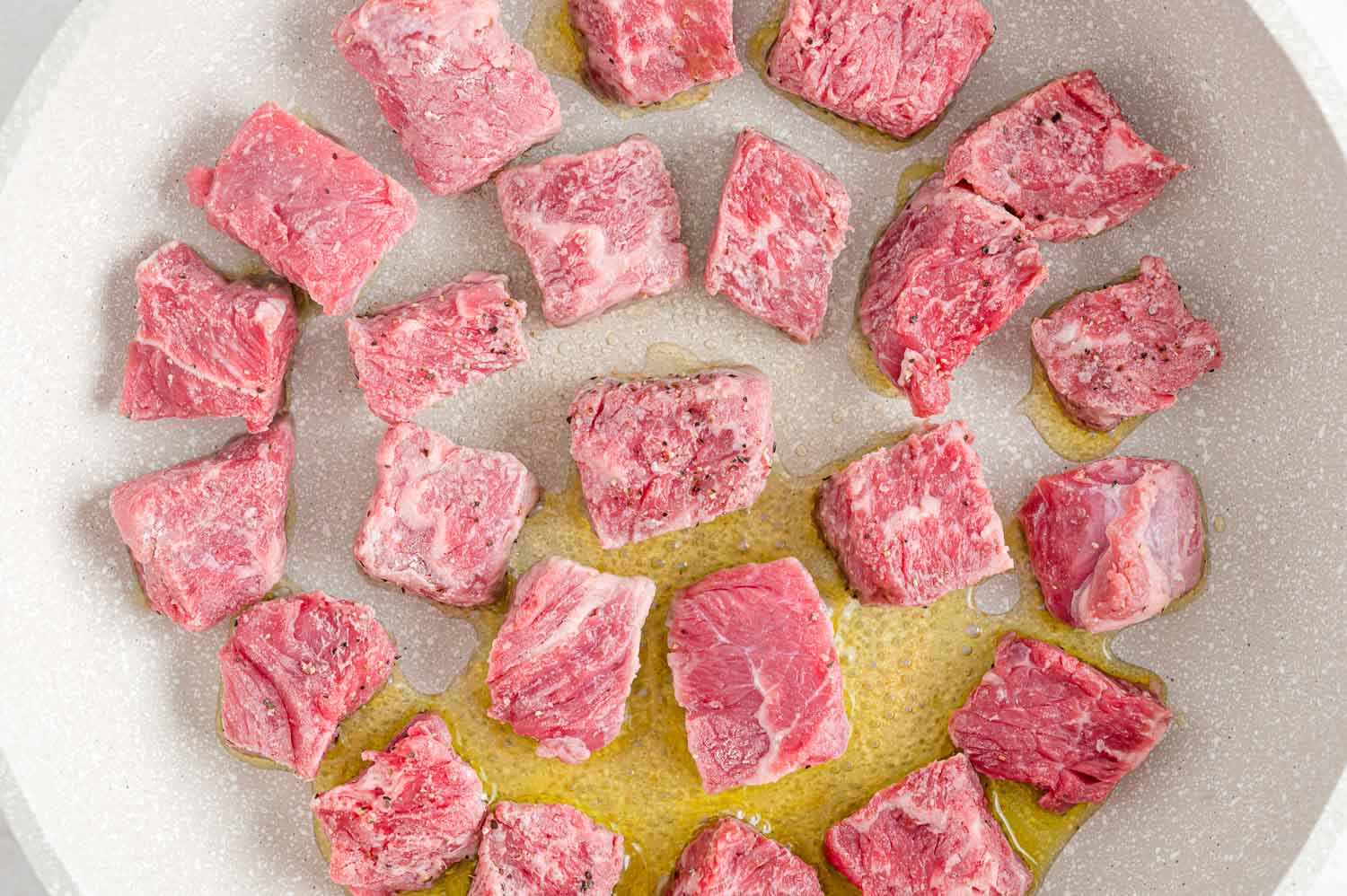 Once the beef is browned, add the mushrooms to the skillet. Allow them to cook undisturbed for a few minutes before stirring them so they brown nicely. Add them to the slow cooker.
Next up: the carrots, celery, and onions. Into the skillet they go! They don't really need to brown, just soften up a bit. Stir in the tomato paste and garlic, cooking for another minute or two. Add the wine and deglaze the pan, scraping all those delectable brown bits off the bottom of the skillet.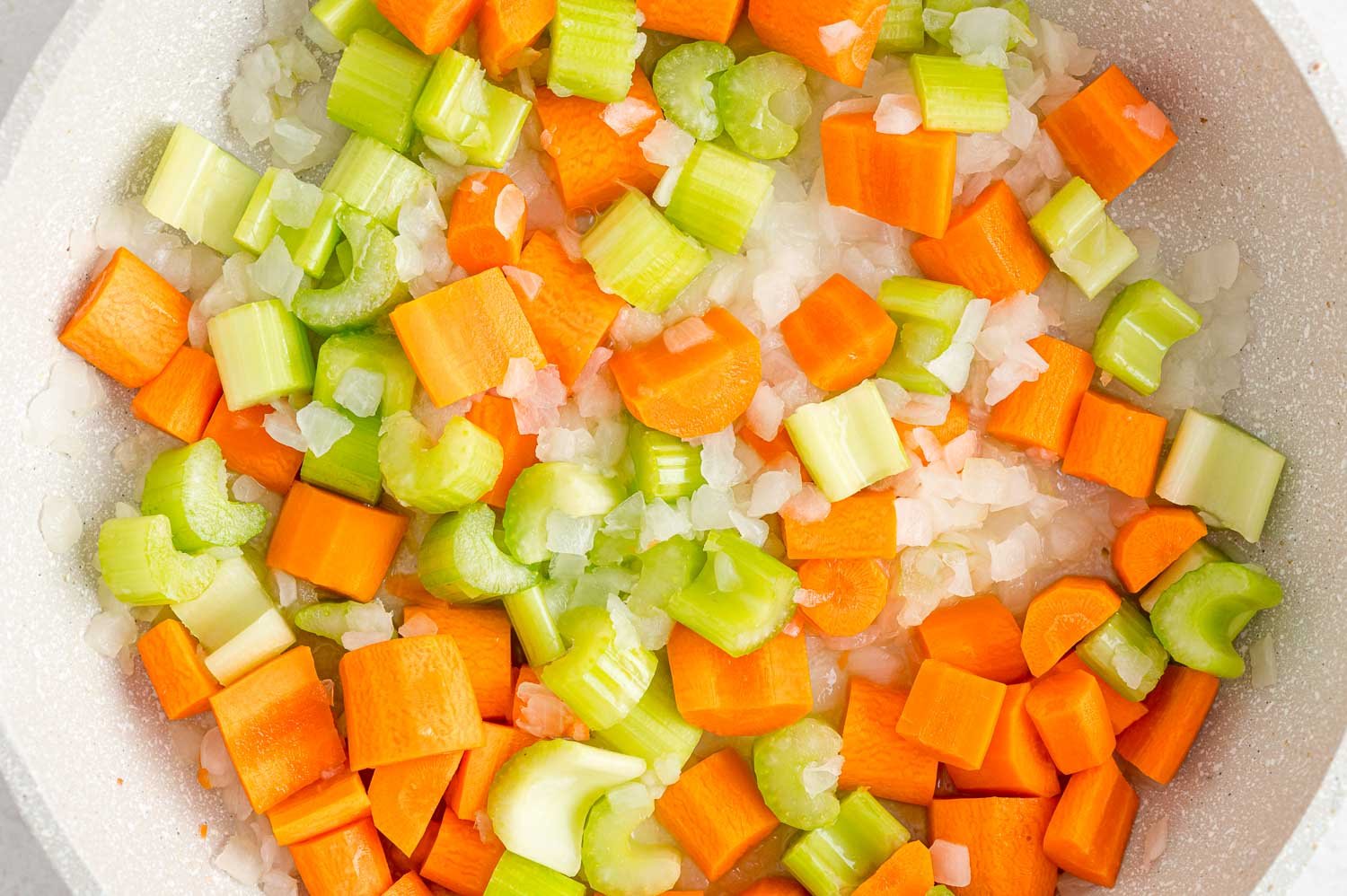 Now it's time to do some slow cooking! The beef, mushrooms, and vegetable mixture are joined by the broth, bay leaf, and thyme and slow cooked until the beef is fall-apart tender (4 hours on high, 7 to 8 hours on low).
When it's getting close to serving time, remove the bay leaf, blend the cornstarch with a bit of water; stir the mixture into the stew and allow it to cook for a half hour. You'll see the juices in the stew thicken into a nice gravy.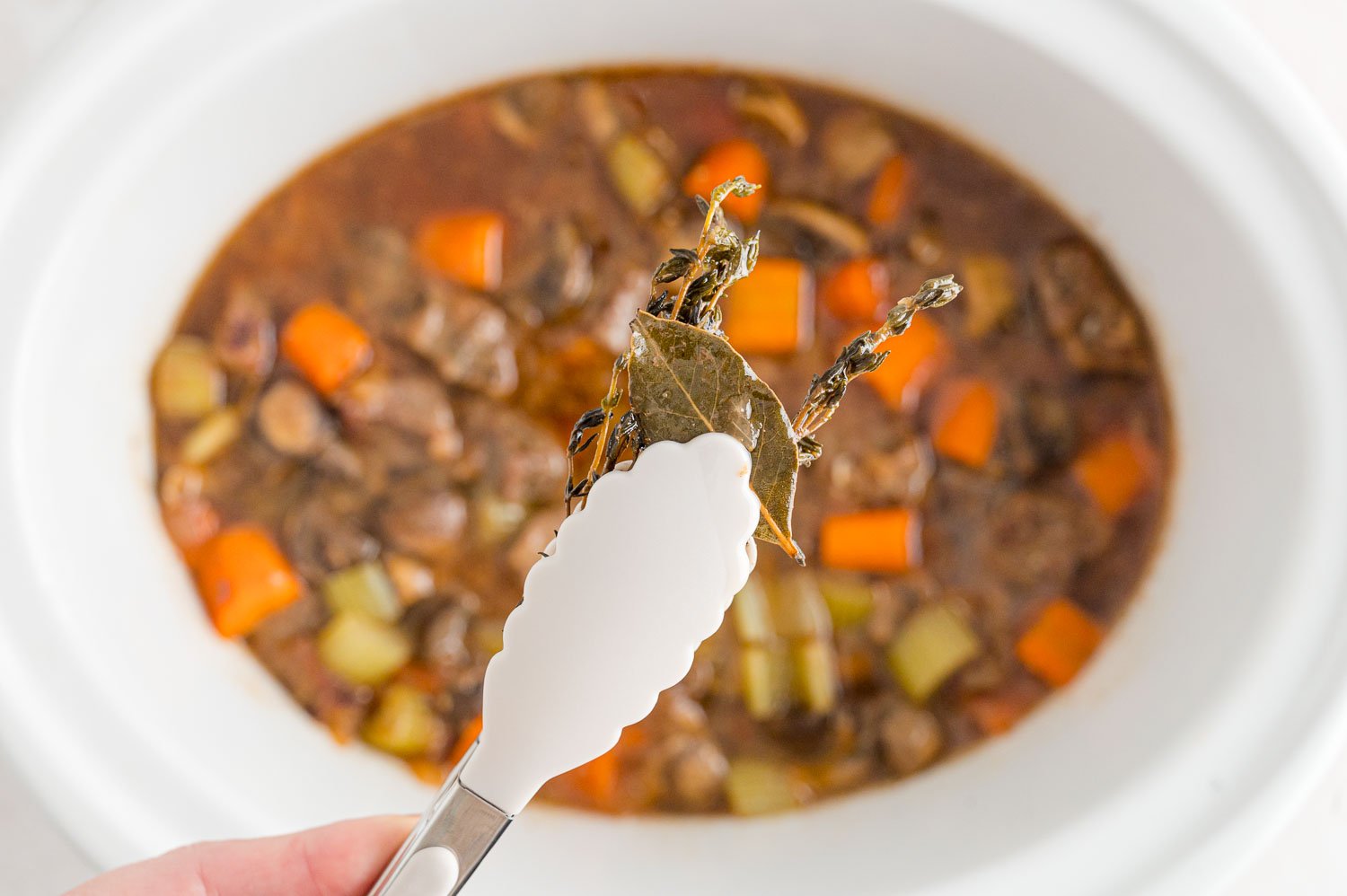 Just before serving, stir in the frozen peas. They cook very quickly, in a matter of just a couple minutes.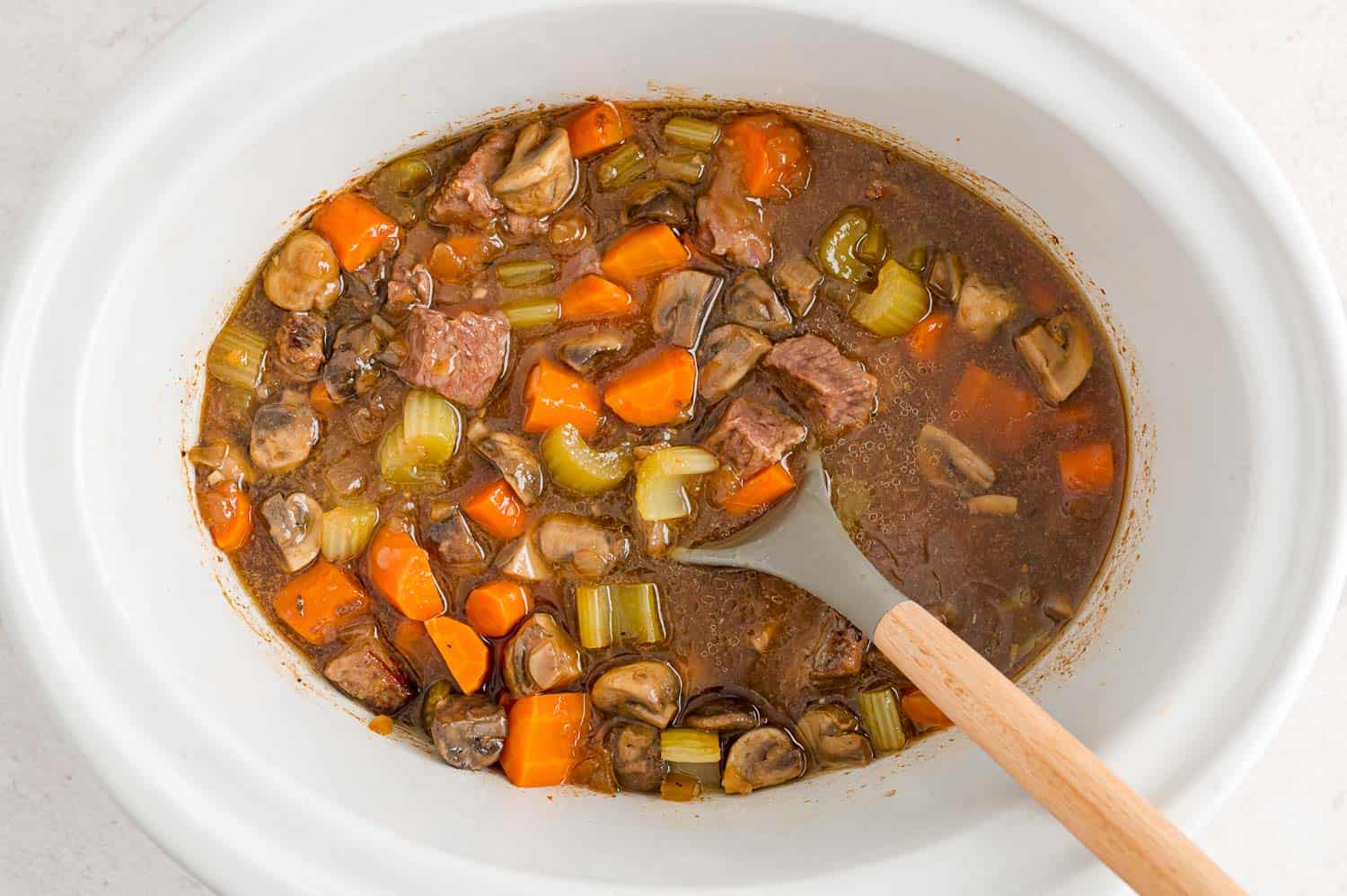 Taste the stew to check the seasoning. Add more salt and/or pepper, if you think it needs it.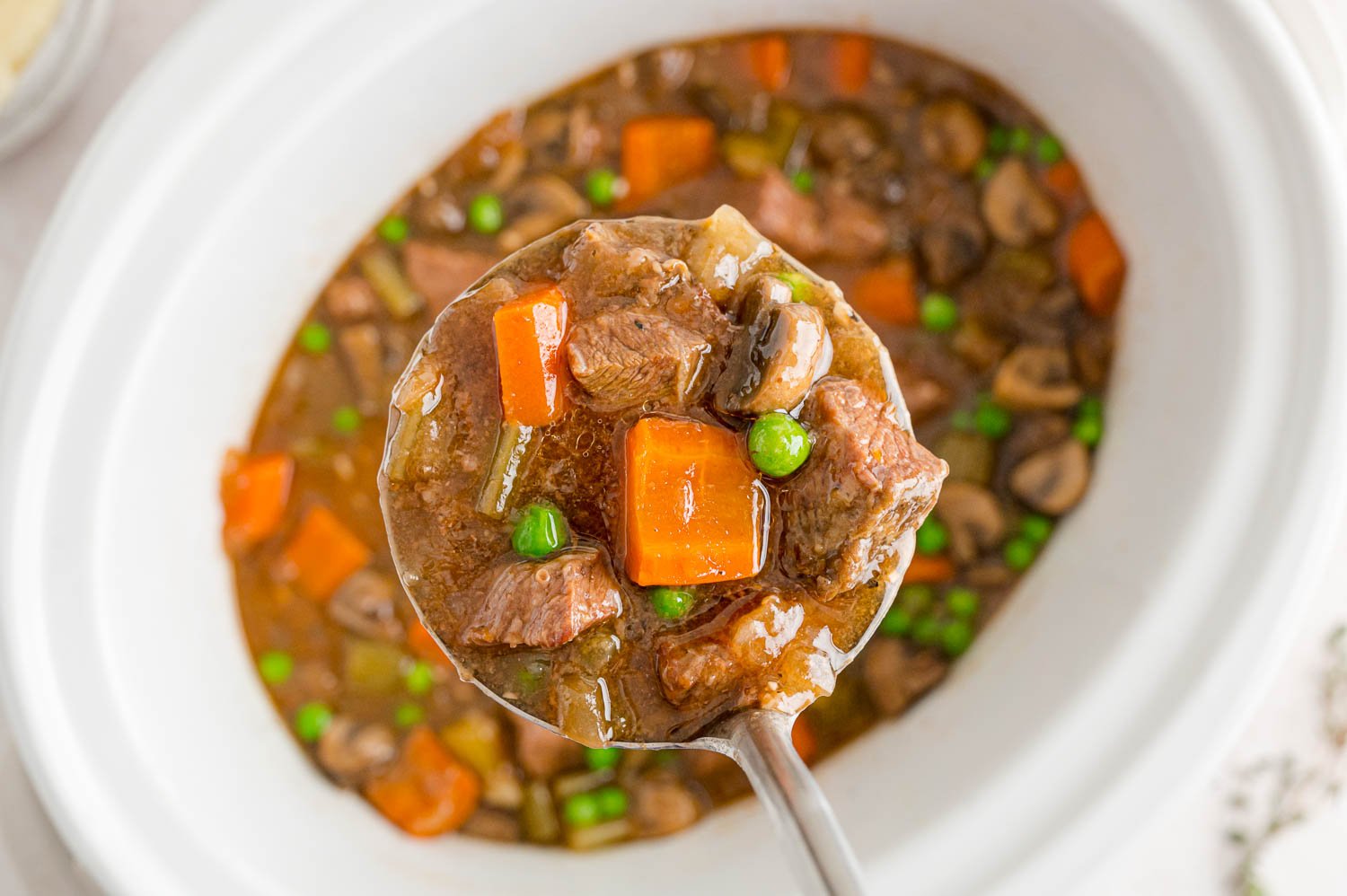 What To Serve With Beef Stew
FAQs
How do you make beef stew meat tender?
The key to tender beef stew meat is to cook it slowly over low heat. Beef stew meat is usually a leaner cut of beef, with lots of connective tissue. Slow cooking tenderizes the tough strands, making them melt-in-your-mouth tender.
A quick sear over high heat adds flavor and color before the meat is simmered. This technique is called "braising" and is used for other cuts of meat like ribs, brisket, short ribs, shanks, etc.. Try my Instant Pot short ribs, slow cooker ribs, slow cooker Italian pot roast, braised lamb shanks, and slow cooker corned beef and cabbage.
Make It Your Own
You can skip the browning step if you're in a hurry. The stew has plenty of flavor with the Marsala, garlic, and herbs.
If stew just isn't stew for you without potatoes, go ahead and add a couple of cut up potatoes or baby potatoes to your stew. You're the cook!
If you don't care for Marsala, substitute red wine. The flavor will be a bit different, however.
Looking for a faster alternative? Try my Instant Pot beef stew.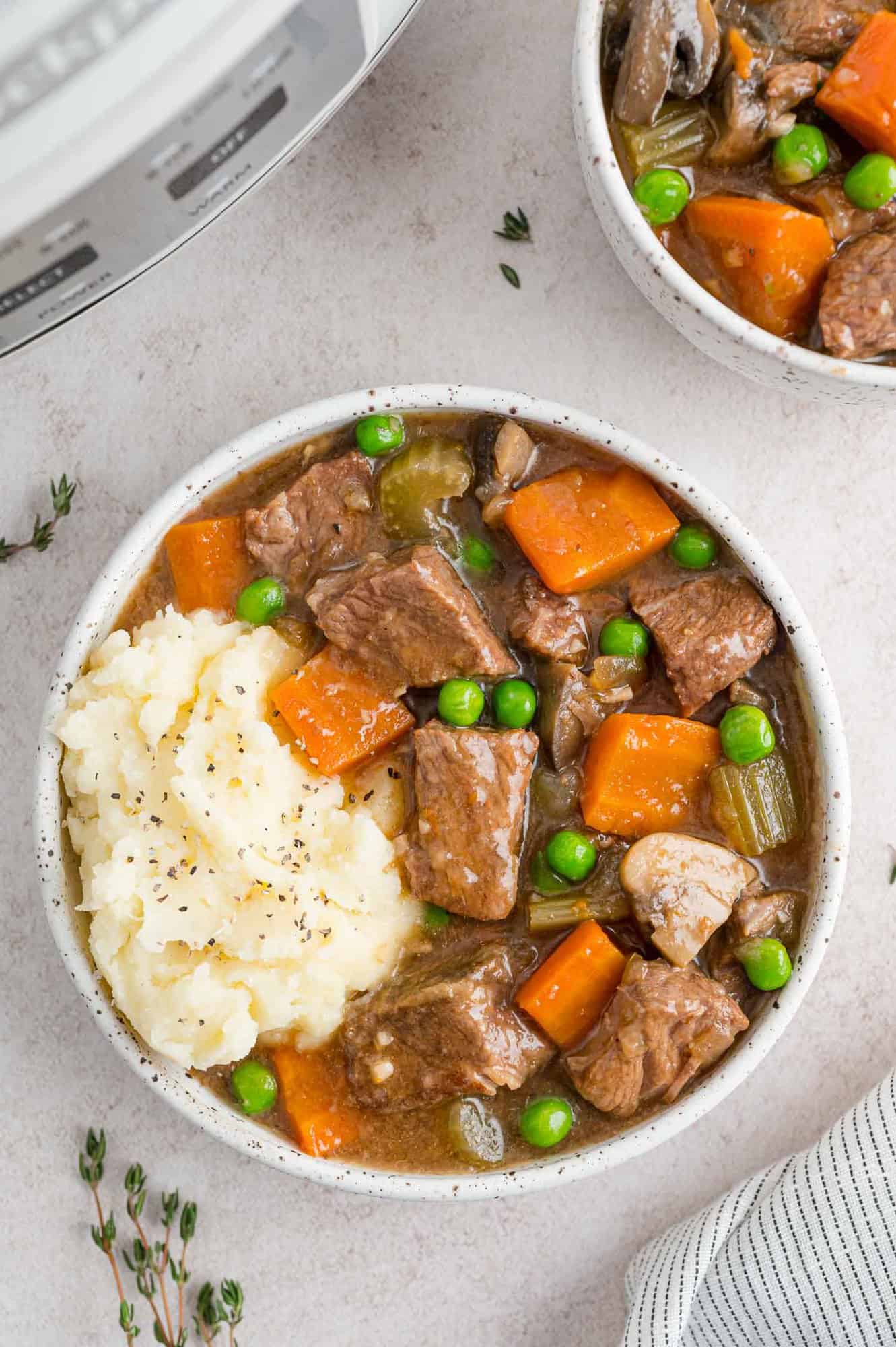 Storage & Reheating Tips
Refrigerate leftover stew in a covered container for up to 4 days. Because this stew does not contain potatoes, it freezes well, too. Cool to room temperature and store in a freezer safe container for up to 6 months. Thaw overnight in the refrigerator before reheating.
To reheat the stew, put it into a saucepan or large skillet and heat it gently on the stove. You can also heat individual bowls of stew in the microwave.
Did you make this? Be sure to leave a review below and tag me @rachelcooksblog on Facebook, Instagram, or Pinterest!
Slow cooker beef Marsala stew will fill your house with tantalizing aromas as it simmers. You'll look forward to dinner all day long!
Ingredients
1

tablespoon

olive oil

3

pounds

boneless beef chuck roast, trimmed and cut into 1-inch cubes

2

tablespoons

all-purpose flour

1

teaspoon

kosher salt

(see note)

½

teaspoon

coarse ground black pepper

16

ounces

white mushrooms, halved or quartered

4

large carrots, cut into ½-inch pieces

(

2

cups)

3

stalks celery, cut into ½-inch pieces

(

2

cups)

2

cups

frozen pearl onions

2

garlic cloves, minced

2

tablespoons

tomato paste

½

cup

Marsala wine (dry, not sweet)

2

cups

low sodium beef stock

3

sprigs thyme

1

bay leaf

2

tablespoons

cornstarch, more if needed

1

cups

frozen peas

mashed potatoes, cooked rice, or noodles for serving
Instructions
In a large skillet, heat oil over medium-high heat. Toss beef cubes with flour, salt and pepper. Place beef in a single layer in the heated skillet and brown meat on all sides. You may need to do this in batches, depending on the size of your pan, adding more oil as necessary. Beef will be browned but not cooked through. Place in slow cooker when browned.

To the same pan, add mushrooms. Spread into a single layer and cook without stirring for 2 minutes. Stir and cook for 2 to 3 minutes or until browned (add a splash of beef broth to pan if there's too much browning). Add to slow cooker when browned.

Add carrots, celery, and pearl onions to the same pan. Cook for 4 to 5 minutes or until celery begins to soften. Add tomato paste and garlic and cook for 1 minute. Add marsala wine and cook, scraping brown bits off bottom of pan, for 1 to 2 minutes or until wine has reduced slightly.

Add vegetable mixture to slow cooker. Add beef stock, thyme, and bay leaf to slow cooker, stirring to combine.

Cover and cook on low for 7 to 8 hours or on high 3 to 4 hours, or until beef is tender and vegetables are soft. Carefully remove thyme stems and bay leaf.

In a small bowl, mix together 2 tablespoons cornstarch and 2 tablespoons water until smooth.

Increase heat to high (if on low) and stir in cornstarch mixture. Cook for 30 minutes or until thick. If not reaching desired thickness, add another 1 tablespoon of cornstarch mixed with 1 tablespoon cold water.

Stir in frozen peas. Taste, and add salt and pepper, if needed. Serve over mashed potatoes, rice, or noodles.
Notes
Nutrition information is for stew only.
If you use unsalted beef broth, you may need to add up to an additional 1 teaspoon kosher salt. When stew has finished cooking, taste and season to your liking.
If you're in a hurry, skip the browning step and just add everything to the crockpot. The stew will turn out fine.
If you love potatoes in stew, add a couple cups of diced potatoes, or halved baby potatoes.
Nutrition Information
Serving:
1.25
cups
,
Calories:
434
kcal
,
Carbohydrates:
20
g
,
Protein:
38
g
,
Fat:
22
g
,
Saturated Fat:
9
g
,
Polyunsaturated Fat:
2
g
,
Monounsaturated Fat:
11
g
,
Trans Fat:
1
g
,
Cholesterol:
117
mg
,
Sodium:
611
mg
,
Potassium:
1196
mg
,
Fiber:
4
g
,
Sugar:
8
g
,
Vitamin A:
5405
IU
,
Vitamin C:
17
mg
,
Calcium:
72
mg
,
Iron:
5
mg
This website provides approximate nutrition information for convenience and as a courtesy only. Nutrition data is gathered primarily from the USDA Food Composition Database, whenever available, or otherwise other online calculators.