Crockpot Refried Beans – No Soaking Required!
Crockpot refried beans require no soaking. They're easy to make and taste way better than beans from a can!
Recipe Overview
Why you'll love it: Not only are these "refried" beans better tasting than canned, they are much more economical.
How long it takes: 5 minutes to prep, 8 hours in the crockpot
Equipment you'll need: slow cooker, strainer, immersion blender
Servings: makes 12 cups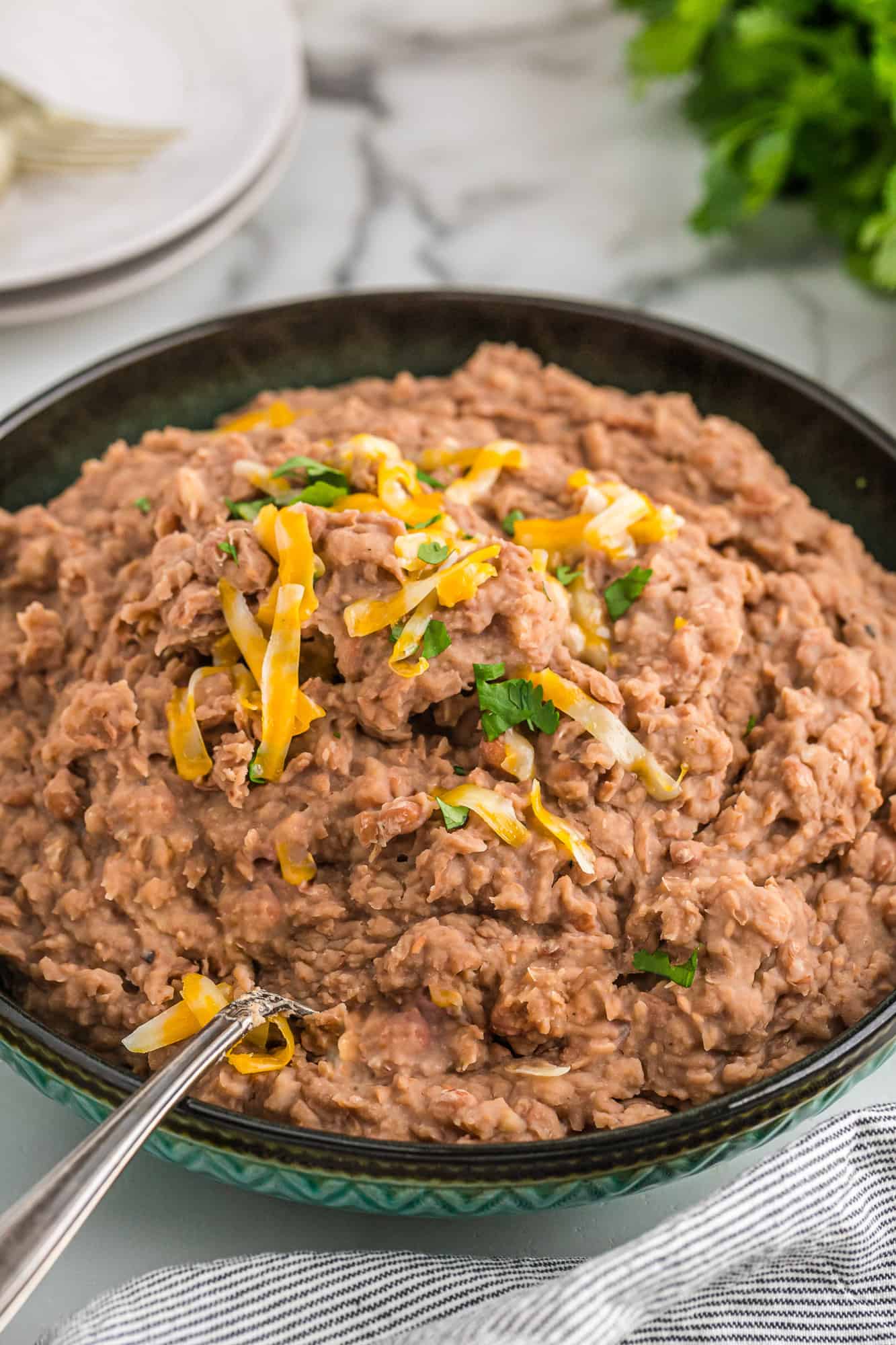 Creamy and delicious refried beans can easily be made in a crockpot. Now, before you go crazy on me, I know these aren't traditional refried beans. They aren't fried at all and there's no bacon fat or lard, no fat at all, in fact.
However, I would say that these beans are very tasty due to a hearty amount of onion and garlic, lots of cumin, a hint of smoked paprika, and a pinch of red pepper flakes. They are low in sodium and totally nonfat, vegan and vegetarian, with only 134 calories per half cup serving.
Homemade refried beans have much sodium. Why not just eat refried beans from a can? Good question! They taste okay and they're pretty cheap. Well, here's one good reason: Canned refried beans contain 440 to 540 mg of sodium per serving. A serving of my homemade refried beans comes in at 204 mg.
Crockpot refried beans are economical. A two pound bag of dried beans runs a couple of bucks. Two pounds of beans makes 12 cups of refried beans. A 16 oz. can contains one and three-quarters cups and will cost you about $1.50 so there's a significant savings when you make your own.
Refried beans freeze really well. Twelve cups of refried beans may sound like way more beans than your family can eat. More good news! You can freeze the extra beans so you always have homemade beans on hand.
And lastly, isn't it a tiny bit gross how the beans come out of the can shaped just like the can, ridges and all, sort of like canned dog food?
About These Slow Cooker Refried Beans
The dried beans don't have to be soaked before cooking. This is one of the big advantages of using a slow cooker. If you cook beans on the stove, they need to be soaked overnight first which isn't a huge deal but it's one more thing to do, right? Plus, you have to think of it ahead of time.
There is a caveat to not soaking the beans. According to The Bean Institute, if beans tend to give you gas, you should soak them overnight, discard the soaking water, and proceed with the recipe. I'm sorry to be talking about gas but I thought it might be pertinent to some of us.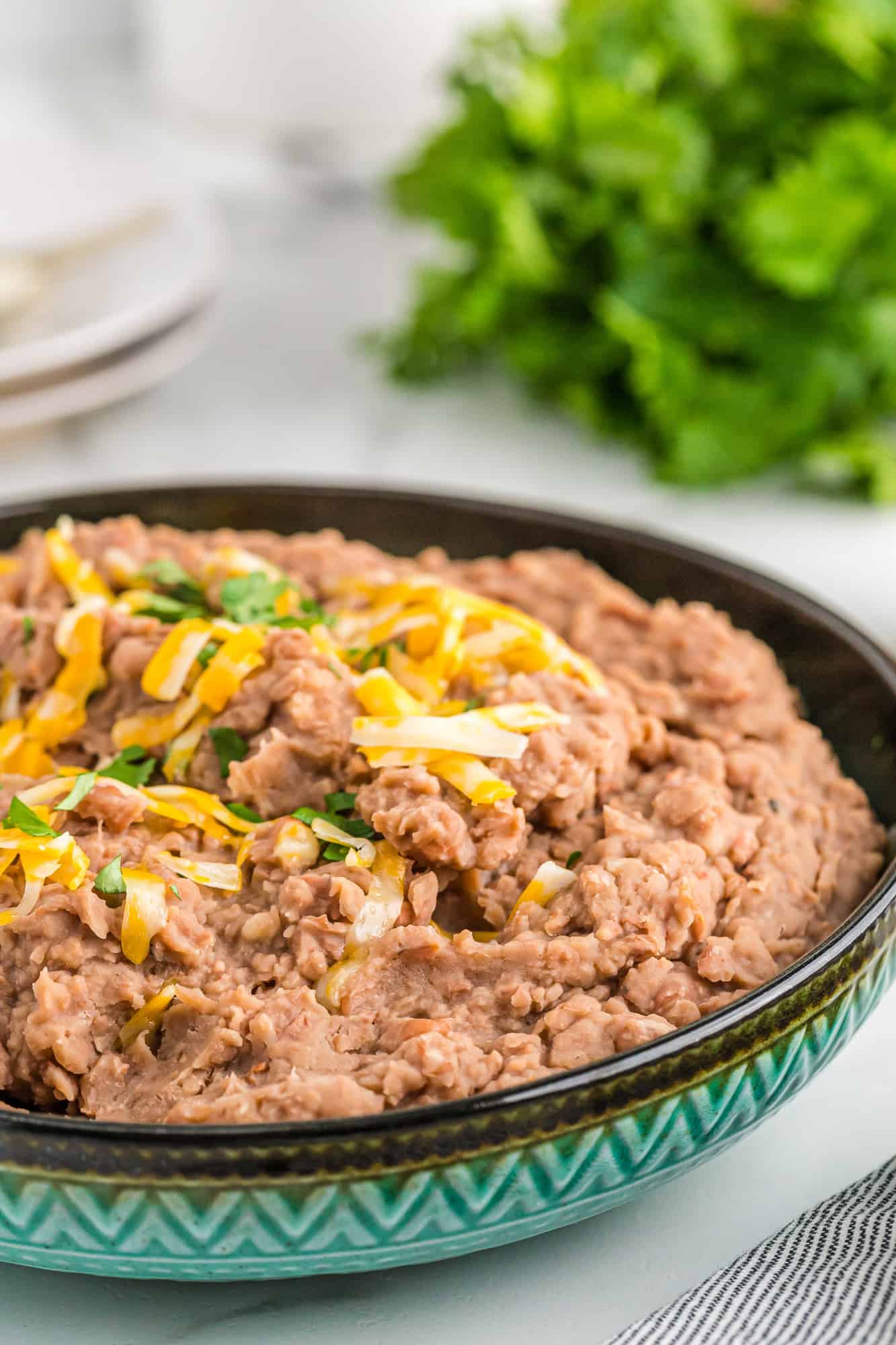 So let's get started! This is an easy recipe and you'll have those beans cooking in no time, 5 minutes or so.
What You'll Need
Dried Pinto Beans: Buy a two pound bag which is about 4 cups of beans. Be sure to rinse the beans and pick out any pebbles or shriveled beans. It's rare but I have found little stones mixed in the beans and you don't want to crack a tooth.
Onion: Yellow cooking onions are fine for this recipe. They are economical and keep well in your pantry. They cook right down so you won't notice pieces of onion in the finished product but they do add lots of flavor and nutrition.
Garlic: The recipe calls for 3 cloves. You can add more or use less, depending on how much you like garlic.
Salt & Pepper: The beans are seasoned with a fair amount of kosher salt and coarse black pepper.
Ground Cumin: This warm spice is used in so many cuisines. It's a little earthy and nutty flavored.
Crushed Red Pepper Flakes: For just a little bit of heat! Add more or less, if you want.
Smoked Paprika: There's just a quarter teaspoon in these beans to give them a hint of smokiness (since we're leaving out the bacon).
Water: The beans need quite a lot of water to cook, at least 10 cups. For even more flavor, you could use chicken broth or vegetable broth. Adjust the salt accordingly.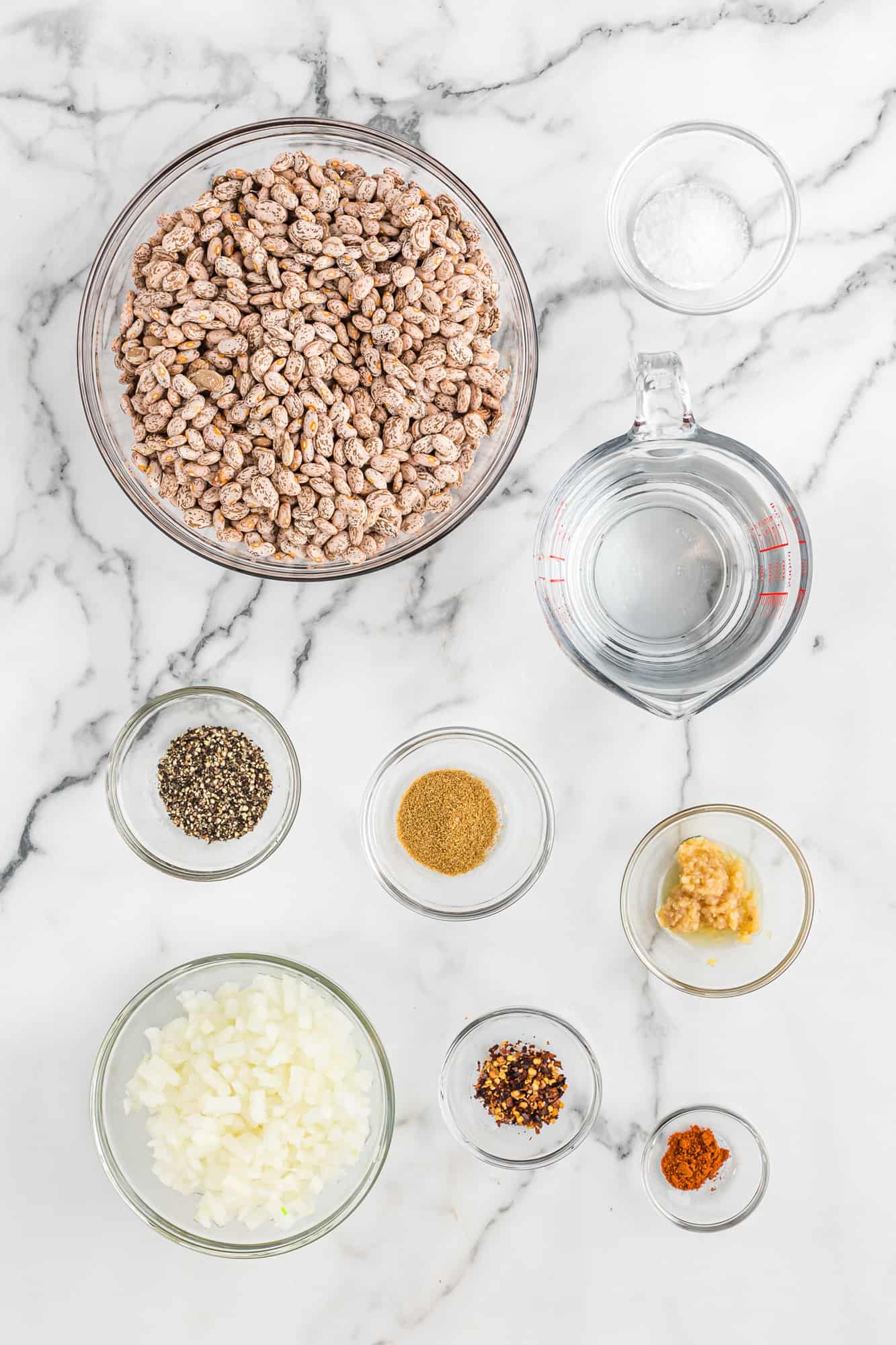 How To Make Crockpot Refried Beans
Get your crockpot out and plug it in. Rinse and pick over the beans and add them to the pot. Chop the onion and mince the garlic and add them to the pot.
We're on a roll here. Measure out the salt, pepper, cumin, red pepper flakes, and smoked paprika and add them to the pot.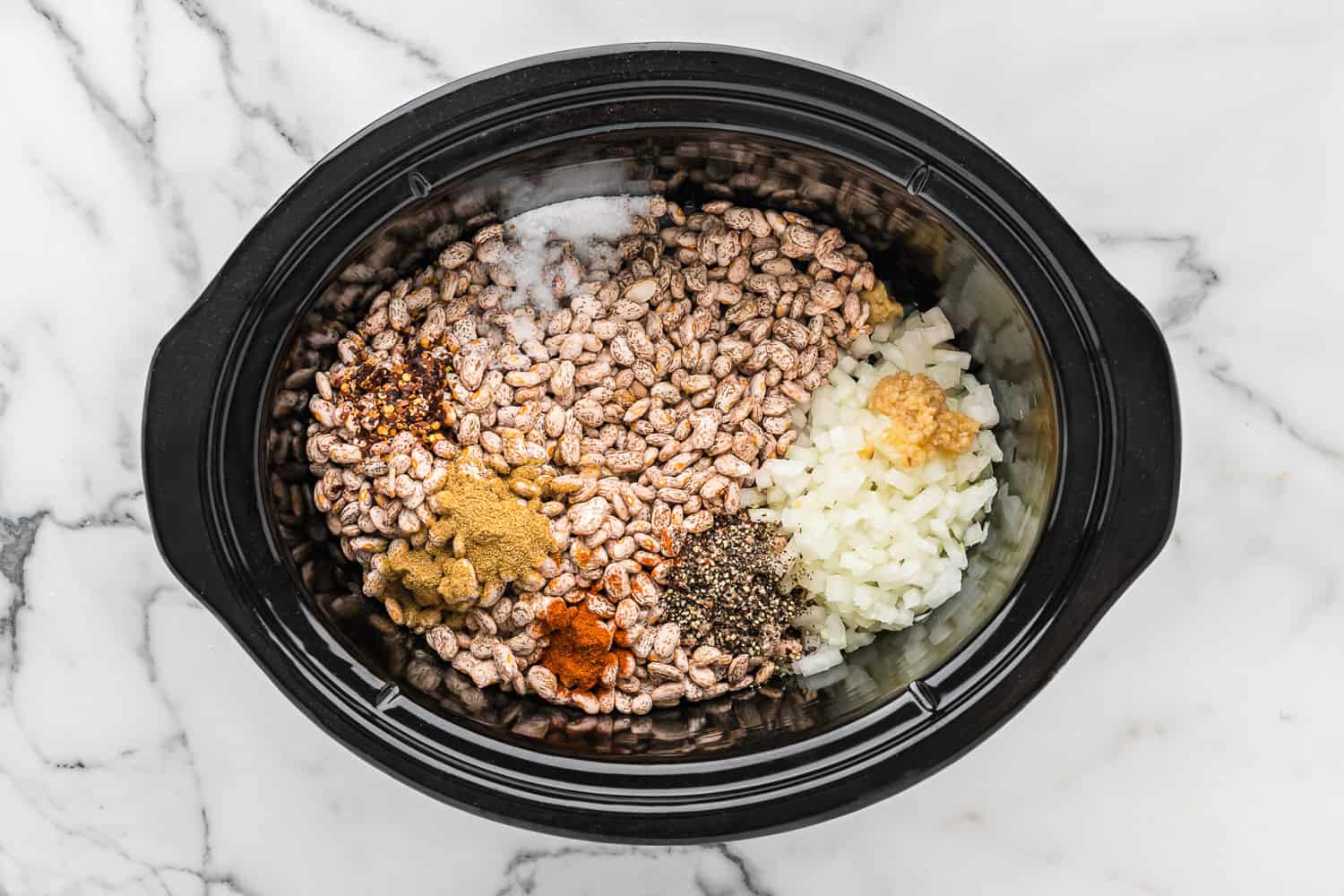 Okay, now pour in 10 cups of water. Stir it all up, put the lid on, and turn the crockpot to High. Cook for 6 to 8 hours, or until the beans are soft and tender. Cooking time varies depending on how long the beans have been in storage. Spoon a few out and see if they mash easily. If they do, they're ready!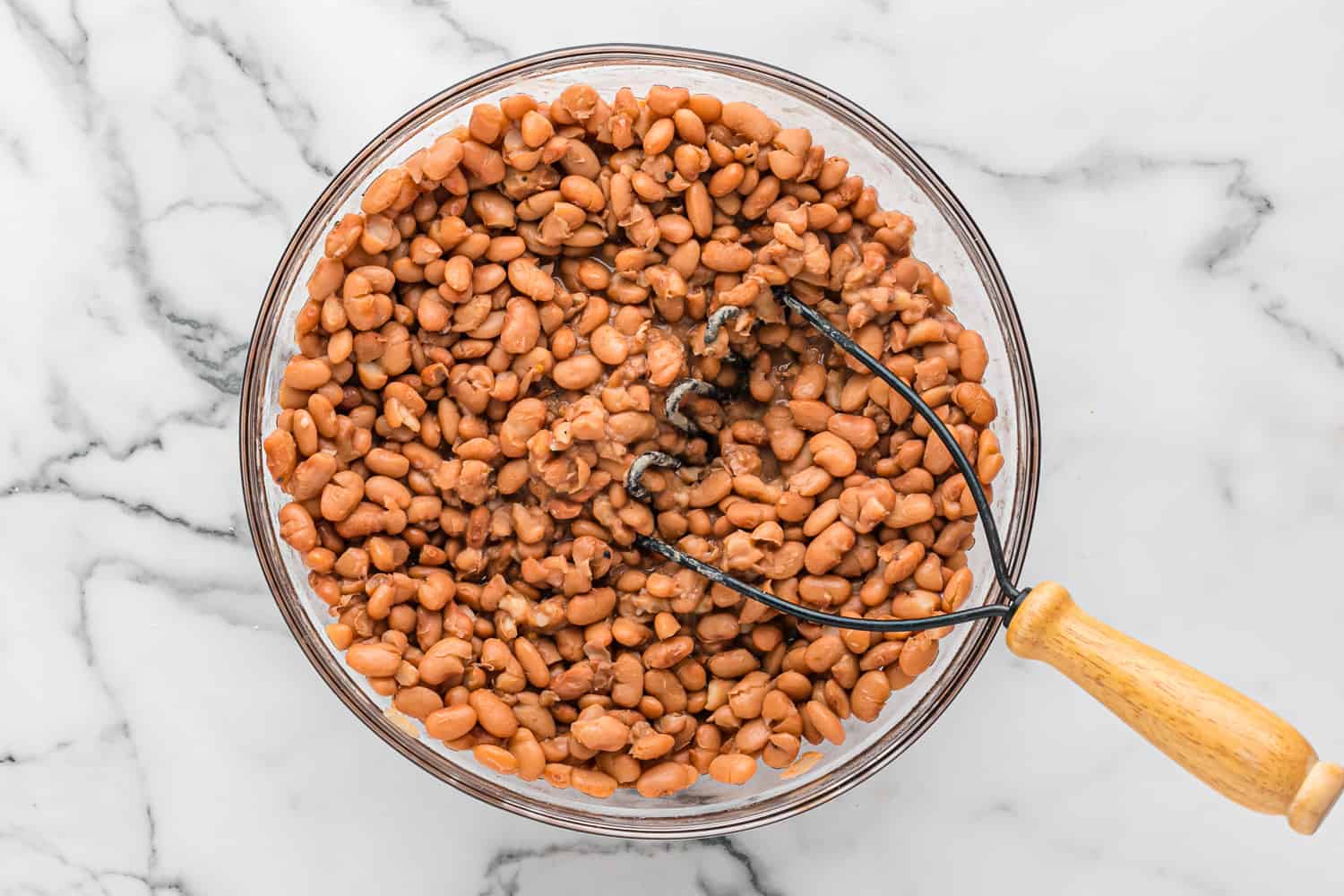 You're not quite finished yet. The beans are ready to eat and you could use them for recipes that call for whole beans but today we're going to mash them.
We want just the right consistency for the refried beans: soft but not too runny. To get it right, drain the beans and reserve the cooking liquid.
Put the beans back in the crockpot and use an immersion blender or potato masher to mash them. Add the reserved liquid, as needed, until the beans are just the way you want them. Keep in mind that they do thicken up a bit when they cool down.
You can also take the beans out and mash them in a bowl if it's easier.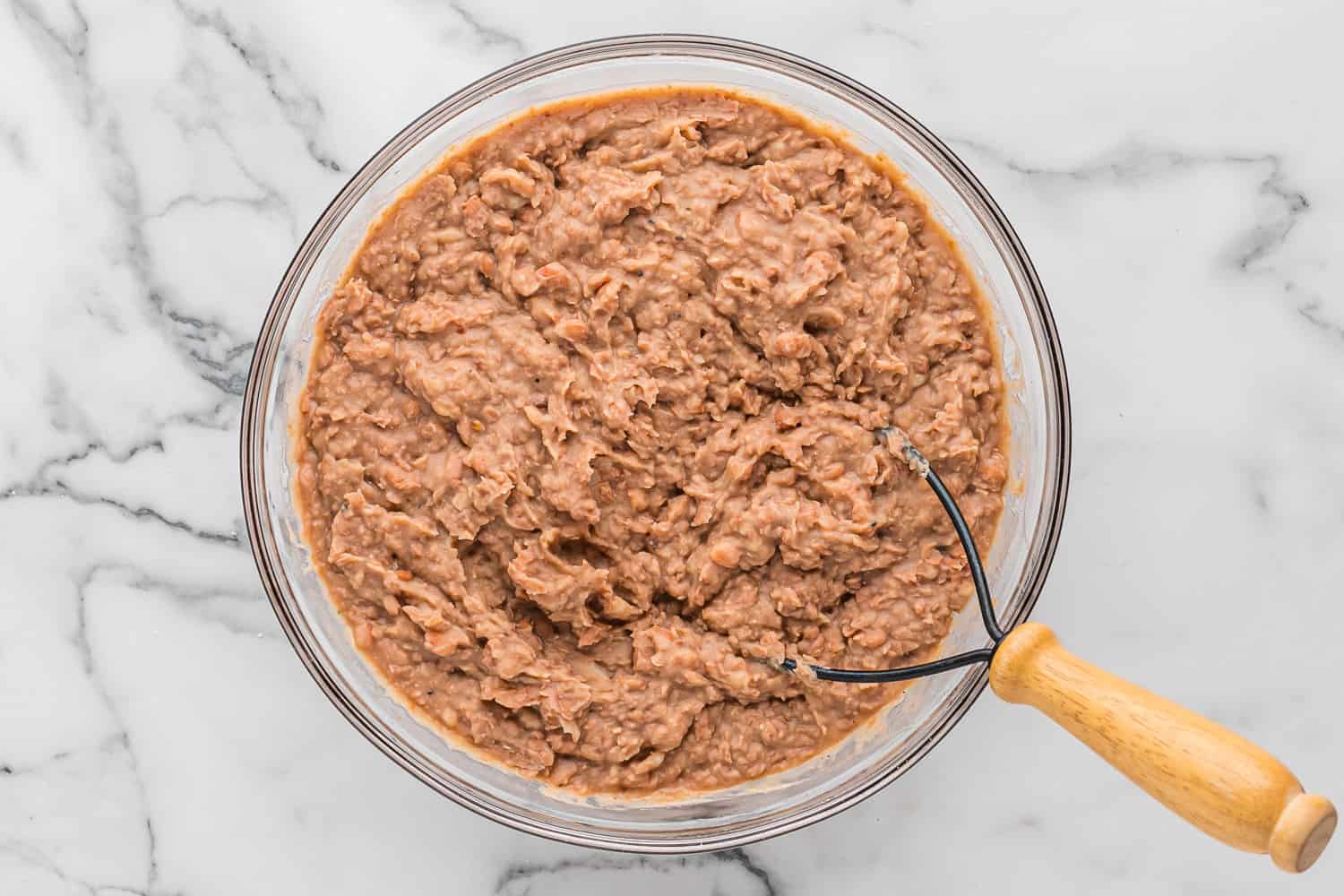 That's it! You can eat the beans as they are or try them in one of the recipes listed below. Freeze the extra beans (if you have any) for later use.
Ways To Use Refried Beans
Make a healthy dip. Use refried beans as a dip for tortilla chips. Make your own baked tortilla chips or air fryer tortilla chips from corn tortillas, if you like. And, with the addition of cream cheese and a few other ingredients, you can easily turn plain refried beans into popular refried bean dip.
Fill a bean burrito. Spread warm refried beans on a flour tortilla, and add shredded cheese and chopped tomatoes, to make a bean burrito. Add refried beans to beef or chicken burritos, too.
Add refried beans to tacos, quesadillas, or tostadas.
FAQs
Do you need to soak pinto beans?
It depends on the cooking method you choose. If you're cooking beans on the stove, you should soak the beans overnight or use the quick soak method. If you're using a crockpot/slow cooker or an Instant Pot pressure cooker, there's no need to soak them.
Note: If beans tend to make you gassy, it may help to soak them, discarding the soaking water.
Why are refried beans called refried?
In English, the word "refried" makes it sound like the beans are fried twice which can be puzzling because they aren't. They are cooked twice, but not fried twice.
However, in Spanish they are called frijoles refritos which means well-fried beans. I guess you could say "refried beans" is basically a bad translation.
How To Soak Beans
To soak beans overnight, put beans in large container and cover generously with water. Soak for at least 8 hours. Drain and rinse with fresh water when ready to cook.
For a quick soak, add 6 cups of water to 2 cups of beans in a large pan. Over high heat, bring to boil and boil for 3 minutes. Turn the heat off, and cover the pan. Let set for one hour. Drain beans and rinse.
Note: Some recipes may not require soaking the beans before cooking.
Make It Your Own
Make Instant Pot refried beans if you prefer. Same idea, but faster!
Use black beans instead of pinto beans if you like those better.
Change up the seasoning. They're your beans so make them just the way you like them. Chili powder is a good addition.
Love pinto beans but not a fan of refried? Try frijoles borrachos (drunken beans). So juicy, flavorful, and good! You'll find yourself slurping up the juice.
Rather have traditional refried beans? Make the beans as directed but don't mash them. Heat a quarter up of cup lard or bacon fat in a very large skillet and add drained beans, cooking and stirring. Use a potato masher or fork to mash the beans to the right consistency, adding bean liquid as needed.
For restaurant style refried beans: Stir together ⅓ cup sour cream and 2 cups beans, along with a dash of hot sauce, to taste. Heat and top with shredded cheese.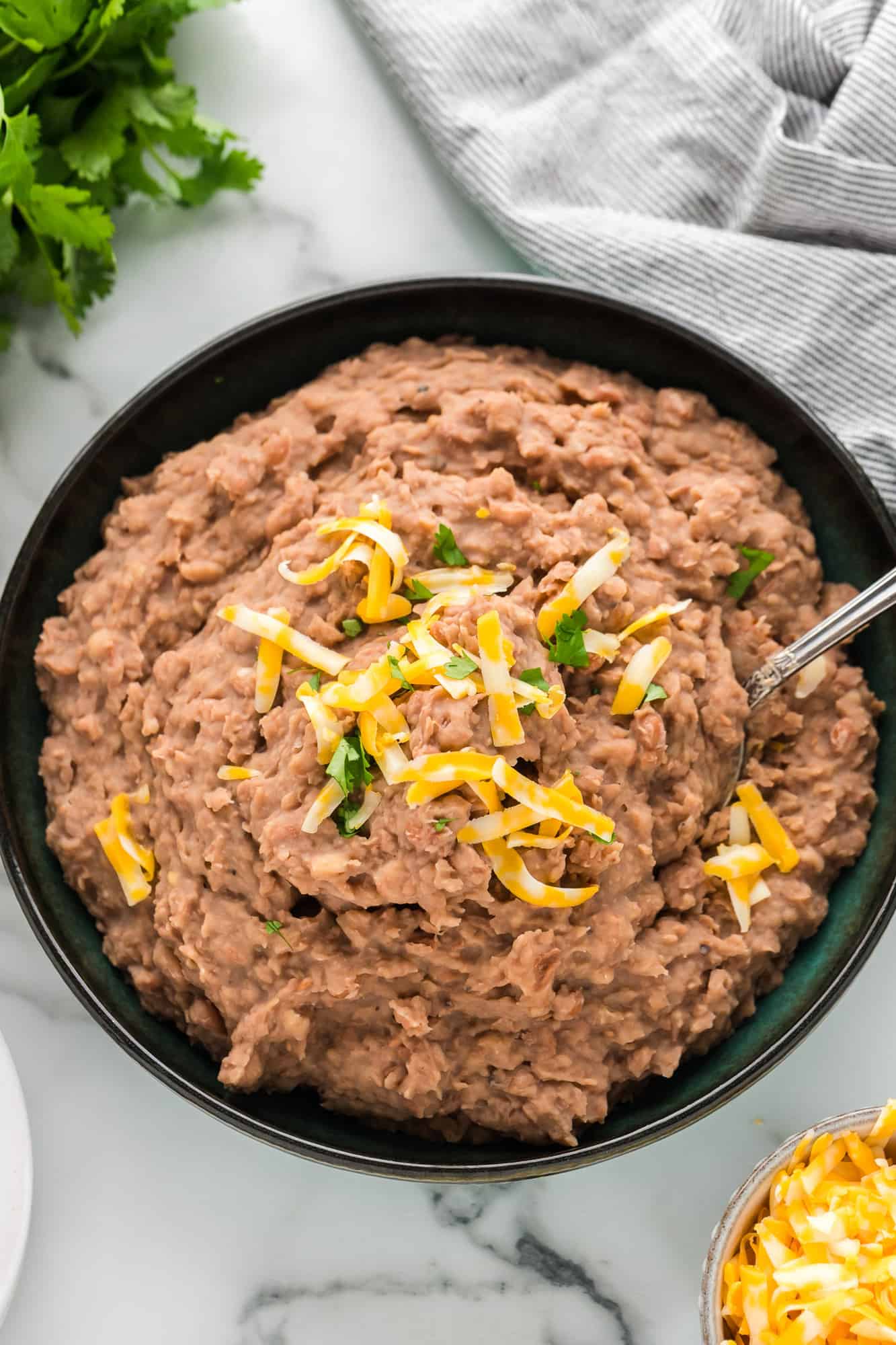 Make-Ahead Ideas
Since this refried beans recipe makes a lot, it's a great food prepping tool. Keep them in the refrigerator or freezer to use for later meals.
Storage & Reheating Tips
Refrigerate/Freeze: Refried beans will keep in the refrigerator for up to four days. Freeze them in serving size freezer containers for up to 6 months. Spray the containers with nonstick spray before filling them and the beans will pop right out.
Reheat: Microwave individual portions. For larger amounts, heat the beans in a skillet on the stove.
Did you make this? Be sure to leave a review below and tag me @rachelcooksblog on Facebook, Instagram, or Pinterest!
Crockpot refried beans require no soaking. They're easy to make and taste way better than beans from a can!
Instructions
Add all ingredients to 6-quart slow cooker and stir to combine. Cook on high for 6 to 8 hours or until beans are soft and mash easily. Add more water if necessary during cooking to keep beans fully submerged in liquid.

Reserving the liquid, strain the beans out into a large bowl (see note). Mash with a potato masher or immersion blender. Add the reserved liquid until you reach the consistency you desire.

Serve, or cool completely and freeze in portions appropriate for your family.
Notes
Makes 12 cups or 24 (½ cup) servings.

These taste significantly less salty than the canned version. Make sure to check for seasonings and add salt as desired.
Reserve some of the beans before mashing if you would like to use them whole for other recipes.
Refried beans will keep in the refrigerator for three to four days. Freeze them in serving size freezer containers for up to 6 months. Spray the containers with nonstick spray before filling them and the beans will pop right out.
Nutrition Information
Serving:
0.5
cup
,
Calories:
134
kcal
,
Carbohydrates:
24
g
,
Protein:
8
g
,
Fat:
1
g
,
Saturated Fat:
1
g
,
Polyunsaturated Fat:
1
g
,
Monounsaturated Fat:
1
g
,
Sodium:
204
mg
,
Potassium:
540
mg
,
Fiber:
6
g
,
Sugar:
1
g
,
Vitamin A:
25
IU
,
Vitamin C:
3
mg
,
Calcium:
49
mg
,
Iron:
2
mg
This website provides approximate nutrition information for convenience and as a courtesy only. Nutrition data is gathered primarily from the USDA Food Composition Database, whenever available, or otherwise other online calculators.