Air Fryer Falafel – so crispy!
Crispy and nutritious, air fryer falafel are delicious on warm pita bread, a salad, or just eaten by themselves. Don't wait to enjoy these savory chickpea fritters!
Recipe Overview
Why you'll love it: This vegetarian treat is so tasty and good for you, too.
How long it takes: about a half hour
Equipment you'll need: food processor, air fryer, tongs
Servings: 4 (makes 12 falafel)
About this Easy Falafel Recipe
Have you tried falafel? My husband and I enjoy Middle Eastern food frequently and love these tasty deep-fried fritters.
What are falafel? Falafel are small patties made with ground up chickpeas or fava beans, seasoned with onion, fresh herbs, and dried spices, and deep-fried. They are commonly served in pita bread, and slathered with tahini, hummus, or hot sauce.
Air frying falafel makes them healthier. The ingredients are all good for you but usually falafel is deep fried, adding lots of extra unhealthy fats. That got me to thinking about how to prepare falafel in a healthier fashion without sacrificing texture or taste. Use an air fryer, of course! I've used my air fryer to make all sorts of crispy goodies, without any added oil. I love air fryer French fries, chicken nuggets, egg rolls and mozzarella sticks. It works great to make crispy tofu. Now I know it's perfect for falafel, too.
Falafel are a good source of protein. Falafel is perfect for vegetarians and vegans. It's a great source of plant protein for meatless meals.
Falafel are surprisingly easy to make. You will need a food processor as well as an air fryer, and about a half hour.
I'll run through the recipe here but look for the printable recipe card located near the bottom of the post. It has complete instructions and nutrition information.
Ingredients You'll Need
Canned Garbanzo Beans: Garbanzo beans are the Spanish name; English named chickpeas are the same exact thing. Confusing, huh? Canned fava beans are a good substitute, as well. Or, if you prefer, you can cook dry beans.
Onion and Garlic: These two alliums add flavor, nutrition, and moisture to the falafel. Any type of onion will work. Use as much or as little garlic as you like.
Cilantro and Parsley: Plenty of chopped herbs give the falafel its signature green tint, and add a good dose of flavor and nutrition
Flour: Use all-purpose flour, or gluten-free or chickpea flour if you prefer. Use breadcrumbs instead of flour if you prefer.
Baking Soda: Adds a bit of leavening so the falafel isn't heavy and compact.
Seasoning: Cumin, Salt, Pepper, Coriander, Cayenne.
How To Make Falafel
Put the drained beans in the bowl of a food processor, along with the coarsely chopped onion and garlic.
Add herbs and remaining ingredients. Don't worry about picking off leaves from the herbs. Small stems are fine since everything gets chopped up in the food processor. The stems have so much flavor, particularly the cilantro. Avoid the larger stems of parsley because they can be bitter. Add the flour, baking powder, and seasoning.
Process the mixture. Pulse it until it's coarse and mealy. You don't want to over-process it into a gummy green paste. It needs to have a bit of texture, with visible bits of herbs.
Using your hands, form the mixture into 12 balls. If it seems too sticky, stir in a bit more flour, a little at a time. Really, you can make the falafel any size you like as long as you adjust the cooking time accordingly.
Air fry. Place in an air fryer, sides not touching. Spritz with olive oil spray, and "fry" for 12 to 14 minutes, turning once using tongs. How can you tell they're done? They'll be brown and crispy on the outside, and warm all the way through.
Cooking Tip
A light misting of olive oil spray isn't 100% necessary but it helps the falafel get nice and crispy, and also assists in the development of a nice golden brown color.
Although food isn't cooked in oil when it's air-fried, you'll find that just a bit of oil really does enhance the flavor and texture and adds very little fat.
What To Serve With Falafel
Falafel are traditionally served with hummus, tahini sauce, or hot sauce. We love falafel with tzatziki, a refreshing yogurt cucumber sauce.
Try air fryer falafel inside a pita bread sandwich with sauce and chopped tomatoes, or on a salad. I love to serve crispy falafel as an appetizer, with one of the above dipping sauces.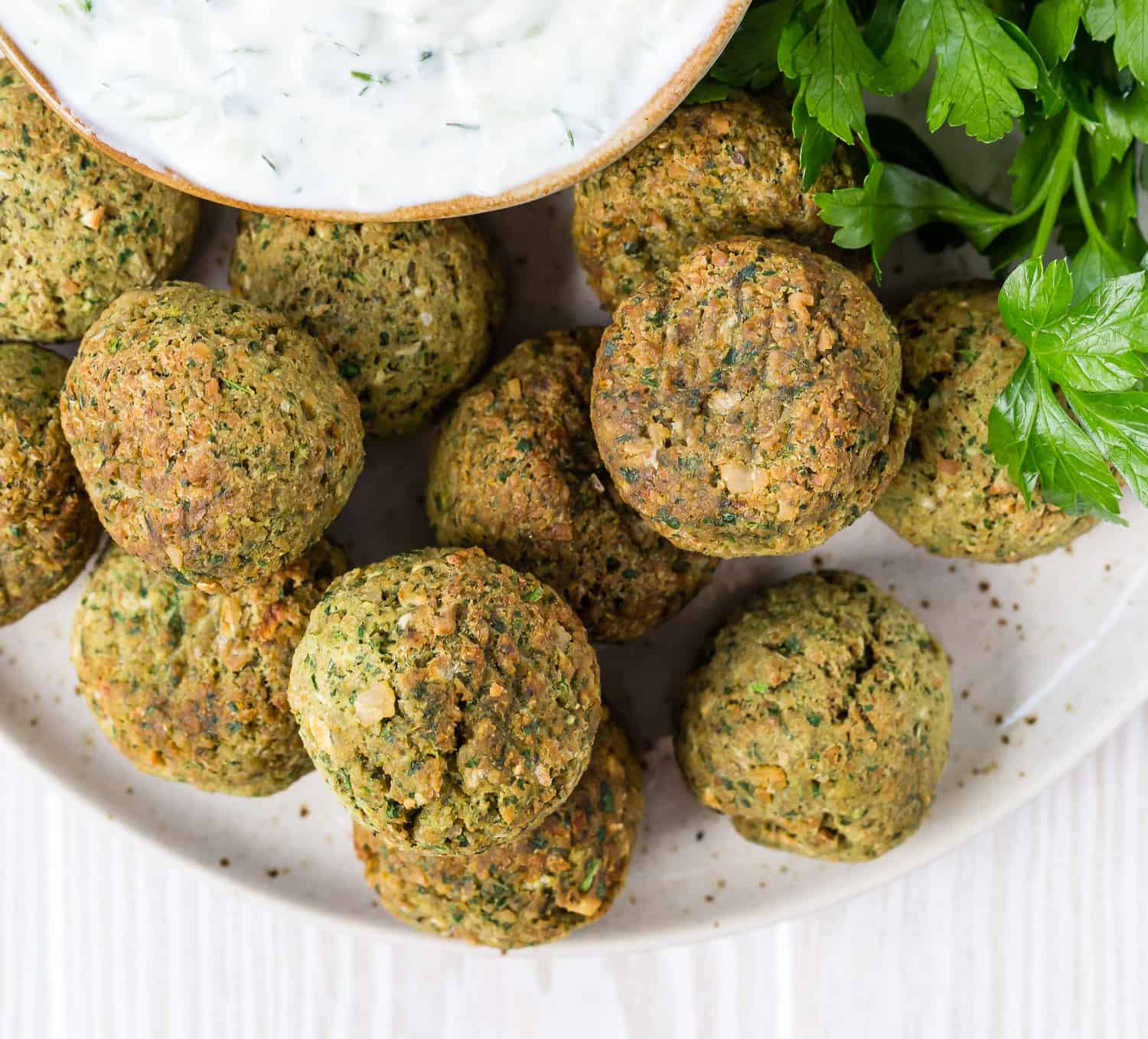 FAQs
What is the primary ingredient in falafel?
Falafel are made with chickpeas, which are a healthy legume. Fava beans are sometimes substituted since they are higher in protein and fiber. Falafel are a nutritious vegetarian and vegan source of protein but are usually deep-fried, making them high in fat.
Why can't you use canned chickpeas for falafel?
Some cooks claim that canned chickpeas have a metallic taste. Others say that canned chickpeas contain too much moisture, causing the falafel to fall apart or have a mushy texture. Some recipes simply soak the dry beans leaving them uncooked before they grind them.
Personally, I think canned chickpeas are just fine. They taste great and have a wonderful texture in this falafel recipe. Try it and see what you think! If you prefer using dry beans, you'll find instructions on the recipe card so the choice is yours.
How is falafel pronounced?
It's pronounced fell-al-full, with the middle "a" sounding like the word cat.
Make It Your Own
Change the shape: Instead of balls, shape the falafel into small patties.
Gluten-free: Make the falafel gluten-free by using all-purpose gluten-free flour, chickpea or oat flour.
Spice it up: Add more garlic, more cayenne, or red pepper flakes.
With dry chickpeas: Soak ¾ cup dry beans in water 24 hours. Add a ½ teaspoon baking soda to the soaking water. Rinse and drain soaked beans and proceed with recipe as directed.
Fry falafel: Heat a ½ inch cooking oil in a heavy or cast iron skillet; fry falafel in a single layer until crispy.
Make-Ahead Ideas
Refrigerate: The falafel dough can be made up to a few hours in advance and stored tightly covered in the fridge until you're ready to cook the falafel.
Freeze: Make the dough into falafel patties or balls, place on a baking sheet, sides not touching, uncooked, and freeze. Once frozen, place falafel into freezer bags. No need to thaw before baking or frying, although you may need to add a minute or two to the cooking time.
Storage & Reheating Tips
Leftover cooked falafel can be tightly wrapped and stored in the fridge for up to 3 to 4 days, or longer in the freezer. To reheat, place in air fryer or toaster oven.
Interested in a weekly meal plan (it's free!) that includes this falafel recipe? Take a look at my Meal Plan #37. You'll find a wholesome recipe for each weekday plus a categorized grocery list. Let me do the planning for you this week!
We'll be adding a new meal plan weekly. If you're interested, browse all of our meal plans.
Did you make this? Be sure to leave a review below and tag me @rachelcooksblog on Facebook, Instagram, or Pinterest!
Crispy and nutritious, air fryer falafel are delicious on warm pita bread, a salad, or just eaten by themselves. Don't wait to enjoy these savory chickpea fritters!
Ingredients
1

can

(15-oz.) chickpeas (garbanzo beans), drained

2

cloves

garlic, roughly chopped

½

cup

roughly chopped yellow onion (1 small yellow onion)

½

cup

fresh parsley, roughly chopped

½

cup

fresh cilantro, roughly chopped

3

tablespoons

all-purpose flour

(or all-purpose gluten-free flour, or chickpea flour)

1

teaspoon

ground cumin

¾

teaspoon

kosher salt

½

teaspoon

baking soda

½

teaspoon

ground coriander

¼

teaspoon

coarse ground black pepper

⅛

teaspoon

cayenne powder, more to taste
Instructions
In a food processor, combine chickpeas, garlic, onion, parsley, cumin, coriander, cayenne, flour, baking soda, salt, and pepper. Pulse until mixture is coarse and mealy. Don't overblend it!

Spray bottom of air fryer basket with olive oil spray. Form bean mixture into 12 balls about 1 ½ inches in diameter. Place in air fryer so they aren't touching, and spray with olive oil spray.

Air fry at 350ºF for 12 to 14 minutes, turning once, until golden.
Notes
Gluten-Free: Substitute an equal amount of all-purpose gluten-free flour, chickpea or oat flour instead of regular all-purpose flour.
To use dry chickpeas, soak ¾ cup dry beans in water for 24 hours. Add a ½ teaspoon baking soda to the soaking water. Rinse and drain soaked beans and proceed with recipe as directed.
Stovetop: Fry falafel using ½ inch cooking oil until crispy. A cast iron skillet works great for this.
Make your falafel spicier by adding more garlic, more cayenne, or red pepper flakes.
Nutrition Information
Serving:
3
falafel
,
Calories:
137
kcal
,
Carbohydrates:
23
g
,
Protein:
7
g
,
Fat:
3
g
,
Saturated Fat:
1
g
,
Polyunsaturated Fat:
1
g
,
Monounsaturated Fat:
1
g
,
Sodium:
895
mg
,
Potassium:
271
mg
,
Fiber:
6
g
,
Sugar:
1
g
,
Vitamin A:
817
IU
,
Vitamin C:
13
mg
,
Calcium:
67
mg
,
Iron:
3
mg
This website provides approximate nutrition information for convenience and as a courtesy only. Nutrition data is gathered primarily from the USDA Food Composition Database, whenever available, or otherwise other online calculators.