Grilled halloumi kebabs are irresistible summer fare with golden brown grilled cheese cubes alternately threaded on skewers with vibrant peppers, tomatoes, and onion.
Recipe Overview
Why you'll love it: Toasty golden cheese, who doesn't love it? This is a unique appetizer or vegetarian main course that everyone will rave about.
How long it takes: 25 minutes
Equipment you'll need: wooden skewers, grill
Servings: 4 main course, or 12 appetizers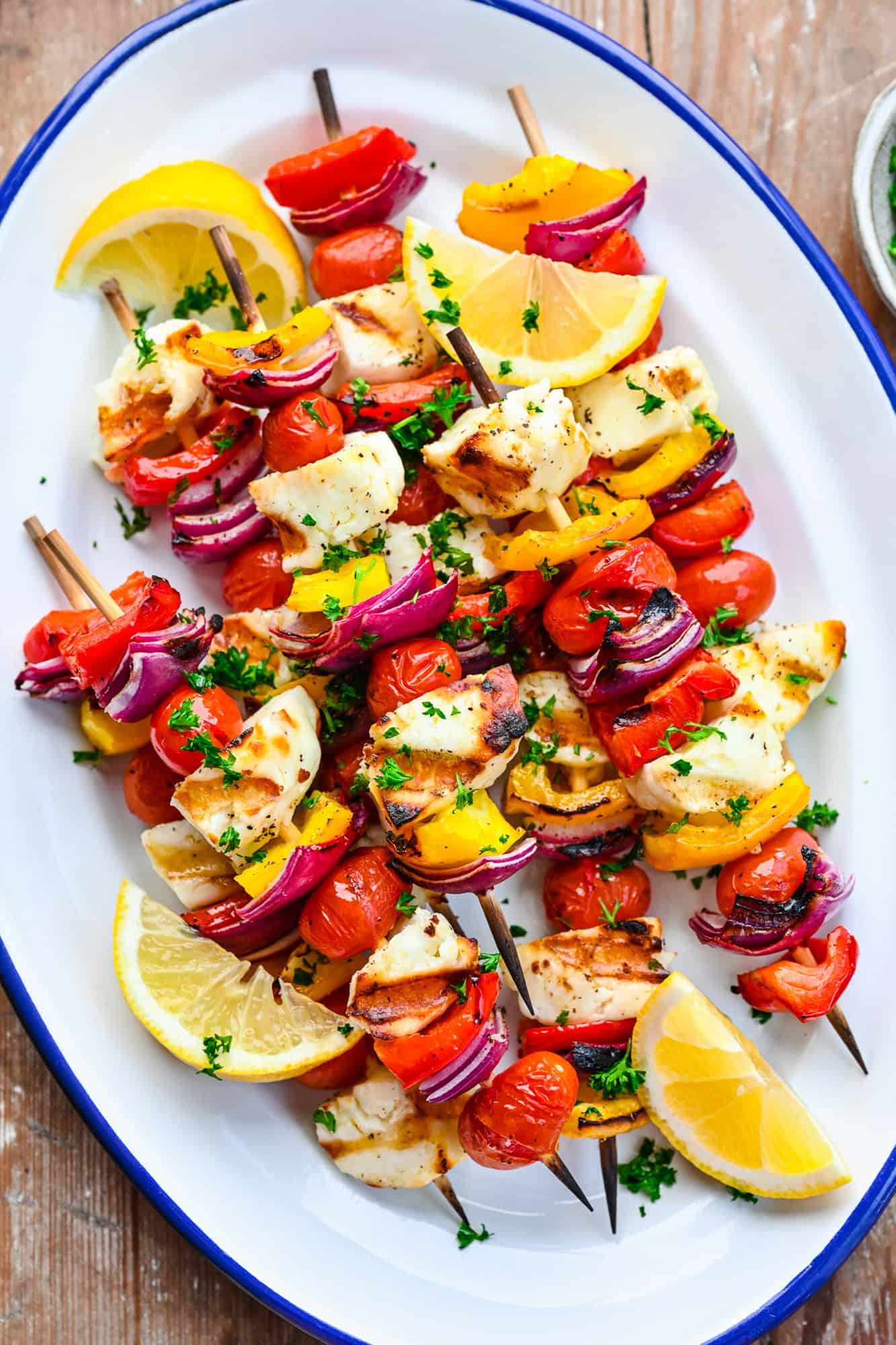 Imagine skewered cubes of cheese, grilled to golden perfection, warm and soft on the inside, lightly crisped on the outside. Sounds pretty amazing, right? Add a beautiful array of flavorful vegetables to the picture (or should I say, to the skewer): sweet bell peppers, juicy red tomatoes, sweet onions, bathed in a lemony olive oil dressing. Wow!
Aren't these kebabs beautiful? I bet you can almost imagine how great they taste, too. You really need to try these!
Have you ever ordered halloumi in a restaurant? Because the cheese is firm and keeps its shape even when it's heated, halloumi is a perfect choice for frying or grilling. And it's just unique enough to elicit a few oohs and aahs.
I've long wanted to try grilling halloumi at home. Sometimes I think that's the only reason I go out to eat, just to check out what's on the menu that I'd like to try to replicate at home.
(Okay, that's not the only reason I like to go out. I like to go out for dinner because it's nice to have someone else do the cooking once in a while.)
Reasons to Love Grilled Halloumi
Grilled halloumi kebabs are easy to make. Yes, they really are! The trickiest part is threading the cheese on the skewers without breaking the cubes apart (and I don't want to scare you, that's not too difficult, either).
The ingredients are fresh and healthy. As you can see from the photos, the skewers are loaded with fresh vegetables, all of which are good for you. What a great way to eat your veggies! Halloumi is rich in calcium and protein. Because it's grilled (not deep fried), it's relatively low in fat.
The kebabs are versatile. You can mix and match the vegetables, adding ones you like better, leaving out the ones you're not a fan of. The kebabs can be served as appetizers, a light lunch or dinner, or as a side with grilled chicken or salmon. The grilled halloumi and vegetables can be part of a delicious grain bowl or salad.
What is Halloumi?
Halloumi is a firm white cheese that has a high melting point, making it ideal for frying or grilling. It has a distinctive squeaky feeling when you bite into it.
Halloumi can be eaten raw or cooked. The flavor is salty and tangy, a bit like feta or mozzarella. You may detect a hint of spearmint.
Often associated with Cyprus, halloumi is thought to have originated in Egypt. It's common in the Middle East and is traditionally made with goat or sheep's milk. It's widely available and is more commonly made with less expensive cow's milk (Wikipedia).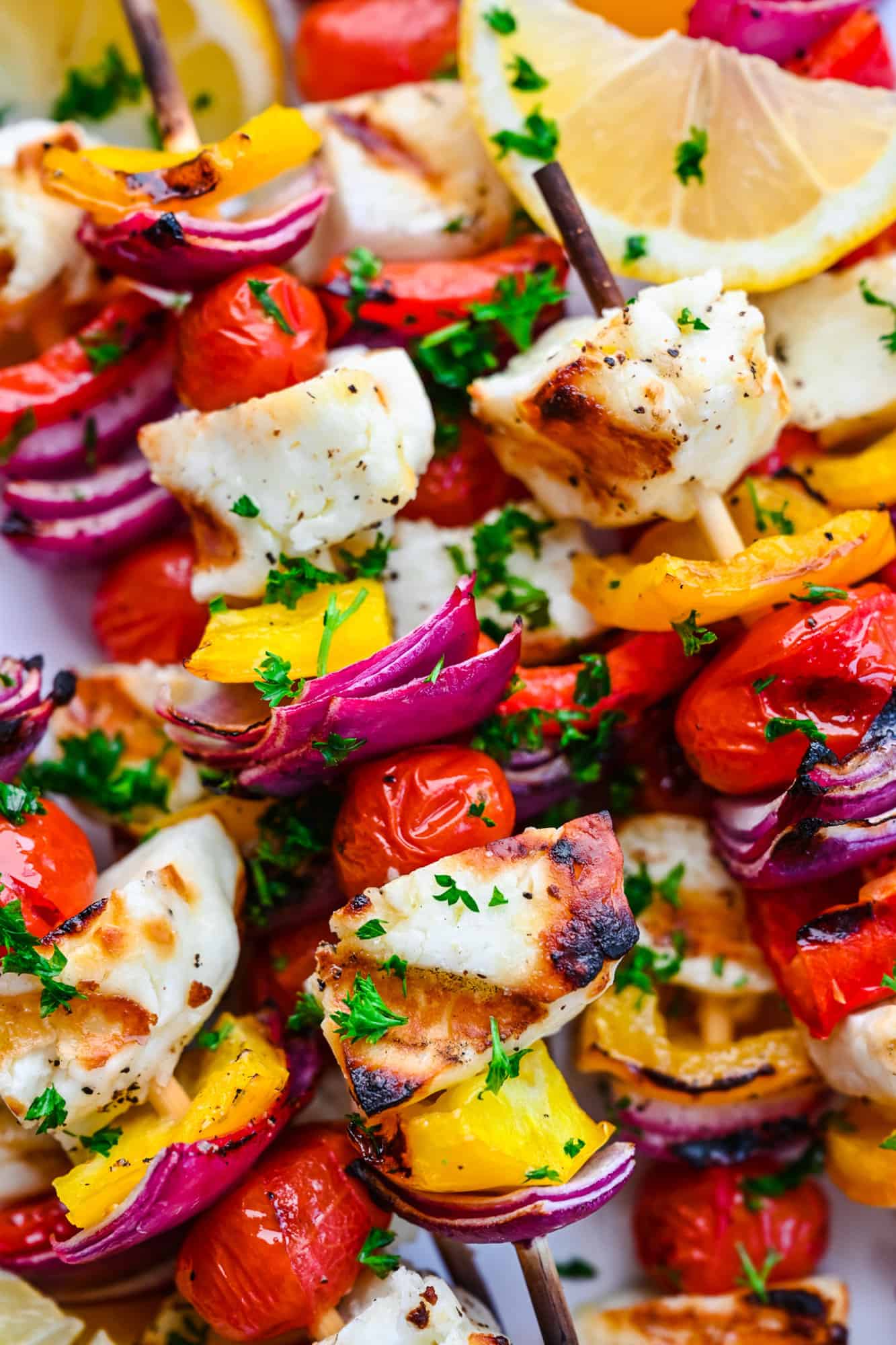 Ingredients You'll Need
Halloumi: Look for halloumi or "grilling cheese" in the deli section of the grocery store. It keeps well. An unopened package can be refrigerated for up to a year. Once the package has been opened, it should be used within 2 weeks. Always refer to the "Use by" date on the package.
Bell Pepper: For the most colorful kebabs, choose two contrasting colors of bell peppers. You'll need 2 peppers.
Red Onion: Other sweet thick-fleshed onions will work fine, too.
Cherry Tomatoes: Perfect for grilling because they're just the right size!
Olive Oil/Fresh Lemon Juice: The kebabs are brushed with an oil and lemon juice mixture which helps them brown and keeps them from drying out.
Wooden Skewers: You'll need ten to twelve 8 inch skewers. Remember to soak them for at least a half hour so they don't catch on fire when you grill.
Fresh Parsley and Lemon Wedges: Serve the kebabs with these fresh garnishes.
How to make Grilled Halloumi
Prep the vegetables and cheese. Cut the peppers and onions into bite-sized pieces, about 1 inch. The cheese should be evenly cut into one inch cubes. Try to keep the size uniform so it grills evenly. Don't forget to soak the skewers if you're using wooden kebabs.
Thread onto skewers. Arrange the vegetables on the skewers in an attractive way, alternating colors. Typically, I like to begin and end with a bell pepper because they stay more firmly fixed on the skewer.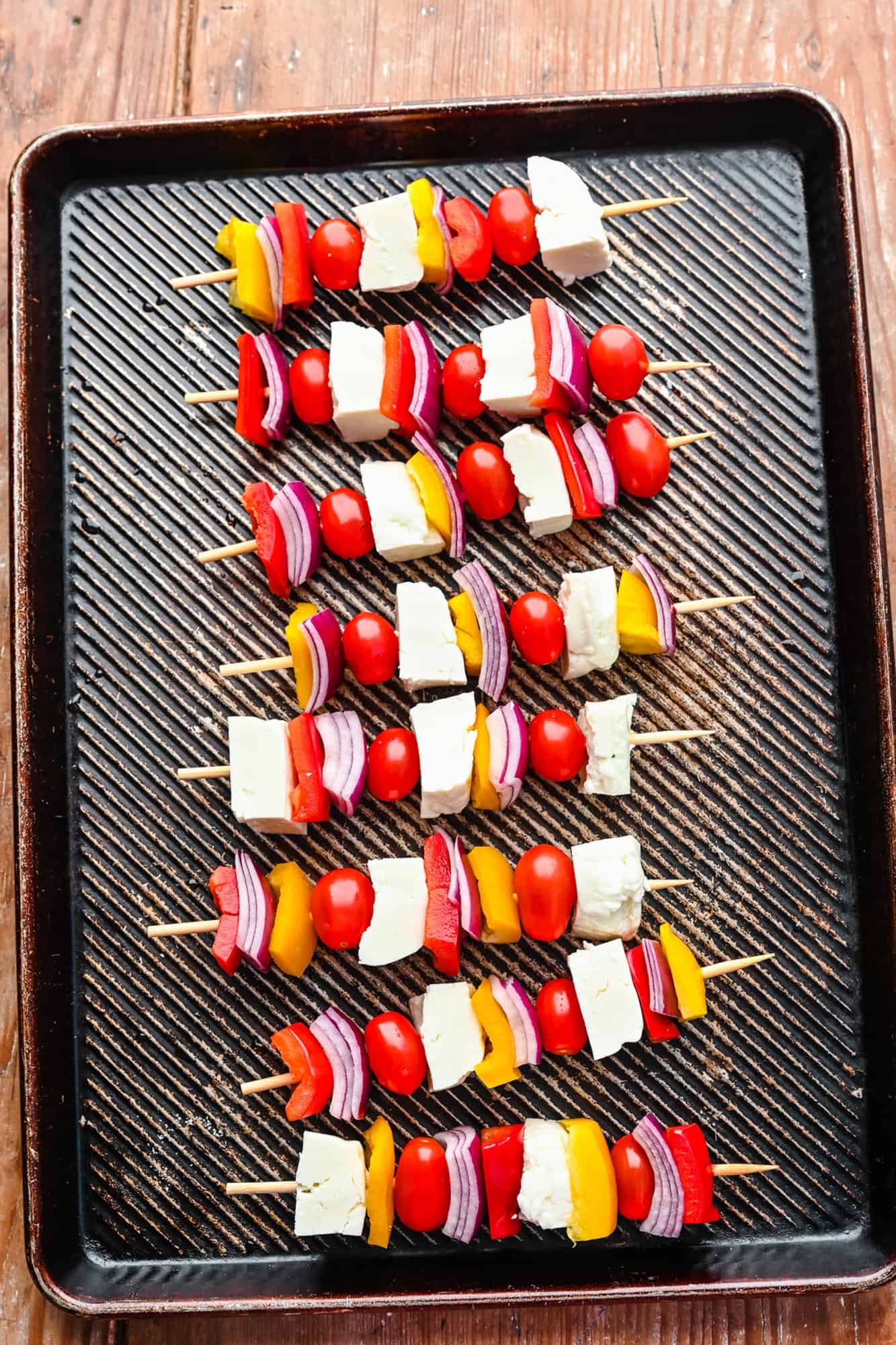 Brush kebabs with oil/lemon juice mixture. For easiest clean-up, line up the skewers in a row on a rimmed sheet pan. With a brush, lightly brush each skewer with the oil mixture.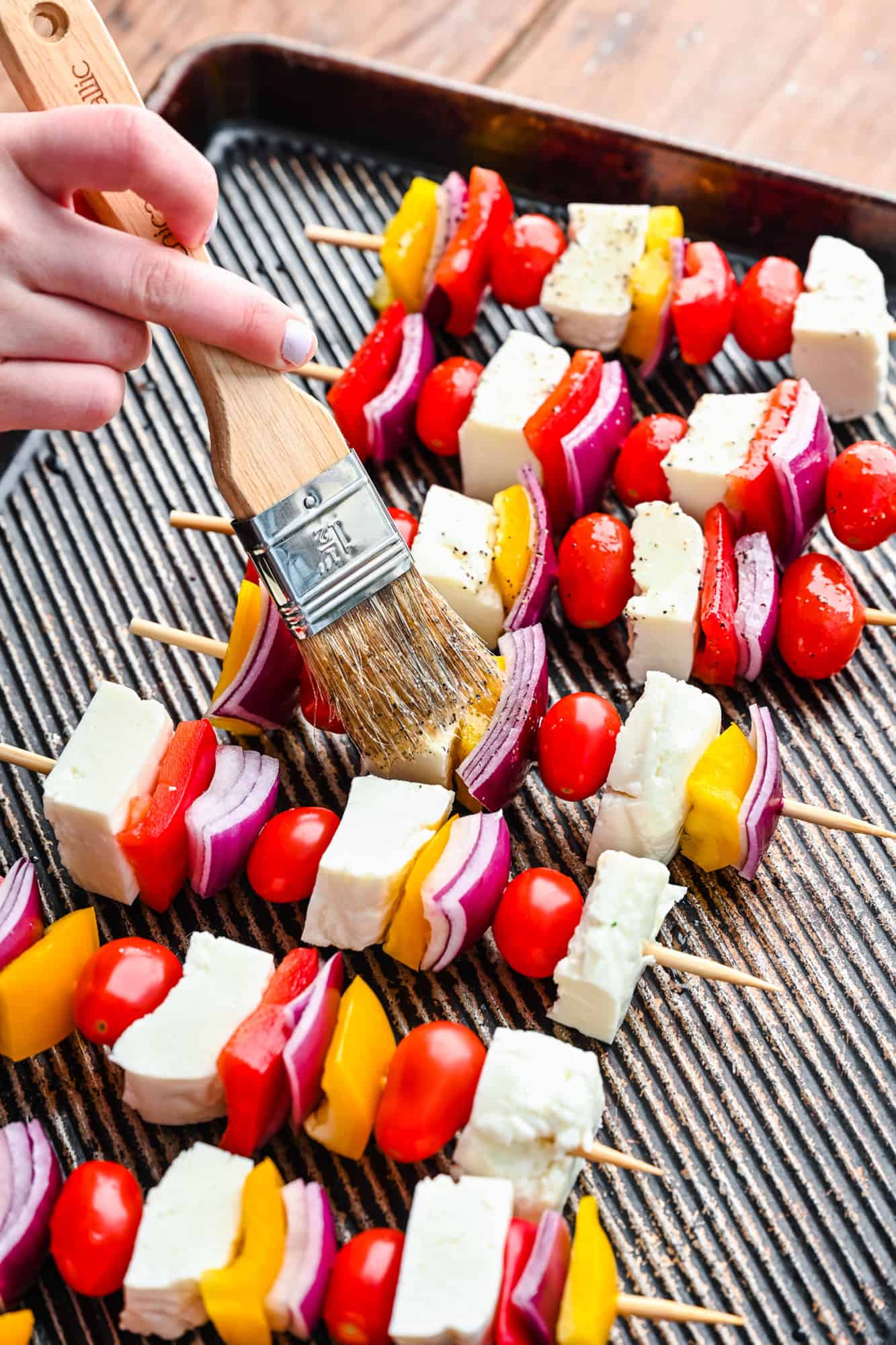 Grill kebabs. Preheat the grill to medium high. Place the skewers on oiled grill grates and grill for 5 to 7 minutes, or until the cheese is golden brown and the vegetables are softened and lightly charred.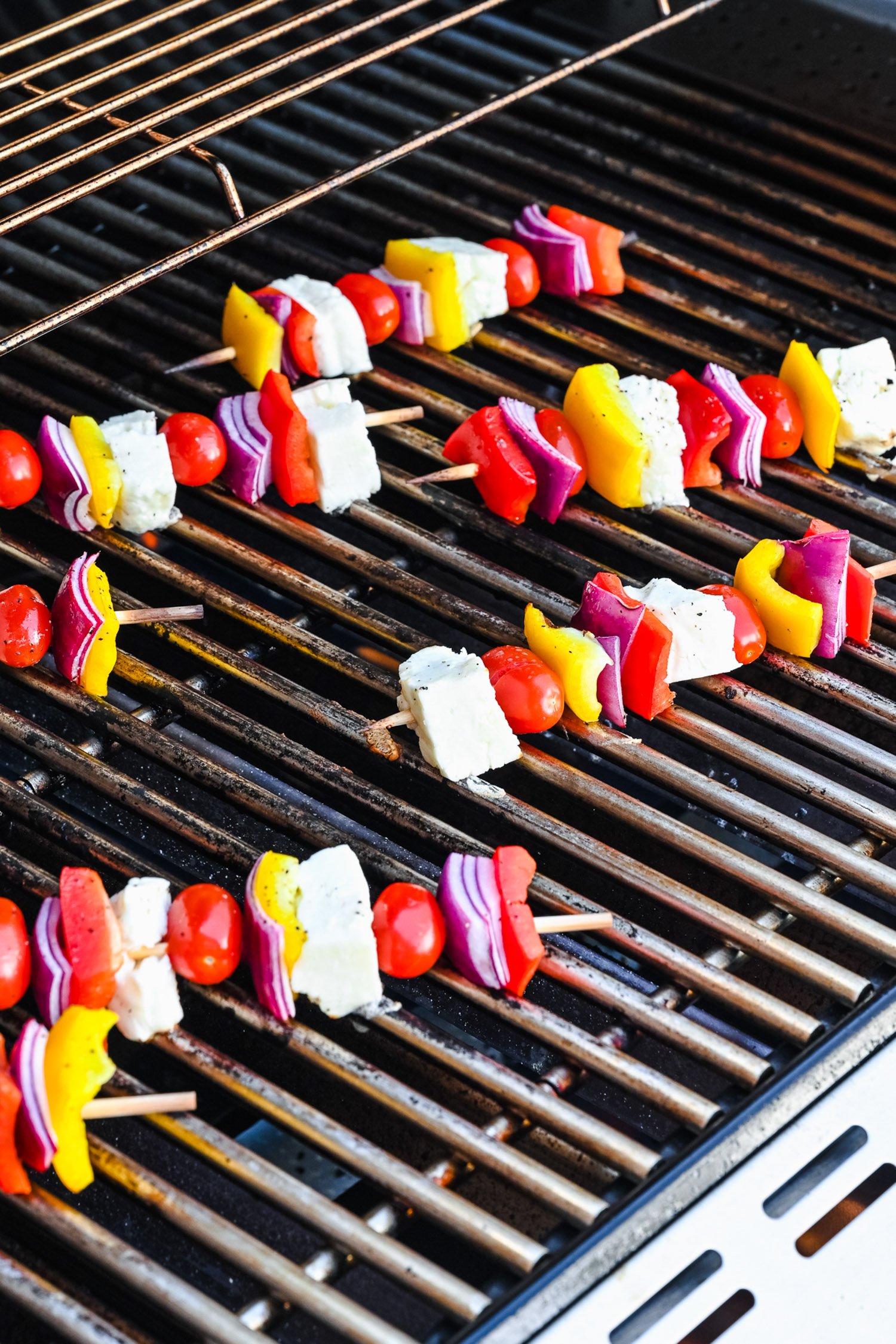 Serve. Serve the kebabs with lemon wedges and a handful of freshly chopped parsley.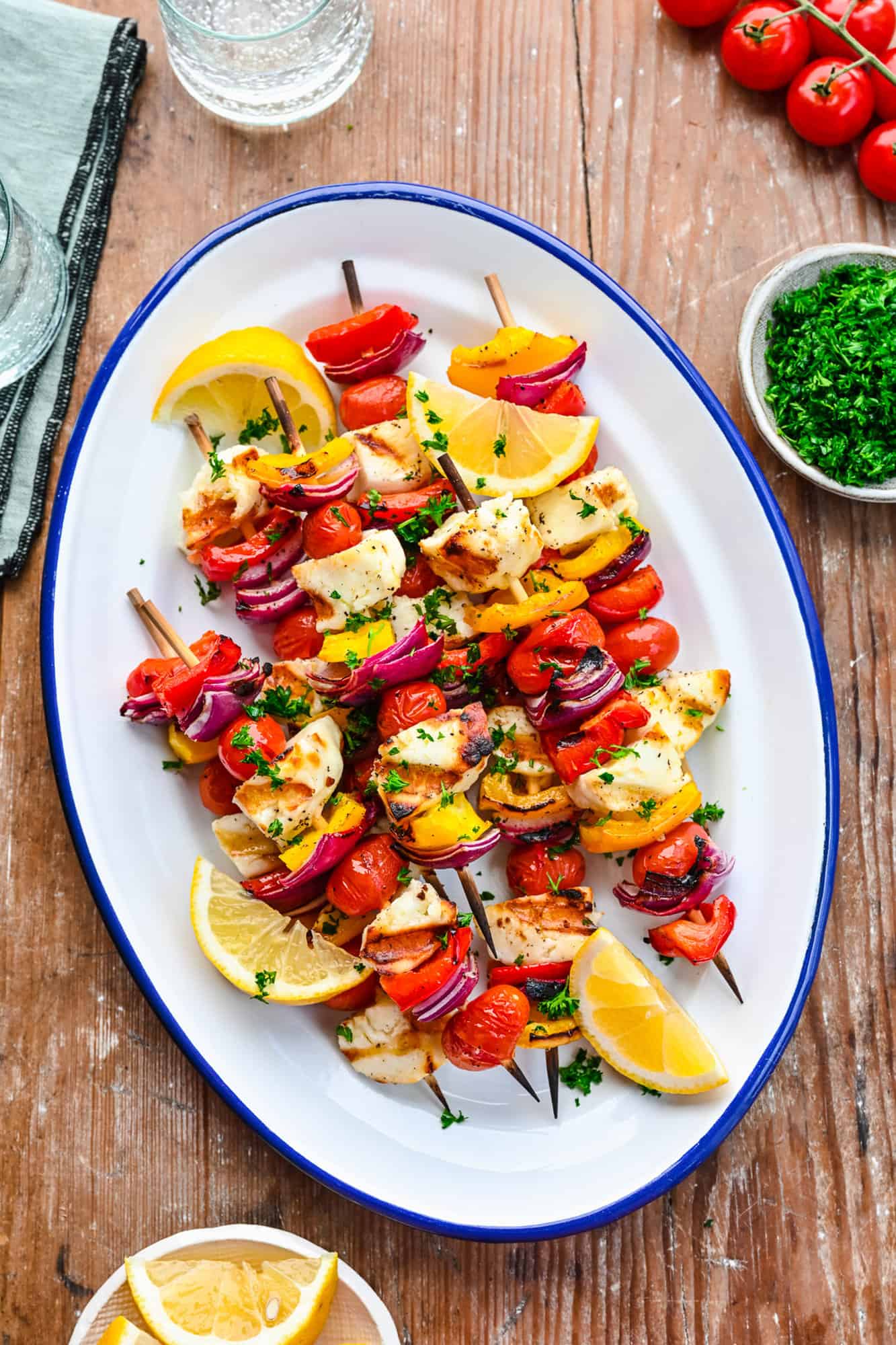 What to serve with grilled halloumi
Important Tips For Success
Oil the grill grates. We found that the cheese tends to stick to the grates if they aren't oiled. Use long handled tongs to rub a paper towel soaked with vegetable or canola oil on the grates after the grill has preheated. You can also buy specially made brushes to accomplish this, or grill sprays.
Keep the grill open. With the lid down, the grill heats up more like an oven. The goal is to get nice grill marks on the cheese but it doesn't have to be baked. With the lid open, you can watch the cheese more closely.
Don't overcook the cheese cubes. You don't want the cheese to melt down into the grill. If you're worried that the cheese will get done before the vegetables, grill it on separate skewers. We found that some brands of cheese worked better than others; Yanni brand tended to melt down too quickly.
Changes You Can make
Try different vegetables: Summer squash or zucchini, mushrooms, green bell peppers, Brussels sprouts, any vegetable that can be threaded on a skewer.
Look for different types of cheese to grill: According to this Martha Stewart post, there are more varieties that can be cubed and grilled: Rougette Bon-Fire cheese, bread cheese (Juustoleitä), and paneer.
Substitute Italian dressing: Instead of the olive oil and lemon juice mixture, brush the kebabs with Italian dressing.
Make Ahead Ideas
The kebabs can be completely assembled ahead of time, up to 24 hours. Cover and refrigerate until ready to grill. The olive oil mixture can be made ahead, too.
Storage & Reheating Tips
The kebabs are best when eaten right away but they will keep for three to four days in the refrigerator.
Reheat gently in the microwave until warm. Don't overheat the cheese or it may become tough.
Leftover Love
Make a grain bowl: If you have a few kebabs left over, they are delicious added to a grain bowl (Buddha bowl). Remove the cheese and vegetables from the skewers, microwave gently until they are warm.
Add the warm cheese and vegetables to a shallow bowl with your favorite grain (quinoa, brown rice, farro, couscous, etc.). Top with a dressing of your choice. We love honey mustard vinaigrette or red wine vinaigrette. Stir in fresh greens, toasted pine nuts, or whatever you love best.
Did you make this? Be sure to leave a review below and tag me @rachelcooksblog on Facebook, Instagram, or Pinterest!
Grilled halloumi kebabs are irresistible summer fare with golden brown grilled cheese cubes alternately threaded on skewers with vibrant peppers, tomatoes, and onion.
Ingredients
16

oz.

halloumi cheese, cut into 1-inch cubes

(may also be labeled as "grilling cheese")

1

medium red bell pepper, cut into 1-inch pieces

1

medium yellow bell pepper, cut into 1-inch pieces

1

medium red onion, cut into 1-inch pieces

1

cup

cherry tomatoes

(whole)

2

tablespoons

olive oil

1

tablespoon

fresh lemon juice

½

teaspoon

kosher salt

½

teaspoon

coarse ground black pepper

10 to 12

8 inch

wooden skewers, soaked in water for at least 30 minutes

Fresh parsley, lemon wedges for garnishing & serving
Instructions
Soak the skewers in cold water for at least 30 minutes to prevent them from burning.

Preheat your grill to medium-high heat (about 400˚F).

Thread the halloumi cubes, bell pepper, tomato and red onion pieces onto the skewers, alternating between the ingredients. Be careful with the halloumi as it can split easily.

In a small bowl, whisk together the olive oil, lemon juice, salt, and pepper. Brush the kebabs with the olive oil mixture.

Place the kebabs on the grill over direct heat and grill for 5 to 7 minutes on each side, or until the cheese is golden brown and the vegetables are slightly charred.

Serve the kebabs immediately, garnished with fresh parsley and/or lemon wedges.
Notes
Recipe can easily be halved or doubled, depending on your needs.
If you prefer the vegetables a little more well-done, grill them on skewers separately from the cubed cheese.
Other vegetables can be substituted: mushrooms, Brussels sprouts, green bell peppers, etc.
We found that some brands of cheese worked better than others. Yanni grilling cheese tended to melt too quickly.
Nutrition Information
Serving:
3
kebabs
,
Calories:
454
kcal
,
Carbohydrates:
9
g
,
Protein:
26
g
,
Fat:
35
g
,
Saturated Fat:
20
g
,
Polyunsaturated Fat:
2
g
,
Monounsaturated Fat:
12
g
,
Sodium:
1659
mg
,
Potassium:
255
mg
,
Fiber:
2
g
,
Sugar:
4
g
,
Vitamin A:
1175
IU
,
Vitamin C:
105
mg
,
Calcium:
1151
mg
,
Iron:
1
mg
This website provides approximate nutrition information for convenience and as a courtesy only. Nutrition data is gathered primarily from the USDA Food Composition Database, whenever available, or otherwise other online calculators.