Roasted Vegetable Wrap with Feta and Pesto
Filling and flavorful, this roasted vegetable wrap is perfect for Meatless Monday or any day! Prep the vegetables on the weekend to make it even easier.
This post is in partnership with Flatout. Thanks for supporting Rachel Cooks by reading about brands I love and use in my home!
I've been trying to meal prep on the weekends. Really really trying. I try to go grocery shopping on Fridays and prep ingredients (wash herbs, greens, peel carrots, etc.) on Friday afternoons. Then on Saturdays, I attempt to knock out a couple recipes for this site. Sundays are spent finishing up any recipe deadlines after church and then also prepping food for us to eat for the week (chopping vegetables, washing fruit, boiling eggs, making skinny vegetable dip, maybe a batch of protein-packed pancakes…).
Granted, this all doesn't always happen. In fact, it often doesn't. That's all in my dream world. This weekend we had to go out of town for a funeral so we were gone Friday and Saturday. Sunday we were both exhausted so I didn't accomplish much, but I did go grocery shopping. Thankfully, the kids had Monday off of school (also good since our car was getting repaired). So, since we were stuck home without a car, I took care of making the vegetable dip, chopping vegetables, making chickpea salad, and cooking split chicken breasts (I used this chicken tawook marinade). I also made a take on this breakfast casserole for Ben and I to eat for breakfast this week. He's not a huge potato fan (sometimes, when they're roasted and extra crispy, but sometimes not), so it might be a more-for-me type situation which is fine by me. He also said there was too much sour cream in it, but there isn't any sour cream. It's cottage cheese. I told him it was full of protein and low in calories, and I think maybe I'll convinced him. I guess we'll see tomorrow.
One thing I didn't finish Monday that I'd still like to accomplish is roasting vegetables. I have a fridge full — parsnips, carrots, zucchini, mushrooms, radishes, bell peppers, onions. I love making hearty bowls with grains, chicken and roasted vegetables, but I also love that I can toss them on salads or in a filling and flavorful vegetable wrap.
I bumped up the protein of this vegetable wrap by using Flatout ProteinUP™ Carb Down® Flatbread. It's super soft and pliable but still strong, which makes it perfect to hold all the vegetables, pesto, and feta in this wrap. Plus, it has 12 grams of protein (in the wrap alone!) and only 130 calories. It's the perfect vessel for any healthy sandwich or wrap. I've been wanting to make a breakfast burrito with one of these wraps because I know it would keep me full all morning.
I'd recommend doing a big batch of roasted vegetables so that you can use them in these wraps all week as well as any other uses that sound delicious to you, but I wrote the recipe for one serving only to keep things simple. Keep in mind that it's super flexible and doesn't have to be exact. You can use any vegetables you want and it doesn't have to be exactly 1 cup — stuff as many as you can in there! I fully support that. If you want to roast a small batch of vegetables, I love using my toaster oven.
(Side note: I scoffed when Ben suggested we needed a toaster oven when we got married but ever since we got this one, I realized I can't live without it. I use it at least three times a day and my mom bought one too. PS: They're having an amazing sale on it right now, it's 45% off!)
Looking for more great sandwiches and wraps? Try these:
Roasted Vegetable Wrap with Feta and Pesto
Filling and flavorful, this roasted vegetable wrap is perfect for Meatless Monday or any day! Prep the vegetables on the weekend to make it even easier.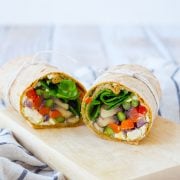 Ingredients:
mixed vegetables (about 1 cup — see notes), cut into thin strips

1 teaspoon olive oil
1/4 teaspoon salt
1/4 teaspoon ground black pepper

1 Flatout ProteinUp Carb Down wrap

1 tablespoon prepared pesto

1 tablespoon mayonnaise made with olive oil

1 tablespoon crumbled feta cheese (I use reduced-fat)

Handful of fresh baby spinach
Directions:
Preheat oven to 450°F. Toss vegetables (see note) on sheet pan with olive oil, salt and pepper. Roast for 10 minutes, stir, and continue roasting until browned and tender, about 10 minutes.

Meanwhile in a small bowl, mix pesto with mayonnaise until combined. Spread evenly onto Flatout ProteinUp Carb Down wrap, leaving about a 1-inch border around the edges of wrap.

Add roasted vegetables in the middle of the wrap, top with feta and spinach. Wrap tightly. Enjoy immediately.
Note: I used a mix of carrots, red onion, red bell peppers, zucchini, portobello mushrooms, and asparagus. If you use carrots (or any other root vegetable or squash), they'll take about 20 minutes to roast (make sure to cut them thin). I also like to roast onions for about 20 minutes. If you have softer vegetables (asparagus, zucchini, mushrooms), add them halfway through the cooking time as they'll only take about 10 minutes.
Note: If you choose to roast extra vegetables, roasting directions remain the same. If the pan is crowded, you may need to increase cooking time.
All images and text ©
.
Verdict: I'm completely enamored with this wrap – it's in my regular rotation.
Husband's take: I haven't shared with Ben yet — this is one of my lunch go-to recipes.
Changes I would make: None, but don't be afraid to try it with any of your favorite vegetables (it's a great clean out the fridge type meal too).
Difficulty: Easy!
You can easily find Flatout Flatbread near you using FlatoutFinder.com. You can also follow along for recipe ideas on Facebook, Twitter, or their blog. Share how you're using Flatout as part of your healthy lifestyle by using hashtag #FlatoutFresh on social media!
Disclosure: I'm excited to partner with Flatout Flatbread to bring you quick and delicious recipes like this vegetable wrap. I have been compensated for my time but all opinions are always my own. Thank you for supporting Rachel Cooks by reading about brands we love and use in our own home.