Balsamic Chicken Marinade
This balsamic chicken marinade is made using ingredients you probably have on hand. It will become a favorite for either grilling or baking in the oven!
Recipe Overview
Why you'll love it: This is a super easy marinade to make and it's really versatile.
How long it takes: 5 minutes, plus marinating time
Equipment you'll need: small bowl
Servings: makes enough marinade for 1 to 4 pounds of meat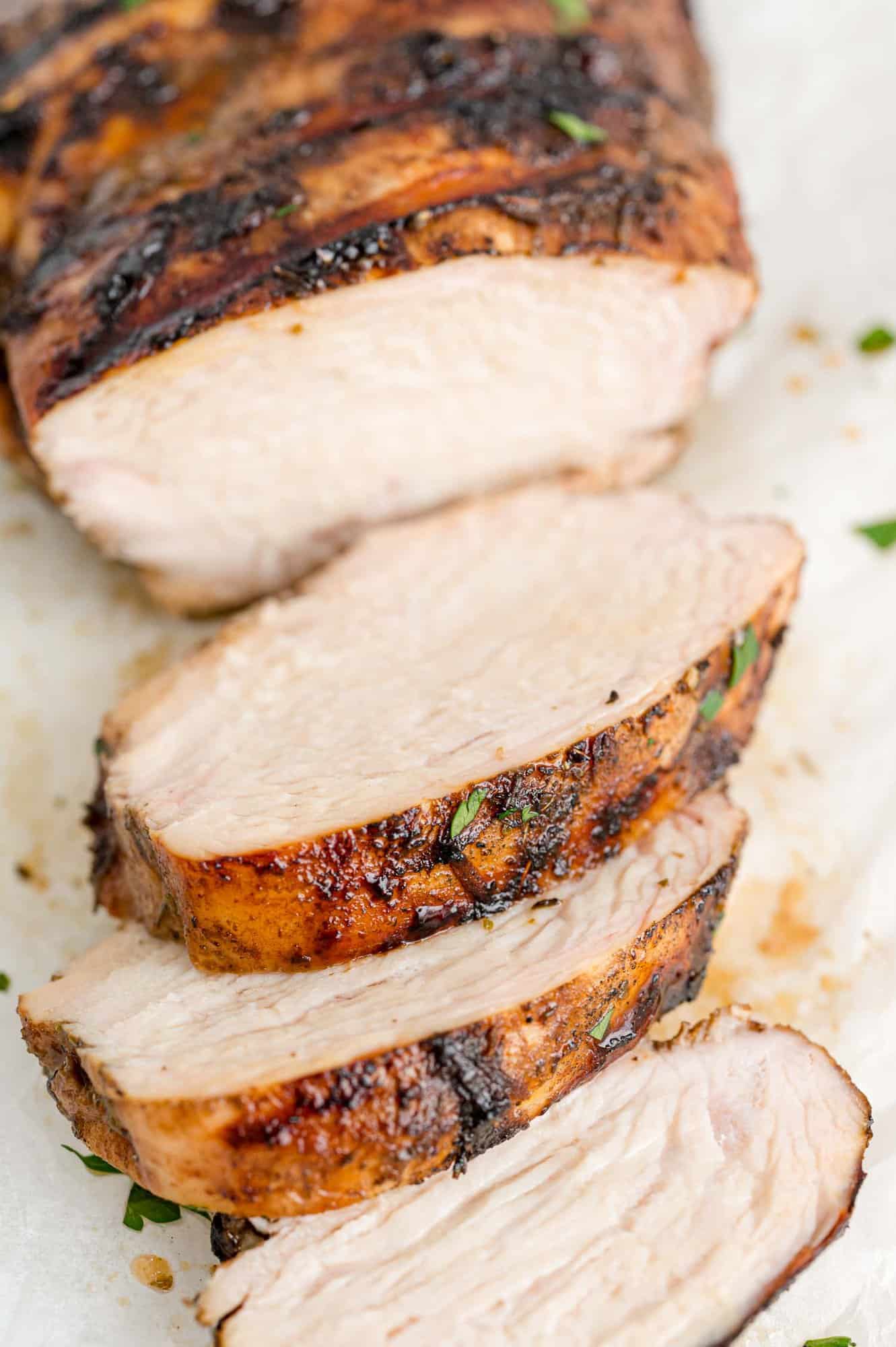 I recently marinated a big batch of boneless skinless chicken breasts. My parents were coming over for dinner and I had a family pack of chicken in the fridge. Although one of my standbys is this zesty Italian chicken marinade, I was looking for something a little different to serve with my pasta and spicy tomato arrabbiata sauce.
I decided on this balsamic chicken marinade. It's super easy and makes enough for a big package of chicken. With garlic, Italian seasoning, and tangy balsamic vinegar, I knew it would go great with my pasta dish, plus I had everything I needed in my pantry which meant no last minute dashes to the grocery store.
This is one of my favorite marinades. It adds tons of flavor to plain chicken because let's face it: boneless skinless chicken breasts need a little help. They are a healthy source of protein but they can be kinda boring.
The marinated chicken was a big hit with my family. I was hoping there would be some chicken left over for me to eat for lunch the next day but there wasn't any left. That's a good sign that it was a success.
Why You'll Love This Marinade
Simple: You won't need fancy ingredients to make balsamic chicken marinade. Not counting salt and pepper, there's just 4 ingredients: olive oil, balsamic vinegar, Italian seasoning, and garlic powder. It takes less than five minutes to stir up and packs a lot of flavor.
Better than bottled marinades: If you've been buying bottled marinades or those little packets of marinade mix, you may want to reconsider. It's way more economical to make your own and so easy! Commercial marinades are often loaded with extra salt and sugar, in addition to preservatives and "natural flavors" which really aren't natural at all.
Make it ahead: This easy marinade is a great one to start out with and it may become the only marinade you ever use. It's that good! You can even let the chicken marinate overnight so it's seasoned and ready to go when you are.
Versatile (choose your preferred cooking method): By the way, marinated chicken does not have to be grilled. If you don't want to grill tonight, it's great baked in the oven, air fried, or cooked in a grill pan too.
I'll run through the basics here. The recipe card near the end of the post has measurements, and instructions for making the marinade and cooking the chicken (grill, bake, or air fry).
Ingredients You'll Need
Olive Oil: A key ingredient of marinades, olive oil helps keep boneless chicken breasts moist and tender. It also aids in browning.
Balsamic Vinegar: Most of you are probably familiar with dark colored aged balsamic vinegar. It adds a rich tangy flavor to many dishes. However, for this chicken marinade, I prefer white balsamic vinegar. It's a little lighter in flavor and doesn't discolor the chicken. If all you have in your pantry is regular balsamic vinegar, no worries. It will work just fine.
Italian Seasoning: Combined with the balsamic vinegar, this blend of dry herbs adds just the right flavor notes. A popular brand contains: marjoram, basil, rosemary, thyme, oregano, savory, and sage.
Garlic Powder: This fine light golden powder adds a mild garlic flavor. It is pure dehydrated garlic that has been ground into a powder. If you prefer a bolder garlic flavor, mince a few cloves of fresh garlic to add instead.
Salt & Pepper: Simple seasonings that add so much!
Chicken: This marinade will work for any cut of chicken. It's written for boneless skinless chicken breasts but if you prefer dark meat, marinate boneless skinless chicken thighs instead. Bone-in cuts are fine, too, including drumsticks or wings. In fact, this marinade is great for pork tenderloin or steak, too.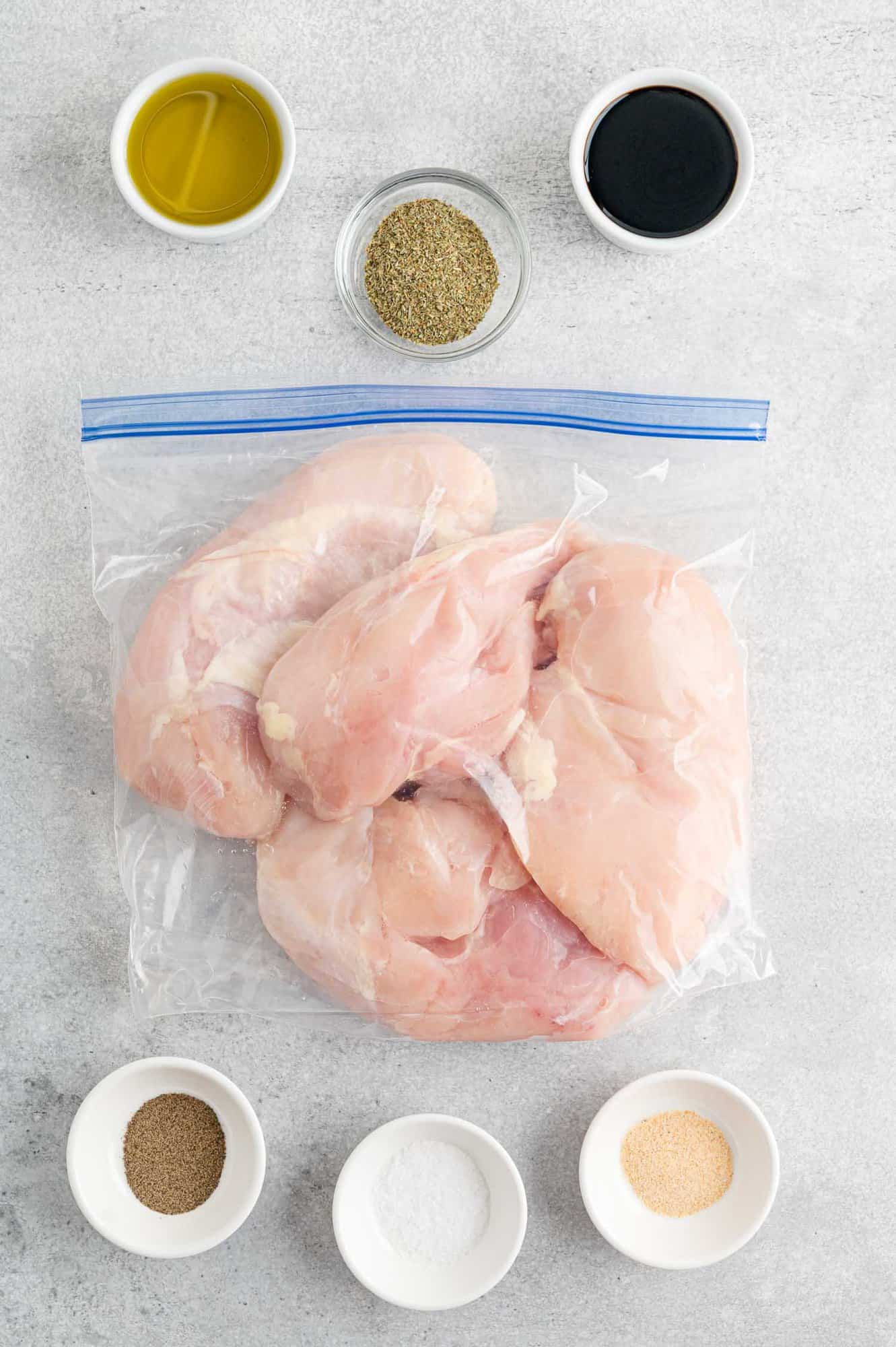 How To Make This Balsamic Marinade
In a small bowl, whisk together the marinade ingredients listed above (look at the recipe card below for measurements).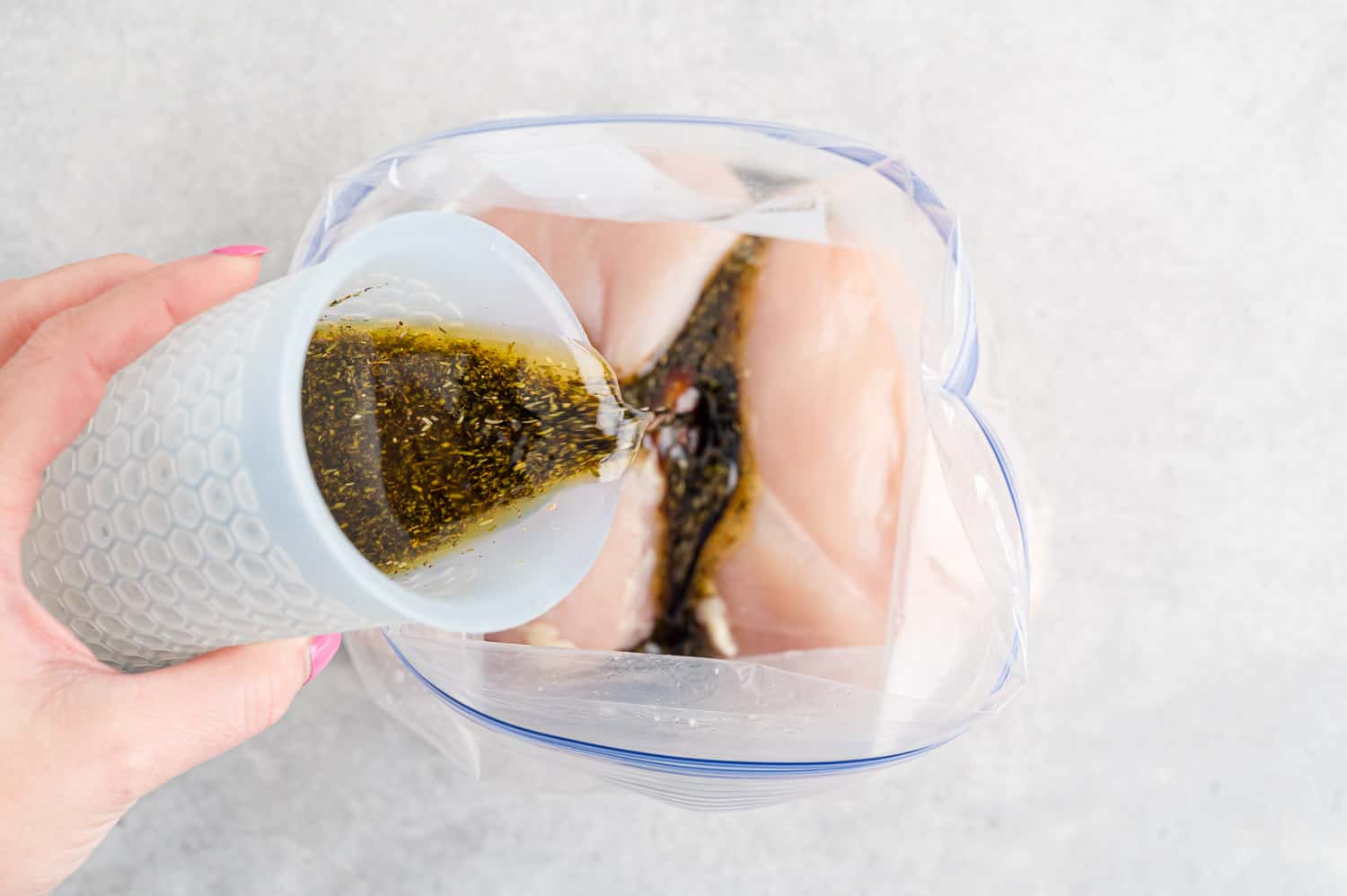 There are two good ways to marinate meat:
In a resealable bag: Simply place the chicken pieces inside the bag, pour in the marinade, seal the bag, and squish the marinade around so it completely coats the chicken. Put the bag in a baking dish to ensure that you don't end up with leaks in the refrigerator which is nasty and a pain to clean up.
In a bowl: Place the chicken in a bowl, pour the marinade on it, and stir to make sure the chicken is coated. Cover with plastic wrap and refrigerate.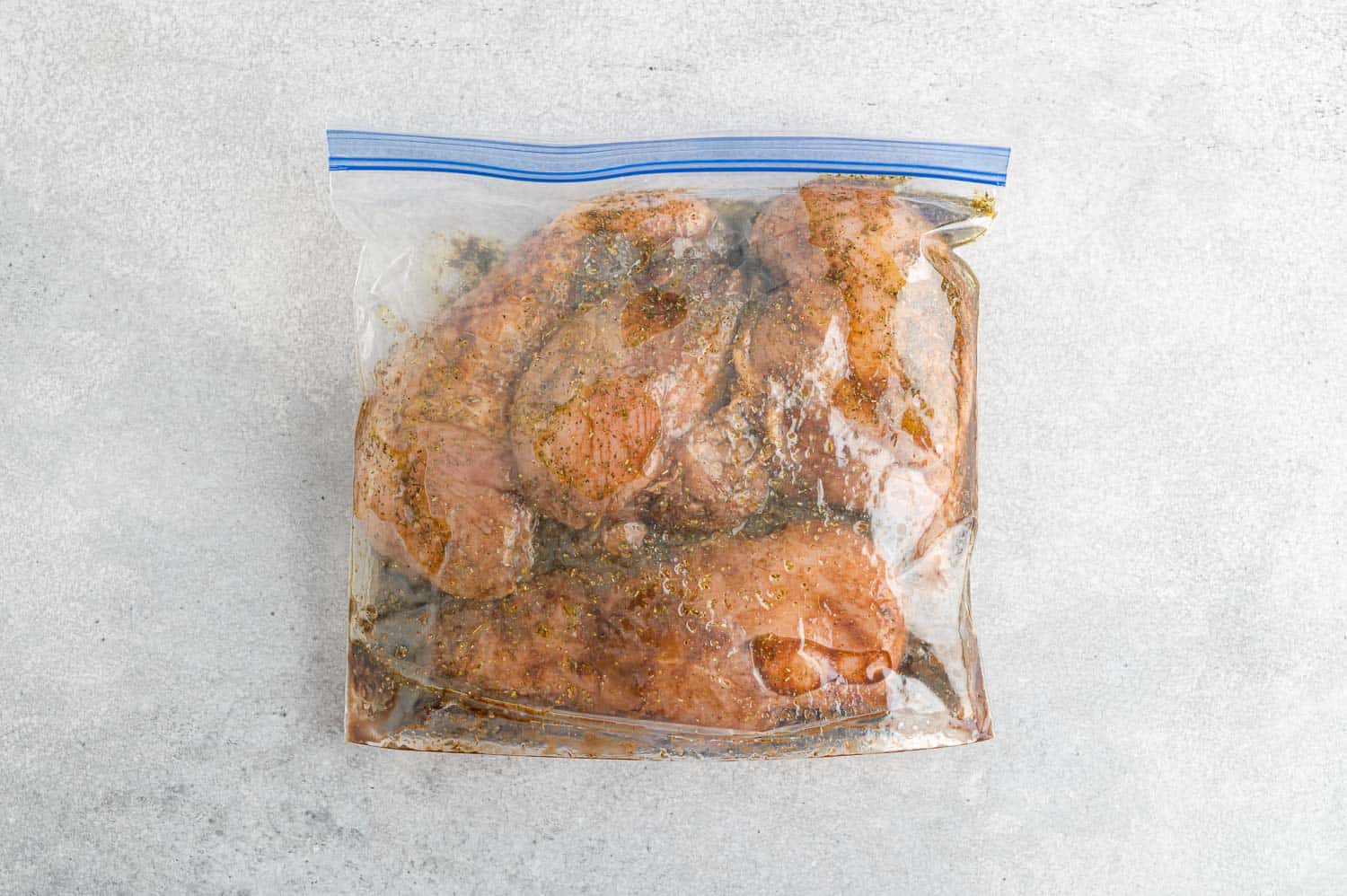 How to cook marinated chicken: The chicken can be grilled, baked, air fried, or cooked on a stovetop grill pan. There are instructions for each method on the recipe card below. Cook chicken until the internal temperature reaches 165°F. Try not to overcook boneless skinless chicken breasts. They can become rather dry.
What to Serve with Chicken
Marinated chicken can be served as a main course with pasta and sauce. Garnish the chicken with a drizzle of balsamic reduction and a sprinkle of fresh parsley or oregano. Serve it with fresh tomato pasta, which features a no-cook sauce made with marinated tomatoes or cheese & pesto stuffed zucchini.
Grilled chicken and a simple cooked vegetable come together quickly for a light and. healthy dinner. We love air fryer cauliflower or air fryer green beans. Sautéed sugar snap peas are easy and cook quickly. Roasted asparagus is delicious; try air fryer asparagus, too.
Lately, we've been loving this grilled peach salad with burrata. It's topped with a drizzle of balsamic glaze and goes really well with balsamic marinated grilled chicken. Why not grill a few peaches along with the chicken?
Like corn on the cob? Try Instant Pot corn on the cob or air fryer corn on the cob; both recipes are so easy to make!
Add the chicken, thinly sliced, to salads or sandwiches. It's great in a bowl, too, like this quinoa bowl with roasted tomatoes, ricotta and balsamic.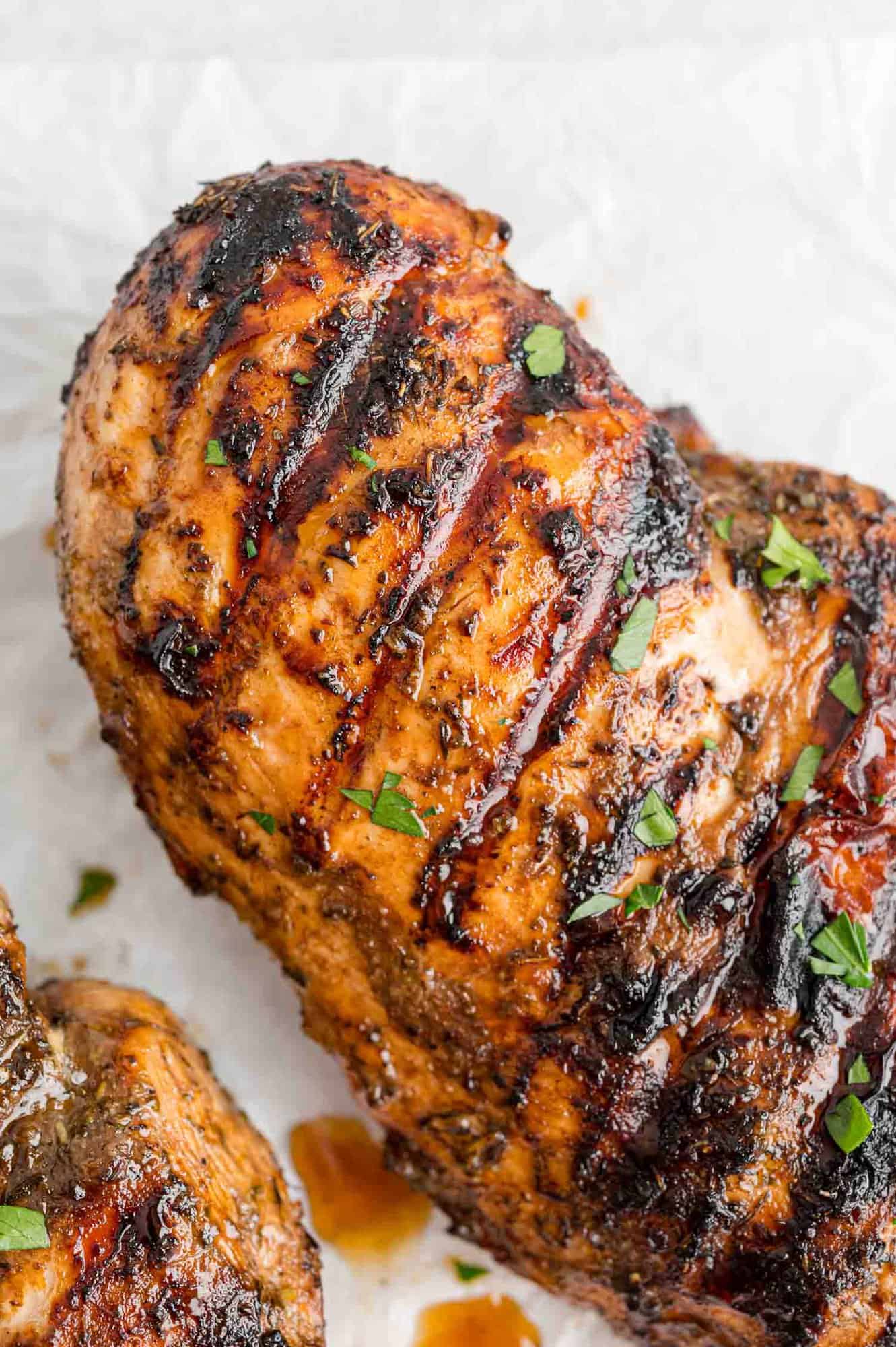 FAQs
How long should I marinate chicken?
I'd recommend marinating this chicken for at least 2 hours, but you can leave it in the marinade (in the fridge, of course!) for up to 24 hours.
Can I cook chicken in its marinade?
Generally, it's not a great idea to cook chicken in its marinade. Marinades often contain an acid such as vinegar or citrus juice. When the marinade cooks, it may become bitter or too concentrated. The chicken may turn out soggy or too mushy.
Never reuse a marinade to baste the chicken or as a sauce to put on the chicken unless it has been cooked thoroughly to remove pathogens. It should be boiled at least 5 minutes before using.
Make It Your Own
Try the marinade on pork or steak. It's perfect for almost any type of meat.
Choose your cooking method. Not in the mood to grill? No problem, this marinated chicken can be baked, air fried, or cooked on a stovetop grill pan. You'll find instructions on the recipe card below.
Amp up the garlic. Love garlic? Substitute minced garlic cloves for the garlic powder.
Looking for something else? Looking for the best soy sauce marinade? Try my Asian chicken marinade or take a look at the marinade recipes listed below.
Make-Ahead Ideas
The chicken can be marinated for up to 24 hours. Stir up the marinade the night before, pour it over the chicken and refrigerate.
Like to food prep? Cook up a big batch of chicken and refrigerate or freeze it for future meals.
Storage & Reheating Tips
Store leftover cooked chicken in the refrigerator or freezer. It will keep in the refrigerator for three to four days or in the freezer for up to 4 months.
Chicken can be reheated in the microwave or in your air fryer.
Interested in a weekly meal plan (it's free!) that includes this marinated chicken? Take a look at my Meal Plan #17. You'll find a wholesome recipe for each weekday plus a categorized grocery list. Let me do the planning for you this week!
We'll be adding a new meal plan weekly. If you're interested, browse all of our meal plans.
Love balsamic vinegar?
So do I! Here are a few more recipes you may want to try:
Did you make this? Be sure to leave a review below and tag me @rachelcooksblog on Facebook, Instagram, or Pinterest!
This balsamic chicken marinade is made using ingredients you probably have on hand. It will become a favorite for either grilling or baking in the oven!
Instructions
In a small bowl or measuring cup, whisk together olive oil, balsamic vinegar, garlic powder, Italian seasoning, salt, and pepper.

Place chicken in a bowl or a zip-top bag and pour marinade over chicken. Make sure all parts of the chicken are coated with marinade.

Refrigerate and let marinate for at least 2 hours and up to 24 hours before cooking. When ready to cook, remove chicken from marinade, letting excess drip off. Discard marinade.

To Grill: Grill chicken over medium heat for 15 to 20 minutes, flipping once, until cooked through. Cooking time will vary depending on thickness of meat and exact grill temperature. Let rest 5 minutes before serving.

To Bake: Preheat oven to 400°F. Place chicken in greased baking dish. Bake for 25 to 30 minutes. Baking time depends on thickness of chicken pieces.

To Air Fry: Preheat air fryer at 375°F for five minutes. Place chicken in air fryer in a single layer and cook for 10 minutes. Flip, and continue to cook for 6 to 8 minutes or until chicken is done. Let rest 5 minutes before serving.

Cook chicken (all methods) until internal temperature reads 165°F on an instant read thermometer. Do not overcook.
Notes
Makes enough marinade for 1 to 4 pounds of chicken. Choose any cut of chicken you like.
I often like to use white balsamic vinegar which doesn't discolor the chicken but traditional balsamic vinegar is fine, too.
Nutritional information is a very rough estimate, given that much of the marinade is thrown out.
Nutrition Information
Calories:
266
kcal
,
Carbohydrates:
3
g
,
Protein:
32
g
,
Fat:
13
g
,
Saturated Fat:
2
g
,
Polyunsaturated Fat:
2
g
,
Monounsaturated Fat:
8
g
,
Trans Fat:
0.02
g
,
Cholesterol:
97
mg
,
Sodium:
469
mg
,
Potassium:
592
mg
,
Fiber:
1
g
,
Sugar:
2
g
,
Vitamin A:
68
IU
,
Vitamin C:
2
mg
,
Calcium:
32
mg
,
Iron:
1
mg
This website provides approximate nutrition information for convenience and as a courtesy only. Nutrition data is gathered primarily from the USDA Food Composition Database, whenever available, or otherwise other online calculators.