A simple tomato pasta sauce, garlicky arrabbiata sauce is spicy and delicious. It's a breeze to make with canned tomatoes and crushed red pepper flakes.
Recipe Overview
Why you'll love it: This easy-to-make pasta sauce will warm you up from the inside out.
How long it takes: just under an hour
Equipment you'll need: large saucepan or skillet
Servings: 8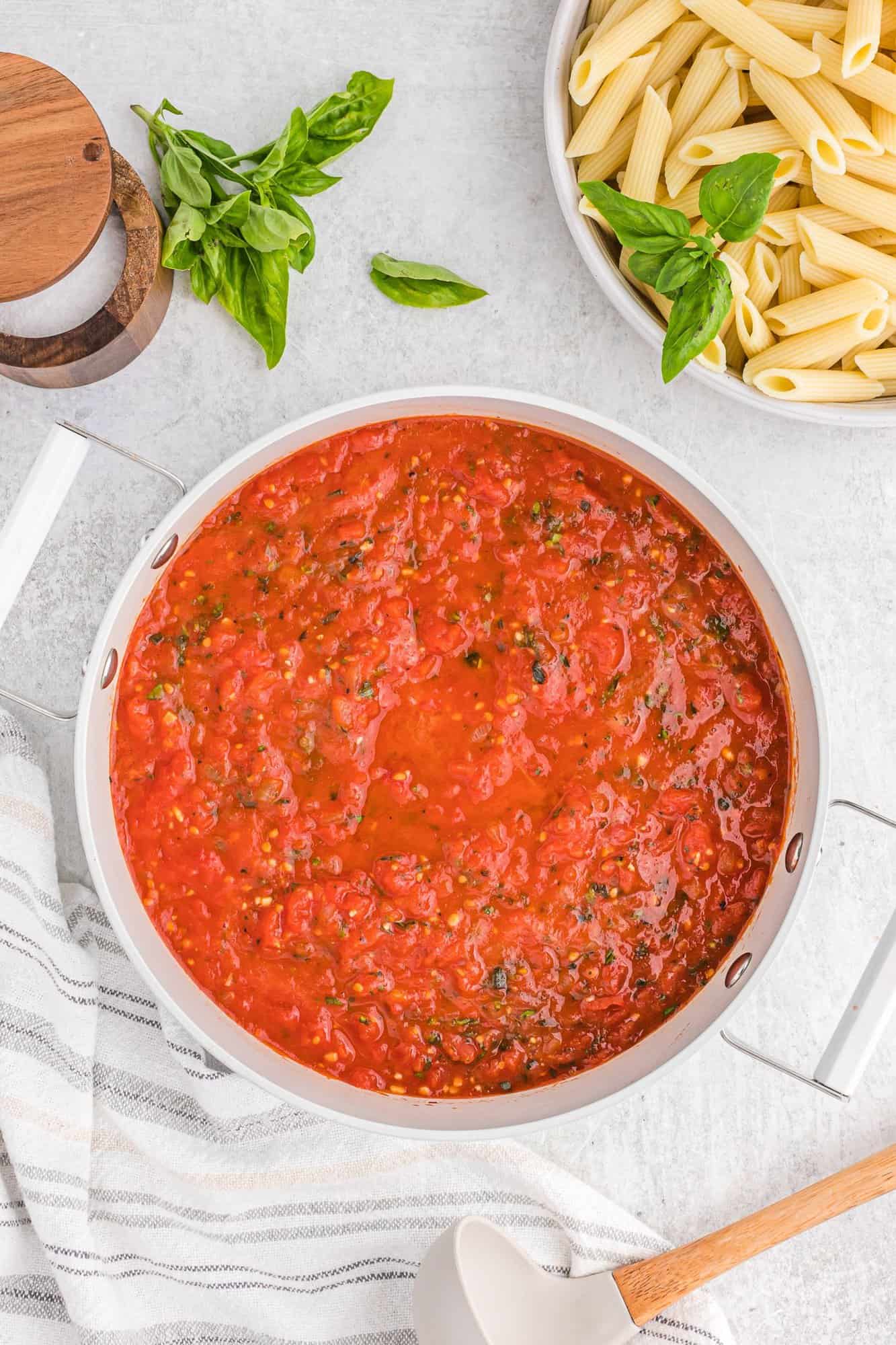 I'm always on the lookout for new pasta sauces to try. We love pasta and it's always fun to try something new.
I often include a pinch of red pepper flakes in my sauces and dressings. The spicy red flakes add warmth and just a little tingle that keeps things interesting but not hot.
Arrabbiata sauce is not boring! With plenty of garlic (4 cloves!) and a whole teaspoon of red pepper flakes, you will definitely feel a little heat but it's in a good way.
I'm won't say this is an authentic Italian recipe. I'll save those claims for those of you who hail from Italy. Let's just say this is my version of arrabbiata sauce and I think you're going to love it!
Be sure to give my pasta amatriciana a try, too. It's a one pan pasta, meaning the pasta is cooked right in the sauce. If you like a more traditional sauce, my homemade spaghetti sauce is slow simmered just like Grandma's. If you love your pressure cooker, try Instant Pot bolognese sauce.
About This Recipe
This is a simple tomato pasta sauce. You'll need a couple of big cans of whole tomatoes to make it.
Naturally, you're going to want to crush those tomatoes before adding them to the sauce. There are a couple of ways to do that.
The first way is my mom's technique. We were cooking together and she said she was just going to squish the tomatoes with her bare hands right into the pot. Well, that didn't go so well. The first tomato she squeezed squirted directly on me. Yup, right in the face.
Well, we had a good laugh about that. She said the expression on my face was priceless. I'm sure it was. It's a little shocking to be shot with tomato innards. My mom is dangerous in the kitchen sometimes.
The second way is to use a kitchen shears. Simply snip and chop the whole tomatoes with a scissors right in the can. Snip, snip, snip, and you're done. It's less messy but maybe not as fun.
This sauce is quite versatile and can be used for much more than a topping for pasta. Arrabbiata sauce is amazing on homemade pizza or baked chicken parmesan, too. Replace ordinary marinara sauce with this spicy tomato sauce to really amp up your recipes.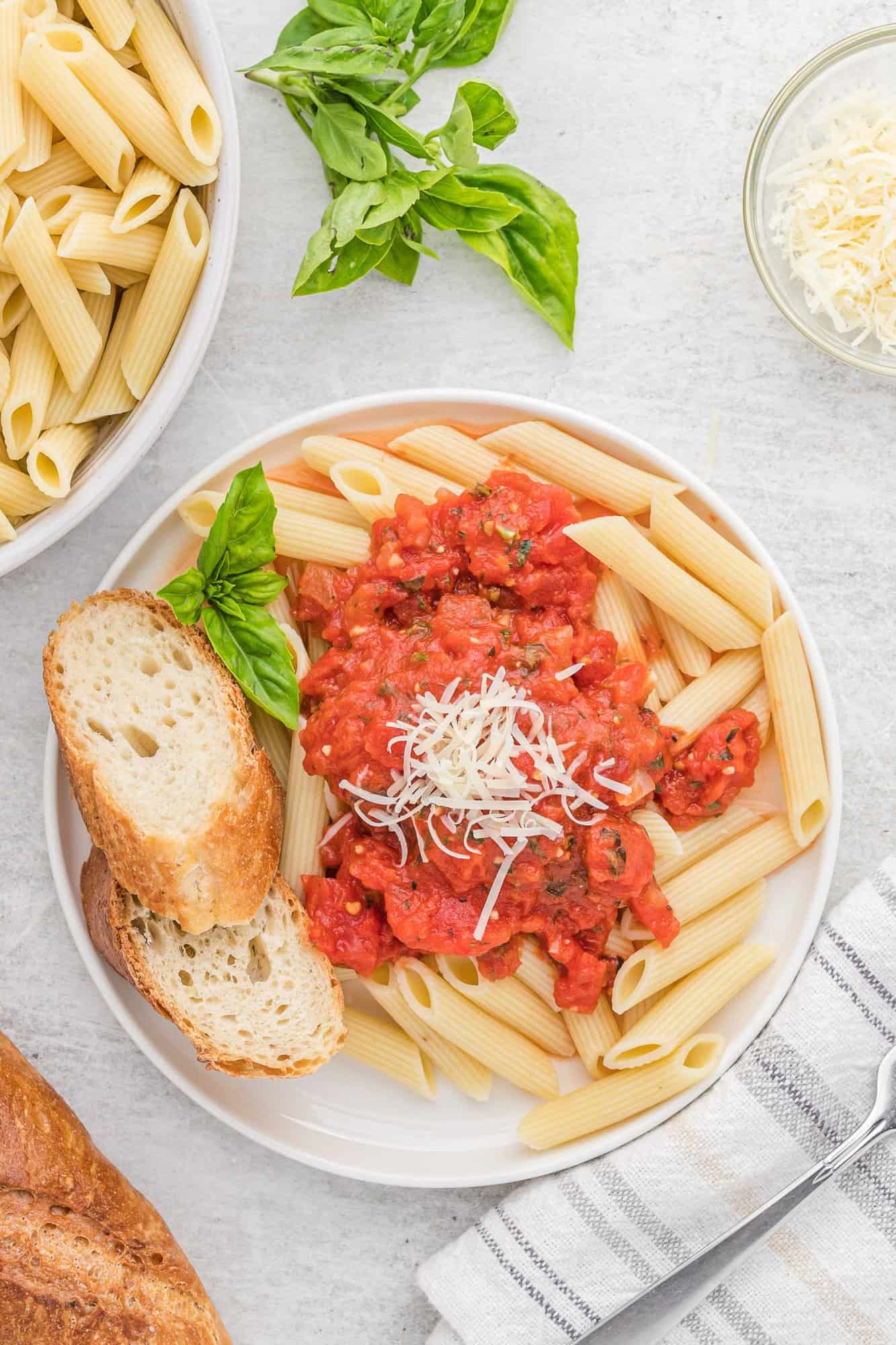 I'll run through the recipe here to get you started. Look for complete instructions with specific measurements and nutrition information on the recipe card below.
What You'll Need
Canned Tomatoes: This is a tomato sauce so you'll need lots of tomatoes. Buy 2 large cans of whole tomatoes, 28 ounces each. Look for good quality tomatoes since they are the main ingredient. NYTimes Wirecutter did a blind taste test and rated several brands if you're interested.
Garlic: Garlic is essential to this sauce. You'll need four cloves of fresh garlic. It's up to you whether you choose large or small cloves, depending on your love for garlic.
Onion: A small yellow cooking onion works well. I usually choose this type of onion for cooking sauces and soups. It's inexpensive, stores well, and has a finer texture than larger onions.
Red Pepper Flakes /Crushed Red Pepper: Same thing, different name. It's made from a variety of hot red peppers that are dried and crushed. It often contains a lot of seeds and ranges from 30,000–50,000 units on the Scoville scale. This sauce is supposed to be spicy. The recipe calls for a teaspoon of dried red pepper flakes. Amp it up or take it down a notch if you prefer.
Fresh Basil: You'll need a quarter cup of minced basil. Measure it after you mince it.
Butter: A tablespoon of butter gives the sauce a nice mouth feel and tames the heat down a little.
Balsamic Vinegar: Just a hint of balsamic adds rich flavor and a tiny bit of sweetness to balance the acidity of the tomatoes.
Olive Oil: Use olive oil for sautéing.
Salt & Pepper: You won't need much black pepper because there's plenty of seasoning from the red pepper flakes.
Pasta: Arrabbiata sauce is traditionally served with penne but choose the pasta you like best. Whole wheat or gluten-free pasta is okay, too.)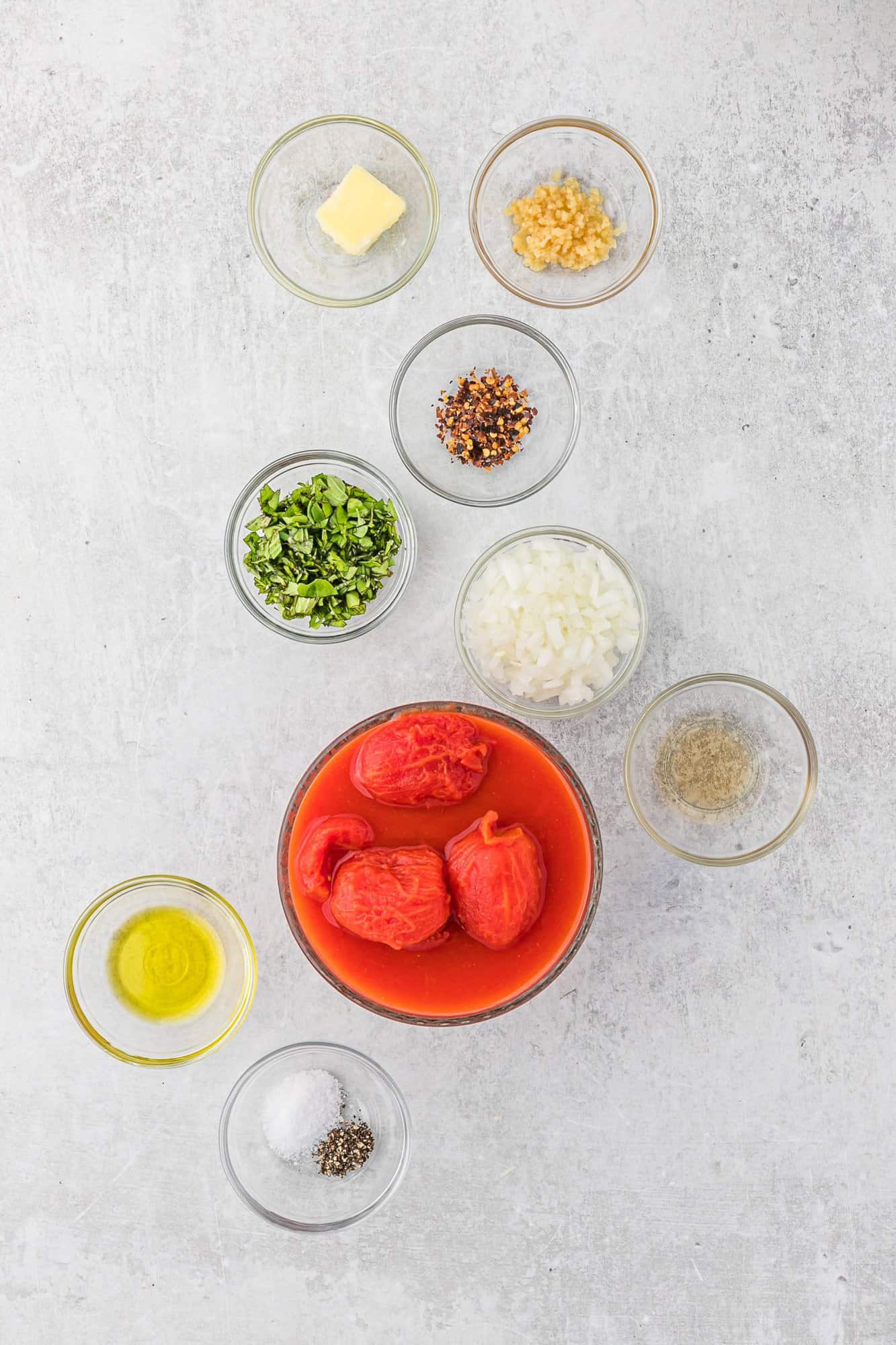 How to make it
You'll need a good sized skillet or Dutch oven. Warm up a little oil in the pan over medium heat and add the chopped onions, along with a bit of salt and pepper. Cook for a few minutes until the onions soften up, stirring occasionally.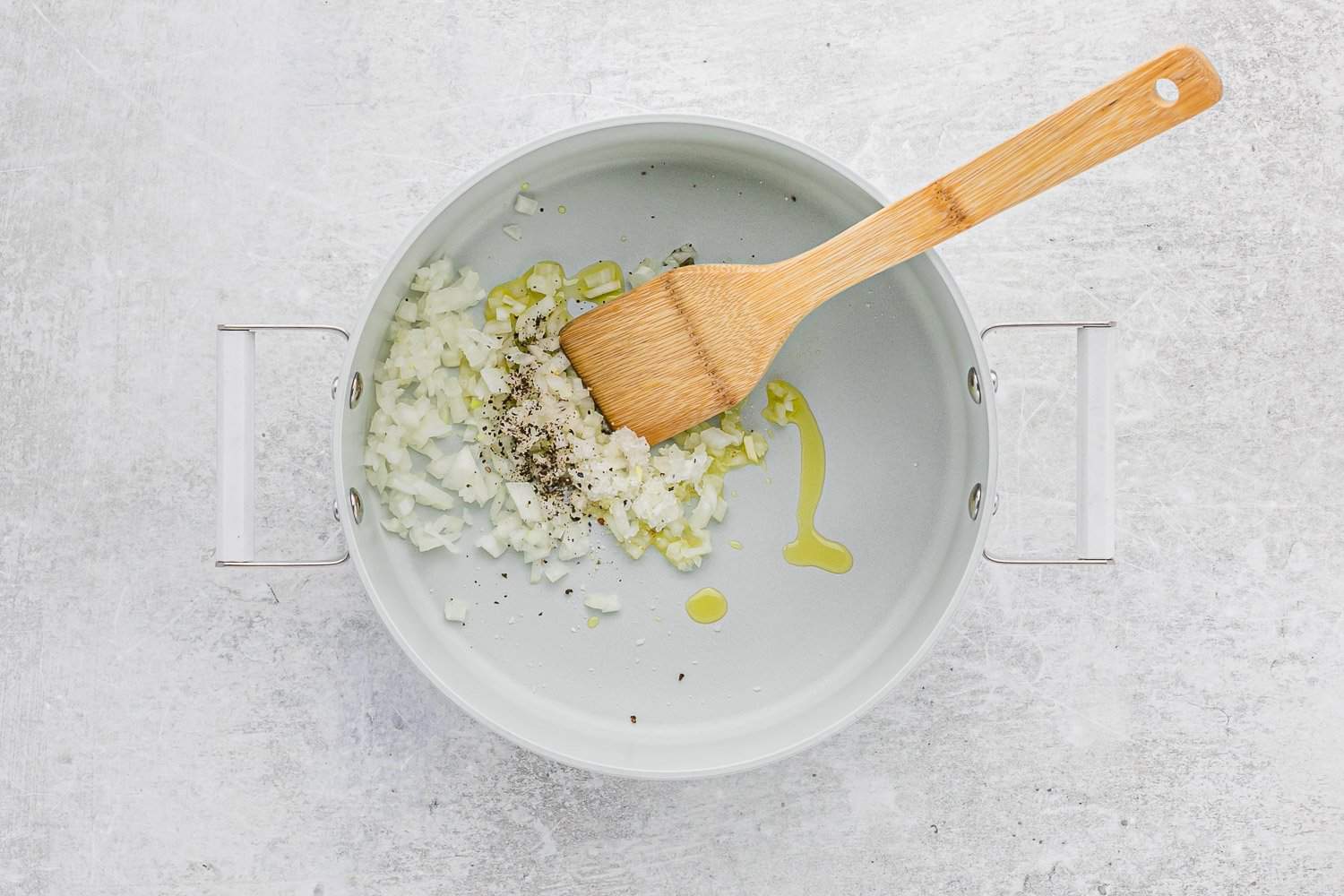 Add the garlic and red pepper flakes, cooking and stirring constantly for one minute, or just until the garlic is really fragrant. You don't want to scorch the garlic because it will taste bitter then.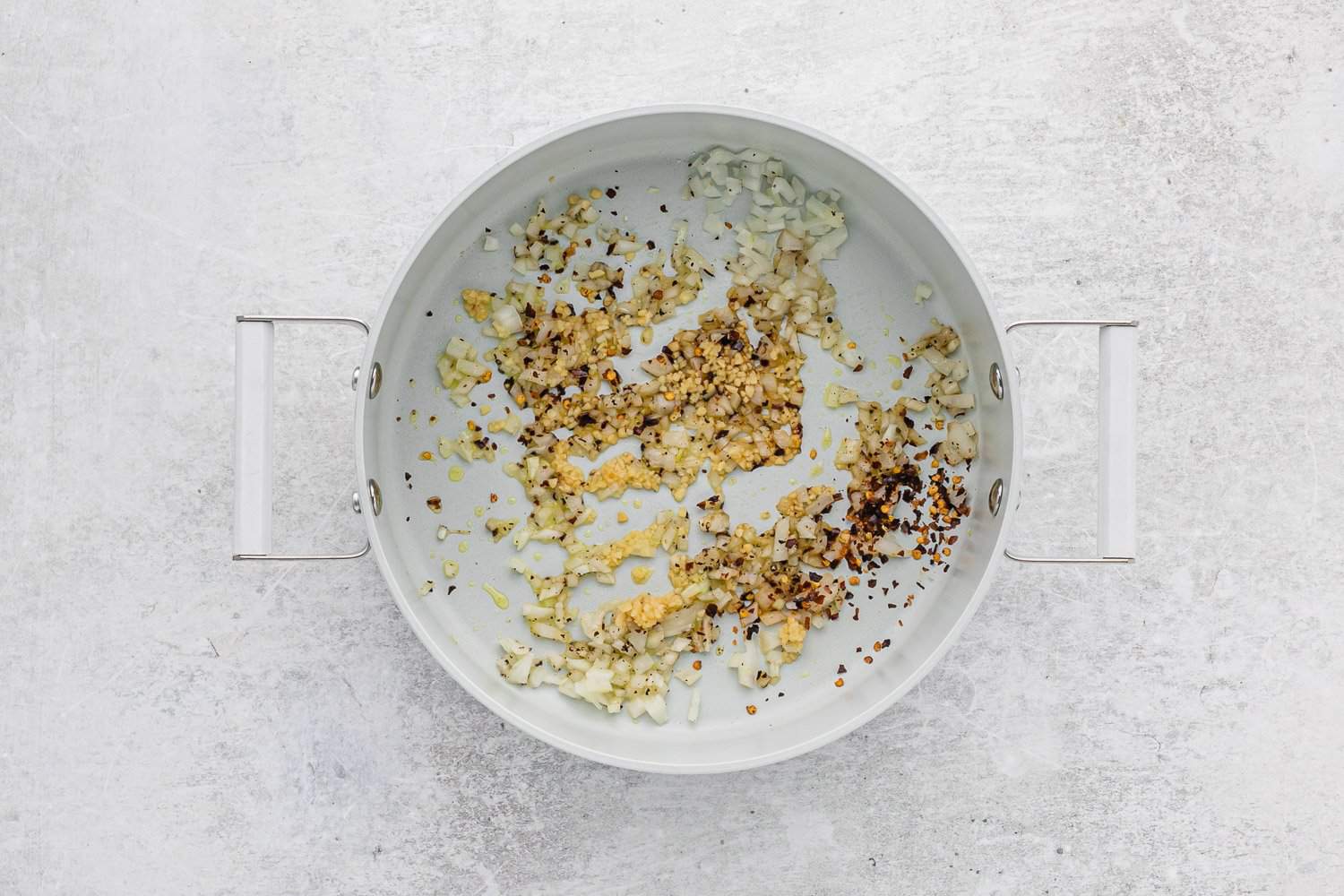 Next, add the canned whole tomatoes, breaking them up first. Squeeze the whole tomatoes right into the pan or use a kitchen shears to chop them right in the can before adding them. Your choice!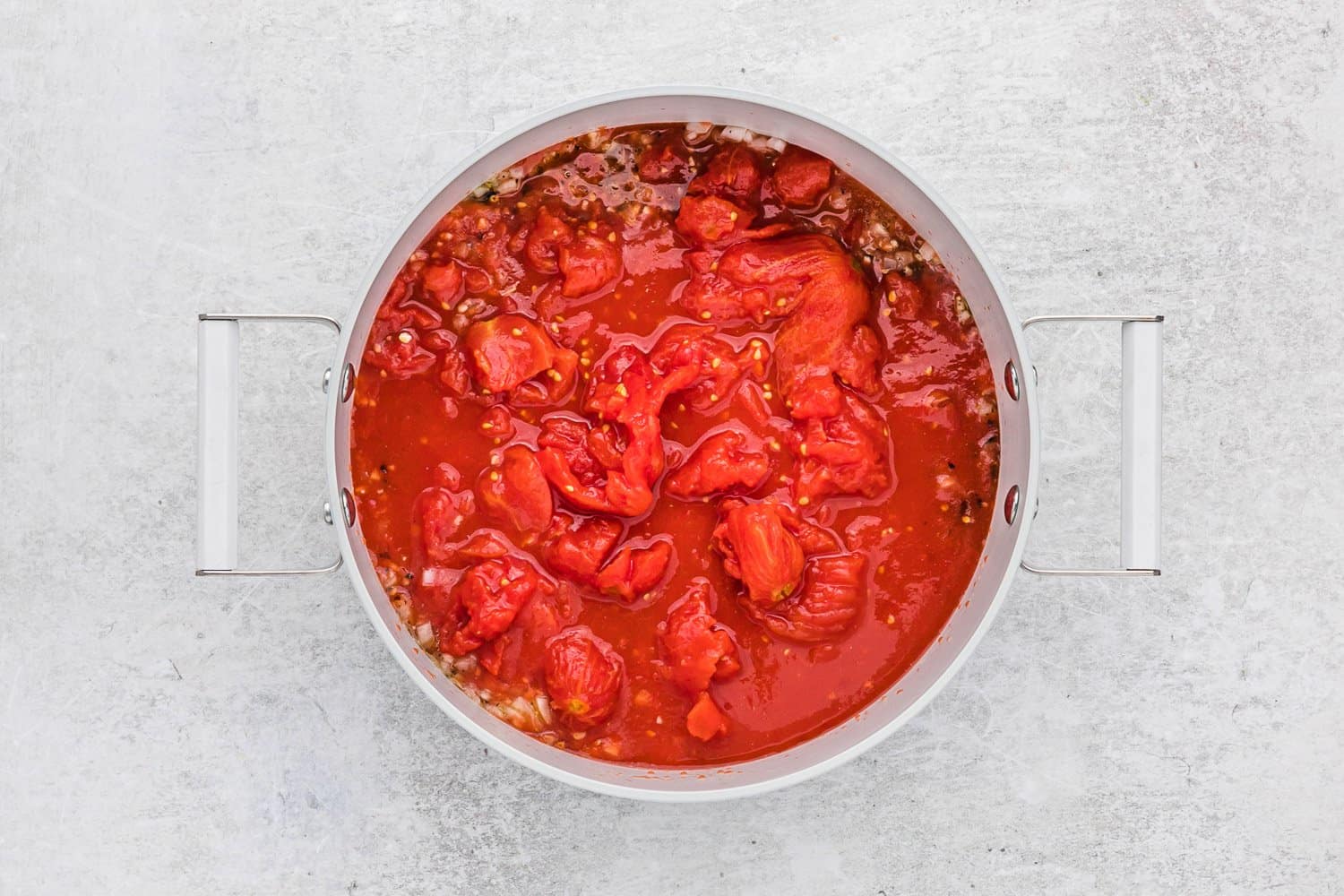 Bring the mixture to a simmer, lower the heat, and simmer uncovered for 30 to 40 minutes. The sauce should thicken slightly. Mash the tomatoes as they soften to break up large chunks.
While the sauce simmers, bring a large pot of water to a boil, and cook the pasta that you chose.
Just before serving, stir in the butter, chopped basil, and a splash of balsamic vinegar. Serve the sauce on hot pasta with a sprinkle of Parmesan cheese, if desired.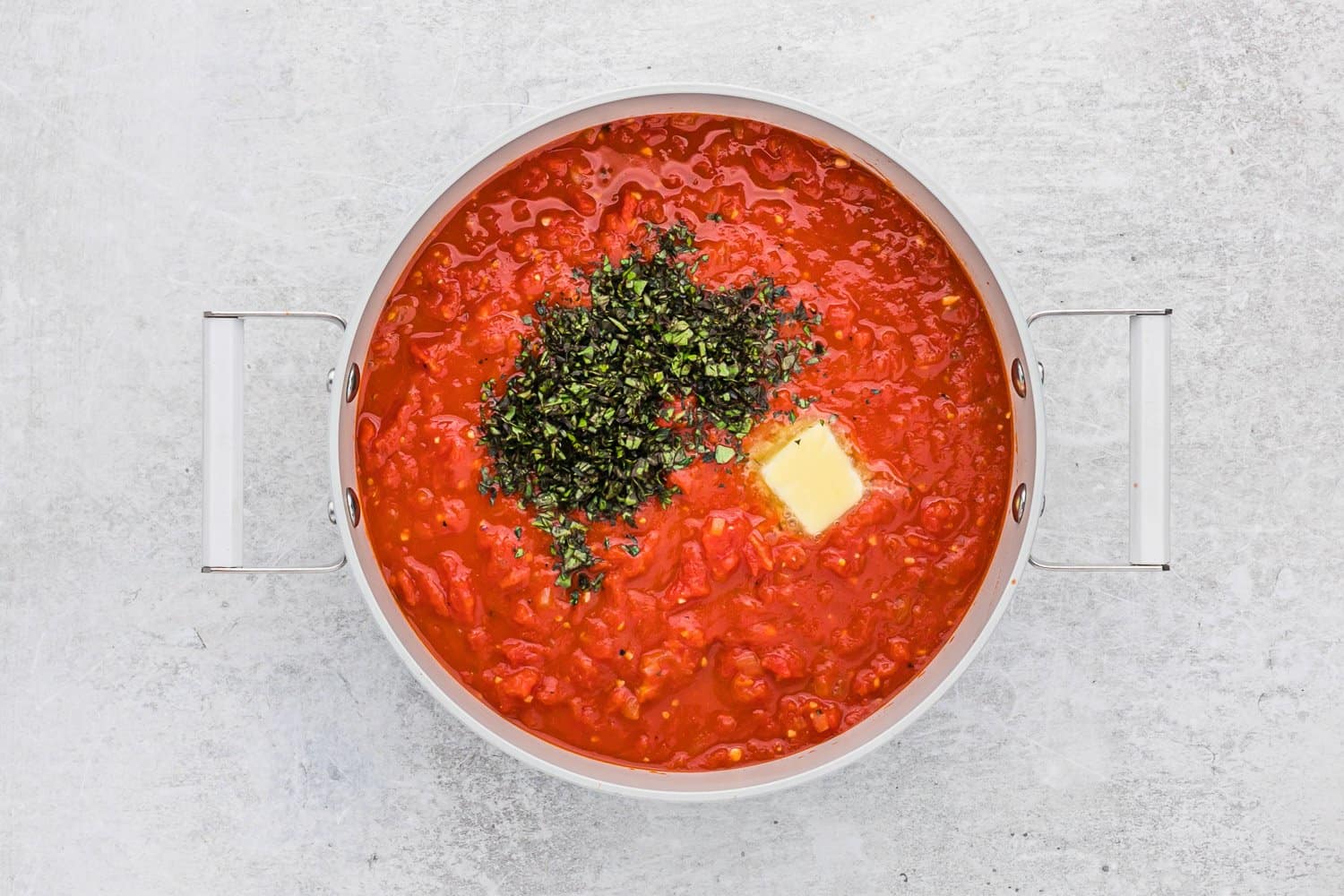 Serve the pasta with warm Italian cheese bread, restaurant style dipping oil, and a glass of Chianti or an Aperol spritz. Buon appetito!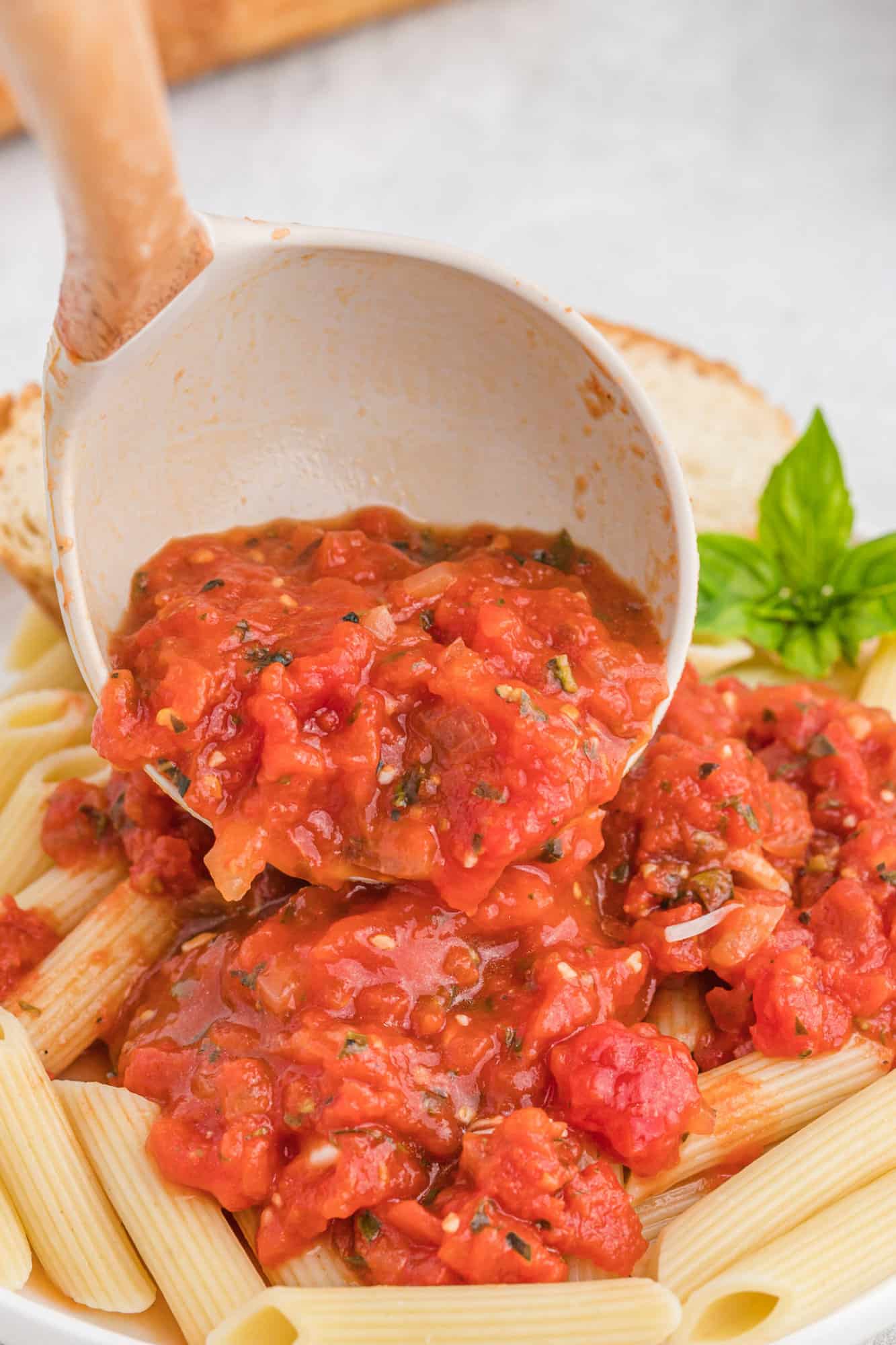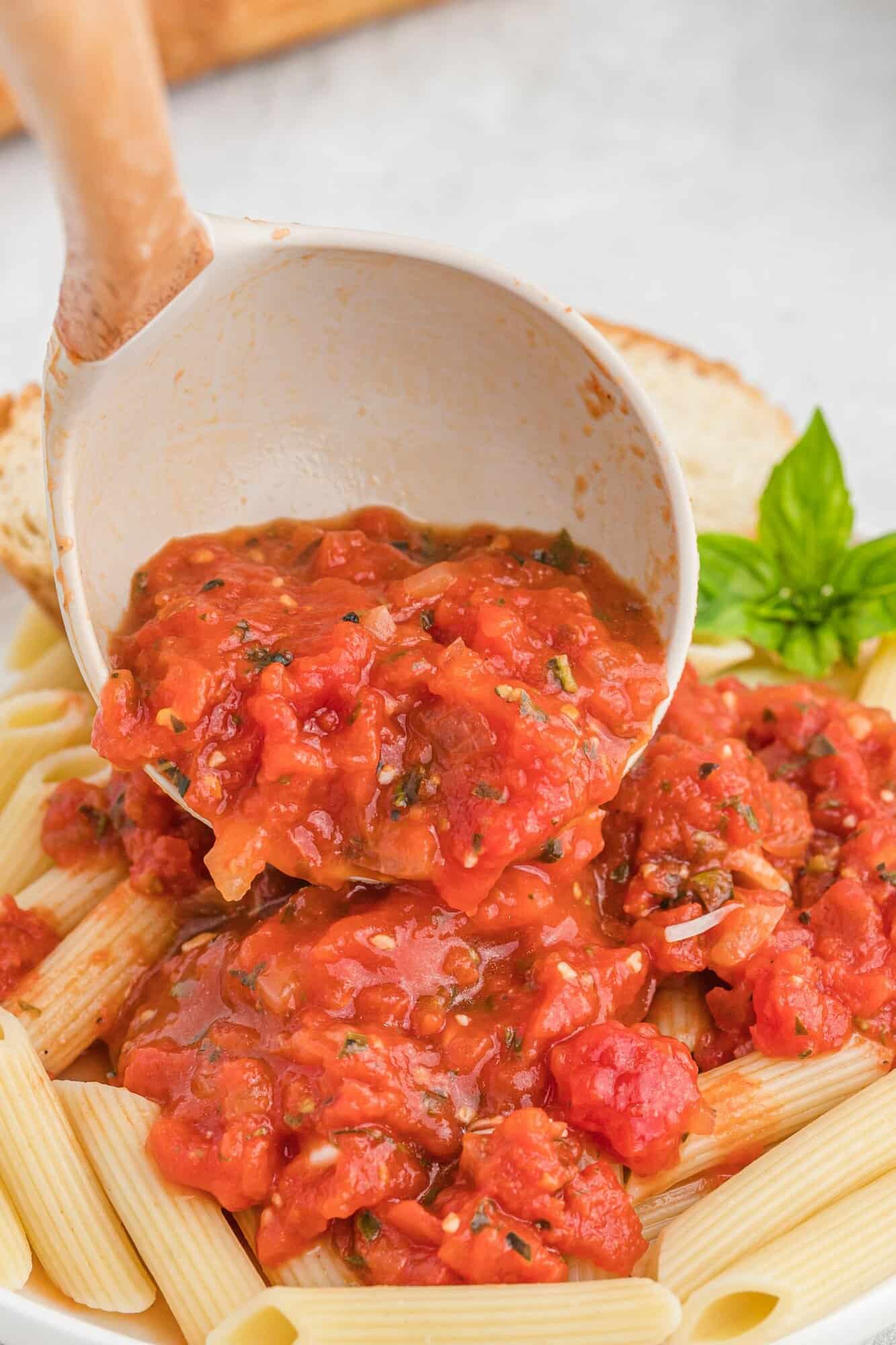 FAQs
What's the difference between marinara and arrabbiata sauce?
While both are tomato-based sauces, arrabbiata traditionally is much spicier than marinara, with lots of hot red pepper.
Why is it called arrabbiata sauce?
The word "arrabbiata" literally means angry. Because it's made with hot red pepper, this spicy red pasta sauce could be considered angry in comparison to its mild-natured cousins, like marinara or creamy alfredo.
I guess you could say that's personification. I mean, pasta sauce doesn't experience emotion, right? And don't worry, you won't be the one who gets angry when you have a chance to savor this pasta sauce. Just the opposite, you'll be happy and contented.
How do you pronounce arrabbiata?
It sounds like this: aa·raa·bee·aa·tuh. Practice it a few times and it will roll right off your tongue.
Make It Your Own
Increase the garlic and/or red pepper flakes, if you like spicier food.
Add meat. Cook diced pancetta, bacon, or ground meat with the onions. We love to sauté shrimp and add it to the sauce before serving the pasta. Air fryer meatballs are great, too.
Make the sauce with fresh tomatoes: If you have an abundance of fresh Roma tomatoes, you can substitute them for the canned tomatoes. Bring a large pot of water to a boil, and dunk the tomatoes in the boiling water briefly until the skins start to split. Put them into cold water until you can handle them. Peel and core the tomatoes and chop them roughly before adding them to the pan. You'll need about 3½ pounds of tomatoes, or 7 to 8 cups of chopped tomatoes.
For creamy arrabbiata: Stir a half cup of heavy cream (at room temperature) into the sauce before adding the butter, basil, and vinegar.
Make-Ahead Ideas
Make a double batch and freeze half of it for an easy meal in the future. It's just as easy to make twice as much and you'll be so glad you did.
Storage & Reheating Tips
Store the sauce and cooked pasta separately in airtight containers. The sauce will keep for three to four days in the refrigerator or it can be frozen for up to six months. For best results, thaw before reheating. Warm the sauce up in a saucepan, skillet, or in the microwave.
Cooked pasta can be frozen too. Put it into freezer-safe bags for up to 3 months. To reheat, bring a pot of water to a boil. Dump the frozen pasta into the boiling water, boil for 1 minute, then drain and serve.
Did you make this? Be sure to leave a review below and tag me @rachelcooksblog on Facebook, Instagram, or Pinterest!
A simple tomato pasta sauce, garlicky arrabbiata sauce is spicy and delicious. It's a breeze to make with canned tomatoes and crushed red pepper flakes.
Ingredients
1

tablespoon

olive oil

½

cup

finely diced yellow onion

(about

1

small onion)

1

teaspoon

kosher salt

¼

teaspoon

coarse ground black pepper

4

cloves

garlic, minced

1

teaspoon

red pepper flakes, more to taste

2

cans

(28 ounces each) whole tomatoes, undrained

¼

cup

minced fresh basil

1

tablespoon

butter

1

teaspoon

balsamic vinegar

Cooked pasta, for serving

(see notes)
Instructions
Heat olive oil in a deep sauté pan (or a large saucepan) over medium heat. Add onion, salt, and pepper and cook, stirring occasionally, for 3 minutes or until translucent.

Add garlic and red pepper flakes and continue to cook, stirring, for 1 to 2 minutes or until fragrant.

Add tomatoes, breaking them up with your hands as you add them (you can also give them a rough chop with kitchen shears right in the can).

Stir, increasing heat to medium high, and bring to a simmer. Reduce heat to medium-low and continue to simmer uncovered, mashing up the tomatoes a bit more as the sauce cooks, for 30 to 40 minutes or until thickened.

Stir in basil, butter, and balsamic vinegar until butter is melted.

Serve with cooked pasta of your choice.
Notes
Nutrition information is for sauce only (1 cup serving).
Penne is often served with this sauce but it can be served on any pasta you prefer. You'll need a 16 oz. box.
Arrabbiata sauce can be served on pizza, spaghetti squash, chicken, or any dish where you would use a marinara sauce.
Nutrition Information
Serving:
1
cup
,
Calories:
42
kcal
,
Carbohydrates:
6
g
,
Protein:
1
g
,
Fat:
2
g
,
Saturated Fat:
0.3
g
,
Polyunsaturated Fat:
0.3
g
,
Monounsaturated Fat:
1
g
,
Cholesterol:
0.2
mg
,
Sodium:
445
mg
,
Potassium:
225
mg
,
Fiber:
1
g
,
Sugar:
3
g
,
Vitamin A:
238
IU
,
Vitamin C:
11
mg
,
Calcium:
42
mg
,
Iron:
1
mg
This website provides approximate nutrition information for convenience and as a courtesy only. Nutrition data is gathered primarily from the USDA Food Composition Database, whenever available, or otherwise other online calculators.