Homemade Sloppy Joe Recipe (turkey or beef)
A traditional favorite, this easy turkey sloppy Joe recipe is made with ground turkey (or beef, if you prefer), and lots of veggies for a healthier sandwich!
Recipe Overview
Why you'll love it: This recipe is a great alternative to Manwich and tastes a whole lot better!
How long it takes: 15 minutes to prep, and it can simmer however long you want
Equipment you'll need: skillet
Servings: 6 (or make a double or triple batch for a crowd)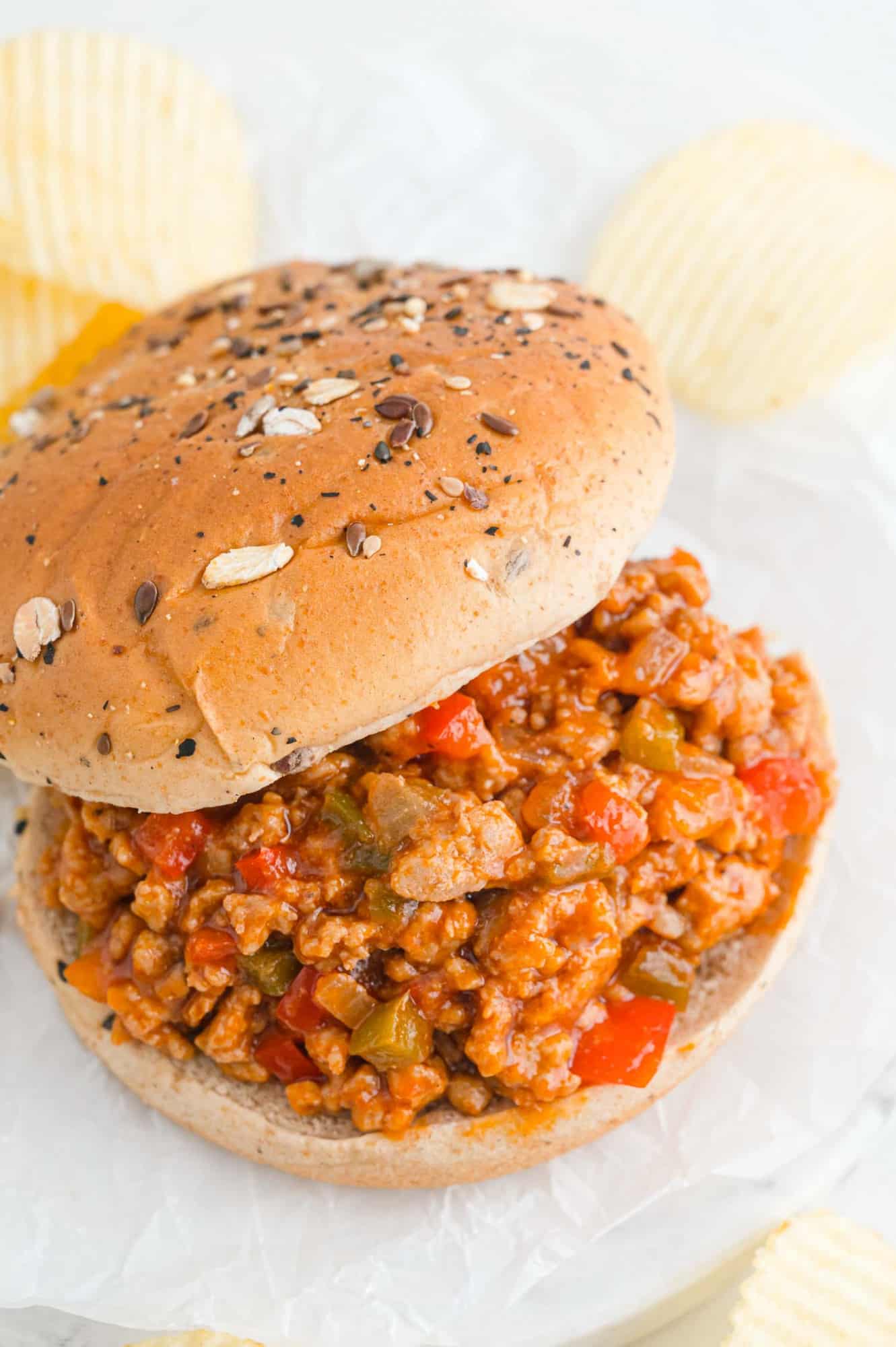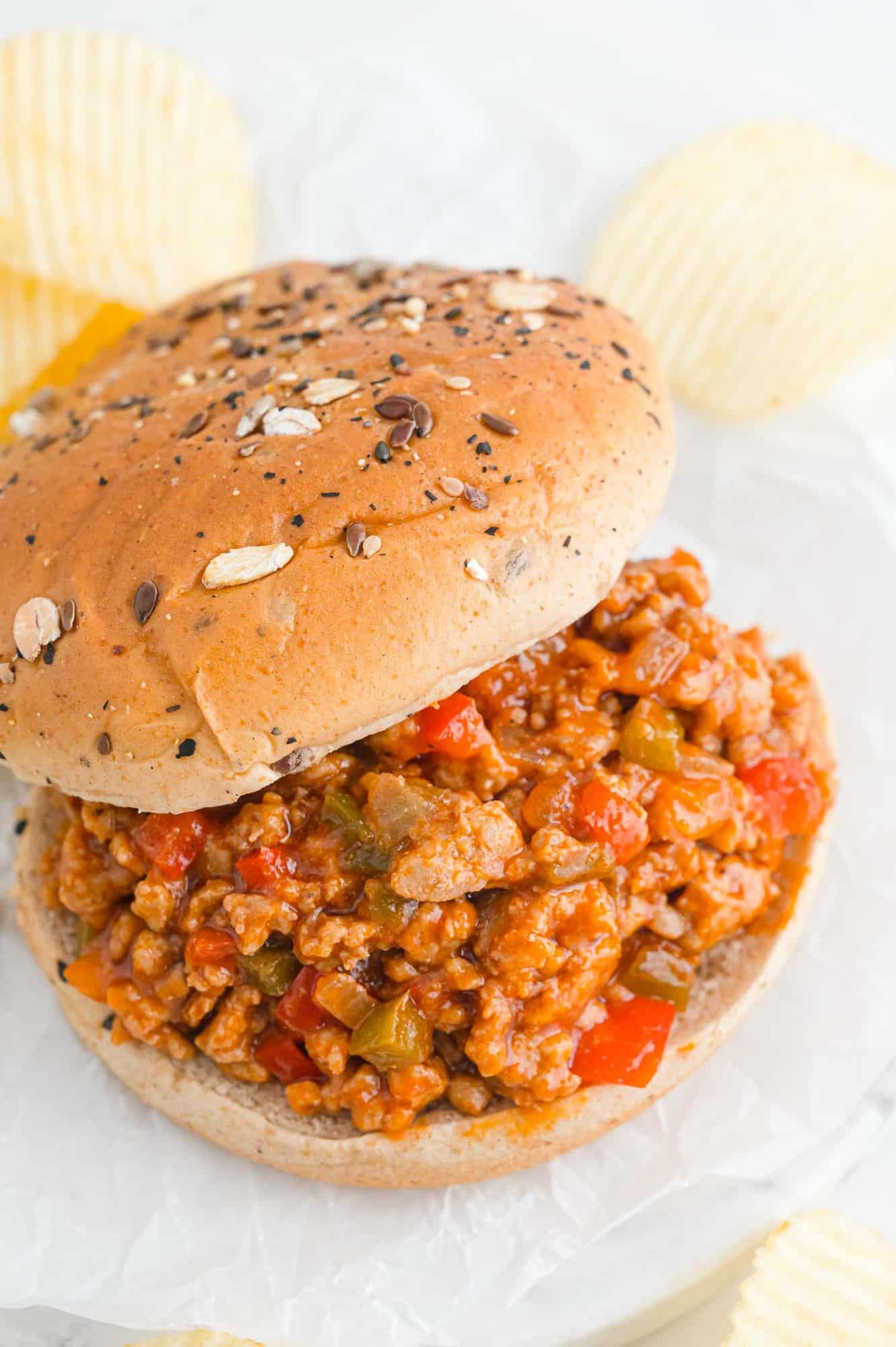 A zesty mixture of ground turkey (or beef), bell peppers, and onions with an easy ketchup-based sauce, this sloppy Joe recipe is tasty and always hits the spot. It's great for weeknight dinners or for casual get-togethers.
This recipe for turkey sloppy Joes definitely fits into the "go-to" category in my house. It's easy, and I almost always have all the ingredients in my pantry and fridge.
On weeks when I am slacking on my meal planning (this happens often), you'll find me picking up a package of ground turkey at the store. It usually ends up in spaghetti with meat sauce, these sloppy Joe sandwiches, or tacos. If you're looking for really, really easy sloppy Joes, check out this 5 ingredient sloppy joe, (5 ingredients includes the bun and a slice of cheese)!
Some of you may remember the old fashioned sloppy Joes from the 50's. My mom talks about the "barbecues" that were served in school lunches made with canned chicken gumbo soup and lots of greasy ground beef. Oh my, I just looked it up and that recipe is still on Campbell's website!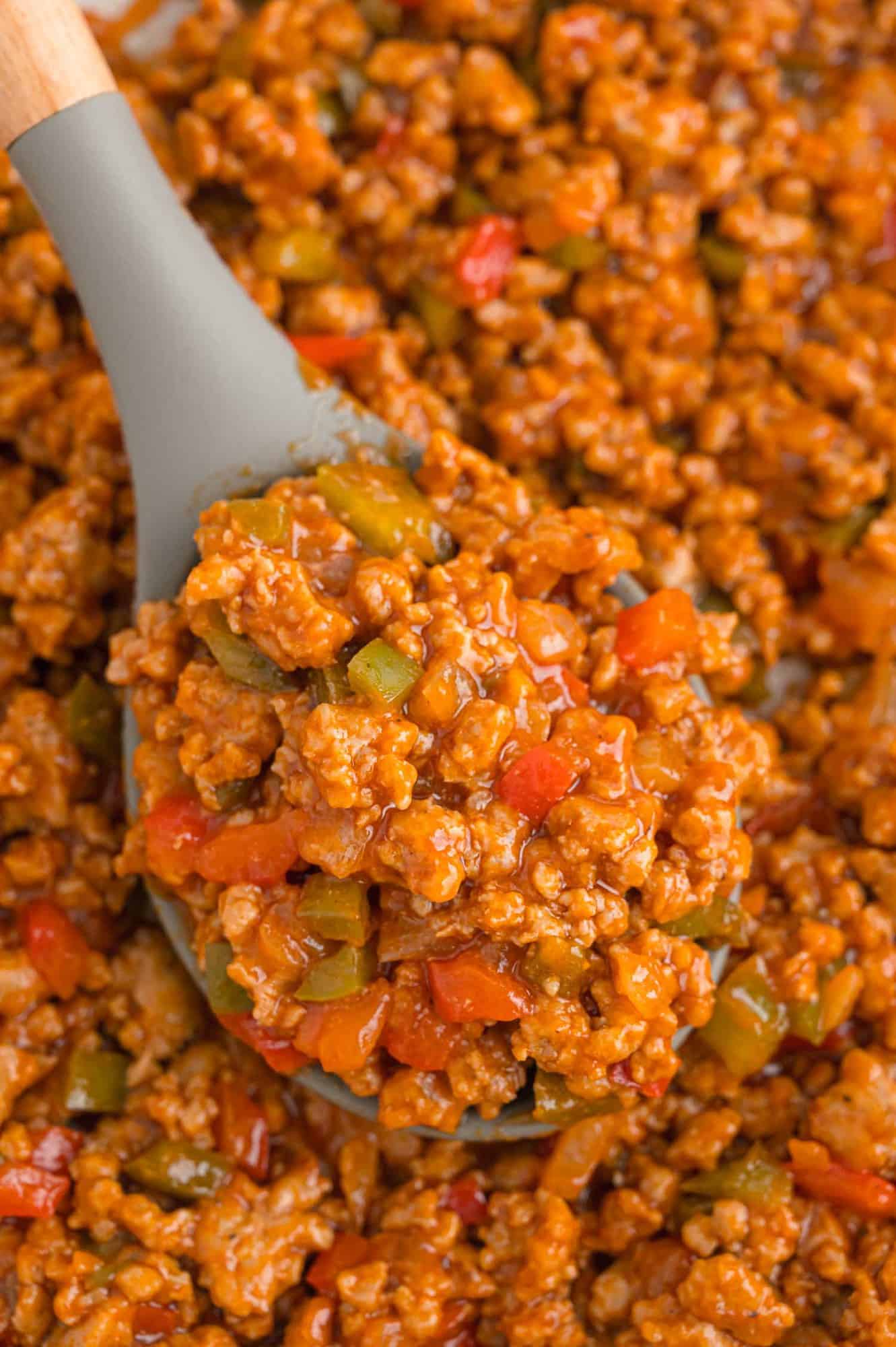 About This Sloppy Joe Recipe
Use Turkey or Beef: Why ground turkey instead of beef? Using ground turkey instead of beef cuts down slightly on calories and fat. It's hard to tell the difference in these sloppy Joes. If I'm making a large batch, sometimes I use half turkey and half beef. Use whatever you prefer!
Added Vegetables: The bell peppers and onions in this sloppy joe recipe not only add flavor, they also add a lot of good nutrition and fiber. They help to stretch your meat budget too. It's always good to eat more veggies and less meat!
Easy Sauce: The sauce is pretty basic, easy to make with ingredients that you have on hand. It shouldn't take you more than fifteen minutes to throw it together and the mixture can simmer on the stove indefinitely. Just give it a stir now and then to make sure it isn't sticking. It's ready when you are.
As always, you'll find the printable recipe card near the end of the post, with complete instructions and nutrition information.
What You'll Need
Ground Turkey or Beef: It's really up to you which one you choose. Sometimes I even use a mixture of the two especially if I'm making it for a crowd. Choose a leaner cut of beef, such as ground round to cut down on grease.
Onion: A regular yellow cooking onion is fine for this recipe but other types of onion are good, too, such as red onion or sweet white onion.
Bell Peppers: Just for visual appeal, I choose a couple different colors. You'll need about one total pepper so if you'd rather just use one color, that's perfectly fine.
Ketchup: Choose a ketchup with no high fructose corn syrup. I realize that ketchup is a processed food that often contains high amounts of sugar but there are brands that offer a better choice. If you prefer, make it with tomato sauce (an 8 oz. can). You may have to increase the seasonings a bit.
Dark Brown Sugar: Just a tablespoon of sugar gives the sauce the tangy sweet and sour flavor. Light brown sugar is fine, too, or a tablespoon of molasses.
Yellow Mustard, Worcestershire Sauce, Garlic Powder: This trio of familiar pantry items flavors the sauce. Feel free to vary it to your taste. My mom always adds a splash of vinegar because she likes things tangy.
Buns: Hamburger buns or slider buns are commonly used for a sloppy Joe sandwich but any type of bread, roll, or sub bun can be used. Toasting them first really adds a nice touch.
Optional Toppings: Sloppy Joes are perfectly good just the way they are but why not jazz them up with a few toppings? Try shredded or sliced cheese, shredded lettuce, a spoonful of coleslaw, a slice of tomato, sliced avocado, chopped onions, whatever you like. Pickles are great too: spicy Korean pickles, refrigerator dill pickles, or pickled red onions. My husband slathers his sandwich with yellow mustard, so hey, anything goes!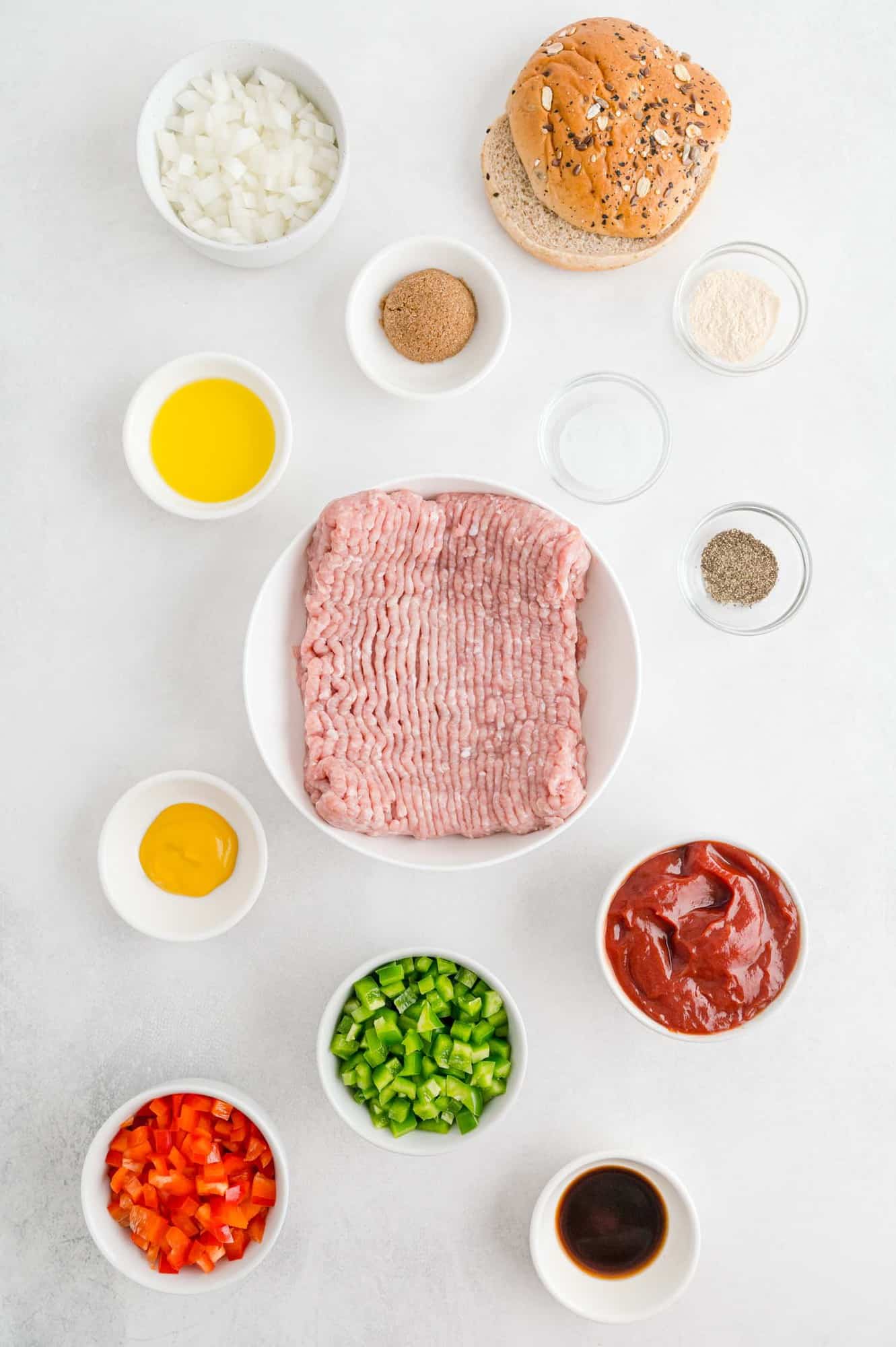 How To Make This Recipe
Begin by chopping the onions and peppers. Sometimes I throw the sauce ingredients in a measuring cup before I start cooking so it's all ready to add in, but you can also add them in separately.
Choose a skillet that will easily accommodate the ingredients. If you plan on simmering the sloppy Joes for an extended time, a cover is a good idea.
Add the ground meat, chopped onions, and peppers to the pan. Season with salt and pepper and cook over medium high heat, stirring and breaking up the chunks of ground meat. I like to use a wooden spatula with a flat edge.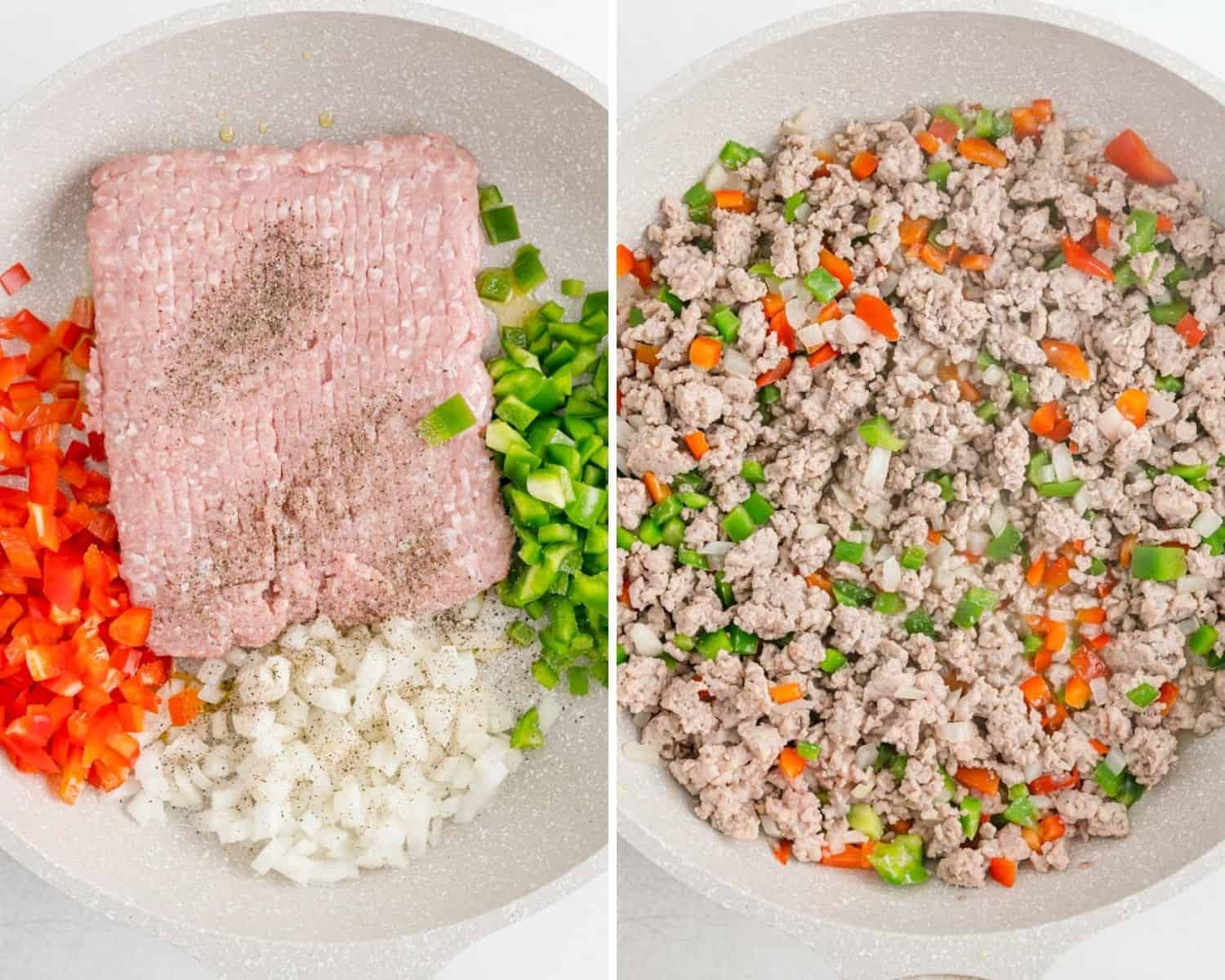 Once the meat is cooked and the vegetables are softened, add the sauce ingredients, stirring well to coat. Turn the heat down to low and simmer the mixture for thirty minutes or so.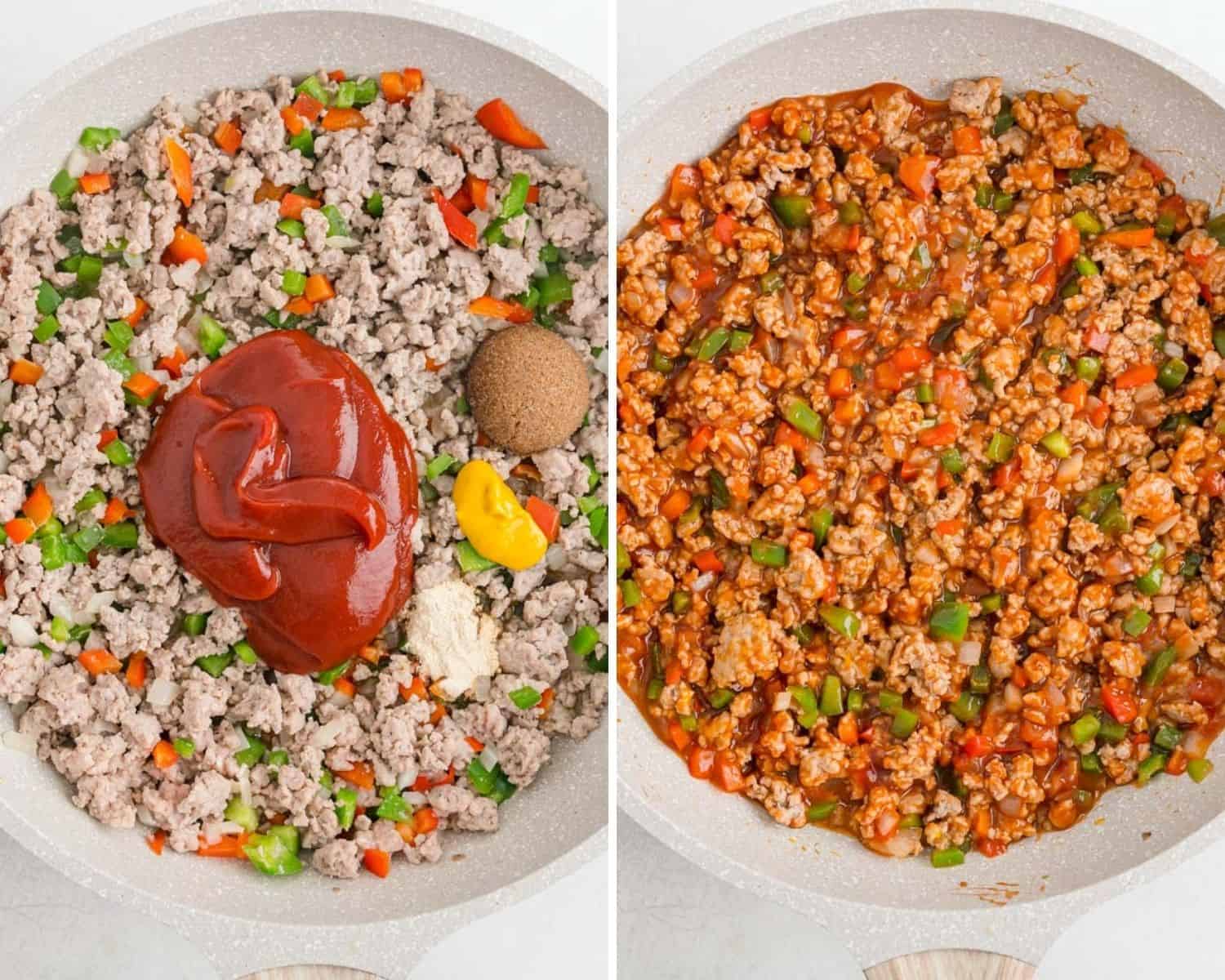 If you're in a hurry, no problem. The sloppy Joes can be eaten as soon as the mixture is good and hot. It tastes a bit better as it simmers awhile though so if you have time, let it cook for a bit so the flavors can meld together. In fact, it will be fine for an hour or more and you can even throw it in a slow cooker, set it on Low, and leave it for a few hours.
Serve on buns with toppings, if desired.
Sloppy Joe Side Dishes
These air fryer French fries are a super good side, or if you prefer, air fryer tater tots or air fryer sweet potato fries. A simple green salad and potato chips are perfect, too, especially with homemade French onion dip! Really, almost anything goes with sloppy Joes, from roasted broccoli to a bowl of creamy squash soup.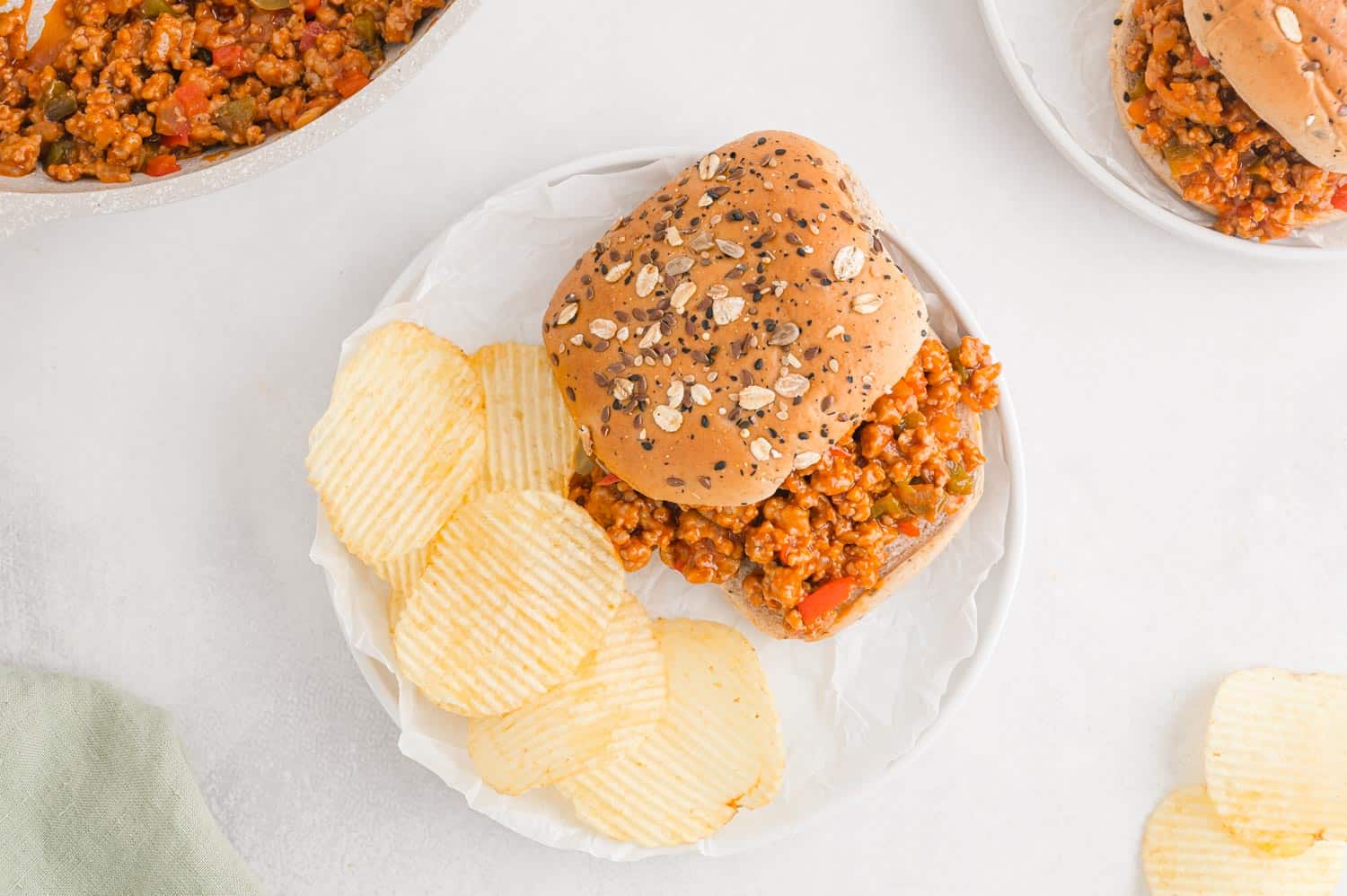 FAQs
What is the difference between Manwich and sloppy Joes?
Manwich is simply a canned sauce used to make sloppy Joes. You begin by browning your own meat and then you add the can of Manwich. There are a few undesirable ingredients in Manwich so it's better to make your own sauce if you can. Manwich contains both high fructose corn syrup and corn syrup. They are the 2nd and 3rd ingredients listed. That's a lot of sugar.
And then the other no-so-great things like guar gum, spices (very mysterious), xanthan gum, and natural flavors (which aren't natural at all). There are peppers and garlic but they're dehydrated. All in all, a very processed food that I'd rather not serve to my family. I'd much rather add real onions and peppers!
How do you thicken sloppy Joes?
There are a couple ways to thicken the mixture. Bring the mixture to a vigorous simmer, uncovered, and let some of the liquid boil off.
A quick and easy way to thicken sloppy Joes (and taco meat, too) is to add a tablespoon of masa to the mixture. Stir it in well and the mixture will immediately thicken. Add more, a teaspoon at a time, if it's still too "sloppy."
Do you drain meat for sloppy Joes?
This is optional and depends on the ground meat you're using. Ground turkey doesn't have a lot of extra fat so it usually isn't necessary to drain it. Ground beef is sometimes greasier and it's a good idea to drain some of the liquid off to remove it.
Make It Your Own
Increase the vegetables: I like to make this mix heavy on the vegetables, but if that isn't your cup of tea, start with ¼ cup of green peppers and ¼ cup of onions. I put in over a cup of mixed bell peppers, and a heaping half cup of onions.
Add Tomatoes: Want it even chunkier? Add diced tomatoes as well as peppers and onions.
Spice it up: Add red pepper flakes or ground cayenne pepper.
Adjust the Sauce: Substitute an 8 oz. can of tomato sauce for the ketchup. Increase seasonings to taste. Ketchup has a lot of sugar, so you might want to add more brown sugar. It also has a vinegary tang, so you may want to consider adding a splash of white vinegar. A teaspoon or two should be plenty.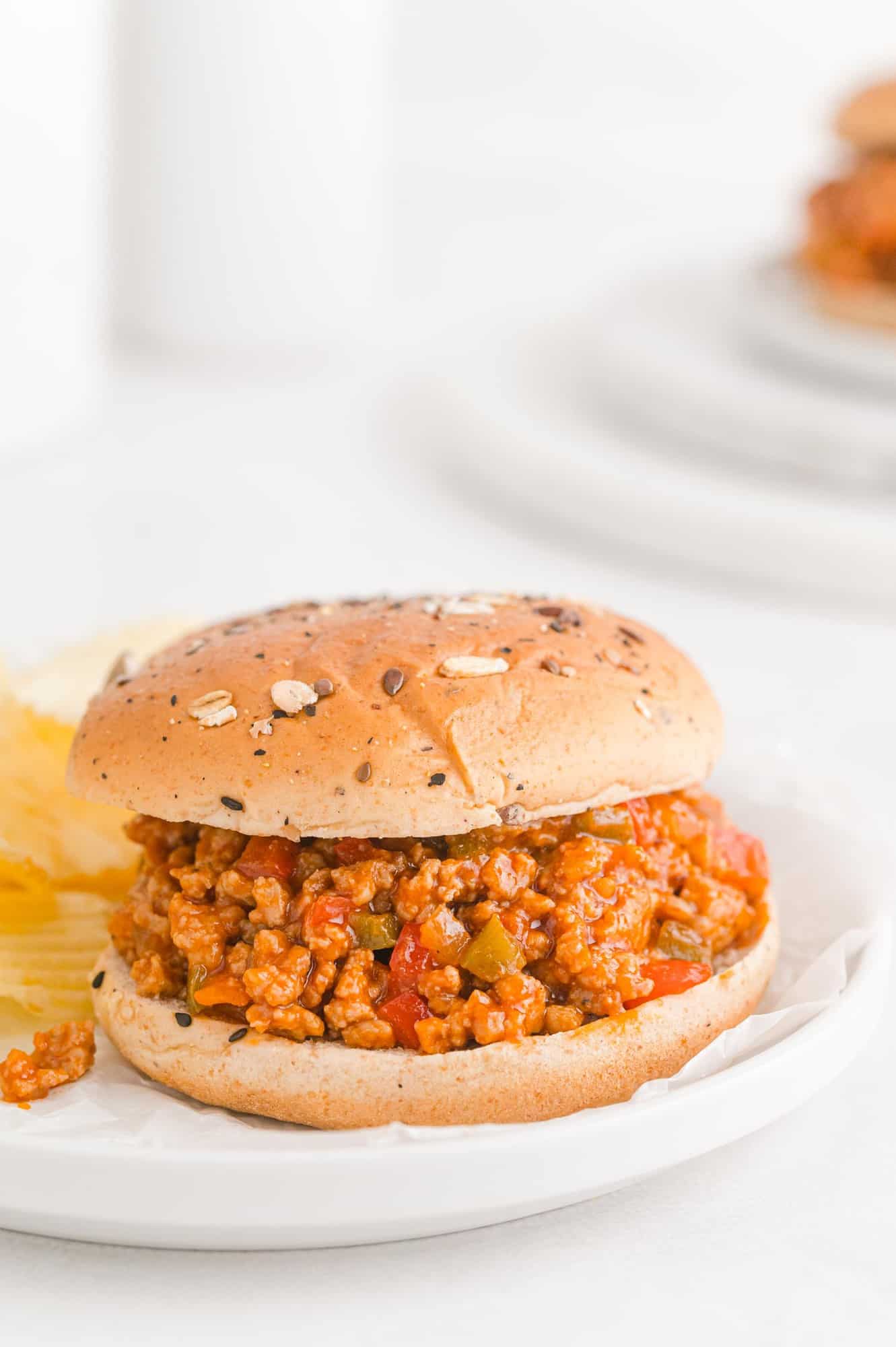 Make-Ahead Ideas
Turkey sloppy Joes are perfect for make ahead meals. Prepare a double or triple batch of this sloppy Joe mix and freeze it in serving size containers. It will keep for a few months.
Another idea: Make a big batch in the morning and let it simmer in the slow cooker until you're ready to serve.
Great for get-togethers or tail-gate parties! Just have lots of sliced buns and some toppings for make-your-own sandwiches.
Storage & Reheating Tips
Leftover sloppy Joe mixture can be stored in the refrigerator for up to 4 days if refrigerated promptly in a covered container. It can be frozen for up to three months. Thaw overnight in the refrigerator before reheating.
It can be reheated on the stove over medium heat until warmed through or in the microwave in 30-second increments.
Leftover Love
It's easy to repurpose leftover sloppy Joe mixture. Make baked macaroni and cheese, topping it with sloppy Joe meat before baking. Add some taco seasoning and make burritos or tacos. Top a pizza crust with sloppy Joe mix, add shredded cheese and sliced peppers and onions and bake.
More hot sandwich Recipes
More Uses for Ground Meat
If you are looking for a different way to cook ground meat, try homemade Hamburger Helper, hamburger soup, or cheeseburger soup.
Did you make this? Be sure to leave a review below and tag me @rachelcooksblog on Facebook, Instagram, or Pinterest!
A traditional favorite, this easy turkey sloppy Joe recipe is made with ground turkey (or beef, if you prefer), and lots of veggies!
Ingredients
1

tablespoon

olive oil, if needed

1

pound

ground turkey

(see note)

½

teaspoon

salt

(more to taste)

¼

teaspoon

ground black pepper

(more to taste)

½

cup

diced yellow onion

(about

1

small onion)

½

cup

diced green bell pepper

(about

½

bell pepper)

½

cup

diced red bell pepper pepper

(about

½

bell pepper)

¾

cup

ketchup

1

tablespoon

dark brown sugar

(light brown sugar is okay, too)

1 ½

teaspoons

yellow mustard

1

teaspoon

Worcestershire sauce

½

teaspoon

garlic powder

Hamburger or slider buns, to serve

Optional toppings: shredded or sliced cheese, shredded lettuce, a spoonful of coleslaw, a slice of tomato, sliced avocado, chopped red onions or green onions, or whatever you like!
Instructions
To a large skillet over medium-high heat, add ground turkey, onion, and bell peppers, and season with salt and pepper. Cook, breaking up large chunks of the ground turkey, until the turkey is cooked and the vegetables are softened, about 10 minutes.

Stir in the ketchup, brown sugar, mustard, Worcestershire sauce, and garlic powder. Mix thoroughly. Reduce heat to low and simmer for about 30 minutes (see note). Check seasoning and adjust if necessary.

Serve on hamburger buns or slider buns, toasted if desired. Optional toppings: shredded or sliced cheese, shredded lettuce, a spoonful of coleslaw, a slice of tomato, sliced avocado, chopped red onions or green onions, or whatever you like!
Notes
Substitute ground beef for the ground turkey, if preferred.
Increase or decrease the amount of peppers and onions, according to taste. Any color of bell peppers can be used and it doesn't matter if they're all one color.
Simmering time depends on how much time you have. Sloppy Joes actually taste better the longer it simmers. Stir occasionally, making sure the mixture isn't sticking or drying out. Add a bit of water if it's getting too dry. On the other hand, if you're hungry, go ahead and eat it sooner, it will still be good.
Shortcut version: If you want to make a super easy sloppy joe, omit sauce ingredients (ketchup, brown sugar, mustard, Worcestershire sauce, and garlic powder). Instead use a

10.75 ounce can condensed tomato soup (with no water added).

Larger Batch: You can easily double or triple the recipe for large crowds, or to freeze for later. If you like, transfer the mixture to a slow cooker and set it on Warm until you're ready to eat.
Nutrition information does not include buns or toppings.
Nutrition Information
Calories:
161
kcal
,
Carbohydrates:
13
g
,
Protein:
19
g
,
Fat:
4
g
,
Saturated Fat:
1
g
,
Polyunsaturated Fat:
1
g
,
Monounsaturated Fat:
2
g
,
Trans Fat:
1
g
,
Cholesterol:
42
mg
,
Sodium:
531
mg
,
Potassium:
401
mg
,
Fiber:
1
g
,
Sugar:
10
g
,
Vitamin A:
610
IU
,
Vitamin C:
28
mg
,
Calcium:
16
mg
,
Iron:
1
mg
This website provides approximate nutrition information for convenience and as a courtesy only. Nutrition data is gathered primarily from the USDA Food Composition Database, whenever available, or otherwise other online calculators.