Slow Cooker Marsala Beef Stew
This slow cooker marsala beef stew will fill your houses with the smells of marsala – it's the perfect fall meal, ready and waiting for you!
I know I've been fighting it and maybe even complaining about it a little bit, but I'm coming to terms with fall's arrival. Slowly. A thick, hearty marsala beef stew simmering all day in the slow cooker does wonders for my attitude about colder weather. When Holland House Cooking Wines asked me to create a slow cooker comfort food recipe, my mind quickly went to beef stew. What's more comfort than tender beef in a thick, rich, flavorful broth?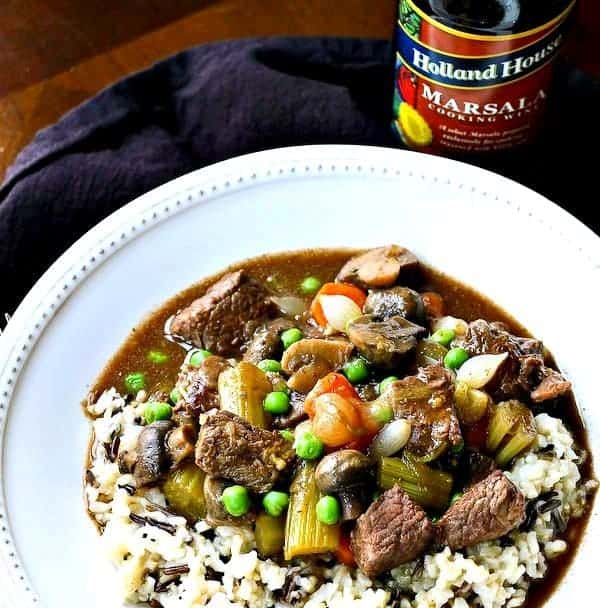 I'd highly recommend taking the time to brown the meat in a pan to bring out really great flavor, but if you're in a rush, just toss it with flour, throw it all in the slow cooker and let the low, slow heat work its magic! The flavors of the beef with the Holland House Marsala Cooking Wine, mushrooms, fresh thyme, and vegetables will warm your soul. Sounds cheesy but it's kinda true.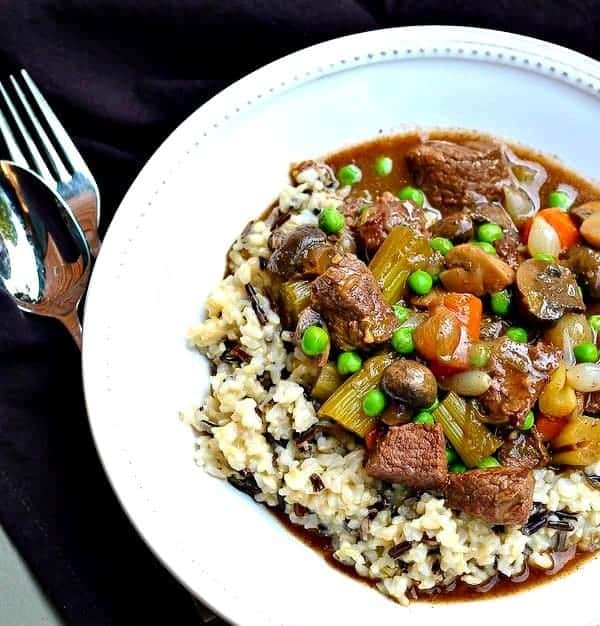 Slow Cooker Marsala Beef Stew
This slow cooker marsala beef stew will fill your houses with the smells of marsala – it's the perfect fall meal, ready and waiting for you!
Ingredients:
1 tablespoon olive oil
2.5 -3 pounds boneless chuck roast, trimmed and cut into 1-inch cubes, divided
2 tablespoons all-purpose flour
1 teaspoon kosher salt
1/2 teaspoon black pepper
2 cups frozen pearl onions
16 ounces white mushrooms, halved or quartered
4 large carrots, cut into 1-inch pieces
3 stalks celery, cut into 1-inch pieces
2 garlic cloves, minced
1 tablespoon tomato paste
½ cup Holland House Marsala Cooking Wine
2 cups unsalted beef stock
3-5 sprigs of thyme
2-3 tablespoons cornstarch
1 1/2 cups frozen peas
cooked rice or mashed potatoes for serving
Directions:
In a large skillet, heat oil over medium-high heat. Toss meat together with flour, salt and pepper. Place some of the meat in the heated skillet and brown meat on all sides. Place in slow cooker when browned. Do this in batches until all meat is browned, adding more oil as necessary. (I have a nonstick skillet so I used very little oil.)
Place all remaining ingredients in slow cooker, stirring to combine.
Cover and cook on low for 8 hours. Carefully remove thyme stems.
In a small bowl, mix together 2 tablespoons cornstarch and 2 tablespoons water until no lumps remain.
Increase heat to high and stir in cornstarch mixture. Cook for 30 minutes or until thick. If not reaching desired thickness, stir in 1 more tablespoon of cornstarch mixed with 1 tablespoon cold water.
Stir in frozen peas and serve over rice or mashed potatoes.
All images and text ©
.
Verdict: Loved this hearty beef stew. The Marsala Cooking Wine gave the perfect amount of flavor to the stew.
Husband's take: What guy wouldn't love this!? Marsala is one of his favorites so this was definitely a hit.
Changes I would make: None are necessary!
Difficulty: Easy!
Want to learn more about Holland House Cooking Wines and Vinegars? Check out their website or find them on Facebook or Pinterest.
If you're looking for more great slow cooker meals, check out: Slow Cooker Salsa Chicken, Southwestern Slow Cooker Barley Casserole with Ground Turkey, Slow Cooker Chicken Teriyaki, Slow Cooker Minestrone with Quinoa, Slow Cooker Moroccan Chicken Thighs, or my list of 68 Slow Cooker Soup Recipes.
Disclaimer: This Slow Cooker Marsala Beef Stew was created in connection with my agreement as a contributor to the Holland House Cooking Wines. Holland House compensated me for the time required to create this recipe and share it with you. All opinions are always my own. Thank you for supporting my blog by reading about brands I use and love in my own home.