Maple Mustard Roasted Sweet Potatoes and Shallots
These maple mustard roasted sweet potatoes and shallots are sure to be the star of any dinner and are a cinch to make.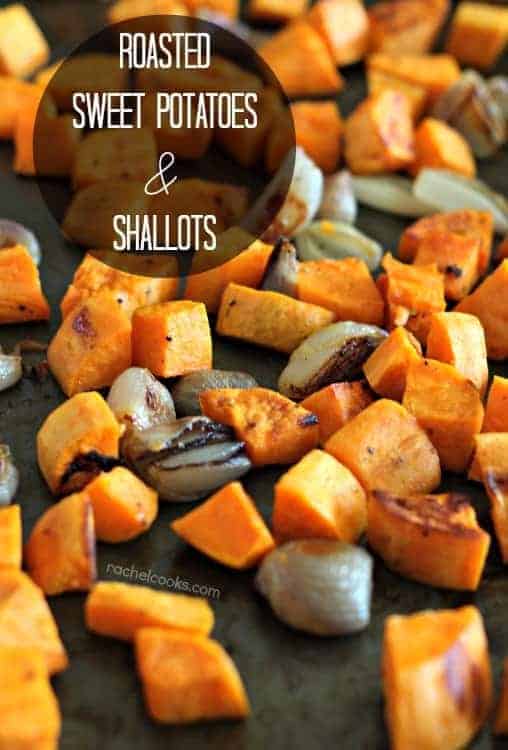 I hope you guys aren't sick of roasted vegetables yet, because I could keep them coming at you all fall and winter long.
There is not much better than putting in a tray of veggies and coming out with caramelized, flavorful goodness.
I like roasted vegetables almost as much as popcorn.
No wait, I didn't just say that.
Scraaaatch that.
But I do love them. A lot. These sweet potatoes and shallots are no exception. I'd eat them year-round except turning my oven on this high in August would make it 108 degrees in my house. Give or take.
These just so happen to be perfect for Thanksgiving, too. Is it too early to talk about that? It is the day after Halloween, so in blog world I think that means Thanksgiving recipes?  I can barely keep up most days with getting a post up here, must less having it be what it is "supposed" to be. I'm so glad you all still stick around.
Thanks for that.
If you could see me now, I'd hope you would still stick around. Nothing like my Stitch Fix photos taken after church. Now? Greasy hair, yoga pants. But writing this post comes first, then I'll shower. Really, I swear. I will. I have friends coming over for a play date tomorrow so I don't really have a choice but to be at least clean. The yoga pants may or may not still be present. I can't be held accountable for that. I am very excited to be making this pumpkin macaroni and cheese for my friends. I haven't stopped thinking about it since Erin posted it. But now I'm getting distracted again because I can't stop thinking about this macaroni and cheese. It has BACON and caramelized onions, two of my favorite things.
Did you know I have a whole Pinterest board devoted to macaroni and cheese? Oh look, here it is:
Hopefully there it is. Goodness knows I barely know enough to get by. And now I'm way off topic. This happens when I don't get enough sleep. So these roasted sweet potatoes combine some of my favorite fall flavors. Sweet potatoes, obviously. Sweet, flavorful shallots. The roasting juice. That sounds gross, let's go with…liquid…is comprised of maple syrup, Dijon mustard, and obviously some olive oil. The Dijon gives it that nice punch of flavor and the maple syrup cools things down a bit so they don't get too spicy from the mustard.
Enjoy!
Maple Mustard Roasted Sweet Potatoes and Shallots
These maple mustard roasted sweet potatoes and shallots are sure to be the star of any dinner and are a cinch to make.
Ingredients:
3 medium-large sweet potatoes, peeled and diced fairly small (1/2 -3/4-inch cubes)
5 to 6 shallots, peeled and cut in half (roughly the same size as the sweet potatoes)
2 tablespoons olive oil
2 teaspoons dijon mustard
2 teaspoons pure maple syrup
1/2 teaspoon freshly ground black pepper
1/4 to 1/2 teaspoon salt, or to taste
Directions:
Preheat oven to 425 degrees Fahrenheit.
In a small bowl, whisk together olive oil, mustard, maple syrup and salt and pepper. On a large rimmed baking sheet, toss sweet potatoes and shallots with this maple mustard mixture until everything is well coated (I use my hands).
Roast for 15 minutes, stir, and continue cooking for another 10 minutes or until vegetables are browned and cooked through. Serve immediately.
All images and text ©
.
Verdict: Loved the spiciness of the Dijon mustard with the sweetness of the shallots and maple syrup.
Husband's take: No complaints from him!
Changes I would make: NONE.
Difficulty: Easy!
If you're obsessed with roasting vegetables like I am, make sure you check out my roasted broccoli, roasted cauliflower, spicy sweet butternut squash and roasted carrots with thyme and nutmeg (and that only scratches the surface!).