Steak Sheet Pan Dinner – one pan!
Indulge yourself with a juicy steak, roasted potatoes, and asparagus, cooked to perfection on one pan in your oven. This easy steak sheet pan dinner is ready in just 30 minutes!
Recipe Overview
Why you'll love it: A steak dinner on one pan in less than 45 minutes! What's not to love?!
How long it takes: 15 minutes prep, 30 minutes in the oven
Equipment you'll need: sheet pan, oven, sharp knife
Servings: 4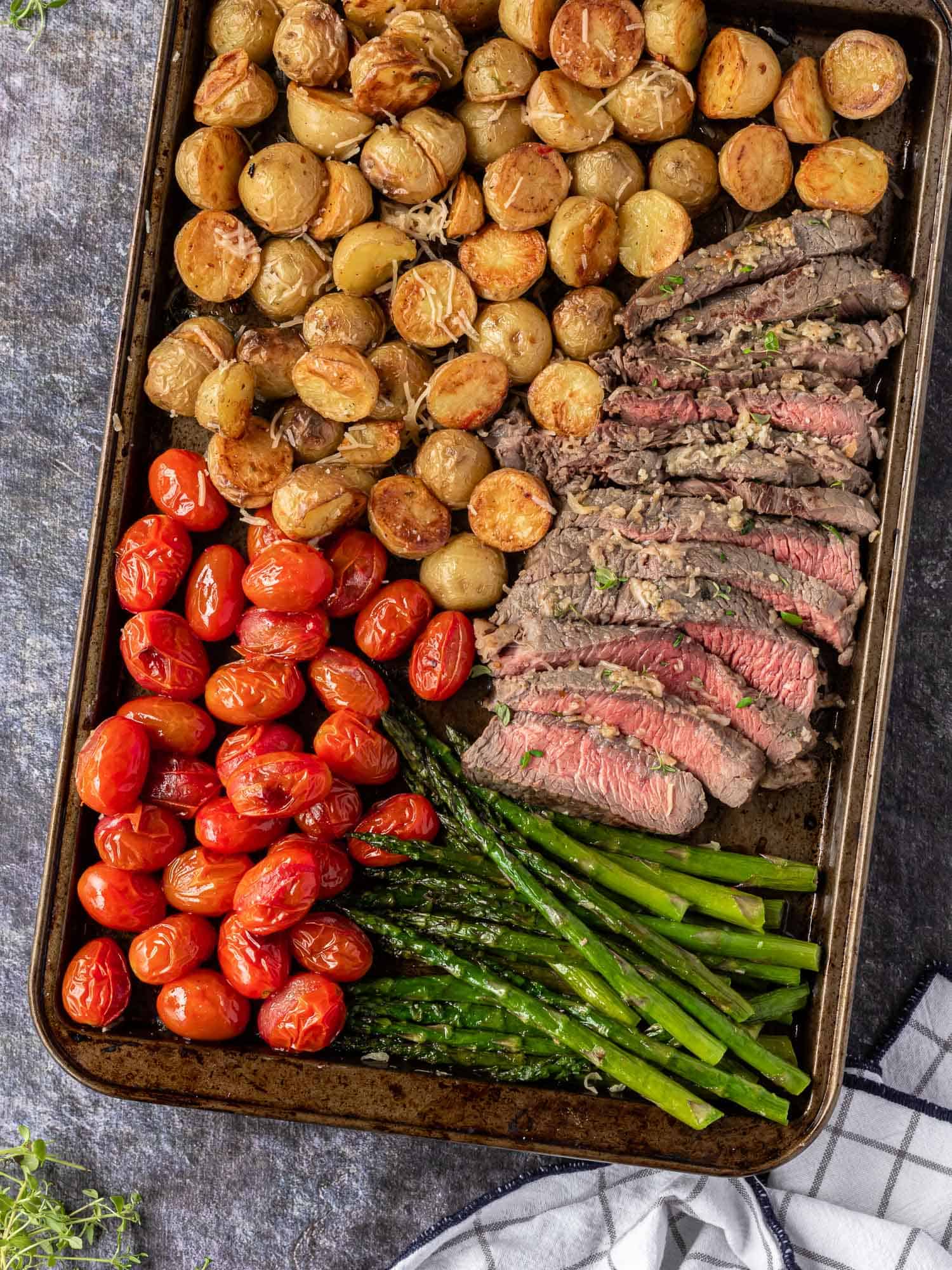 Steak lovers, get ready! This one's for you. Imagine dinner tonight: a tender broiled steak, seasoned with garlic, rosemary and thyme, along with roasted baby potatoes, crisp charred asparagus, juicy tomato bombs, and crunchy bits of Parmesan cheese. Your mouth watering yet?
The best part is, this steak dinner is a one pan wonder. Easy to make, easy to clean up, and the whole thing is done in the oven. Doesn't get much better than that, does it?
And don't worry if you don't care for asparagus. It's easy to substitute pretty much any vegetable you like. Green beans, broccoli, carrots … make it how you like it! Life is beautiful, isn't it?
P.S. While this meal doesn't really need anything else, I love to make these creamy Tuscan mushrooms or easy sautéed mushrooms to go along with the steak, especially if I'm having guests.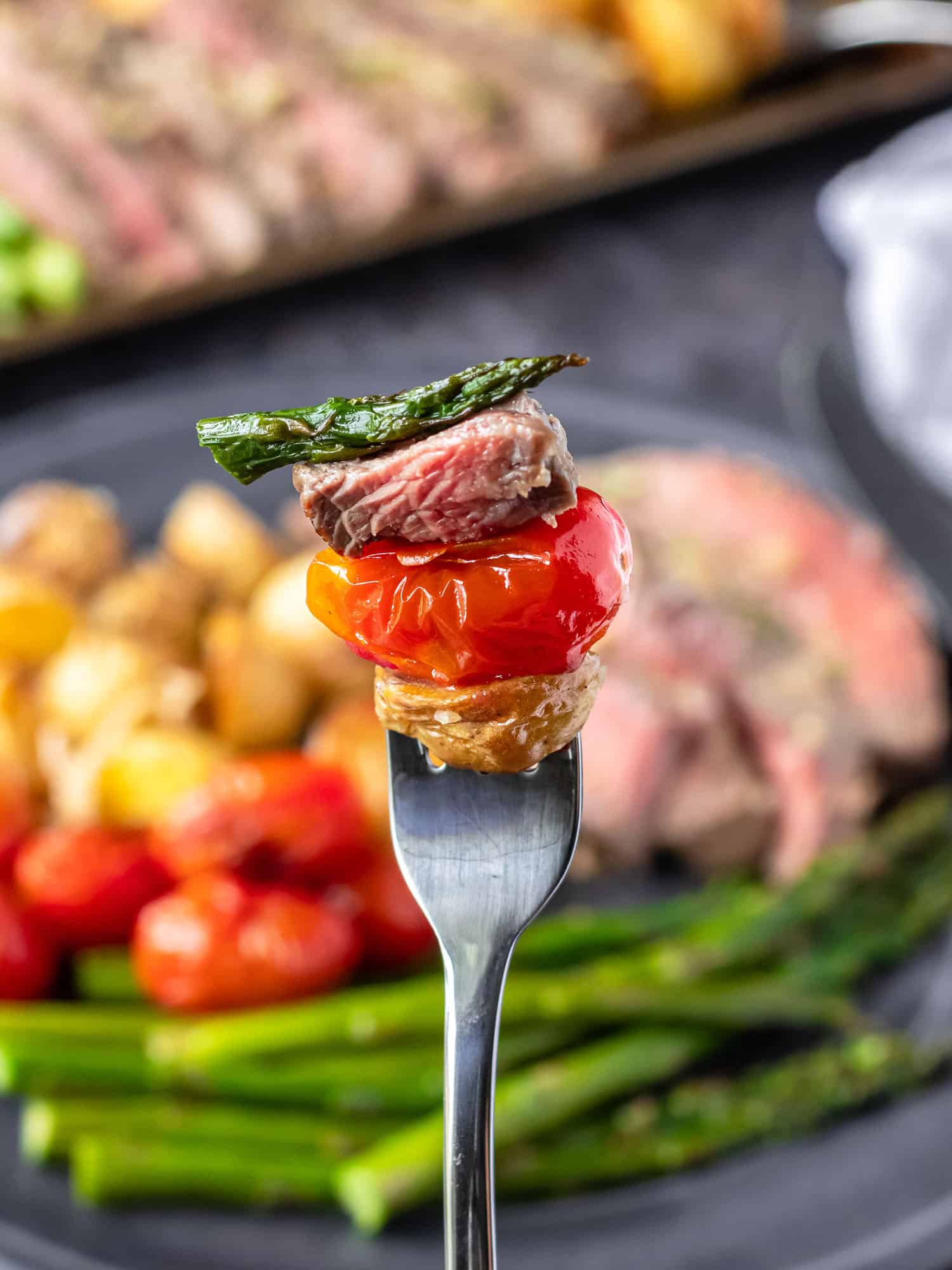 About this Steak Dinner
This is pretty straight-forward cooking. The highlight is that this entire meal is cooked in the oven in one pan. However, it's not a fix-it-and-forget-it recipe. Plan on sticking around the kitchen to add ingredients to the sheet pan in stages. You sure don't want to cook your steak as long as the potatoes!
I'll get you started with some basics here and give you lots of helpful tips and information.
Look for the printable recipe card with complete instructions and nutrition information at the end of this post.
What you'll need
Steak: Choose any type of grilling steak, such as top sirloin, tri-tip, flank steak, or NY strip. It should be about one and a half inches thick. Figure on 6-8 oz. per person, depending on appetite.
Baby Potatoes: There are a variety of baby potatoes available: red, yellow, purple, etc. Choose what you like. A mixture is nice, too. If you can't find baby potatoes, cut tender-skinned larger potatoes into 1-inch chunks.
Asparagus: Asparagus provides a nice color contrast to the steak and potatoes but other vegetables are fine. Green beans or broccoli are good choices.
Cherry Tomatoes: Roasted tomatoes add a bright note of acidity and juiciness to this dinner.
Olive Oil: Substitute avocado oil or grapeseed oil if you like.
Parmesan Cheese: You'll love the crispy bits of cheese. If you prefer to make this a non-dairy dinner, go ahead and omit the cheese — definitely not a deal-breaker in this recipe.
Garlic: Fresh minced garlic adds lots of flavor to the roasted vegetables and steak. If you're a garlic lover, go ahead and increase the amount. If you prefer a milder flavor, a teaspoon of garlic powder can be substituted.
Fresh Thyme and Rosemary: These two woody herbs pack a power punch of herbal flavor, perfect for hearty steaks. Oregano can be substituted for the rosemary if you like. If fresh herbs aren't available, go ahead and use dried but decrease the amount to one teaspoon.
Salt and Pepper: Choose coarse salt and coarsely ground black pepper when roasting meats or vegetables. The larger bits add texture, visual appeal, and little bursts of flavor.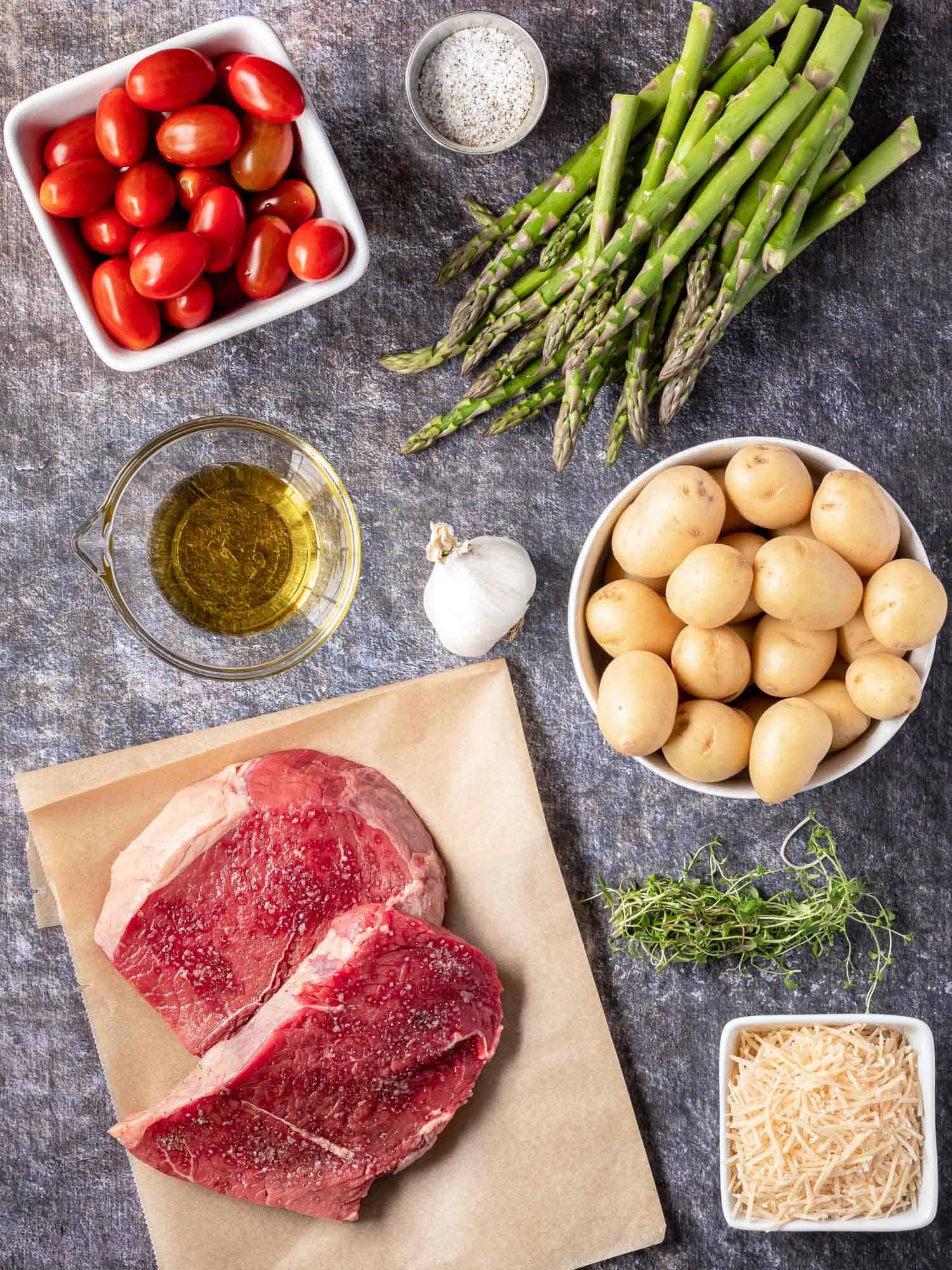 How to make This Dinner
Begin by taking the steak out of the fridge so it can come to room temperature while you prep the other food. This helps the steak cook evenly, so you'll get a nice pink center (if you want), but it will still be hot all the way through. Turn on the oven and get your sheet pan out.
Wash and dry the potatoes. Dry potatoes roast better than wet ones because too much water creates steam. Intense dry heat is what you're looking for when you roast pretty much anything. If the potatoes are pretty big, cut them in half. Try to make them all about the same size.
Toss the potatoes with some of the oil, garlic, and seasoning and pop them in the oven. They take the longest to roast so they get a bit of a head start.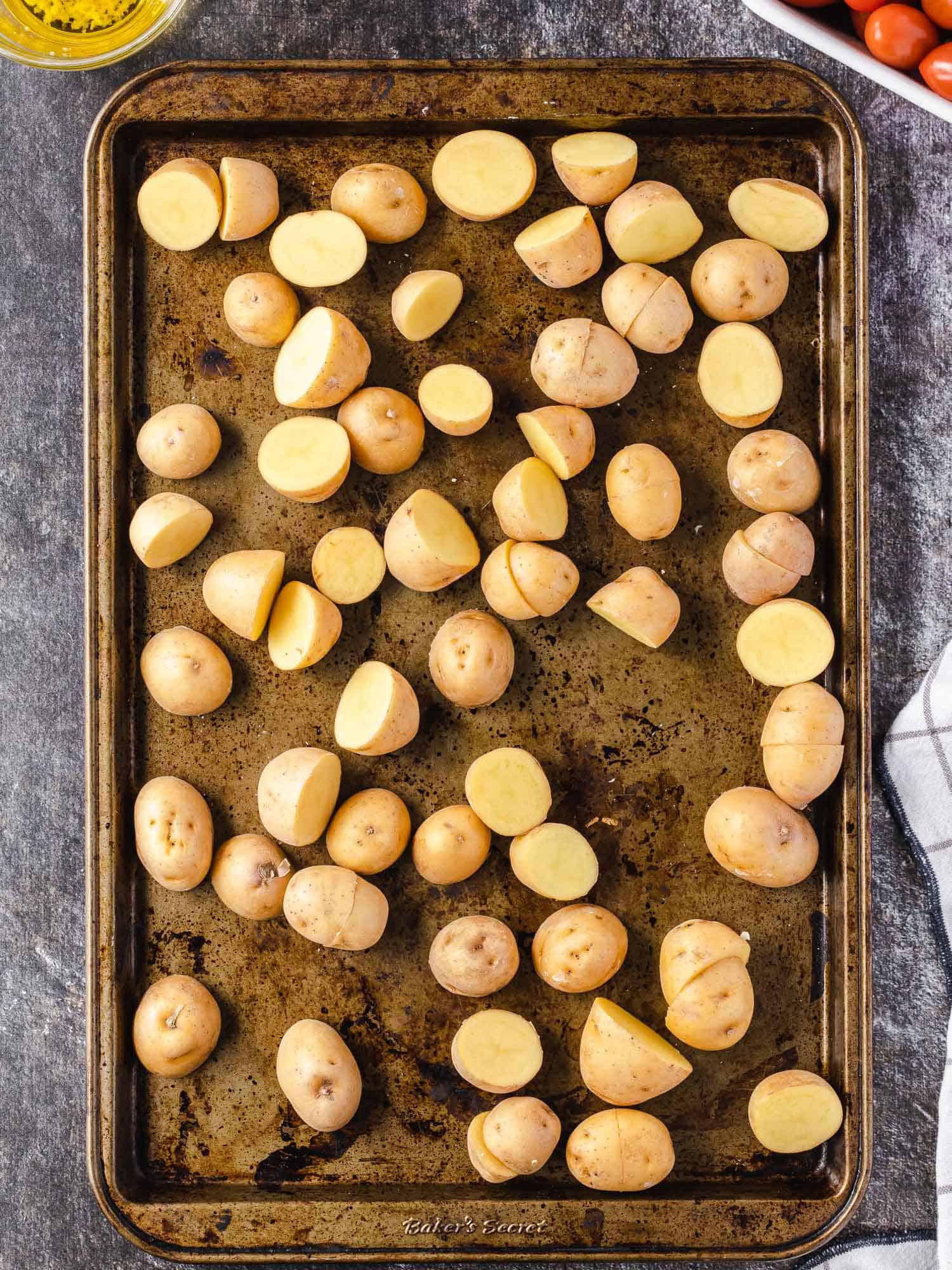 Next, prep the asparagus and tomatoes. Snap the woody ends off the asparagus. There's no need to peel it. Leave the spears whole or chop them into bite-sized pieces, your choice. Again, make sure the asparagus and tomatoes aren't dripping wet. You'll want to pat the steaks dry with a paper towel, too.
In a small bowl, stir together another tablespoon of oil, the herbs, the rest of the garlic and seasonings, and half the cheese. Spoon half of this mixture on top of the steaks.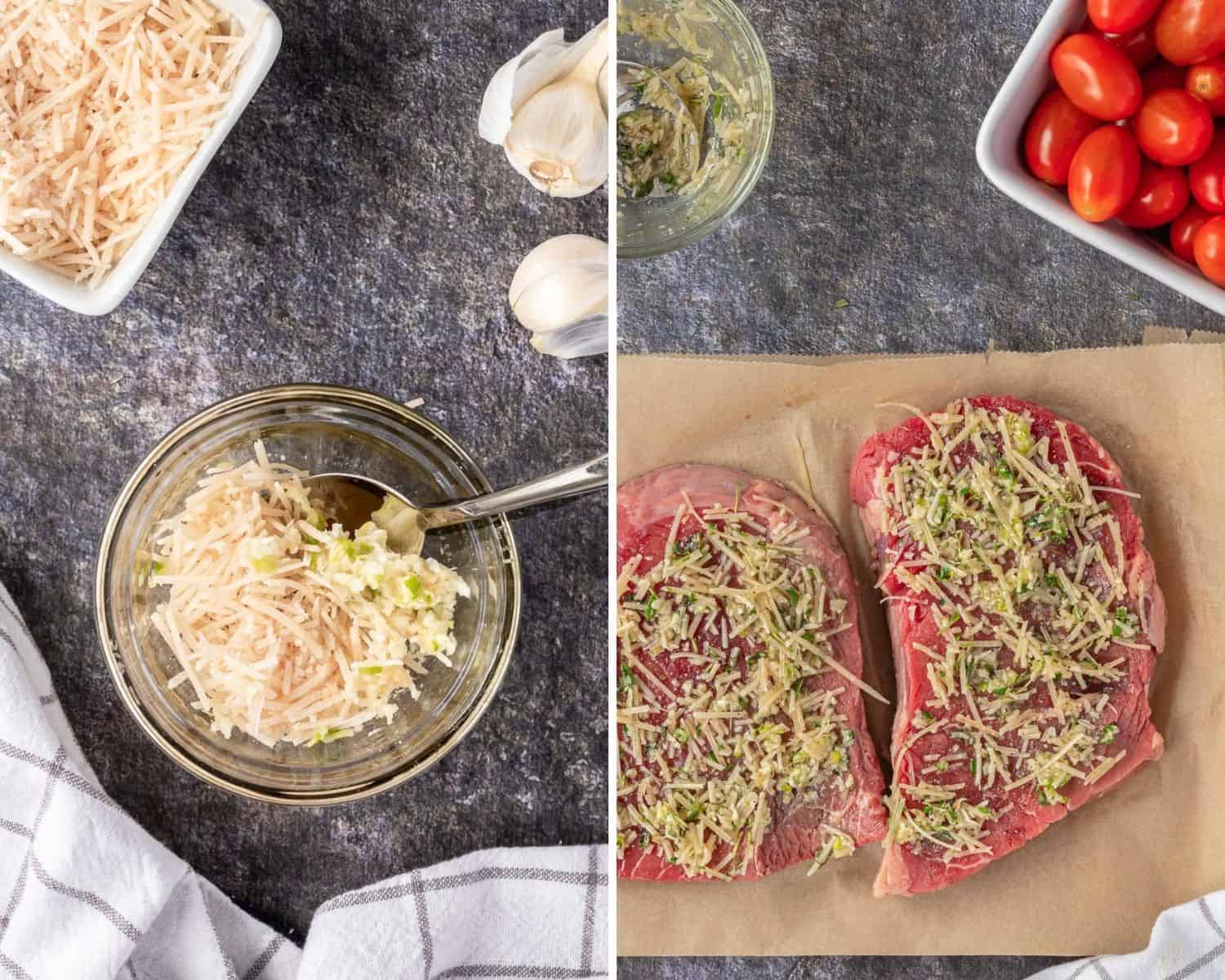 Okay, take the potatoes out of the oven and turn the oven to broil. With a spatula, push the potatoes into a corner of the sheet pan to make room for the rest of the meal.
Visualize the sheet pan divided into 4 quarters. With the potatoes in one quarter, arrange the tomatoes in another corner, the asparagus in another, and the steak in the last section.
Drizzle a bit of olive oil over the tomatoes and asparagus and sprinkle with the remaining cheese.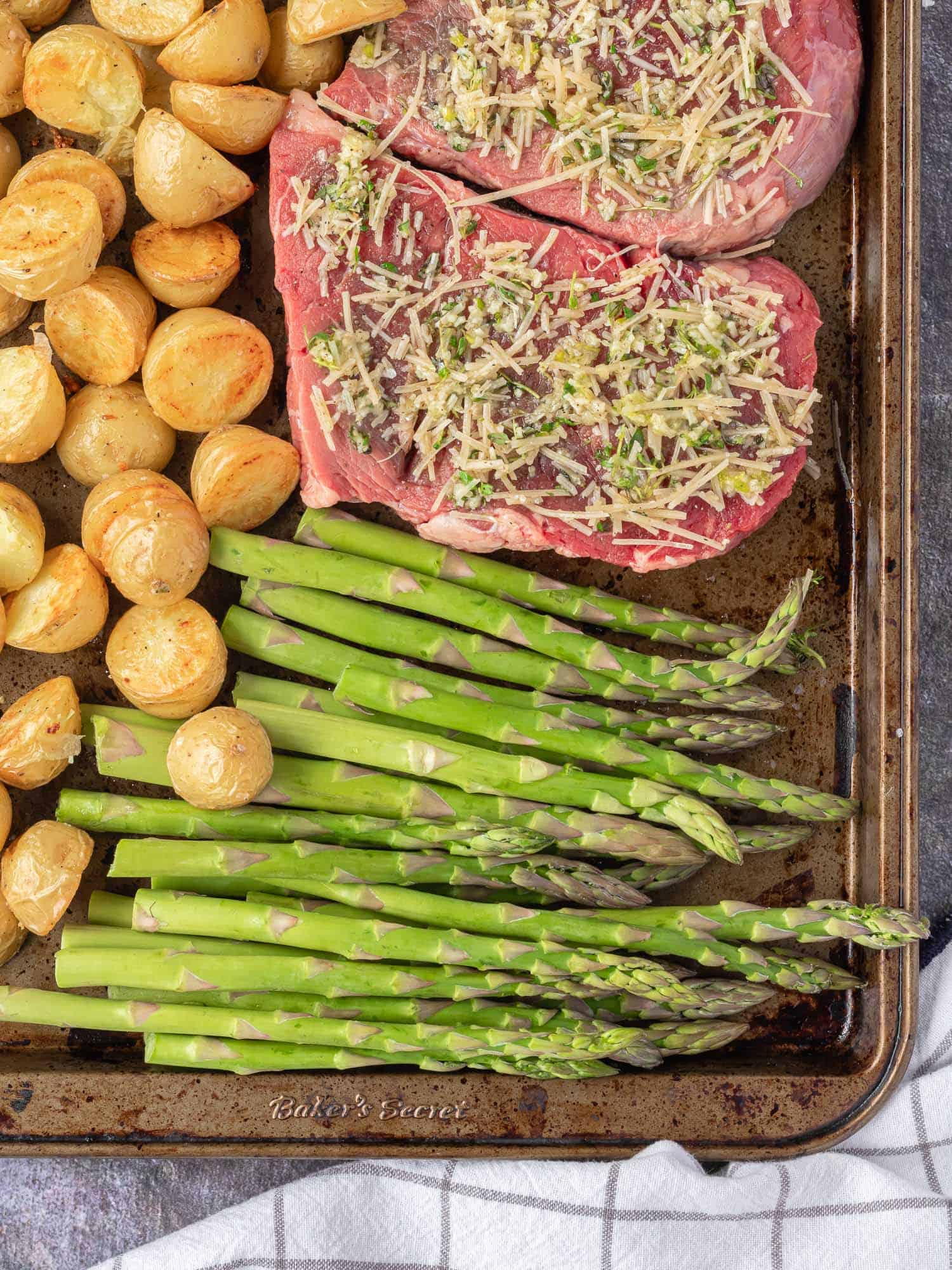 Whew! Ready to put that pan back into the oven? Let's do this!
Broil for 4 minutes. Flip the steaks over and carefully shake the pan to flip the veggies so they brown evenly. If you don't feel comfortable with shaking the pan (I get it, that pan is pretty full!), move the veggies around with a spatula.
Return the pan to the oven and broil for 4 to 6 more minutes, depending on how you like your steaks. If the veggies are getting too brown, cover them with foil.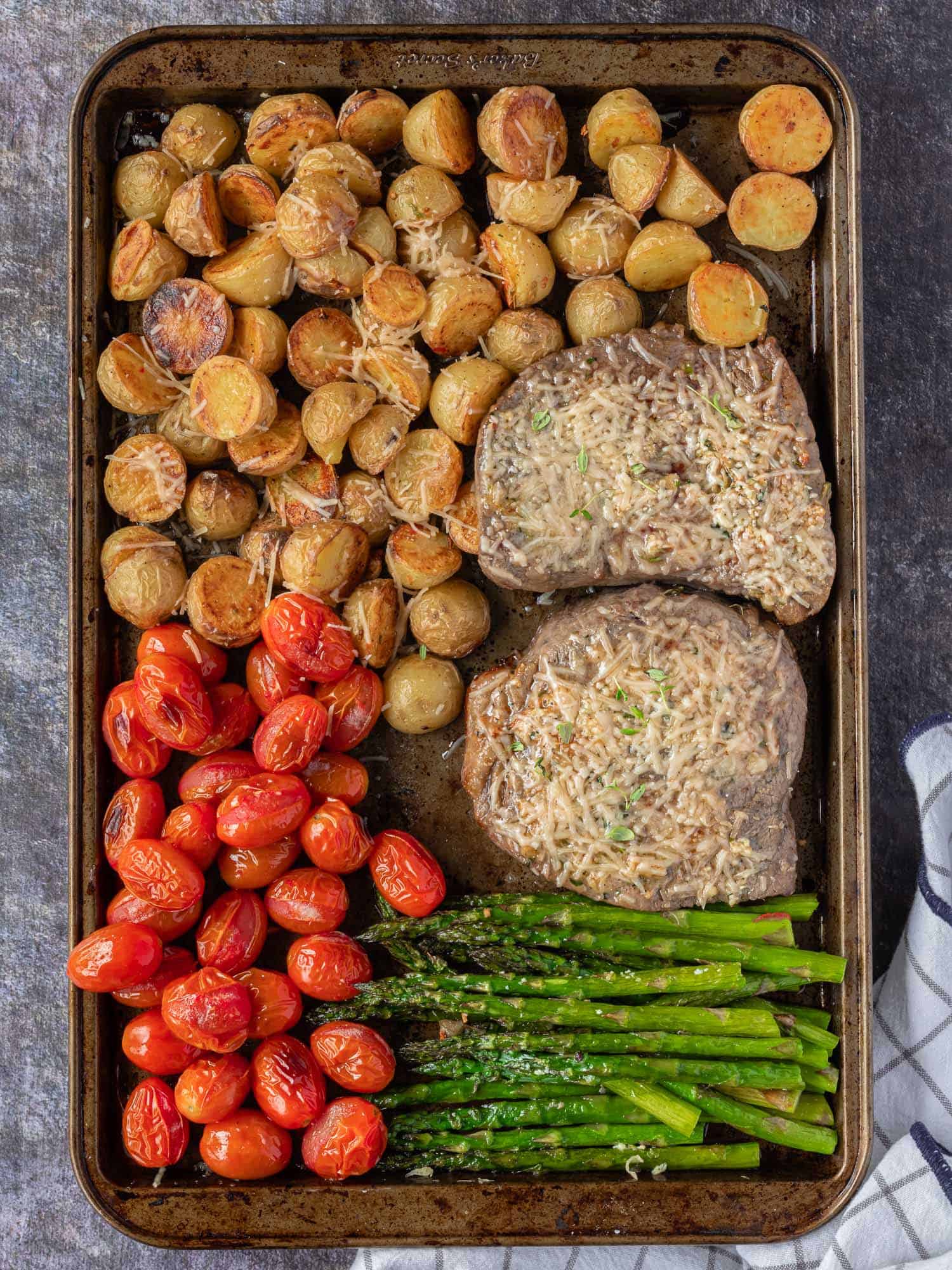 How Do I Know My Steak is Done?
An instant read meat thermometer is your best friend in the kitchen. Use it to determine the internal temperature of meat.
For rare steak (cool red center), cook to 125°F
For medium rare steak (warm red center), cook to 135°F
For medium steak (warm pink center), cook to 145°F
For medium-well steak (slightly pink center), cook to 150°F
For well-done steak (little or no pink), cook to at least 160°F
Remember the steak will continue to cook a bit as it rests! For a super juicy steak, make sure to rest fro 5-8 minutes before cutting.
Plate the dinners, dividing up the potatoes, asparagus, and tomatoes evenly. Add a steak to each plate and serve.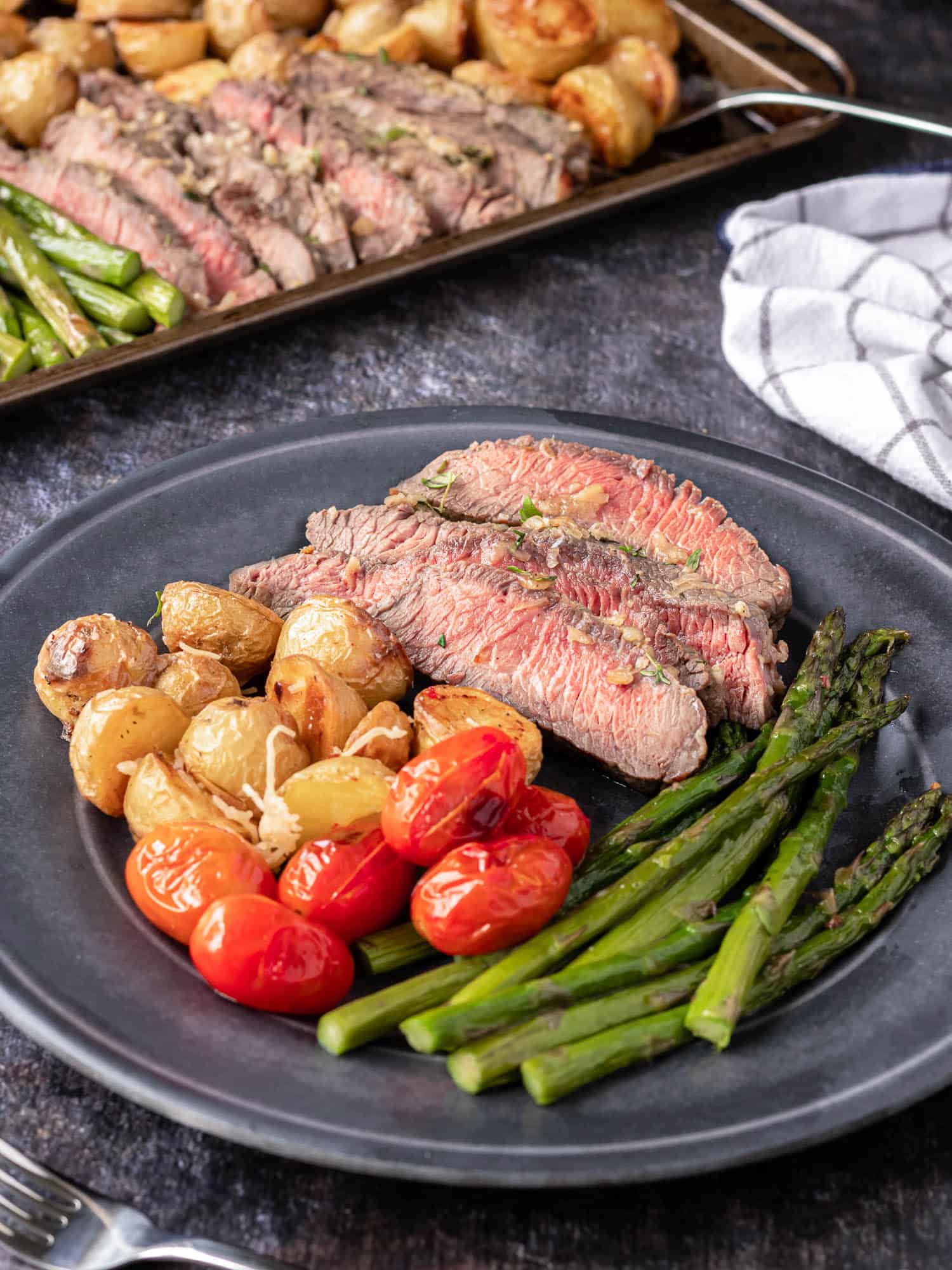 You don't really need much to go along with this meal. Well, maybe a glass of wine would be good, right? I'd choose a Cabernet Sauvignon, Zinfandel, or Merlot. If you're more of a beer drinker, try a stout, IPA, or other full-bodied beer.
Raise your glass to the cook (even if the cook is you!) and give 'em a cheer for a job well done. Enjoy!
FAQs
Can I cook a steak on a cookie sheet?
A cookie sheet generally does not have a rim, making it tricky and messy to cook meals on, including steak. Choose a sheet pan or a broiler pan for best results.
What is a sheet pan dinner?
Well, a sheet pan dinner is about my favorite dinner to make and I think it will soon become yours, too. Pretty much everything can be cooked in the oven on a sheet pan with amazingly good results, even a complete Thanksgiving dinner. Anyone can do it. And the bonus? There's only one pan to wash!
Sheet pan dinners include a protein, vegetables, and often potatoes. The ingredients are mixed with oil and seasonings, and roasted at a fairly high temperature in the oven. That's it! Nothing tricky about it.
Browse through my list of 20+ healthy sheet pan dinners or for a different idea, try pesto salmon in parchment which includes a medley of vegetables all in one nifty packet.
Do I slice the beef before I broil it?
For juicier and tastier steaks, I recommend broiling the steaks whole and slicing them when they've finished cooking. Allow the steak to rest a few minutes so the juices don't run out when you slice into it.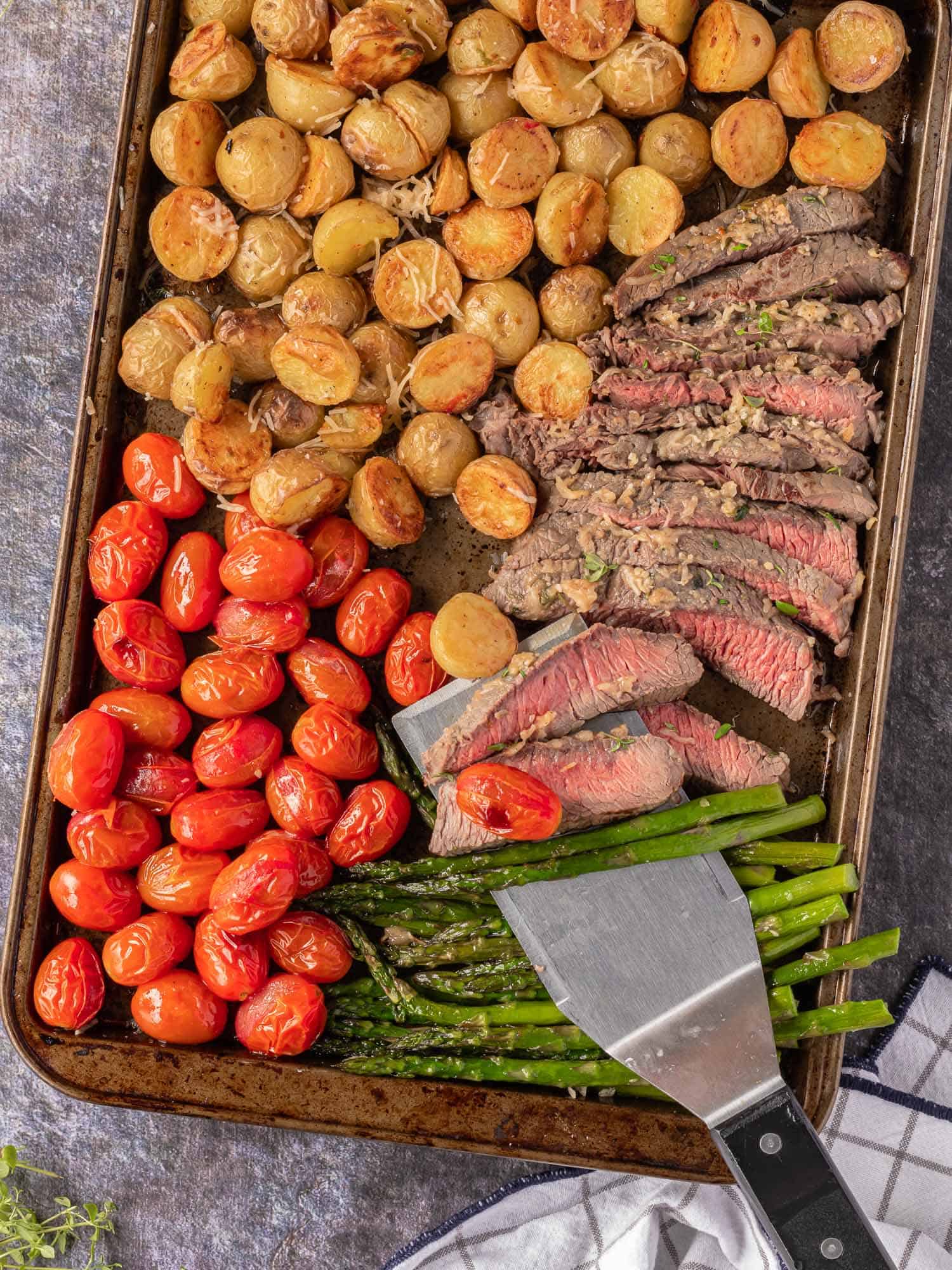 Make It your own
Try different vegetables. Not a fan of asparagus or it's not in season? Steak, potatoes and green beans will please just about anyone. Broccoli, sugar snap peas, Brussels sprouts, or bell peppers can be substituted for asparagus, too. Carrots, onions, or sweet potatoes can be roasted with the potatoes, or in place of them.
Cooking for two? This recipe is easy to halve!
Make it low carb or keto. Omit the potatoes and substitute diced turnips, cauliflower, or another vegetable.
Use dry herbs instead of fresh. Don't want to mess with fresh herbs? Substitute one tablespoon of dry Italian seasoning for the garlic, rosemary, and thyme.
Looking for a faster option? Garlic butter steak bites are ready in just 20 minutes or try a beef stir fry with vegetables.
Make Ahead Ideas
Prep the potatoes up to a day ahead and put them in a covered bowl or resealable bag with 1 tablespoon oil, 1 teaspoon garlic, ½ teaspoon salt and ¼ teaspoon pepper. They'll be all ready for the first step of roasting.
Prep the asparagus and tomatoes. The Parmesan cheese, garlic, and seasoning mixture can be stirred up and stored in the fridge, too.
When dinner time rolls around, you'll have a big head start!
Storage & Reheating Suggestions
Refrigerate: Store leftover steak and vegetables in the fridge for up to three days.
To reheat, choose one of the following methods:
Microwave for 1 to 2 minutes.
Oven: Preheat oven to 350°F, arrange the leftovers in a single layer, cover with foil, and reheat about 10 minutes or until warm.
Air Fryer: Preheat to 330-350°F, add the leftovers, and heat for 2 to 4 minutes until warm.
We prefer the oven or air fryer methods since microwaving leftover meat often makes it tough.
Leftover Love
Make a hearty steak salad. Prepare a plate of your favorite greens. Slice the steak and vegetables into bite-sized pieces and gently reheat. Arrange them on the greens and top with a dressing of your choice. Try sweet and tangy honey mustard vinaigrette, homemade Italian dressing recipe, or red wine vinaigrette recipe.
Interested in a weekly meal plan (it's free!) that includes this sheet pan steak recipe? Take a look at my Meal Plan #40. You'll find a wholesome recipe for each weekday plus a categorized grocery list. Let me do the planning for you this week!
We'll be adding a new meal plan weekly. If you're interested, browse all of our meal plans.
Did you make this? Be sure to leave a review below and tag me @rachelcooksblog on Facebook, Instagram, or Pinterest!
Indulge yourself with a juicy steak, roasted potatoes, and asparagus, cooked to perfection on one pan in your oven. This easy steak sheet pan dinner is ready in just 30 minutes!
Ingredients
2

teaspoons

minced garlic (about 3 cloves),

divided

3

tablespoons

olive oil,

divided

2

pounds

top sirloin steak, patted dry with paper towel

(see note)

1 ½

pounds

baby potatoes,

washed and cut in half if large

1

pound

asparagus,

trimmed

1

pint

cherry tomatoes

½

cup

shredded Parmesan cheese,

divided

1

teaspoon

kosher salt,

divided

½

teaspoon

coarse ground black pepper,

divided

1

tablespoon

fresh thyme,

roughly chopped

1

tablespoon

fresh rosemary,

minced
Instructions
Take steaks out of the fridge so they come to room temperature slightly. Heat oven to 375°F. Place oven rack in the middle of the oven.

Toss the baby potatoes on a sheet pan with

1 tablespoon

olive oil,

1 teaspoon

minced garlic,

½ teaspoon

salt, and

¼ teaspoon

black pepper. Arrange in a single layer and roast in the oven for 15 to 20 minutes, or until tender.

Meanwhile, mix together

1 teaspoon

garlic,

1 tablespoon

olive oil,

¼ cup

Parmesan cheese,

½ teaspoon

salt,

¼ teaspoon

pepper, thyme, and rosemary in a small bowl.

Once the potatoes are tender and starting to brown, remove the sheet pan from the oven and turn the oven to broil (high). Move the potatoes to one quarter of the pan. Fill the remaining quadrants with the steak, asparagus, and tomatoes.

Spread half of the garlic-Parmesan mixture onto the top of the steak. Drizzle remaining tablespoon of olive oil over the asparagus and tomatoes. Sprinkle remaining ¼ cup of Parmesan cheese over vegetables and potatoes.

Place back into the oven and broil for 4 minutes. Flip the steak over and give the sheet pan a shake to flip the vegetables. If the vegetables are browning too quickly, cover with aluminum foil to prevent burning. Top steak with the remaining garlic-Parmesan mixture and return to the oven for an additional 4 to 6 minutes, or until cooked to desired doneness (see notes).
Notes
Any grilling steak, like tri tip, flank steak, or NY strip steak can be used instead of sirloin. Top sirloin is usually about 1

½

-inches thick.
Cooking time will vary depending on the thickness of the steak. The best way to cook your steak to perfection is to use an instant read meat thermometer. Insert the thermometer into the thickest part of the steak. For rare steak cook to 120°F, medium rare is 130°F, medium is 140°F, medium-well 150°F, and for well-done steak, at least 160°F.
Nutrition information is based on 4 servings, 8 oz. steak per person.
Broccoli, green beans, Brussels sprouts, sugar snap peas may be substituted for the asparagus. Carrots, sweet potatoes, or onions can be roasted with the potatoes.
Nutrition Information
Calories:
610
kcal
,
Carbohydrates:
40
g
,
Protein:
62
g
,
Fat:
22
g
,
Saturated Fat:
7
g
,
Polyunsaturated Fat:
2
g
,
Monounsaturated Fat:
12
g
,
Cholesterol:
142
mg
,
Sodium:
935
mg
,
Potassium:
2048
mg
,
Fiber:
7
g
,
Sugar:
7
g
,
Vitamin A:
1636
IU
,
Vitamin C:
70
mg
,
Calcium:
271
mg
,
Iron:
9
mg
This website provides approximate nutrition information for convenience and as a courtesy only. Nutrition data is gathered primarily from the USDA Food Composition Database, whenever available, or otherwise other online calculators.