Roasted Broccoli Recipe – Perfect Every Time!
Roasted broccoli is the best broccoli ever! Once you learn how to roast broccoli, you may never go back to any other method. It's easy to make and the best broccoli you'll ever taste.
Recipe Overview
Why you'll love it: Even kids love it prepared this way!
How long it takes: 5 minutes to prep, 20 minutes in the oven
Equipment you'll need: sharp knife, sheet pan, oven
Servings: 4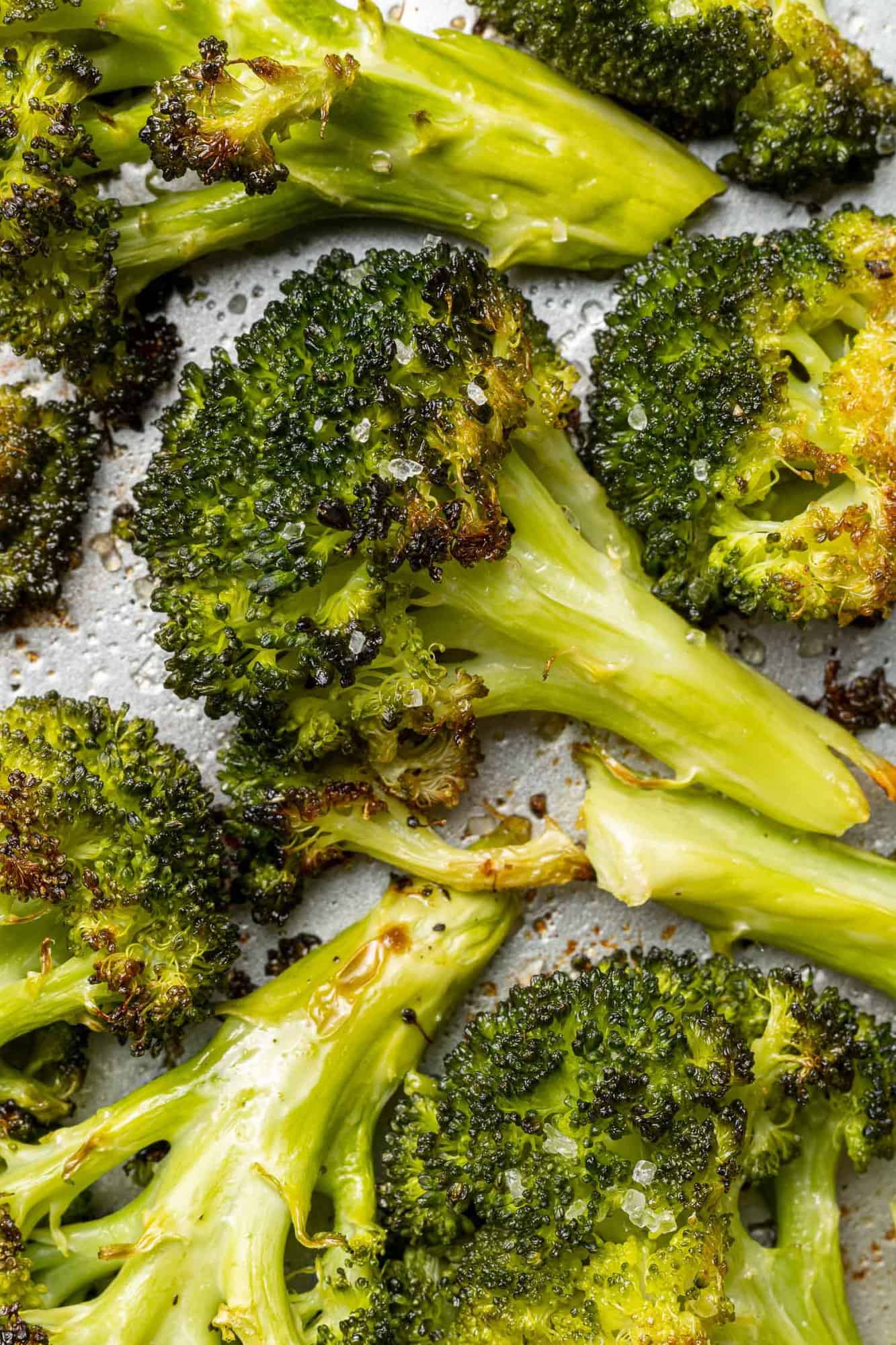 "More broccoli please!"
Is this something you want to hear your kid say? Our daughter did not want to stop eating this broccoli. Can you believe that? I'm telling you, this is the only way we'll ever eat broccoli from here on out.
This is Ben's absolute favorite way to eat broccoli. I think he actually gets a little annoyed (secretly though, he'd never complain!) when I steam it instead of roasting it.
It is simply delicious. Unbelievably easy to prepare, with only minimal seasoning to really let the broccoli shine.
Yes, broccoli can shine. Shine! It can happen. Trust me.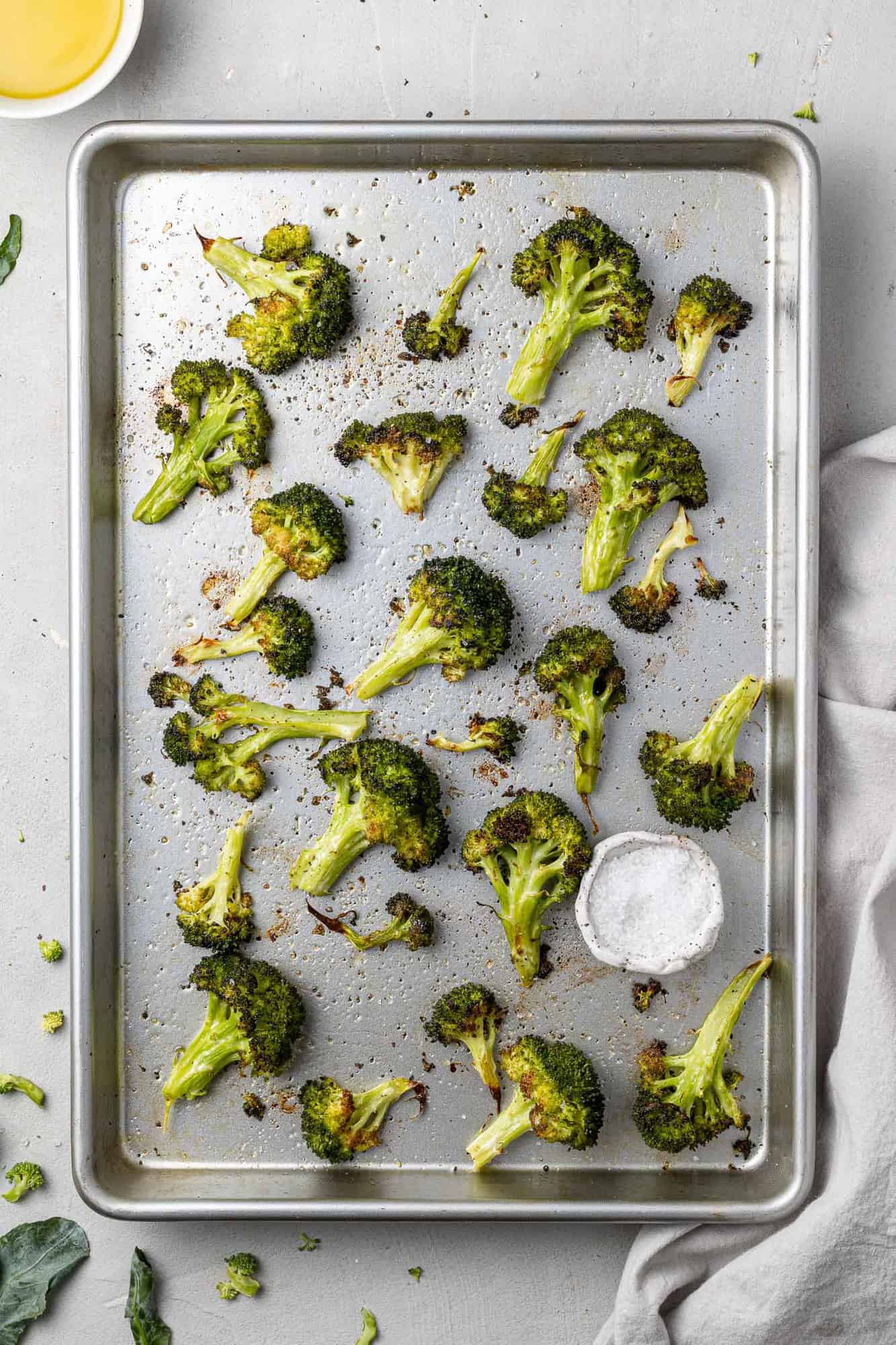 About Roasting Broccoli
If you don't know how to roast broccoli, it's so super easy to do! Simply toss cut broccoli in extra virgin olive oil, sprinkle it with a bit of salt and pepper, and roast it in a super hot oven.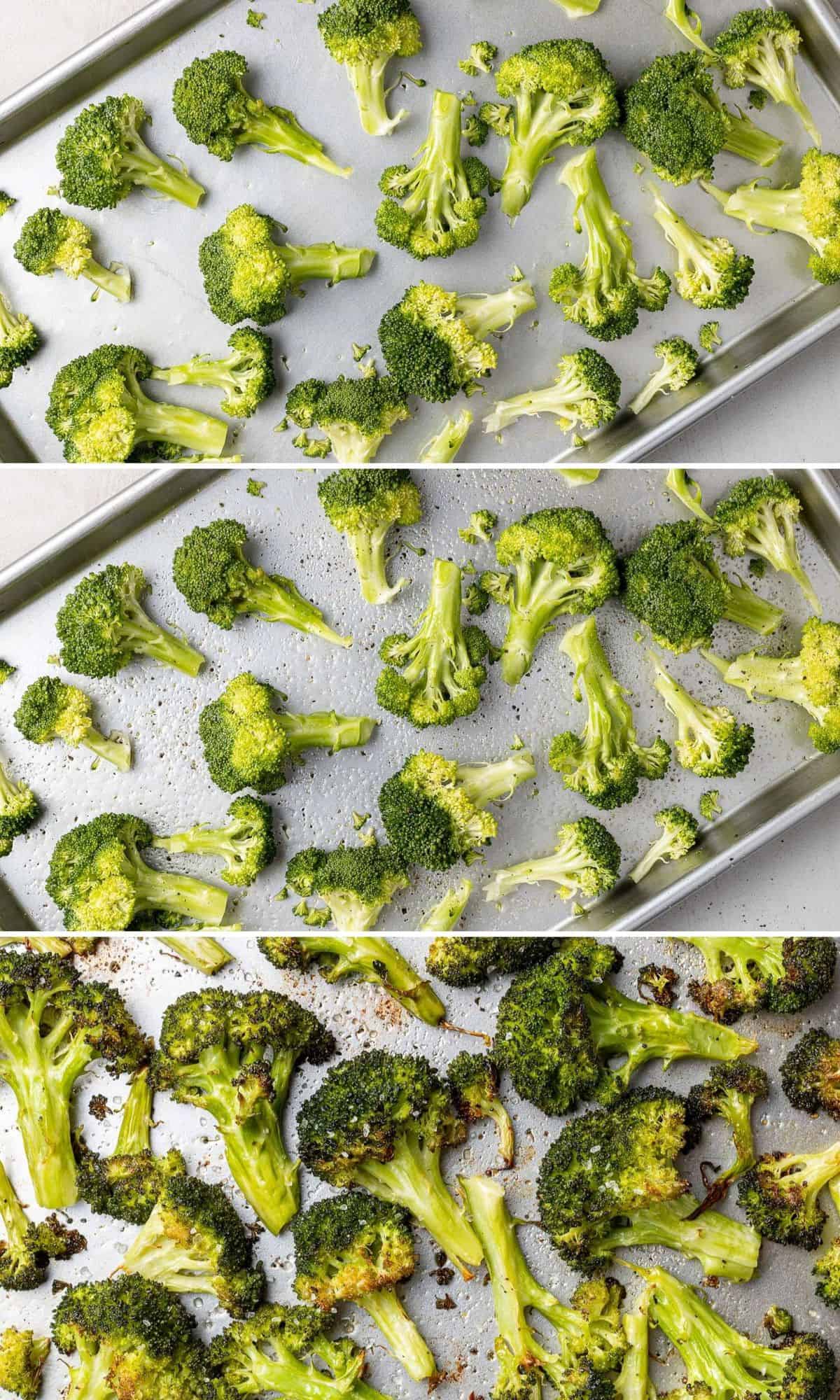 And then watch it disappear.
You can jazz it up with some lemon juice or Parmesan cheese, but we really love it with just salt and pepper!
You'll find a printable recipe card with complete directions and nutrition information at the end of the post.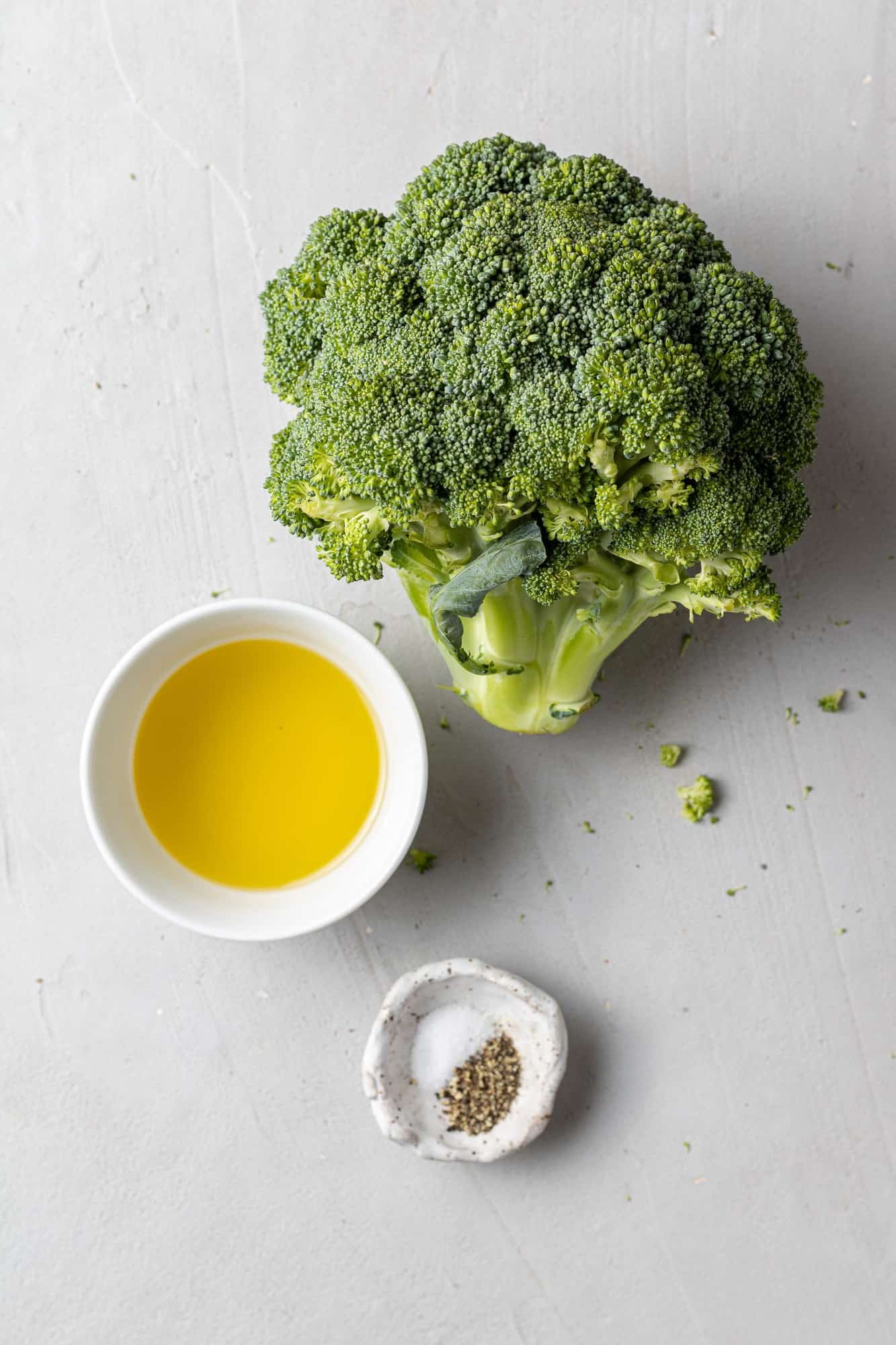 What You'll Need
Broccoli: Look for a firm dark green head of broccoli. Keep reading (FAQs) about how to choose a good head of broccoli.
Olive Oil: Most people love the flavor of olive oil but if you don't happen to be in that camp, other types of oil are fine: avocado, grapeseed, or even plain ol' vegetable oil. Don't substitute melted butter because it will burn at the high heat. Melted ghee will work, though!
Salt and Pepper: Simple seasonings are all you need. Use coarsely ground pepper and kosher salt. The larger pieces provide nice little bursts of flavor.
Sheet Pan: The proper pan is essential. A half sheet pan (18 x 13 inches) usually made of aluminum is a tool you don't want to be without. I use mine nearly every day. If you haven't tried making a sheet pan meal, a complete meal all in one pan, you need to do that soon!
tips for making the best Roasted Broccoli
DRY DRY DRY your broccoli! Obviously you have to wash the broccoli first, but the problem is that broccoli really tends to hold water in all of those little florets. However, the drier the broccoli, the crispier it will get when you roast it; wet broccoli steams. Since crispy is what you're going for here, you need to dry the broccoli. Use a towel (make sure it's one that doesn't let off lint), wrap up the broccoli and give a good shake. Or toss it into a salad spinner to spin that water right off.
Cut the broccoli into small pieces. The more even they are in size, the better. Smaller broccoli = crispier broccoli in a shorter amount of time. We love those nearly burnt pieces best so sometimes I cut mine super small!
Preheat the oven! Make sure your oven is good and hot when you put the broccoli in (425°F).
Flip the broccoli part way through the cooking. It's a bit of a tedious task if you're exact about it but it helps ensure the broccoli is crisp on all sides. If you're in a rush, just toss it with a spatula. It will be fine!
Let it get brown. If you've never cooked broccoli this way, you may think it looks burnt upon first glance out of the oven but once you taste it, you'll know those "burnt" parts are the best tasting parts!
What About Frozen Broccoli?
Does roasted frozen broccoli taste the same? The answer is YES but it's not going to turn out exactly the same. I use it when I'm in a pinch. Frozen broccoli gets a little crispy but since the water content is higher, it tends to steam a little bit in the oven, making it less crisp. The secret? Don't thaw it first!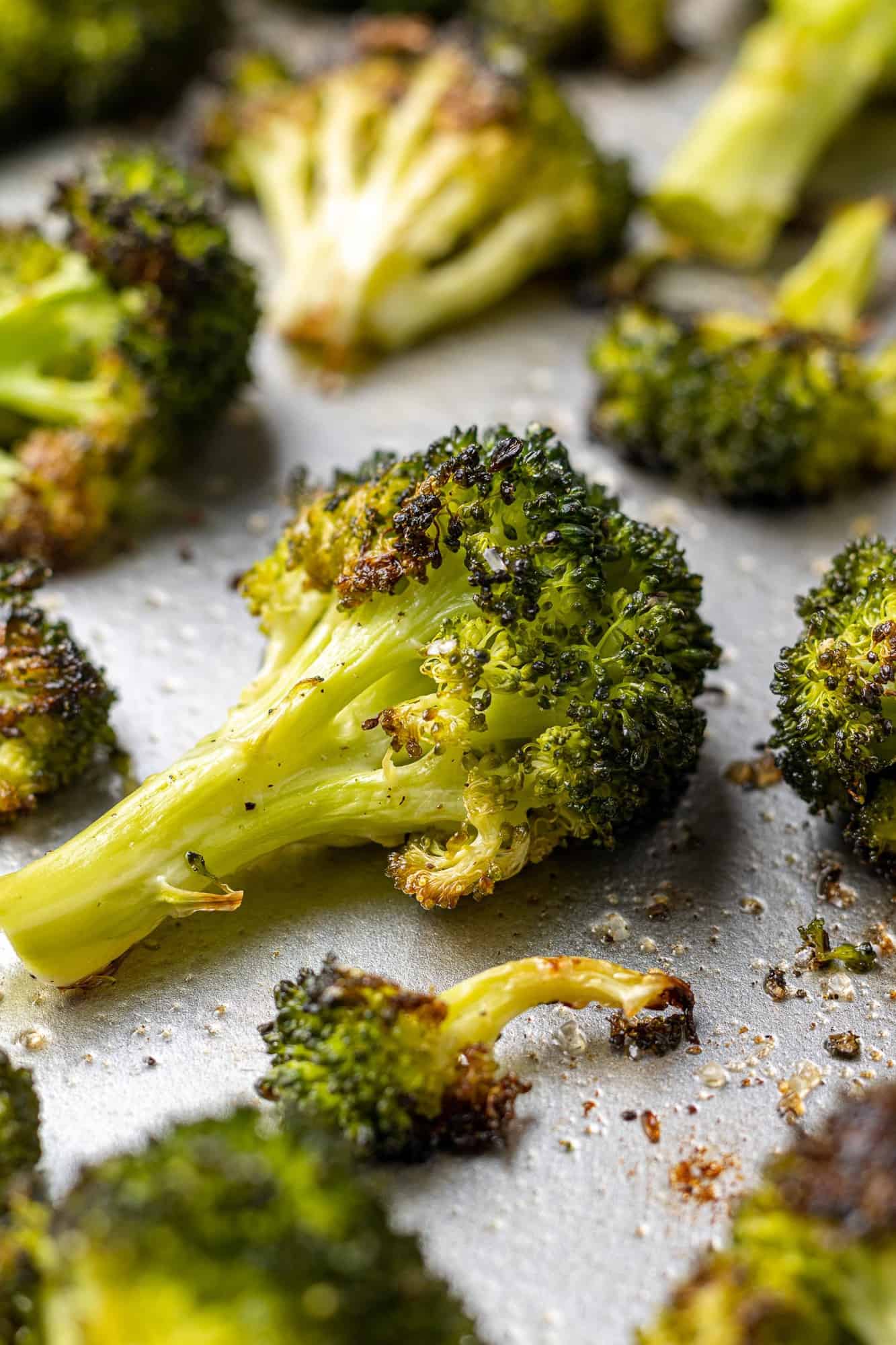 FAQs
Is roasting broccoli good for you?
According to Healthline, broccoli is a "powerhouse" of nutrition, with lots of fiber, antioxidants, vitamins and minerals. When you boil broccoli, some of the nutrition is lost (notice how the water is green when you drain the broccoli!). Steaming or roasting retains a lot more of the vitamins and antioxidants.
Should broccoli be blanched before roasting?
If you like your broccoli to be super tender or if you're short on time, the broccoli can be blanched first. Bring a pan of water to a boil, immerse the broccoli for 2 minutes; drain well, dry and proceed with recipe. You can also steam the broccoli in a covered dish with 2 tablespoons of water in the microwave for 2 minutes.
Personally, I prefer not to blanch the broccoli. I think it gets a lot crispier and has more flavor.
How do you keep broccoli from getting soggy while roasting?
As I mention above, the secret is to dry it thoroughly. Make sure it's not too crowded on the sheet pan. There should be room for the broccoli to be spread out in a single layer. Small florets get crispier than large ones.
In addition, make sure your oven is preheated to at least 425°F.
How do you pick out a good head of broccoli?
Look for dark green color and tight florets. If the florets look like they are beginning to open, the more mature the broccoli is, and that's not such a great thing. The broccoli should be pretty much odorless and the stem should be firm and crisp. If the broccoli is yellow, has black spots or mold, is soft, or has a bad odor, it's probably not any good and should be tossed or composted.
Make It Your Own
While plain roasted broccoli is really delicious, there are ways to jazz it up.
Add cheese: Roast broccoli with Parmesan sprinkled on at the end.
Brighten up the flavor with lemon! Squeeze on lemon juice or add lemon zest right before serving.
Combine veggies: Roast broccoli and cauliflower together; that combination is great with a sprinkle of chili powder. Broccoli and carrots are a good combination, too, as well as broccoli and potatoes. Since carrots and baby potatoes take a bit longer to get tender, put them on the pan first and roast them for about 5-10 minutes before you add the broccoli.
Roast broccolini! Broccolini has smaller florets and longer stalks but you can roast it pretty much the same way as broccoli.
Rather have broccoli a different way?Try this broccoli with my easy cheese sauce! Or Instant Pot broccoli cheese soup! I love Instant Pot mac and cheese with broccoli, too. Did you know you can cook broccoli in your air fryer? Try air fryer broccoli.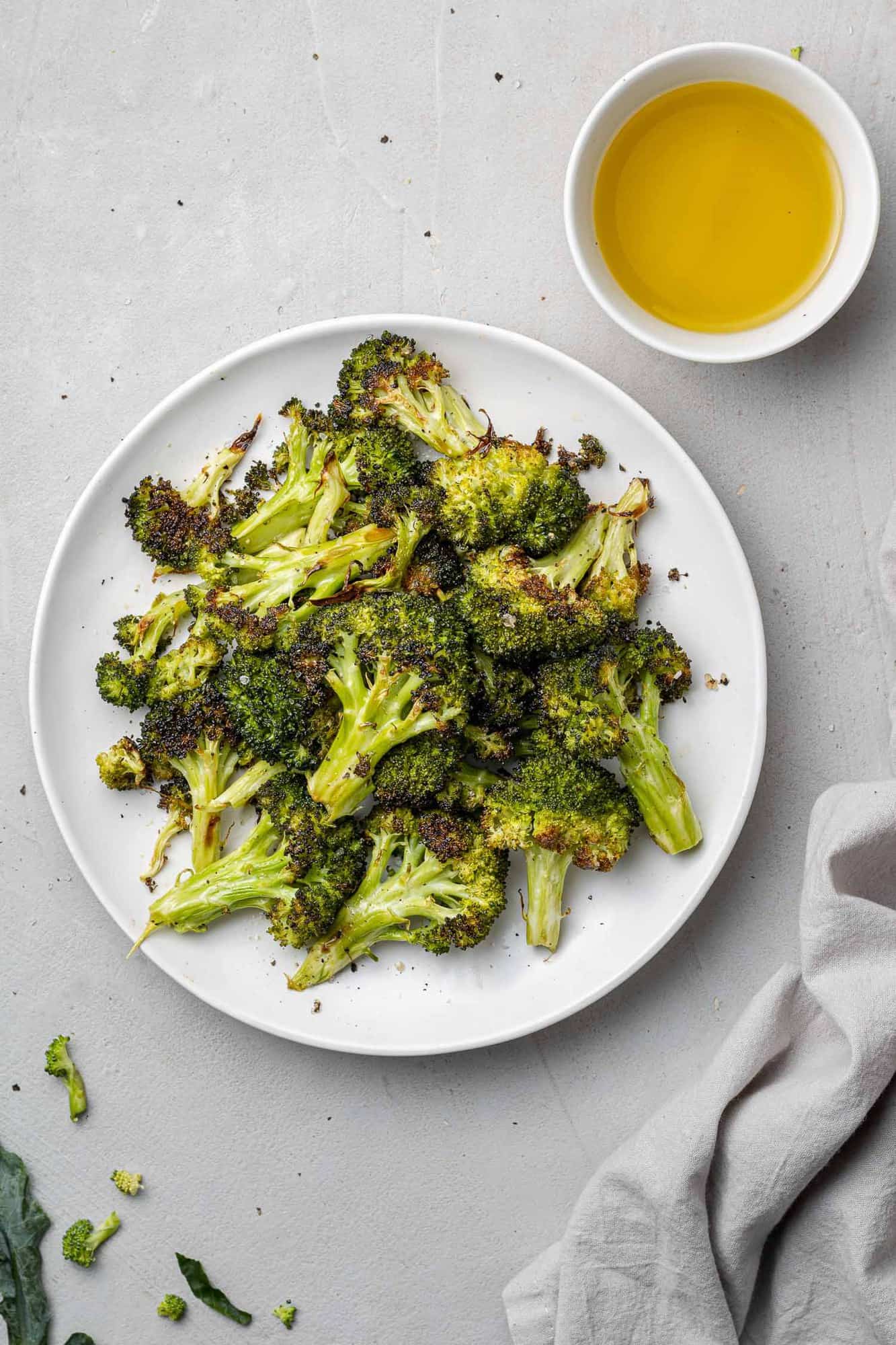 Make-Ahead Tips
Since there's very little prep involved with this recipe, there's really only one thing you can do to get a head start: prep the broccoli and that's probably the most time-consuming part. You can do that a couple days ahead of time and refrigerate it until you're ready.
Storage and Reheating Tips
Refrigerate: Did you make more broccoli than you needed for dinner? No problem, just wrap it and refrigerate it. It will keep for up to 4 days in the fridge.
Reheat: It's best to pop it back into the oven (or toaster oven) for a few minutes to crisp it back up. The air fryer also works great to reheat roasted vegetables.
more ways to use roasted broccoli
More Roasted Vegetables
Roasting is magic! I adore roasting vegetables so much that I compiled them all in one giant list – If you love them like I do, check out all the roasted vegetables on Rachel Cooks! Here's a few of my favorites:
Did you make this? Be sure to leave a review below and tag me @rachelcooksblog on Facebook, Instagram, or Pinterest!
Once you learn how to roast broccoli, you may never go back to any other method. Easy and by far the best broccoli you'll ever taste.
Ingredients
1

head

broccoli

(about 1/2 pound)

3

tablespoons

olive oil

coarse salt, to taste

(such as kosher salt)

coarsely ground black pepper, to taste
Instructions
Preheat oven to 425°F. Wash broccoli and dry very thoroughly. Don't skip drying — it's important. You can use a salad spinner if you have one, or just shake, shake, shake all the water out and then pat dry with a towel.

Cut into medium-sized spears and coat well with olive oil.

Spread onto rimmed baking sheet and sprinkle with salt and pepper.

Bake for 10 minutes, flip each piece over, and bake for 10 more minutes. Serve immediately.
Notes
To ensure crispness, make sure oven is preheated, broccoli is thoroughly dry, and there's plenty of space on the baking pan.
If you prefer, other types of oil may be substituted for olive oil. Avocado, grapeseed, or vegetable oil are good choices.
Garnish with a squeeze of lemon juice, lemon zest, or grated parmesan cheese, if desired.
Nutrition Information
Calories:
145
kcal
,
Carbohydrates:
10
g
,
Protein:
4
g
,
Fat:
11
g
,
Saturated Fat:
2
g
,
Polyunsaturated Fat:
1
g
,
Monounsaturated Fat:
8
g
,
Sodium:
50
mg
,
Potassium:
480
mg
,
Fiber:
4
g
,
Sugar:
3
g
,
Vitamin A:
947
IU
,
Vitamin C:
136
mg
,
Calcium:
72
mg
,
Iron:
1
mg
This website provides approximate nutrition information for convenience and as a courtesy only. Nutrition data is gathered primarily from the USDA Food Composition Database, whenever available, or otherwise other online calculators.