Healthy Chicken Nuggets with Parmesan
These healthy chicken nuggets with Parmesan are easy to make (baked, not fried!) and kids and adults will adore them. Say goodbye to the drive-thru! 
If you guys could describe Rachel Cooks in three words I hope you'd choose "THE BEST BLOG."
Ha, kidding. Well, I mean, if you wanted to say that, I wouldn't stop you or anything.
But in all seriousness, I hope words like these come to your mind:
balanced
easy
approachable
healthy
family-friendly
moderation
I try to keep all of those things in mind when I develop recipes to share with you. It's not difficult since it's the way we eat in our own home.
Further, when I come across a book that incorporates those ideas, I'm eager to share it with you. The more healthy, family-friendly recipes, the better, right? I loved the way Andie's book that I shared last week weaves in the principles of balanced eating and moderation. The book I'm sharing with you today is FULL of family-friendly recipes that won't break the calorie bank. They're super approachable recipes that anyone can handle, even if you're just starting off on your cooking journey. The book is Skinny Suppers by Brooke Griffin, creator of SkinnyMom.com. Brooke is a Christian, a mom, a powerhouse business woman, and on top of it all, she's totally gorgeous (my daughter saw her picture and asked if it was a picture of Barbie!). But even with all she has going for her, Brooke is down-to-earth, kind, and so supportive of other bloggers. Brooke's site, Skinny Mom is a phenomenal resource for not only skinny recipes but also fitness, health, and lifestyle inspiration. When she asked me to share her book, I didn't have to think twice about it.
PS: Watch the video on her about page and tell me you don't love her too.
The book is divided up into easy to navigate sections based on the type of recipe: Beef, Casserole, Poultry, Pasta, Pork, Seafood, Soups & Salads, Vegetarian, and Side Dishes. Each recipe has nutritional information provided. There are no strange ingredients – you'll find everything you need in a typical grocery store. These are perfect weeknight meals for any family. The recipe I chose to make and share are these healthy chicken nuggets – my daughter loves chicken nuggets but for some reason, I don't make them often. I make chicken tenders more often – like my pizza chicken tenders or my taco chicken tenders. Healthy chicken nuggets super easy to make and we all loved them. I would eat these any time – they are definitely not just for kids.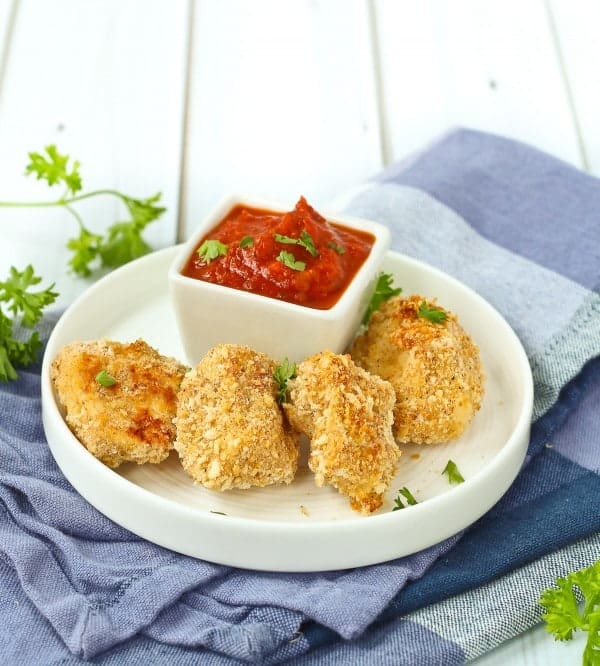 About this Healthy Chicken Nuggets Recipe
These are made using a basic breading technique that you're probably already familiar with. The chicken is first dipped in flour, then egg whites, and then a mixture of bread crumbs, Parmesan cheese, and seasonings. They are baked, not fried, and they don't take long to cook since they're cut into fun bite-sized pieces.
We dipped these in pizza sauce but you could also dip them in homemade ranch dressing. They'd be fantastic on top of a green leafy salad too.
Enjoy!
Healthy Chicken Nuggets with Parmesan
These healthy chicken nuggets with Parmesan are easy to make (baked, not fried!) and kids and adults will adore them. Say goodbye to the drive-thru!
Ingredients:
3 egg whites
1/4 cup white whole wheat flour
1/3 cup panko bread crumbs
1/3 cup plain bread crumbs
1/3 cup Parmesan cheese
1 teaspoon garlic powder
1 teaspoon black pepper
1 teaspoon salt
1 1/2 pounds boneless, skinless chicken breasts, cut into 1-inch cubes
2 tablespoons chopped fresh parsley
1/2 cup marinara sauce, for dipping (optional)
Directions:
Preheat the oven to 400 degrees Fahrenheit. Coat a baking sheet with cooking spray.
In a small shallow dish, lightly beat the egg whites. Place the flour in a separate small shallow dish. In a medium shallow dish, mix together the panko and plain bread crumbs, Parmesan, garlic powder, pepper, and salt.
Working in batches, dredge the chicken pieces in the flour, followed by the egg whites, and then the Parmesan mixture. Make sure to coat each chicken piece evenly.
Arrange the coated chicken pieces in a single layer on the baking sheet.
Bake until the chicken is cooked through, 15 to 18 minutes, turning the chicken at least once.
Serve garnished with the parsley. If desired, put out marinara sauce for dipping.
Recipe used with permission from Skinny Suppers by Brooke Griffin.
All images and text © .
Verdict: I loved these. We reheated leftovers in the toaster oven so they got nice and crispy again.
Husband's take: He was totally into these.
Changes I would make: None!
Difficulty: Easy

Disclosure: I was provided with a copy of the book from Brooke to review. All opinions are my own.