How to Roast Cauliflower – BEST cauliflower ever!
Roasting cauliflower is an easy, delicious and healthy way to enjoy the vegetable. Find out how to roast cauliflower using this easy recipe.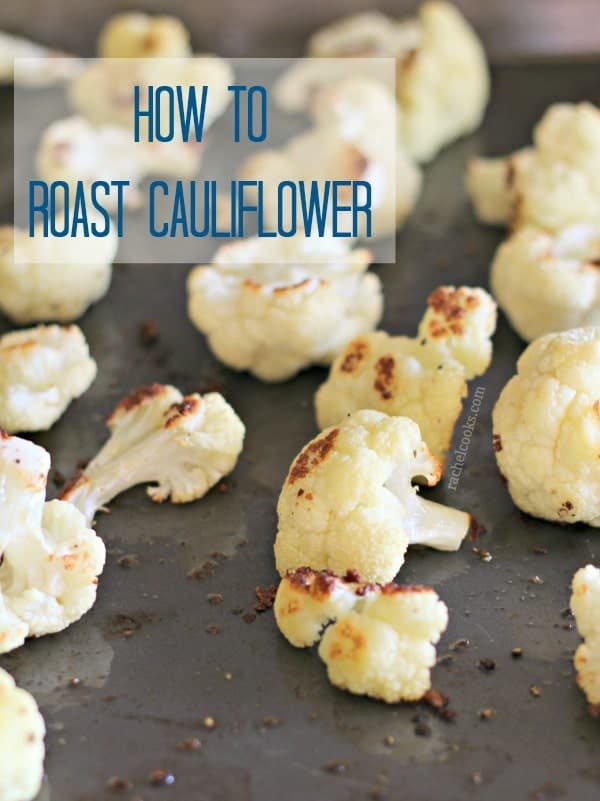 I took Wednesday off posting and now it seems like I haven't posted for 2 years. I was so, so, so tired that my body was telling me to go to sleep at 8:30. So I decided to listen (for once) and hit the hay instead of working.
And then I didn't fall asleep until 12:30.
Argh.
I hate it when that happens. So here I am, writing the post that I had planned for Wednesday. My son, who is now 10 months old (I KNOWWWW—HOW DID THAT HAPPEN?!?) likes to get up at 5AM every.single.day. Guess what? Today he slept until 7:45. I practically had a heart attack. I actually got some work done before he got up (not this post though, of course…). I enjoyed a cup of coffee before I nursed him. Everyone please say your prayers that it wasn't a fluke thing. This could be life changing. Maybe I'll even start working out again.
ha.
So yeah…ummm…about that whole not working out thing. Turns out you gotta eat pretty healthy food if you don't want to work out but don't want to get fat. I've been roasting vegetables like it is my job (wait…I guess it kind of is my job?) and we LOVE them this way. Cauliflower is no exception. Roasted broccoli is amazing, roasted carrots are amazing, mushrooms, squash, etc. You get the point. It brings so much flavor and texture out of the vegetable. It really is the best way to eat it. And it is unbelievably easy, which is always a bonus.
Once you learn the basics of how to roast cauliflower, you'll find yourself doing it constantly! Once you learn this method, make sure to try my parmesan roasted cauliflower, too.
Tip: The recipe is written for 425°F but if you need to roast it at a lower temperature like 400°F or even 350°F, you may do so. It won't cook as quickly and it may not get quiiiiiite as crispy, but it will work if you have something else in the oven that you need to cook at a specific temperature.
I've also used roasted cauliflower in other recipes, too. Even though the cauliflower is blended into other ingredients, roasting it first gives it amazing depth of flavor and adds another layer for you to enjoy. Everyone will want to know your secret and how to roast cauliflower! Try this cauliflower cheddar dip — it's a healthier alternative to heavy all-cheddar dips. Similarly, this roasted cauliflower and cheddar soup tastes unbelievably rich but it actually won't break your calorie count for the day.
How to Roast Cauliflower in 3 simple steps:
Wash cauliflower and cut into small florets. The smaller they are, the crispier they'll get and the quicker they'll cook.
Toss with olive oil, salt and pepper.
Spread on a baking sheet (give them as much space as possible!) and roast at 425°F until crispy and golden brown!
As always, keep reading for directions and a printable recipe!
PS: Can't get enough cauliflower? Try Whole Roasted Cauliflower (you will want to DRINK the sauce!) and my favorite burrito bowl topping, Roasted Cauliflower with Chili Powder.
More delicious combinations:
How to Roast Cauliflower
Roasting cauliflower is an easy, delicious and healthy way to enjoy the vegetable. Find out how to roast cauliflower using this easy recipe.
Ingredients:
1 large bunch of cauliflower (about 4 cups)
2 tablespoons olive oil
salt and pepper to taste
Directions:
Preheat oven 425°F.
Wash cauliflower and dry very thoroughly. (Don't skip drying — it's important. You can even use a salad spinner if you have one, or just shake, shake, shake all the water out and then pat dry with a towel.)
Cut into medium-sized spears and coat well with olive oil. Spread onto rimmed baking sheet and sprinkle with salt and pepper.
Bake for 10 minutes, flip each piece over, and bake for 10 more minutes.
Serve immediately.
Note: The more dry the cauliflower is, the better this recipe will turn out.
Nutrition Information
Yield: 4 side servings, Serving Size: 1/4 of recipe (about a cup)
Amount Per Serving:
Calories: 85 Calories
Total Fat: 7g
Saturated Fat: 1g
Sodium: 30mg
Carbohydrates: 5g
Fiber: 3g
Sugar: 2g
Protein: 2g
Actual nutrition may vary depending on how recipe is prepared.
All images and text ©
.
Verdict: The whole family is obsessed with roasted vegetables.
Husband's take: This is Ben's favorite way to eat cauliflower.
Changes I would make: None are necessary.
Difficulty: Easy.