15 Healthy Sheet Pan Meals
Turn on your oven, get out your sheet pan, and create satisfying and flavorful sheet pan meals. Your entire dinner roasted in one pan makes cleanup a breeze!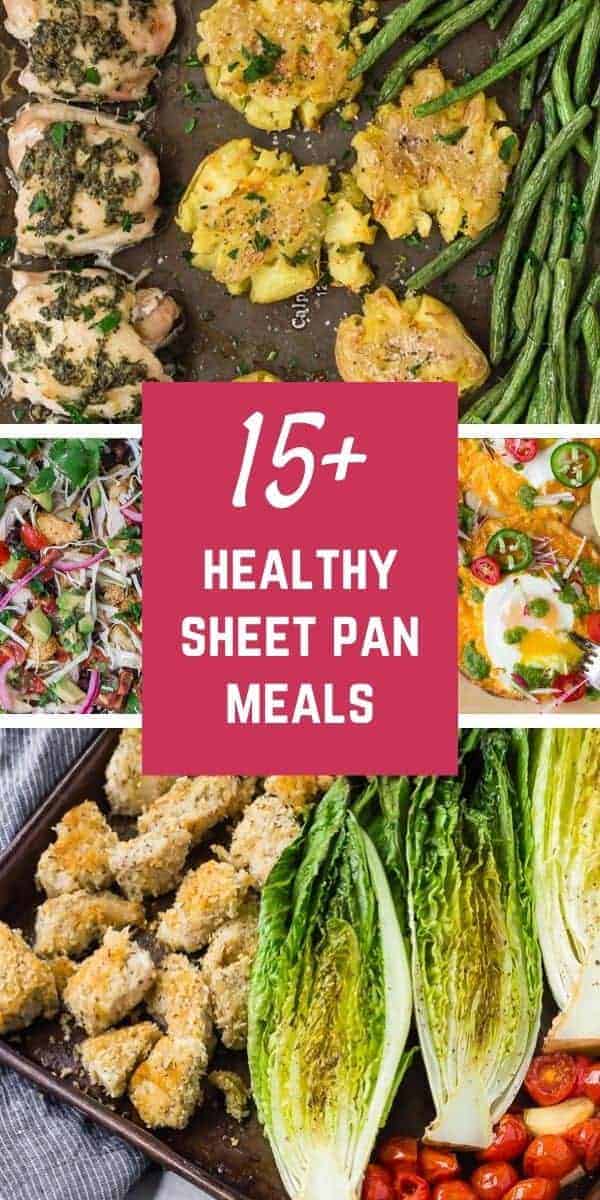 Sheet pan dinners are the perfect meal in my opinion. I have a love affair with roasted vegetables as anyone who knows me will attest to. I pretty much roast every vegetable you can think of because they're just so dang good when they spend time on a sheet pan in my oven. Sort of like a tanning booth for vegetables, right? All nice and toasty brown. We won't talk about the wrinkles.
I especially love roasted broccoli, sweet potatoes, crispy roasted potatoes, and cauliflower, but have you ever tried roasted radishes or whole carrots? Fantabulous!
So it only stands to reason that you would want to make an entire meal on your sheet pan by adding protein to the mix. Meat and vegetables are roasted together on the sheet pan making a delicious dinner, all on the same pan. The heavenly aroma wafting from the kitchen as dinner roasts in the oven will have everyone asking, what's for dinner? with anticipation in their voices.
Ready in under an hour, with lots of healthy vegetables. No messy stove to clean up and only one pan to wash. What's not to like about that?!
About these sheet pan meals
I've collected fifteen sheet pan meal recipes that I think you'll agree are out of the ballpark home run hits. You'll find recipes with chicken breasts or thighs, salmon, turkey sausage, even mini meatloaves. I've also included a couple of vegetarian sheet pan dinners that are simply scrumptious.
Do you like fajitas? Check out sheet pan fajitas: everything you need for delicious fajitas, bell peppers, onions, chicken, seasoned perfectly and baked on a sheet pan. It doesn't get much easier than that. If fajitas aren't your thing, try vegetarian cauliflower nachos (we love these!) or sheet pan tostadas with a perfectly cooked egg, all done in the oven.
Maybe you have guests coming over and you want to show off a little. Hasselback chicken stuffed with spinach, artichokes, and three kinds of cheese is bound to impress. Or maybe you'd prefer apple and Gouda stuffed chicken breasts with smoky roasted sweet potatoes. Oh, so yummy!
Salmon lovers, sheet pan dinners are for you! Roasting salmon is a fail proof method that you'll want to try for sure. Check out the recipe for walnut crusted salmon with sweet potatoes, Brussels sprouts, apple and shallots. Yup, all roasted in one sheet pan. You'll also love the salmon and asparagus sheet pan dinner with baby potatoes and lemon.
So why make a sheet pan meal? Let me recap: Roasting is a healthy way to cook, sheet pan meals include lots of vegetables, the recipes are easy, you won't make your stove top messy, you'll only have one pan to wash, and…sheet pan dinners taste fantastic! Why not try one tonight?
15 Healthy Sheet Pan Meals
Turn on your oven, get out your sheet pan, and create satisfying and flavorful sheet pan meals. Your entire dinner roasted in one pan makes cleanup a breeze!
Tender marinated chicken and flavorful crisp vegetables combined and roasted in the oven on a sheet pan. Serve honey balsamic chicken and vegetables over a bed of steaming rice for an easy and delicious entrée.
A warm romaine salad made all on one pan in less than 45 minutes start to finish! Bonus "chicken nuggets" if your kiddos love them!
This Whole30 Chicken Thighs sheet pan dinner is an entire flavorful, healthy, and easy to make meal on one single sheet pan! Whole30 or not, make it tonight!
Piled with crisp cabbage, melted cheese, shredded chicken, black beans, diced avocado, and tomatoes, roasted cauliflower nachos have the best of everything!
This Sausage Sheet Pan Dinner with Cabbage and Carrots is an easy and delicious meal, made on one pan in about 45 minutes. You're going to love it for busy weeknights!
This Mini Turkey Meatloaf sheet pan dinner are for those meat and potato lovers out there! This is a complete meal, all on one sheet pan! You're going to love this for an easy weeknight meal!
Sheet pan fajitas are great for busy weeknights and also great for bigger crowds! You'll love this easy, hands-off approach to fajitas! This recipe is for chicken fajitas but you'll also find tips for steak, vegetarian, and shrimp fajitas!
This Walnut Crusted Salmon Sheet Pan Dinner is going to be your next dinner home run. It's full of fall flavors and super easy for a busy weeknight -- it will be your new go-to dinner!
A Southwestern take on eggs and toast, these sheet pan breakfast tostadas are a step away from ordinary, with crunchy corn tortillas, sharp cheddar cheese, eggs, and brilliant salsa verde.
This Hasselback Chicken with Spinach and Artichoke might be your new favorite way to prepare chicken. Rounded out with a few vegetables, this is a perfect weeknight meal!
This salmon and asparagus sheet pan dinner is the easiest dinner thanks to a delicious shortcut! If you're intimidated by cooking fish, you can handle this!
Dinner on one pan — this sheet pan baked chicken parmesan is not only healthier than the original, it's also easier! It's going to become a dinnertime favorite.
Roasted Italian sausage with Vidalia onions and vegetables – this will become a go-to easy meal for you – it is for us!
Crispy chicken thighs baked with Dijon and dill are great on their own, but with the addition of roasted green beans and radishes, you have a perfect springtime sheet pan dinner.
Creamy Gouda cheese and sweet apples make these stuffed chicken breasts a winner! Pair with smoky roasted sweet potatoes for a sheet pan supper that will make everyone happy.