Herbes de Provence Recipe
Use this Herbes de Provence recipe to make this fragrant herb mixture at home – it's easy and you'll know you're using quality ingredients!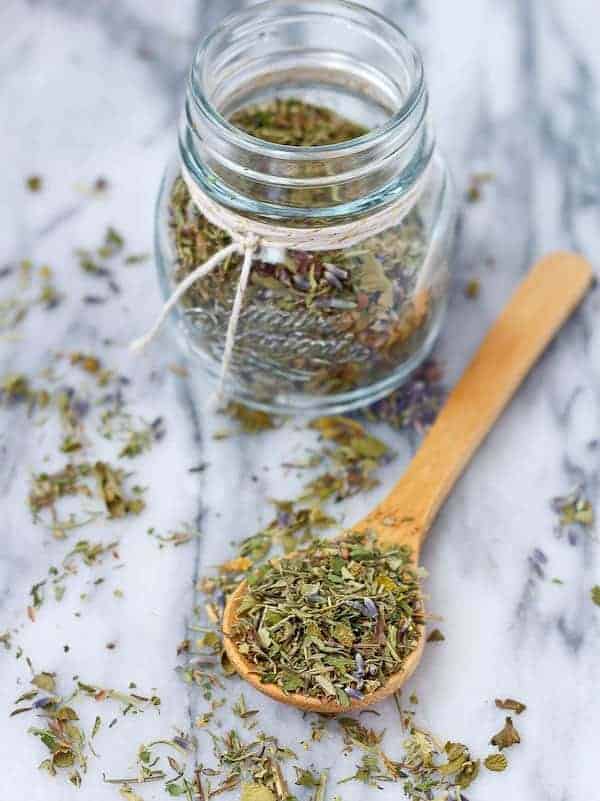 As you all hurry to plan your Thanksgiving feasts, I have a quick and easy recipe for you. I'm excited to share this one for a few reasons:
It would be perfect rubbed onto a certain type of poultry who says "gobble gobble" and whose name starts with a "T."
It would be great for gifting — time to start thinking about holiday gifts!
It would be delicious on a big ol' beef roast — ideal for a Christmas dinner.
It's a good way to get tons of herby flavor into your food even though your beautiful herb garden is covered in white fluffy junk.
When I was in high school we traveled to France and stayed with a family there. It came out out of us having an exchange student, and the relationship with her family grew until we were all good friends. So we had the privilege of staying with them for a few weeks as we traveled around France with the best tour guides possible, the French people.  Anyways, it probably goes without saying that the food was great. My mom and I have different memories of this, but I remember them sprinkling Herbes de Provence over fresh salads. Regardless of if they did it or not, it would be another great use for this DIY herb mixture.
I teamed up with SpiceJungle* to bring you this recipe. SpiceJungle is Beanilla's new venture into spices, teas, salts, chiles, mushrooms and more (over 400 products!). Beanilla is located in my hometown and they are my go-to for all things vanilla so I'm very excited about this new online store.
The wonderfully fun descriptions of each of their products make browsing their website truly enjoyable. (They were written by Garrett McCord of Vanilla Garlic.)
For example, the following is their description of Herbes de Provence:
"A charming herb that smells of deep and ancient forests and fields where fantastic experiences are waiting. (We hope these experiences are unicorns. That would be awesome.) Enchanting to smell and bewildering in taste, this classic herb blend is a must for the Francophile kitchen." 
I did a fair amount of Herbes de Provence recipe research, and what I found is that every recipe is different. Some include lavender, some do not. Some include fennel, but fennel seeds aren't my favorite.
In my recipe, I used:
This really couldn't be easier to throw together. I didn't even dirty a spoon…all I did was put all the ingredients in a jar and then gave it a little shake. You can use it as is, or you could use grind it up in a spice grinder. Or you could wrap it up in cheesecloth to infuse the flavor into a soup. Endless possibilities!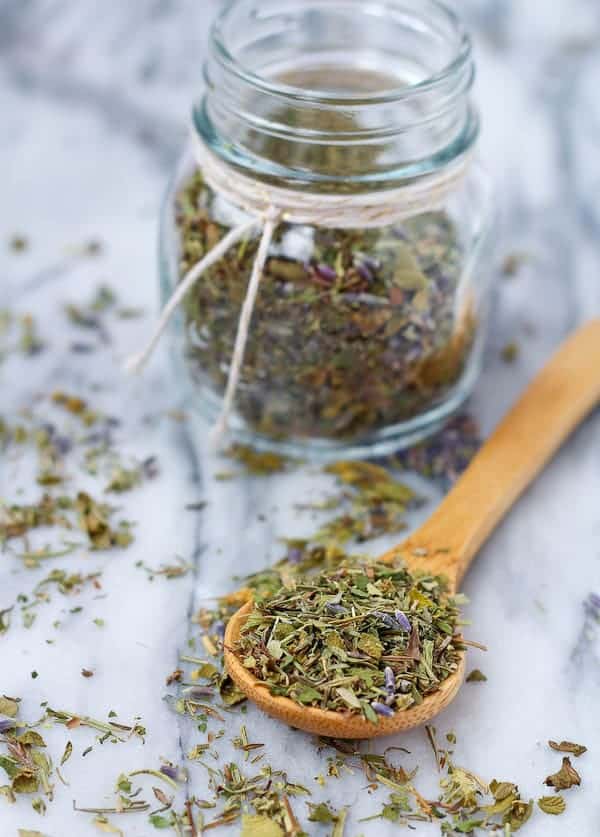 PS: If you're not feeling up for all this mixing, SpiceJungle also sells Herbes de Provence ready to go. Their version has fennel.
Herbes de Provence Recipe
Use this Herbes de Provence recipe to make this fragrant herb mixture at home – it's easy and you'll know you're using quality ingredients!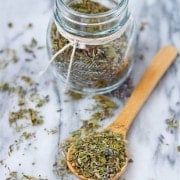 Ingredients:
3 tablespoons dried thyme

2 tablespoons dried savory
2 tablespoons dried oregano
1 tablespoon dried rosemary
1 tablespoon dried marjoram
2 tablespoons dried parsley
1 tablespoon dried lavender flowers (optional)
Directions:
Mix all ingredients together and store in an airtight container.
Optional: Blend in a spice grinder or using a mortar and pestle if you prefer the herbs to be a finer texture.
All images and text ©
.
 Looking for more DIY spice mixtures? Check out my taco seasoning, large batch taco seasoning, pumpkin pie spice, and beef stew seasoning!
*Disclosure: This post was written on behalf of SpiceJungle. I was compensated for my time but all opinions are my own, as always. Thanks for supporting my blog by reading about brands I love.