Herbes de Provence Recipe
A fragrant blend of herbs commonly found in France, herbes de Provence is easy to make and will add tantalizing herbal flavor to your cooking.
Recipe Overview
Why you'll love it: This homemade blend is easy to make and it's like a taste of summer.
How long it takes: 5 minutes
Equipment you'll need: small jar
Servings: ¾ cup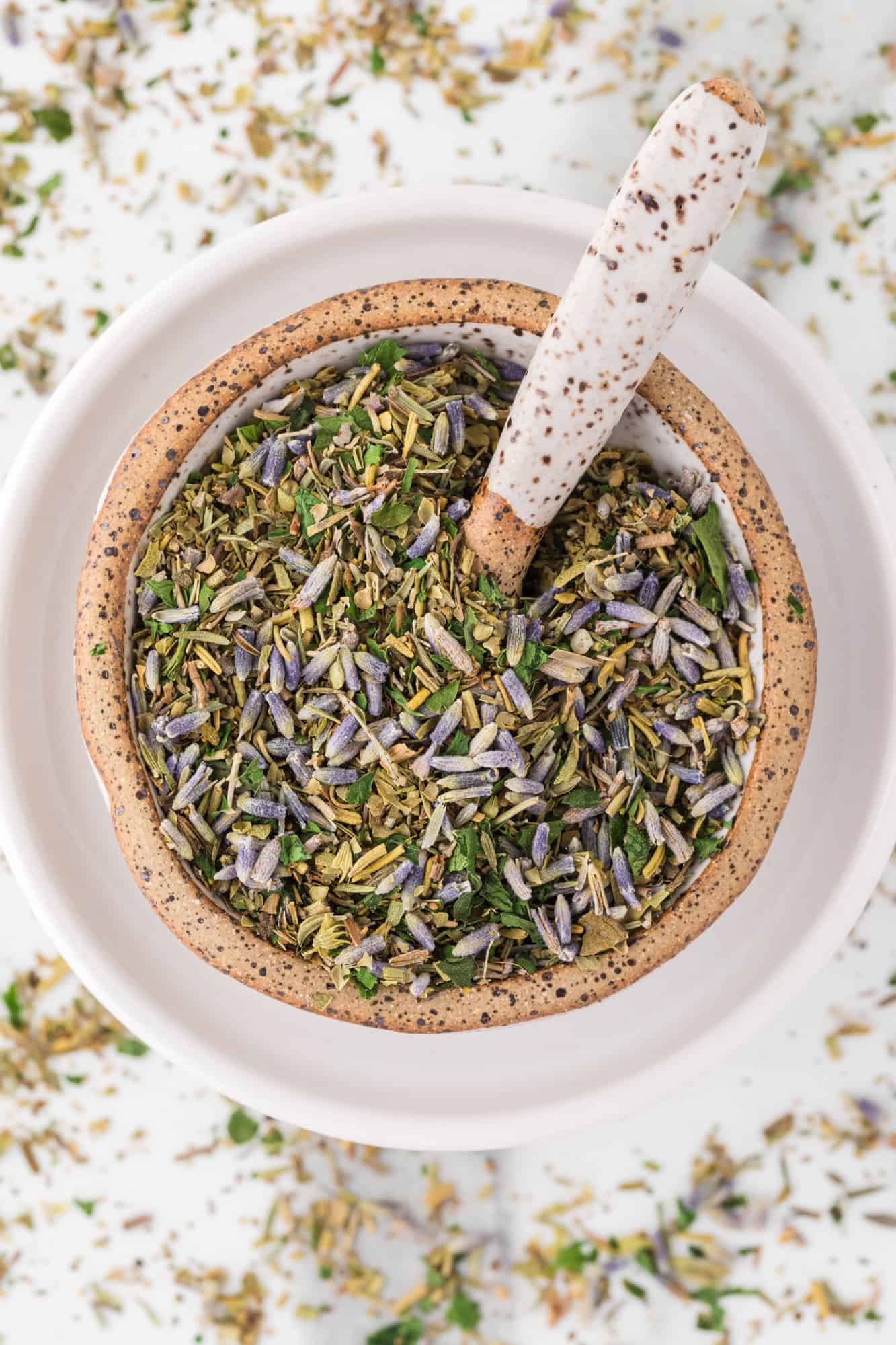 What is herbes de Provence? Although it may sound a little fancy, it's simply a blend of aromatic cooking herbs that are commonly found in the southern part of France, specifically the Provence area. Many of the herbs included are woody varieties, which fare well in sunny dry climates.
If you're a gardener, you may grow the same herbs right in your backyard. But for those of us who live in colder climes, dried herbs are the best way to add sunny flavors which remind us of warmer days to come. When your beautiful herb garden is covered in white fluffy stuff, you can enjoy herbes de Provence all year round.
When I was in high school, my family traveled to France and stayed with friends there. This visit was the result of our family hosting an exchange student for a few summers. The relationship with her family grew until we were all good friends. We had the wonderful privilege of staying with them for a few weeks as we traveled around France with the best tour guides possible, our French friends.
It goes without saying that the food was truly amazing. My mom and I have different memories of this, but I remember them sprinkling herbes de Provence over fresh salads. She recalls gathering fresh herbs from their garden. Regardless of whether the herbs were fresh or dried, those simple salads were just outstanding with the herbs and a good olive oil vinaigrette.
About Herbes de Provence
I did a fair amount of research for this herbes de Provence recipe, and what I found is that every recipe is different. Some include lavender, some do not. It seems that lavender is more commonly included in North American blends.
Some recipes include fennel, but fennel seeds aren't my favorite. When you make your own blend, you have the freedom to pick and choose what you like, so I left the fennel seeds out.
If you choose to switch up the ingredients in your blend, let me know in the comments what you put in your herbes de Provence mixture. I'd love to hear!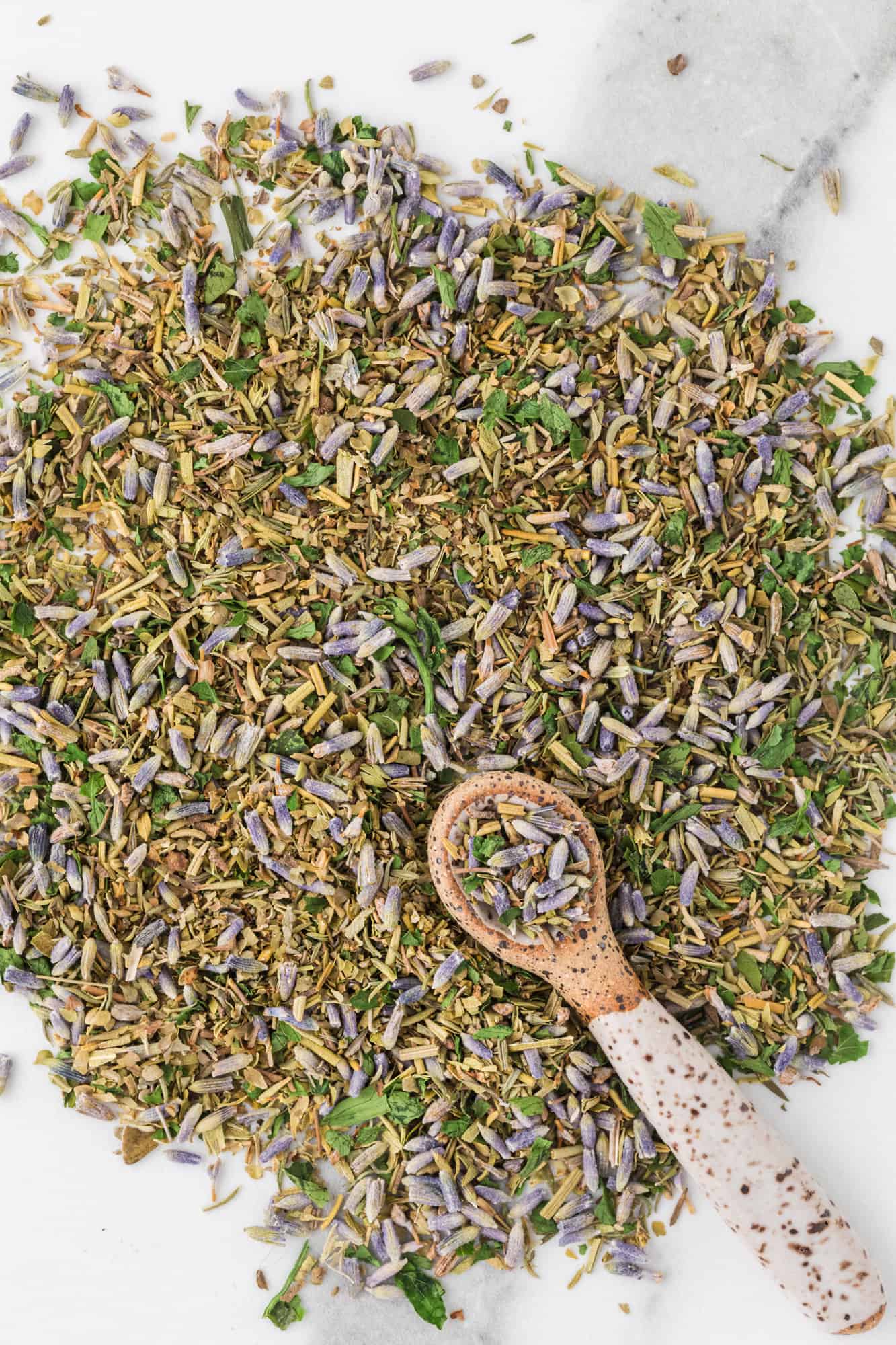 What You'll Need
You'll need a selection of dried herbs. The fresher the product, the better your blend will be. In other words, if you use dried herbs that have been on your shelf since you got them for a wedding gift ten years ago, your herbes de Provence just won't be as great as it could be.
Thyme
Savory
Oregano
Rosemary
Marjoram
Parsley
Lavender Flowers, optional: Be sure to buy food grade dried lavender. Some dried lavender products are for decorative purposes only (candles, potpourri, etc.) and may contain pesticides.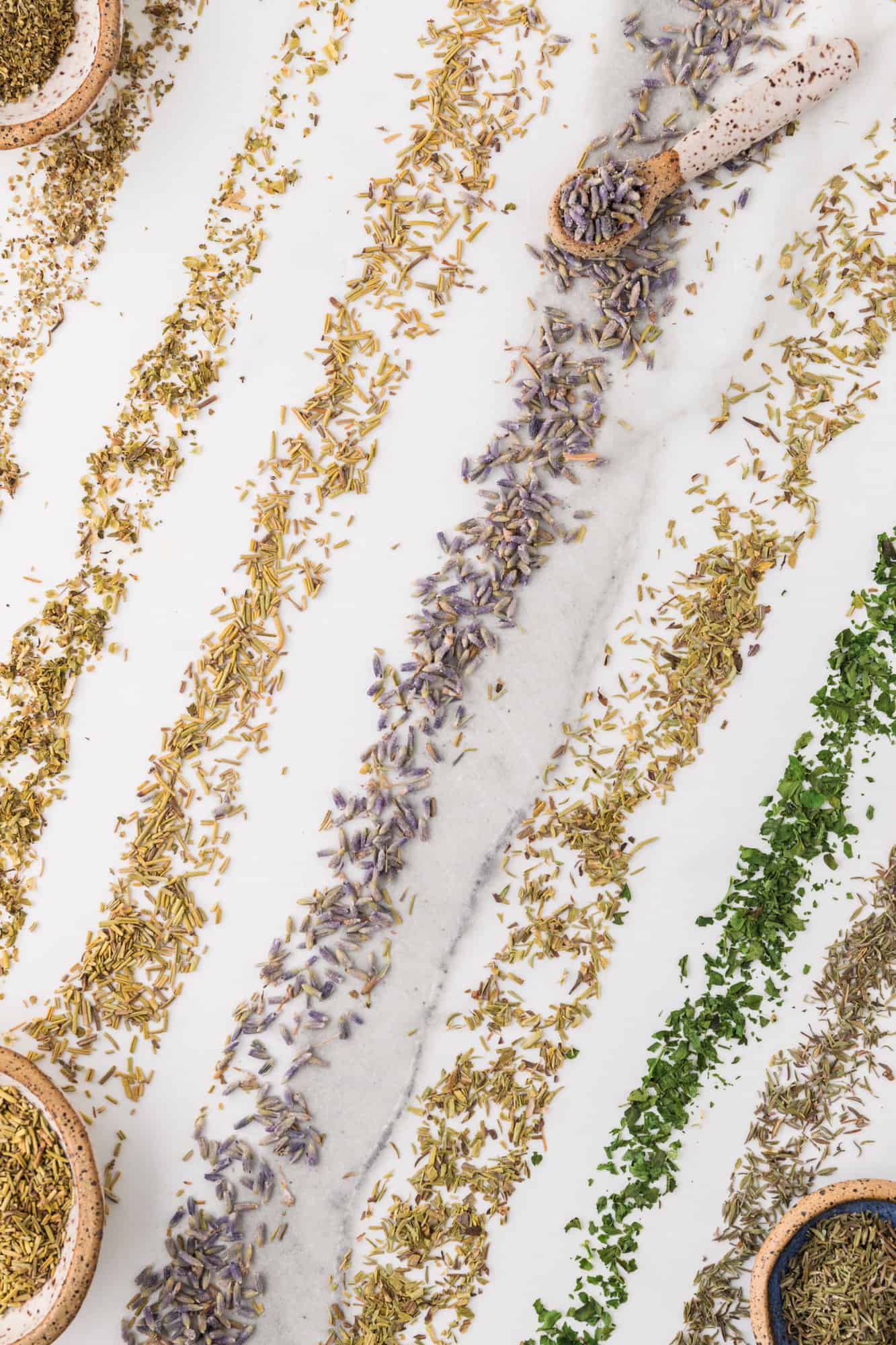 How To Make It
This Herbes de Provence recipe really couldn't be easier to throw together. Simply put the herbs into a jar and give it a little shake.
If you would like the herbs to be more finely ground, grind them coarsely in a spice grinder, or use a mortar and pestle.
For soups and stews, make a bouquet garni, if you like. Tie the desired amount of herbs in cheesecloth. After the flavor is infused into the soup, fish the bag out and discard it. Endless possibilities!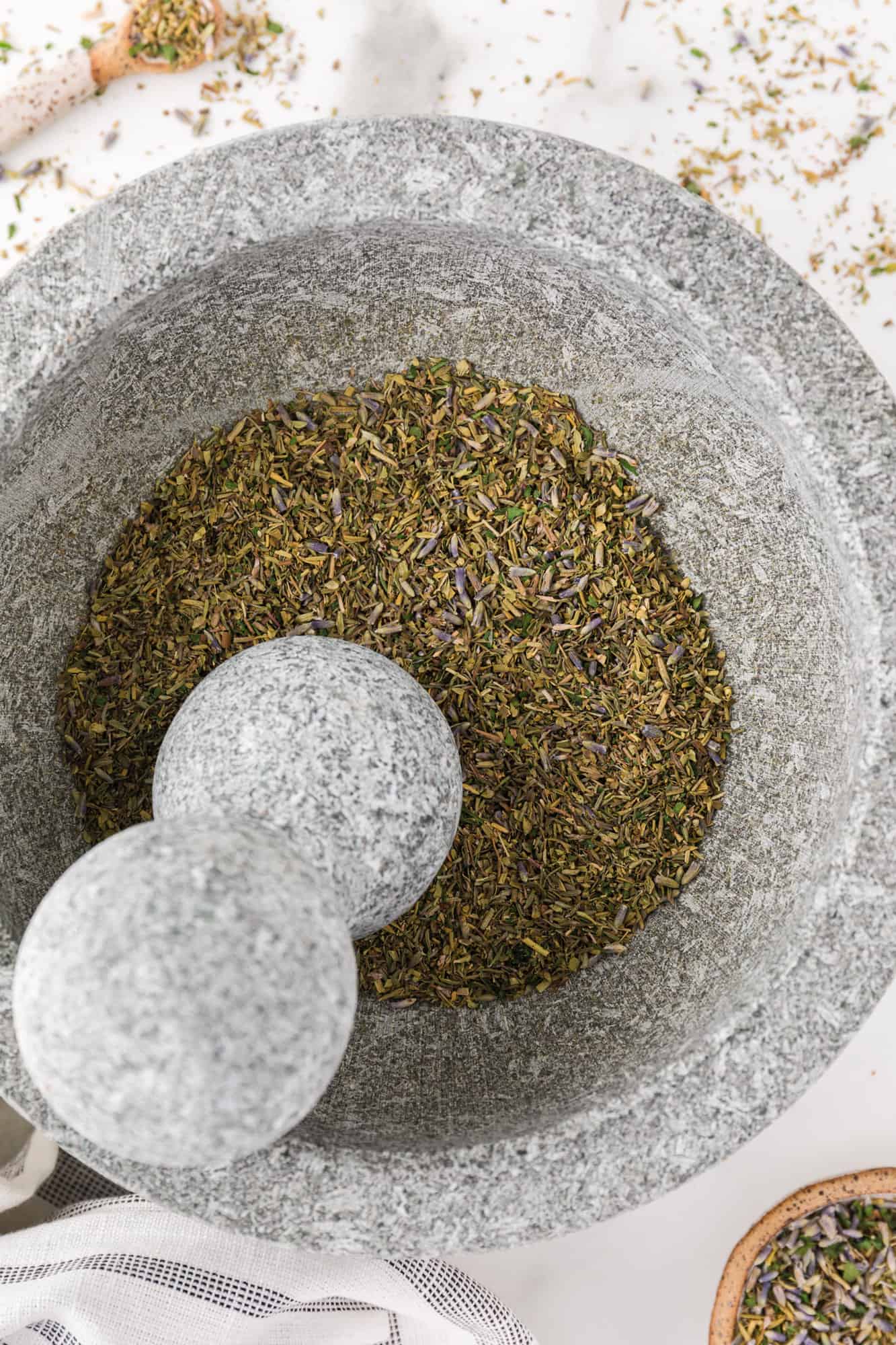 FAQs
Is herbes de Provence the same as Italian seasoning?
Herbes de Provence is not the same as Italian seasoning. If you're considering whether to use herbes de Provence vs. Italian seasoning, keep in mind that although they share many of the same herbs, herbs de Provence typically has a more floral aroma, due to the inclusion of lavender. Italian seasoning usually includes basil which you normally don't find in herbes de Provence.
Interestingly, you probably wouldn't use Italian seasoning if you lived in Italy. It's an American creation, a convenience when making Italian-style recipes. And although the herbs in herbes de Provence have been used in French cooking for centuries, the actual blend wasn't recorded until the 1970s and is mostly produced in other countries.

How To Use This Herb Blend
There are so many uses for this aromatic blend. Here's a few ideas:
Add it to chicken recipes, like these easy roasted bone-in chicken breasts or a whole roasted chicken. Or rub onto a certain type of poultry who says "gobble gobble" and whose name starts with a "T." Try my herb roasted turkey breast.
Herbes de Provence is delicious on a big ol' beef roast.
Try it on grilled foods.
Add it to stews and soups.
Sprinkle it on vegetables before roasting. It's especially good on roasted potatoes.
Add it to simple homemade vinaigrettes, like this white wine vinaigrette, or simply sprinkle the herbs on a fresh salad to enliven it.
Homemade herb and spice mixes are great for gifting. Put them in a pretty jar with a ribbon. Add a couple of your favorite recipe ideas, too.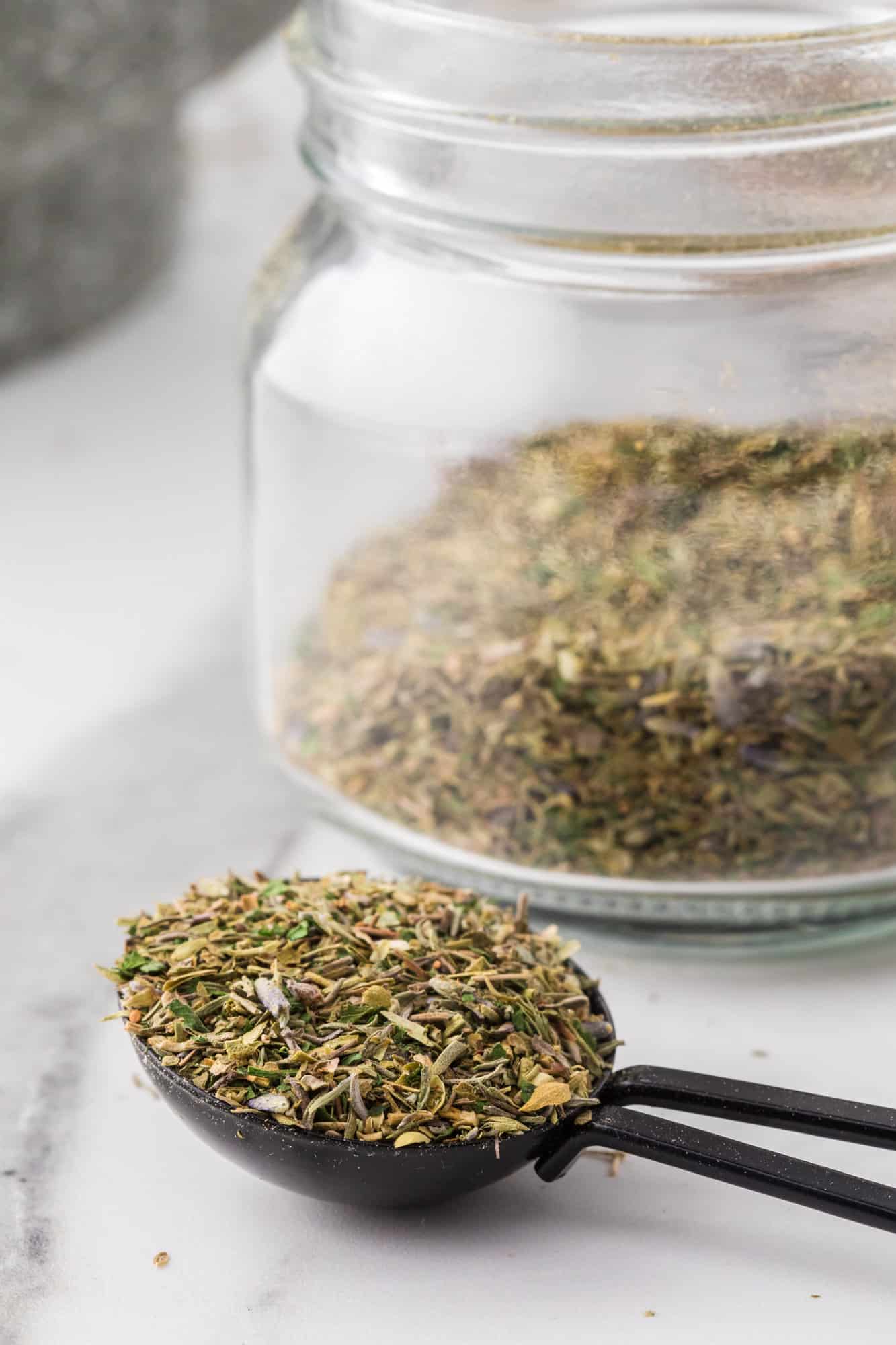 make It Your Own
Because herbes de Provence is simply a combination of dried herbs, it's easy to make it your own. Substitute different dried herbs if you wish, or leave one out if you don't care for it.
Storage Tips
Store herbes de Provence in a tightly covered container. A small recycled jar works perfectly. Make sure it is clean and completely dry.
Store dried herbs in a cool dark location. A pantry or cupboard is a good choice as long as it isn't right next to your stove. Dried herbs will keep for at least six months. Herbs won't go bad but they begin to lose their flavor as time goes on.
Did you make this? Be sure to leave a review below and tag me @rachelcooksblog on Facebook, Instagram, or Pinterest!
A fragrant blend of herbs commonly found in France, herbes de Provence is easy to make and will add tantalizing herbal flavor to your cooking.
Instructions
Mix all ingredients together and store in an airtight container (see note).

Optional: Blend in a spice grinder or using a mortar and pestle if you prefer the herbs to be a finer texture.
Notes
Be sure to choose food-grade lavender; some lavender products are for decorative purposes only.
Store in a tightly covered jar or container. Recycled containers are great, as long as they are spotlessly clean and dry. You'll need a container that holds at least ¾ cup.
Dried herbs will keep for at least 6 months stored in a cool dark place such as a pantry or cupboard. Do not store in direct sunlight or next to your stove.
Nutrition Information
Serving:
1
teaspoon
,
Calories:
3
kcal
,
Carbohydrates:
1
g
,
Protein:
0.1
g
,
Fat:
0.1
g
,
Saturated Fat:
0.03
g
,
Polyunsaturated Fat:
0.02
g
,
Monounsaturated Fat:
0.01
g
,
Sodium:
1
mg
,
Potassium:
13
mg
,
Fiber:
0.4
g
,
Sugar:
0.03
g
,
Vitamin A:
34
IU
,
Vitamin C:
0.5
mg
,
Calcium:
18
mg
,
Iron:
1
mg
This website provides approximate nutrition information for convenience and as a courtesy only. Nutrition data is gathered primarily from the USDA Food Composition Database, whenever available, or otherwise other online calculators.