Butternut Squash Mash with Smoked Paprika
Smoked paprika makes this butternut squash mash recipe a real stand-out. Perfect for your Thanksgiving table or as a healthy side dish any day of the week.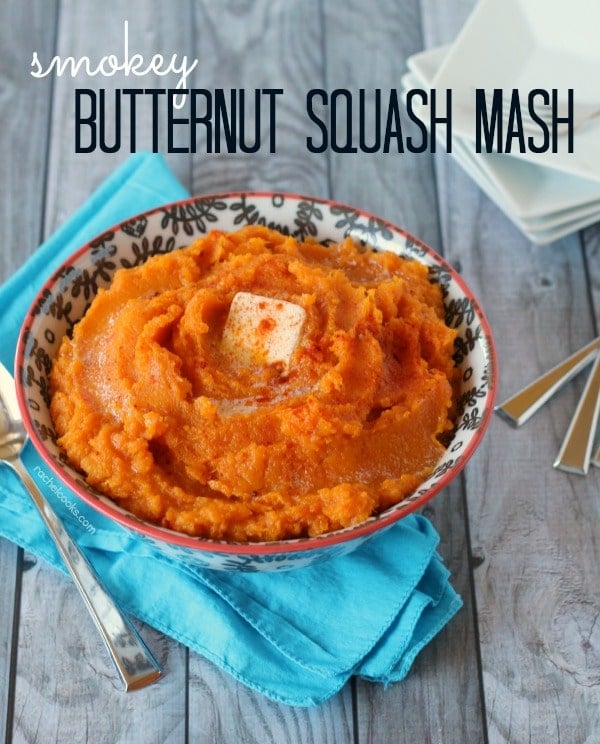 I've always loved butternut squash. Despite my disdain for peeling it, it remains one of my favorite vegetables. And once my mom told me "your vegetable peeler is horrible," and bought me a new one, the task of peeling the squash suddenly became a lot less tedious. Go figure! It's funny when you're used to something being so crappy that when you move to something that is functional it is like a miracle. A dream come true. A life saver!
Yes, I am this excited about a vegetable peeler.
How beautiful would that butternut squash look on your Thanksgiving table? I can't get over how gorgeous it is.  I added a nice little chunk o'butter but you could easily make this as healthy as you want. The butternut squash is naturally very creamy. You could even make this a vegan side dish by omitting the butter and using vegetable broth instead of milk.
Me, I'll stick with butter.
But even without butter, you still get tons of great flavor from the smoked paprika. You could even add a little more. Sometimes I'm a little iffy on smoked paprika so I always play it on the conservative side. You can always add more to taste, but you can't remove it once it is in there!
But you could add more butter. So there's that.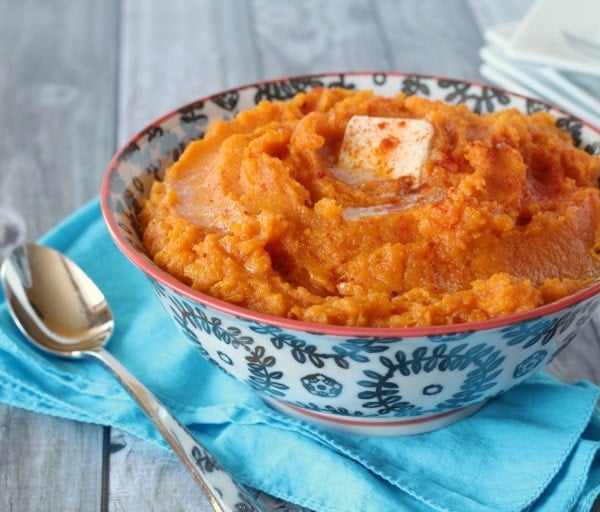 Butternut Squash Mash with Smoked Paprika
Smoked paprika adds something special to this butternut squash recipe. Makes a healthy side dish for Thanksgiving or any day
Ingredients:
1 large butternut squash, halved lengthwise and seeded
1 tablespoon extra virgin olive oil
1 teaspoon smoked paprika
1/8 teaspoon cayenne pepper
salt to taste
1/2 cup milk
2 tablespoons melted butter
Directions:
Preheat oven to 350 degrees Fahrenheit. Line a baking sheet with foil. Rub squash halves with oil and sprinkle with spices and salt. Place flesh side down on the baking sheet. Roast for 45 minutes to one hour or until tender.
Once cool enough to handle, scoop out flesh and put in a large bowl. Add butter and milk and use a potato masher to mash the squash until you achieve your desired consistency.
You may use a hand mixer or an immersion blender if you prefer a smoother mash. I like a little texture in mine.
All images and text ©
.
Verdict: E and I loved this butternut squash mash. Ben wasn't wild about it. He ate it but prefers it with brown sugar and cinnamon. Can't say I blame him – brown sugar and cinnamon are always a good decision.
Changes I would make: None.
Difficulty: Easy.
Craving more butternut squash? Try my Quinoa, Bacon and Kale Stuffed Butternut Squash, Moroccan Slow Cooker Chicken, my Spicy Sweet Roasted Butternut Squash or this great soup!
Updated: I shared a recipe explaining how to make butternut squash in the slow cooker which would eliminate the need to even use a peeler!
Disclosure: This post contains an affiliate link.