You'll love the creamy red curry sauce in this butternut squash curry! Spoon it over fragrant jasmine rice for a satisfying meatless meal.
Recipe Overview
Why you'll love it: This healthy curry is packed with vegetables and tastes every bit as good as restaurant entrées.
How long it takes: 45 minutes
Equipment you'll need: large covered pan such as a Dutch oven
Servings: 4 generous servings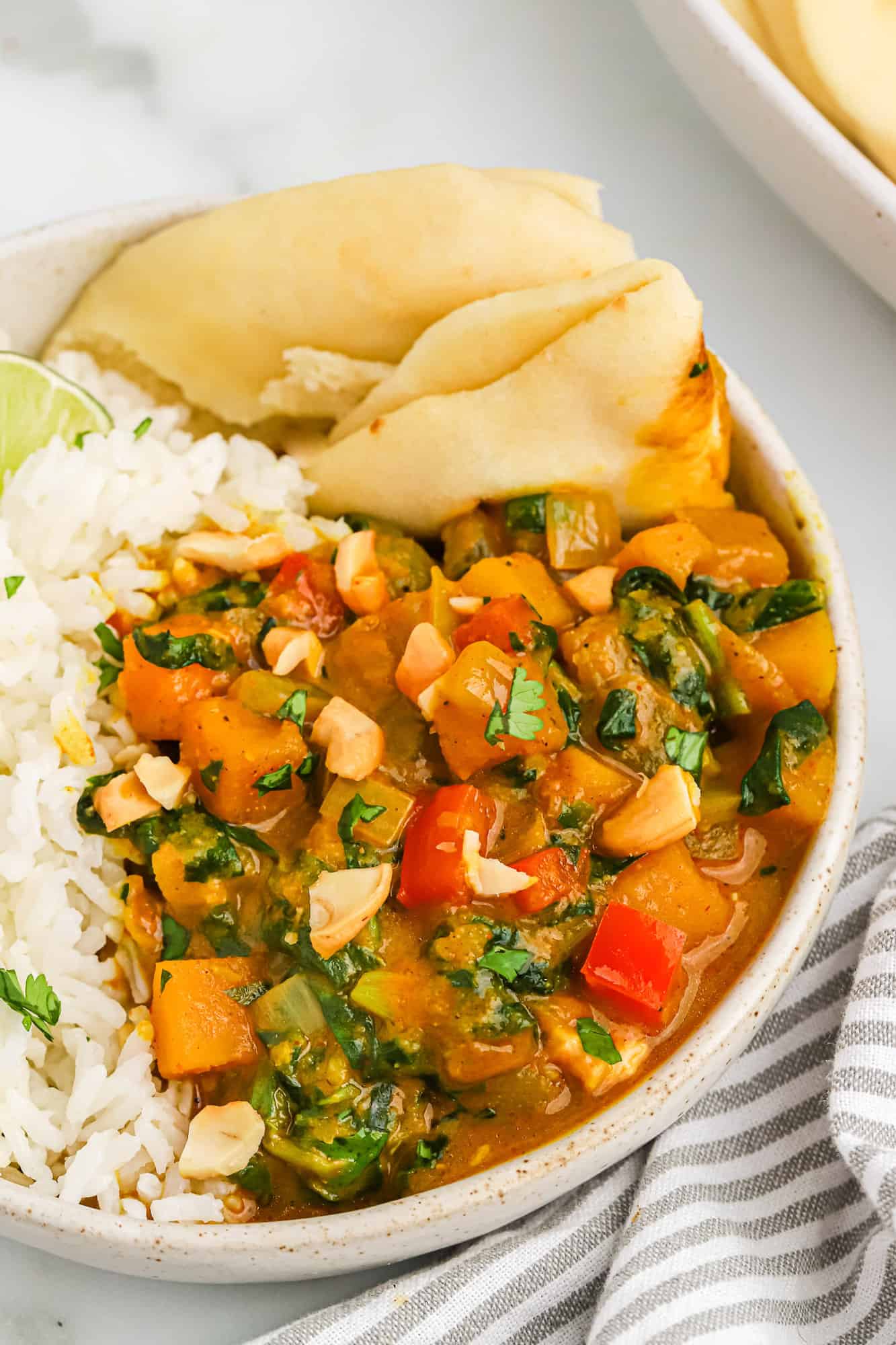 Are you like me and buy way too many butternut squash in the fall? I always get carried away by the abundance of squash at the farm market, dreaming of how delicious they are and how many ways I'll enjoy them: squash soup, roasted squash, stuffed squash, and the list goes on.
I just counted. You'll actually find 14 butternut squash recipes on my site which gives you an idea of how much we love it, and the list continues to grow. When I found that I still had a couple of these hardy winter squash stored in our garage, my brain started ticking. Why not a vegetable curry featuring lovely butternut squash?
About This Butternut Squash Curry
Butternut squash is so versatile. Its bright orange flesh is creamy and sweet. It matches perfectly with a spicy coconut red curry sauce. With a generous amount of fresh ginger and garlic, and a big handful of spinach, this recipe really kicks it.
Butternut squash is so good for you! It's packed with vitamin A, fiber, and all kinds of antioxidants. Winter squash is a good source of minerals, too, including calcium and iron (Healthline). Why not ward off those winter bugs with a meal that boosts your immune system and tastes absolutely delicious as well?
Squash curry is spicy and delicious. Eating well doesn't have to be bland or boring at all. This vegetable curry will have your taste buds a-zinging!
It's not a complicated recipe. Although it takes a bit of chopping and measuring, this recipe is fairly easy. You can have it on the table in about 45 minutes and that includes fifteen minutes of simmering time (which is down time for you).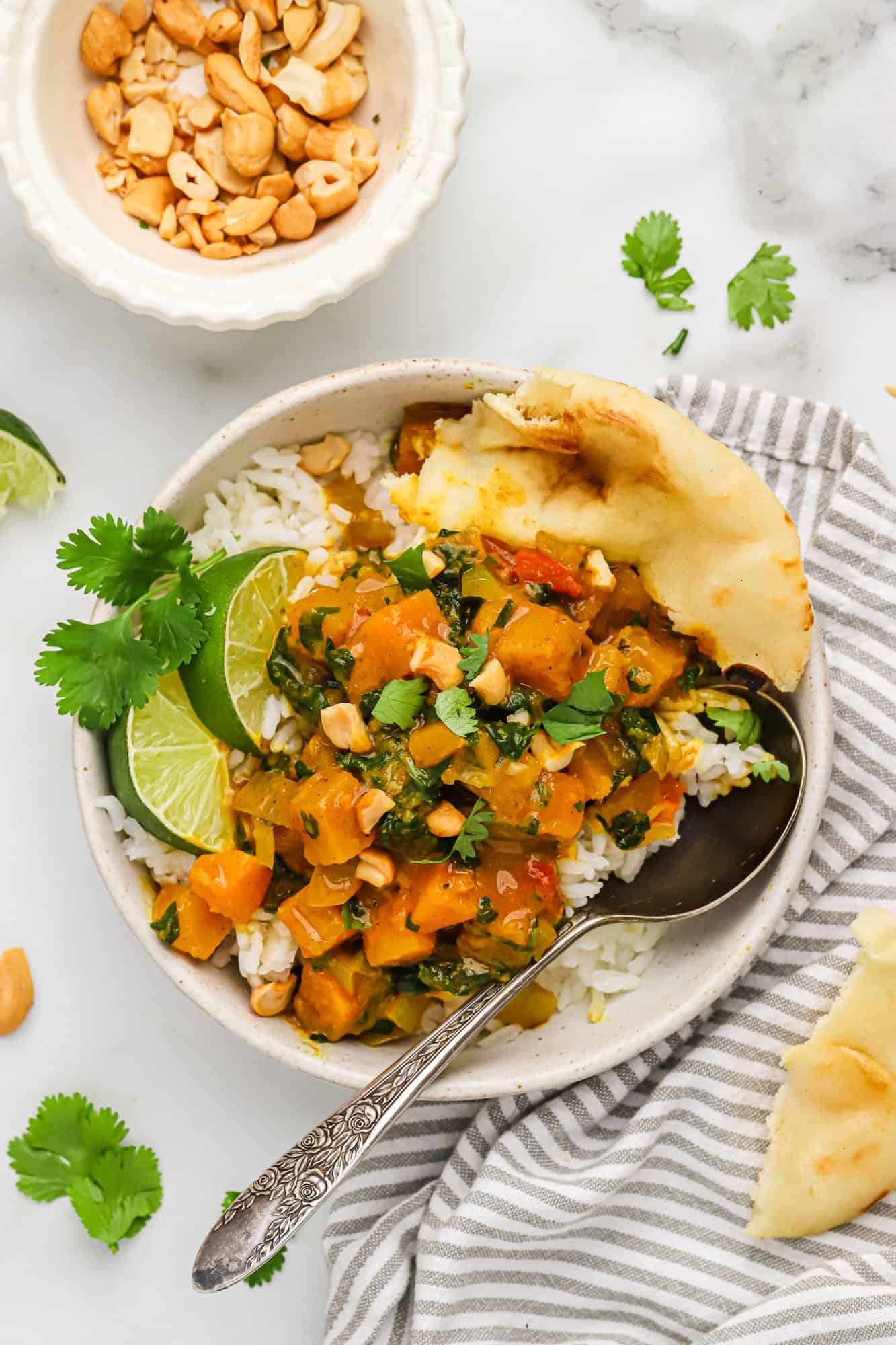 I'll give you an overview of the recipe here to get you started. Look for complete instructions, measurements, and nutrition information on the recipe card below.
Tomato Paste Tip
Often recipes call for a small amount of tomato paste and you're left with a partial can. In order not to waste the extra tomato paste, freeze the remainder. I like to freeze it in 2-tablespoon amounts, either in an ice cube or silicone tray, or in snack-sized resealable bags. It thaws quickly and is so handy to use for future recipes.
What You'll Need
Butternut Squash: A hard-skinned winter squash, butternut squash is tan and bell-shaped. Look for a squash that weighs about 2 pounds.
Onion, Red Bell Pepper, Garlic: This savory trio flavors the curry and adds nutrition, too. Any large onion is fine. You could substitute a green, yellow, or orange bell pepper, too. The recipe calls for 6 cloves of garlic.
Fresh Ginger Root: Usually found in the produce section of the grocery store, ginger root is light brown, with thick smooth-skinned gnarled roots. Peel it using a sharp paring knife, the edge of a spoon, or a vegetable peeler.
Garam Masala, Coriander, Turmeric, Paprika, Red Pepper Flakes: These are common spices found in a curry. They are warm, flavorful, and brightly hued. Garam masala is a blend of spices often used in Indian cooking.
Salt & Pepper
Tomato Paste: A couple tablespoons of this richly concentrated tomato adds umami to the curry. I usually buy no-salt-added tomato paste.
Vegetable Broth: Look for low-sodium broth. Chicken broth can be substituted if you're not cooking vegetarian or vegan.
Coconut Milk: The curry is simmered in a fragrant sauce with coconut milk. It's creamy and slightly sweet. Look for shelf-stable canned coconut milk, either regular or light.
Baby Spinach: The tender leaves cook very quickly, so the spinach is stirred in right before serving.
Fresh Cilantro: A handful of fresh herbs stirred in before serving just perks up any dish. You may be more accustomed to using cilantro in Mexican cooking but it's used widely in Indian curries, too. It may be called coriander leaves.
Fresh Lime Juice: Along with the cilantro, a squeeze of lime juice keeps the curry from being too heavy and rich-tasting.
Rice, for serving: The curry is served on cooked rice. Choose from long grain white rice, jasmine or basmati. Brown rice is more nutritious; cauliflower rice is low carb. The curry can also be served on cooked quinoa for added protein.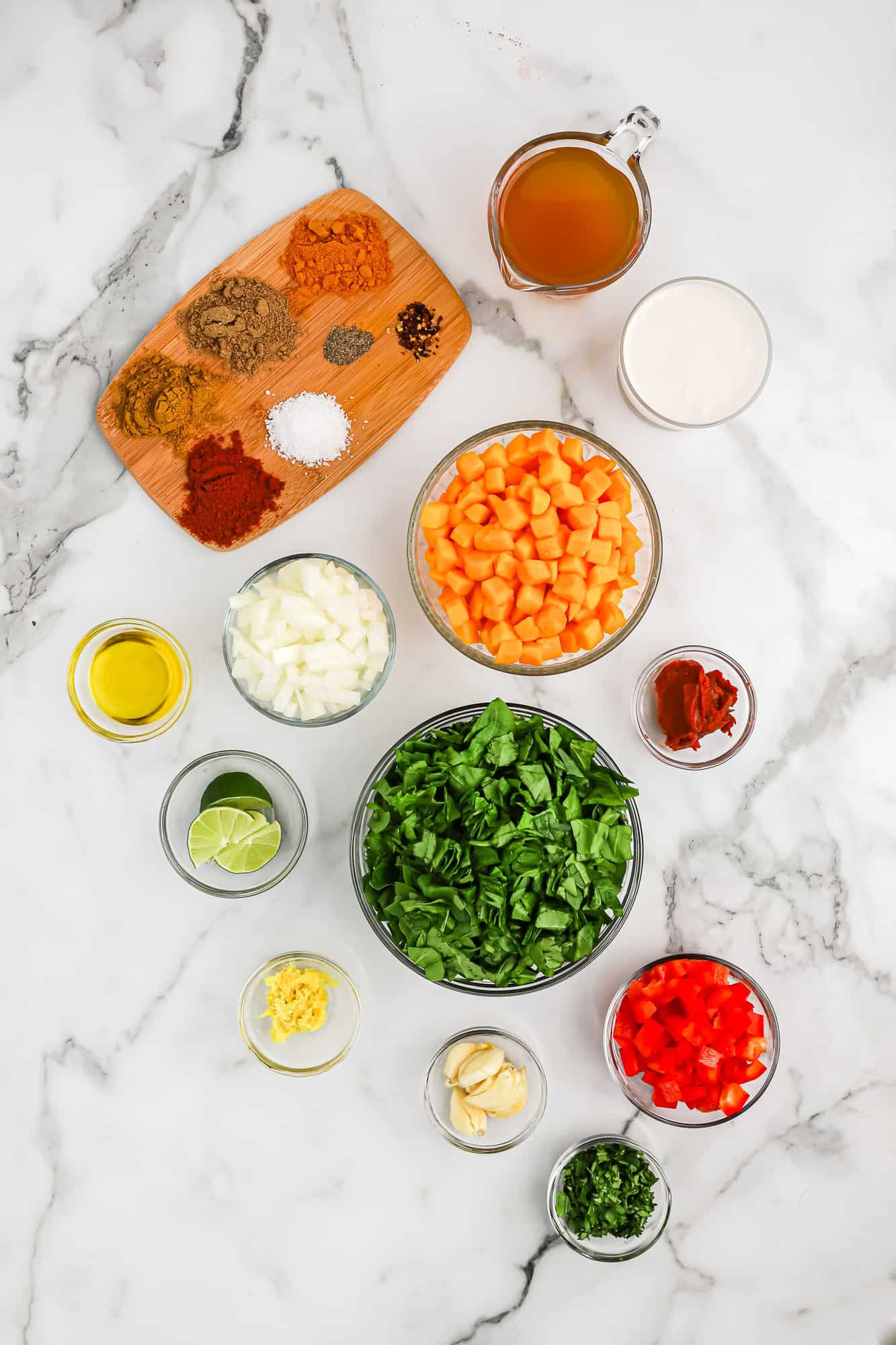 A large sharp knife: A good knife along with a stable cutting surface are essential for prepping winter squash. You'll want to peel the squash with a vegetable peeler first; then cut the squash in half lengthwise and scrape out the seeds.
A good-sized pan with a lid: A Dutch oven does the job well but if you don't have one, a 5 to 6 quart stock pot is fine.
How To Make Butternut Squash Curry
Prep the ingredients. Begin by prepping the squash, onions, pepper, garlic, and ginger. Measure out the dry spices and set them aside. Open the tomato paste, coconut milk, and broth. You'll find that cooking is less stressful if you have everything ready to go.
Get the rice started. It's a good idea to get the rice started now, too. It may get done a little ahead of the curry but that's okay. Rice is pretty forgiving. Just leave the lid on and let it steam. If you're looking for a shortcut, I've used the pre-cooked rice in bags that you microwave and they really are pretty good. We also love making jasmine rice in the Instant Pot.
Sauté the veggies. Heat a splash of oil in your pan and sauté the chopped onions and red bell pepper.
Add spices. Once they are softened, add the garlic, ginger, and the ground spices. Stirring constantly, cook the mixture a couple of minutes. The garlic smells so fragrant, and the spices toast gently which really enhances their flavor.
Add tomato paste. Next, stir in the tomato paste so that it coats the ingredients in the pan.
Add the cubed squash, the broth, and the coconut milk.
Simmer the curry. Give everything a really good stir. Turn the heat up a little and bring the curry to a simmer. Lower the heat, cover the pan, and let it cook for about fifteen minutes, or until the squash is just tender.
How To Tell When Squash Is Done
Check if the squash is fork tender by poking a fork into a couple pieces. You shouldn't feel a lot of resistance; the fork should go in pretty easily. Try not to overcook it because then the squash tends to fall apart.
Add the spinach. Doesn't that curry smell so, so good? Yum! Pile in the spinach. It will look like a lot but once it wilts, it looks like a lot less. It will wilt almost instantly once it hits the hot curry sauce.
Garnish. Finish up the recipe with a handful of fresh cilantro and a squeeze of lime juice. Save a few sprigs of cilantro and wedges of lime to garnish, if you like.
Serve. Serve your butternut squash curry with steaming rice. Warm flat bread, such as naan, goes well with this dinner.
Still have room for dessert? Everyone loves these blondies and they are really easy to make. Topped with a scoop of vanilla ice cream and a drizzle of caramel sauce or hot fudge, they are a fabulous ending to a very satisfying dinner.
FAQs
Do you peel butternut squash before you use it?
Because butternut squash is a winter squash, the peel is hard and inedible, even when cooked. Squash is easy to peel using a vegetable peeler or sharp paring knife. Once it's peeled, butternut squash can be cubed and roasted, simmered into a soup or curry, or air fried. For more recipes, check out my collection of winter squash recipes.
Not all cooking methods require peeling. One of the easiest ways to cook squash is to simply cut it in half, remove the seeds, and bake it. The cooked flesh can be scooped out of the shell or you can stuff the cooked halves with a savory mix of bacon, quinoa, and kale.
Learn how to cook butternut squash four ways in this informative post.
Why do my hands feel weird after cutting butternut squash?
I love this question! You may have noticed that when you cut butternut squash or any winter squash, including pumpkins, they become quite slimy and slippery. The "slime" sticks to your hands, and when it dries, it feels weird.
According to Southern Living, this sap-like substance can "heal" the squash if it gets nicked or cut, forming a scab-like coating over the cut. It doesn't feel so great when it dries on your hands though. Who wants a squash scab on their hands?
Seriously, squash scabs aside, vigorous hand washing usually takes care of the problem. If it is really bothersome, wear gloves to protect your hands when you prep squash.
Make It Your Own
Make-Ahead Ideas
To get a start on this recipe ahead of time, prep the squash and refrigerate it in a covered container or resealable bag for up to a few days. The dry spices can be measured out ahead of time as well.
Storage & Reheating Tips
Refrigerate: Leftover curry should be refrigerated promptly in an airtight container, preferably separate from the cooked rice. It will keep for three to four days.
Reheat: Individual portions can be reheated in the microwave at 50% power, in 30 second increments, until heated through. Larger amounts can be reheated in a skillet on the stove over medium heat.
Interested in a weekly meal plan (it's free!) that includes this recipe? Take a look at my Meal Plan (#6). You'll find a wholesome recipe for each weekday plus a categorized grocery list. Let me do the planning for you this week!
We'll be adding a new meal plan weekly. If you're interested, browse all of our meal plans.
Did you make this? Be sure to leave a review below and tag me @rachelcooksblog on Facebook, Instagram, or Pinterest!
You'll love the creamy red curry sauce in this butternut squash curry! Spoon it over fragrant jasmine rice for a satisfying meatless meal.
Ingredients
2

tablespoons

olive oil

2

cups

chopped onion

(

1

large onion)

1

cup

chopped red bell pepper

(

1

pepper)

6

cloves

garlic, pressed

2

tablespoons

finely grated peeled fresh ginger root

1

tablespoon

garam masala

1

tablespoon

ground coriander

1

tablespoon

ground turmeric

2

teaspoons

sweet paprika

1 ½

teaspoons

kosher salt

¼

teaspoon

red pepper flakes

¼

teaspoon

ground black pepper

2

tablespoons

no-salt-added tomato paste

4

cups

cubed (½ inch) peeled butternut squash

(about

2

pounds)

1

cup

low sodium vegetable broth

1

can

(15 oz.) coconut milk

5

oz.

baby spinach, roughly chopped

(about

5

cups)

¼

cup

minced fresh cilantro, more for serving

2

tablespoons

fresh lime juice

(see note)

Cooked rice, chopped cashews and fresh cilantro leaves, for serving
Instructions
Heat oil in large Dutch oven over medium heat. Add onion and red bell pepper and cook, stirring occasionally, until translucent, 5 to 7 minutes.

Stir in garlic, ginger, garam masala, coriander, turmeric, paprika, salt, red pepper flakes, and pepper; cook, stirring, 2 minutes.

Add tomato paste and cook, stirring, for 1 minute, or until onions and spices are coated with tomato paste.

Add squash, broth, and coconut milk, bring to simmer; turn heat down and gently simmer, covered, until squash is tender and sauce has thickened, 15 minutes.

Stir in spinach and allow to wilt, stirring occasionally. Stir in lime juice and cilantro.

Serve over rice, sprinkled with cilantro and chopped cashews, if desired.
Notes
Instead of stirring in lime juice, garnish with wedges of lime or lemon.
Nutrition calculations do not include rice.
If desired, add protein such as tofu, chicken, or shrimp. Sauté them first in the oil until cooked, remove from pan, and continue with recipe, adding them back in before serving.
Refrigerate leftover curry promptly, preferably separate from the cooked rice. It will keep for three to four days. Reheat individual portions in the microwave at 50% power, in 30 second increments, until heated through. Larger amounts can be reheated in a skillet on the stove over medium heat.
Nutrition Information
Serving:
1.75
cups
,
Calories:
403
kcal
,
Carbohydrates:
38
g
,
Protein:
7
g
,
Fat:
29
g
,
Saturated Fat:
19
g
,
Polyunsaturated Fat:
1
g
,
Monounsaturated Fat:
6
g
,
Sodium:
993
mg
,
Potassium:
1311
mg
,
Fiber:
8
g
,
Sugar:
10
g
,
Vitamin A:
20097
IU
,
Vitamin C:
100
mg
,
Calcium:
170
mg
,
Iron:
7
mg
This website provides approximate nutrition information for convenience and as a courtesy only. Nutrition data is gathered primarily from the USDA Food Composition Database, whenever available, or otherwise other online calculators.