Air Fryer Chicken Wings – so crispy!
Air fryer chicken wings come out extra crispy and are ready in 20 minutes. All you need are a few common spices, olive oil and, of course, chicken wings for this easy chicken recipe.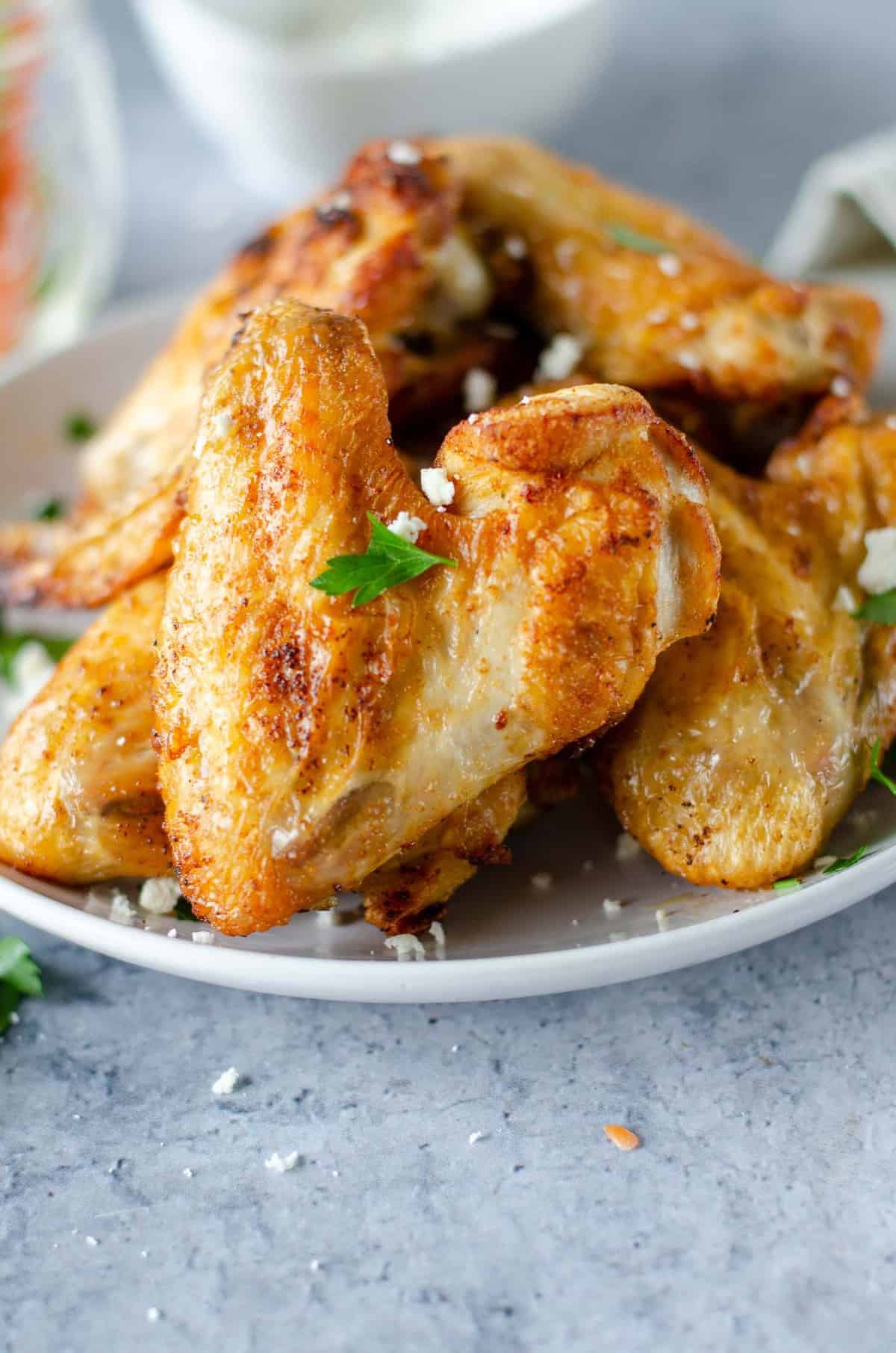 You all know that an air fryer is one of my favorite kitchen appliances by now. I love it for quick and easy meals without turning on the oven.
Chicken is one of the easiest things that you can make and I am excited to share these air fryer chicken wings with you. They're similar to my air fryer chicken thighs and air fryer drumsticks, and are perfect for dinner or an appetizer. The recipe is keto, low carb, Whole 30, and gluten free.
Many of us love wings at a party or while watching your favorite team. Offer a variety of dips, like jalapeno ranch dressing, fry sauce, French onion dip, or herbed feta dip. A spicy barbecue sauce is so good, too.
If you choose to eat these as a full meal you will want a side dish to go along with your chicken. I suggest you try: Instant pot broccoli mac and cheese, stove top scalloped potatoes, crock pot baked beans, or potato salad. Really, anything goes with chicken wings.
About this recipe
These wings are lightly seasoned and cooked in the air fryer. They come out extra crispy and are ready in 20 minutes. The recipe makes a dozen chicken wings and is easily doubled. Use whole chicken wings. If desired, cut off the tips which are basically skin and bone, with little or no meat. Totally up to you!
To make these air fryer wings you will need a few common ingredients: spices, chicken, and olive oil. The spices that I use are a basic blend that give these wings a nice flavor. Feel free to adjust the spices to your tastes.
The olive oil is used to coat the wings so that the spices stick to them. It also allows them to crisp up nicely in the air fryer. Another trick for ultimate crispiness is to dry the chicken wings with paper towels as much as possible.
You'll also need measuring cups and spoons, a large plastic bag, an air fryer, and nonstick cooking spray. Tongs are helpful, too. The process is easy. Preheat your air fryer so it's nice and hot.
Combine the spices and olive oil in the plastic bag, add the chicken, and squish it around in there until the spices and oil completely coat the wings. That's pretty much it for the prep work. So easy!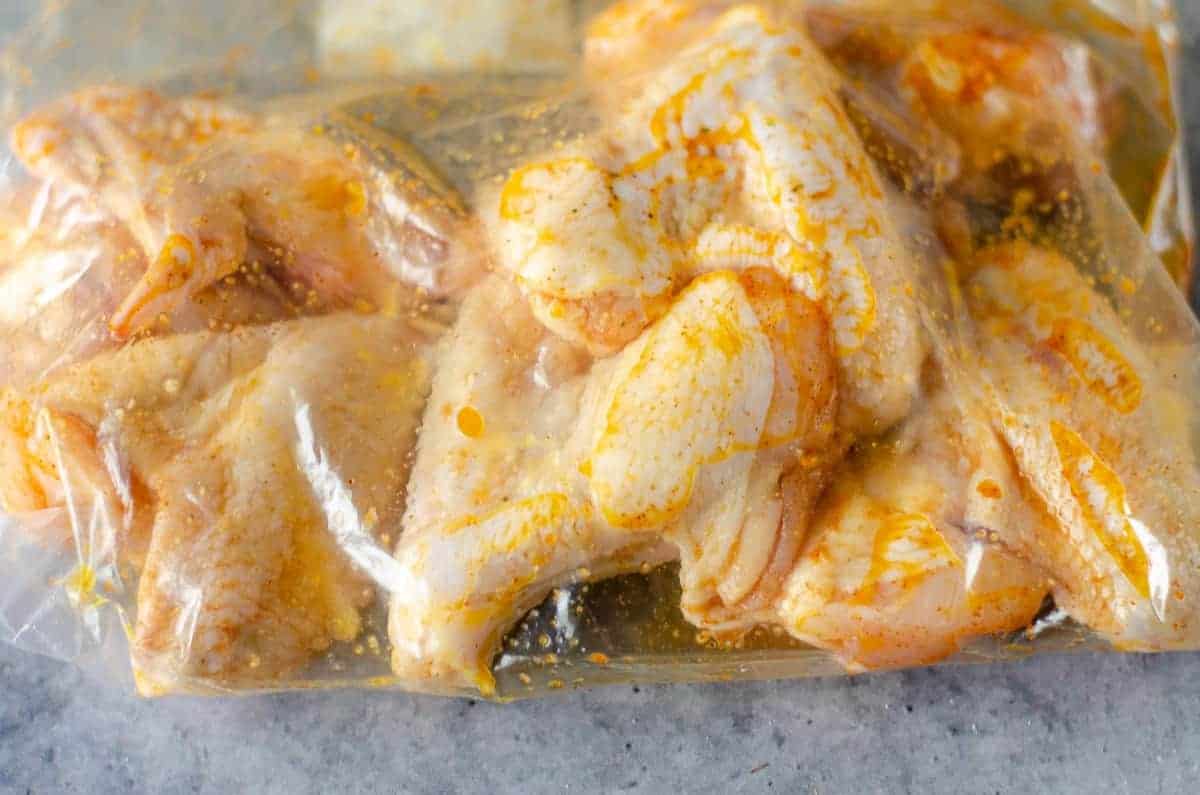 Air fry the wings in a single layer (it's okay if they overlap a little), in batches, depending on the size of your air fryer, turning them once. They'll take about twenty minutes to cook.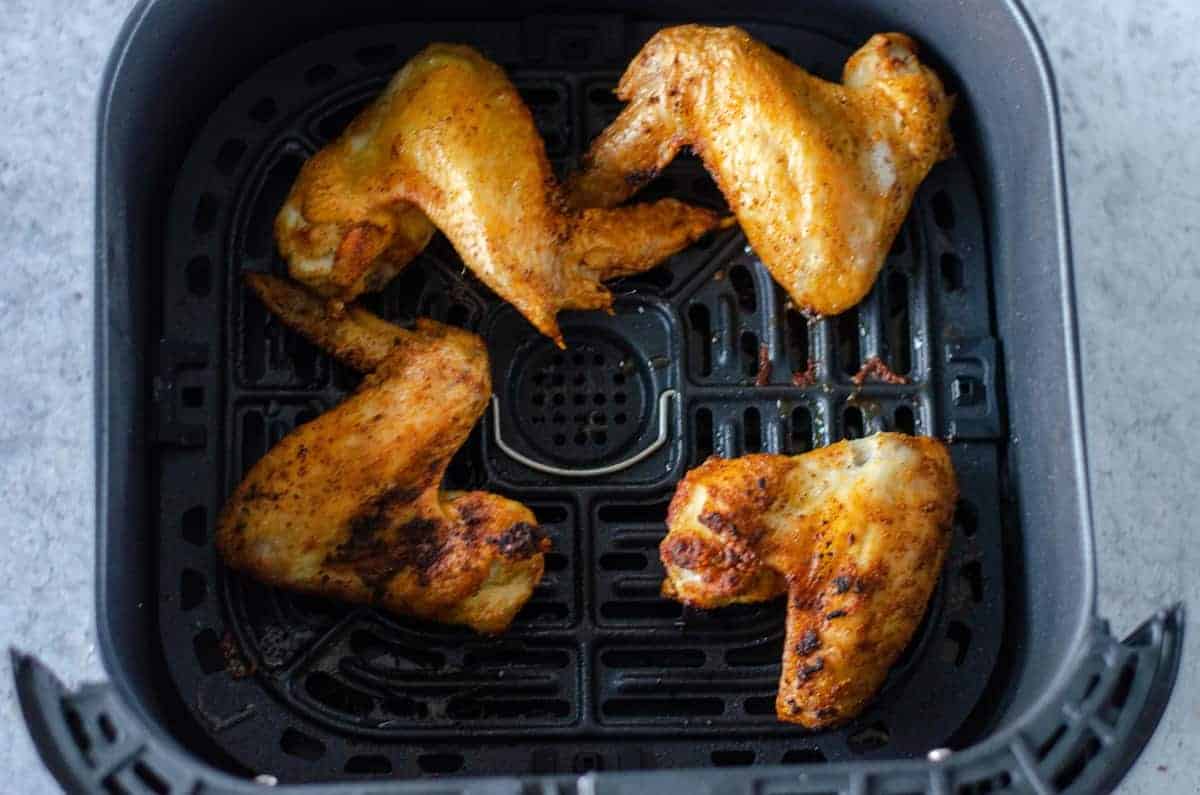 Remove the wings, serve with your favorite side or sauce and enjoy!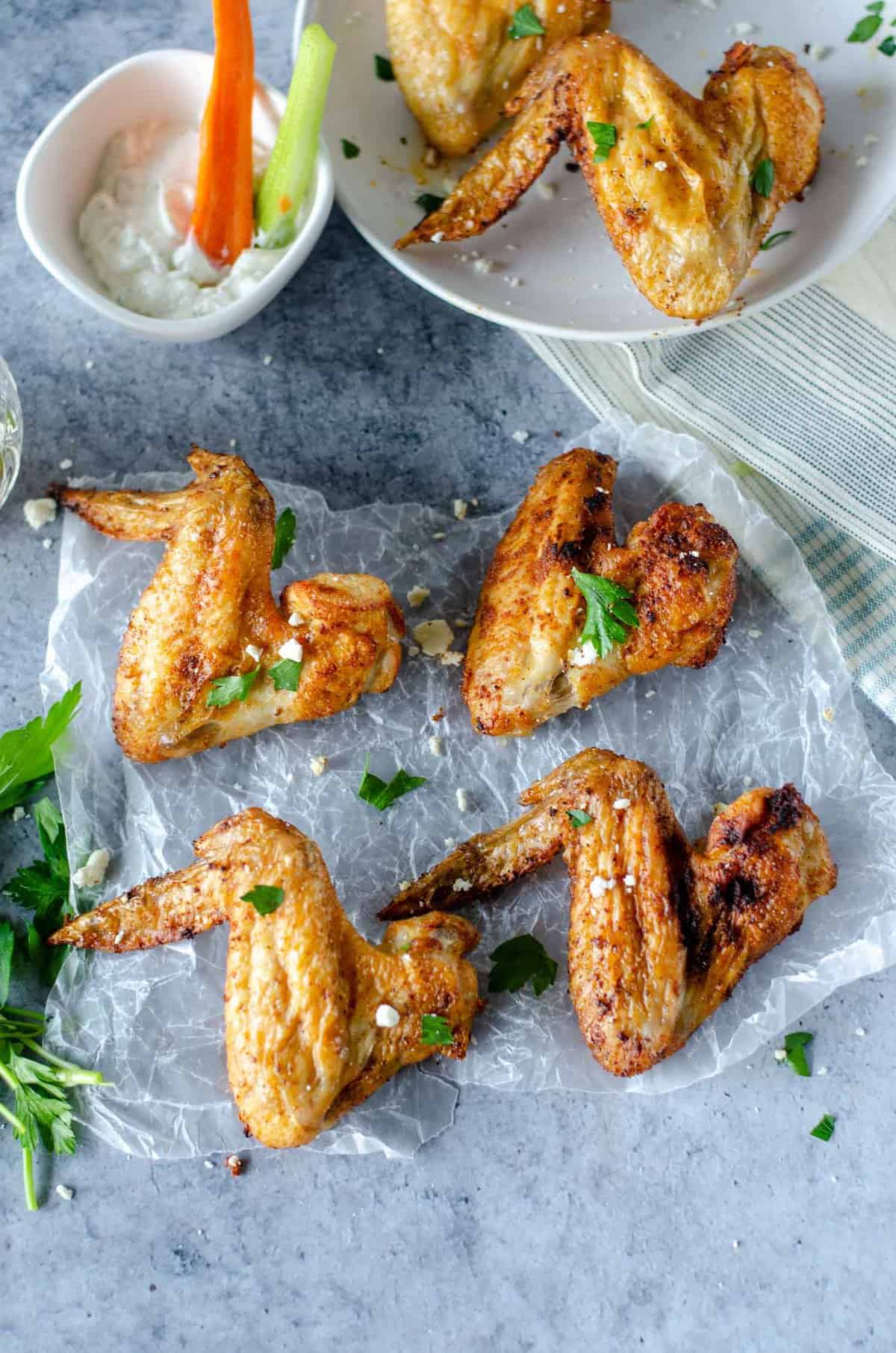 What you need
Chicken Wings – Whole chicken wings or cut are good, although I usually cut off the tips because there really isn't any meat on them.
Olive Oil – Avocado, grapeseed, or canola oil will also work.
Spices – We love the combination of garlic powder, onion powder, paprika, salt and pepper. I use this powerhouse combination on everything from chicken, to pork, to roasted potatoes.
FAQs
Do I have to dry the wings before frying them?
You don't have to pat them dry but they will crisp better without the excess liquid. Patting them dry is common practice when cooking chicken that you want to get extra crispy. If you're deep frying, it's best to dry them, as any water will cause the grease to splatter.
How long does it take to cook wings in the air fryer?
Cook time does depend on the size of the wings. Twenty minutes maximum is usually all it takes, ten minutes on one side, flipping, and eight minutes on the other side. Like them really crispy? Increase the temperature of the air fryer for the last few minutes.
Can I cook more than 4 wings at a time?
You can if your air fryer basket is large enough to cook more without overcrowding. I have a 6 quart air fryer and 4 (full) wings fit perfectly in the basket. If they overlap slightly, that's fine.
What if my chicken wings aren't crispy after cooking?
If for some reason your chicken wings don't come out as crispy as you like, either put them back in the air fryer for a few more minutes or broil them in your oven.
How to make these wings your own
You can use whatever spices that you prefer for this air fryer chicken recipe. You can try a homemade Italian seasoning, chili spices or even a homemade ranch mix. Lemon pepper is delicious, too. If you prefer a dry rub, that works too. Lightly spray the wins with olive oil spray before air frying.
Double the recipe if you want to make lots of wings. Use wing pieces, if desired (wings cut into wingettes and drumettes).
Storage Suggestions
Store leftover wings, well-wrapped, in the refrigerator for one or two days or in the freezer for up to a month. Thaw overnight in the fridge before reheating for best results.
Reheating Tips
Air fryer chicken wings are good leftover but they will lose some of that crispiness. For best results, put them back into the air fryer for a couple of minutes to regain some of the crispness. You can reheat the wings in the microwave, too, but don't overheat them because they'll get tough.
More air fryer fun!
I love how things turn out in my air fryer, and it's a healthy way to cook, too, with minimal oil. Try:
Air Fryer Chicken Wings
Yield: Makes 12 wings
Prep Time: 5 minutes
Cook Time: 20 minutes
Additional Time: 12 minutes
Total Time: 37 minutes
Air fryer chicken wings come out extra crispy and are ready in twenty minutes. All you need are a few common spices, olive oil and, of course, chicken wings for this easy chicken recipe.
Ingredients
12 chicken wings
1 teaspoon garlic powder
1 teaspoon onion powder
½ teaspoon paprika
½ teaspoon salt
¼ teaspoon pepper
2 tablespoons olive oil
Instructions
Preheat the air fryer to 375ºF for 10 minutes. Spray the air fryer basket with non stick spray, if needed.
Pat the chicken wings dry and put them in the zip-top bag. Add the olive oil and spices and then seal the bag.
Mix the spices into the chicken. Move the chicken around in the bag until the spices are fully incorporated. You could do this in a bowl instead.
Place 4 chicken wings in the air fryer basket and cook for 10 minutes, flip them, and cook for 5-8 minutes longer, checking occasionally. If you like them really crispy, add a few more minutes.
Remove the chicken, repeat for all the wings. Serve with your favorite side or dip and enjoy!
Notes
Cooking time depends somewhat on the size of the wings. If the wings are on the smaller side, reduce cooking time.
Recipe can easily be doubled.
Use whatever spice mixture that you prefer.
Recommended Products
As an Amazon Associate and member of other affiliate programs, I earn from qualifying purchases.
Nutrition Information:
Yield: 4
Serving Size: 3 wings
Amount Per Serving:
Calories: 329
Total Fat: 26g
Saturated Fat: 8g
Trans Fat: 0g
Unsaturated Fat: 17g
Cholesterol: 66mg
Sodium: 581mg
Carbohydrates: 9g
Fiber: 1g
Sugar: 0g
Protein: 14g
RachelCooks.com sometimes provides nutritional information, but these figures should be considered estimates, as they are not calculated by a registered dietitian. Please consult a medical professional for any specific nutrition, diet, or allergy advice.