Red Lentil Soup Recipe – with video
This red lentil soup recipe is comforting, healthy and subtly sweet, thanks to a unexpected ingredient!
This soup is going to become my best friend soon. When God made me, apparently he forgot to give me two adult teeth. (Just kidding about the forgetting part, God.) Left in my mouth are two baby teeth. One of which needs to be removed.
So of course I'm being a huge baby about it. I hate the dentist. I have to have the tooth extracted, a bone graft put in, and then a titanium rod inserted INTO MY JAW for the implant. It's a 10 month process overall and will cost us in the ballpark of $5,000 (that's the part insurance doesn't cover). I know there are boatloads of people out there going through way worse, so I don't want to dwell on this…but yes, soup is going to be my BFF.
And if you see me in the next ten months please don't make fun of me for my missing tooth. Thankfully it isn't a front tooth because I think I'd just hibernate for ten months if that were the case.
This red lentil soup recipe is adapted from a recipe my mom made the last time I visited their house. I love a comforting bowl of soup that you can feel good about eating. It's a great one to make at the beginning of the week and eat for lunch all week long.
This soup is so flavorful and is subtly sweetened with dried apricots! You sauté them at the beginning with onions and bell peppers and they add such a depth of flavor to this soup. That sweetness is countered with the warmness of fragrant cumin (my favorite!) and you'll find that you just can't stop eating this soup.
To give this soup a great consistency, I puréed about 2/3rds of it in my blender and then added it back into the rest of the soup. If you prefer a chunkier soup, feel free to skip that step. Or if you love your soup silky smooth, purée the whole thing!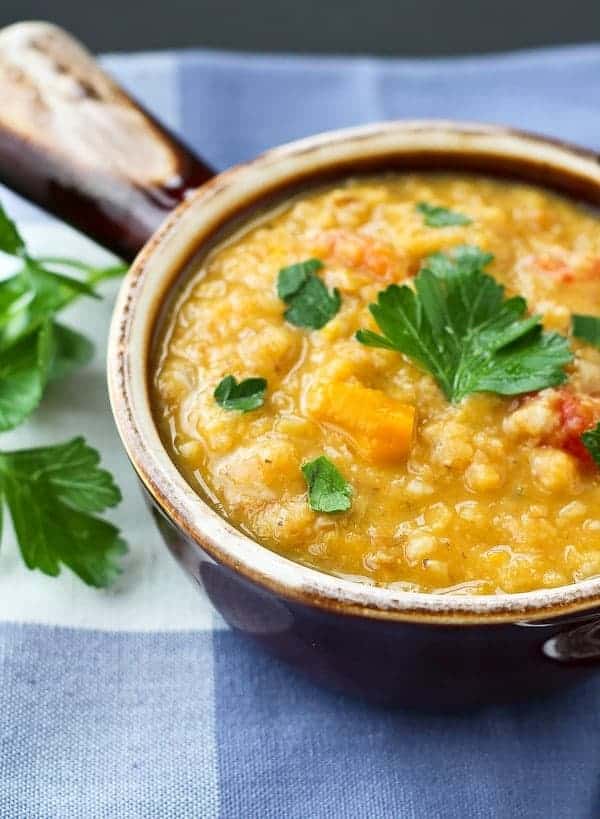 Red Lentil Soup Recipe
Yield: 6 main dish servings

Prep Time: 10 minutes

Cook Time: 35 minutes

Total Time: 45 minutes

This red lentil soup recipe is comforting, healthy and surprisingly flavorful, partially thanks to a unexpected ingredient!
Ingredients
1 tablespoon extra virgin olive oil
1 cup chopped yellow onion
1 cup chopped yellow bell pepper
1/2 cup diced dried apricots
4 cups chicken or vegetable broth
1 and 1/2 cups red lentils, rinsed
one 14.5 ounce can of diced tomatoes, drained
1/2 cup quick cooking bulgur (I use Bob's Red Mill)
1/2 teaspoon cumin
1/4 teaspoon thyme
1/8 teaspoon celery seed
1/4 teaspoon garlic powder
1/2 teaspoon dried parsley
2-3 cups water
Instructions
In a large saucepan over medium-high heat, heat oil and add onion, bell pepper, and apricots. Saute, stirring frequently, until onions are translucent. Add broth, lentils, tomatoes, bulgur, cumin, thyme, celery seed, garlic powder, parsley and 2 cups of water. Bring to a boil and then reduce to a simmer (medium-low heat).
Cover partially and simmer 20-30 minutes or until lentils are softened. Stir occasionally and add more water if it becomes too thick.
Remove 6 cups & puree in blender (you'll probably have to do this in batches — be very careful!!!). Returned pureed soup to pan and stir to combine.
Notes
Note: Use vegetable broth instead of chicken broth make this soup vegan.
Nutrition Information:
Yield: 6 Amount Per Serving: Calories: 365 Total Fat: 5g Saturated Fat: 0g Trans Fat: 0g Cholesterol: 7mg Sodium: 163mg Carbohydrates: 54g Fiber: 13g Sugar: 9g Protein: 23g

RachelCooks.com sometimes provides nutritional information, but these figures should be considered estimates, as they are not calculated by a registered dietitian. Please consult a medical professional for any specific nutrition, diet, or allergy advice.

Verdict: Love it! This recipe is definitely a keeper.
Husband's take: Surprisingly, my husband really did like this red lentil soup recipe — I thought it might be a little too bizarre for him.
Changes I would make: None are necessary. If you don't have yellow bell peppers, feel free to use red or orange. Also, fresh apricots would work just as well as dried.
Difficulty: Easy.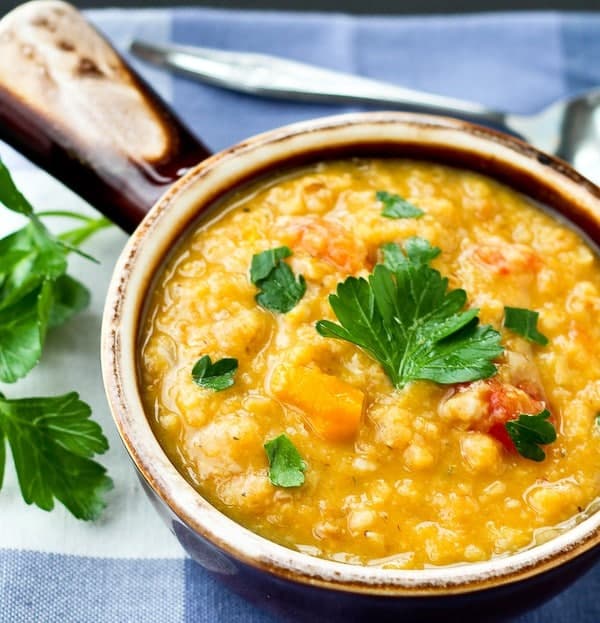 Craving more soup? Try these recipes: Chicken Soup with Farro and Vegetables, Creamy Tomato Soup with Whole Wheat Orzo, 20 Minute Healthy Italian Turkey and Bean Soup, Shortcut Squash Soup, French Onion Soup from Gimme Some Oven, or Potato Leek Soup from Simply Recipes.