Creamy Chicken Rice Soup
This creamy chicken rice soup is hearty and flavorful. Delicious any time of year but perfect on a chilly winter night!
This creamy chicken rice soup is so perfect for the cooler weather outside. And it really couldn't be any easier to prepare.
The stock that I used for this soup was sent to me by More Than Gourmet. They asked me to review some of their products. I spent some time browsing their website before I agreed, because I wanted to make sure it was something that I would want to use. I was very interested in their products after doing some research so I happily agreed!
If you're interested in purchasing their products, they can be found in some stores, but you can also buy directly from their website.
My Take:
I love the size of these! The stock is concentrated so they come in small packages which take up so little room in my pantry. All you need to do is add water.
I love that there are no chemicals, preservatives, MSG or other nasty stuff in these. Now that I'm feeding a kiddo, that kind of stuff is even more important to me.
Taste? So far so good. Haven't met one that I don't like yet.
I also tried this sauce recipe with the Demi-Glace (added mushrooms, only used 2T butter instead of 5), and it was delicious over our steaks.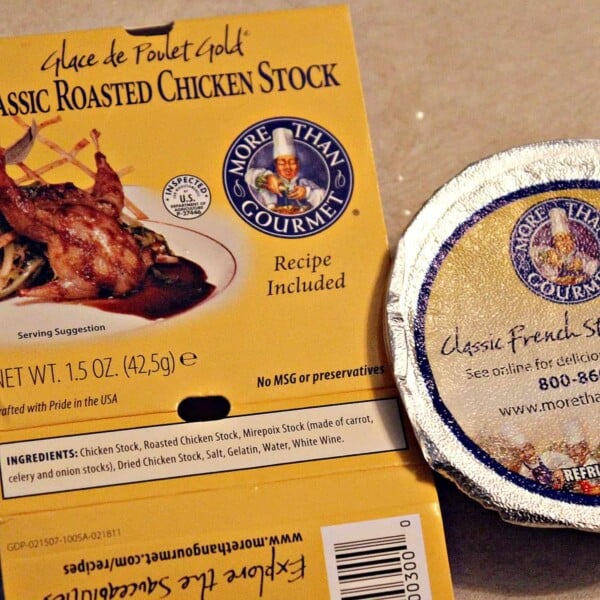 I use their Classic Roasted Chicken Stock to make this creamy chicken rice soup. Or for you fancy-pants: Glace de Poulet Gold. Here's the list of ingredients for the label readers: Chicken Stock, Roasted Chicken Stock, Mirepoix Stock (made of carrot, celery and onion stocks), Dried Chicken Stock, Salt, Gelatin, Water, White Wine. Nutrition info states 20 calories per serving, 0g fat, 4g protein, and 310mg sodium.
Of course, the rest of my soup changed those stats. But whatever. Don't worry about that, just make the soup. It's delicious! I've made this soup many times and it's a family favorite. My mom loves to make it, too. It's perfect for a crowd.
NOTE: Don't worry if you don't have More Than Gourmet chicken stock. Just substitute 4 cups of chicken broth, either homemade or boxed.
Looking for more chicken soup recipes?

Chicken soup is good for the soul, right? And home cooked soup is a good way to show you care. Try:
Creamy Chicken Rice Soup
Yield: 6 servings
Prep Time: 10 minutes
Cook Time: 55 minutes
Total Time: 1 hour 5 minutes
This creamy chicken rice soup is hearty and flavorful. Delicious any time of year but perfect on a chilly winter night!
Ingredients
1 teaspoon olive oil
1 cup diced carrots
1 cup diced celery
1 cup diced onions
salt and pepper to taste
4 cups chicken stock (If using More Than Gourmet Classic Roasted Chicken Stock, reconstitute with four cups of water)
2 cups water
1 package Long Grain Wild Rice Rice-a-Roni or Near East Brand (WITH seasoning packet)
1/2 cup all-purpose flour
1/4 cup butter
2 cups milk
4 cups cooked, shredded chicken (thighs or breasts), or more, if desired
Instructions
In a large saucepan or Dutch oven, heat olive oil over medium-high heat. Add carrots, celery, and onion and sauté until slightly softened and onions begin to look transparent.
Add broth, additional 2 cups water, rice, and the seasoning packet that is included with the rice. Stir and bring to a simmer. Reduce heat to low and simmer for at least 30 minutes (or whatever is recommended on the package of rice).
In a separate small pan, melt butter. Stir in flour and salt and pepper. (I didn't add any salt at this stage because I knew the seasoning packet for the rice probably had plenty of salt in it.) Slowly add milk, whisking to eliminate clumps. Heat and stir until mixture thickens. Stir into the soup.
Add cooked chicken and cook over low heat until heated through (10-15 minutes).
Nutrition Information:
Yield: 8
Serving Size: 1 bowl
Amount Per Serving:
Calories: 354
Total Fat: 15g
Saturated Fat: 6g
Trans Fat: 0g
Unsaturated Fat: 7g
Cholesterol: 74mg
Sodium: 479mg
Carbohydrates: 30g
Fiber: 2g
Sugar: 5g
Protein: 25g
RachelCooks.com sometimes provides nutritional information, but these figures should be considered estimates, as they are not calculated by a registered dietitian. Please consult a medical professional for any specific nutrition, diet, or allergy advice.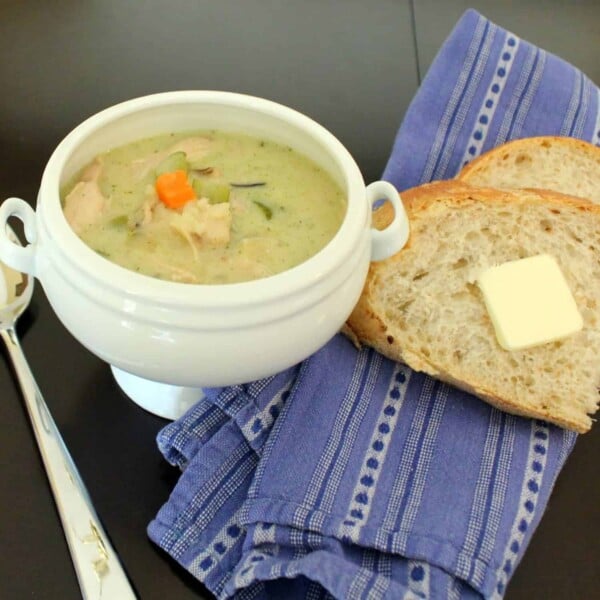 Verdict of soup: So tasty. Filling, hearty and delicious. I was skeptical of the wild rice seasoning packet but it really adds a terrific flavor to this soup. (Or maybe I should call it stew in our case…it was thick and jammed full of chicken.)
Husband's take: LOVES IT. Let me begin by saying that I think he gets a little scared every time I say we're having soup for dinner. Soup? For dinner? I'm sure he wants to say, "And then what else?" That's why every time I make soup, I make sure to add TONS of meat and veggies and go light on the broth. If it's more stew-ish, he's less likely to complain. Okay, he never really complains when I'm cooking. But I can tell when he's happy…and when he's still hungry (=not happy). I ask my hubs if he'd want to see something appear again for dinner, and he actually beat me to the punch this time, making it clear that he would love to eat this again.
1-year-old daughter's take: She chows it down! Are you sensing a trend with my daughter? She eats ev.er.y.thing. I'm so lucky. I'm sure it will change as she gets older.
Changes I would make: None! I meant to throw in some peas at the end, but I forgot. So maybe I would do that next time.
Difficulty: Easy!
Disclosure: I was sent free products to review. However, all opinions expressed in this post are, as always, 100% my own. I was not compensated for this post other than the free products.