Make your own healthy baked tortilla chips! Crunchy, salty, everything you need in a good chip without the grease.
Recipe Overview
Why you'll love it: Tortilla chips are so easy to make, healthier, and more economical.
How long it takes: 5 minutes to prep, 12-15 minutes to bake
Equipment you'll need: sheet pan, oven
Servings: 3 (or as many as you want to bake)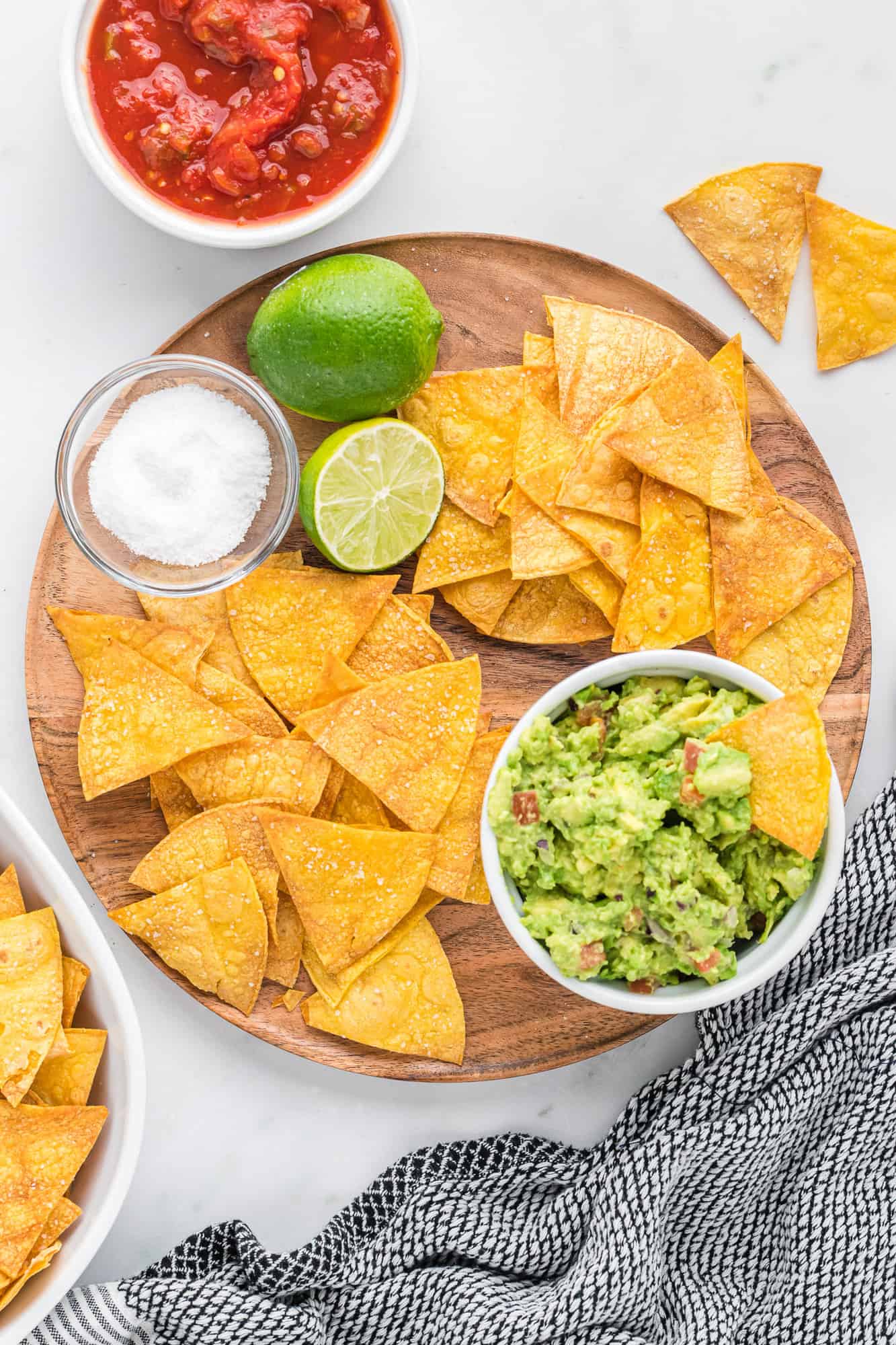 Crisp, warm, with the wholesome flavor of corn shining through, these baked tortilla chips are delicious! You'll find that it's hard to stop eating them right from the oven.
It seems like I always have part of a package of corn tortillas hanging around my pantry. I love corn tortillas for recipes like these sheet pan breakfast tostadas, fish tacos, or this yummy Mexican lasagna with Swiss chard. Baking your own tortilla chips is a perfect way to use the remaining tortillas.
It's so easy to make your own chips and they are really so delicious! I do believe that tortilla chips and fresh pico de gallo, salsa (or chipotle salsa!), or even better, guacamole, are one of my favorite things to eat.
Add an ice cold beer and you don't even need dinner. I bought corn tortillas for fajitas the other night and I wasn't really feeling them, so they got turned into chips. Best decision ever.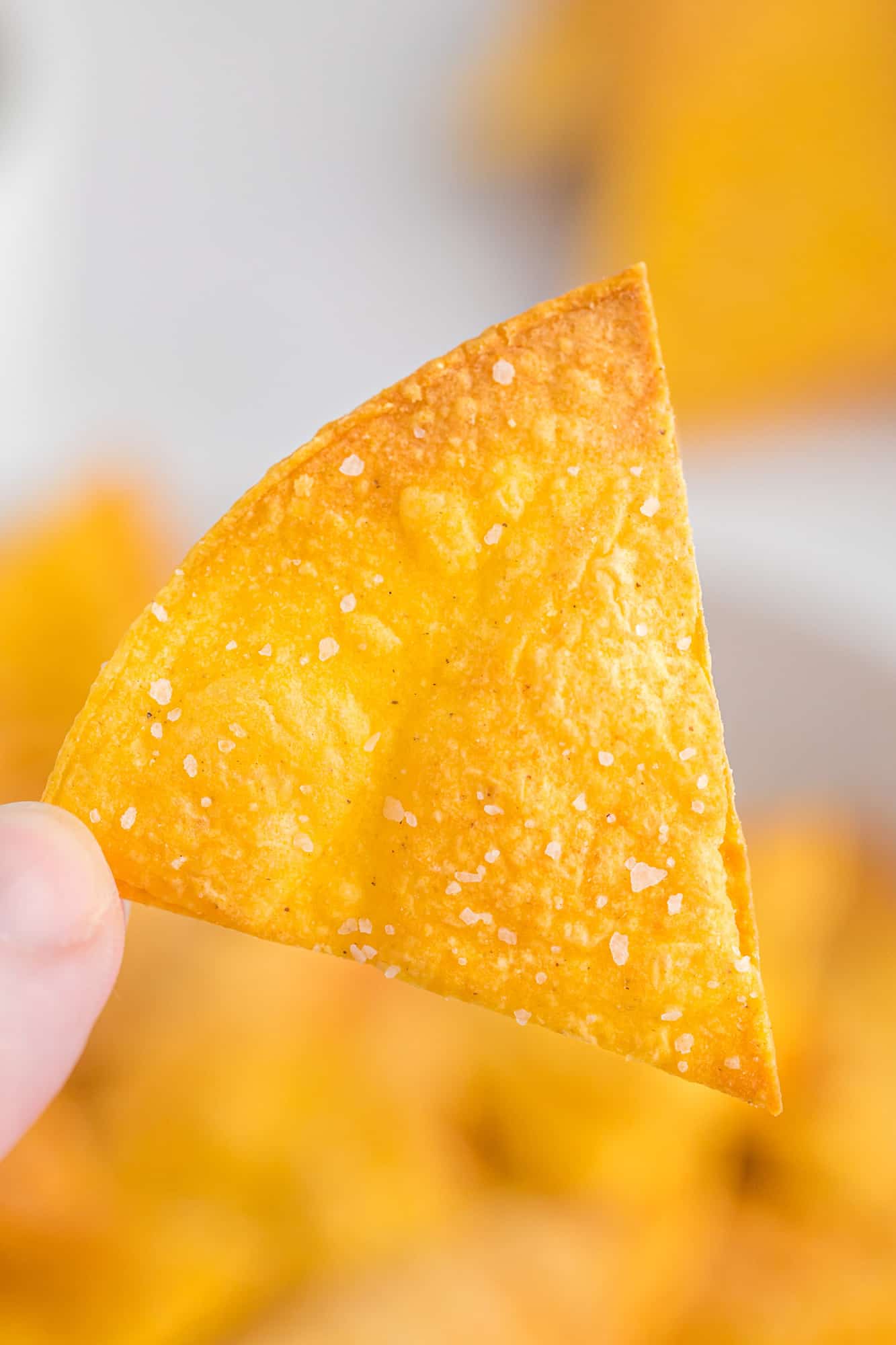 About This Recipe
I almost hesitate to call it a recipe. It's so simple: cut tortillas, spray, bake. Once you try it, it will become part of your kitchen repertoire. Chips, anyone? Sure, let me throw some in the oven. (You're a chip genie!)
Why make your own chips? There are a bunch of reasons!
It's much more economical to make your own. Corn tortillas are very inexpensive compared to a pricey bag of tortilla chips. A package of 30 corn tortillas runs about 2 bucks. You can make a lot of chips with that!
Baked chips are healthier with less fat and no additives.
They are gluten-free.
Baked tortilla chips right out of your oven taste so much fresher.
And what's more, they are fun to make!
Make homemade chips as a side to go with any of your favorite Mexican dinners, like Southwestern salad bowls, a farro salad with roasted poblanos, fajita stuffed chicken breasts, or everyone's favorite white chicken chili! And definitely slow cooker salsa chicken, aka taco slop.
Or, why not serve crisp tortilla chips with soup instead of the usual crackers? Try red lentil soup or smoky roasted tomato soup. The tortilla chips are awesome with creamy queso chili or vegetarian quinoa chili.
For a quick lunch, make homemade black bean dip. It's healthy, low calorie, keeps well in the fridge, and goes great with these tortilla chips. For a bean dip with extra protein (it has a secret ingredient!), try southwestern black bean dip.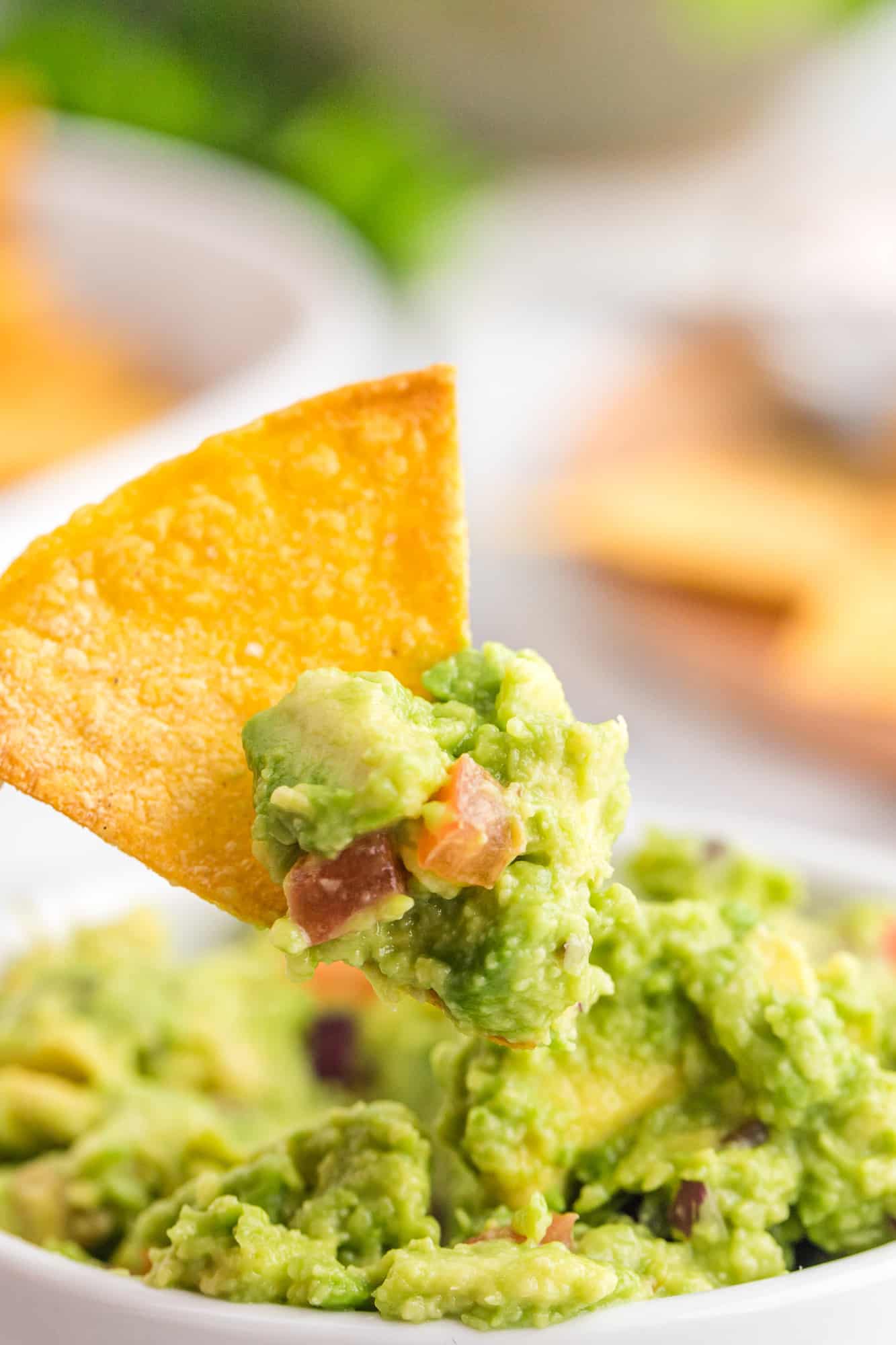 I'll show you how right here and give you a few extra tips.
Look for the printable recipe card near the end of the post with complete instructions and nutrition information.
What You'll Need
Corn Tortillas: Plain corn tortillas are all you need. Flour tortillas work okay, too, but having tested both, hubby and I both agree that corn tortillas taste far better.
Cooking Spray: For the best taste, use olive oil spray or avocado oil spray. If you're not into sprays, you can also use regular oil.
Kosher Salt: For the most simple seasoning, salt is the best. I'll show you other ways to season your chips, too.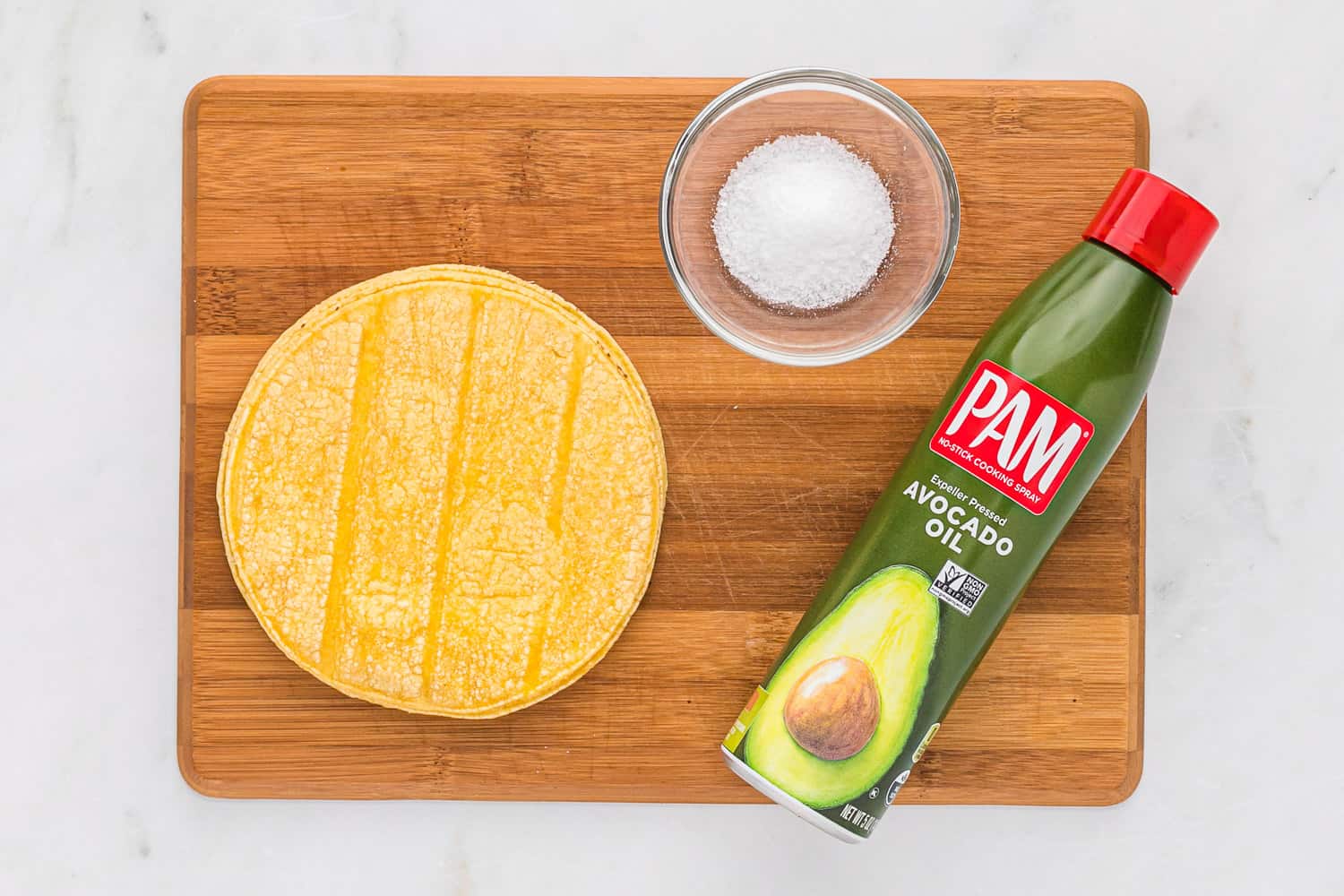 How To Make Tortilla Chips
Get your oven preheating and find a nice big sheet pan or cookie sheet. I like to use a pan with a rim. Otherwise, the chips have a tendency to slide right off into my oven. If you want, go ahead and make two pans full at the same time. Why not?
If you want to make clean-up easier, line the pans with parchment paper. I do find that the chips get crispier without paper, though.
Give the pans a light spray. Cut the tortillas into small triangles or any shape you like. You can stack them up and cut a whole bunch at once if you have a good sharp knife.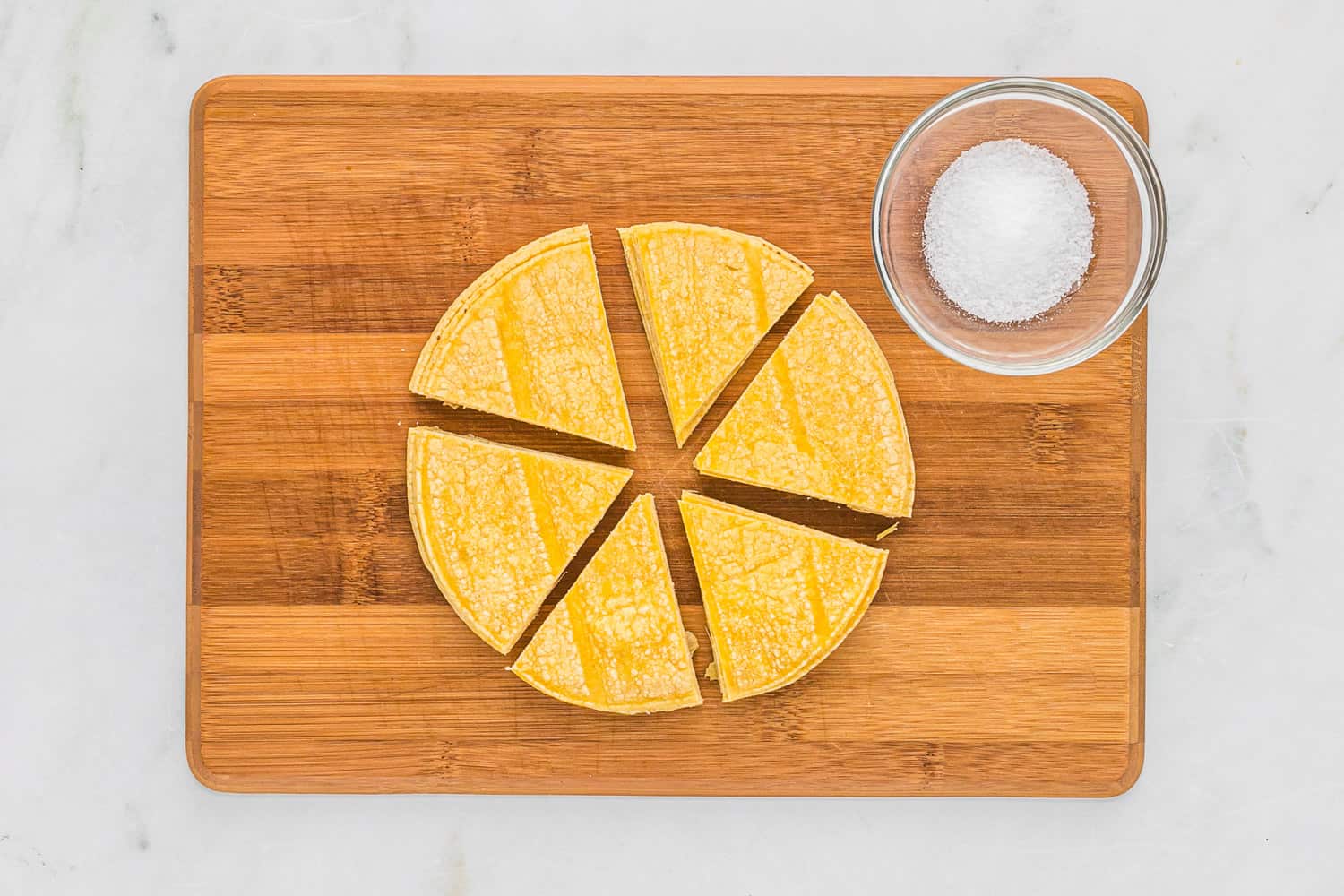 Spread the pieces on the baking pan in a single layer. It's important that they don't overlap because where there's overlap, there'll be a soft spot on your chip. Not the end of the world, but still.
Spray the cut tortillas lightly, sprinkle with salt, and pop them in the oven.
Note: Some cooks like to spray the tortillas on both sides before cutting them. You can also brush them with oil on both sides. It's up to you. Use whichever method you like best!
Bake the chips about 12 minutes, rotating the pan once so they brown evenly. After 12 minutes, check them every minute because once they start browning, they can go super fast from light brown to burnt. You'll find that even the chips that look pretty brown still taste really great though.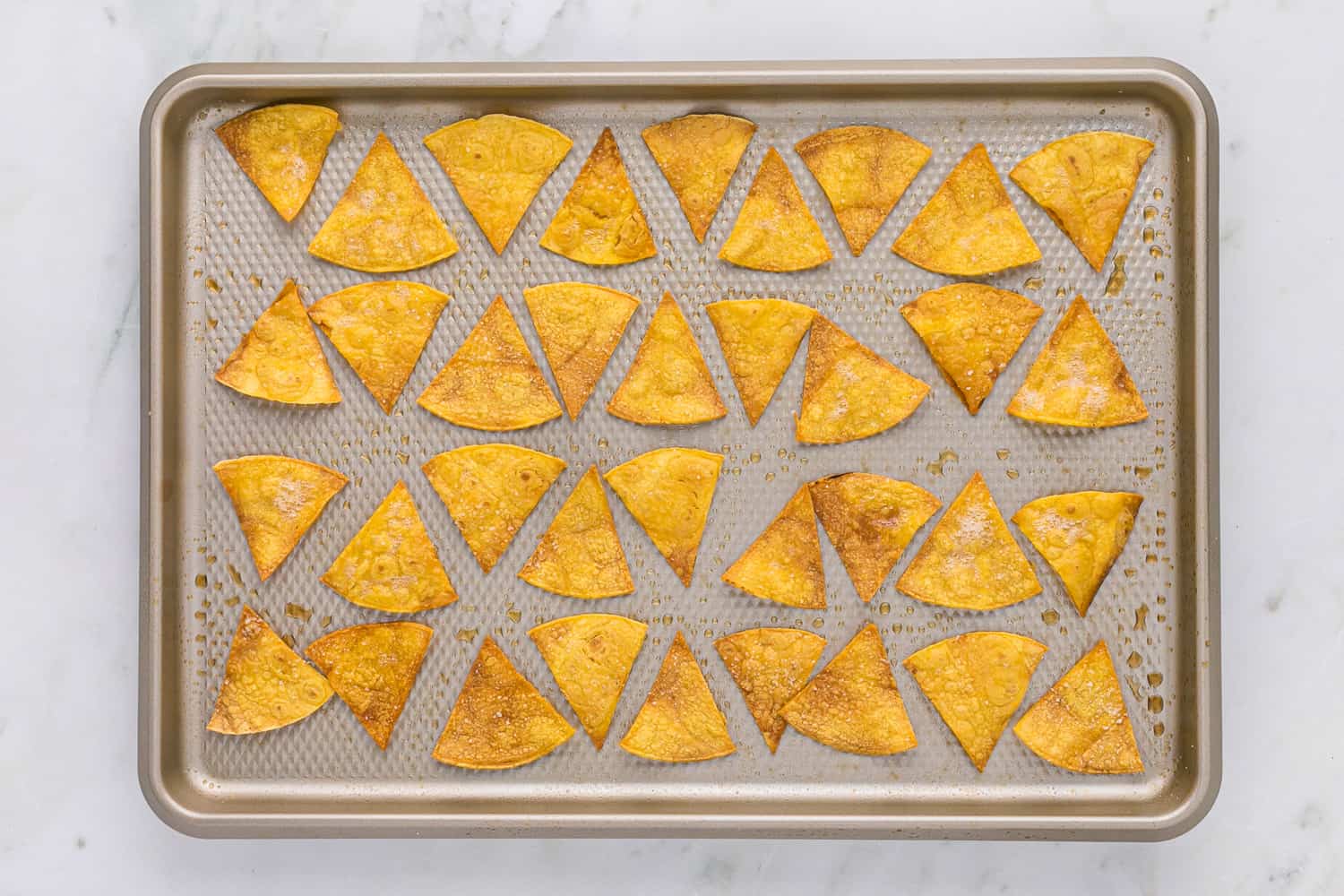 Serve immediately while the chips are still warm, or cool completely and store in an airtight container.
FAQs
Are baked chips better for you?
Since fried chips are cooked in oil, they absorb a lot of fat. Baked chips are lightly misted with oil spray, making them a healthier choice. They are lower in calories.
Why are my baked tortilla chips chewy?
I would guess that they aren't baked long enough. We found that baking the chips until they turn dark golden brown gave the crispiest results. When we baked them less time, they turned out chewy.
Are tortilla chips usually baked or fried?
Most tortilla chips are fried unless otherwise stated. When you order a basket of tortilla chips in a restaurant, they are most likely fried.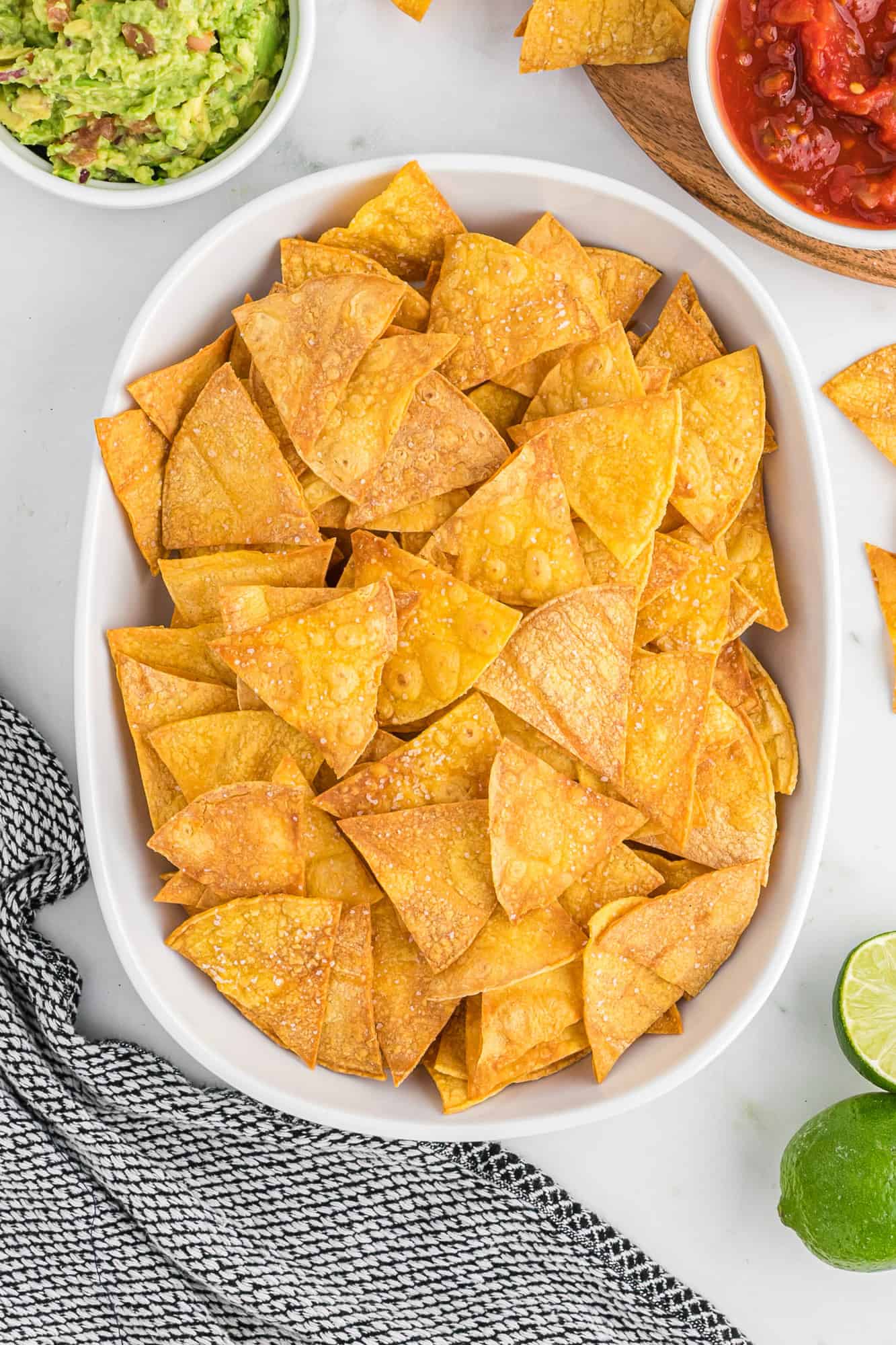 Make It Your Own
As I mentioned above, if you prefer not to use oil sprays, you can substitute regular oil. Use a pastry brush to lightly spread oil on both sides of the tortilla. It's easiest to do before they are cut. However, depending on where you live, it's pretty easy to find an oil spray with no additives!
Have an air fryer? Try air fryer tortilla chips. They're much the same but take less time to bake.
Add seasoning if you like. Lightly sprinkle chili powder, cumin, or taco seasoning on the chips after spraying them.
Storage & Reheating Tips
Homemade baked tortilla chips are best eaten fresh. If you have leftover chips, cool them completely and store in an airtight container for up to a week on the counter.
To refresh the chips (make them warm and crispy again), arrange a serving on a plate and microwave in 5-second intervals. They can also be reheated in a warm oven briefly or in an air fryer.
Oh yeah, and while you're at it, throw a little shredded cheese on top. Chips and cheese, anyone?
Did you make this? Be sure to leave a review below and tag me @rachelcooksblog on Facebook, Instagram, or Pinterest!
Make your own healthy baked tortilla chips! Crunchy, salty, everything you need in a good chip without the grease.
Ingredients
6

small corn tortillas

(taco size)

Avocado or olive oil spray

⅛

teaspoon

kosher salt, more to taste
Instructions
Preheat oven to 350°F.

Cut each tortilla into 6 wedges.

Spray a large baking sheet with oil spray (see note). Spread tortilla wedges on baking sheet in a single layer (important!).

Spray with oil, sprinkle with salt, and bake for 12-15 minutes, rotating pan once. Keep a close eye on them after 12 minutes (check every minute), because they can burn easily. Take them out when they are dark golden brown (see note).
Notes
Some cooks like to spray the tortillas on both sides before cutting them. You can also brush them with oil on both sides. It's up to you. Use whichever method you like best!
These do need to be golden brown to be crisp, otherwise they will be chewy. They may look a bit overdone but they're best that way.
To refresh leftover chips, arrange them on a plate and microwave in 5 second intervals or until warm and crisp. Use your oven, air fryer, or toaster oven to warm them if you prefer.
Sprinkle on chili powder, taco seasoning, or cumin along with the salt before baking to add more flavor, if desired.
Flour tortillas may be substituted for corn tortillas.
Nutrition Information
Serving:
12
chips
,
Calories:
113
kcal
,
Carbohydrates:
23
g
,
Protein:
3
g
,
Fat:
1
g
,
Saturated Fat:
1
g
,
Polyunsaturated Fat:
1
g
,
Monounsaturated Fat:
1
g
,
Sodium:
120
mg
,
Potassium:
97
mg
,
Fiber:
3
g
,
Sugar:
1
g
,
Vitamin A:
1
IU
,
Calcium:
42
mg
,
Iron:
1
mg
This website provides approximate nutrition information for convenience and as a courtesy only. Nutrition data is gathered primarily from the USDA Food Composition Database, whenever available, or otherwise other online calculators.