Ginger Cinnamon Apple Chips (baked)
Ginger cinnamon apple chips are a perfect healthy snack for the entire family to enjoy. Easy to make which is great, because they'll disappear quickly!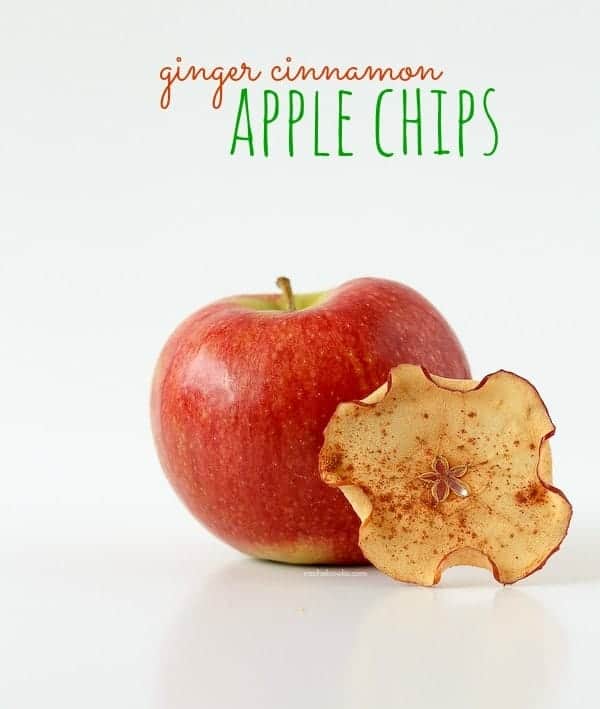 Snacks. The life of a toddler revolves around snacks. And it just so happens that I have two (very spirited) toddlers. I'm always on the search for something to feed my kids besides goldfish crackers and veggie straws. But really, my husband and I love to snack, too, and cinnamon ginger apple chips are healthy and delicious, and are easy to prepare. They take a little time to dehydrate and turn into chips but it's all hands-off time.
About these apple chips:
Apple chips are super easy to make. If you have a mandoline, they are unbelievably simple. But all you really need is a nice sharp knife, a baking sheet, parchment paper and apples. I add ginger and cinnamon for a "baked apple" preparation.
Slice the apples super thin (use a mandoline if you have one). No need to even core them – just pick the seeds out after you slice the apples. If you don't have a mandoline, you'll want to slice them as thin as possible and core the apples so you don't get the tough areas surrounding the seeds.
Choose a firm apple for these chips – Jonagolds are great – perfect texture and full of flavor. The Michigan Apple Committee sent me these amazing Jonagolds that are so good for recipes like this, and the quinoa apple pancakes I love to make. Jonagolds are also phenomenal for eating straight out of the fridge. And of course I love that they come straight from my favorite mitten state. Home sweet home, you know?
Lay the apple slices out on a baking sheet lined with parchment paper. Sprinkle with ground ginger and ground cinnamon. Bake at a low temperature for an hour, flip, and bake for another hour. Once they have cooled completely, you're left with crispy apple chips full of great flavor from the apples, enhanced by cinnamon and ginger.
They keep great for at least a week in an airtight container.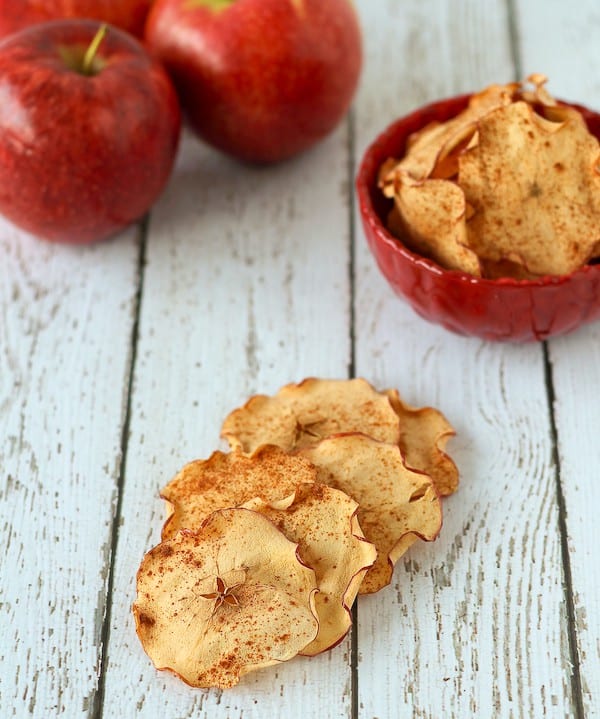 By the way — we put an offer in on another house and it was accepted! If everything goes well with closing, we'll be moving in late summer or early fall! I'm super excited about this next step in our life. God has been so good to us and I cannot wait to see what is next for our little family.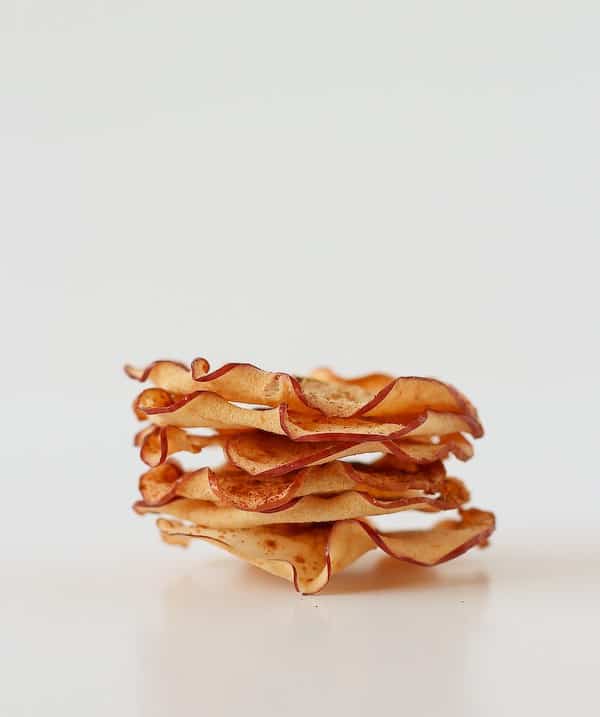 Head on over to Michigan Apples for the Ginger Cinnamon Apple Chips recipe or keep reading for the full recipe here!
Ginger Cinnamon Apple Chips (baked)
Yield: 20 chips
Prep Time: 10 minutes
Cook Time: 2 hours
Additional Time: 1 hour
Total Time: 3 hours 10 minutes
Ginger cinnamon apple chips are a perfect healthy snack for the entire family to enjoy. Easy to make which is great, because they'll disappear quickly!
Ingredients
1 Michigan Jonagold apple
1/4 teaspoon cinnamon
1/4 teaspoon ground ginger
Instructions
Preheat oven to 225° F. Prepare 1 or 2 baking sheets by lining with parchment paper.
Using a mandolin, slice apples very thinly. Core if desired, prior to slicing. Spread the apple slices in a single layer on the prepared baking sheets.
In a small bowl, mix together cinnamon and ginger. Sprinkle the apple slices lightly with cinnamon and ginger mixture.
Bake for one hour, flip apple slices over, and continue to bake for another hour. Turn off oven and let slices cool in the oven for about an hour before removing from the oven.
Store in an airtight container for up to one week.
Notes
Any type of firm apple will work.
Cinnamon and ginger can be omitted, if desired.
Recipe can be easily doubled, if you have room in your oven.
Nutrition Information:
Yield: 2
Serving Size: 10 chips
Amount Per Serving:
Calories: 49
Total Fat: 0g
Saturated Fat: 0g
Trans Fat: 0g
Unsaturated Fat: 0g
Cholesterol: 0mg
Sodium: 1mg
Carbohydrates: 13g
Fiber: 2g
Sugar: 9g
Protein: 0g
RachelCooks.com sometimes provides nutritional information, but these figures should be considered estimates, as they are not calculated by a registered dietitian. Please consult a medical professional for any specific nutrition, diet, or allergy advice.
Verdict:
Love these addictive chips!
Husband's take:
He loves these chips – maybe even more so than me.
Changes I would make:
None are necessary, but if you don't like cinnamon or ginger, feel free to leave either out. The apples themselves have plenty of flavor.
Difficulty
: Easy.
Disclaimer: I was compensated to develop this recipe for Michigan Apples but all opinions are my own, as always. I love Michigan Apples, I really, really do!