5 Ingredient M&M Peanut Butter Bars
Irresistible M&M peanut butter bars with only 5 ingredients! Easy to make and so delicious!

I'm not even kidding. There are FIVE ingredients in these M&M peanut butter bars!
1 + 1 + 1 + 1 + 1 + oven = Delicious!
6 – 1 = Easy!
Peanut Butter + M&Ms = Happy!
Math lesson over. Moving on.
I named that photo file as "Oh-Yum." Seems to me it is much more descriptive than "M&M-Peanut-Butter-Bars-3." Tell me you don't agree!
These M&M peanut butter bars are not only insanely easy to make, but they are so delicious. Soft, chewy, and super sweet. I'd recommend a big glass of milk or a cup of coffee. And small bites that savor each morsel. Notice I said small bites, not small bars.
What are the five ingredients? Well, you know two of them already, M&Ms and peanut butter. Combine those two with Bisquick (an all-purpose baking mix), a couple of eggs, and brown sugar.
The dough is very thick. You may have to use your hands to combine it–I do. If all of the M&Ms don't stay in the dough, simply press them into the dough after you've put it into the baking pan.
Let your kids help you make M&M peanut butter bars! It's a very easy recipe. They'll love measuring the baking mix and brown sugar. Teach them how to crack eggs into a small bowl before they add them to the peanut butter. They'll get good practice stirring and blending and they'll love using their hands to mix the dough and press the M&Ms in.
Variations: Try mini M&Ms, peanut butter M&Ms, or Reese's Pieces. Chocolate chips, white chocolate chips, or mini chocolate chips would be great too.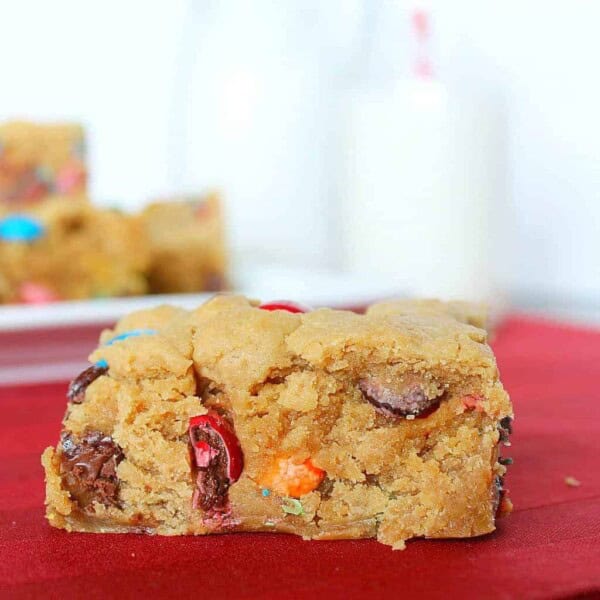 Looking for more easy bar recipes? Try:
5 Ingredient M&M Peanut Butter Bars
Yield: 16 bars
Prep Time: 10 minutes
Cook Time: 40 minutes
Total Time: 50 minutes
Irresistible M&M peanut butter bars with only 5 ingredients! Easy to make and so delicious!
Ingredients
3/4 cup peanut butter (creamy or chunky)
2 large eggs
1 cup packed brown sugar
2 cups all-purpose baking mix (Bisquick, for example)
1 bag (12 ounce) M&Ms (use regular, mini, peanut butter, Reese's Pieces, or even chocolate chips)
Instructions
Preheat oven to 325F°. Spray an 8-inch square pan with cooking spray.
Combine peanut butter and eggs until well mixed and smooth.
Add brown sugar and stir until combined.
Stir in baking mix until moistened (I use my hands - it is a very thick batter).
Fold in M&Ms. Again, using my hands works best for this step. Not all of the M&Ms stick in the dough I just push them in when I put it all in the pan.
Spread mixture in greased pan and bake for 35-40 minutes or until golden brown.
Nutrition Information:
Yield: 16
Serving Size: 1 bar
Amount Per Serving:
Calories: 188
Total Fat: 9g
Saturated Fat: 2g
Trans Fat: 0g
Unsaturated Fat: 6g
Cholesterol: 24mg
Sodium: 262mg
Carbohydrates: 24g
Fiber: 1g
Sugar: 14g
Protein: 5g
RachelCooks.com sometimes provides nutritional information, but these figures should be considered estimates, as they are not calculated by a registered dietitian. Please consult a medical professional for any specific nutrition, diet, or allergy advice.
Verdict: I think you probably get the idea, but if you weren't listening–these peanut butter bars are delicious! VERY sweet though, in all seriousness, they are best in moderation.
Husband's take: He didn't have any. He's not the biggest fan of peanut butter desserts. Crazzzzzy. I'm quite sure he was silently cursing me for not making his favorite treat.
1-year-old daughter's take: None of these for her! Sorry kiddo. Now, before you start thinking that I ate the whole pan–I brought these to the kid's birthday party to share with family and friends.
Changes I would make: None!
Difficulty: Five ingredients folks. Should we review the math lesson? This recipe is EASY!