Buckeyes Recipe (Peanut Butter & Chocolate Perfection)
Buckeyes anyone? I have yet to meet someone who can resist these sweet peanut butter balls dipped in chocolate. They're just so good!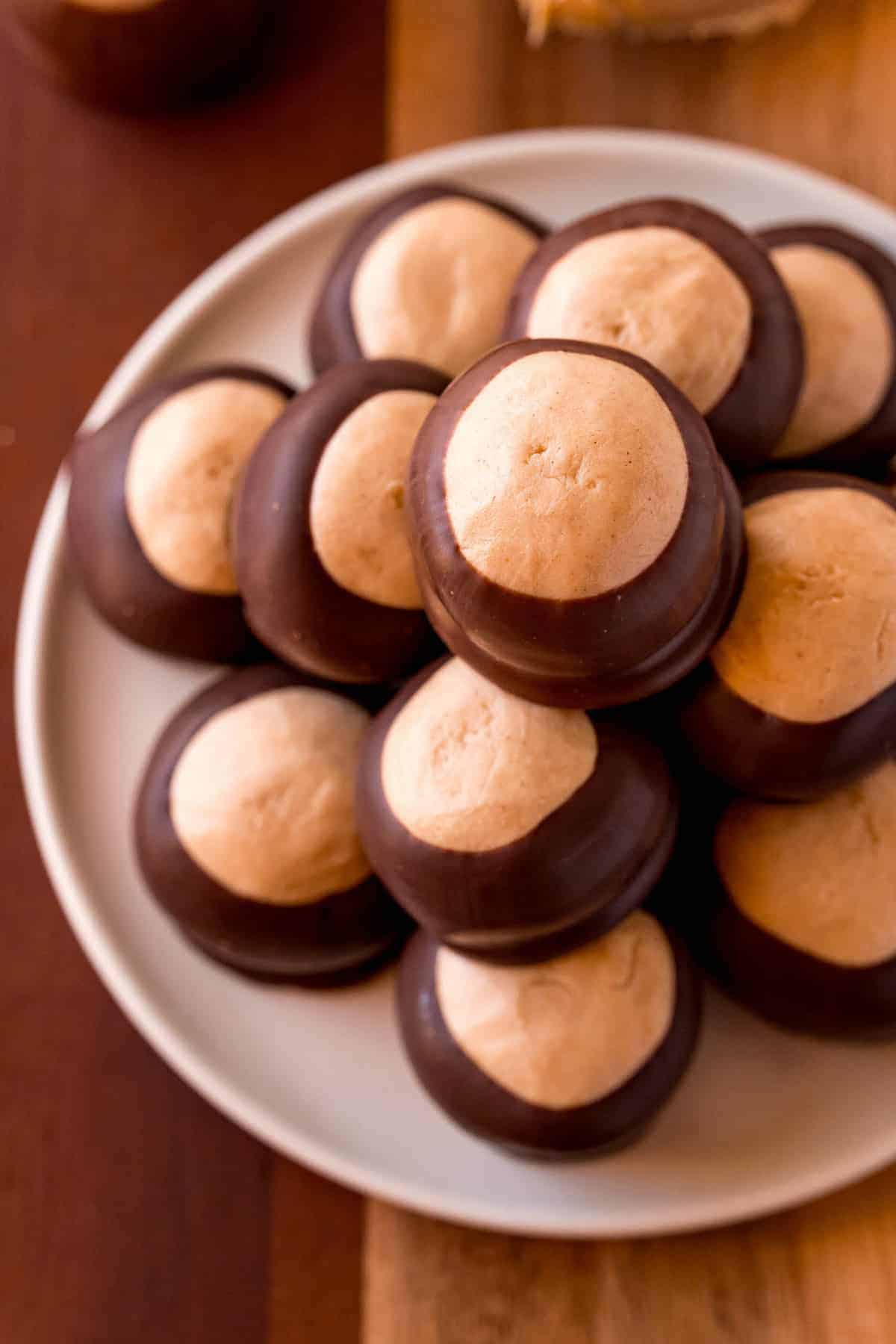 Peanut butter and chocolate, is there a better combination than that? If you like Reese's Peanut Butter cups, you know what I'm talking about.
Just a casual search on my site will bring you recipes for Peanut Butter Fudge Brownies, No Bake Peanut Butter Bars (just like Reeses), Peanut Butter Cup Blondies, and Peanut Butter Hot Fudge Sauce. Unfortunately my peanut fantasies came to a screeching halt when it was discovered that both of my kids have severe nut allergies. Total bummer!
My mom gladly volunteered her services to test this recipe. Thanks, mom, I know it was a real hardship! I like to think this is the best buckeye recipe but I'll let you be the judge.
And aren't these candies kind of cool looking? They look great on a Christmas cookie plate but be prepared with backups because the buckeyes will vanish in a blink of an eye (pun intended).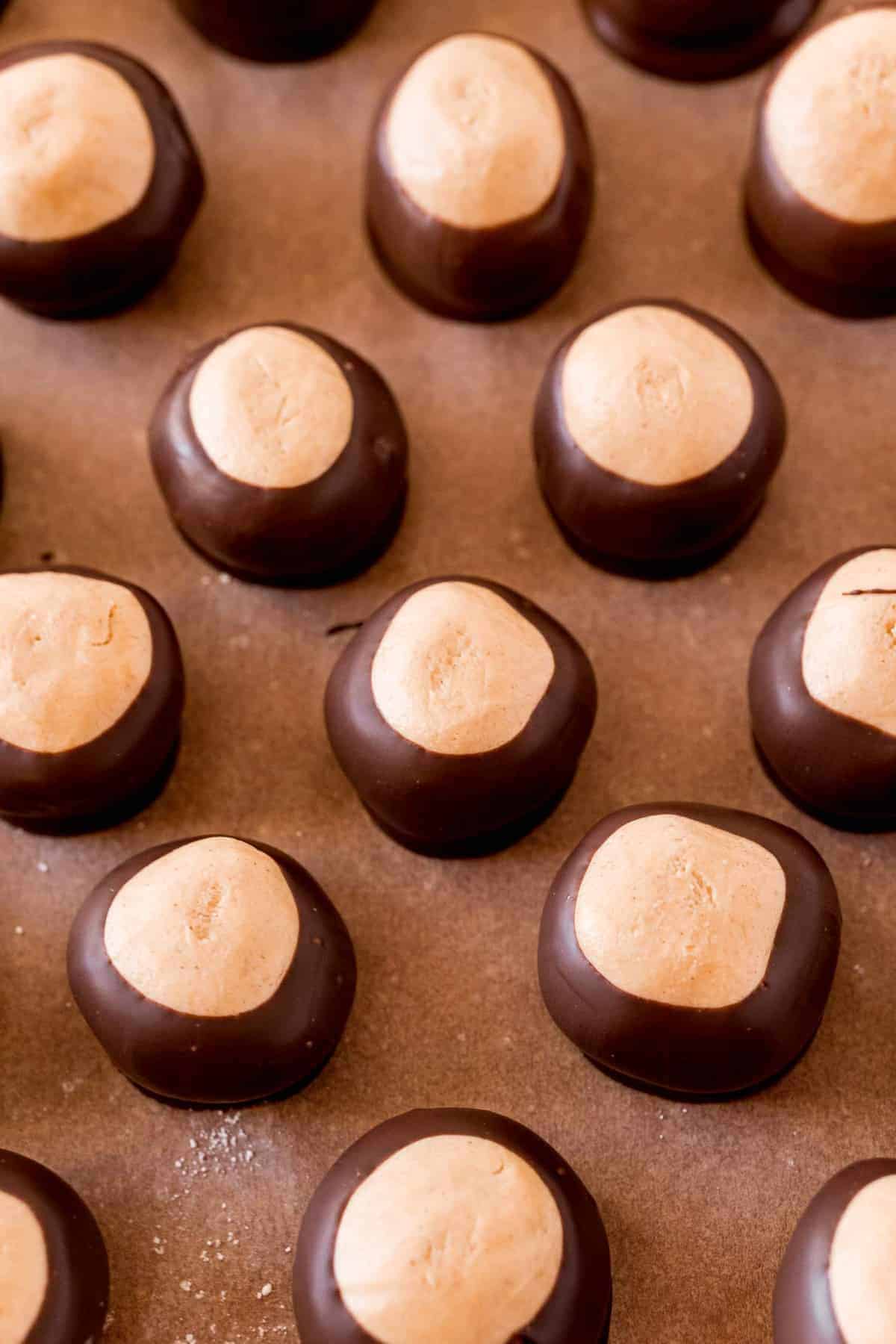 About this buckeyes recipe:
These no-bake treats are easy to make. Involve the family and get some help with the rolling and dipping for a fun shared experience. The reward is a delicious chocolate peanut butter ball!
The process is simple but you'll need a little extra time for chilling. Once you mix the peanut butter, sugar, and vanilla, that mixture has to chill for 30 minutes before you can shape it into balls.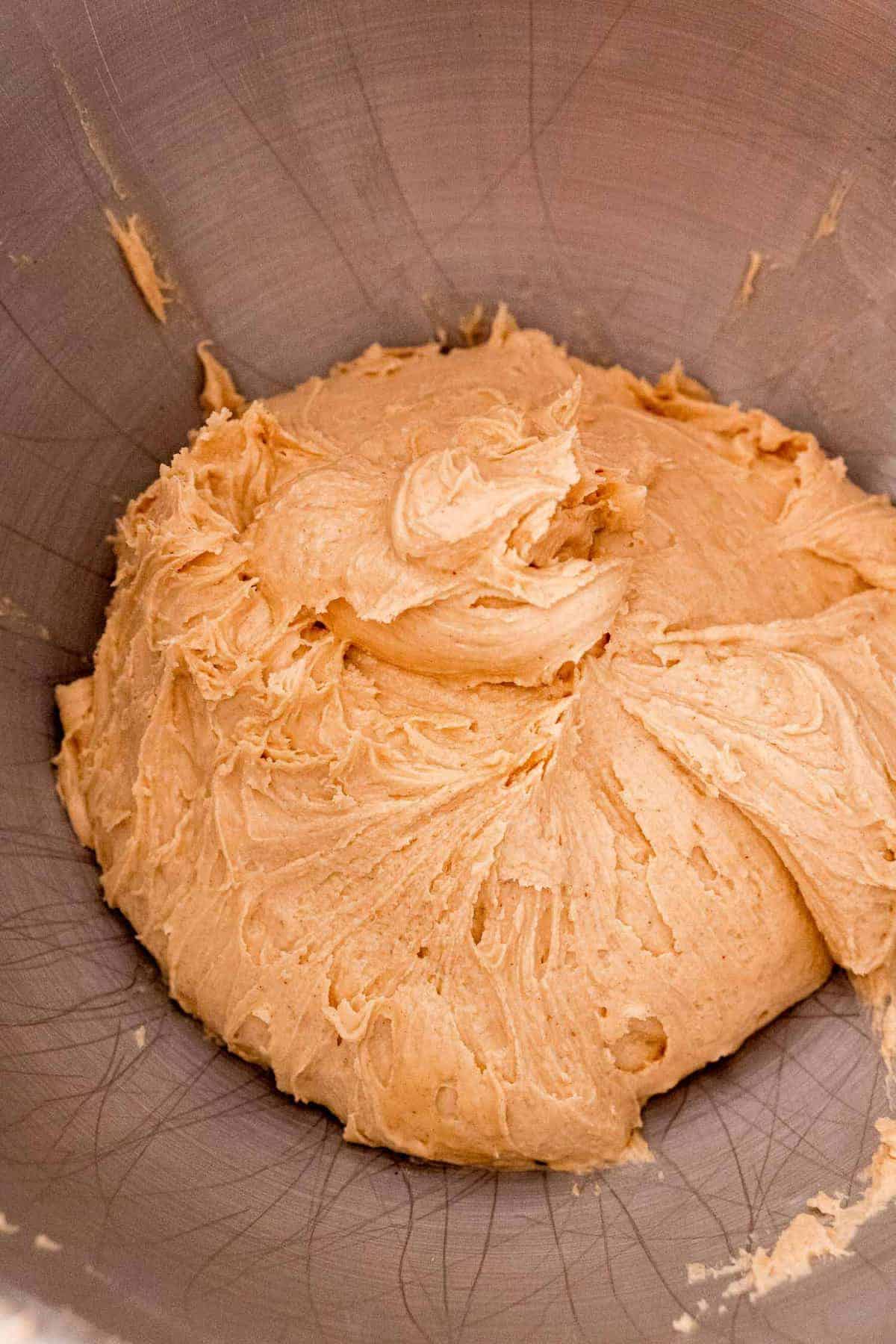 Once they're shaped, the 34 little balls have to chill 30 minutes more before dipping.
Poke a toothpick into a ball and dip the ball into melted chocolate, but don't submerge it completely. A fork is useful to kind of dislodge the ball from the toothpick back on to parchment paper. You can smooth the hole with your finger or a paring knife so everything's nice and pretty. Give the chocolate a little time to firm up and they're ready to eat.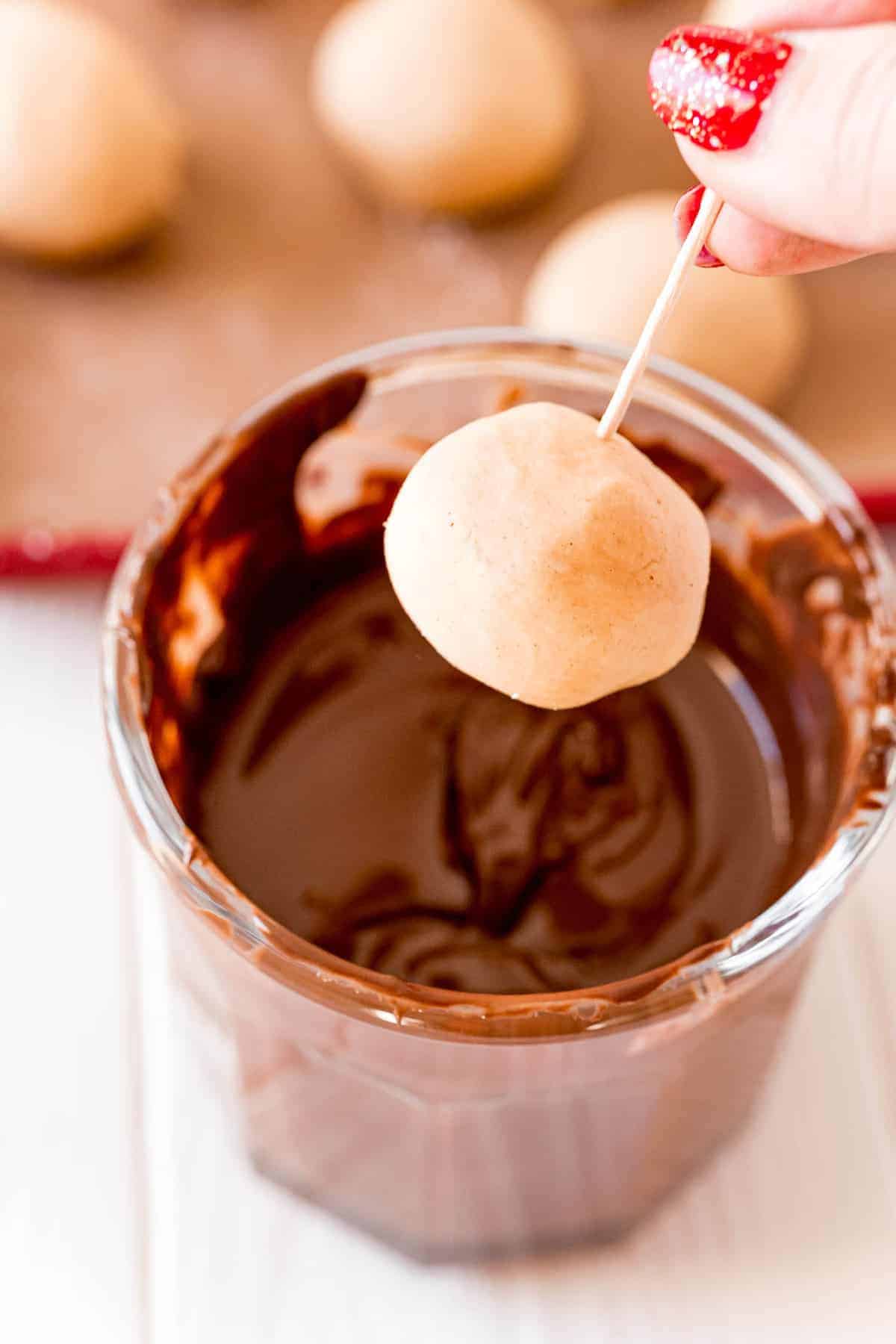 FAQ
Why is it called a Buckeye?
You may have thought "buckeyes" referred to the candy's similarity to the round dark eyes of a male deer. Actually, buckeyes look very similar to and are named for the nut that comes from the buckeye tree. You may know it as a horse chestnut tree or if you live in Great Britain, a conker tree.
The buckeye tree is Ohio's state tree and Ohio State University fans will readily recognize the team name Buckeyes, as will their rivals. My husband thought we should rename these candies and I know those are probably fighting words!
Are buckeyes a cookie or a candy?
I mean…when something is this delicious, does the name matter? They've been called both, so neither is incorrect. Since they don't include flour and aren't baked, I'm more inclined to classify them as a candy.
Do buckeyes need to be refrigerated?
Yes! If you don't keep them in the fridge, they will get soft, lose their shape, and get messy.
How long do buckeyes last?
If you keep them stored in an airtight container in the fridge, they'll keep for about a week. You can also freeze them for 3-4 months, thaw them in the fridge when you're ready to enjoy.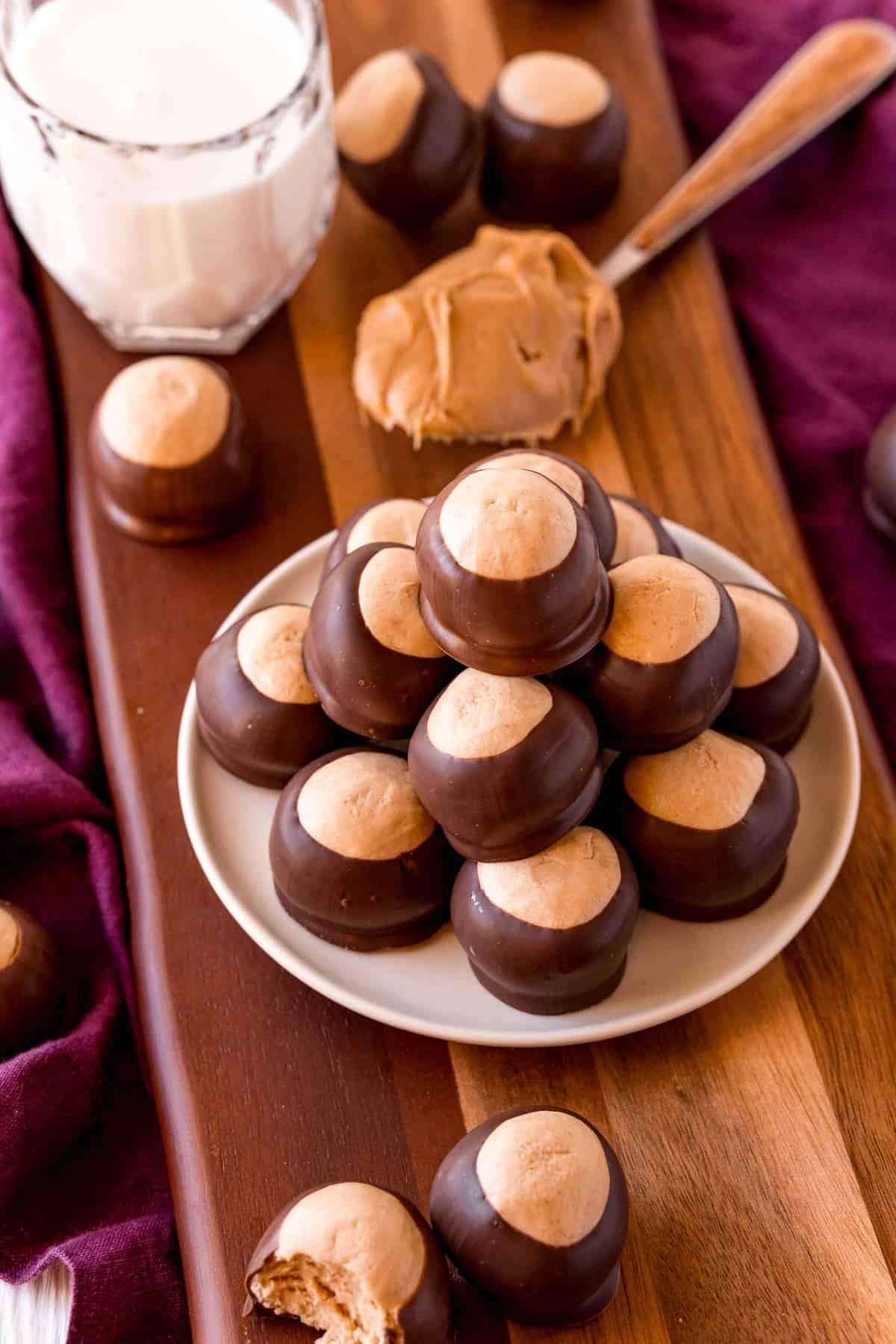 What's in this recipe?
Creamy Peanut Butter – Unfortunately, we don't recommend natural peanut butter for this recipe.
Butter – Do not substitute with margarine! It will affect the flavor and the consistency.
Pure Vanilla Extract – This will add depth of flavor.
Powdered Sugar – You can use a little more or a little less, depending on the consistency of your peanut butter mixture.
Chocolate Melting Wafers – For that yummy chocolate coating!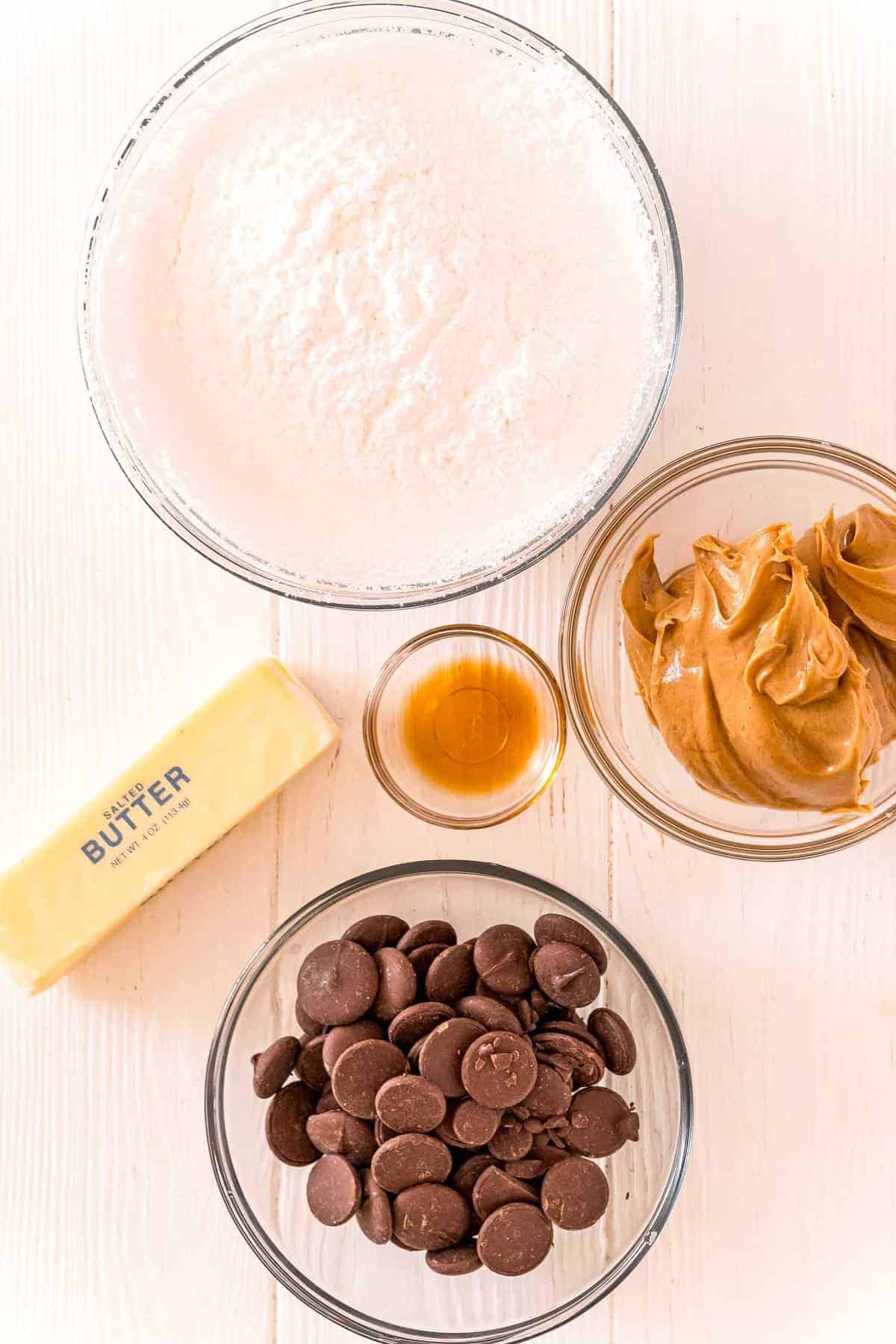 How to make these your own:
Try using chunky peanut butter instead of smooth. Keep in mind, their appearance will be different!
Dip the candies in dark chocolate or white chocolate.
If you prefer, dip the entire ball into chocolate for a chocolate covered peanut butter ball.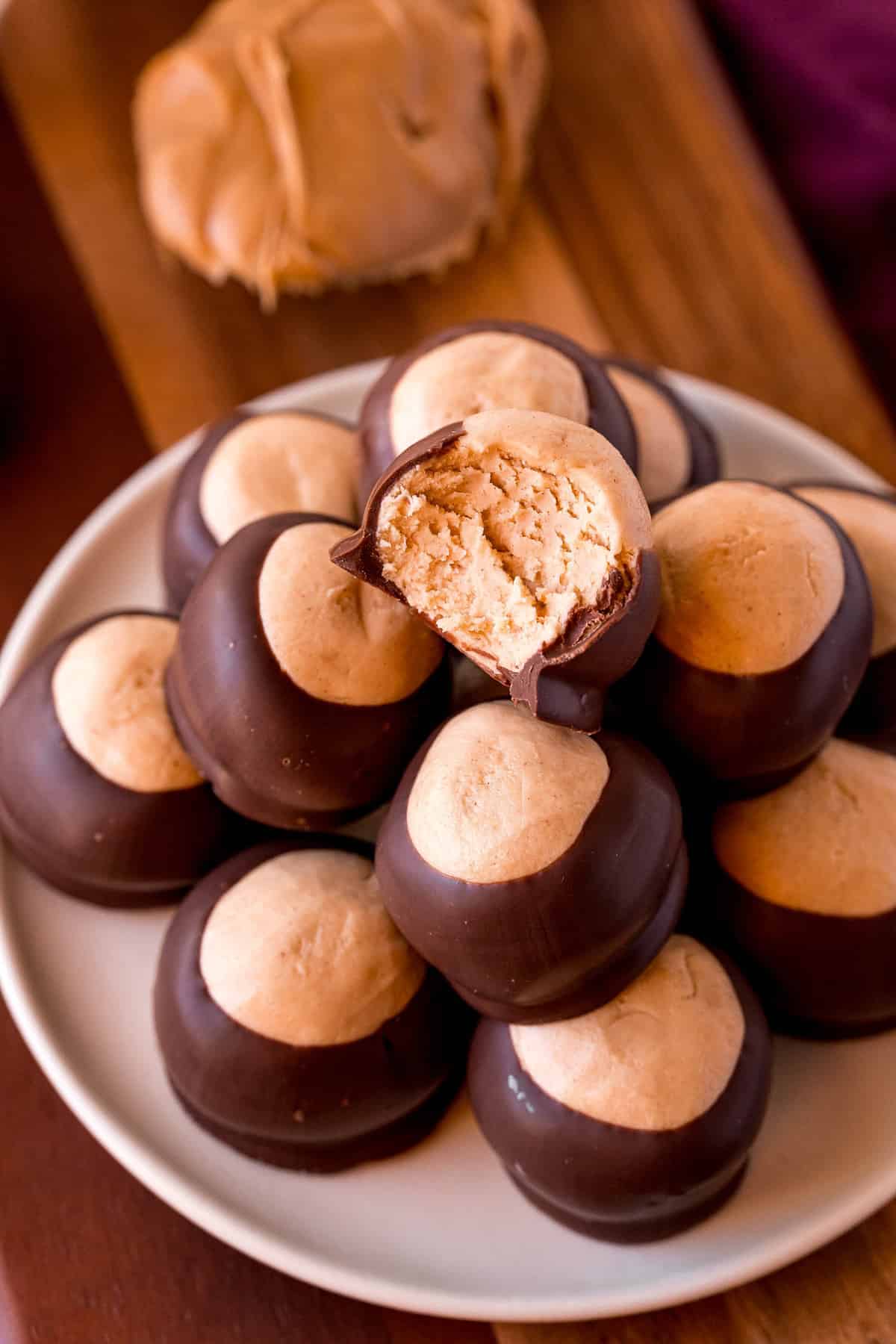 Storage Tips
Once chocolate has fully hardened, store buckeyes in an airtight container in the refrigerator for up to 7 days or freeze in a freezer bag for up to 3 months.
No-Bake Treats:
These sweet treats don't have to spend any time in the oven! Try: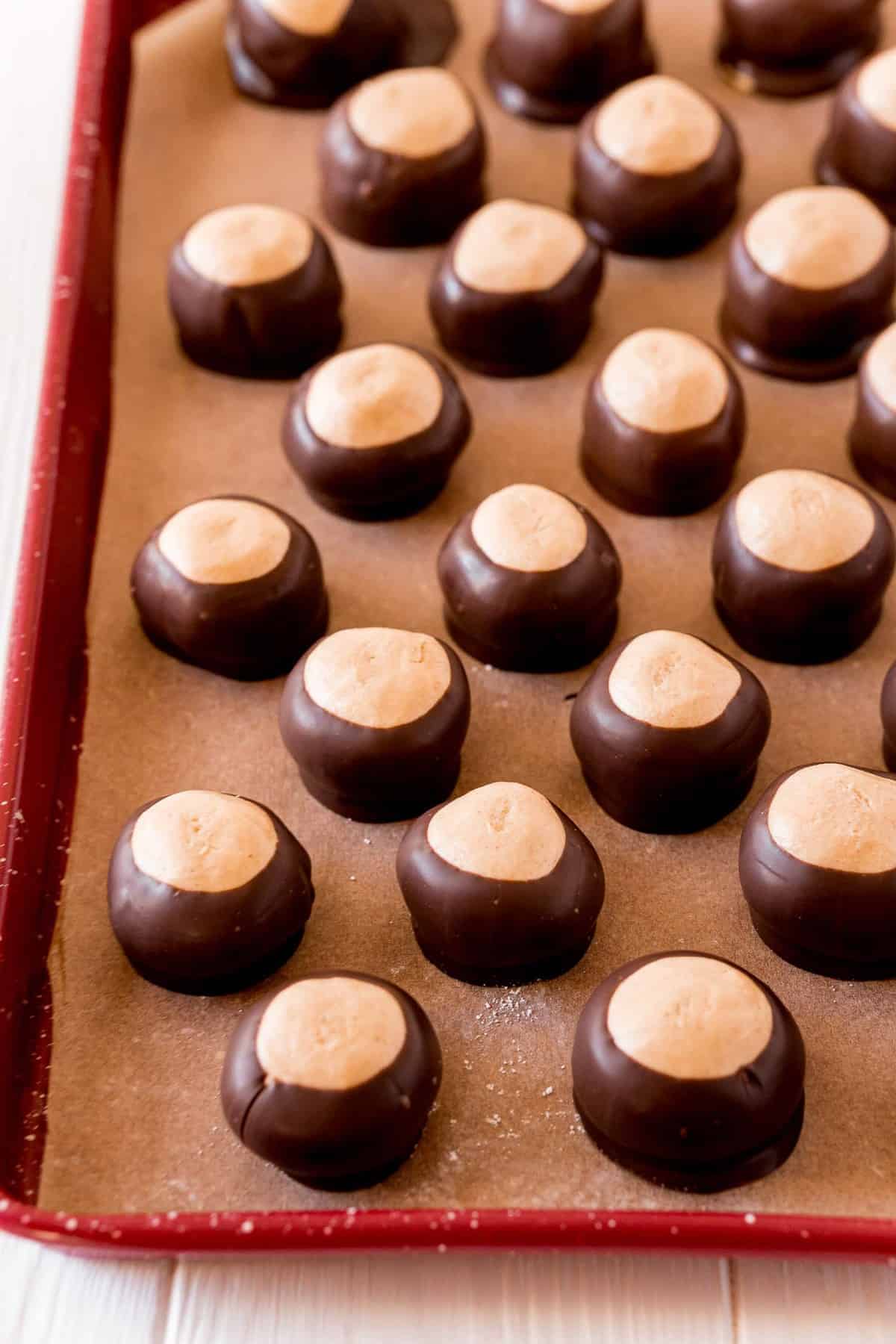 Buckeyes Recipe (Peanut Butter & Chocolate Perfection)
Yield: 34 buckeyes
Prep Time: 30 minutes
Additional Time: 1 hour
Total Time: 1 hour 30 minutes
Buckeyes anyone? I have yet to meet someone who can resist these sweet peanut butter balls dipped in chocolate. They're just so good!
Ingredients
1 ⅓ cup creamy peanut butter, such as Jif
½ cup salted butter, softened
1 teaspoons vanilla extract
3 ½ cups powdered sugar
3 cups chocolate melting wafers (see note)
Instructions
Add the peanut butter, butter, and vanilla to a large bowl or stand mixer and cream together for 30 seconds.
Sift the powdered sugar into the bowl and beat until smooth.
Chill the mixture in the refrigerator for 30 minutes.
Line a cookie sheet with parchment paper. Portion the peanut butter mixture out with a medium cookie scoop and roll into balls. Place them on the cookie sheet and chill in the freezer for 20 to 30 minutes. Do not freeze for more than 30 minutes prior to dipping. Place in the refrigerator if not ready to dip.
Just before removing the balls from the freezer, melt the chocolate melting wafers in a wide bowl or glass in 30-second intervals, stirring between each, until fully melted. Don't let the balls sit out too long before dipping because they can start to sweat and it will make it hard for the chocolate to stick.
Use a toothpick to spear the balls and dip them in the melted chocolate. Push the balls off the toothpick back onto the parchment paper with a fork. Smooth over the hole from the toothpick with your finger or a paring knife.
Allow to set until the chocolate hardens. Store in an airtight container in the refrigerator for up to 7 days or freeze in a freezer bag for up to 3 months.
Notes
Jif creamy peanut butter was used in this recipe. Using a natural peanut butter may affect your results.
Chocolate chips may be used in place of the melting wafers. Add ½ teaspoon of coconut oil to every cup of chocolate chips for smoothness.
There will be excess chocolate remaining since you need to be able to dip these balls almost fully without covering the tops.
Recommended Products
As an Amazon Associate and member of other affiliate programs, I earn from qualifying purchases.
Nutrition Information:
Yield: 34
Serving Size: 1 candy
Amount Per Serving:
Calories: 217
Total Fat: 13g
Saturated Fat: 6g
Trans Fat: 0g
Unsaturated Fat: 6g
Cholesterol: 11mg
Sodium: 89mg
Carbohydrates: 23g
Fiber: 1g
Sugar: 20g
Protein: 4g
RachelCooks.com sometimes provides nutritional information, but these figures should be considered estimates, as they are not calculated by a registered dietitian. Please consult a medical professional for any specific nutrition, diet, or allergy advice.