Roasted Italian Sausage with Onions and Vegetables
Roasted Italian Sausage with Vidalia Onions and Vegetables – this will become a go-to easy meal for you – it is for us!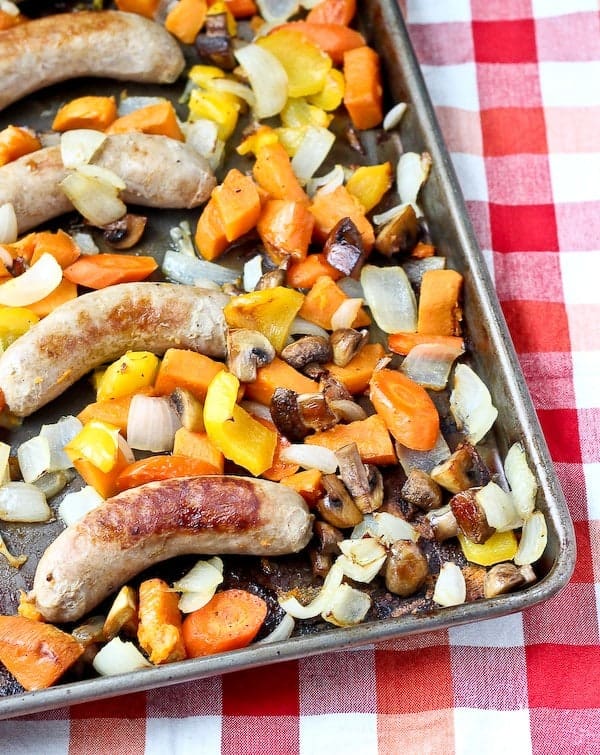 I don't know if you are a meal planner, but I am kind of a half-hearted meal planner. I think it's a combination of Ben's crazy work schedule and this blog that puts me somewhere in no-man's land when it comes to meal planning.
I'll write a list of recipes I want to develop for this site that week. They could be recipes for clients, or they could be just something I've been wanting to share with you. If it's a dinner recipe, I'll assign it a day – preferably a night that Ben will be home so I can photograph it while he entertains the kids.
Then I'll fill in days that Ben has a late night at work. The kids and I will either meet him for dinner those nights or I'll just make something quick and easy (kind of like lunch). That's usually when I just give up. It's so bad! I'm really bad at this.
Next thing I know, I'm wandering the grocery store aisles aimlessly, picking up this and that. I know I have a stocked pantry so throwing together a last-minute meal isn't usually too difficult as long as I have a decent selection of protein in my fridge. One of the things I'll commonly pick up is either ground turkey, or turkey sweet Italian sausage. I know I can easily throw together a meal with either one of these two things. This time I happened to reach for the Italian sausage and decided to share this meal idea with you guys. It's honestly one of those meals I make over and over and OVER again. It's ridiculously easy, it's healthy, and it's a great way to use up whatever produce you may have in the fridge.
This time the first thing I reached for was a couple of sweet Vidalia® Onions . It's hard to believe this, but they get even sweeter when you roast them. If you remember, as part of my partnership with Vidalia onions, I also made this irresistible onion tart with bacon and kale. That tart may be a fancier use of the Vidalia onions – but this use is just as delicious. This recipe is going to save your butt on those days where you really don't feel like cooking.
[Tweet "Dinner doesn't have to be difficult to be delicious – try this one pan meal! #RachelCooks"]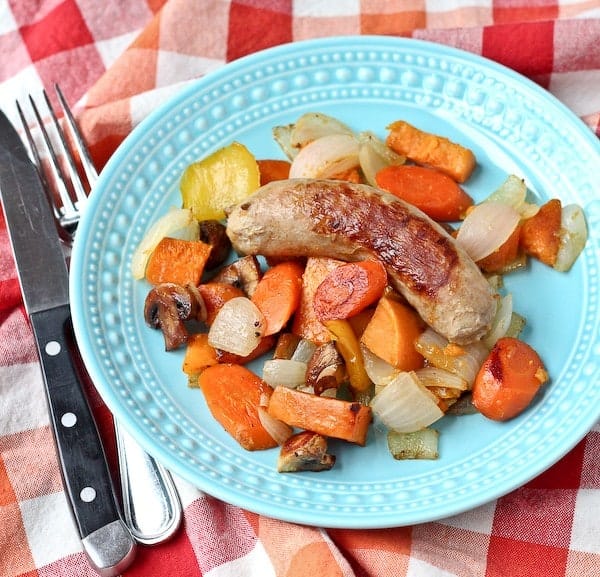 Roasted Italian Sausage with Vidalia Onions and Vegetables
Roasted Italian Sausage with Vidalia Onions and Vegetables – this will become a go-to easy meal for you – it is for us!
Ingredients:
one package of sweet Italian turkey sausage (19.5 ounces) – 5 sausages
3 small Vidalia onions, cut into bite-sized chunks
1 large sweet potato, peeled and cut into bite-sized chunks
1 large bell pepper (any color), cut into bite-sized chunks
3 large carrots, peeled and cut into bite-sized chunks
8 ounces white mushrooms, washed and cut into bite-sized chunks
1 tablespoon olive oil
salt and pepper
Directions:
Preheat oven to 425 degrees Fahrenheit.
Place all chopped vegetables on rimmed sheet pan. Drizzle with olive oil and sprinkle with salt and pepper. Toss to combine and then place sausage on pan as well. (Note – you may need to divide them on to two trays if it's too crowded).
Roast for 20 minutes, stir, return to oven and cook for an additional 15-20 minutes or until vegetables are tender and brown and sausage is cooked through.
All images and text ©
.
Verdict: Seriously, I could eat this every day with some type of variation on it.
Husband's take: He loves this kind of thing too. I paired it with some crusty bread and fresh fruit. Dinner, done.
Changes I would make: I love to throw in whatever vegetables I have in the house. And if you like things spicy, feel free to use a spicier Italian sausage.
Difficulty: So easy! You can't really screw this one up.
Looking for more easy meals? Try out this BBQ Chicken Burrito Bowl, One Pan Italian Quinoa with Ground Turkey, Healthy Chicken Stroganoff, Cheese Quesadillas with Sweet Vidalia Onion, or Grilled Buffalo Chicken and Vidalia Flatbread Salad.
You can find out more about Vidalia Onions on Facebook, Twitter, Pinterest, Instagram and Youtube.
Disclosure: This Roasted Italian Sausage recipe is a sponsored post written on behalf of Vidalia Onions. I have been compensated for my time but as always, all opinions are my own! I heart sweet Vidalia onions and I'd buy them no matter what. Thanks for supporting Rachel Cooks by reading about brands I use and love!