Creamy One Pan Gnocchi with Sausage & Zucchini
Be sure to put this one on your menu! A steaming bowlful of creamy one pan gnocchi with sausage and zucchini is just what you need for dinner this week. Easy to make and oh, so good!
Recipe Overview
Why you'll love it: This is an easy recipe to prepare. It's a great weeknight dinner but you could totally serve it to guests, too.
How long it takes: 40 minutes
Equipment you'll need: a large pan with a lid or a Dutch oven
Servings: 6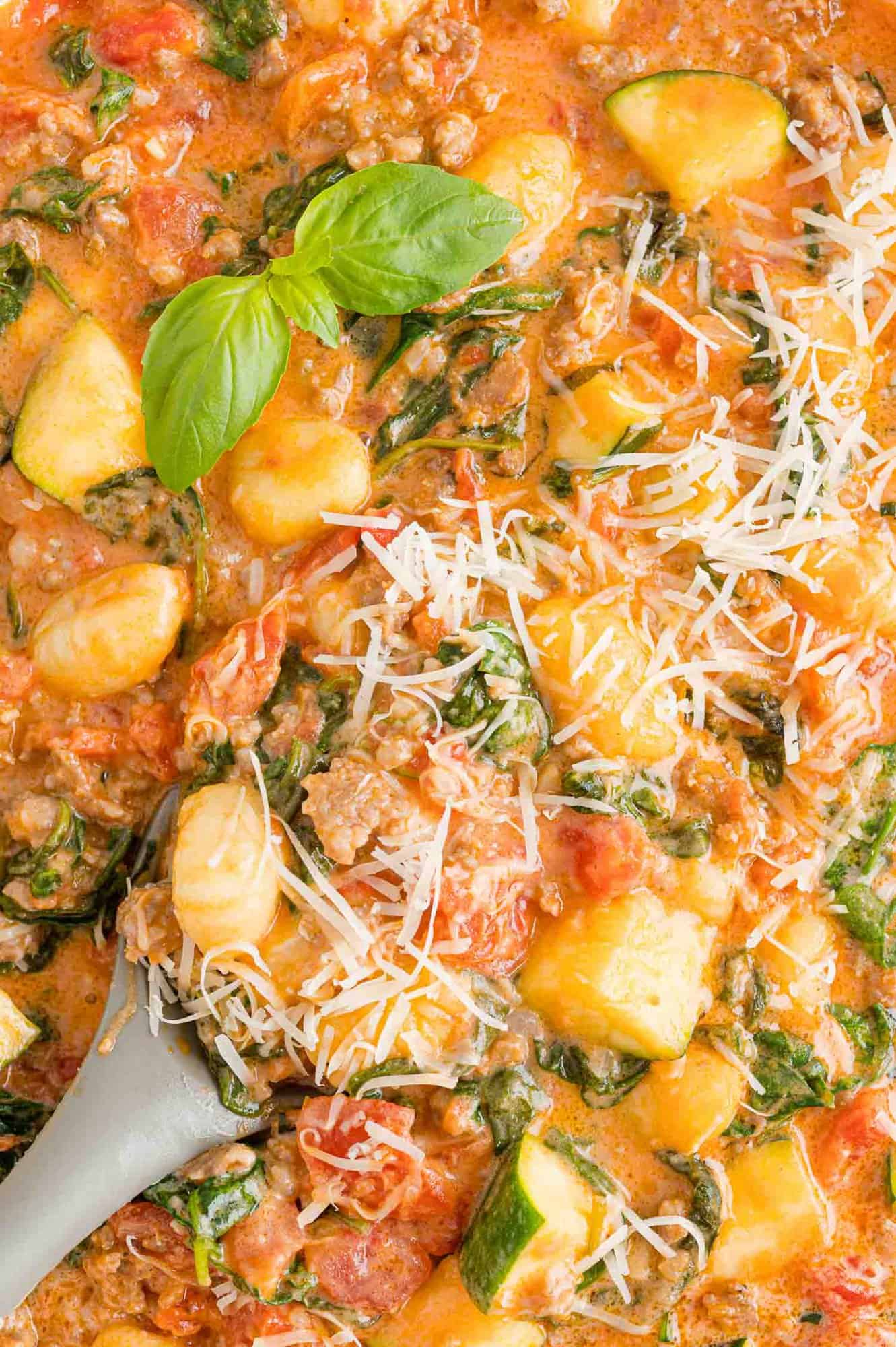 Doesn't that photo of tender gnocchi with creamy tomato sauce just get your mouth watering? I could go for some right now. It looks kinda fancy, too, with the basil sprig and shredded Parmesan.
It may look fancy but it's really quite simple. Gnocchi is a nice alternative to pasta. The tender little potato dumplings cook quickly and have a chewy texture that is super satisfying. Buy shelf-stable or frozen gnocchi to keep on hand for recipes like this.
Gnocchi is fun to say, too. It's pronounced nyow·kee. Practice it with your family and make up silly rhymes. It almost rhymes with "donkey" and you can take it from there.
I often have a roll of Italian sausage in the fridge, too. It keeps for quite awhile (keep an eye on the "Use By" date). Italian sausage is a easy way to add tons of flavor to a quick soup or stew. Try Instant Pot pasta with sausage, spinach, and tomatoes or lasagna soup, with all the goodness of lasagna but not all the hassle.
So get this recipe cooking! Dinner will be on the table before you know it.
About This One Pan Dinner
Easy to make: This dinner may look a little fancy, maybe like what you order at your favorite Italian restaurant, but I think you'll be surprised how easy it is to make. Forty minutes from start to finish, and only one pan to wash after dinner!The prep work is pretty minimal and the ingredients are easy to find at the grocery store.
Kid friendly: If you have children who like to help out, give them the chore of cutting up the zucchini. Zucchini squash are really easy to chop. You don't need to peel them and they slice quite easily. It won't matter a bit if the pieces are a little unevenly sized.
Easy to adapt:The recipe is easy to adapt to your family's preferences or to what you happen to have on hand. Don't have any heavy cream? This recipe is actually quite good without it, too. Have a red bell pepper or mushrooms that need to be used up? Go ahead and add them! Look for more ideas further on in the post.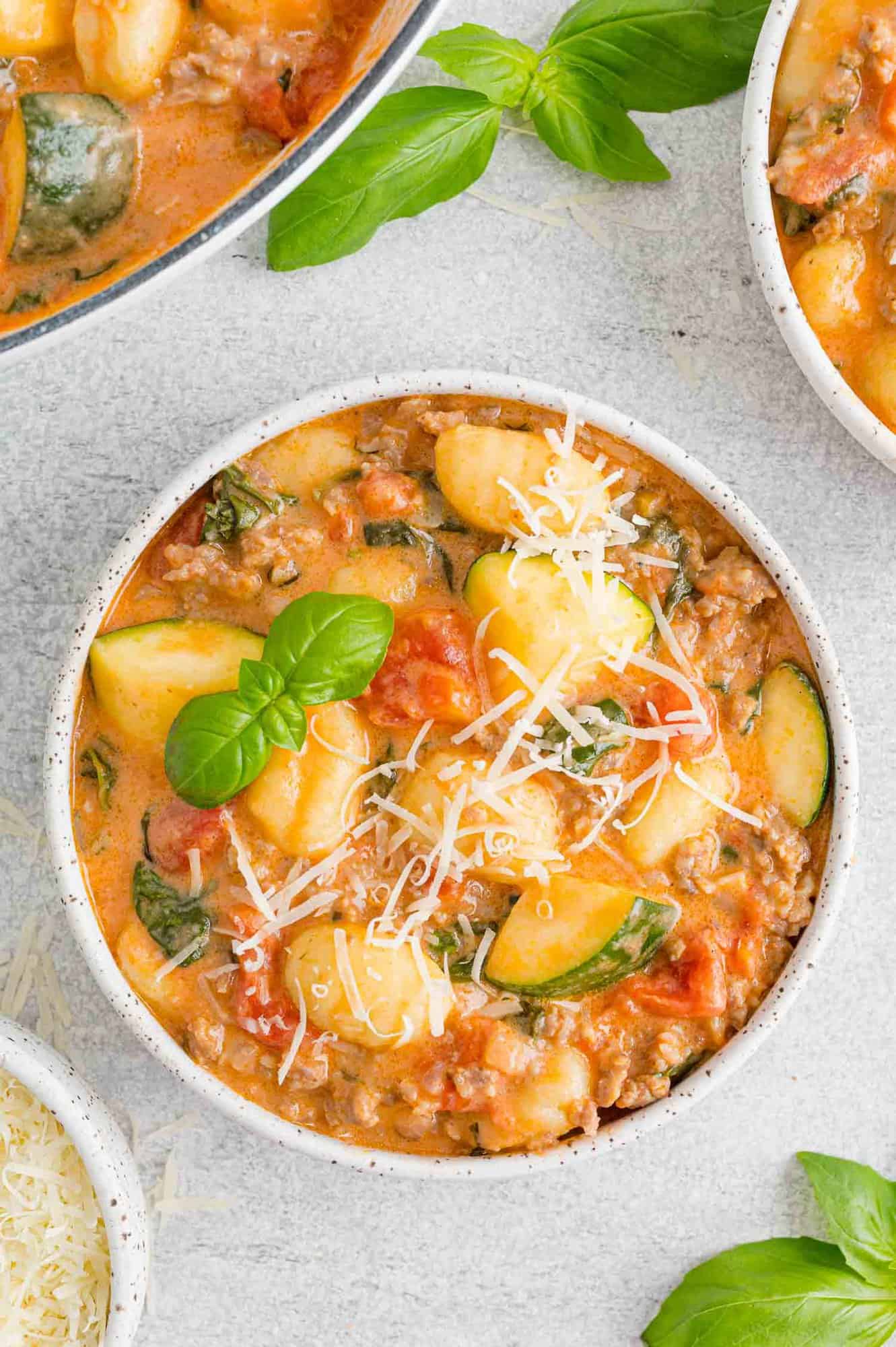 What You'll Need
Italian Sausage: There are several kinds of Italian sausage you can choose from: mild, sweet, or hot; bulk or link; pork or turkey. Choose the one you like best. If you buy link sausage, remove it from the casing.
Gnocchi: These soft, bite-sized potato dumplings can be shelf-stable (vacuum-packed), refrigerated, or frozen. Any type is fine but cooking time may vary. Refer to the package for directions.
Onion: A yellow cooking onion works well but use what you have in the house.
Garlic: A couple of cloves of garlic add a nice savory flavor to the dish. Add more if you like, or less.
Zucchini: Zucchini are sometimes called courgettes. The skin is tender and edible so there's no need to peel this squash. You'll need a couple of medium-sized zucchini or one large one. Look for a zucchini with shiny dark green unblemished skin.
Diced Tomatoes: Canned or fresh, use whatever is available.
Baby Spinach Leaves: These tender leaves cook very quickly and add lots of good nutrition. Other tender dark greens can be substituted if spinach isn't available.
Fresh Basil: The licorice-like flavor of basil is so wonderful. Save some for garnishing, too.
Heavy Cream: You really don't need much cream to add richness and a velvety texture to the sauce, just half a cup.
Parmesan Cheese: You can either stir the shredded cheese in or top each serving with it. If you prefer, substitute shredded mozzarella cheese.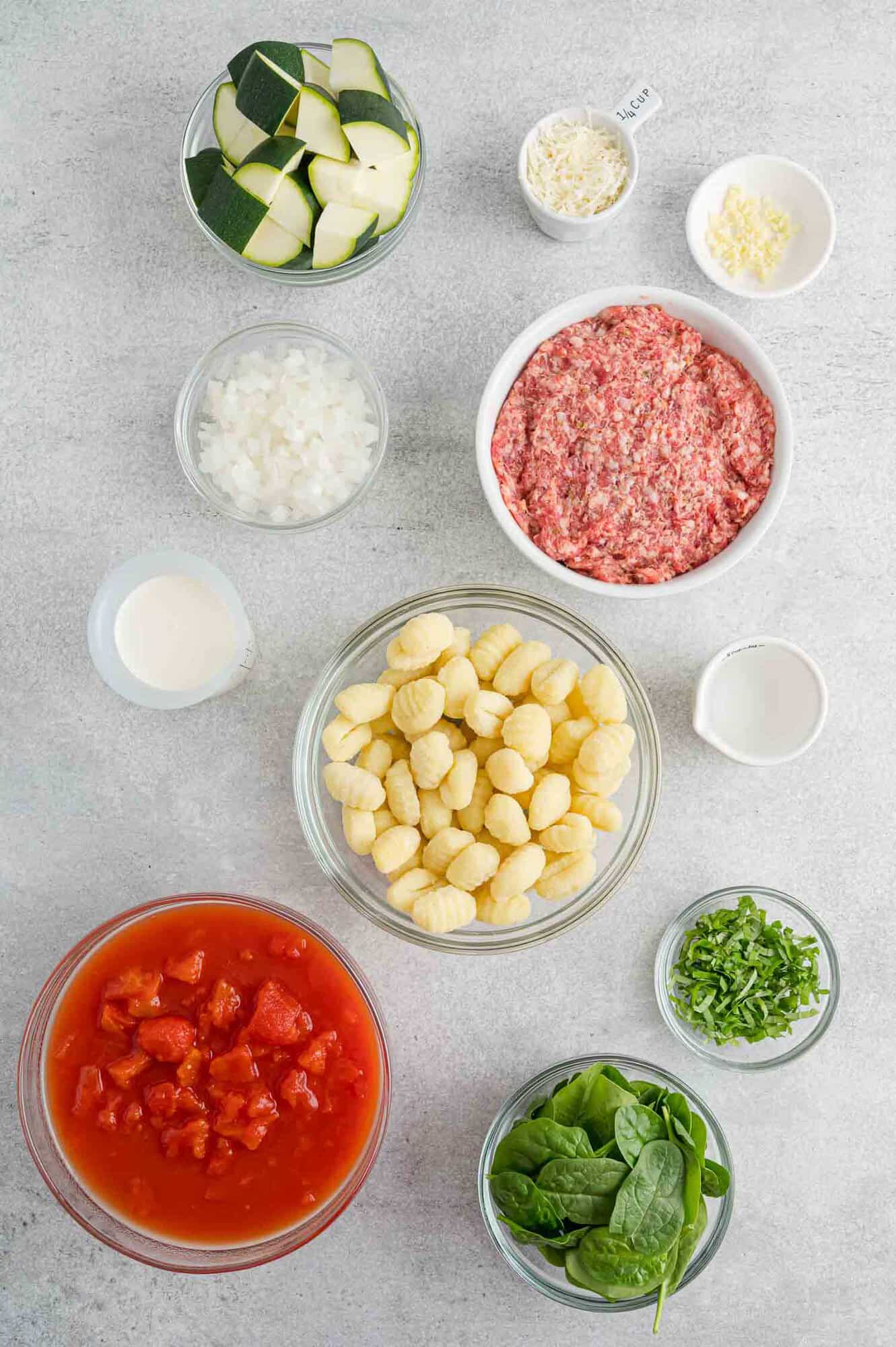 How to make it
Assemble all the ingredients you'll be using. You'll need a big skillet with a lid or a Dutch oven. Prep the onion, garlic, and zucchini; open the can of tomatoes. You're ready to get started!
Over medium heat, brown the sausage and chopped onion. Break up the large pieces of sausage with a wooden turner or sturdy spatula as it cooks.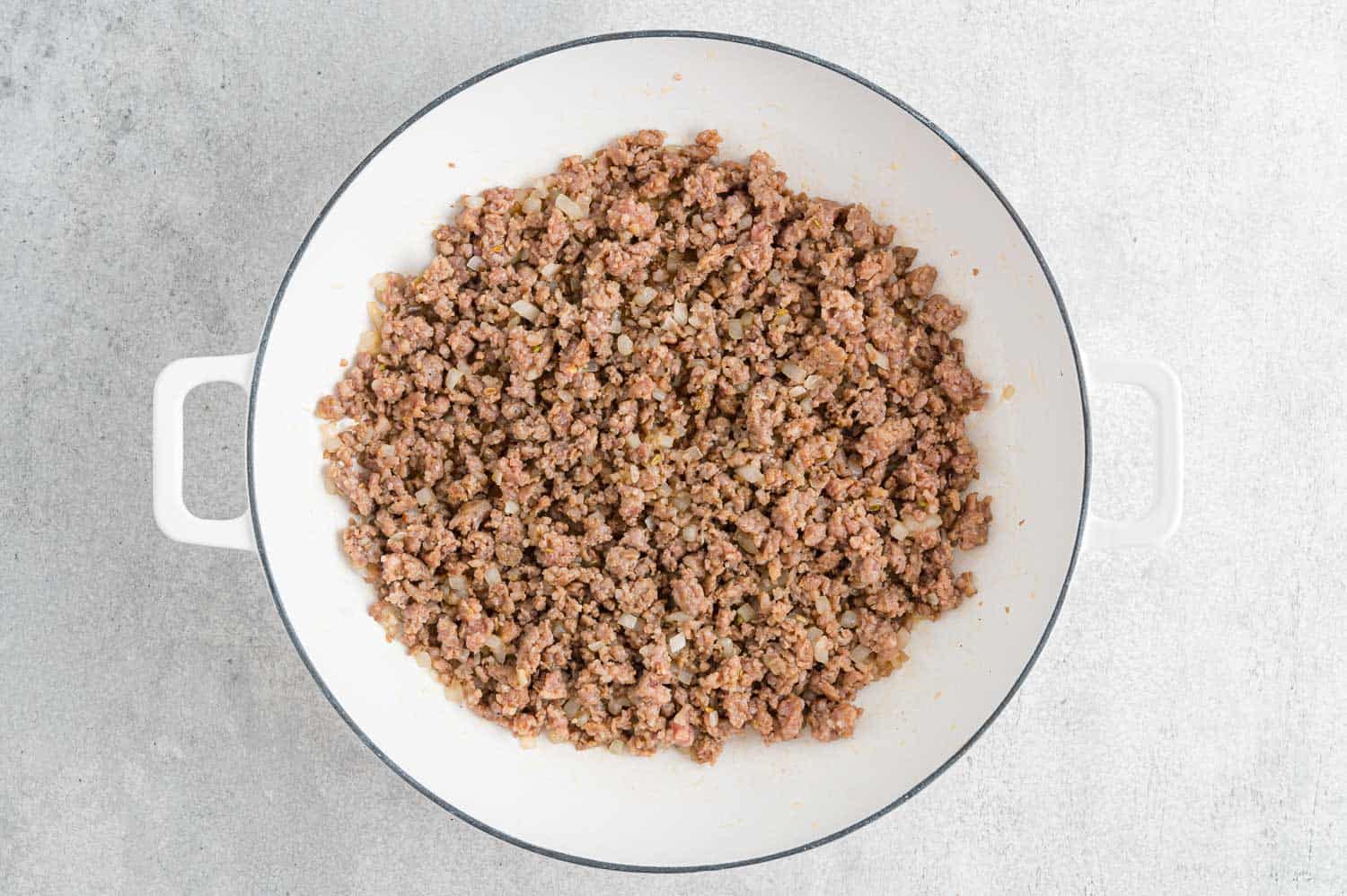 Once the meat is thoroughly cooked, add the minced garlic and chopped zucchini. Cook, stirring occasionally, until the zucchini begins to soften. It will cook more so don't overcook it at this stage.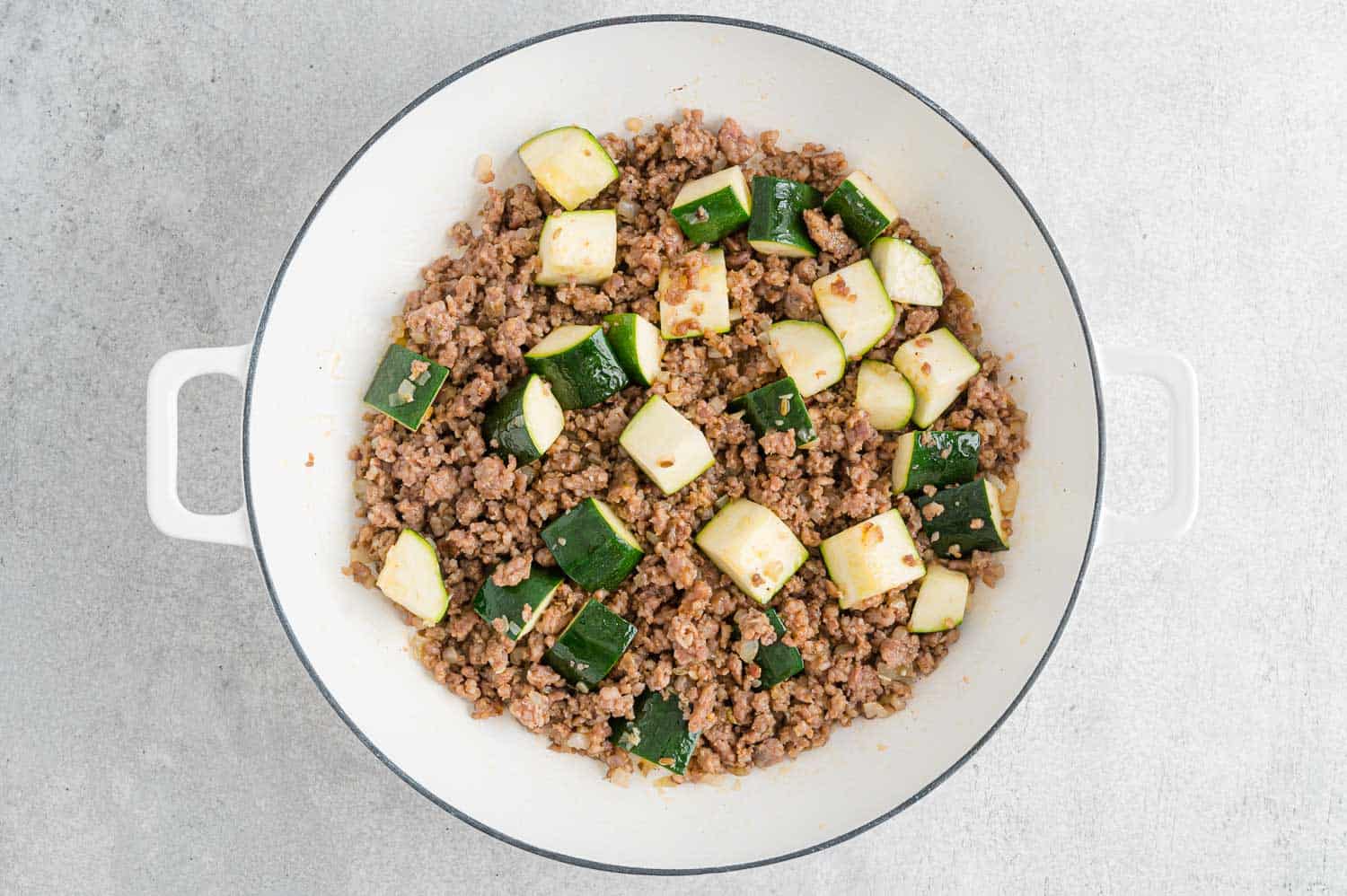 Add a big can of diced tomatoes and a splash of water. There's no need to drain the tomatoes first. The juice becomes part of the sauce. Bring the contents of the skillet to a good simmer.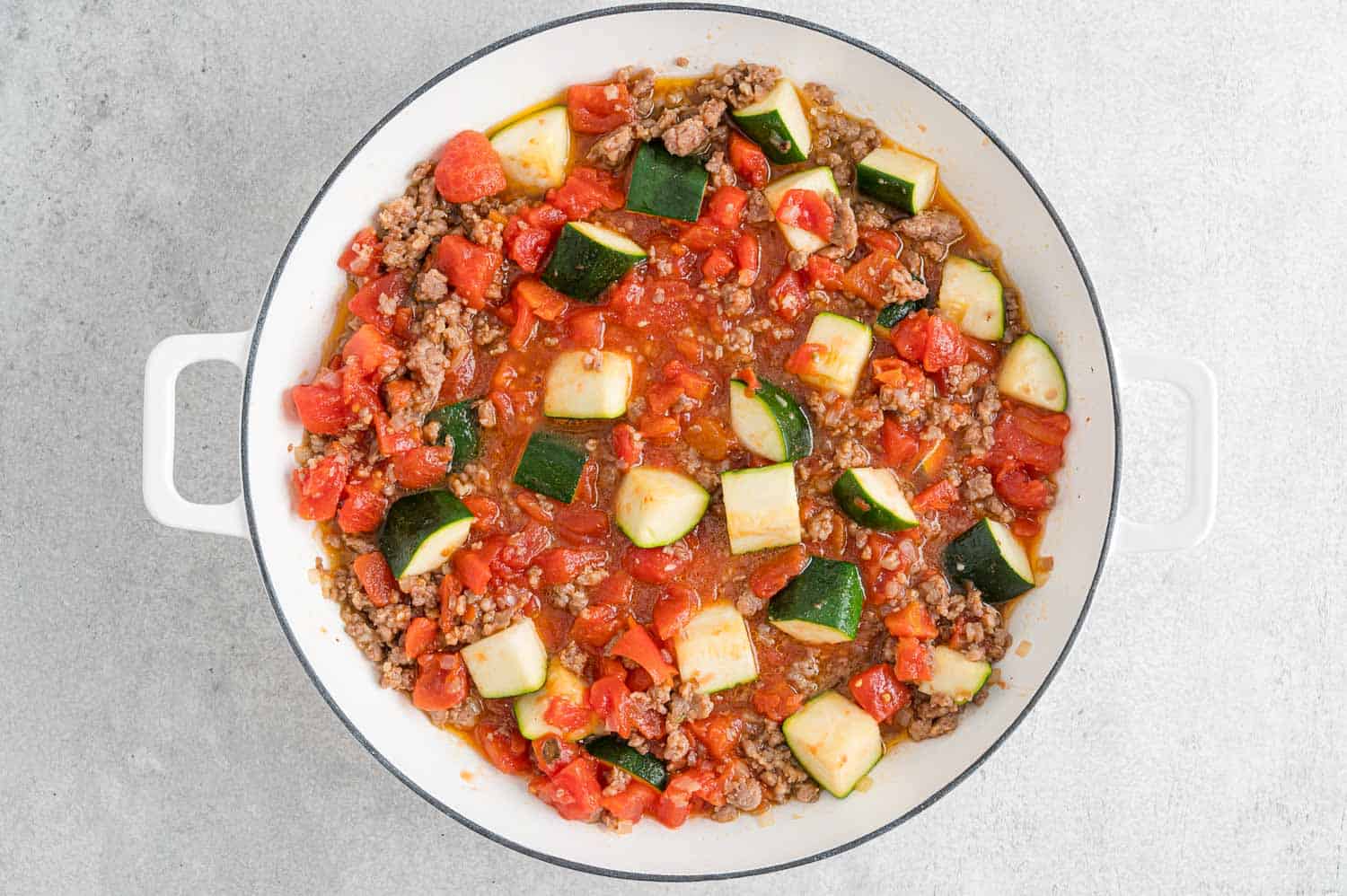 Add the gnocchi, and continue simmering until the gnocchi is tender. It will take six to seven minutes, depending on the type of gnocchi you chose. Test one to check.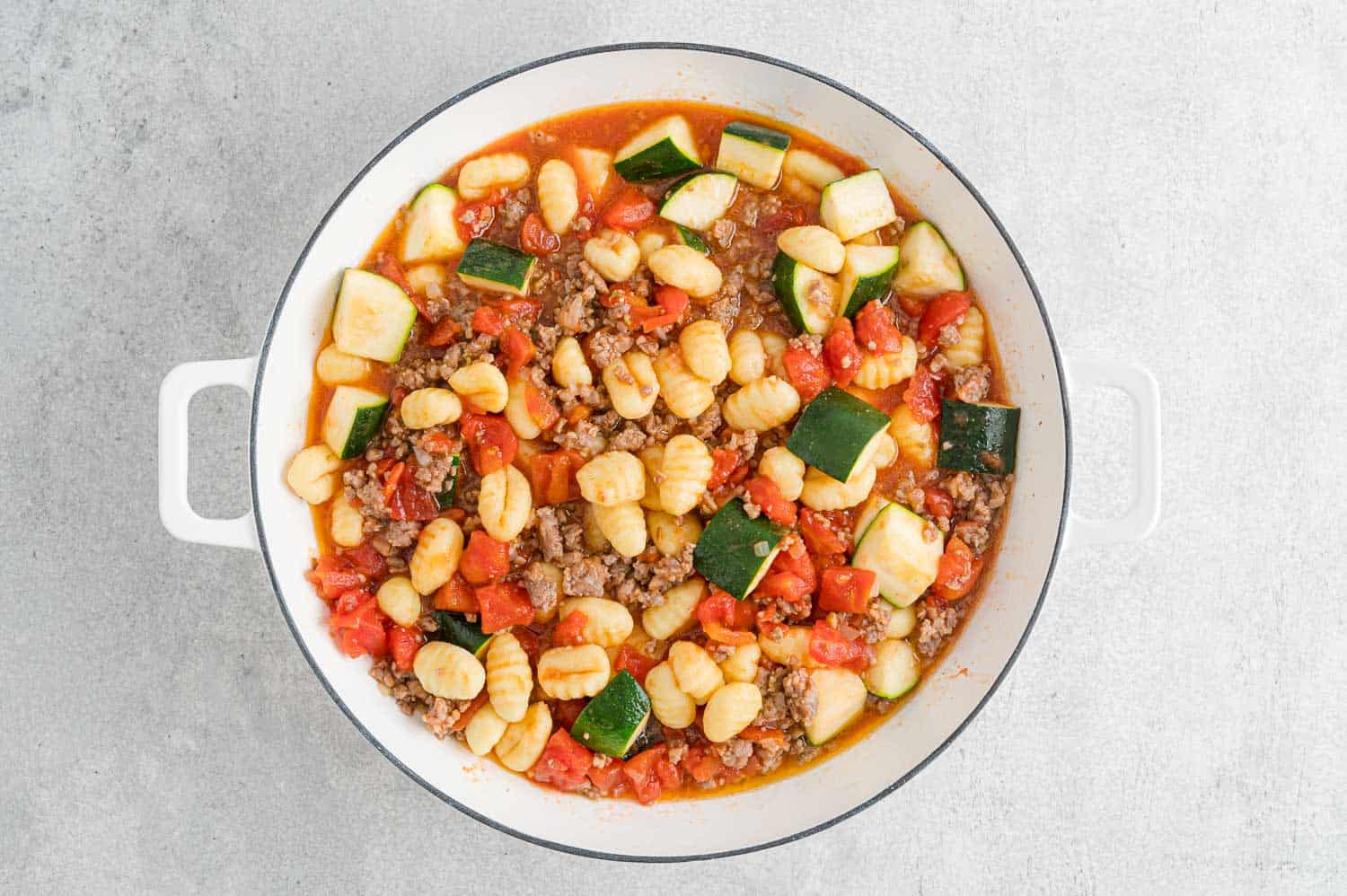 Stir in the spinach leaves and the basil. They will wilt almost instantly. If you aren't quite ready to serve dinner yet, let the gnocchi simmer a bit longer. Wait to add the spinach until you're ready to serve the meal so it retains its bright green color and fresh flavor.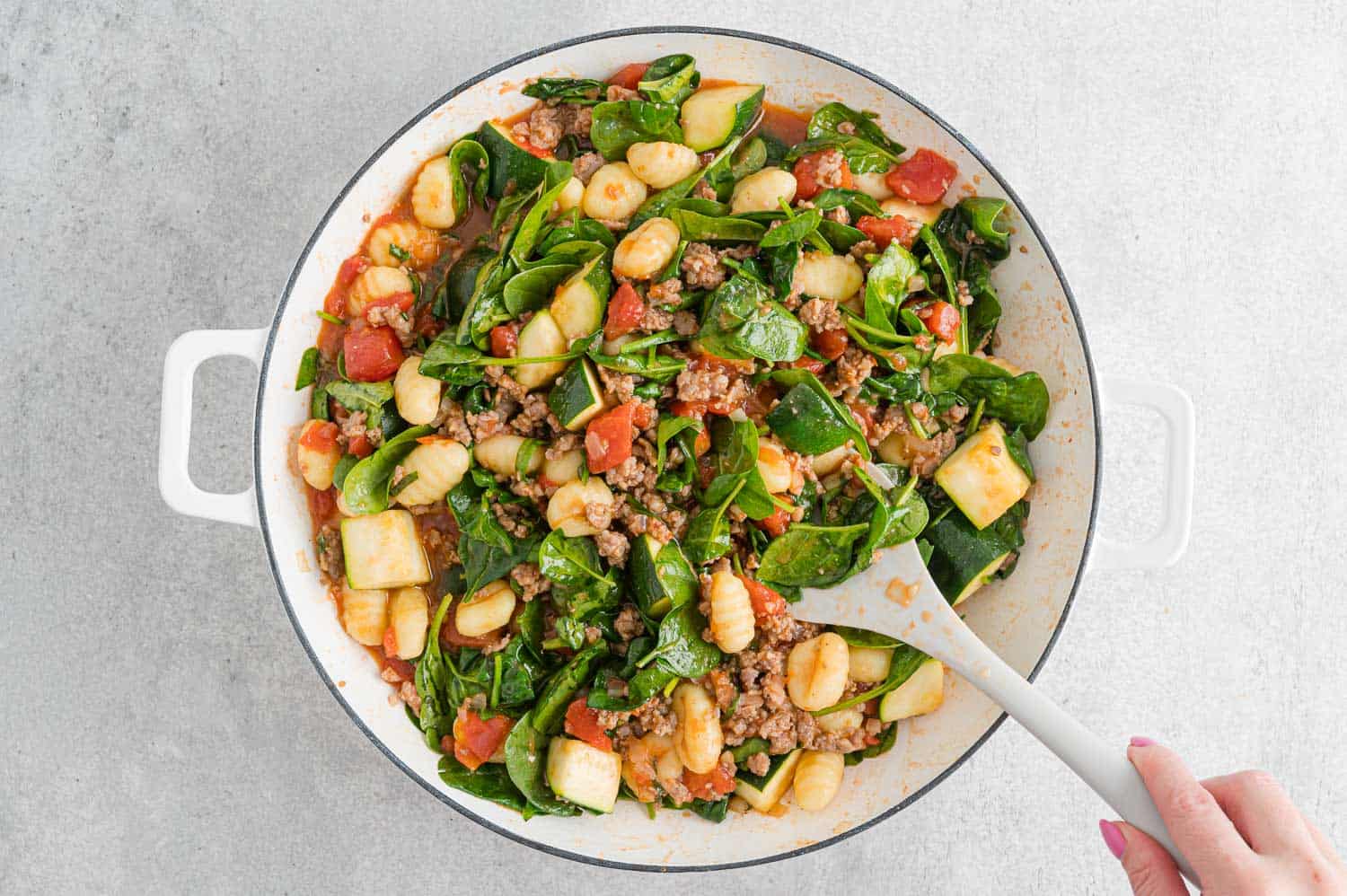 Stir in the heavy cream and Parmesan cheese.
Cooking Tip
When adding heavy cream to a recipe like this, be sure to use gentle heat. High heat and a vigorous boil may cause the cream to separate and look curdled. It will taste okay but it's not nearly as appetizing.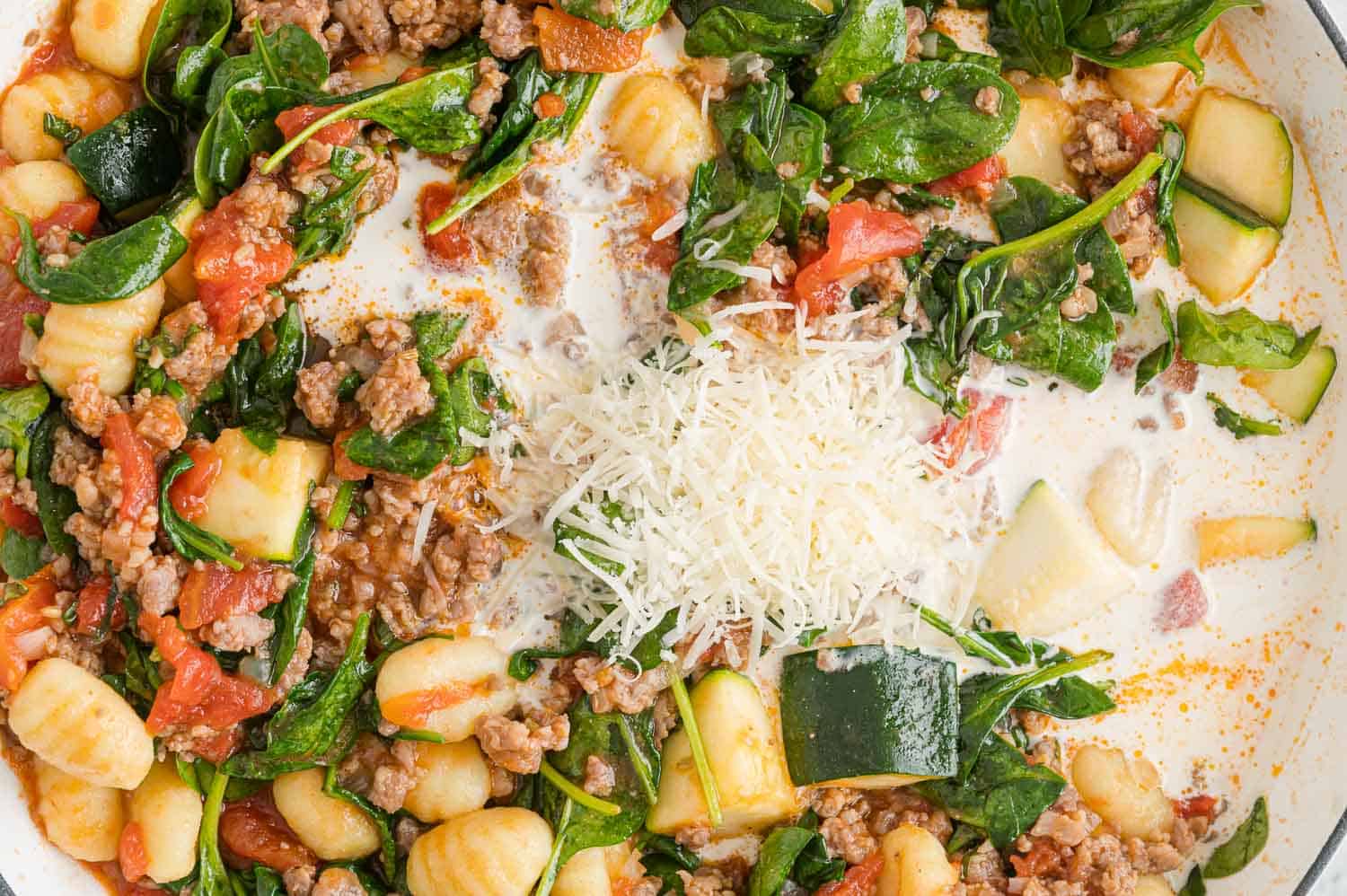 Turn the heat off and put the cover on the pan. Let it sit for 5 minutes or so.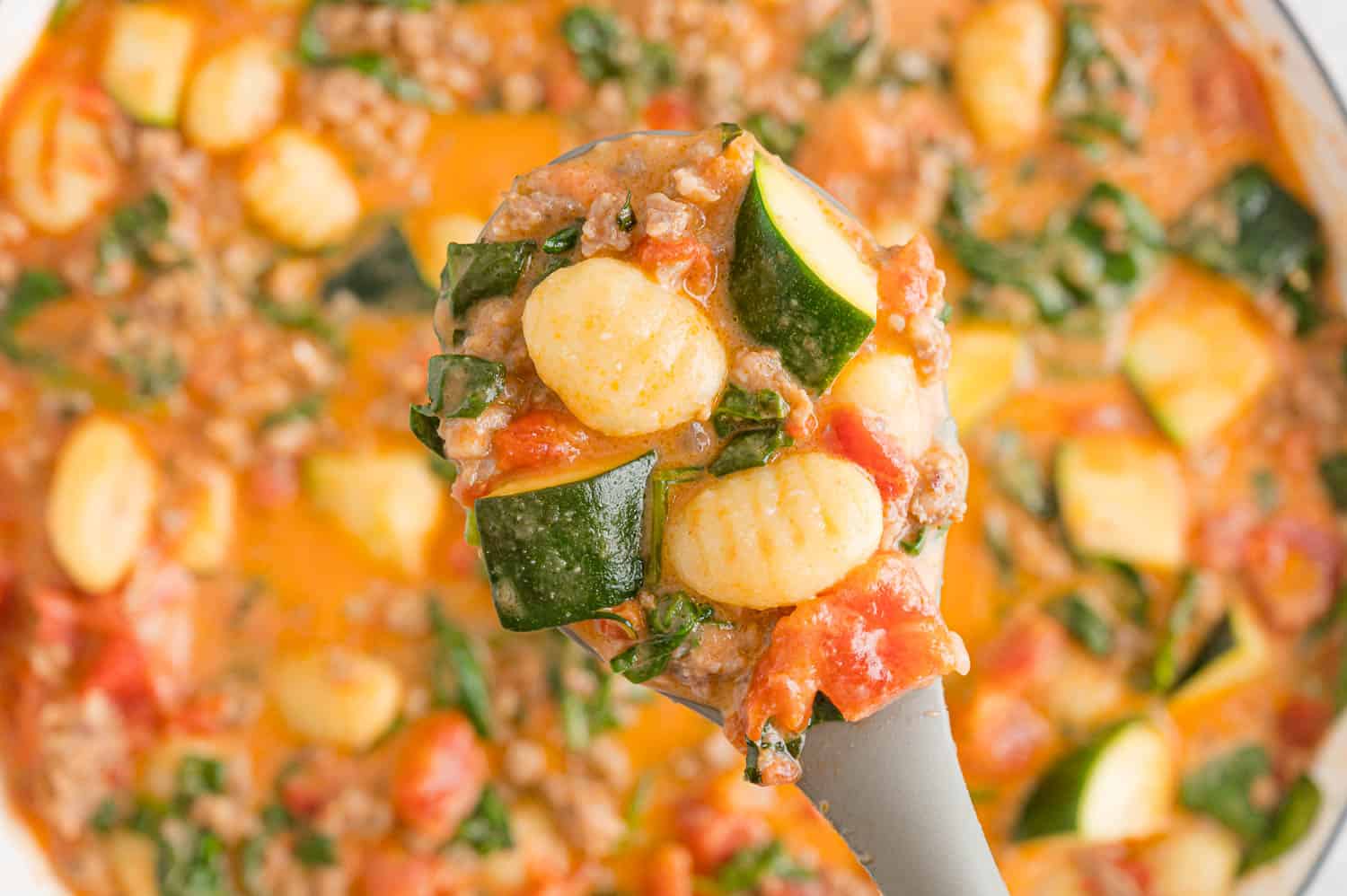 Serve the gnocchi in shallow bowls. Top with more Parmesan and fresh basil leaves, if you want.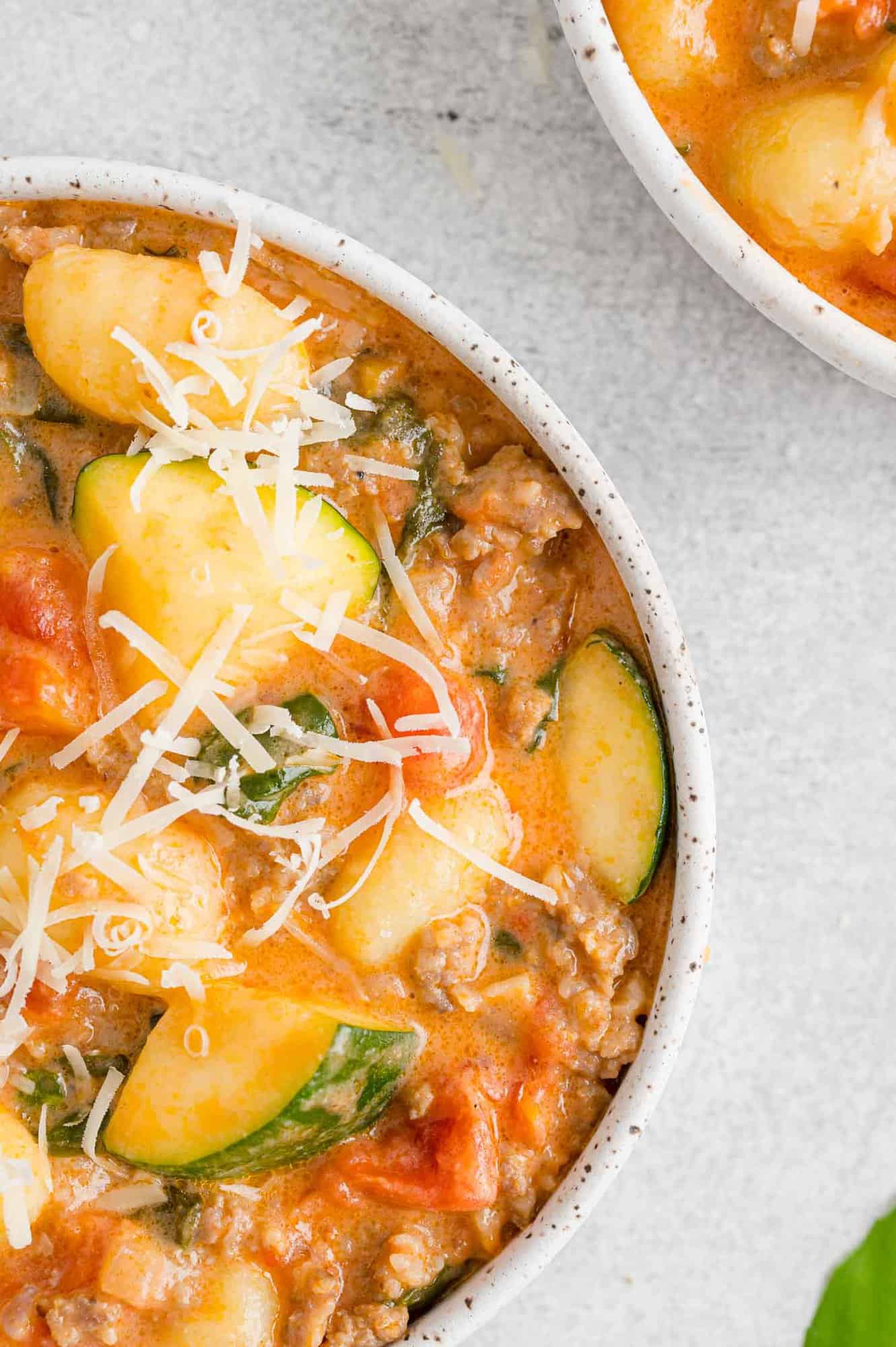 You may have noticed that the recipe doesn't include any salt or pepper. We found that the Italian sausage and Parmesan cheese add enough saltiness and flavor. However, always check the seasoning before you serve a dish and adjust it, if needed.
FAQs
Is gnocchi a pasta or a potato?
Gnocchi is not a pasta; it is a soft potato dumpling from Italian cuisine. It's made from mashed potatoes, flour, and eggs. Gluten-free varieties can be purchased as well.
Make It Your Own
Substitute a different type of meat. Choose turkey sausage instead of pork, or hot Italian sausage instead of sweet. Smoked sausage is another alternative. Or go a different route entirely and substitute boneless skinless chicken breasts or thighs, cut into bite-sized pieces.
Spice it up! Spice things up a little with a pinch of red pepper flakes. Add them with garlic and zucchini.
Reduced calorie: Skip the cream, if you like. This dish is great without it, too.
More veggies: Increase the veggies. Sauté diced bell pepper, mushrooms, or coarsely shredded carrots with the onions and sausage.
Try pasta instead of gnocchi. Dry pasta should be cooked before adding it to the recipe because there isn't enough liquid in this recipe to properly hydrate it.
Make-Ahead Ideas
If you are planning on freezing this meal, hold off on adding the cream and cheese. Simply prepare it up to that point and remove the portion you want to freeze. Cool it off, put it into a freezer-safe container, and freeze for up to 3 months. Thaw overnight in the fridge before reheating. Reheat in a saucepan or skillet until warm, then stir in cream, and then top with cheese.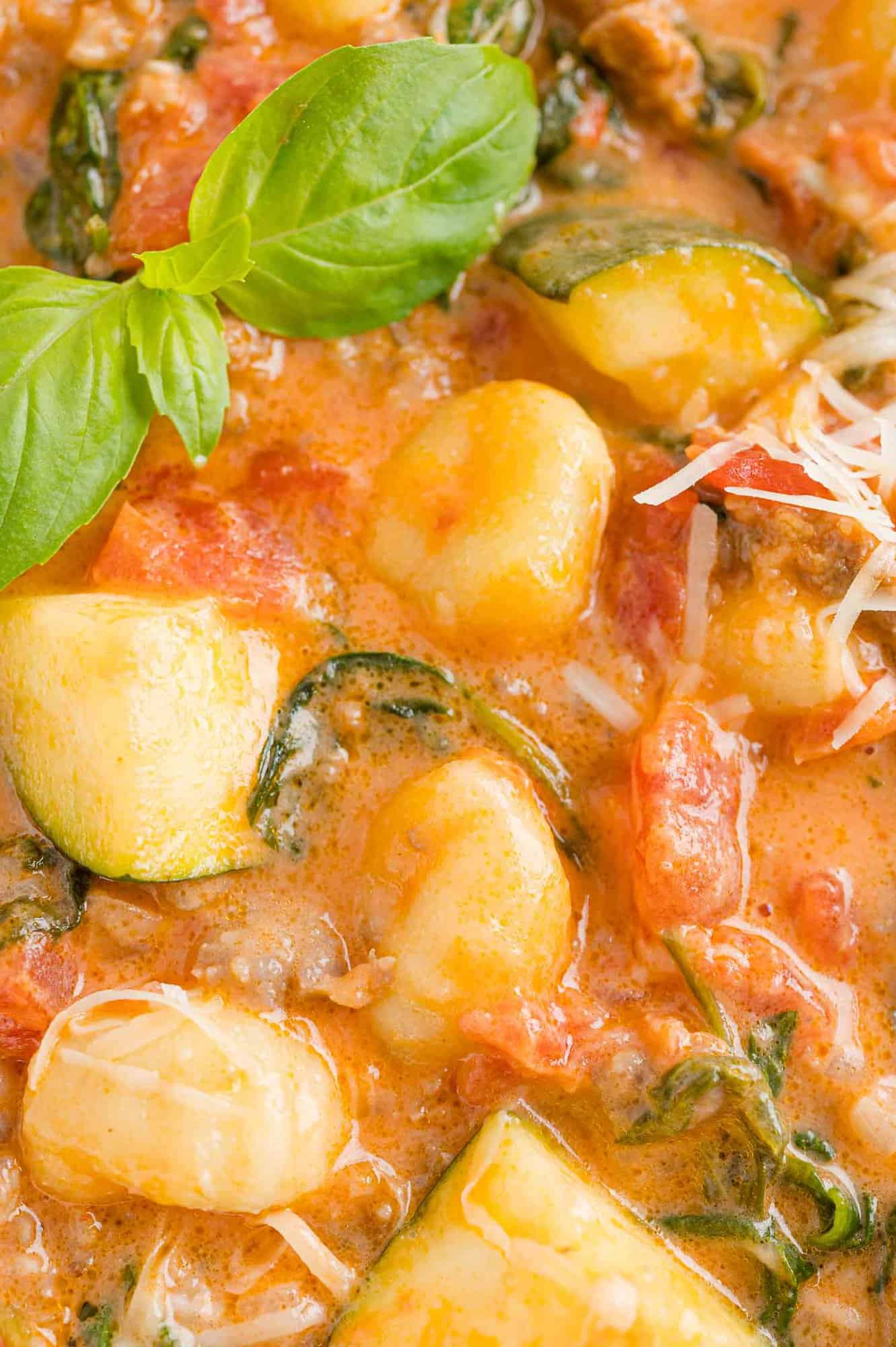 Storage & Reheating Tips
Refrigerate: Leftover one pan gnocchi with sausage and zucchini can be stored in the fridge for up to 3 days.
Reheat: Individual portions can be heated in the microwave at medium power; larger portions can be gently reheated on the stove in a skillet or saucepan. Try not to overheat it because that can cause the sauce to curdle. It will still taste fine but it won't look great.
Interested in a weekly meal plan (it's free!) that includes this one pot pasta recipe recipe? Take a look at my Meal Plan #15. You'll find a wholesome recipe for each weekday plus a categorized grocery list. Let me do the planning for you this week!
We'll be adding a new meal plan weekly. If you're interested, browse all of our meal plans.
Did you make this? Be sure to leave a review below and tag me @rachelcooksblog on Facebook, Instagram, or Pinterest!
A steaming bowlful of creamy one pan gnocchi with sausage and zucchini is just what you need for dinner this week. Easy to make and oh, so good!
Ingredients
1

pound

sweet or mild Italian sausage

(use hot Italian sausage, if you prefer)

1

cup

diced onion

(about

1

medium onion)

2

cloves

garlic, minced

16

oz.

(1 large or 2 medium) zucchini, quartered and cut into ½ inch pieces

(about

3

cups)

1

can

(28 ounces) diced tomatoes, undrained

¼

cup

water

1

pkg.

(16 oz.) potato gnocchi

(see note)

1

pkg.

(5 oz.) baby spinach leaves

½

cup

chopped fresh basil, more for topping if desired

½

cup

heavy cream

¼

cup

shredded Parmesan cheese, additional for serving
Instructions
In a 5 to 6 quart Dutch oven, over medium heat, brown sausage and onion, breaking up large pieces of sausage. Cook until sausage is no longer pink and onions are beginning to soften, about 5 to 6 minutes. Add zucchini and garlic, and cook for 5 to 6 minutes, or until zucchini is beginning to soften.

Add tomatoes and ¼ cup water, and bring to a simmer. Add gnocchi, stirring to combine. Cover pan, reduce heat to low, and simmer for 6 to 7 minutes or until gnocchi is tender, stirring occasionally.

Stir in spinach and basil until it begins to wilt. Stir in heavy cream and Parmesan. Turn heat off and cover pan for 5 minutes. Stir well.

Serve in shallow pasta bowls, topped with additional shredded Parmesan cheese and fresh basil, if desired.
Notes
Fresh tomatoes (3½ cups) can be substituted for the canned diced tomatoes.
There are several brands of gluten-free gnocchi if you are on a gluten-free diet.
Recipe adapted from Martha Stewart Living magazine.
Nutrition Information
Serving:
1.75
cups
,
Calories:
521
kcal
,
Carbohydrates:
39
g
,
Protein:
19
g
,
Fat:
33
g
,
Saturated Fat:
14
g
,
Polyunsaturated Fat:
4
g
,
Monounsaturated Fat:
13
g
,
Cholesterol:
83
mg
,
Sodium:
921
mg
,
Potassium:
841
mg
,
Fiber:
5
g
,
Sugar:
7
g
,
Vitamin A:
2951
IU
,
Vitamin C:
37
mg
,
Calcium:
179
mg
,
Iron:
6
mg
This website provides approximate nutrition information for convenience and as a courtesy only. Nutrition data is gathered primarily from the USDA Food Composition Database, whenever available, or otherwise other online calculators.