Greek Chopped Salad Recipe
This Greek chopped salad recipe is ridiculously easy to make, keeps well in the fridge and is a total crowd pleaser! Great for quick lunches and potlucks.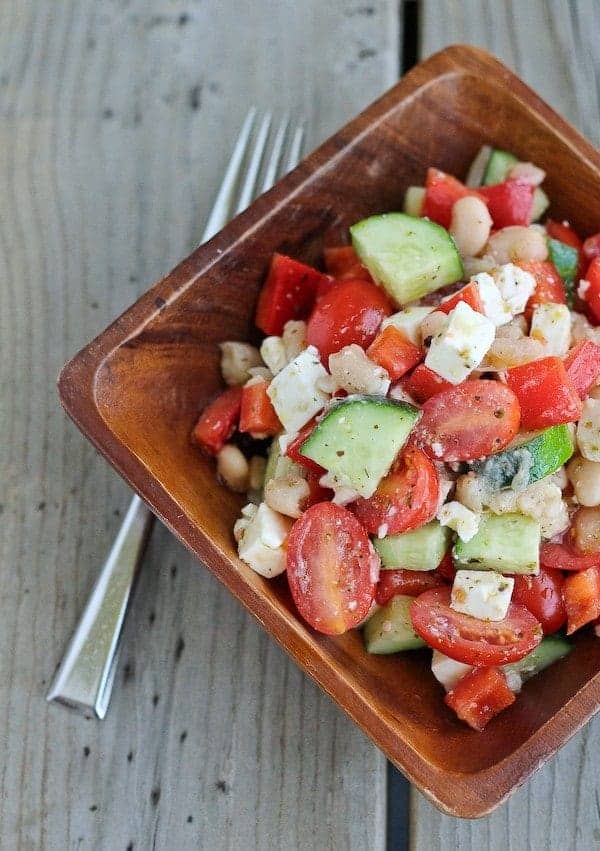 I made and photographed this recipe such a long time ago – these photos were taken on our deck at our condo before we moved to our new house. Makes me so nostalgic for our old place. Such good memories were made there — where Ben and I started our life together and brought E & N home to from the hospital. Along with so many more great things. I'm looking forward to making tons of new great memories in our new house but I'll always have fond memories of our first place.
Anyways should we talk about this salad before I start crying that my kids are no longer babies and now look like this:
When in reality, that picture is from months ago and now they are even more grown up. Why does time go by so quickly?!
Okay let me get some tissues and then we'll get back to the salad.
This salad has quickly become a favorite of mine. It's a go-to when I have to bring a salad somewhere. The first time I made it (pictured above), I made it with great northern beans. Because I didn't have any garbanzos. Every time since then, I've made it with garbanzo beans. They're both delicious. The garbanzos hold up a little better since they are a more firm bean. The great northern beans tend to mush a little but it gives the dressing this creamy quality this is really delicious too. So whichever way you go, it turns out to be a winner.
Also, if you wanted to make this super duper Greek and not just halfway like mine, make sure to throw in some kalamata olives and some red onions. I do not like either of those (I knowwwww….) so I don't typically put them into this salad.
Side note: I do loooooove red onions cooked. Just not raw.
Used in this salad:
Enjoy!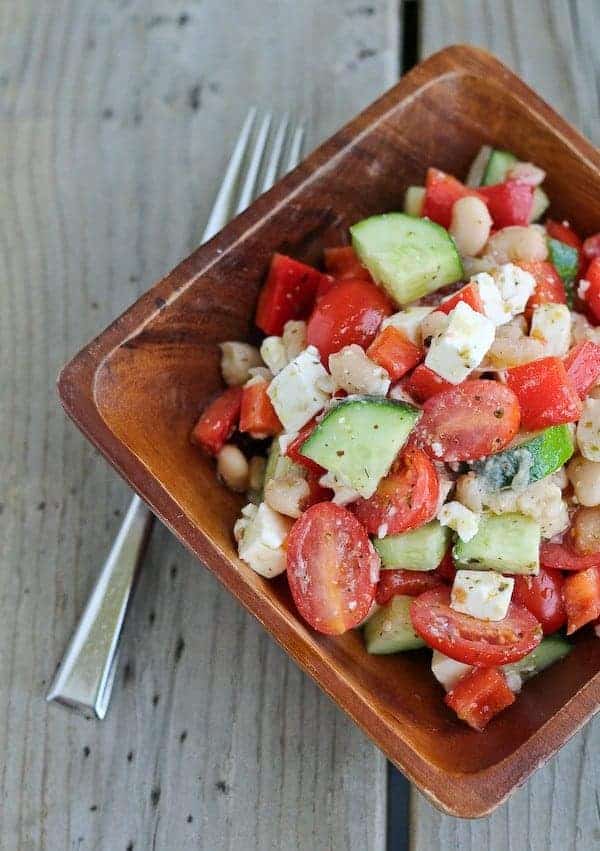 Greek Chopped Salad Recipe
Yield: 8 side servings
Prep Time: 15 minutes
Total Time: 15 minutes
This Greek chopped salad recipe is ridiculously easy to make, keeps well in the fridge and is a total crowd pleaser! Great for quick lunches and potlucks.
Ingredients
1 English Cucumber or 3 pickle-sized cucumbers, cut into bite-sized pieces
1 pint grape tomatoes, halved
1 large red bell pepper, diced
15 ounce can of garbanzo or great northern beans, drained and rinsed
about 1/2 pound reduced-fat feta cheese, cut into cubes, not crumbled feta — approx 1 heaping cup
3 tablespoons red wine vinegar
1/4 cup extra virgin olive oil
1 and 1/2 teaspoons dried oregano
salt to taste
pepper to taste
optional: diced red onions and kalamata olives
Instructions
Combine cucumbers, grape tomatoes, red bell pepper, beans, and feta cheese in a large mixing bowl.
In a small bowl or a measuring cup, whisk together red wine vinegar, olive oil, oregano, salt and pepper. Pour over salad mixture and stir well to combine.
Serve immediately or refrigerate overnight to let flavors meld. Stir again before serving.
Nutrition Information:
Yield: 8
Serving Size: 1 cup
Amount Per Serving:
Calories: 216
Total Fat: 13g
Saturated Fat: 5g
Cholesterol: 25mg
Carbohydrates: 16g
Fiber: 4g
Sugar: 4g
Protein: 9g
Verdict:
I make this all the time. Seriously, allll the time. I love having it in the fridge for lunches.
Husband's take: He loves it as much as I do…maybe even more.
Changes I would make: None!!!
Difficulty: If you can handle a knife, you can handle this salad.
If you love this Greek chopped salad recipe, you might also love: